11 Best Surfboard Shops in Sydney
Sydney, boasting some of the world's best surf, is home to premier surfboard shops. Discover the top 11 surfboard shops in Sydney, handpicked for their vast range, masterful shapers, and ideal boards tailored for every surfer. Whether you're an expert looking to enhance your collection or a beginner eager to ride Australia's iconic waves, these trusted shops are your gateway to the perfect surf experience. Also, explore Sydney's 6 top nude beaches and thrilling cliff-jumping spots. Dive into the finest surfboard outlets in Sydney and ensure your wave-riding adventures are second to none.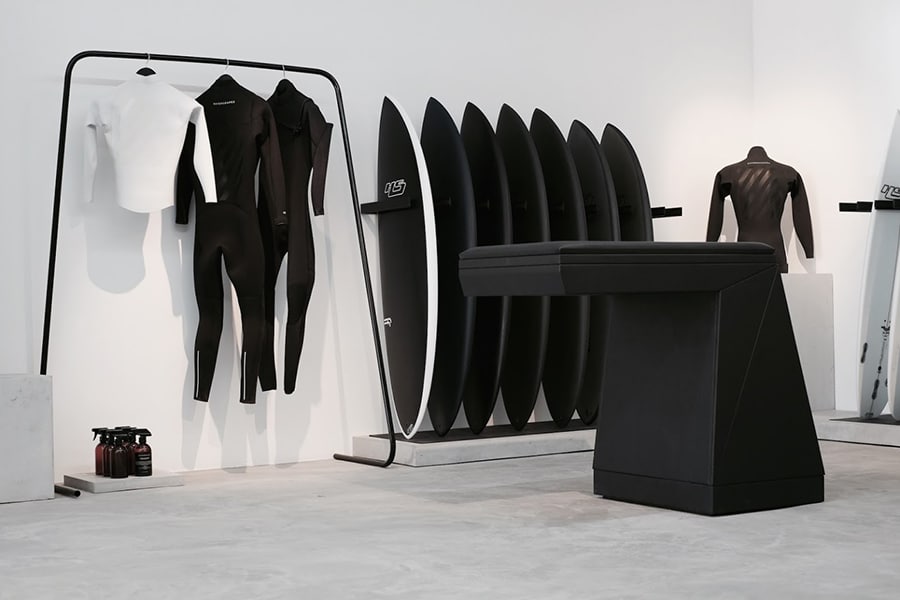 1. Haydenshapes Surfboards, Mona Vale
Haydenshapes offers some of best custom surfboard design in the country. If you're after a specific design, a particular artwork or just want something that perfectly suits you – Hayden is your man. Get the perfect blend of innovative technology, architecture and art with all of his surfboards in Sydney, whether designed by him or you.
Address: 54 Darley Street, Mona Vale NSW 2103
Phone: +61 2 9998 9300
Trading Hours: Mon-Fri 10am-5:30pm, Sat 9am-3pm, Sun 10am-3pm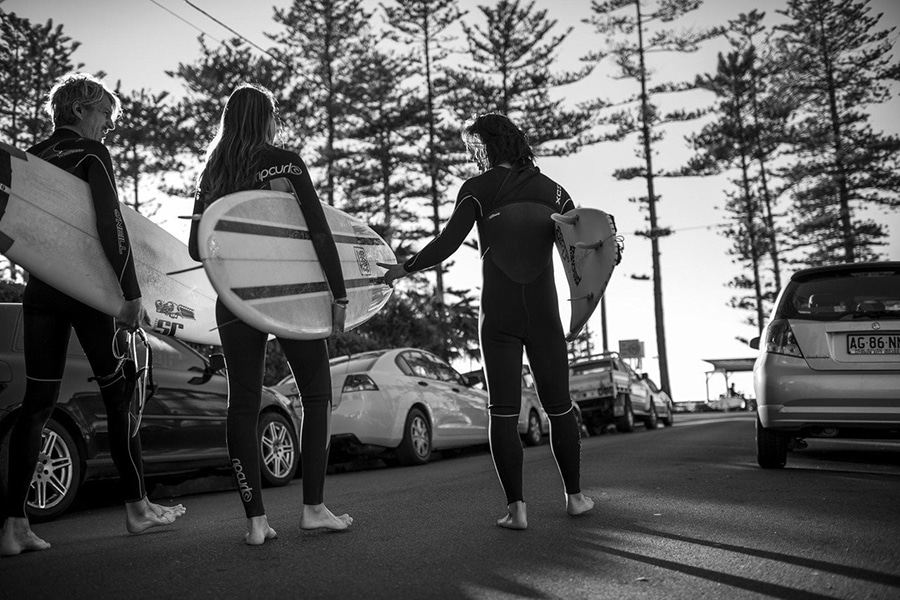 2. Aloha Surf Manly
For the most extensive collection of Sydney surfboard shapes and brands, Aloha Surf is your go-to. They carry up to a thousand boards including shortboards, Fishes, longboards, softboards, SUPs, hybrid's mini-mals and even body boards. Plus you can also nab some top-notch wetsuits, hardware and accessories while you're there.
Address: 44 Pittwater Road, Manly NSW 2095
Phone: +61 2 9977 3777
Trading Hours: Fri-Wed 9am-6pm, Thu 9am-7pm
You'll also like:
7 Best Cliff Jumping & Rock Diving Spots in Australia
15 Best Golf Courses Sydney Has to Offer
12 Best Japanese Restaurants in Sydney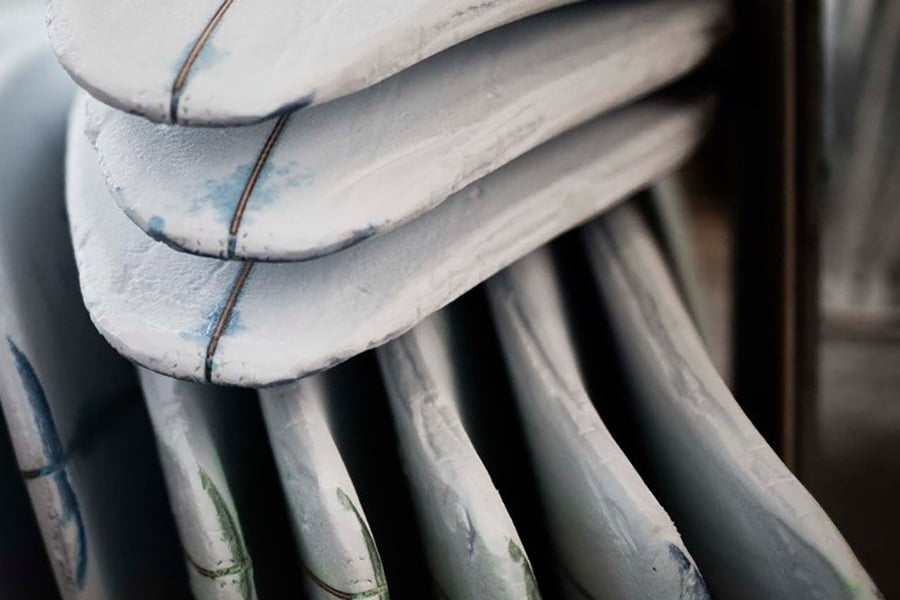 3. Psillakis Surfboards
Surfboard shaper, Mike Psillakis' mantra is simple but rare: 'by shaping boards by hand I can explore the hundreds of potential combinations that can create that elusive, magic board that every surfer is looking for'. He recognises that every surfer is different, and therefore they need different boards. Ordering a surfboard at Psillakis Surfboards is like ordering a hand-tailored suit.
Address: 42 Orchard Rd Brookvale, NSW 2100
Phone: 0405 821 633
Trading Hours: Mon-Fri 11am-6:30pm, Sat 11am-3pm
---
Featured Video from Man of Many
---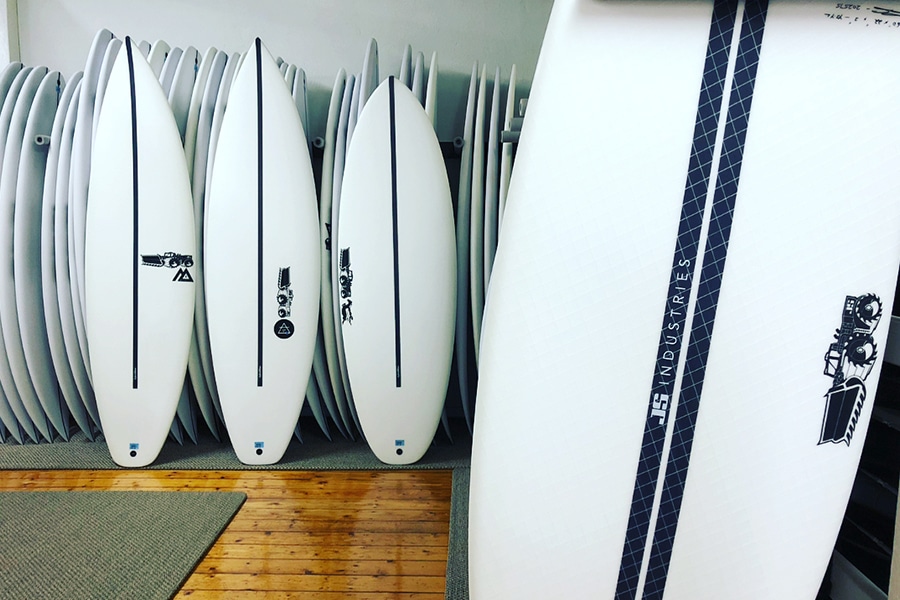 4. Surfection Mosman
Surfection is one of the best surfboard shops in Sydney as they offer all the latest surfing technology and design from expert surfers who can put you on the right wave. They've got a huge range of boards, wetsuits and apparel to suit every body shape, level of expertise and budget. Whether you're after a high performance Black Diamond a beginners' softboard or a second-hand shortboard, you can't go wrong at Surfection.
Address: 522 Military Road, Mosman NSW 2088
Phone: +61 2 9969 1011
Trading Hours: Fri-Wed 9am-6pm, Thu 9am-8pm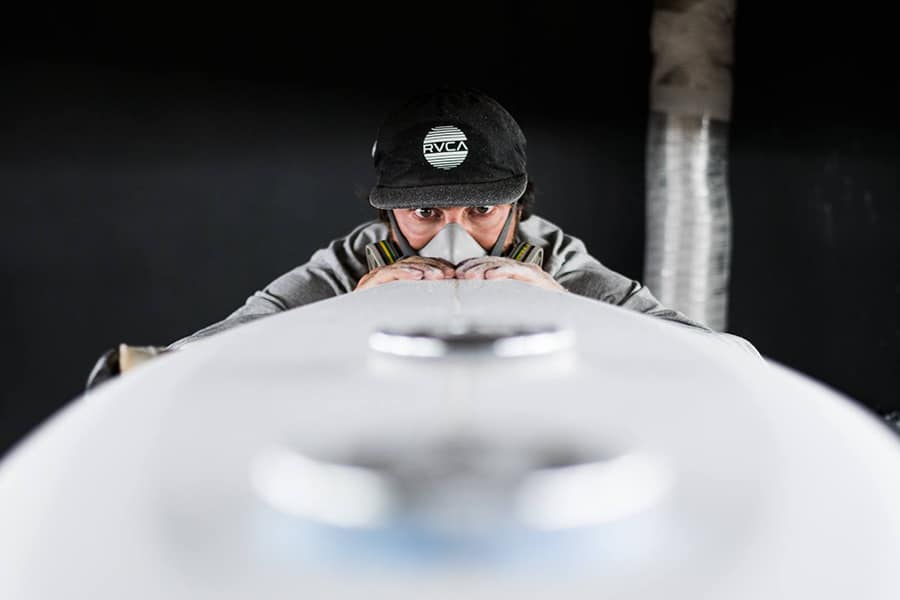 5. Surf Culture, Bondi Junction
Surf Culture provides a huge range of top quality surf boards, surf clothes, wetsuits and surf accessories. Their friendly and experienced staff easily make it one of the best surfboard shops in Sydney. They'll help you source the right board for you and give you the very best, unbiased advice.
Address: 186 Bondi Rd, Bondi NSW 2026
Phone: +61 2 9389 5477
Trading Hours: Mon-Wed 9:30am-6:30pm, Thu 9:30am-7pm, Fri-Sun 9:30am-6pm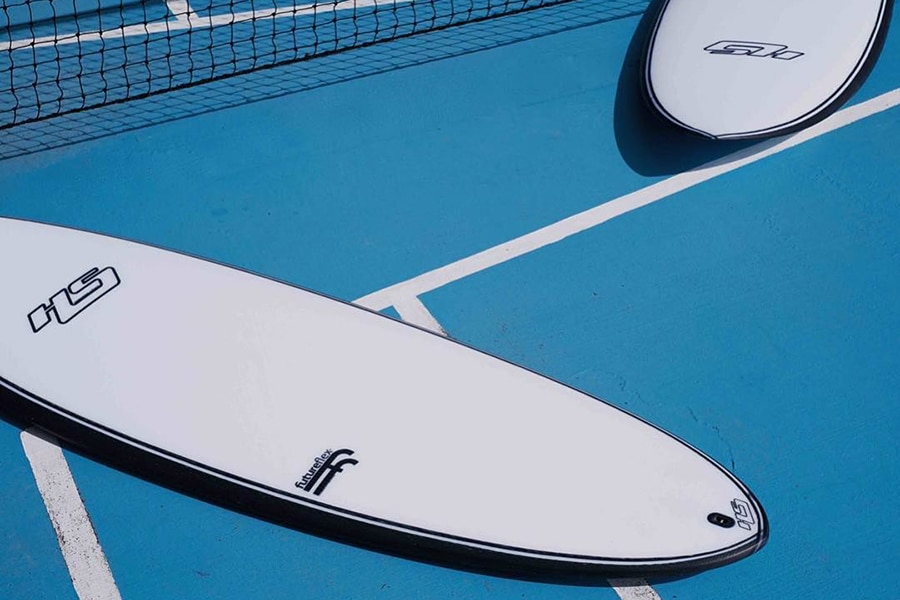 6. Wicks Surf, Collaroy
When you visit Wicks Surf, you not only become part of the original independently owned surfboard shop in Sydney and its local community of surfers, you also join a global enterprise, with access to the best boards and board technology from around the world. Anthony "Wicka" Hardwick started the shop in 1975 with the slogan "Surfers with the surfer in mind."
Address: 1103 Pittwater Road, Collaroy NSW 2097
Phone: 9971 0760 and 9972 1805
Trading Hours: Mon-Fri 9am-5:30pm, Sat 8:30am-5:30pm, Sun 8:30am-5pm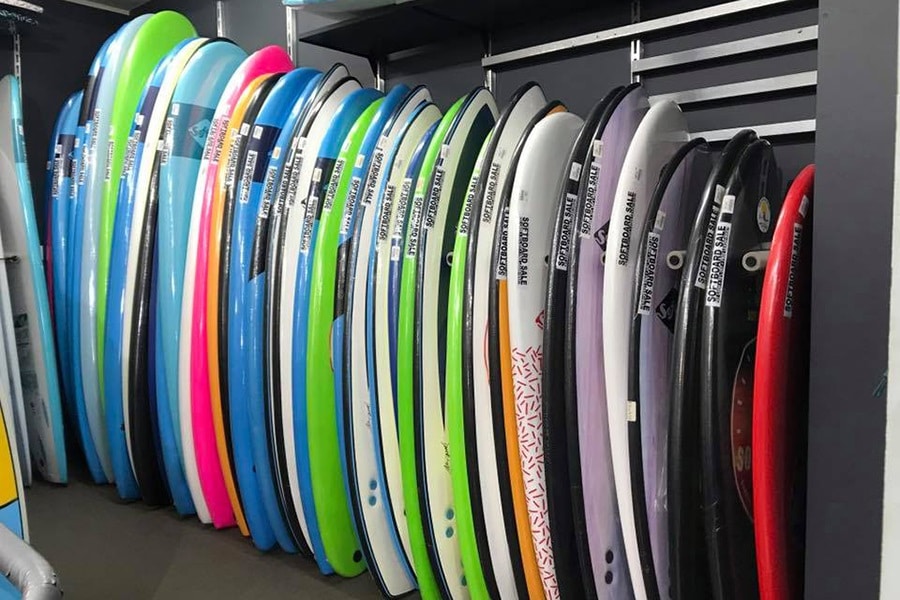 7. Bondi Surf Co.
Bondi Surf Co. is an institution at one of Australia's most iconic beaches. A hole in the wall store opened in the 80's and since then the store has expanded to stock a greater variety of surfboards, surf wear and accessories, becoming one of the best surfboard shops in Sydney. Visit the store for yourself to see why their swell was justified.
Address: 80 Campbell Parade, Bondi Beach NSW 2026
Phone: +61 2 9365 0870
Trading Hours: Mon-Fri 10am-6pm, Sat-Sun 9am-6pm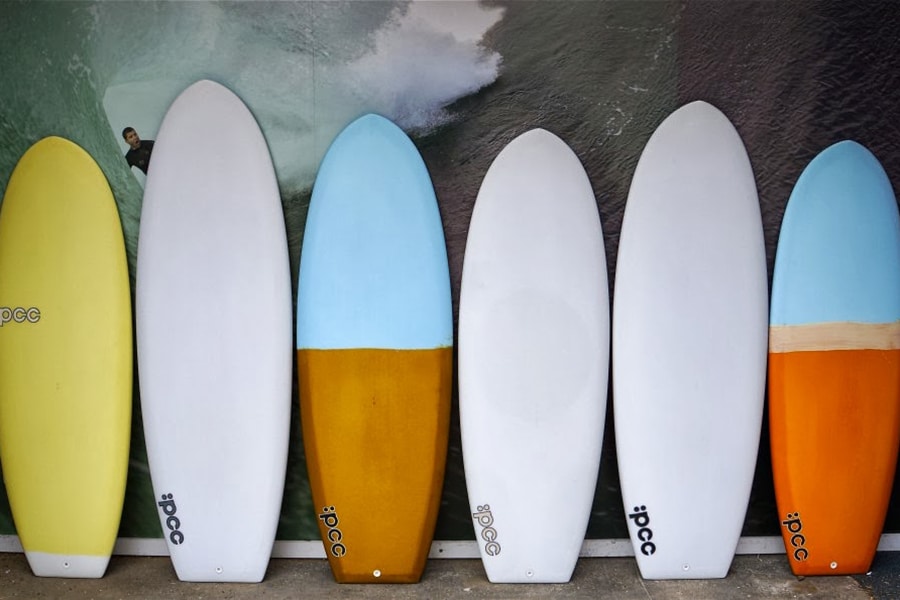 8. PCC Surfboards, Miranda
The ideal intersection between art and board innovation, Stuart Paterson at PCC Surfboards loves being part of surfers' adventure by providing the perfect board. He loves exploring different materials and construction methods and getting creative with art and design. From Mini-Simmons to mid-length to single fin logs, this experienced surfboard shaper in Sydney will help you find your perfect marine partner.
Address: 34B Kareena Road, Miranda NSW 2228
Phone: +61 2 9525 4542
Trading Hours: Mon-Fri 9am-6pm, Sat 10am-2pm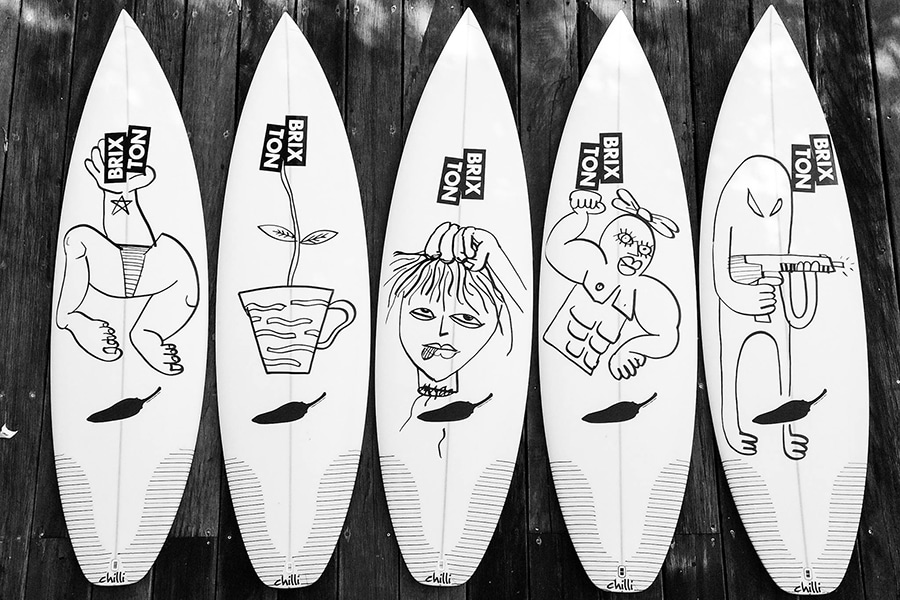 9. Chilli Surfboards, Warriewood
The Chilli aesthetic is hot hot hot and and they refuse to equip their boards with anything but the most finely-sourced assets. Chilli Surfboards are completely detail-oriented with all of the latest technology – think carbon weave to create the perfect combination of strength and performance plus QR codes to give you precise dimensions and instructions on each board. These advanced producers are at the forefront of the industry, making them one of the best surfboard shops in Sydney and they also offer a range of accessories and apparel to ensure you're getting the full chilli experience.
Address: 44 Darley Street Mona Vale, 2103, NSW
Phone: +61 2 9999 5670
Trading Hours: Mon-Fri 9am-5:30pm, Sat 9am-4pm, Sun 10am-3pm

10. Soul Surf, Mona Vale
Soul Surf have a vision to keep the true soul of surfing alive. They do this by providing vintage Sydney surfboards, surfing memorabilia, 70's and 80's retro boards, modern mals, replicas, as well as Soul Surf designs custom made boards. Founder, Seb, has over 40 years of experience as a surfer and in matching the right board to each person. Therefore, you know you'll get the most unique and ideally suited items for all your surfing needs at this old school surfboard store in Sydney.
Address: Shop 3/1761 Pittwater Road, Mona Vale NSW 2103
Phone: +61 2 9999 6365
Trading Hours: Mon-Sat 8am-5pm, Sun 8am-3pm

11. Bennett Surfboards, Brookvale
If you're after a local surfboard shop in Sydney with an authentic community feel, you'll have to drop in to Bennett Surfboards. Don't worry you won't be stealing anyone's thunder because there's enough to go round for every surfer. It's the oldest surfboard manufacturer in the country, having been a family tradition since 1956. Many Australian and world titles have been won on Bennet boards, so you know you'll be riding on the epitome of style and innovation.
Address: 180 Harbord Road, Brookvale NSW 2100
Phone: +61 2 9905 5157
Trading Hours: Mon-Fri 8am-5pm, Sat 9am-12:30pm

General FAQ
Where can I find a surf shop near me in Sydney?
Wicks Surf, Psillakis Surfboards and Bennett Surfboards are all great surf shops in Sydney.
What is the best surfboard store in Sydney?
Surfection Mosman, Surf Culture and Bondi Surf Co. are some of the best surf shops in Sydney.
Where can I buy a custom surfboard in Sydney?
Haydenshapes Surfboards, Soul Surf and Psillakis Surfboards create fantastic custom made surfboards.
You'll also like:
7 Best Cliff Jumping & Rock Diving Spots in Australia
15 Best Golf Courses Sydney Has to Offer
12 Best Japanese Restaurants in Sydney
---
Featured Video from Man of Many