5 Best Surf Schools in Byron Bay
It may not have originated here, but nevertheless, it's a part of our culture and way of life. The beach permeates the Australian ethos in one way or another and so does surfing. It's a great way to escape the city hustle and put your mind on nothing but the waves. So when looking for the best beach town vibe to try your hand at surfing, Byron Bay is definitely the main contender. Get in touch with your inner beach bum and learn to surf with our guide to the 6 best surf schools Byron Bay has on offer, plus few others operating in the nearby shire of Ballina.
You'll also like:
Inside the $500 Million Private Train Designed By a Yacht Legend
7 Airbnbs to Stay In with a Basketball Court
Marrickville Named in Top 10 Coolest Neighbourhoods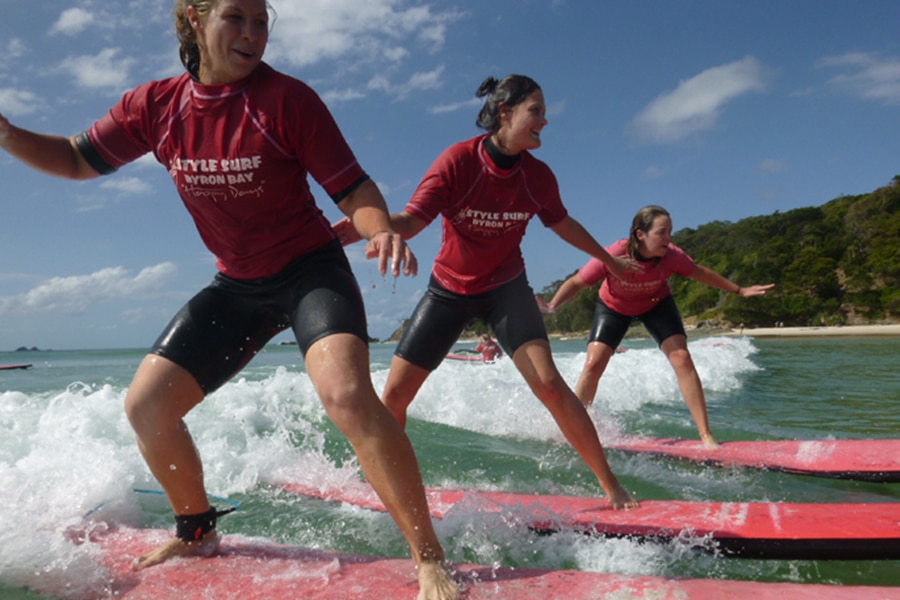 1. Style Surfing Byron Bay
Take a surf lesson in beautiful Byron Bay with Gaz from Style Surfing Byron Bay. With 45 plus years of surfing under his belt and fully licensed to operate in Byron Bay Shire, you'll be standing in no time. Gaz and his friendly team offer daily group lessons at 9am and 1pm, and provide everything you'll need to get surfing plus a lot of laughs and good times to be had. There's a maximum of only 10 students per class with two instructors, to ensure everyone gets the attention they need. Style Surfing just one of two operators at what is regarded as one of Byron's greatest spots for learning to surf, Clarkes Beach, renowned for its long-breaking safe wave.
Address: 2 Sandpiper Ct, Byron Bay NSW 2481
Hours: Mon-Fri 8am-5pm, Sat-Sun 8am-4pm
Phone: (02) 6685 5634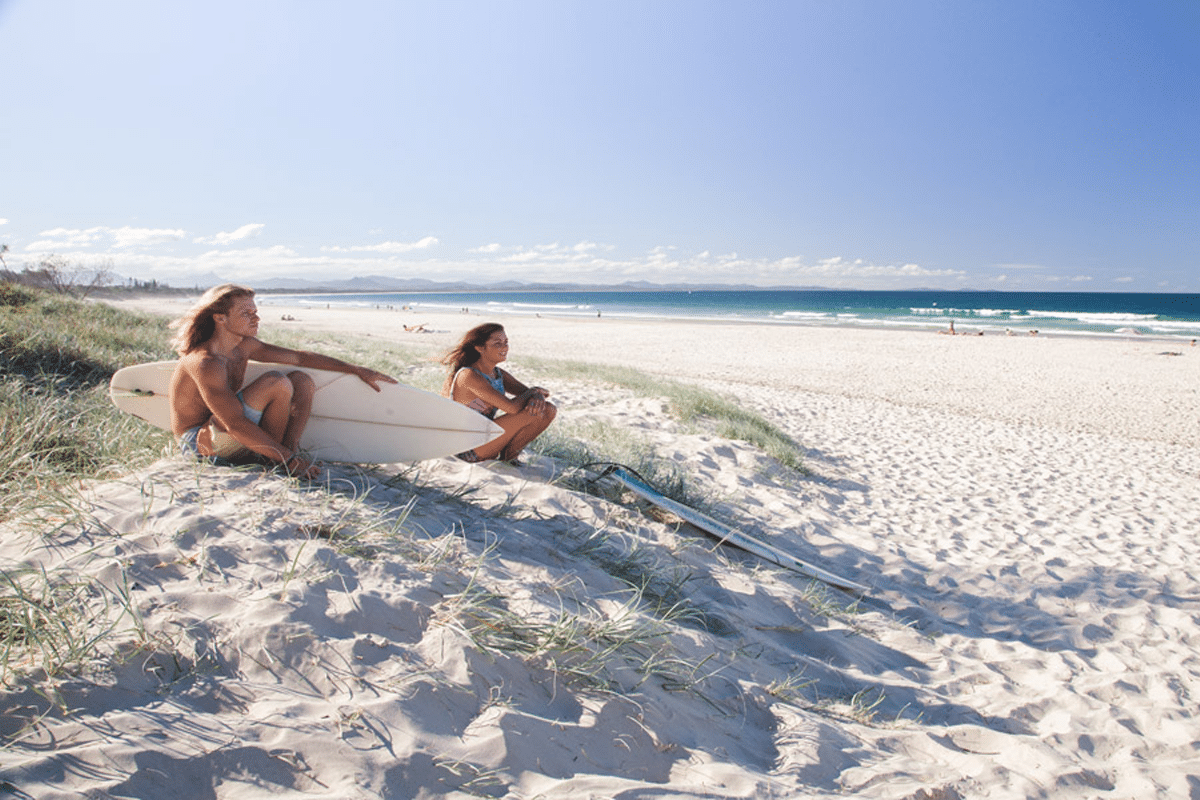 2. Surf Camp Byron Bay
Surf Camp Byron Bay lets you explore and live the surfing lifestyle right on beautiful Byron Bay Beach. Get daily lessons, direct access to the beach and stay at Byron's best surfing hostel. Being just a minute walk from the beach means no lengthy bus rides, you'll learn and stay right on the beach. Stay for as long or as little as you want and learn even more.
---
Featured Video from Man of Many
---
Address: 29 Shirley St, Byron Bay NSW 2418
Hours: Mon-Sun 7:30am – 8pm
Phone:  1800 707 274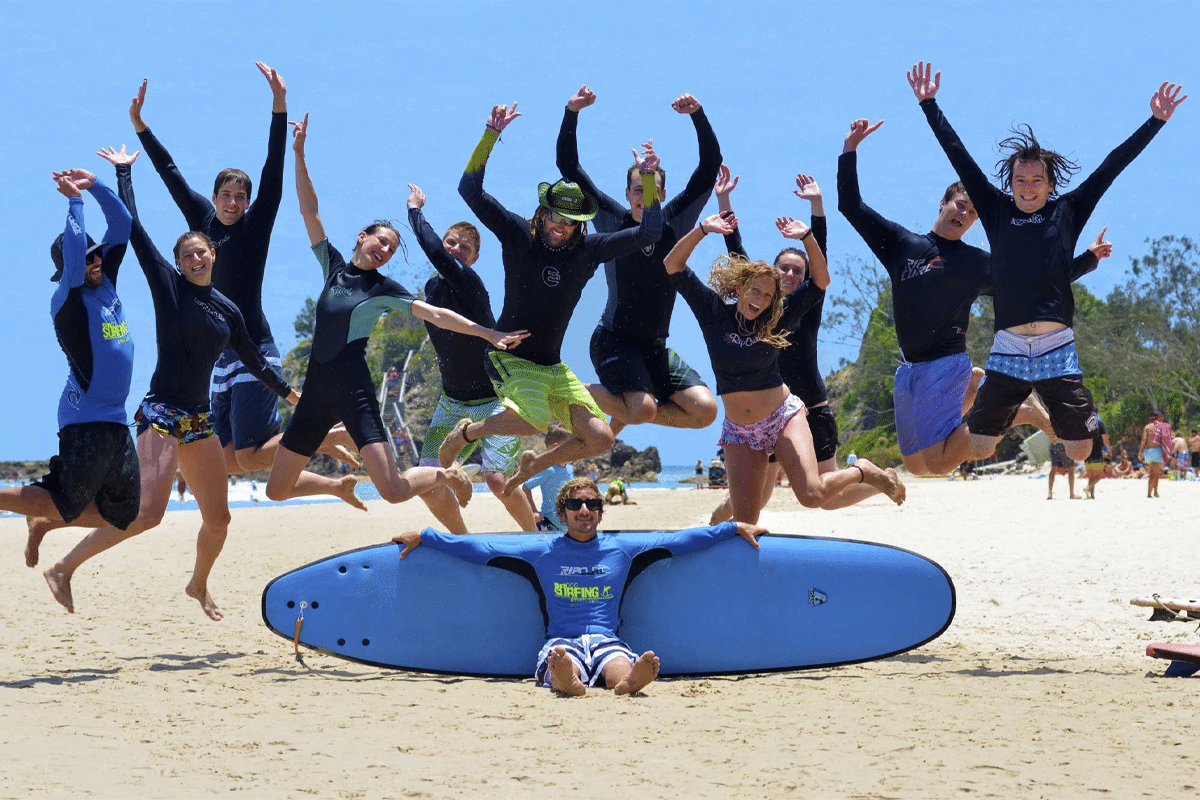 3. Black Dog Surfing
Black Dog Surfing prides themselves on their personalised lessons and guarantees you'll be standing up on your first lesson or you can come back for free. Choose from one to five-day surf courses that include everything you'll need to get started. You might even get to see Black Dog's mascot, George the black Kelpie, who even has his own board.
Address: 4/11 Byron St, Byron Bay NSW 2481
Hours: Mon-Sun 9:30am-5:30pm
Phone: (02) 6680 9828
Blackdog Surf School Byron Bay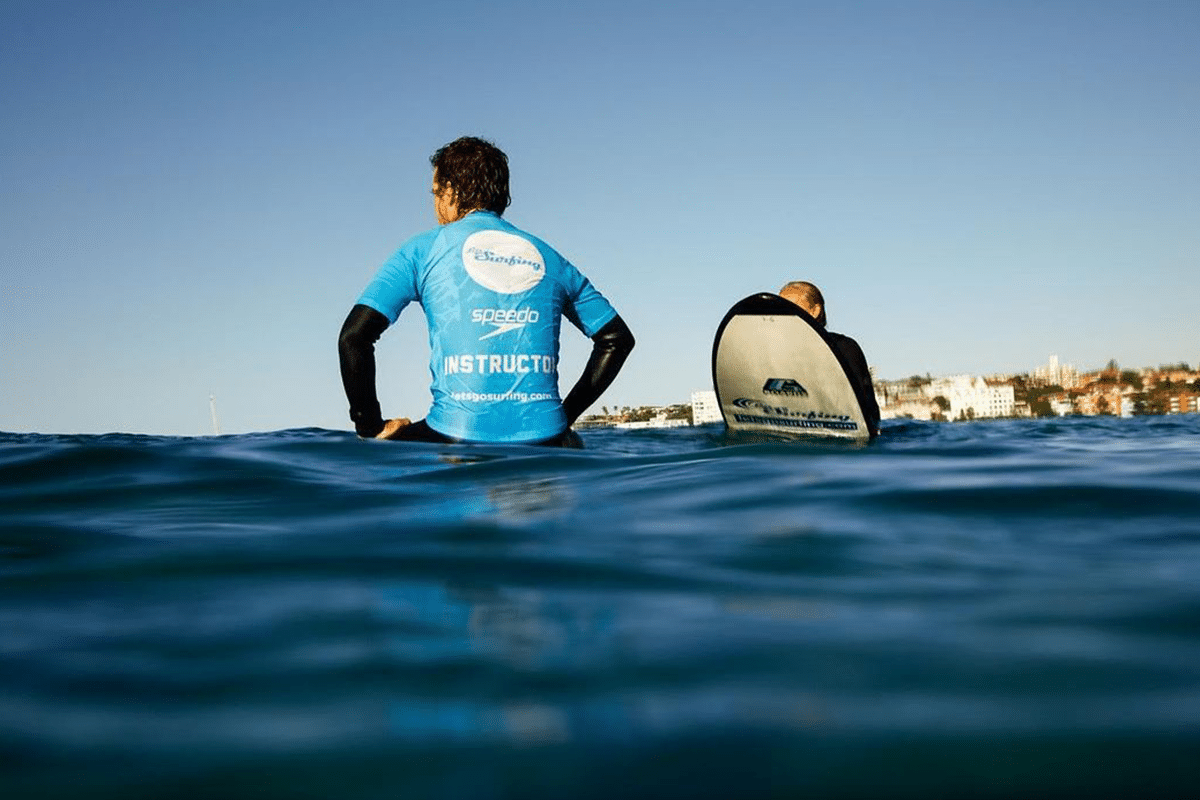 4. Let's Go Surfing Byron Bay
Let's Go Surfing first started out the back of a Kombi Van in 1995, and has since developed into a thriving team of professionals ready to encourage more people into surfing. They'll have you up on a board in two hours, whatever level you're at. Take your pick of four different packages from private surfing lessons for that extra bit of attention, to the surf easy course, a three-lesson beginners package to get your going.
Address: Unit 5/11 Fletcher St, Byron Bay NSW 2481
Hours: Mon-Sun 9am-5pm
Phone: (02) 6680 9443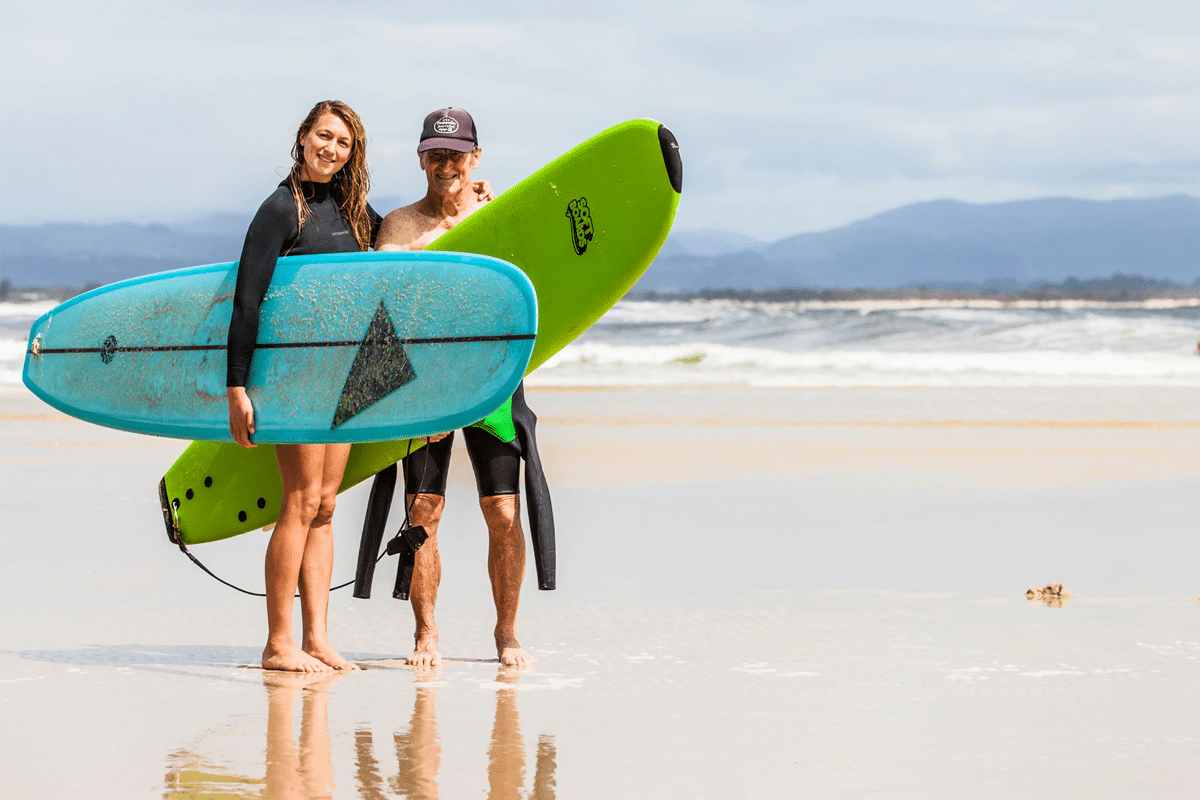 5. Rusty Miller Surf
Rusty Miller Surf offers a fun and holistic learning experience for every level of surfing. You'll learn to surf but also about the waves, culture and philosophy of the world of surfing. Rusty Miller and his daughter Taylor have developed their own personalised instruction to help enhance your surfing skills and are experienced in the Aloha Surfing Tradition. Choose from exclusive one on one sessions and family group lessons and learn all the basic principles of surfing.
Address: Brooke Dr, Byron Bay NSW 2481
Phone: (02) 422 099 684
Surrounding Areas
The companies listed above are the only operators granted licences to operate surf schools in Bryon Bay, but if you're looking to explore beyond here are some operators offering lessons in Ballina Shire.
Soul Surf School (Ballina Shire)
Whether you're a seasoned surfer or never been on a board in your life, Soul Surf School in Byron Bay has you covered. The school offers programs for all ages and surfing levels, from kids to couples and backpackers to lone wolfs, you're sure to find the right setup for you. Try the surf and stay adventure, stay for two nights and receive two 4 hour surf lessons plus meals and drinks.
Address: 4/14 Bay St, Byron Bay NSW 2481
Phone: +61 1800 089 699
Hours: Mon-Sun 8:30am-6pm
Kool Katz Surf School (Ballina Shire)
Learn to surf at Kool Katz Surf School with Terry aka Tezza. Visit the pristine beaches surrounding Byron Bay any time of year and learn to ride the waves like a pro. With over 20 years of experience instructing the surf community, backpackers and holidaymakers, Tezza and his team are committed to offering a safe, affordable and enjoyable surf experience, making Kool Kattz one of the best surf schools Byron Bay has to offer.
Address: 4/70 Shirley St, Byron Bay NSW 2481
Phone: +61 419 207 965
Hours: Open 24 hours
Mojosurf (Ballina Shire)
For one of the best surfing experiences, learn to surf with the Mojosurf team. Their relaxed approach and professional coaching make it easy for beginners to get surfing in no time. You'll be whisked away to secluded beaches with novice-friendly waves, where the learning experience is pressure-free and most importantly fun.
Address: 18 Fletcher St, Byron Bay NSW 2481
Phone: +61 2 6639 5100
Hours: Mon-Sun 10am-4pm
And if you prefer flat water…
Byron Bay SUP School 
This one is for those that want to experience being on the water but in a slightly different way. Byron Bay SUP (Stand Up Paddle Boarding) School provides a fun alternative to surfing. It's a bit easier and it's loads of fun, plus it's an all-body workout and a fantastic way to keep fit. They'll take you paddle boarding through the beautiful Cape Byron Marine Park, where you can get up close and personal to the native marine life and explore Byron's beautiful nature.
Address: 29 Shirley St, Byron Bay NSW 2481
Phone: +61 1800 707 274
Hours: Mon-Sun 8:30am-7pm
You'll also like:
WIN a 2 Week Trip to Copenhagen with IKEA Denmark
Top 9 Australian Ski Fields and Resorts
4 Best Nude Beaches in Melbourne & Victoria
Is it safe to surf in Byron Bay?
The Bay is usually very gentle for swimmers, explaining the high number of Aussies who frequently go there. However, it's still a large beach and does have occasional currents, rips and heavy tides. Like driving or cycling, just make sure to use common sense and follow the rules and you'll be fine.
How much do surfing lessons in Byron Bay cost?
On average it's around $70-90 for a day's lesson alone. But many schools offer discounts for purchasing more lessons upfront. You can also pay more for a private lesson.
What is the best time to visit Byron Bay?
September-November will give you the best weather but also the biggest crowds. June-August has the cheapest hotel prices and airfares but the weather will likewise be hit-and-miss.
---
Featured Video from Man of Many