12 Best Wetsuit Tops & Jackets for Surfing  
True to their intent, the best wetsuit tops and men's surf vests keep you warm and cosy when the winds get rough. And as you already know: the winds will get rough. Naturally, you have your options. That includes sleeveless surf wetsuits, long-sleeve wetsuit shirts, hooded tops, and more. Then we have equally important factors such as neoprene thickness and zipper system to consider.
We know, we know—who has time for all these decisions? You're just trying to carve some gnarly waves! It's for this reason that we've put the best wetsuit tops and jackets for surfing in one convenient place. From 2mm thermal jackets to front-zip wetsuit tops to sleeveless vests and more, we have you covered…literally.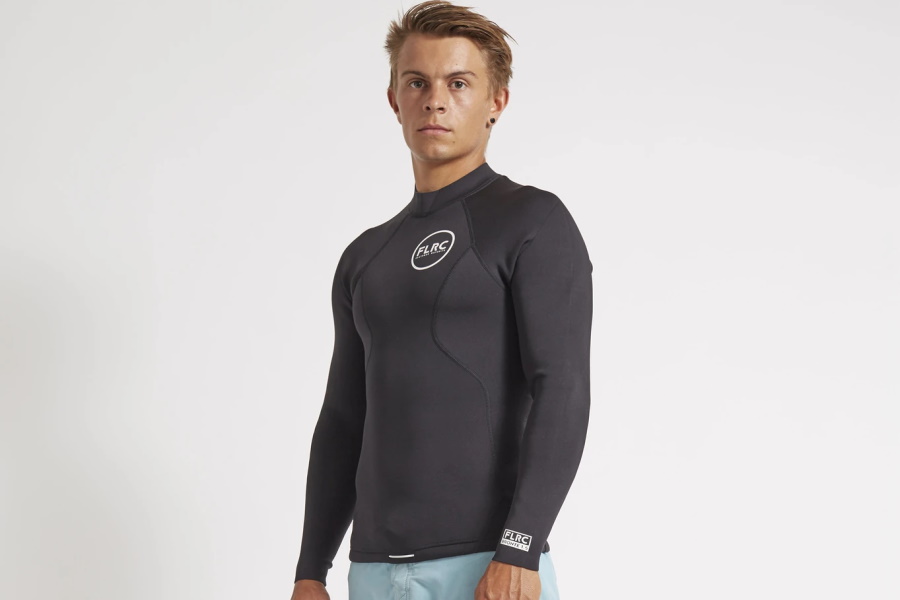 1. Flatrock Bronte Wetsuit Top 1.5mm
With its soft neoprene construction, Flatrock's Bronte is arguably the most comfortable wetsuit top that money can buy. Years in the making, it's crafted by hand and purpose-built for surfing. That ultraflex neoprene delivers such a natural fit that you might forget you're wearing a long-sleeve wetsuit shirt altogether. At this price point, it doesn't get any better.
Zipper system: Zip free
Neoprene thickness: 1.5mm
Price: AU$150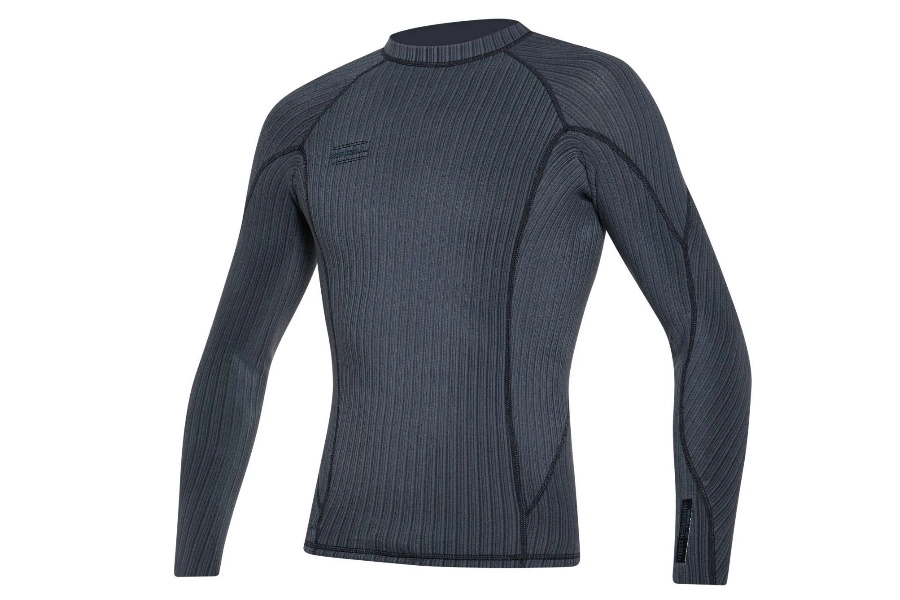 2. O'Neill Hyperfreak TB3X Long Sleeve Wetsuit Jacket Graphite 1.5mm
O'Neill's Hyperfreak is the stuff of legend and with good reason. Offering seamless mobility and no shortage of comfort, the wetsuit top combines lightweight pre-stretched TB3-X neoprene with hydrophobic super-stretch TB3 neoprene. To quote the brand: "You'd swear you were surfing naked."
Zipper system: Zip free (not counting a zippered front pocket)
Neoprene thickness: 1.5mm
Price: AU$190
---
Featured Video from Man of Many
---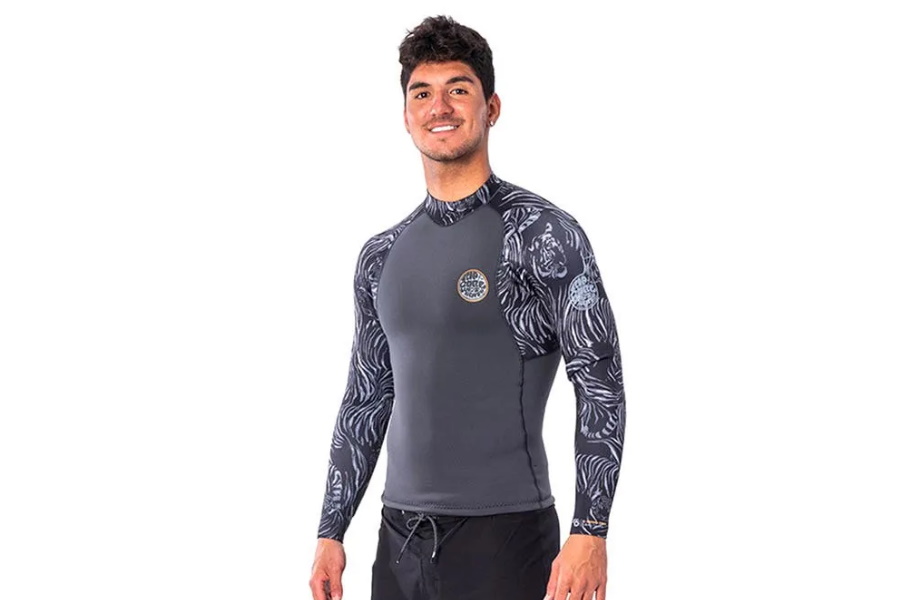 3. Rip Curl E-Bomb Long Sleeve Wetsuit Jacket 1.5mm
Being one of the best names in the surf game, it's no surprise that Rip Curl offers the best all-around long-sleeve wetsuit jacket. Dubbed the E-Bomb, it's crafted from the brand's most flexible and high-performance neoprene to date. A handy pull cord waist and boardshort loop enable easy adjustments, keeping the jacket intact when the going gets rough. Sealing the deal are glued and blindstitched seams. While you're digging around Rip Curl's store, be sure to check out their sleeveless surf vests, full-body wetsuits, and other gear and apparel. The brand can do no wrong!
Zipper system: Zip free
Neoprene thickness: 1.5mm
Price: AU$190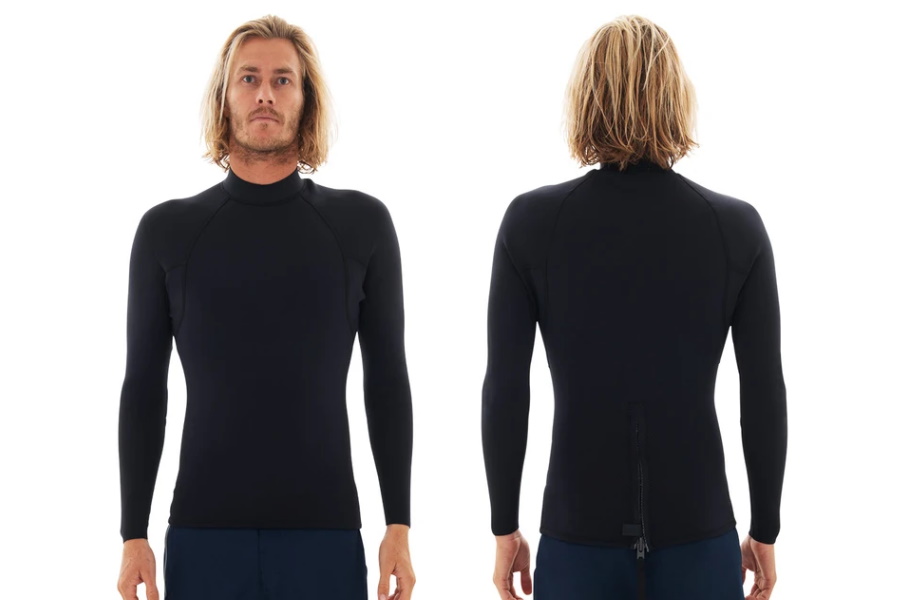 4. Need Essentials Back Zip Thermal Jacket 2mm
Want some bang for your buck? Look no further than this 2mm wetsuit jacket from Need Essentials, which delivers tremendous value. Tested in cool conditions, it's best worn in water that ranges from 20° to 26°celsius (68° to 78° Fahrenheit). Slip it on and behold the power of its limestone neoprene and flatlocked seam construction. Bring in some quality boardshorts and you're ready to roll.
Zipper system: Back zip
Neoprene thickness: 2mm
Price: US$120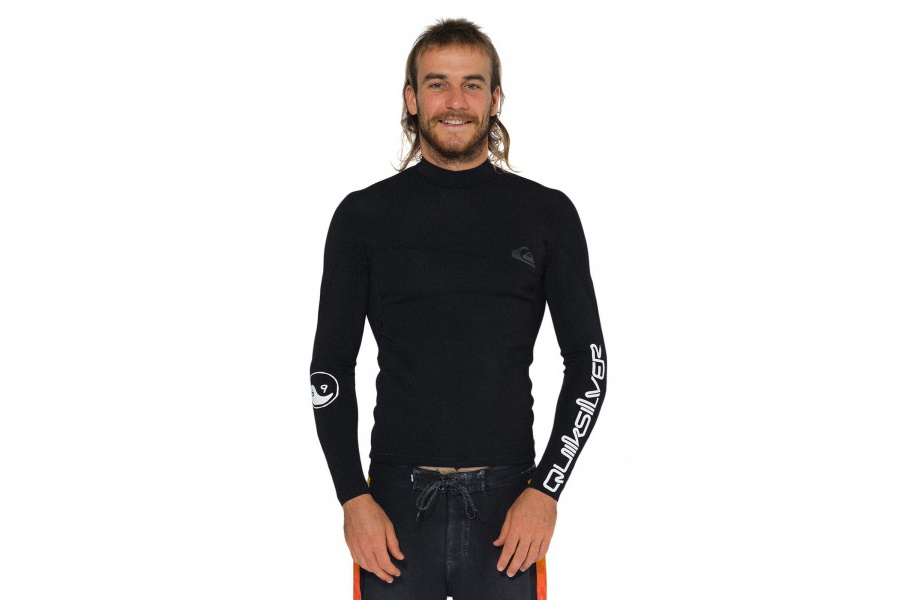 5. Quiksilver Men's Highline Limited Mikey Wright Long Sleeve Wetsuit Jacket 1.5mm
Featuring hand-drawn designs from pro surfer Mikey Wright, this popular wetsuit top combines premium performance with signature style. At the heart of its Deluxe Rubber construction is F'N Lite neoprene, which is equal parts light, flexible, and quick to dry. It's also the only rubber that Mikey himself takes out onto the waves. Pair that with the brilliant aesthetic and you get the best of all worlds.
Zipper system: Front zip
Neoprene thickness: 1.5mm
Price: AU$180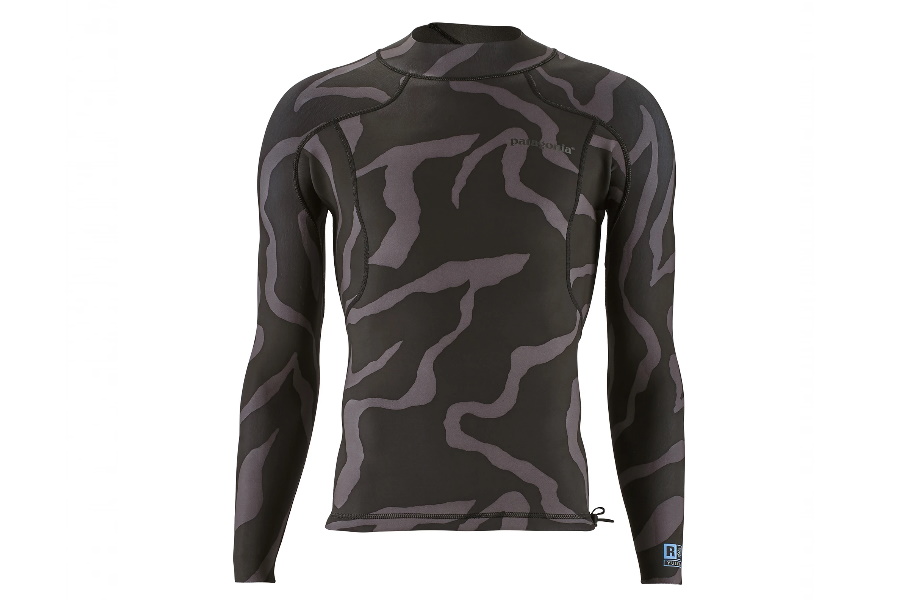 6. Patagonia Men's R1 Lite Yulex Long Sleeve Top 1.5mm
It's not hyperbolic to say that most surfers share a unique bond with the planet and its natural resources. After all, without healthy air and clean water, outdoor sports like surfing might cease to exist altogether. Where are we going with this, you ask? To the R1 Lite Yulex Long Sleeve Top. While somewhat overpriced and uncomfortable, it's Fair Trade Certified sewn, made of 85% renewable natural rubber, and lined with 100% recycled polyester. A quintessential Patagonia wetsuit top, this one is better for the environment than standard or even superior counterparts. For a number of modern surfers, that's what matters most.
Zipper system: Zip free
Neoprene thickness: 1.5mm
Price: AU$180
7. The Critical Slide Society Jumbled Sultans Front Zip Jacket Navy 2mm
More than a high-performance wetsuit top, this one from The Critical Slide Society is also quite trendy and stylish. Its retro aesthetic with flaring edge results from a partnership between artist John Zabawa (of A Zabawa) and LA-based Cantina Studio. Features include 2mm ultra flex neoprene, front auto-lock zip, long sleeves, and a signature Sun graphic print on the front left chest. It's available in limited supply so get this stylish stunner before it's gone, baby, gone.
Zipper system: Front zip
Neoprene thickness: 2mm
Price: AU$170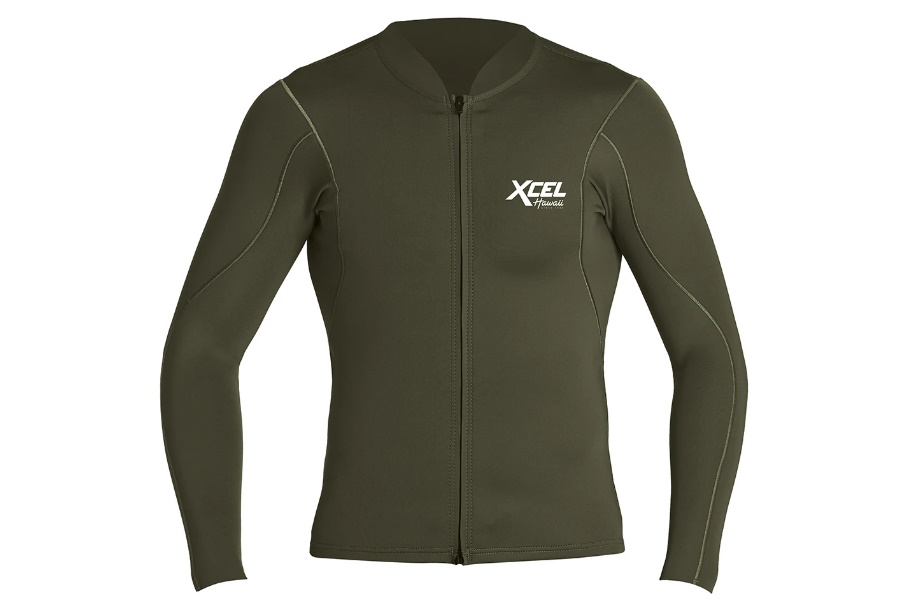 8. Xcel Men's Axis Long Sleeve Front Zip Jacket SP21 1/0.5mm
Sometimes, you just need a classic and affordable wetsuit top for when the water is warm and the breezes cool. Enter the Axis Long Sleeve Front Zip Jacket SP21 from Xcel Men's. It's crafted from Eco Limestone Veoprene, which is 1mm thick at the body and upper sleeves and just 0.5mm thick under the sleeves and at the side panels. Good for 100% performance stretch, it features B-Lock seam construction and an engineered fit design. Taking it on and off is as simple as using the front zip. All that for less than an average dinner for two at a nice restaurant.
Zipper system: Front zip
Neoprene thickness: 1/0.5mm
Price: US$100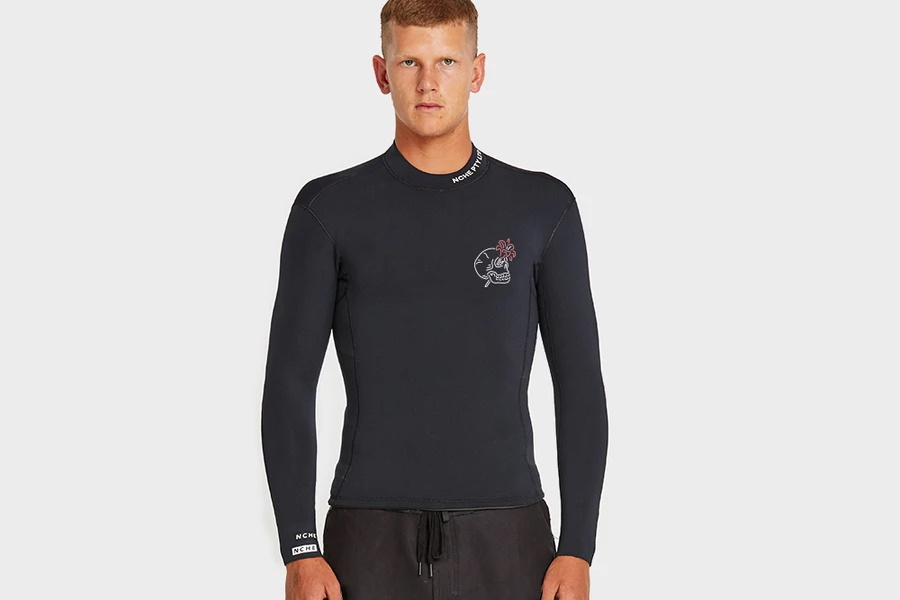 9. NCHE Kentaro Time Flies 2 GBS Black Jacket 2mm
Time flies when you're out on the waves and surf brand NCHE certainly knows as much, as does Japanese artist Kentaro Yoshida. No stranger to the sport, Yoshida designed this wetsuit jacket's graphic logo in tandem with his latest art exhibit (accordingly named "Time Flies"). On the construction front, expect silky limestone neoprene—better known as NCHE V Foam—along with the label's own low-profile stitch. Supreme warmth and comfort are part of the package while the unique graphic drives home a distinguished vibe. As you can probably guess, this 2mm wetsuit top is available in limited supply.
Zipper system: Zip free
Neoprene thickness: 2mm
Price: US$190
10. O'Neill O'Riginal Vest Wetsuit Jacket Black 2mm
One of the best sleeveless wetsuit tops comes from O'Neill and features FlatLoc seams, smooth texture, and a throwback silhouette. Retro by design, it still uses modern materials like UltraFlex DS Neoprene. Select your size and take to the waves with ample warmth and unfettered mobility.
Zipper system: Zip free
Neoprene thickness: 2mm
Price: AU$80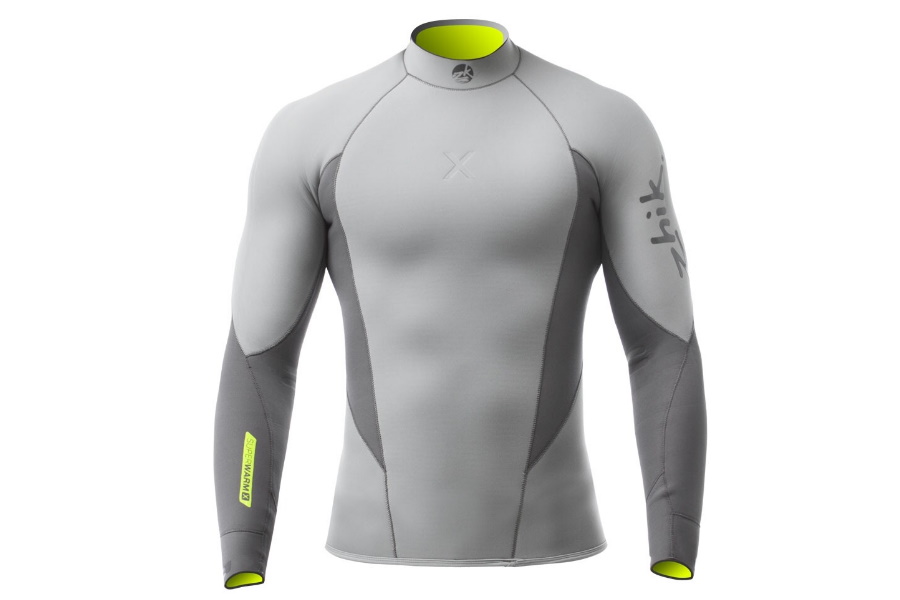 11. Zhik Mens Superwarm X Top
If you're just starting to surf in cold ocean temperatures, you should consider rocking a full-length wetsuit with thinner neoprene in the arms and legs, rather than a thick top. However, if you simply must go with a 3mm wetsuit top, make it this one from Zhik. Equal parts dope, stretchy, and exxy, it'll keep you super warm indeed.
Zipper system: Zip free
Neoprene thickness: 3mm
Price: AU$320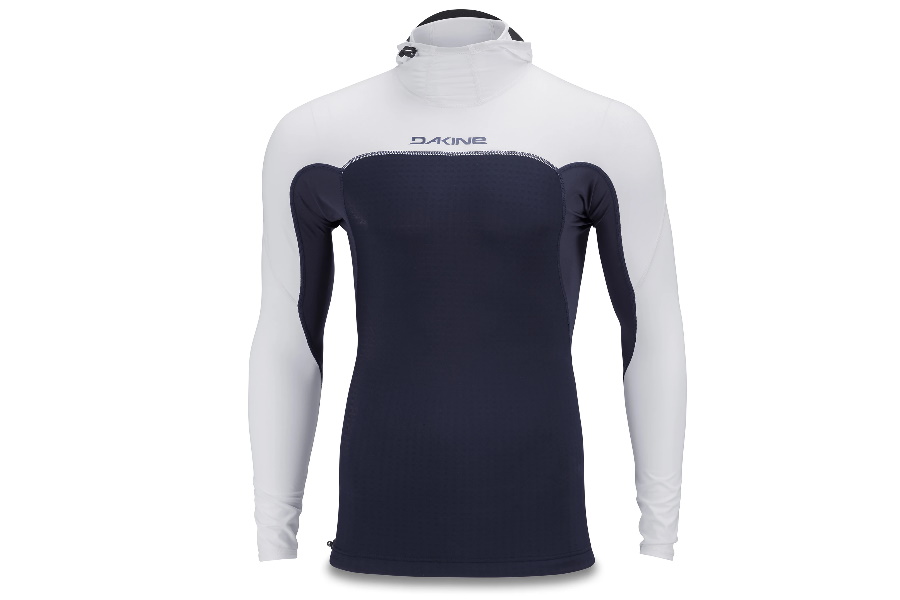 12. Dakine Storm Hooded Long Sleeve Rashguard
A personal favourite, this hooded wetsuit top offers excellent mobility and hybrid coverage. Not only that, but the hood comes with its own rashguard. Additional features include lightweight cooling sleeves and side panels, 2mm neoprene on the front and back, a built-in visor, and a seamless paddle zone. Your surfing regimen has just been optimised.
Zipper system: Zip free
Neoprene thickness: 2mm
Price: AU$85
You'll also like:
Surfing
Surfing
Surfing
General FAQ
What is a wetsuit jacket?
Typically crafted from neoprene, wetsuit tops or jackets offer extra warmth and comfort for surfers. They should be worn in warm or cool water during windy conditions.
What are the best wetsuit brands?
Some of the best wetsuit brands are Flatrock, Rip Curl, Quiksilver, Patagonia, Need Essentials, and O'Neill, to name a few.
How tight should wetsuit top be?
Mobility is crucial for surfing and your wetsuit top should never be so tight as to hinder your ability to move. That said, it should still fit tightly enough so as not to fly off in the midst of action.
---
Featured Video from Man of Many