2015 Mercedes-Benz G63 AMG 6×6 is Spectacular
Mercedes-Benz calls it "the most spectacular cross-country vehicle of all time," and they just might be right. The 2015 Mercedes-Benz G63 AMG 6×6 has, as the name suggests, six driven wheels. Those six wheels require five lockable differentials and three rigid axles, each of which operates autonomously. Combined, the set up produces 536 horsepower with 560 ft-lb of torque, thanks to the AMG-built 5.5L twin-turbocharged V8.
All that power means that despite the G63's 3,775kg weight, it can still hit 60 miles per hour from 0 in 7.8 seconds. Speed tops out at 100 miles per hour.
With six tyres, you might imagine that the G63 takes up a bit of space, and you'd be right. The rig measures 2.3 metres tall, 2.1 meters wide, and 5.87 meters long. Part of that height comes from a ground clearance of 460mm—which means there's not much terrain this behemoth can't conquer, including up to one metre of water. It also has 52-degree approach and a 54-degree departure angles.
The six tyres are shod in 37-inch wheels, which have the added benefit of a tyre control system that allows the driver to modulate tyre pressure between the front and rear axles separately to improve traction and control. According to Mercedes-Benz, this system lets you inflate the tyres from 0.5 Bar (for use on sand) to 1.8 Bar (for normal road use) in as little as 20 seconds.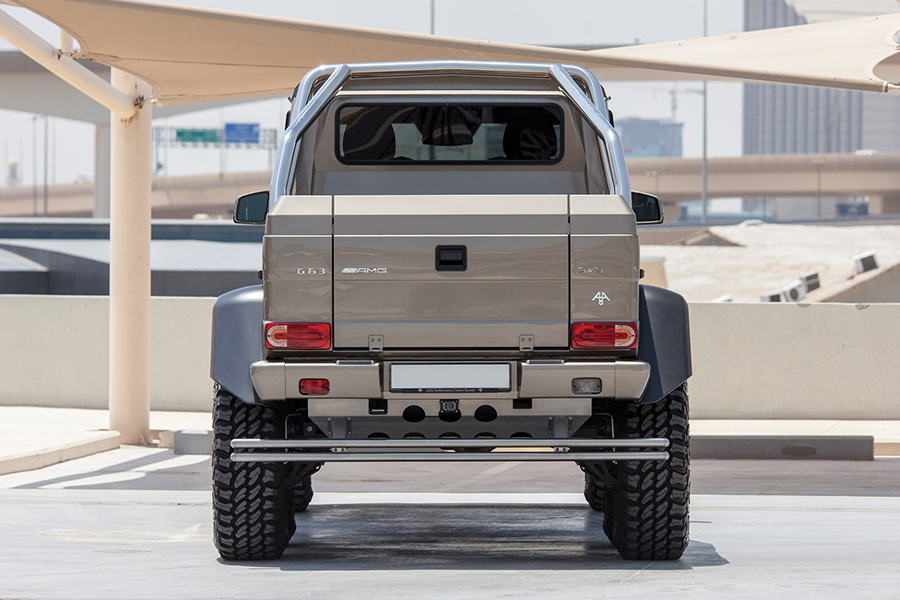 The G63 was done up in grey with two-tone black and tan leather. The seats are Designo leather and are all electronically adjustable, heated, and ventilated. Not only is this an impressive off-roader, it's also a luxurious ride. And since the original owner only put on less than 225 km, it's also practically new.