2024 Polestar 2 Review: More Range, More Everything
The driving experience may not have changed much since we tested the Polestar 2 for a week back in 2022. However, there's more power, range, and efficiency with the launch of the updated 2024 Polestar 2 for Australia and prices have stayed relatively steady, starting from AUD$67,400 plus on-road costs.
By the numbers, the car can now travel up to 22 per cent further, consume up to 9 per cent less energy, and charge up to 34 per cent faster, thanks to hardware that includes larger batteries and new motors. Above all, the AUD$71,400 Polestar 2 Single Motor Long Range has the highest claimed WLTP range of any electric vehicle in Australia with up to 654 km of all-electric range. That's 52km more than the equivalent (albeit faster) Tesla Model 3 Long Range which starts from AUD$74,300 and 24km more than the AUD$180,400 BMW iX xDrive50.
To put this update to the test, we real-world range-tested the top-of-the-range Polestar 2 Long Range Dual Motor with Performance Pack (AUD$85,400, up to 591km on range) in a drive from Sydney to Canberra.
| | | |
| --- | --- | --- |
| Pros | Cons | Verdict |
| Driving dynamics are up there with the best cars in its price bracket. No longer an EV used exclusively for convenience, it builds on the pleasure and enjoyment of the pre-update model with a comfier suspension tune. Android Automotive is a big plus and it now has Apple CarPlay. | By the numbers, it's considerably more expensive than the Tesla Model 3 AWD Long Range and offers similar performance and range. Our loan vehicle was priced at AU$104,900 before on-road costs. | Updated Polestar 2 remains our favourite EV to drive in the price range. Cargo space is limited, so not the most suitable choice for families. The Volvo XC40 Recharge exists for a reason. |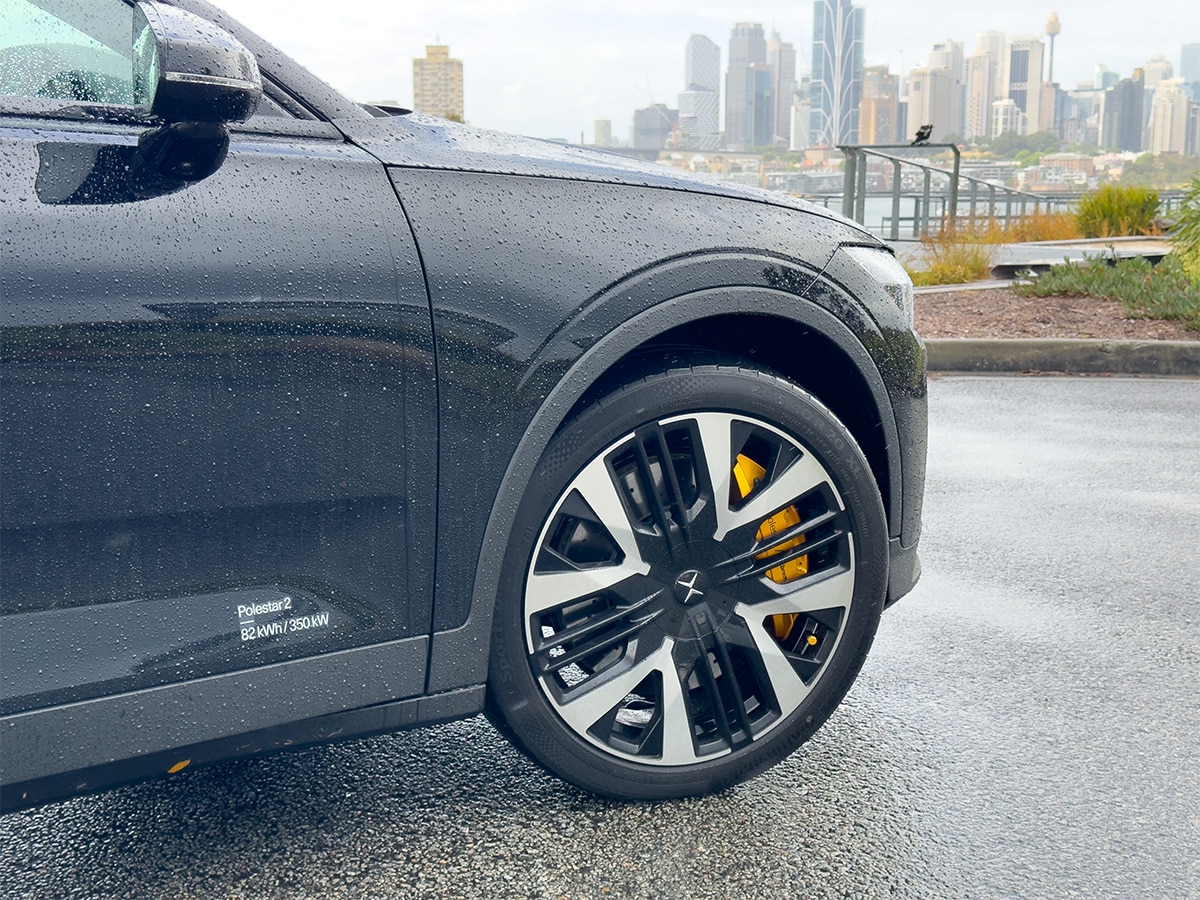 2024 Polestar 2 Model Line-up and Pricing
Here's how the new Polestar 2 lineup stacks up in Australia:
| | | | | | | | | |
| --- | --- | --- | --- | --- | --- | --- | --- | --- |
| Variant | Drivetrain | Battery Capacity | Max Charging Speed DC | Range, WLTP | Power | Torque | Carbon Footprint | Pricing |
| Long range Dual motor with Performance Pack | AWD | 82kWh | 205kW | Up to 591 km | 350kW | 740Nm | 23.1 tCO2e | $85,400 |
| Long range Dual motor | AWD | 82kWh | 205kW | Up to 591 km | 310kW | 740Nm | 23.1 tCO2e | $76,400 |
| Long range Single motor | RWD | 82kWh | 205kW | Up to 654 km | 220kW | 490Nm | 22.4 tCO2e | $71,400 |
| Standard range Singe motor | RWD | 69kWh | 135kW | Up to 532 km | 200kW | 490Nm | 22.5 tCO2e | $67,400 |
For the purpose of this review, we were testing the Long range Dual motor with Performance Pack and it was loaded up with options that pushed the price to $104,900 plus on-road costs. This included options such as Space paint ($1,500), Pilot pack ($3,500), Plus pack ($6,000), and Nappa leather ($6,000). The result was a drive-away price for a NSW postcode of $115,200.
Compare this to the competition in the Tesla Model 3 Long Range ($71,900) and the Polestar 2 starts to look a little expensive, to say the least. The equivalent Tesla Model 3 costs $83,499 plus on-road costs with a drive-away price of around $87,999 including options such as Enhanced Autopilot ($5,100), Black and White interior ($1,500), 19-inch Nova Wheels ($1,800), and Solid Black paint ($1,500).
However, if you look at the German rivals things start to ease up. The BMW i4 eDrive35 starts from $85,900 before on-road costs which is comparable to the Polestar 2 and only offers 430km of claimed range and less straight-line performance from its RWD configuration. The closest competitor is the BMW i4 eDrive40, but it starts from $102,900 plus on-road costs. Mercedes-Benz doesn't really have a horse in this race in the range-lacking EQA, however, we're waiting on the Australian launch of the Audi Q4 e-Tron which should present some serious competition to the Polestar 2.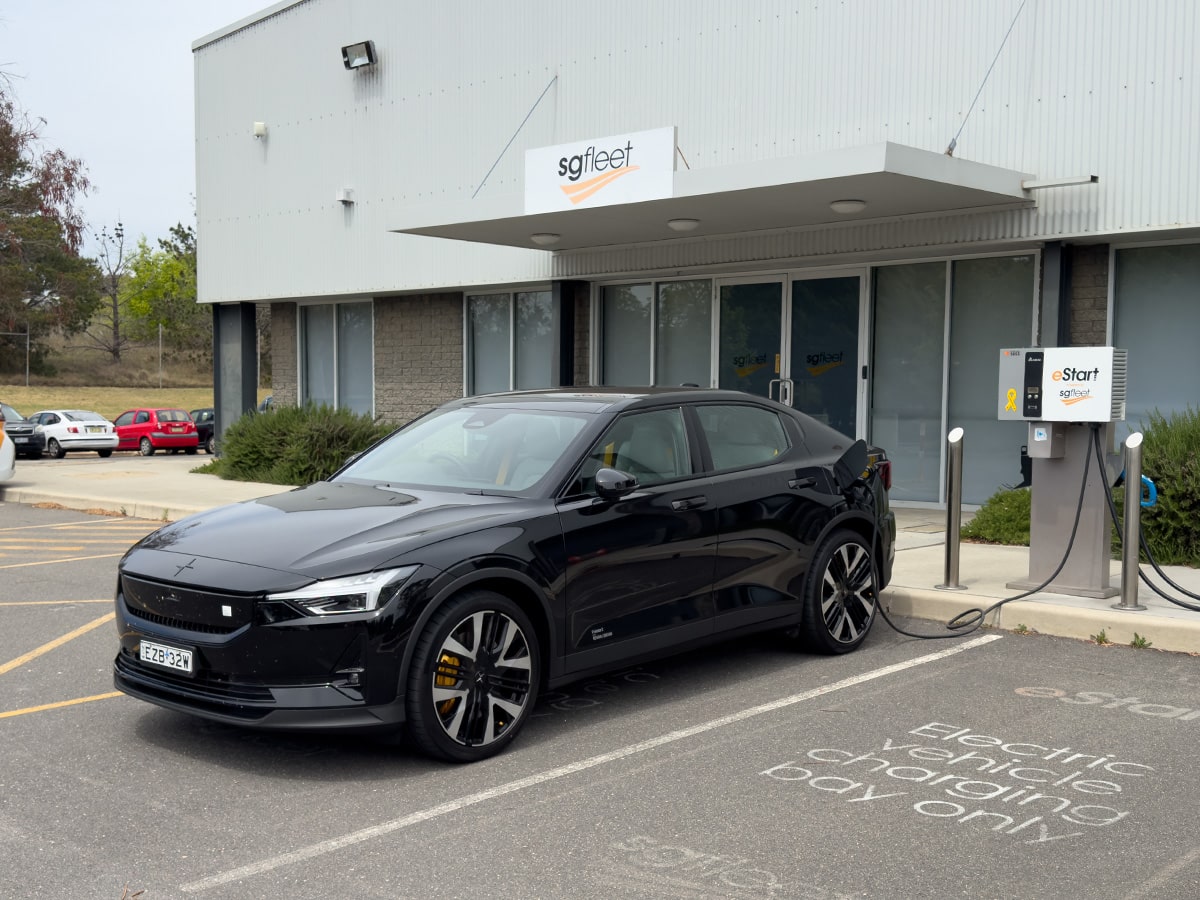 Range and Charging
As mentioned, the updated Polestar 2 Single Motor Long Range currently claims the title of the electric vehicle with the longest WLTP range in Australia. It can now achieve a range of up to 654 km WLTP (an increase of 103 km), while the Standard Range Single motor version is now capable of up to 532 km WLTP (an increase of 54 km) thanks to 82 kWh batteries from CATL with 27 modules.
---
Featured Video from Man of Many
---
The range bests those from the updated Tesla Model 3 Long Range at 629km – let's not forget the Model S is no longer available in Australia.
You can also charge your Polestar 2 faster thanks to updated batteries that benefit from a redesigned battery disconnect unit, upgraded busbars and improved cell chemistry. All of this enables faster charging rates of up to 205 kW DC for long-range batteries and 135 kW for the standard-range battery.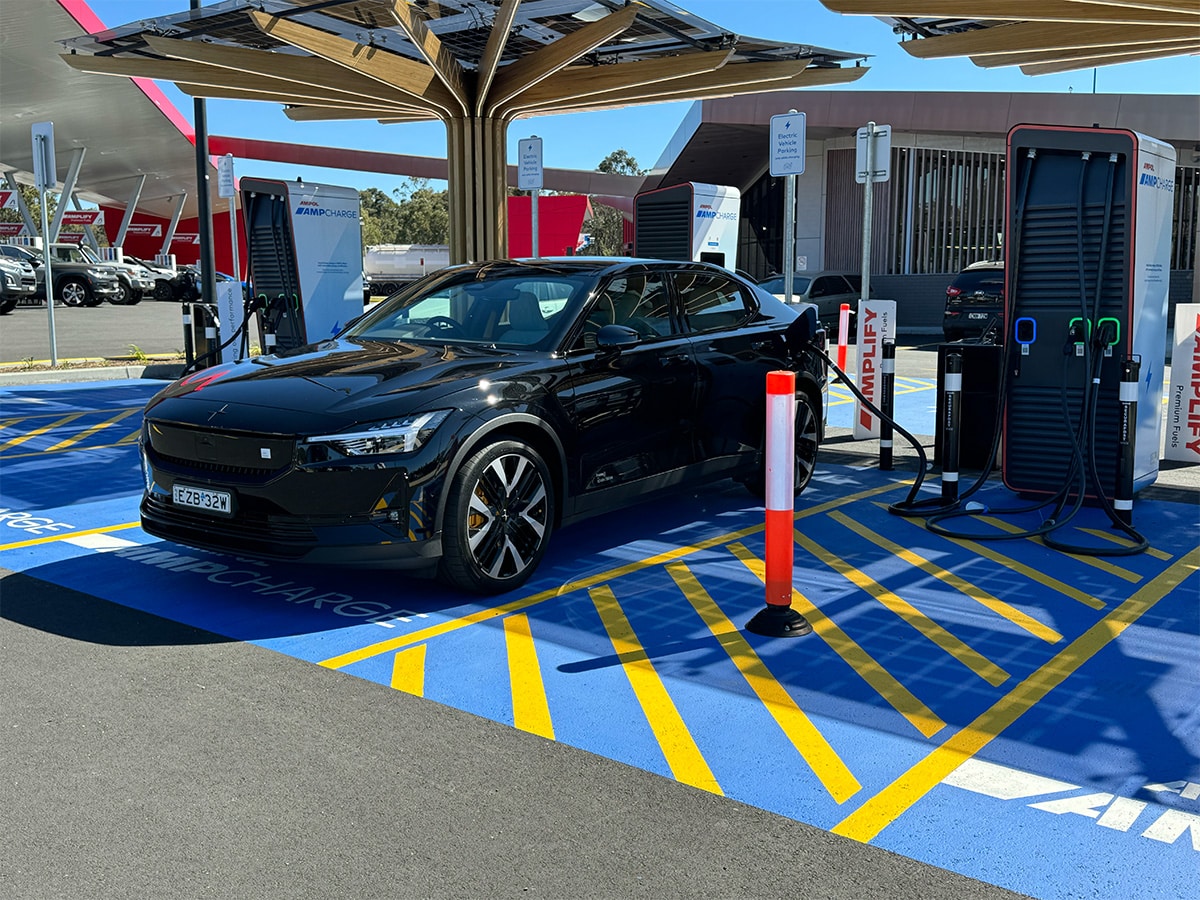 In the past, our experience with the public charging network has been nail-biting for long-range driving. However, brands like Ampol AMP-Charge and BP Pulse have been rolling out fast DC chargers across Sydney and most of the major highways and on our trip to Canberra we had a chance to check out the new 150kW chargers at Pheasants Nest. We added 39.8 kWh of energy back into the 82 kWh battery in under 30 minutes for a total cost of $27.46. This isn't particularly cheap when you consider you're only adding around 200km of highway range, but it's as expected for the public charging network.
It's also here that I'll note the inefficiency of all-electric vehicles on highways and the need for you to consider vehicles like the Polestar 2 if you're planning on driving long distances. Unlike ICE-powered vehicles, EVs become less economical on these roads and you can lose 20-30% of the total range when you're driving on highways at the speed limit. Our drive from Sydney to Canberra was 302km and we would've *just* made it if we didn't charge halfway in Goulburn. If you bought an EV with less range you'd expect to charge two or three times on your way to Canberra. Just ask the BYD Atto 3 driver who was stuck at the under-delivering 350kW charger next to us at Goulburn that was maxing out at just 50kW.
Power and Performance
In a significant change, the single motor variants of the Polestar 2 are now rear-wheel-drive with increased power outputs of up to 220 kW (increased from 170 kW). The Dual motor variants of the Polestar 2 have also received a recalibration that lends itself to a rear-wheel-drive bias system, including front motor disengagement for extended-range purposes.
Standard Dual motor variants also get more power, now up to 310 kW and 740 Nm (increased from the original 300 kW and 660 Nm) with a 0-100 km/h time of 4.5 seconds. Option the 'Performance Pack' (which can be downloaded through the infotainment screen) and the Long range Dual motor cars like our tester get up to 350 kW of power with an even lower 0-100km/h time of 4.2 seconds.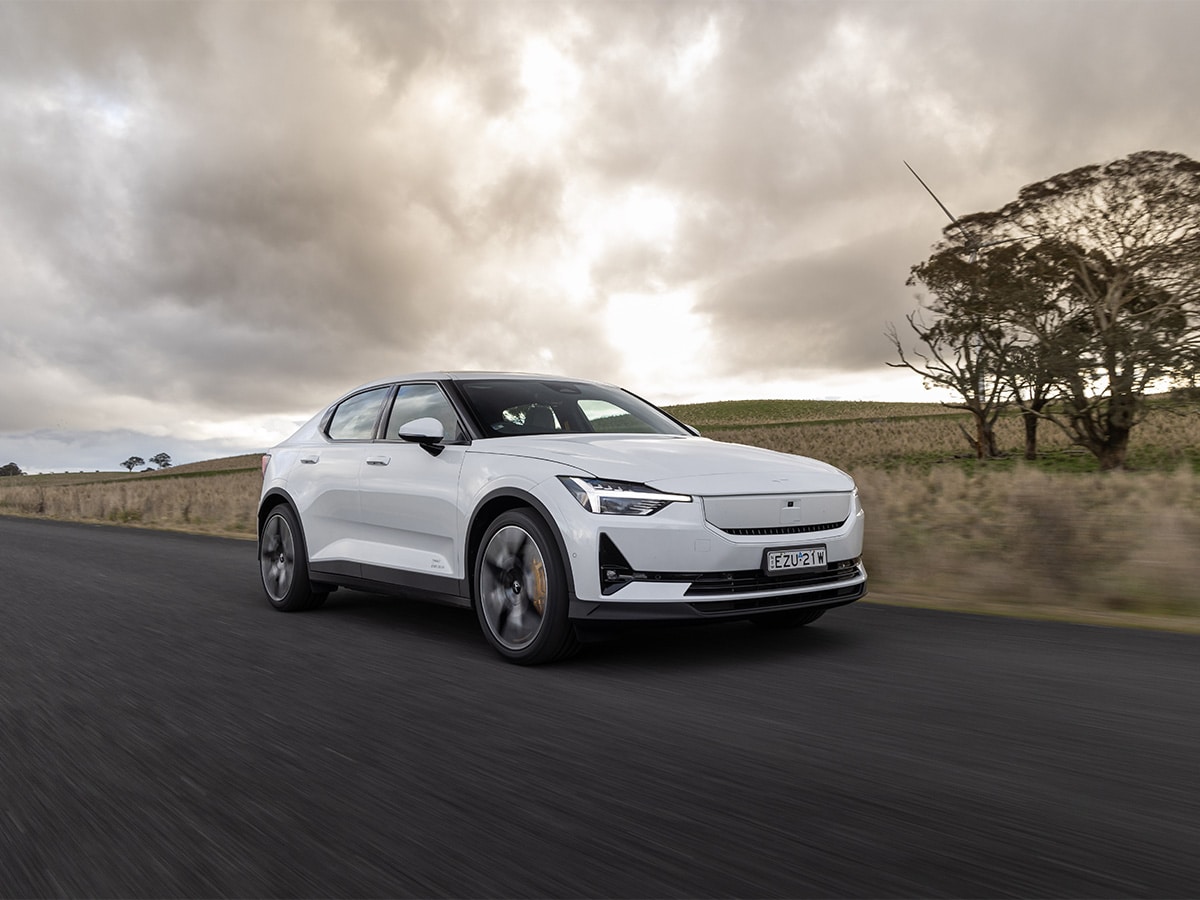 Driving Impressions
The updated 2024 Polestar 2 is still our favourite EV to drive at this price point and makes the competition feel appliance-like. We rarely find ourselves getting behind the wheel of any electric vehicle looking for a 'fun to drive' sensation, but the Polestar 2 is one of the few to offer such a feeling, only increased by this rear-wheel-drive bias AWD system.
More importantly, especially for those who may have cross-shopped the Polestar 2 in the past, is that the ride comfort has been drastically refined. Our test car was fitted with the manually adjustable Ohlins dampers and they've been improved two-fold, now offering a more relaxed feeling through the chassis with the same assertiveness when you're pushing the car through corners.
Braking is still taken care of by a massive pair of Brembo 4-piston brakes with vented and drilled front discs. We're pleased to say there's no strange regenerative braking feel through the pedal.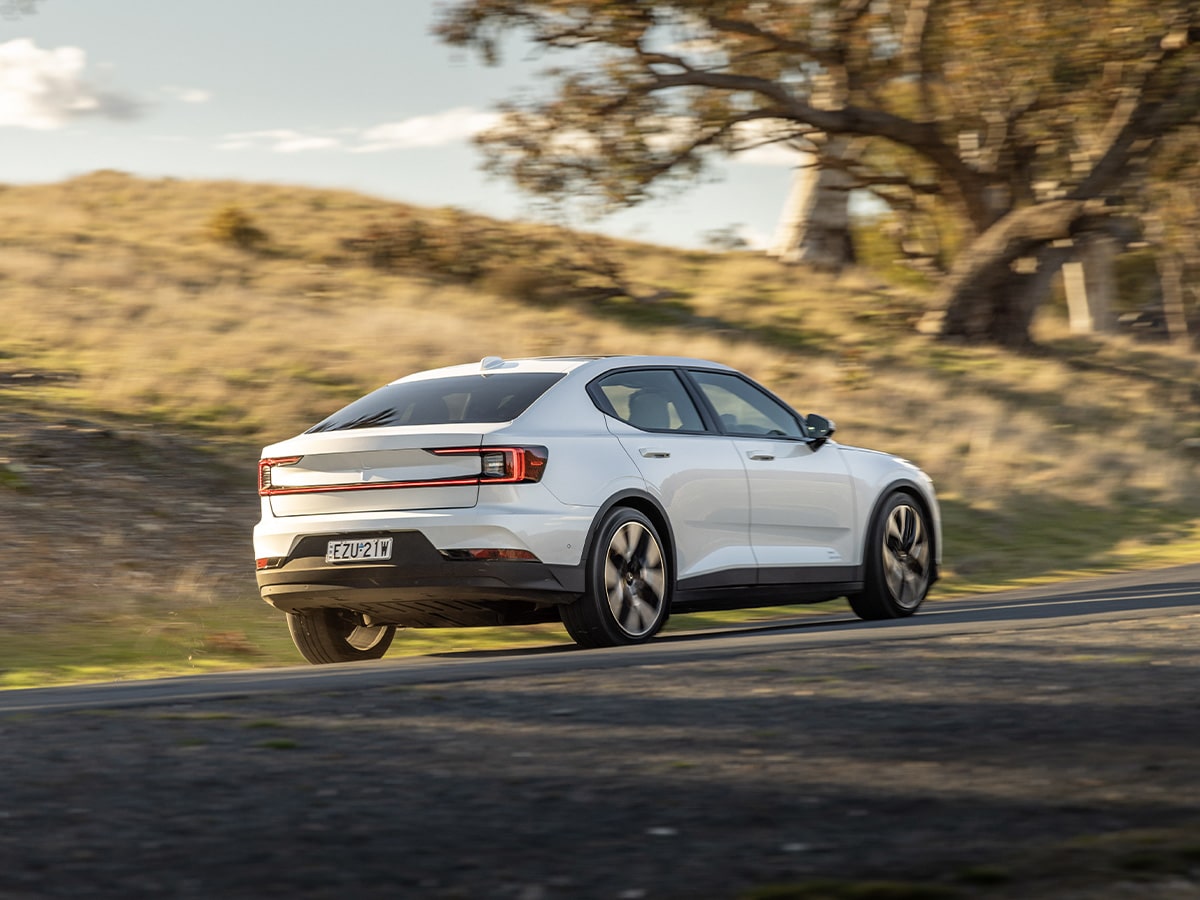 After jumping in and out of a few EVs over the last few months it was a great feeling to get behind the wheel of an EV with real character. In the same way a Porsche Taycan never lets you forget you're driving a Porsche, the Polestar 2 never lets you forget it has the backing of a heritage auto manufacturer in Volvo under the skin. They might be listed on the NASDAQ, but this is a car first and foremost, not an appliance.
There isn't an EV for the money that behaves this well when driven hard. In terms of comparison, you have to look at petrol sports cars like the BMW M240i. The dynamics at pace are great, the steering is responsive, the suspension is firm but not stiff, and the pedals are well-balanced. Of course, push any more than seven-tenths and lighter-weight sports cars would walk away but the dynamics are there and that's what matters when you're talking about 'fun to drive'.
After driving the pre-update model back in 2022 we longed for electronically controlled dampers and some audible theatre that it's still missing. The inclusion of manually adjustable Ohlins sounds great on paper, but you're never going to adjust them. And in terms of theatre, we hate to say it but the complete lack of sound is disconcerting when throwing the car at a few turns (there's no fake noise here).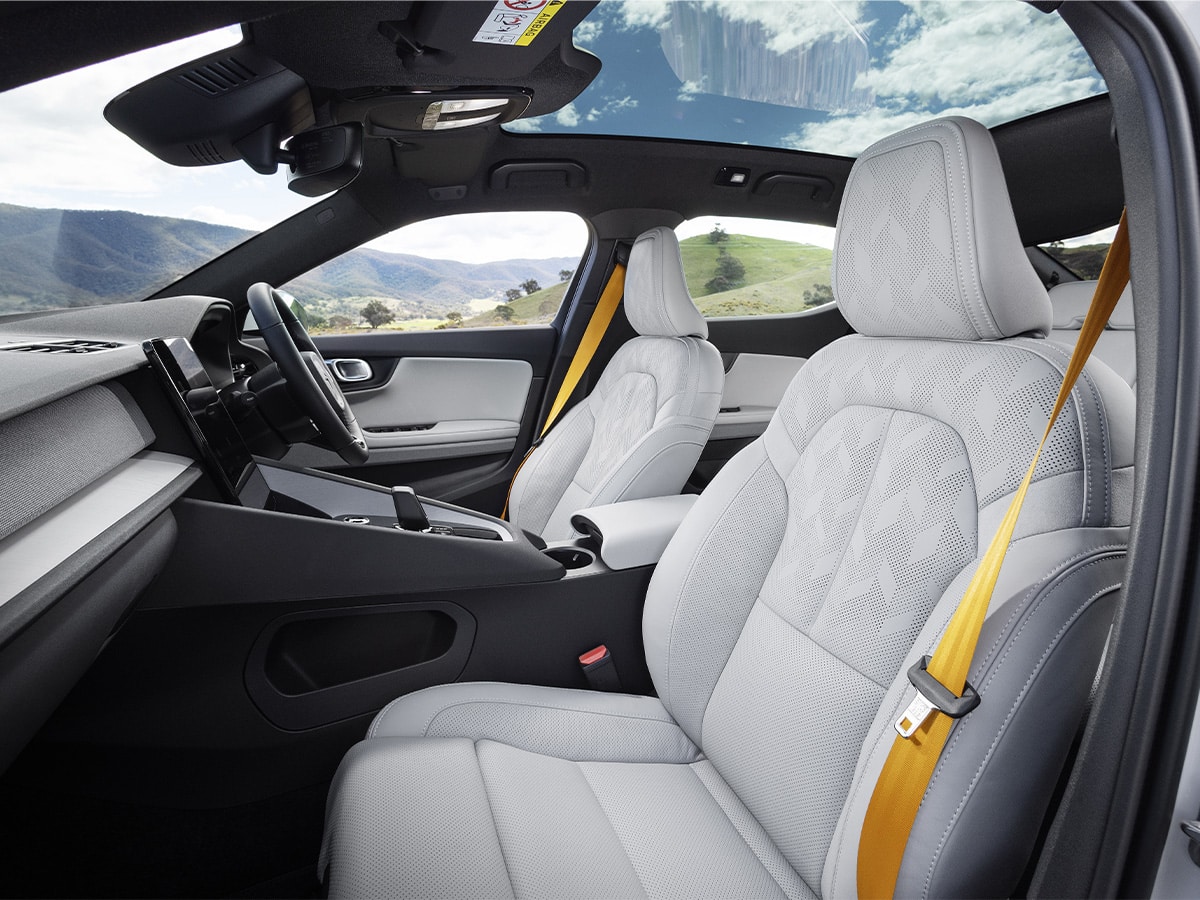 Interior Design
Our Polestar 2 press car had all the options ticked, including the Plus pack ($6,000) that adds:
Heat pump (reduces battery use to prepare and sustain cabin climate)
Harman Kardon premium audio with 13 speakers (600W)
Heated windscreen washer nozzles
Heated rear seats
Heated steering wheel
WeaveTech (vegan) upholstery with Black Ash deco
High-level interior illumination
Panoramic roof with projected Polestar symbol
Fully-electric driver seat, with memory
Fully-electric passenger seat
Mechanical cushion extension, front seats
Inductive phone charger 15 W
Rear cargo floor "lid in lid" with bag holder
Tinted rear window
Air quality monitor and advanced cabin filter
Digital key (phone application)
Power-operated tailgate with foot sensor
There's a lot to unpack on that options list, but overall we loved the choice of materials throughout the cabin and found the optional Napa leather seats in our car better reflective of a vehicle that costs over $100,000 even if the standard WeaveTech material is very good.
You won't mistake the Volvo steering wheel but the buttons are intuitive to use, and unlike the Kia EV6, there are only 14 of them so you won't have to take your eyes off the road to find them. They've also sourced Volvo seats that offer good comfort and just enough bolstering to keep you in the seat when tackling mountain roads.
Speaking of which, the driving position is one of our favourites in an EV. The seats and steering wheel are fully adjustable and the high doorsills and centre console give a cocoon feeling that's not unlike a sports coupe. We particularly love the angles on the door to hide the speakers, the integration of the AC vents, and the overall layout of the interior that's hard to fault.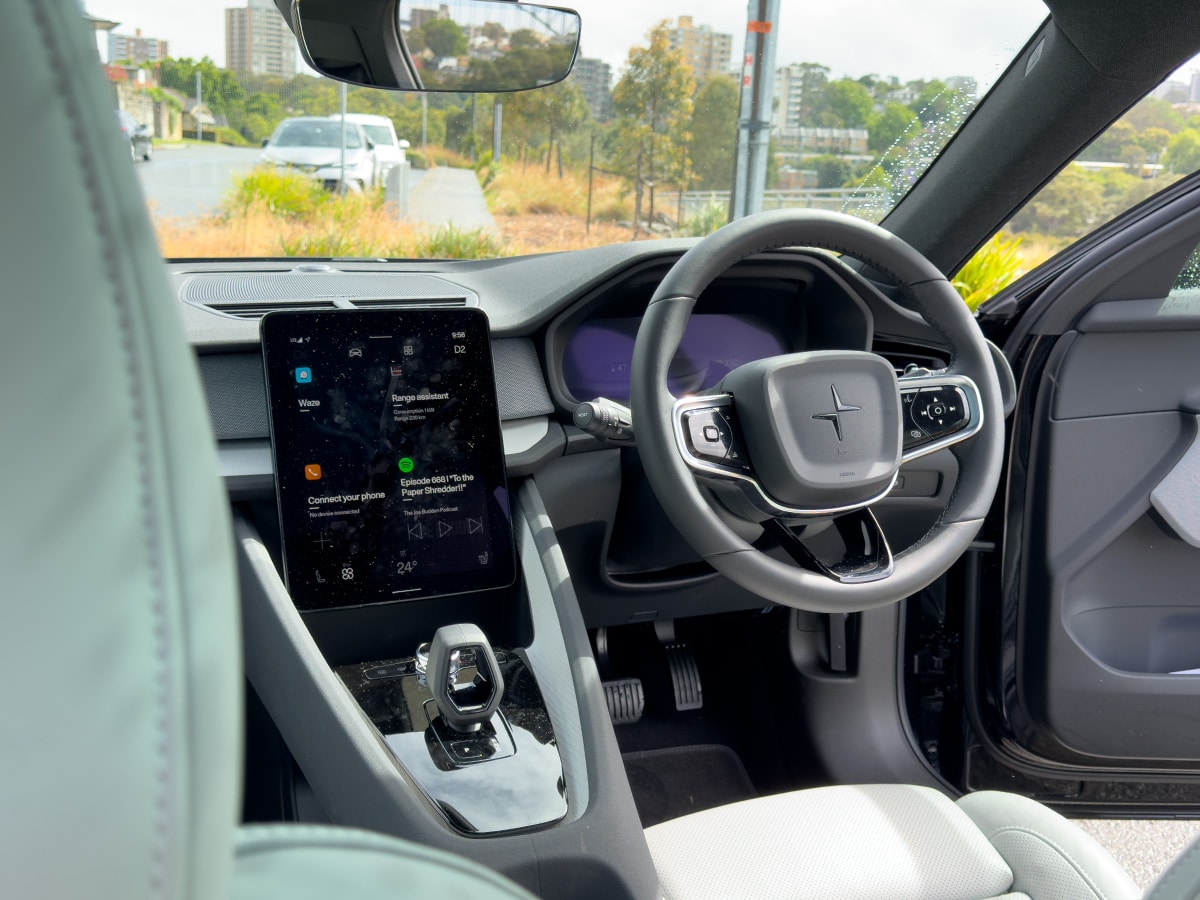 Screens and Infotainment
The Polestar 2 was the first car in the world to use an infotainment system powered by Android Automotive when it launched, it remains in the car today. The centre-mounted 11.15-inch infotainment is intuitive and easy to use once set up and now supports Apple CarPlay and Android Auto.
When you're not using Apple CarPlay the centre infotainment and driver display screens work together with Google Assistant for speech, Google Maps for navigation, and the Google Play Store for apps that now includes Waze. We downloaded Spotify, logged in with a QR code in about 2-seconds, and were amazed at how the screen optimised the app with icons and scrolling capabilities.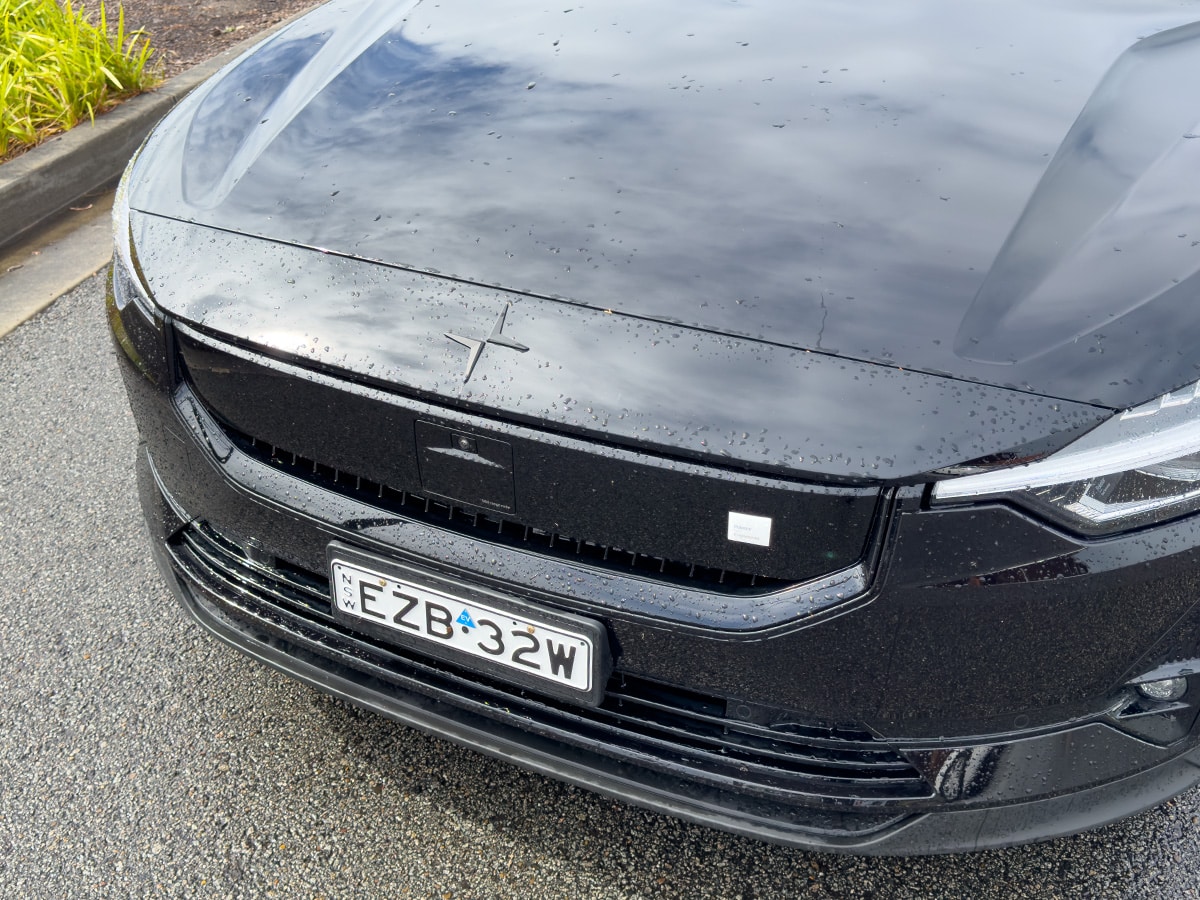 Safety Features
The updated Polestar 2 gains the SmartZone camera and radar suite with active safety technology, but most of the features you want are included as optional equipment in the Pilot pack ($3,500), such as:
Pixel LED headlights with adaptive high-beam
LED front fog lights with cornering function
Adaptive Cruise Control
Pilot Assist
If you tick the option box you'll find that it's very good. We had a chance to use this on the highway from Sydney to Canberra and can confirm this is one of the best semi-autonomous driving systems we've used in a new car today, keeping us in the middle of the road without pin-balling from side to side as we experienced in the MG4.
Thankfully, you do finally get plenty of basic standard safety features such as a Blind Spot Information System (BLIS) with steering support, Cross Traffic Alert with brake support, and Rear Collision Warning and Mitigation, along with the 360-degree surround view camera and automatic dimming exterior mirrors. The Polestar 2 is fitted with 8 airbags as standard.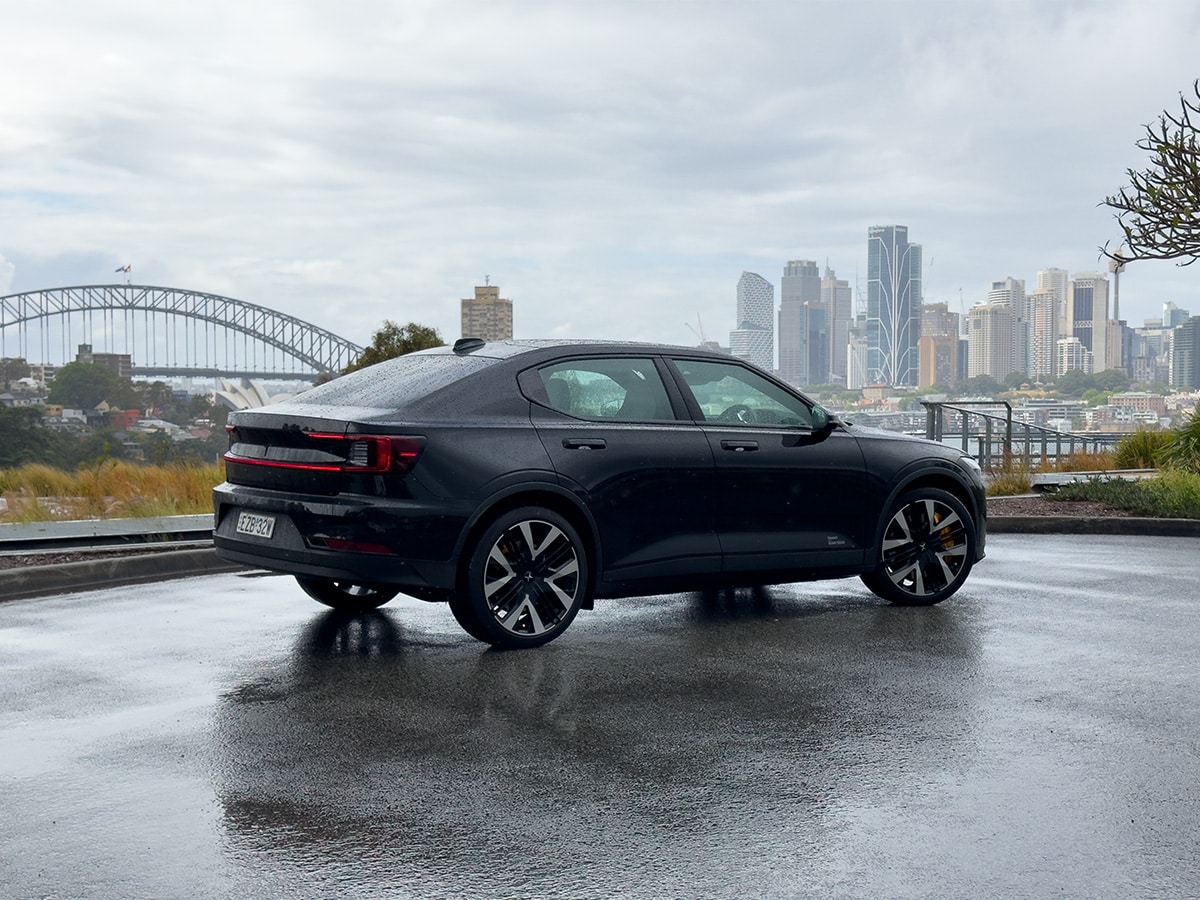 Warranty and Servicing
The Polestar 2 comes with a 5-year unlimited kilometre warranty for parts, including faulty materials or manufacturing issues in which the brand will replace it free of charge at your nearest service point.
The battery warranty for the Polestar 2 is 8 years or 160,000km (whichever comes first). If the battery percentage drops below 70% in the first 8 years of ownership the brand will replace the battery free of charge. A 12-year corrosion warranty is also included in the purchase of any new Polestar 2. More information on the Polestar warranty can be found via this link.
The Polestar 2 has over-the-air updating capabilities that don't restrict driving. Like a smartphone, these can be scheduled at specific times, or as soon as they become available. OTA updates are also covered by the Polestar data plan included for the first three years of ownership.
All models come with free servicing and roadside assistance for five years, but items like the planetary gearsets are lubricated and cooled with a special lifetime lubricant that has no scheduled service interval. As such, routine servicing is included in the cost of the vehicle for the first 5-years / 100,000km.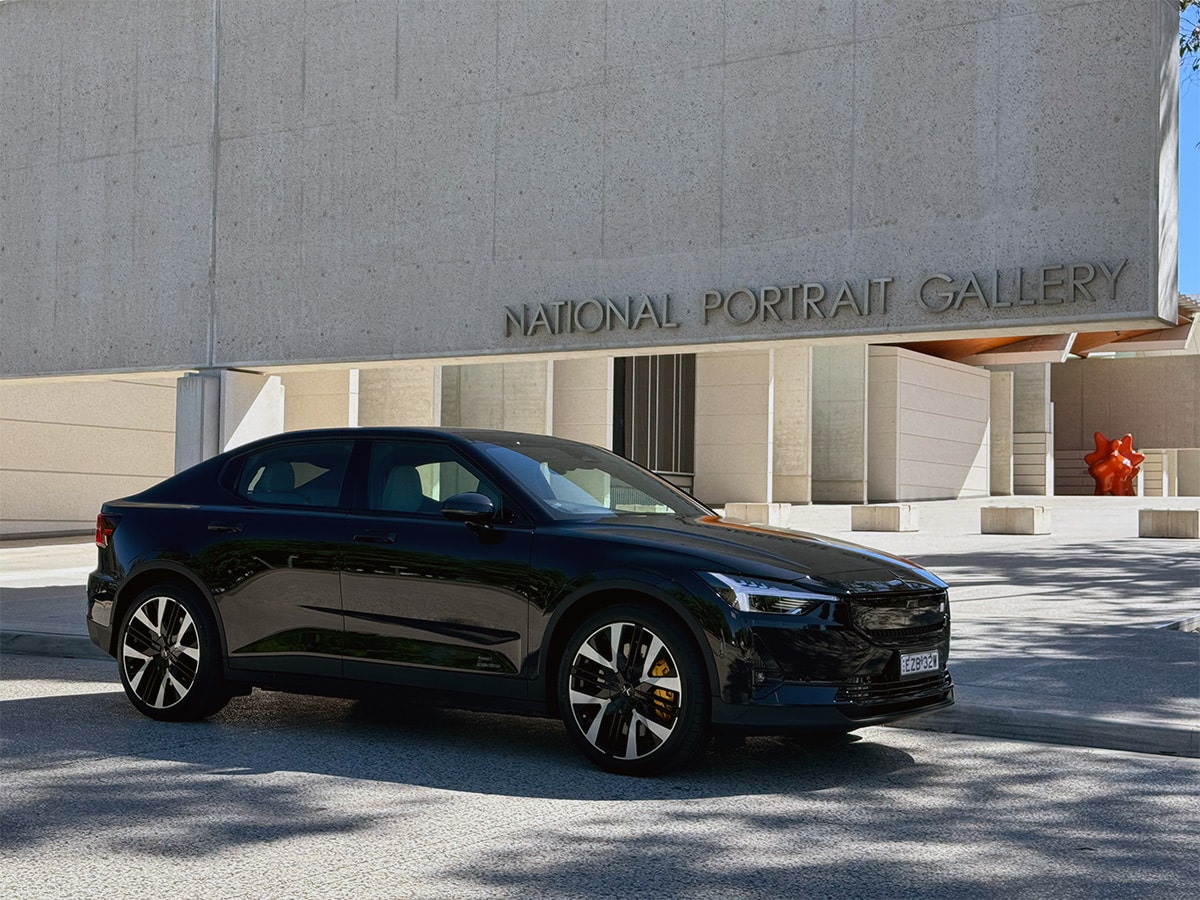 Man of Many's Verdict on the 2024 Polestar 2
The updated Polestar 2 sits in the sweet spot between the Telsa Model 3 and BMW competitors. It's pricey compared to the Tesla, but offers fit and finish and a driving experience that Tesla can't. On the other hand, you have the BMW i4 which is just as good a driver's car but lacks the range and straight-line performance that you expect in an electric vehicle. We'd also argue the Polestar 2 is the best-looking of all.
Ultimately, the range is fantastic, the technology is there, it still looks unreal, and most importantly, the driving is one of the highlights. It's hard to justify any EV other than a Tesla if public charging is your only option, but the Polestar 2 Long range Dual motor remains our pick of the bunch for around the $100,000 mark. However, the wisest decision of all would be to forgo the straight-line performance and buy the Long range Single motor for $71,400 plus on-road costs.
You can book a test drive of the updated Polestar 2 via the link below.
You'll also like:
---
Featured Video from Man of Many