2022 BMW iX xDrive50 Review
After loving our time in the 2022 BMW iX3 earlier this year we waited patiently for the chance to get our hands on the headlining 2022 BMW iX xDrive50. It's a car that took us by surprise when it was unveiled in 2020 – it looked nothing like any other BMW in the lineup, it was electric, and the interior suggested a complete departure from anything we'd come to recognise from the brand with recycled materials, crystal switches, and a paired back minimalist design. You wouldn't be far off the mark to call the BMW iX a concept car, so has the brand found refinement on a new platform in such a short period of time? The short answer is yes, and we'll explain below.
Related: Can't get enough BMW? Check out all our cars news right here.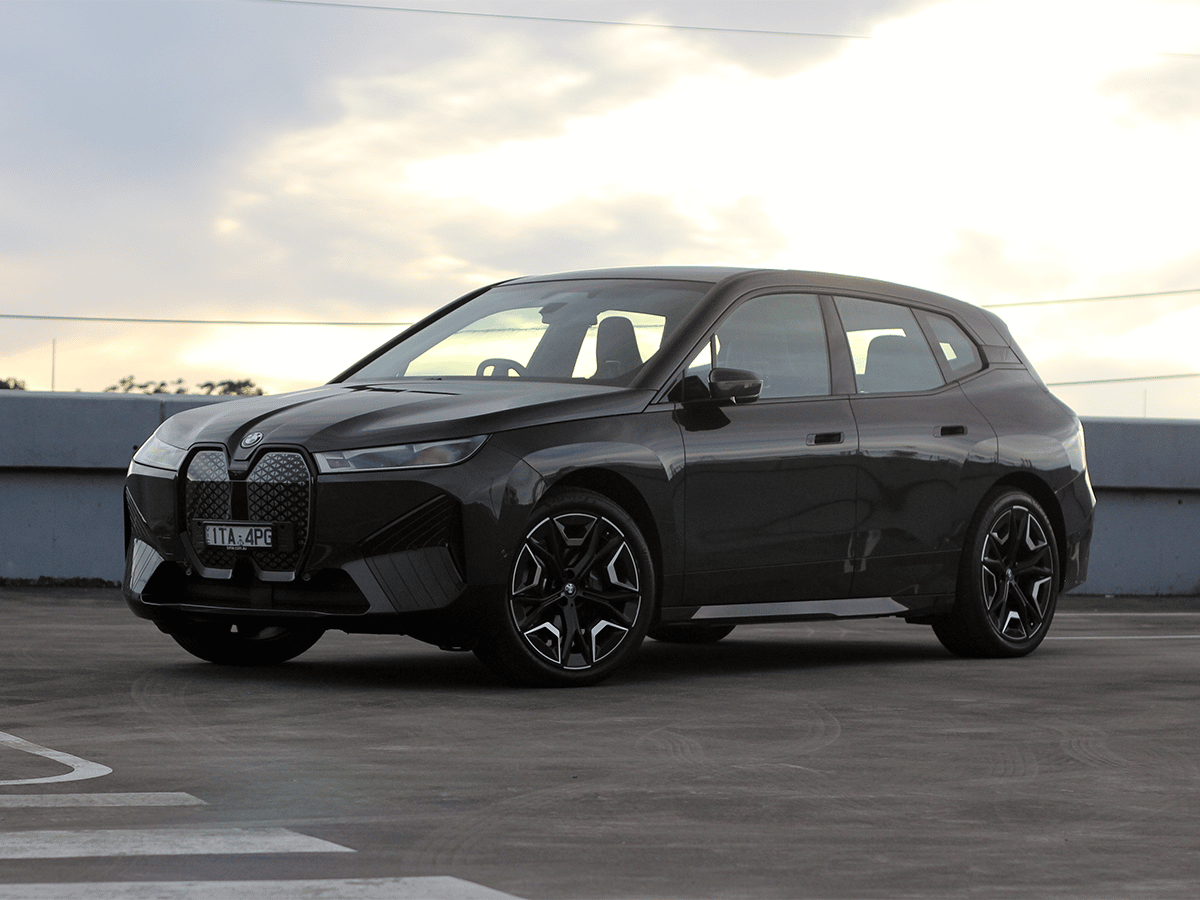 What Powers the BMW iX?
If BMW sticks the letter 'i' before a bunch of letters you're looking at a BEV or (Battery Electric Vehicle) otherwise known as an EV. Point in case is the flagship BMW iX SUV that has the shortest name of the lot but still manages to be rather confusing to even the most seasoned automotive journalist, let alone your average mother who lives in an affluent city suburb. The range starts at the BMW iX xDrive40, however, for our test, we jumped behind the wheel of the current top-of-the-range xDrive50 model – soon to be one-upped by the xDrive60 – to see what the most amount of BMW EV money will get you. And as it turns out, it's a whole lot.
Motors
The BMW iX is a dual-motor EV with a 190kW/365Nm motor up front and a 230kW/400Nm mounted on the rear. Combined, this comes to a very reasonable power output of 385kW and 765Nm, a figure that's enough to shift this 2.5-tonne mammoth from 0-100km/h in 4.6 seconds. It's not the most impressive figure by EV standards, but if you truly think you need more power than this in a 2500kg school drop-off machine then you surely must have a few screws loose.
Batteries
The first thing we'll note about the BMW iX is the impressive size of the battery, which comes in at 111.5kWh (larger than the lower-spec xDrive40 76.6kWh).
Range
The 2022 BMW iX xDrive50 has a maximum range of 620km (ADR) and has an energy rating of 19.8kWh/100km. In our testing, we managed to get this down into the low 18.0kWh/100km range on an 80km trip to the Royal National which was very impressive for such a large car in a normal daily driving situation. Ultimately, the size of the battery and expected range is the biggest factor to consider when buying an EV but the battery regeneration is equally as important and the iX is one of the best on this front too, but more on that later.
Charging
The BMW iX xDrive50 has a maximum charging capacity of 200kW. By plugging the car into a DC fast charger you'll be able to gain 150km of range in around 10mins, unfortunately, there are only two public chargers that offer 200kW+ charging in Sydney (350kW), and at the time of review, the charger was broken.
Like a handful of EVs currently for sale in Australia, there's a level of free charging that comes with the purchase. In the case of the BMW iX, it comes with five years of unlimited Chargefox network charging.
Our Charging Experience in Sydney
Unfortunately, while the Chargefox network might be the largest in Australia, there are simply not enough 22kW+ chargers in Sydney to make it worth your time going out of your way to charge. You won't have much trouble finding a local charger, but there's a good chance of three things happening;
It won't be outputting the full 22kW and/ or it's only rated for 7kW max which would take more time than it's worth to charge.
It won't work because it's out of service, a process that often takes months to fix.
The station is full, and if you're really in need of a charge you could be waiting for hours.
Funnily enough, we're yet to come across any serious issues with the paid chargers. The majority of paid chargers are 50kW+ which means 10-80% charge in around 1 hour. It seems paid-to-charge is the way to go if you don't have the capacity to charge at home, but at the end of the day, there's still only one real solution for EV ownership in Sydney. Install a home charger that will take your car from 10-80% overnight, because public charging is still a miserable experience. We recommend using the Plugshare app if you have to public charge.
Related: 2023 BMW M2 Teased: The Final Non-Electrified M Model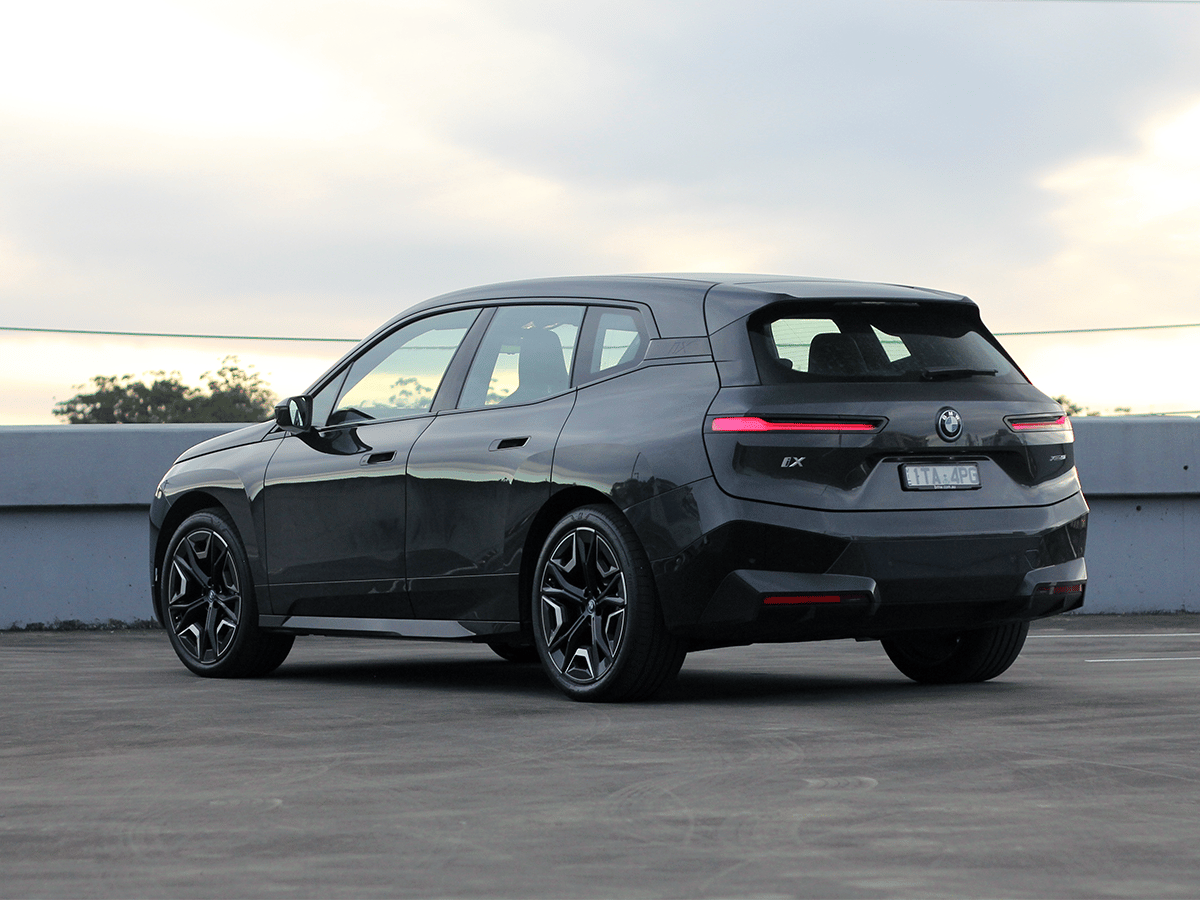 How Does the BMW iX Drive?
Acceleration
Like almost all EVs, the lack of mechanical components makes the iX feel a lot quicker than its 0-100km/h in 4.6 seconds reads on paper. Overall, it's such a nice place to be and only those who look for approval by the amount of pain they can cause their passenger's neck will be looking for any more power.
When you're at motorway speeds the BMW iX makes lane changing as easy as cars can get with enough speed in the top end to make quick maneuvers if necessary. You find pleasure in the simplicity of the iX, not the outright pace that it holds, but the ease in which it takes you from A to B. You never have to think about being in the right gear, or how much extra right pedal you might have to give to get up a hill, it's completely seamless.
We had one major thought when driving the BMW iX… "Just how quickly does a 2500kg SUV really need to accelerate from 0-100km/h anyway?" At no point did we even think about planting our foot more than a couple of times, but if you're really desperate to impress your friends the 455kW BMW iX xDrive60 is arriving in late July 2022 and is priced from $222,900 plus on-road costs.
Handling
The BMW iX wafts around town with the best of them thanks, first and foremost, to its adaptive two-axle air suspension. While some EVs we've driven feel like remote control cars, you're always reminded how good they can be from manufacturers that have been in the business of making cars for generations upon generations and the BMW iX is no different.
Everything from the driving position, pedal location, steering column adjustment, visual driver aids, etc. etc. culminate to create a driving experience without compromise before you even put the car in drive.
The experience is dually reflected in how quiet the cabin of the iX is. We made mention of this in our iX3 review and BMW offers the same dual-layer glass on the iX that is unbelievably silent. The utter lack of tire noise, engine noise, and external noise from vehicles around you can trip you out a little at first, but once you're acclimatised to the serenity, driving will never feel as relaxing again.
We found no real need to push the vehicle through bends, however, when we did the low-down weight aided with stability and the steering is fundamentally BMW – a little light, but direct and transparent. Putting the car in 'Sport' mode removed some of the weight transfer but this is a big heavy 2510kg SUV so handling was never going to be a strong suit. Unfortunately, the higher-speed country road driving sensations we've loved about BMW for decades – including in the stiffly sprung X3 M Competition – have all but been lost in the iX. Make no mistake that it's great, but Porsche has very much outclassed BMW for the top spot in EV 'Aussie Autobahning.
Driver Assistance
What sets the BMW iX apart from every BMW we've ever driven is the driver assistance system. No, we're not talking about basics such as radar cruise control, lane departure warnings, and self-parking, but how it so consciously utilises the regenerative braking systems with cameras and sensors around the vehicle – mainly in that stinking big grille up front – to slow the vehicle down comfortably in traffic. It takes a little getting used to, but it's a system that works with you to break the vehicle automatically in traffic and also keeps you at a comfortable distance from the car in front. We experienced a similar system in the BMW iX3 we drove recently, but it's not something you can say about any other regenerative braking system we've tested – it's the best.
While it's very easy to see out thanks to a driving position that resembles more of a 'van' than an SUV, the brand has gone one step further to include a number of smart features in the BMW iX that makes positioning and parking the vehicle easier. Our favourite has to be the top-down 360-degree view camera that provides a live feed of every corner of the car, including how your wheels are positioned, and combined with the reverse assistant, creates a very reassuring experience – especially for a journo who doesn't want to scratch a 22-inch wheel.
You might've seen the viral clip of the washer jet that pops out of the front and rear to clean the cameras, and yes, it's hilarious.
Related: 2022 BMW M240i Review: The Best Sportscar in the Lineup?
What's the Interior Like on the BMW iX?
Infotainment System
If you thought the exterior of the 2022 BMW iX xDrive50 is one of the most extreme designs rolling around the street today, then you'll be pleased to know the interior follows suit. Not only is this one of the best-looking interiors on a car at this price point today, but it's a step in the right direction for modern vehicle infotainment and we're glad elements (like the screen) are carrying over to the 3-series and other upcoming models in the range.
You're immediately drawn toward the giant 15-inch infotainment screen that combines with the 12.3-inch driver's display for a total of 27-inches of screen real estate. We've never been one for giant screens in cars but the way BMW has executed this floating design is nothing short of gorgeous. The system is running BMW's latest iDrive OS 8.0 and while we didn't see any issues with the previous generation system, this one is years ahead in terms of technology, it's looking to the future more than any before it while being simple and useful.
We're always impressed by the gesture control system when we use it – swirling your hand in a circular direction turns up the volume and doing so in the other direction turns it down. Holding your hand at a horizontal angle with your thumb out skips a track, and the whole system is uncanny with just how accurate it is. The driver's heads-up display that sits just behind the screen is equally as impressive in size and configuration, but those who long for physical buttons will only find a select few in the minimalist cabin that includes a hazard button, a volume scroller, and a select number of climate control buttons (but not temperature).
Touch Points and Trims
Open the door to the BMW iX and you're greeted by an awesome array of textures and materials. There's exposed carbon on the door surrounds, recycled materials where leather would typically be seen, and even crystal switch gear that's less prone to fingerprints. The entire front floor of the vehicle is flat which means plenty of space for your feet, groceries, bags etc. and the steering wheel is hexagonal in shape – actually, let's not skip over that.
We took one look at the wheel in the photos and thought "nup, there's no way that works" but doubting the BMW engineers is where we made our first mistake. It's comfortable, and your hand naturally falls around it in the lower areas. Should you need to do the steering wheel shuffle – not common in a car with variable steering controls – the top section is at a more aggressive angle so less steering input needs to be given. It acts as a metaphor for the whole car really, what your brain thinks as being a strange dysfunctional addition to an otherwise impressive vehicle is always just another cherry on top of futuristic muscle-flexing from BMW.
Related: 2022 BMW M4 Convertible Review: Grand Tourer or Sportscar?
Should You Buy the BMW iX?
Pricing
2022 BMW iX pricing:
BMW iX xDrive40: $135,900*
BMW iX xDrive40 Sport: $141,900*
BMW iX xDrive50 Sport: $169,900*
*All prices exclude on-road costs.
Warranty
Unfortunately, BMW is one of the last remaining manufacturers in Australia to still offer a three-year warranty. Many other manufacturers, including other luxury brands, have moved to a four or five-year warranty period.
The brand does offer an eight-year/100,000km high-voltage battery warranty.
Servicing
The 2022 BMW iX is offered with a four or six-year capped-price service cost priced at $1520 AUD and $2195 AUD. Quickly crunching the numbers and you're looking at $380 AUD/ year to service the car on average.
Related: 2022 BMW iX3 Review: Best Model in the Range?
Our Verdict
The 2022 BMW iX xDrive50 is the best look we've had into the future of BMWs yet. It's futuristic and doesn't hold anything back in terms of range, performance, or driving pleasure. We screamed for years "Why isn't there a viable SUV EV outside the Tesla" and now we have a true cream of the crop that has surely become the benchmark for EVs, heck sub-$200k SUVs in general.
You won't jump behind the wheel of the BMW iX and expect to win any drag races against AMGs, RS's, or top Teslas, nor will you happily push the car through corners like Aryton Senna, but when you start listing the things you hope an SUV to be good at, the BMW iX is perfect. Strictly speaking function, you'd be hard-pressed to find a better car for day-to-day activities on the market today.
You'll also like:
16 Best Cars of the Year 2021: Man of Many's Favourite Drives
BMW's Monster 31-Inch Backseat Theatre Screen Makes Drive-Ins Obsolete
LEGO Technic BMW M 1000 RR Has a Working 3-Speed Gearbox