Ken Block's Audi S1 Hoonitron is a 'Dream Come True'
In the 1980s, Audi dominated the Pikes Peak Hill Climb event. The foreboding Race To The Clouds summit separated the men from the boys and the contenders from the pretenders, but over the period, the legendary Audi Sport quattro S1 reigned supreme. A true powerhouse machine, the rally vehicle broke the mould for Audi and nearly 40 years on, that legend is being reborn with the help of a drifting icon.
The four-rings has unveiled the new Audi S1 e-tron quattro Hoonitron developed exclusively for American drift artist Ken Block. Dropping the iconic 2.1-litre turbocharged five-cylinder, the new iteration comes complete with two electric motors, all-wheel drive, power galore and a carbon fibre chassis. As Block points out, the all-electric one-of-a-kind car is powering towards a new future, but it has the past firmly in the rear-view sights.
"The S1 Hoonitron combines a lot of what Audi was already famous for in the nineteen-eighties," Ken Block said. "For instance, the car's spectacular aerodynamics have now been translated into a totally modern form. I think it's cool that the Audi designers have been inspired by their own past and uniquely transferred the car's technologies and appearance into the present."
According to Audi and Block, the entire development, including the technology, of the S1 Hoonitron was conducted by Audi Sport at the Neckarsulm location. A fitting move, it is the very place that the Audi RS e-tron GT is produced. Crafted by Audi Design in Ingolstadt, the staying is unlike anything Marc Lichte and his team have completed before.
"When we first heard about this project, the whole team was thrilled immediately: we had the opportunity to develop a car that combines an icon of our brand with the future," Audi's chief designer said. "It was about creating a modern, all-electric interpretation of the S1 Pikes Peak. The timeline was extremely tight: while our design process normally takes one to one-and-a-half years, we only had four weeks from the first drawing to the final design. We were constantly in touch with Ken Block and his team and engaged in intensive exchanges."
The styling changes are evident straight off the bat. Unlike the original car, Ken Block's S1 Hoonitron cops a unique livery similar to the E-Tron sub-brand, featuring red and black striped regions along the lower body. These subtle highlights indicate the battery placement beneath the floor, while the modern alloy wheel covers and LED lights simply add t the aesthetic.
At present, no mechanical details of the S1 Hoonitron have been confirmed, but there are more announcements on the way. Audi has already confirmed that the next video in Block's famous Gymkhana series will feature the S1 Hoonitron.
"The collaboration with Audi is a very special partnership for me. The brand and its passion for motorsport motivated me to get into rallying," he said. "That Audi has now developed this car for me and my team, and has joined us in our next project, has made a dream come true for me. The Hoonitron is writing the next chapter in our history and taking our Gymkhana story into the future."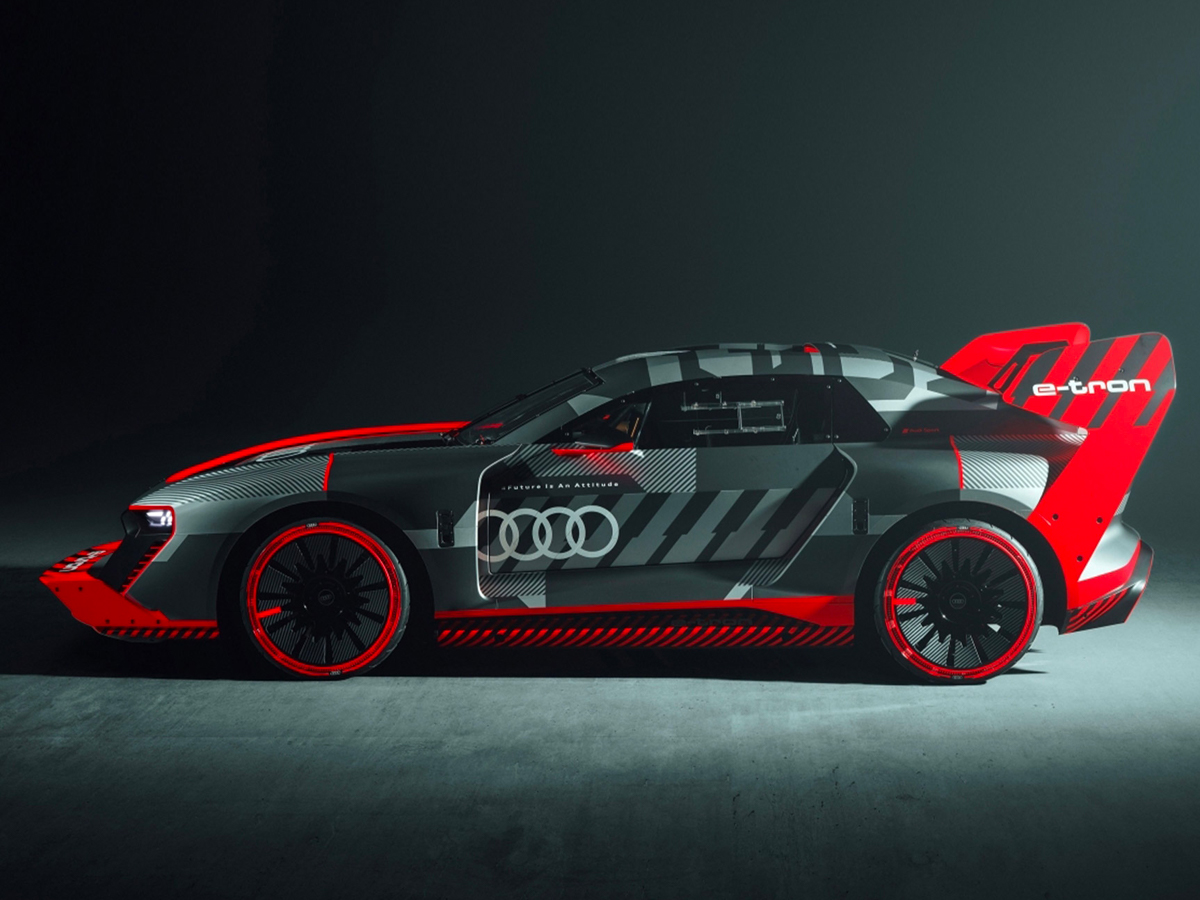 You'll also like:
Ken Block is Selling his Insane 'Gymkhana' Car Collection
Audi Stylishly Farewells an Icon with the TT RS Heritage Edition
The Fisker Ocean is a Tesla Model X Fighter with a Vegan Edge