Meet the Sydney Native Who Designs BMWs
Not many of us can claim to have followed our boyhood dreams all the way through to fruition (just think of all the firemen, astronauts and cowboys that never were…), but for Calvin Luk, the idea of designing cars for BMW was a goal that he chased from a very early age.
From intrepidly approaching a BMW employee at the Sydney Motor Show in his childhood to designing the hugely anticipated Z4 revival, Luk's eyes-on-the-prize mentality has led him to his role as an exterior designer for the German marque, with a bevy of accomplishments under his belt.
Visiting his home town last week to celebrate the launch of BMW's newest Sydney showroom, we caught up with Calvin to talk about his rise through the ranks of one of the world's most prolific vehicle manufacturers, what drives him, and how a car goes from concept to reality.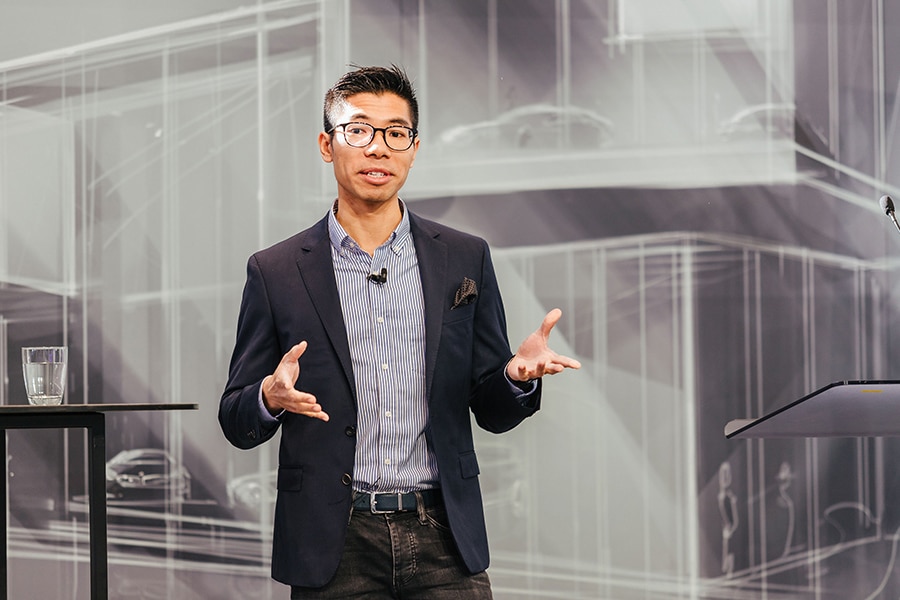 Tell us a little about your story, and how you got into car design.
I always loved cars and the way they looked, as a kid, and loved to sketch them. I sketched, of course, other things like the superheroes, you know, Batman, Spider-Man and that sort of thing, but specifically cars I really loved.
The trouble was I never really knew how to become a car designer, and you don't really hear about it so much. I had always some car sketches here and there, but not until the Sydney Auto Show where I was with some friends, and we asked a representative at the BMW Group, when they were launching the new Mini, if we could all squeeze into the trunk of the vehicle and take a photo, and see how many kids we could fit in. He said, "Yes," and I noticed a slight German accent, and his name was Christian Meindl, he's now with Mini.
I said, "Oh, are you from Germany?" He said, "Yes, I am." I'm like, "Well, would you mind passing on a letter for me, to Chief of Design?" He said, "Yes, okay," and I was like, "Wow, that's amazing," and I ran home immediately to type up this letter that I had in my head for actually quite some time, but I just never knew how to get the letter out. I attached some sketches I had, ran back to the show and passed it onto him.
To my surprise, many months later, I received this packet, and it wasn't any sort of marketing material or anything, because it had a handwritten address to me on the front page, and it was from Germany. I opened up the letter and it was a reply to all my questions in that letter. A Senior Designer, David Carp replied to me, and recommended: "Well, you've got great potential and you can study here at this school called Art Centre College of Design in the US, in Pasadena," which is where he himself had studied, and many others.
I couldn't believe it, and from that moment I had focused on going to that school.
I did one year at the University of Technology, Sydney, in which time I prepared my portfolio for application and I received some scholarships to attend school at Art Centre. I stayed in touch with my mentor, David Carp, got an internship, met him for the first time in person after six years or something, and then after graduation I went back to start work in BMW Group. Then I went into the exterior design studio and have had quite a good run so far, with a few cars.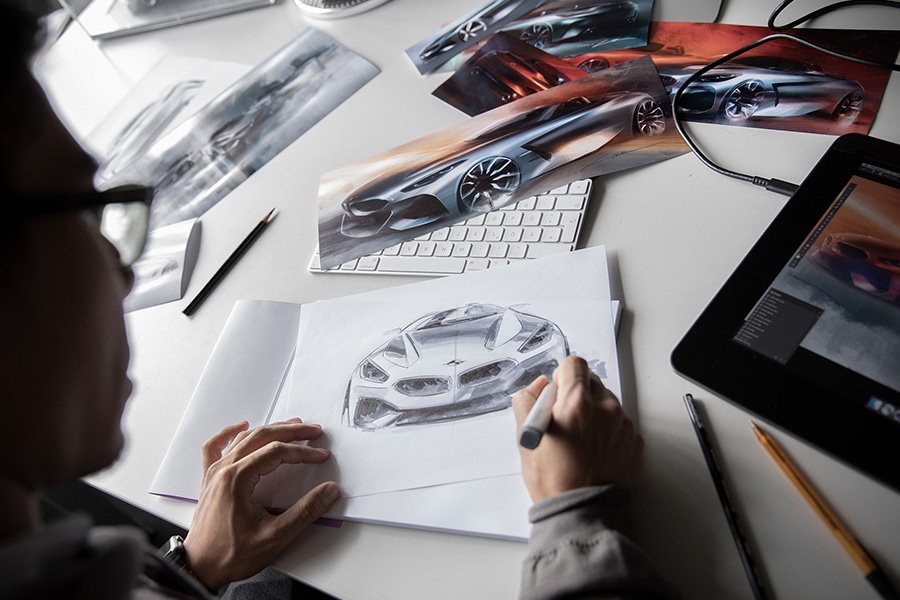 What was it like transitioning from being someone who just likes to sketch and likes to draw, to actually working on real products?
Quite amazing, yes. I think doing sketching, it's extremely fun and rewarding and you get to create something new that doesn't exist, but then as a sketch, it's still not reality, it's an idea. Then when you're in the actual world where it can be manufactured, it can become a real thing, it's really exciting and you do some real problem-solving, working with the engineering, aerodynamicists, while trying to create the best sculpture, the best form that evokes the right emotions and thrills and speaks to the people when they see the car.
It's really exciting, and especially so rewarding when it actually comes out. At times, of course, it can be quite a high-pressure environment because everybody wants to make the best car possible, and especially high-pressure as most of the cars are done as a design competition, meaning each designer must make their pitch; you are basically put against your colleagues to make the ideal design.
It is a very high-pressure environment, but one of the things that is perhaps a rite of passage in a way, and at the end of the day, if it does go through, if it does get selected by the board members, it's an amazing experience.
When you're pitching and putting forward your designs, and looking to the future, do you think there are any key trends and features in automotive design at the moment?
Oh, absolutely. I mean, there's always trends and certain things buzzing around the design world, but I guess that's where each designer also brings in their own flavour. There is a brief overall, so perhaps it's, "We want to make the car sportier." Perhaps for an X car, "We want a bit more robust character."
For example, with the X3 we deliberately wanted a bit more power and presence to the vehicle, and so I had that in my head while sketching, thinking about what could be the new surfacing on it to make it the right product. But then every designer still has their own take on it, because there are different tastes amongst the designers.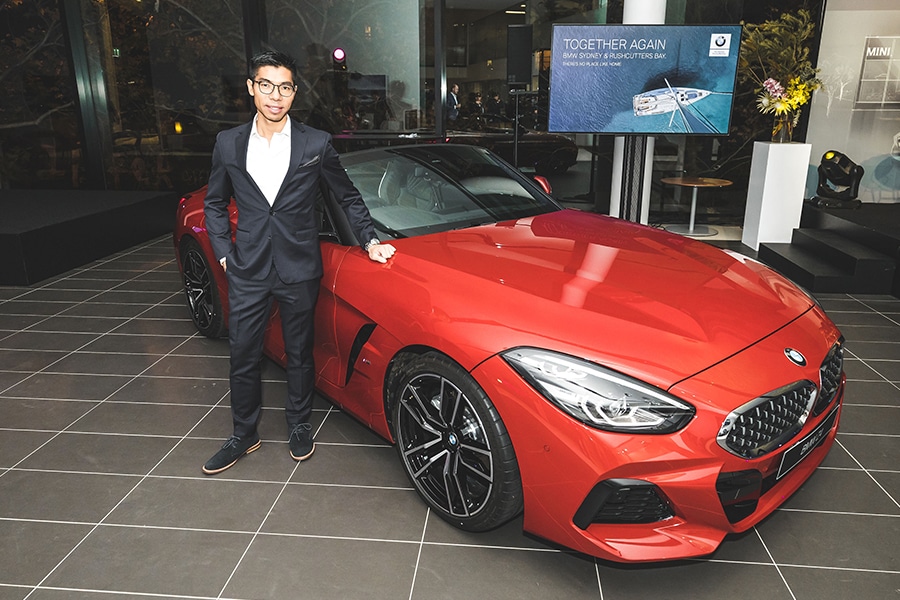 Even though there are, perhaps, certain trends, every designer is also wearing sort of a hat. Not necessarily like an actor, but sort of wearing a hat because we're designing a BMW, or we're designing a Mini or a Rolls-Royce. You put part of yourself in that world and try to think of what that means visually and sculpturally, and how that can come across to people.
When you're working on things and looking towards the more distant future and the more conceptual things, is there anything that you can kind of predict, or envisage for, say, the car of the future, 50 years from now?
I think the biggest question on most people's minds is how is mobility in the future, right? How is that in terms of digitalisation of our world? What does autonomous mean for our world, and the future drivetrains and future infrastructure of each city or land and country?
Those are the big, buzzing questions right now, and I think BMW was on a pretty good path so far. As you heard today, there's already been such a strong investment into digitalisation and in certain cities, there's already this DriveNow car sharing programme. Also, with recent concept cars where we've shown that idea of two modes of autonomous and traditional driving, where you can take over and have the fun yourself or you can sit back and relax and disconnect as a passenger and just enjoy the ride.
It'll be very interesting to see how that starts to play out, also in relation to how different cities and countries approach those questions in terms of the government and infrastructure as well.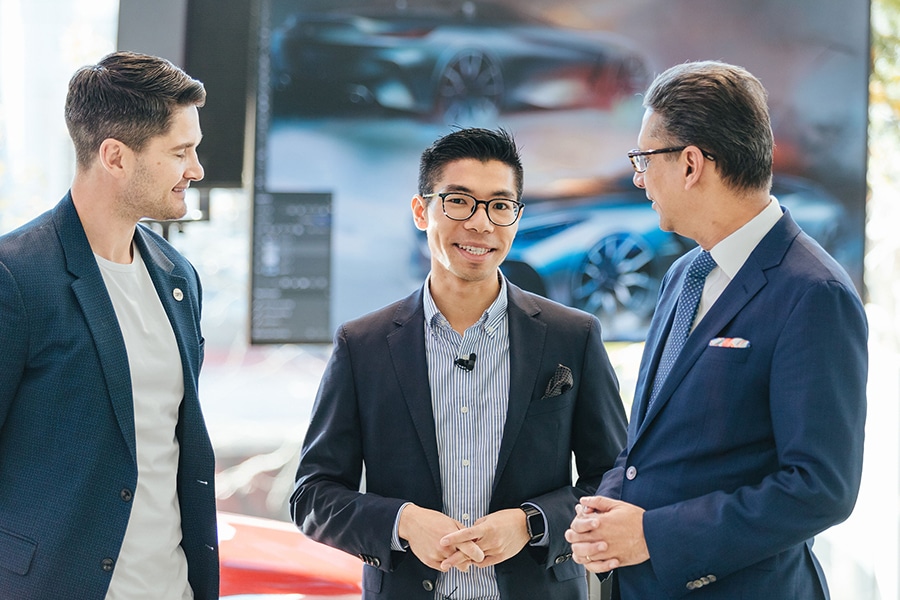 Do you find that those kinds of influences from, obviously, the different markets and the different thoughts and policies towards these electric, autonomous, that affects what you do in terms of creating something that's a product for the world but it has to fit in, in terms of-
Yes, definitely. Definitely. One thing is that each country has a different set of regulations for the way the car must be. So, different types of crash tests are done in each different country, which means that your design must fulfil every country, because it's a world car. So when we design, we have all the engineering input of where the car's test is being done?
It is quite a challenge to still then create something that expresses what you're trying to show, but it's part of that problem-solving thinking, which I think is what perhaps separates design from art, in a way: what you have to really figure it out in terms of the engineering and the legislation.
Last question. If you existed in a world where any technology, any kind of conceptual automotive feature existed and you could design your perfect dream car–back to the kid sketching things on the pad–how would that look?
In a world where I'm predominantly fascinated by the way cars look, I would definitely say it's got to be something with amazing proportions, which is large wheels and small cabin; probably close to a sports car. I think one would be quite disappointed with the interior space, but obviously when we're kids, or when I was a kid, I played with the Hot Wheels toys, you see these cartoon cars or there's perhaps not enough space for a driver inside, but it looks amazing.
So, that might be very interesting, and it's also interesting now that we think about an autonomous car of the future, far into the future. What does that mean, actually, for the driving position?
Maybe that could be something to achieve new proportions as well.