The SkyRunner MK 3.2 ATV Can Fly… No, Seriously
Do you want to take your off-road adventure to a whole new level? If so, then the SkyRunner MK 3.2 is the machine for you. Aptly referred to by its creators as the "World's Greatest Adventure Vehicle", the SkyRunner MK 3.2 is arguably one of the coolest toys available. Combining the best of aviation and technology for the ultimate off-road fun, it will let you fly in the sky or play in the sand depending on your mood.
An encaged Rotax engine powers the SkyRunner MK 3.2 helping it reach speeds of up to 88 km/h. Ram-air parafoil wing technology provides control and stability while this machine flies up to 3,048 metres in the sky. This wing takes just five minutes to hook up. It was designed to navigate to the ground if the engine fails.
The SkyRunner MK 3.2 weighs 489 kg and is made with heat-treated steel tubing. This special tubing adds strength without extra weight.
Just 76 to 152 metres of space is needed to take off and land. This means that most long stretches of beach, open fields or grass strips will do just fine as makeshift runways.
In addition to the air engine, an 89 horsepower four-cylinder ProStar land engine helps the SkyRunner MK 3.2 hit speeds of up to 113 km/h when cruising over the land. Before you think about getting one of these badass toys, you'll need a Sports Pilot license to man this tandem craft.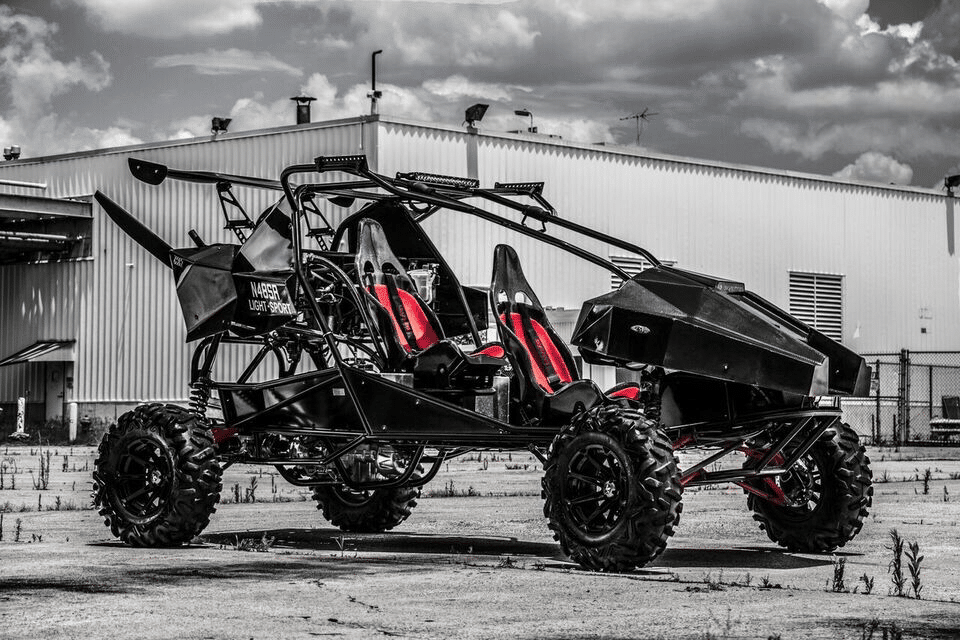 Have you subscribed to Man of Many? You can also follow us on Facebook, Twitter, Instagram, and YouTube.