ASUS Chromebook Detachable CM3 Review
ASUS Chromebook Detachable CM3 bridges the gap between tablets and laptops, ideal for those desiring a tablet experience complemented by the functionality of a physical keyboard. While primarily designed for young students due to its compact size and affordability, the device might not replace work laptops for adults owing to its slightly smaller keyboard and slower processor. Nonetheless, it stands out in many aspects and targets a specific audience. Consider its features and limitations to determine if it's the right fit for your needs.
| What We Love | What We'd Change |
| --- | --- |
| Incredibly portable | Occasional slow performance |
| Long battery life | No backlit keys |
| Two cameras | Not enough ports |
| Keyboard, stylus & cover included | Cover slides around |
ASUS Chromebook CM3 Design
The ASUS Chromebook CM3 possesses a 10.5-inch screen. This touch-enabled device is so pleasantly compact that you'll want to take it everywhere. Its magnetic fabric cover doubles as a kickstand on the back, and ASUS includes one as standard. The cover folds four ways supporting portrait and landscape viewing at various angles. The magnets are reasonably strong, but the cover and keyboard can slide askew when adjusting viewing and typing angles.
The front cover features the same heather grey material and houses the detachable keyboard. This physical keyboard feels cramped during extended typing sessions, which is expected with a small device and so is best suited to younger students. The keyboard is sturdy but becomes problematic if raised to a more ergonomic position. Keystrokes cause the board to bounce, so it's better to keep it flush with a hard surface.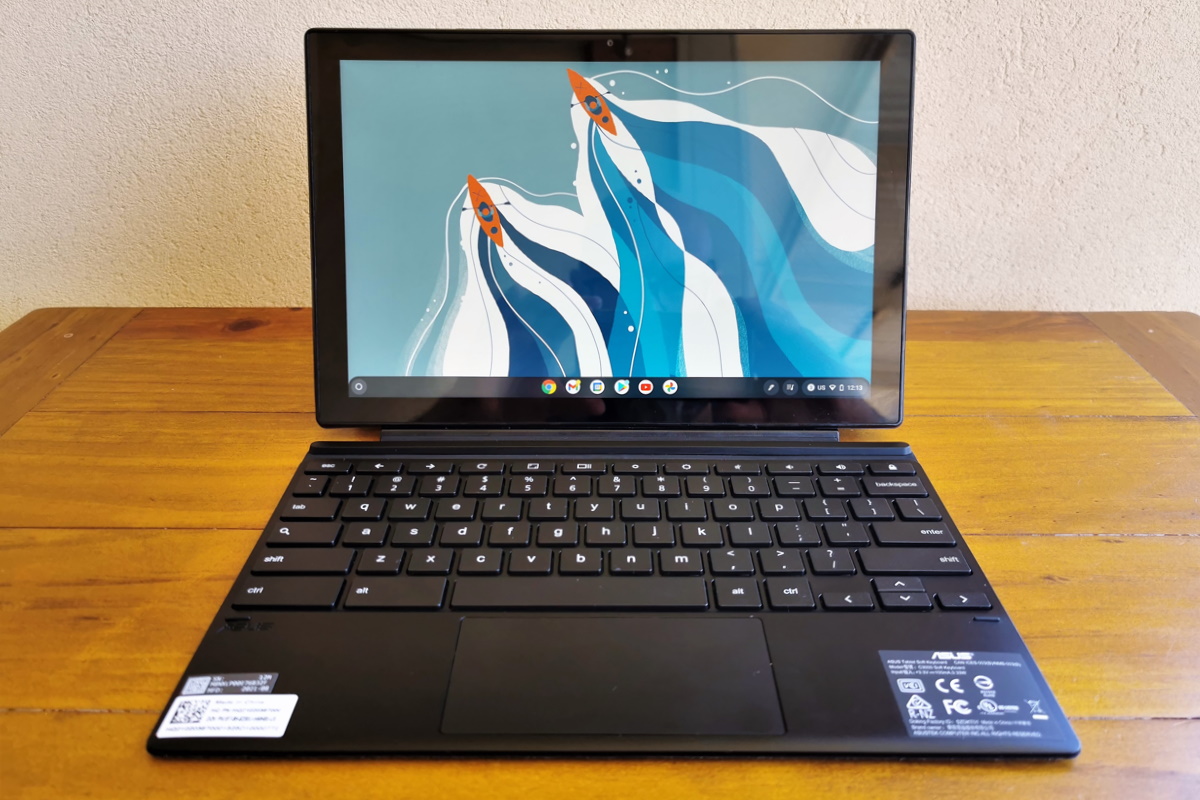 The keyboard features a responsive touchpad, but it doesn't have a right-click function which isn't required for Chrome OS but would be appreciated by those unfamiliar with shortcuts. There's also no backlighting for the keys, so make sure you're typing in a well-lit room.
The tablet itself weighs just 506 grams, making it comparable to an iPad Air. However, the CM3 is thicker than an iPad and doesn't have the screen dimensions of a full-sized Apple product. It also lacks round edges, with ASUS favouring a bevelled design. With the cover and keyboard attached, Chromebook CM3 weighs a total of 915 grams.
ASUS Chromebook CM3 comes with a digital stylus housed in the corner of the tablet. Digital artists should appreciate this inclusion, and ASUS says its rechargeable stylus takes just 15 seconds in its dock to achieve 45 minutes worth of use.
There's just one USB Type-C port for charging and peripherals, plus an audio port for headphones. Unfortunately, that's all you'll get for physical connections. It's a shame you don't get any additional USB ports or an SD card reader, but some sacrifices were made to achieve the ultra-slim profile.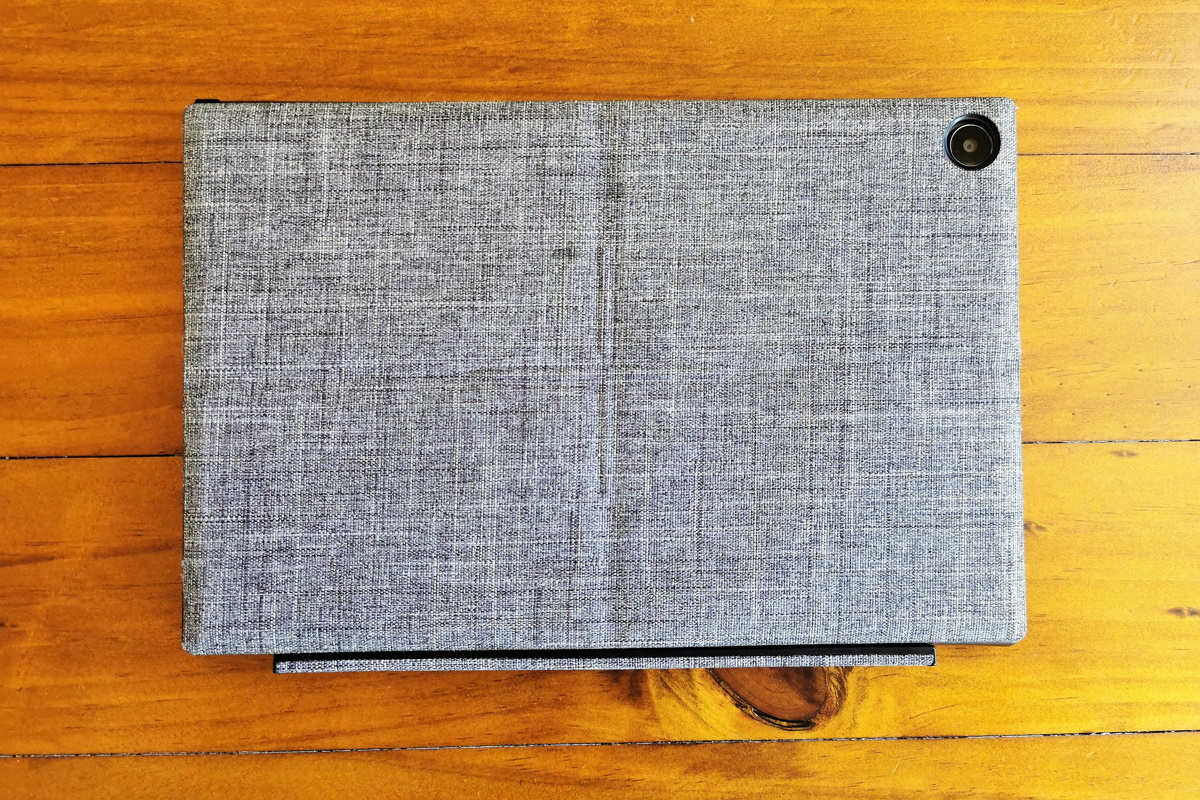 Touch Display, Dual Cameras & Twin Speakers
Tablet mode kicks in once the keyboard is removed, although the touchscreen can be accessed at any time. Simple swipe gestures grant access to the menu, search bar and installed apps. The included stylus is not the full size of the Apple Pencil or Logitech Crayon but should suit younger hands across handwriting and drawing apps.
---
Featured Video from Man of Many
---
The screen is a pleasure to use with its full HD resolution. Whether I was streaming, reading digital comics or web browsing, the LED screen delivered an optimal viewing experience. The 320 nits max brightness was also suitable when tested across the home and on public transport.
Another great inclusion is the two built-in cameras: one front-facing for video chats, and the main outwards facing camera is in the corner and at the rear. The front camera takes stills at 2 megapixels, and the rear camera captures at 8 megapixels – both of which capture decent images for a budget laptop alternative.
Dual stereo speakers offer a louder soundstage than you might expect from such a small device. But if you jump onto Netflix, then you'll uncover that the audio lacks the desired depth. CM3's speakers are adequate for YouTube and conference calls. Quality headphones are the way to go for prestige entertainment.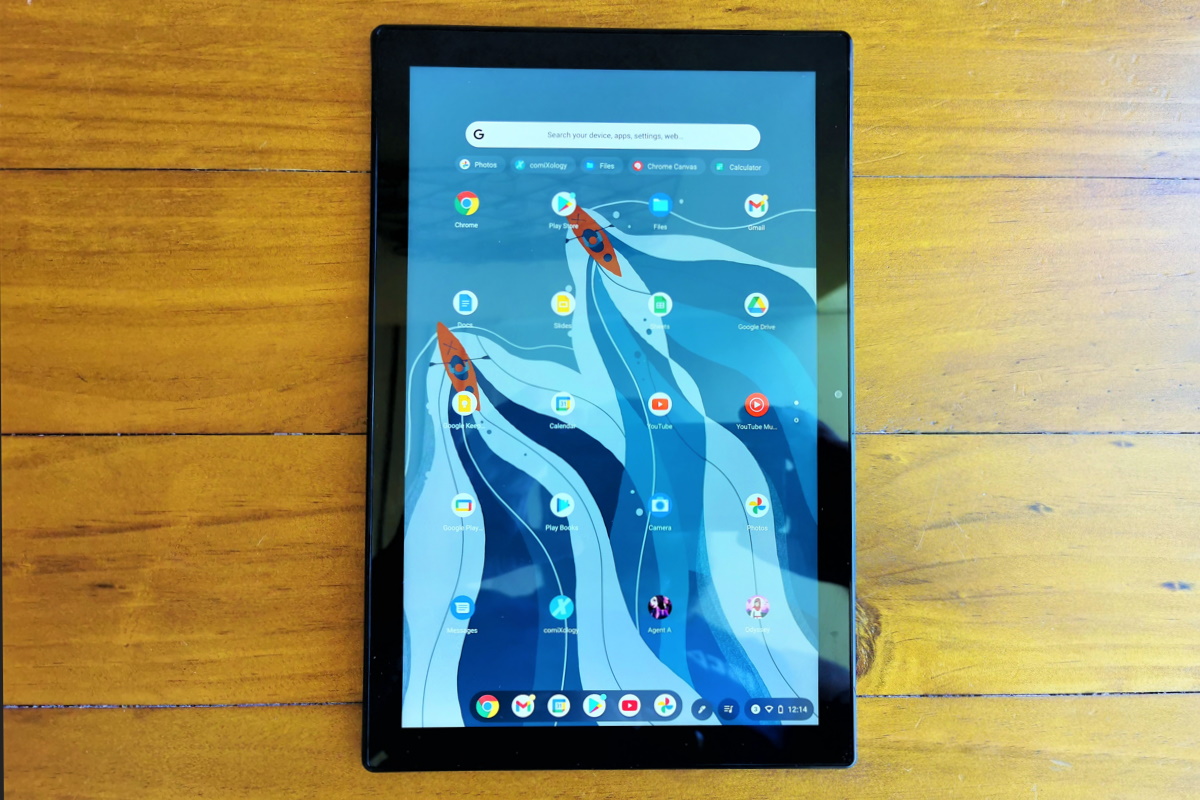 ASUS Chromebook CM3 Specs
CPU: MediaTek MTK 8183
Display: 10.5-inch LED multi-touch screen with 320 nits brightness
Operating system: Chrome OS
Memory: 4GB RAM
Storage: 64GB or 128GB
Connectivity: Up to Dual-band 2×2 WiFi 5, Bluetooth 4.2
Camera: 2MP front camera / 8MP rear camera
Ports: 1 x Type-C, 1 x 3.5mm combo audio jack
Audio: Dual 5-magnet stereo speakers
Battery life: Up to 12 hours on a single charge
Dimensions: 255.44mm x 167.2mm x 7.9 mm
Tablet weight: 506 grams
Total Weight: 915 grams
Accessories: Garaged Stylus, Stand cover, Detachable keyboard
AC adapter: USB Type-C
Price: AUS RRP $649
ASUS Chromebook CM3's Long Battery Life
ASUS rates the CM3's battery to 12 hours, which is accurate from our tests. I clocked around a day, and a half of use between charges and that entailed a regular workload of web browsing with multiple tabs, emails, Messenger, Slack and Facebook.
If you forget to shut down the Chromebook, you may be pleased to know that the battery chugs along for weeks on standby. Of course, long streaming and gaming sessions reduce the number of hours, but as a workbook, ASUS delivers on its promise of all-day battery life.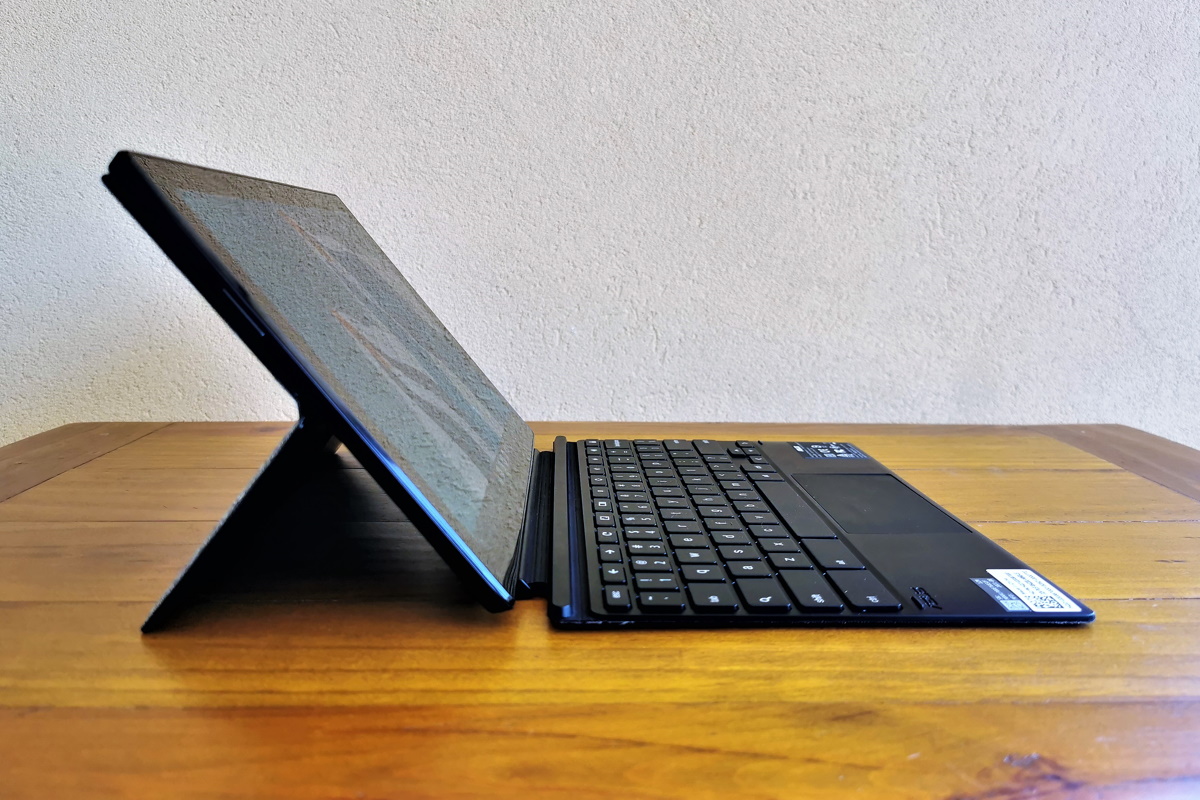 ASUS Chromebook CM3 Performance
CM3 takes just seconds to boot up, and the initial setup requires just an email address and a few accepted T&Cs before it's ready to use. Chrome OS is easy to navigate, but loading apps and web browsing with multiple tabs can be sluggish. The reason is CM3's MediaTek MTK 8183, a chip used for Android tablets. It's far from the most powerful processor available but is one of the more affordable options, which helps keep the price of this Chromebook down.
This Chromebook isn't designed for gaming and won't support your Steam library. You can access the majority of content from the Google Play store with a few notable exceptions. Call of Duty Mobile and Fortnite are not supported. I tested the tablet across a few titles including Agent A, Alto's Odyssey and Bridge Constructor: The Walking Dead. All games performed just as they should.
Buyers can choose between 64GB of internal storage or upgrade to 128GB. The 64GB model was tested for review. After pre-installed software, there's actually 53GB of available storage. Every ASUS Chromebook Detachable CM3 also comes with a 12-month membership for Google One. This brings an additional 100GB of cloud storage plus other exclusive benefits which should come in useful for storing videos and images.
The Verdict
Designed with students in mind, ASUS has built a slim 2-in-1 to help you steer clear of Apple's price points. Larger hands will fumble, but those looking for a robust tablet who occasionally need to type an email or resume will find a lot to like. Still, i'd be more inclined to tell my parents to consider a Chromebook or friends looking to introduce their kids to a computer rather than my workmates.
There are plenty of slim laptops available for under the $649 price point. And yet, none offer the flexibility of a Chromebook. Therefore, the CM3 comes recommended, so long as you fall within the right demographic.
ASUS loaned the writer a unit for the purpose of review
General FAQs
Is ASUS Chromebook Detachable CM3 a good option?
With its slim size and long battery life, students will find a lot to like about the ASUS Chromebook CM3. It lacks the comfort and processing power of quality laptops, so it won't be suitable for everyone. However, if you want a tablet and the occasional benefits of a physical keyboard, you can't go wrong with this Chromebook.
What is the difference between a Chromebook and a regular laptop?
The main difference between the two is the operating system. A standard laptop would likely run Windows and function as a portable PC. A Chromebook is more like a tablet, running the Linux-based Chrome OS and functioning more like a smartphone. Chromebooks are typically cheaper options but lack the processing power and full features of a laptop.
Can you play games on a Chromebook?
Yes, you can play games on Chromebook, but only those available from the Google Play store and some key games are missing. You can't access your Steam Library or the Epic Games Store library. Instead, you can access apps from your Google library but Call of Duty Mobile and Fortnite are not supported.
---
Featured Video from Man of Many