LG C1 4K OLED TV Review and Technical Specs
The LG C1 4K Smart Self-Lit OLED is one of the most talked-about models in the 4K market, and for good reason. It has the high-tech specs and functionality to back up the name. The odds are this television is at the top of your wishlist, but are you making the right decision? We've put it to the test to find out just how big the jump from 'cheap and cheerful' to 4K OLED goodness really is.
LG C1 4K OLED TV Specifications
Resolution: 3840 x 2160
HDR Format: Dolby VisionTM, HDR10, HLG
HDMI: 4x 2.1 ports
Image Processor: α9 Gen 4 AI Processor 4K
Resolution Upscaling: 4K Upscaler
High Frame Rate (HFR): Yes (HDMI/USB: [email protected])
Colour Bit Depth: 10-bit
Smart functions: Google, Amazon, Apple, Web, Smart Speakers
Audio Output: 40W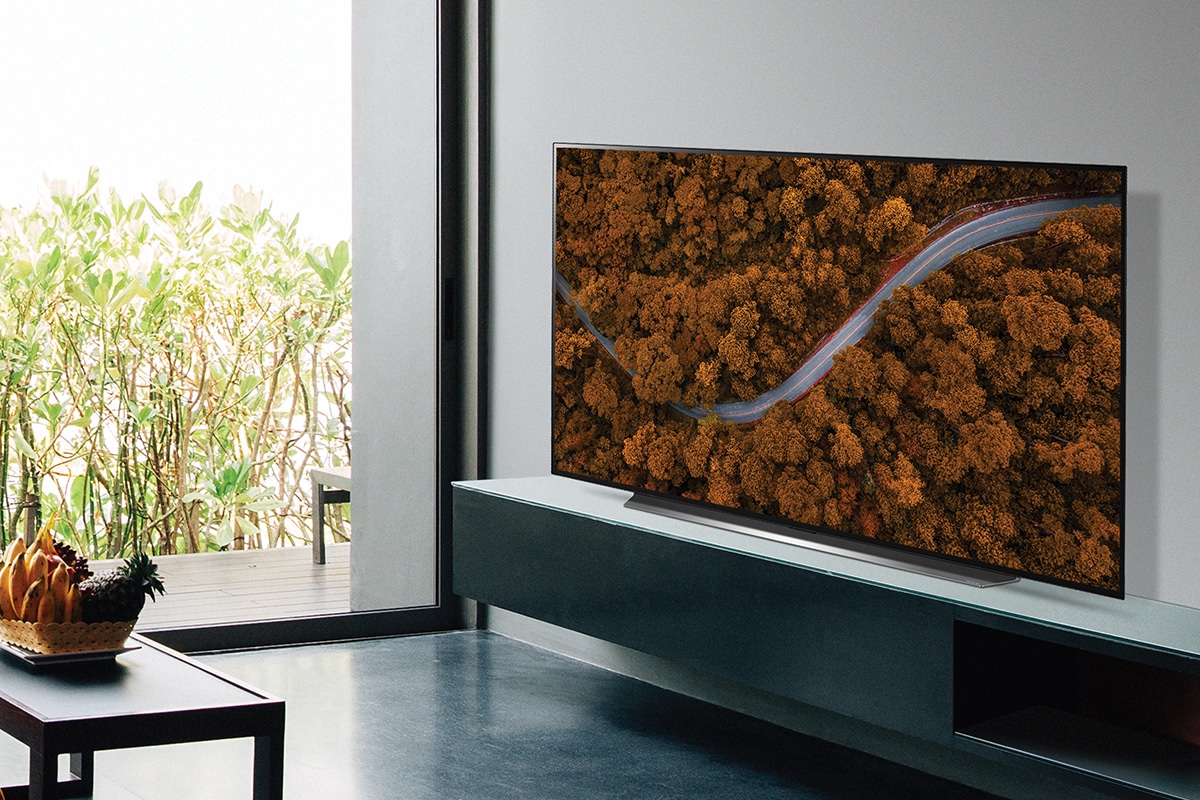 The Digest
As someone that's owned multiple 'cheap and cheerful' TV's (you know, the big ones that cost less than $1,000 and that do a decent job of being a TV), the C1 is a huge step up. If you're looking for a short answer, the LG C1 4K offers a spectacular viewing experience and is probably the best OLED TV currently on the market. The addition of the a9 Gen 4 processor results in 4K upscaling that is simply unbelievable. We love watching throwbacks from the mid-2000s, and they simply look outstanding, as if they were shot in 4K despite only being available in HD.
We didn't have a chance to plug in a next-generation console, but with 4x HDMI 2.1 ports to play with, 120hz at 4K resolution and sub-10ms input latency, it's truly spec'd to be a joy for gamers. There's also an on-the-fly Game Optimiser menu for brightness, contrast and VRR adjustment. Gamer or not, if you want to find out more about what makes this TV worth it, read on.
| What We Love | What We'd Change |
| --- | --- |
| Best-in-class picture | Light reflective surface in bright daylight |
| Four HDMI 2.1 Ports | Lacks HDR10+ |
| a9 Gen 4 Upscaling | Larger soundbars may poke over the screen |
| WebOS is a great addition | |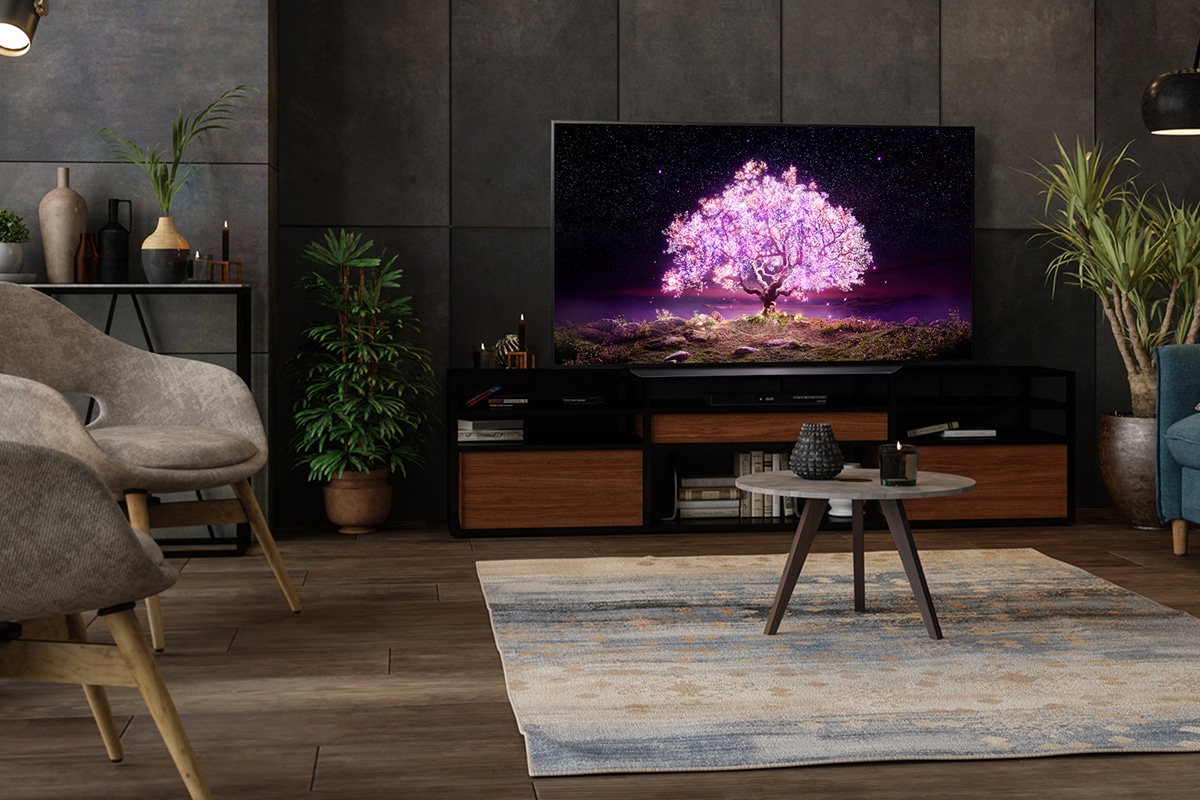 Design and General Functions
Minimalist design
Razor-thin bezel
Smart integration (Google, Amazon, Apple)
Dolby Atmos
Minimal in design, and beautiful to look at, the razor-thin TV is held upright by a sleek matt charcoal-silver base that overall has a very premium facade. The base is quite hefty in weight, which allows the TV to have a sturdy stance and gives you peace of mind that it won't wobble around and easily fall over.
The base is quite low though, and while it looks good, if you did want to add a soundbar on the cabinet in front of the TV, it could depending on the soundbar, block a little bit of the screen.
Of course, you also have the option to mount the TV against the wall, which would look equally smart thanks to the thin, barely-there frame (0.9 cm to be precise). When you look at the TV side-on, you'll see just how incredible the razor-thin screen really is. To give you an idea, the top part of the TV is thinner than an Apple TV remote. The bottom, as expected, is thicker to account for other crucial components including the speakers, but still quite thin given everything it houses within.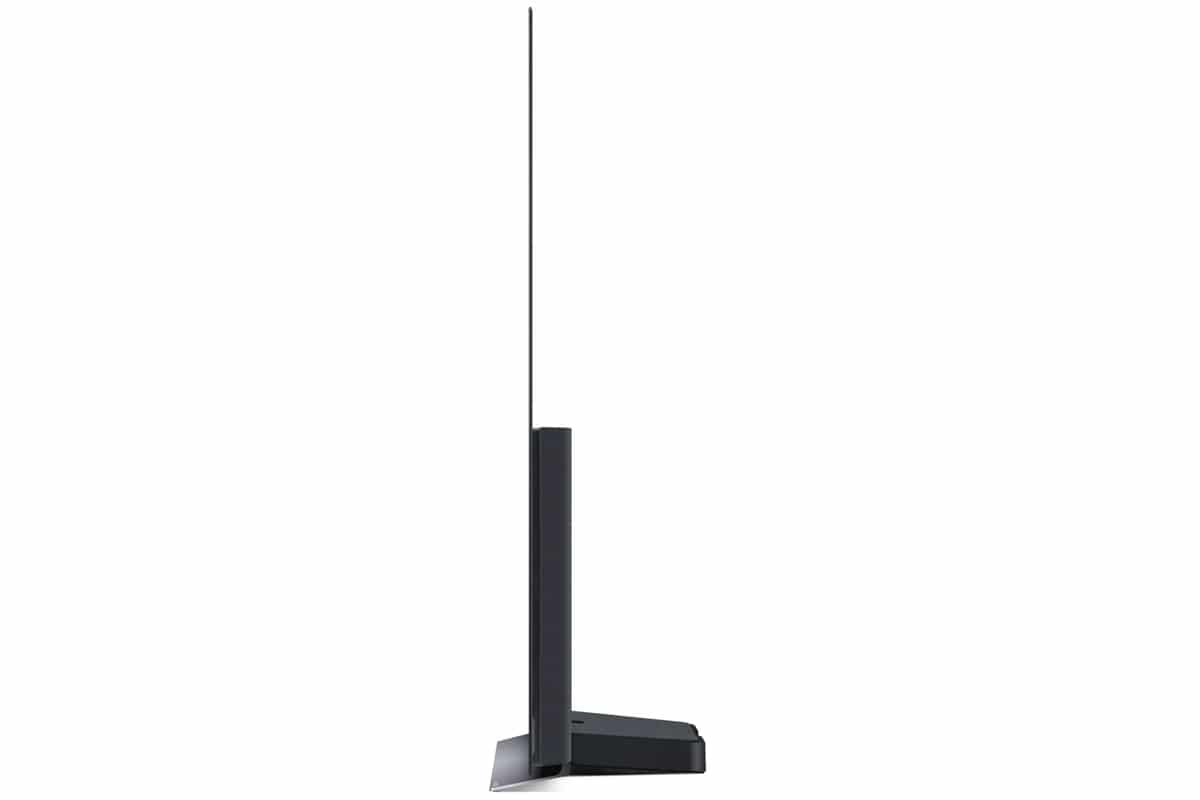 Smart TV Features & Magic Remote
The C1 comes with an all-new home screen that makes it very easy to navigate. Thanks to the ThinQ AI and LG's WebOS, the smart hub is incredibly user-friendly and responsive and supports Google, Amazon, and Apple simultaneously. It comes built-in with Amazon Alexa and Google Assistant and even has the ability to seamlessly use Airplay amongst other things.
Additionally, you'll find built-in content streaming apps of pretty much all the ones currently available in the Australian market, including Netflix, Apple TV, Stan, Amazon Prime, Disney+, Optus Sport and so much more, which can all be accessed through the new LG Magic Remote.
While at first, it takes a bit of getting used to, the Magic Remote really is a wonderful addition to your LG TV experience. It's easy to hold and has a good weight to it. The point and scroll function (almost like a wii remote) is also quite fun to use, but can easily be switched should you want to use it as a regular remote. Other handy features include shortcuts to your favourite streaming apps (and other convenient hotkeys), a built-in microphone for voice search, and are Bluetooth enabled to easily connect to your smartphone.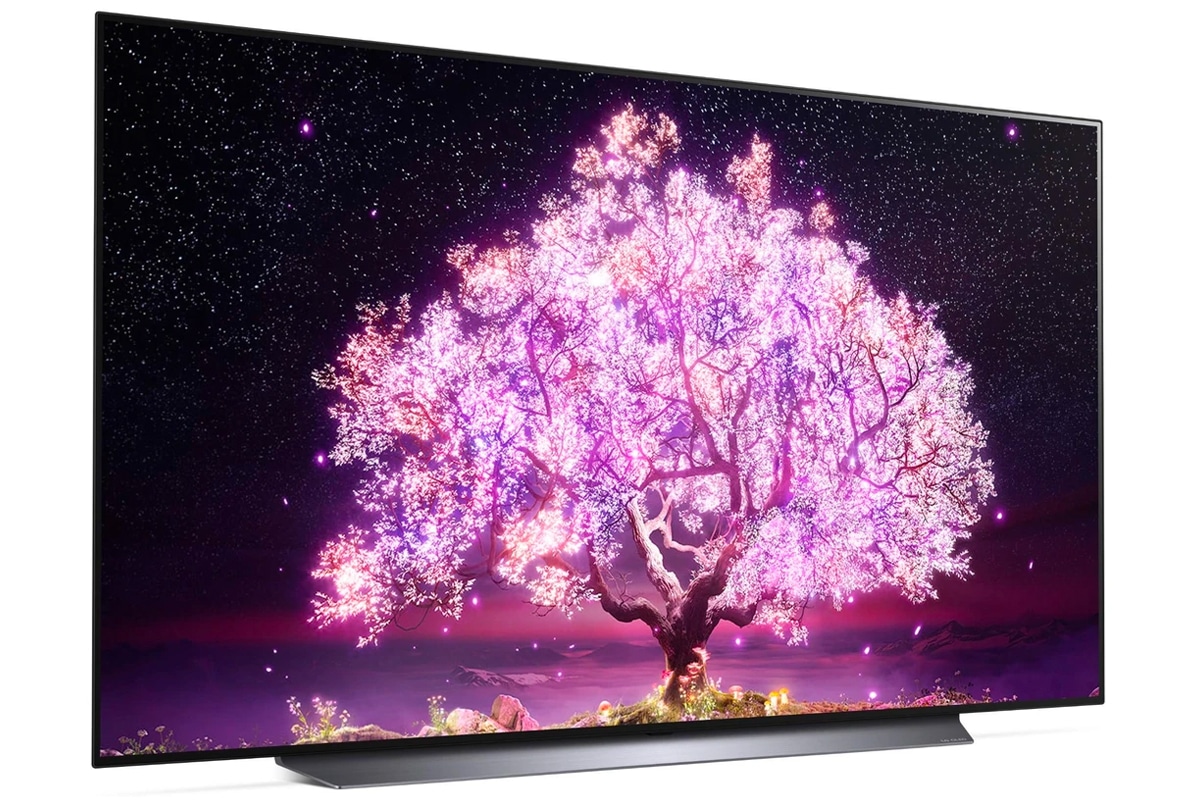 Picture Performance and Audio
Alpha 9 Gen4 AI processor, unmatched upscaling to 4K
Ultra-smooth 120hz display at 4K resolution
Vivid colours, with HDR10 Pro & Filmmaker mode
Dolby Vision and Dolby Atmos built-in
Perhaps one of the most important features of a premium TV is the picture quality, and boy does the LG deliver. Thanks to its Alpha 9 Gen4 AI processor and deep-learning algorithms, the LG C1 has the ability to automatically adjust your TV for optimum picture and sound. The result? Nothing short of a spectacular viewing experience and stunning picture quality. Whether you are a sports fanatic, a gamer or a movie enthusiast, the vivid life-like image quality is quite something to behold.
Gamers will appreciate the cutting-edge features that allow for swift-response and an ultra-smooth 120hz display while sporting fans will love watching fast-action plays thanks to the smoothest, ultra-clear motion, and finally, film & series enthusiasts will enjoy watching immersive HDR movies that are vivid and bright in colour with extraordinary detail thanks to HDR10 Pro & Filmmaker mode.
The OLED technology really shines no matter what your viewing preference is. Simply put, the millions of self-lit pixels are capable of producing perfect inky blacks and incredibly sharp picture quality without the restrictions of backlight technology. Additionally, the Dolby Vision optimises your TV experience as it intelligently adjusts the lighting and content based on what you're watching and the environment it's being watched in, meaning your TV is perfectly optimised for your home.
The wide-view capabilities also need a special call-out. As with most home setups and layouts, not all of us have the option to have perfectly positioned seating arrangements in front of the TV. Luckily, the LG C1 delivers truly amazing wide-view angles. The picture stays clear and accurate even when you're seated way off center. Great when you have your mates over for the footy and need to pull in a few extra chairs around the TV.
Audio Performance
Good picture quality is nothing without good sound. While we highly recommend a soundbar – like the Sennheiser Ambeo or LG's own LG SP11RA 7.1.4ch Soundbar – the addition of built-in Dolby Atmos is a great addition to the LG C1, and adds an even greater dimension to a Dolby enabled soundbar.
If necessary, you can easily use the TV without a soundbar and get adequate audio quality. For this review, we chose to use it without a soundbar in a not-so-big living room, and we can honestly say we haven't really been missing the soundbar all that much. However, for a bigger space, ultimately we'd still recommend pairing with a soundbar for optimal viewing experience.
LG C1 4K OLED TV Price
Given the price and performance it offers, the LG C1 is also of great value for money. While the RRP for the TV may seem steep at AU$5,399, (for the 65″) when was the last time you actually paid full RRP for a television? We've found a deal through the LG website linked below for AU$3,500, nearly the cheapest on the market. Movie enthusiasts, sports fanatics, and professional gamers alike will love the benefits that come with investing in a premium TV, and the LG C1 OLED is a no-brainer.
The writer received a television for review courtesy of the brand
You'll also like:
Bose Frames Review: Why Audio Sunglasses Make Absolute Sense
Paramount Plus Australia Guide: Price, Content, Launch
Sennheiser CX True Wireless Earbuds Review: A Wake-up Call for the Competition?