Sennheiser CX True Wireless Earbuds Review: A Wake-up Call for the Competition?
Given the chance to review any new Sennheiser product is always an exciting time here at Man of Many HQ. While we love exploring all ends of the market – as we did with the AMBEO Soundbar – sometimes it's nice to venture into the "entry-level" products in search of a quality bang for buck option. That is, after all, what got us into the technology space in the first place. We've spent countless hours trying to find exciting value-for-money products, and when we find them, we can't wait to share! Allow us to introduce the new WIN! A Brand New LG 65-inch OLED C3 TV and SC9 Sound Bar Worth $5,798!, the new (cheaper) replacement for the CX 400BT is jampacked with features we look for in any true wireless earbud.
You'll also like:
$4,000 Sennheiser AMBEO Soundbar is an All-in-One Home Cinema
Sennheiser's New $2099 Flagship Earphones are Milled from a Single Block of Aluminium
Sacrifice Nothing with Sennheiser IE 300 Wireless Earphones
When looking for a set of new true wireless earbuds, the biggest factors to take into consideration include audio performance, battery life, and connectivity. Sennheiser hits the nail on the head in all three of these categories with one of the most well-rounded packages on the market. What you're getting for a hair under $200 is the technology, innovation and quality that you expect from one of the worlds leading audio brands. Ultimately, a delightful listening experience.
| What We Love | What We'd Change |
| --- | --- |
| Battery life | No active noise cancellation |
| Wide soundstage | Missing 'wow' factor in overall design package |
| Not too bulky in the ear | Fit is a bit too large for some ears |
| IPX4 rating | Large case – doesn't fit in your pocket very comfortably |
Razer Leviathan V2 X is a Stellar Gaming PC Soundbar For Those On a Budget
The Digest
The Sennheiser CX True Wireless replaces the accomplished CX 400BT and improves the outgoing model in every way. Starting with the attractive price point of $199.95 they're cheaper, and despite such, include a host of new features and further improve what we already love from the old model. This includes longer battery life, better connectivity, great audio and smart touch controls.
A wide sound stage is to be expected from a brand like Sennheiser, and the CX True Wireless accomplish such. Bringing rich clear mids, a powerful bass (perfect for hip-hop, R&B and Jazz) and a solid treble. Price point aside we were more than satisfied with the sound, although hardcore audiophiles would likely turn their nose to the bass-heavy sound profile (customisable in app). And if you're curious – which we're sure you are – they made our 2nd generation Airpods sound a little outdated.
In terms of connectivity, Bluetooth 5.2 ensures a strong connection with your smartphone. Also included in the package is high-resolution audio support, especially useful with Apple Music's new 'lossless audio'. Our favourite aspect outside of the battery life and sound would have to be the touch controls, which are simple to use and not overly complex. The flat design of the bud means there's no miscommunication between your finger and the touch sensor.
While the design applies the 'KISS' model in all aspects, we're not in love with the shape or general feel of the buds. The case feels somewhat flimsy and doesn't have the same feeling of all-out 'quality' that you get from some competitors. It's also quite large, which means it doesn't fit in your pants pocket particularly well. The buds themselves hide quite nicely in the ear and they don't subtract any points on the style side, but they don't add any either.
---
Featured Video from Man of Many
---
Ultimately, the design would never deter us from recommending a pair of buds. The Sennheiser CX True Wireless tick the box in the aspects that matter. Strong battery life, good connectivity, great audio quality and an attractive price point to boot. That's all that you should consider when purchasing a pair of earbuds, and the Sennheiser CX True Wireless ticks all the boxes.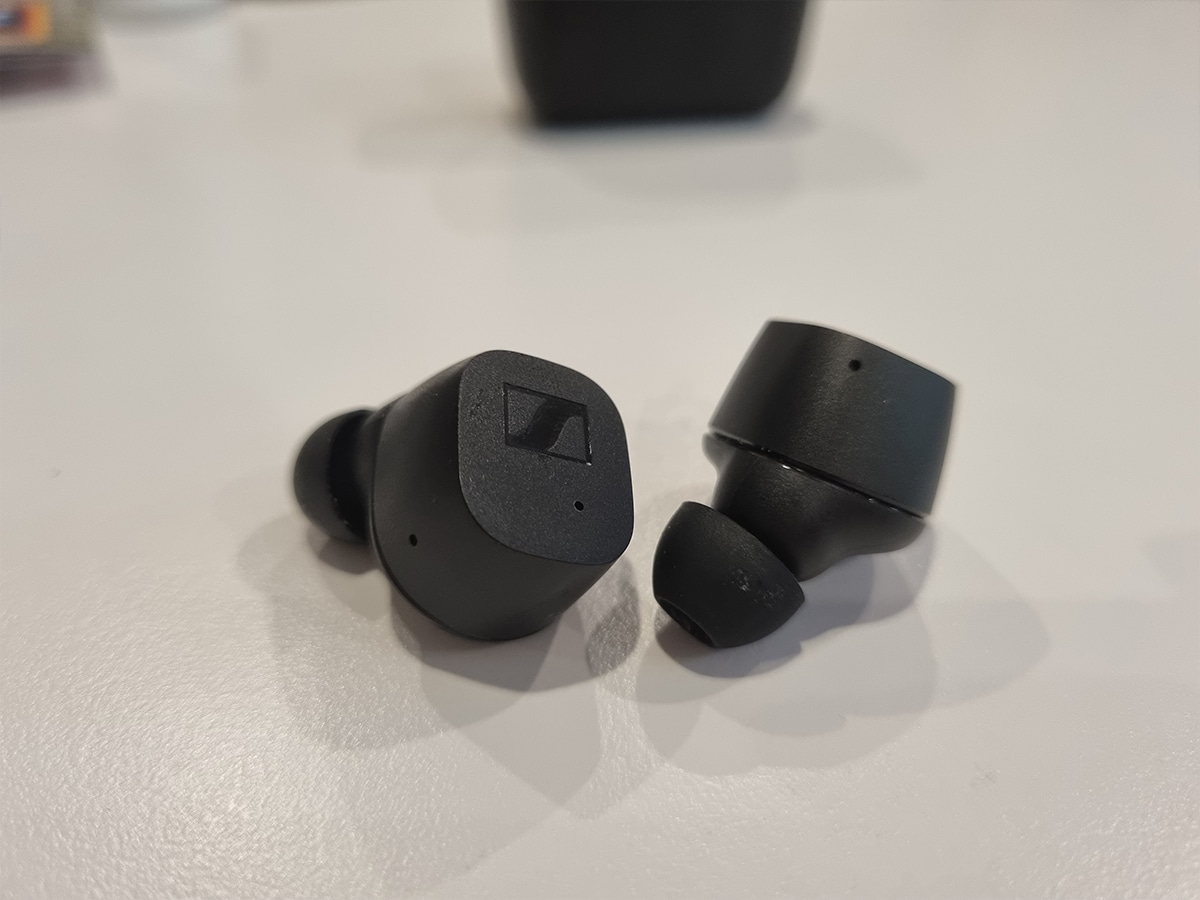 Audio Performance
Sennheiser claims the earbuds offer "deep basses, natural mids, and clear, detailed treble" and we're not going to argue with that. In our testing, the earbuds offer – most notably – a strong bass which we love when listening to hip-hop, RnB, and Jazz. The mids are in fact very natural when listening to the live backings common with artists such as Luther Vandross, Brandy, and Teddy Riley. Background singers are also clear to hear and you can make out the full sound stage. A satisfying listen that succeeds the modest price point.
It is worth noting that some audiophiles might find the sound a little bass-heavy. In the case of overwhelming bass, the EQ can be easily adjusted via the Sennheiser Sound Control app which does a great job of manually altering the frequency. If you can't quite dial it in yourself you can choose from a variety of presets.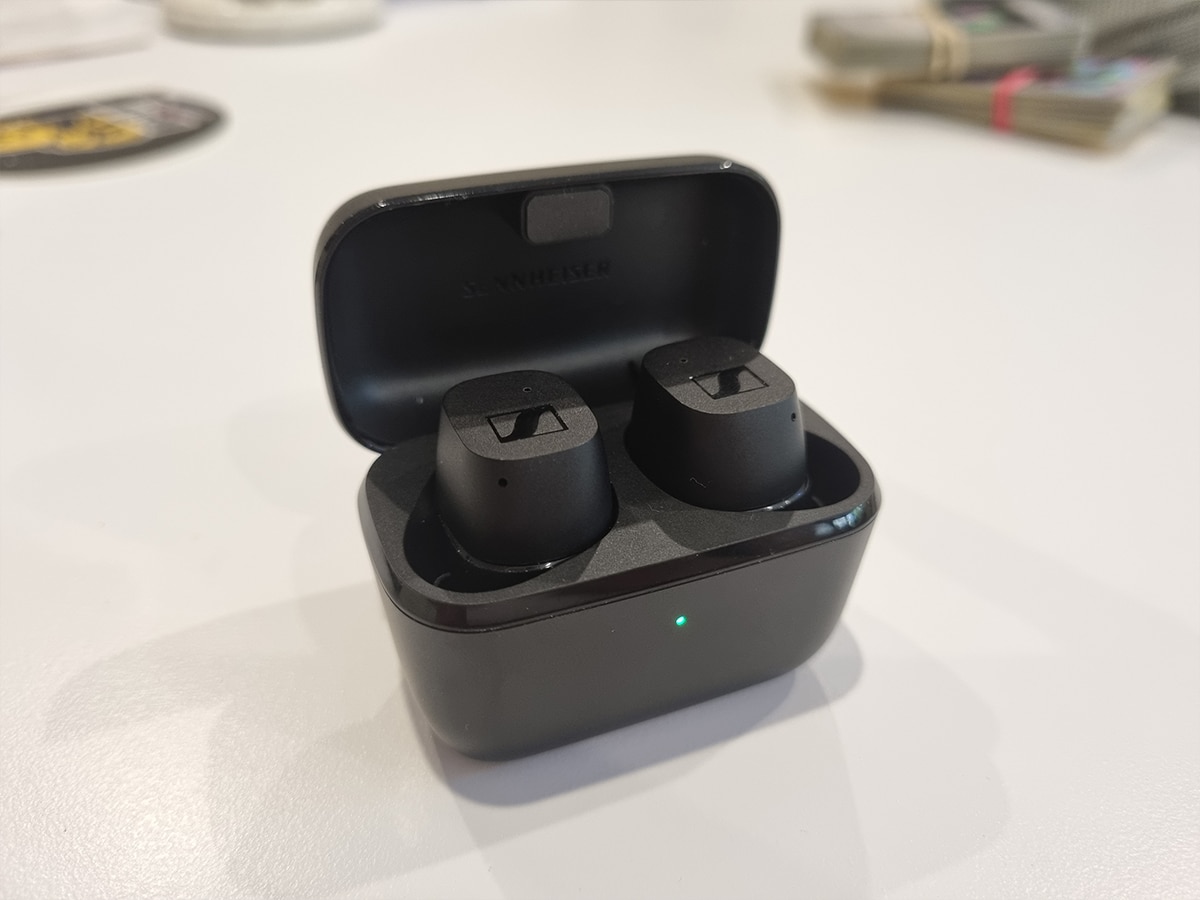 Battery Life and Connection
If you had a scale of important factors to consider when buying a pair of true wireless earbuds, battery life should be towards the top. The Sennheiser CX True Wireless delivers in spades with 9-hours of playback from the earbuds themselves, and a further 18-hours from the charging case – an increase in 7-hours over the outgoing CX 400BT.
Bluetooth 5.2 compatibility is a necessity today, and while you might not fully understand the need for codecs such as SBC, AAC, and aptX let's just say, you'll want them. It's a great way to futureproof your earbuds so you won't be buying outdated technology. You'll unlock high-resolution lossless audio with streaming services such as Apple Music.
Other notable features we love include technology that allows the earbuds to be used independently. Dual microphones are utilised on each bud for quality phone calls.
Audio First Design
As mentioned in the digest, we're not completely in love with the design of the CX True Wireless. It's a minimalist yet functional design that lends itself more towards a feeling of 'cost saving' than all-out artistic expression. The end result is hard to argue with, coming in at under $200, at least those savings are passed on to the consumer.
You can have the earbuds in any colour you want – as long as it's matte white or black – and we appreciate the fact the logos are kept to a minimum. There's no mistaking the size of the buds either, they're not small and compact like the Samsung Galaxy Buds Pro or Apple Airpods Pro. Although we wouldn't say they project the hearing aid style that you get with the Sony WF1000XM4. The housings are touch-sensitive and very easy to use for tasks such as music, calls, and voice assistant. All controls are fully customisable via the Sennheiser smart control app.
Our particular gripe is with the case, which is a little too bulky and shaped in such a way that it doesn't fit in your pocket particularly well. The charging case features an LED light that indicates battery life, green, yellow or red depending on the amount of charge in the case.
Conclusion
Should you buy the Sennheiser CX True Wireless earbuds? If your budget sits around $200, you'll struggle to find a better option on the market. These buds tick the boxes in the three most important categories of battery life, audio and connectivity. While you'll miss out on some features such as active noise cancellation and a gorgeous design, these are an awesome choice for the value-minded consumer.
Bose Smart Soundbar 600 Unveiled: Premium Soundbar Hits All The Right Notes
You'll also like:
$4,000 Sennheiser AMBEO Soundbar is an All-in-One Home Cinema
Sennheiser's New $2099 Flagship Earphones are Milled from a Single Block of Aluminium
Sacrifice Nothing with Sennheiser IE 300 Wireless Earphones
---
Featured Video from Man of Many