Is This Australia's Real Life David Brent?
When Ricky Gervais and Stephen Merchant's breakthrough comedy The Office hit UK screens in 2001, it was famously lambasted by a select few reviewers who either didn't understand the humour or worse, embarrassingly thought it was real, and not an intellectually comedic insight into the droll fictional lives of the everyday people at a paper factory in Slough. The show went on to win countless awards, catapulted creators Gervais and Merchant into the limelight and eventuated one of the most successful remake / spin-off shows of all time (the US version with Steve Carell as the unlikeable protagonist gained even more traction than its English big brother).
The reason for its success can be boiled down entirely to the dark genius of Gervais' main character, the man who's a friend first and a boss second (and probably an entertainer third), David Brent. While Brent has popped up in Christmas specials and now has his own movie about touring with re-formed band Foregone Conclusion, his finest hour was and shall remain in those first two seasons of awkward phrases and cringeworthy moments that made the world sit up and pay attention to Gervais and Merchant's ability to somehow draw comedy gold from the social equivalent of watching a very, very large train crash into a basket of kittens very, very slowly.
I make note of the reviewers who embarrassed themselves by not realising that Brent was a fictional character because I fear that I may be doing the very same thing right now, but I'm going to go ahead with it anyway.
Australia, meet your very own real-life David Brent. This is Kerwin Rae. Words don't quite do justice to the feelings evoked by watching Kerwin's office antics, but the video above is just one of many that cracked the dial on my cringe-o-meter from his ironically titled internet series 'The Social Experiment.'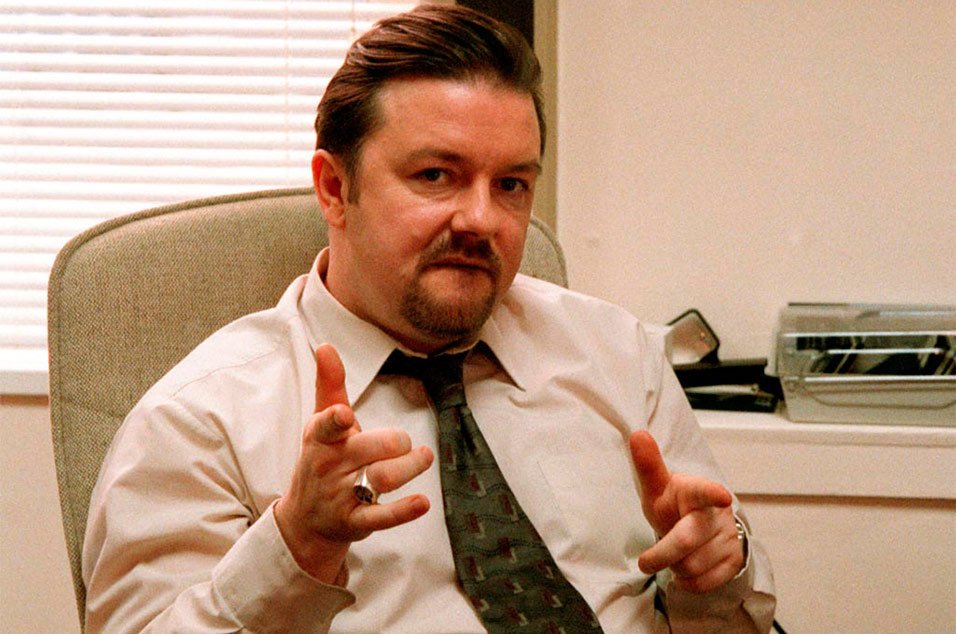 While I am initially convinced that Gervais must have actually met Rae in 2000 and immediately raced home to pen the first draft of The Office, it is revealed (if you make it far enough) that old mate Kerwin was actually a competitive bodybuilder back then, and hadn't quite evolved into the ACTUAL LIVE WALKING BREATHING DAVID BRENT that he is today.
While mildly racist jokes and tacky office banter slip past the radar of any reasonable minded person, the part that is hardest to stomach is the fact that Rae is actually a motivational speaker, something that the fictional Brent aspired to but never successfully achieved. Clad in a puffer vest, the essential style accoutrement of any awkwardly oblivious person, the Sydney based entrepreneur struts around clutching a water bottle (what is it with motivational speakers and water bottles?) and a phone, regularly Snapchatting his loyal followers in between uncomfortable exchanges with his employees and meaningless motivational statements.
And the motivational statements come in droves, and don't stop, but have a distinctly Aussie twang to them, peppered with swear words and colloquialisms, as well as musings on office culture, life, family and his (apparently) true forte, financial success. While Kerwin might be oblivious to the fact that he is the living embodiment of a fictional comedic legend, and still running on the assumption that he is real (he definitely is), his web series is accidentally one of the funniest things I've seen this year and definitely worth checking out, if you turn your cringe-tolerance knob all the way up to 'David Brent' first.
Joe Cutcliffe is a Sydney based writer with a proclivity for controversy. Tweet your grievances to @joecutcliffe