Who is Aaron Taylor-Johnson? The Man Rumoured to be the Next Bond
Whether you recognise the name or not, there's a very good chance you've seen Aaron Taylor-Johnson on the big screen. Best known for his work in movies such as Kick-Ass, Savages, Nowhere Boy, and Avengers: Age of Ultron, the British actor is reportedly going to take on one of the biggest roles of them all: a little spy by the name of James Bond (or should we say Bond. James Bond). According to current gossip, the official announcement will arrive in March or April of 2023.
Meanwhile, some people out there are still asking themselves, "Who is this guy, again?" As you'll soon discover, you've seen him more often than you might think. By the age of 32, the actor has racked up quite an impressive resume with no shortage of notable roles. There's also an outrageous Aaron Taylor-Johnson Brad Pitt fight scene in Bullet Train that was one of the movie's high points. Here's everything you need to know.
Quick Facts
Name: Aaron Perry Taylor-Johnson
Age: 32
DoB: 13 June 1990
Occupation: Actor
Nationality: British
Place of Birth: Buckinghamshire, England
Height (approx.): 5′ 11″
Weight (approx.): 181 pounds
Net Worth: $16 million
Instagram: @aarontaylorjohnson (373k followers)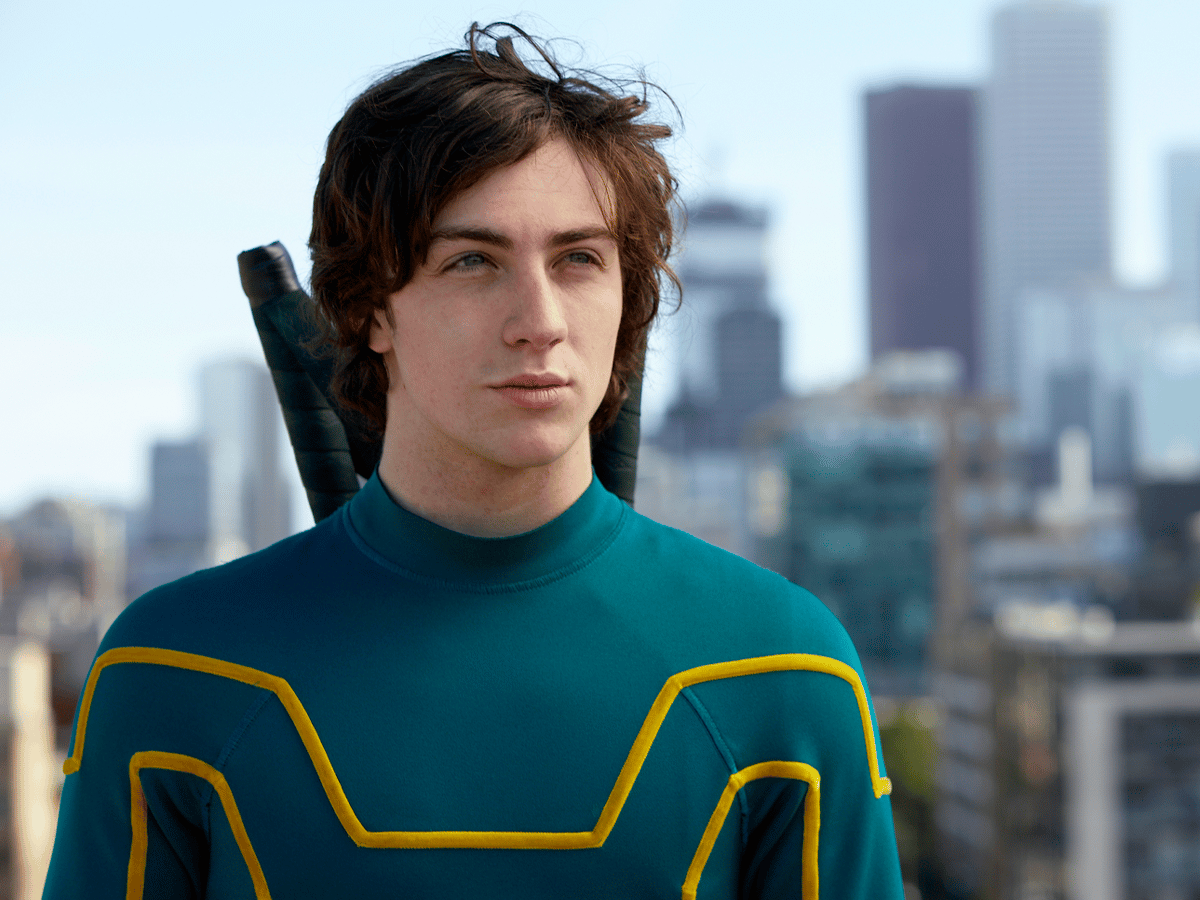 Who is Aaron Taylor-Johnson?
Hollywood films are loaded with steadily working actors whose names you might not recognise at first glance and for many people Aaron Taylor-Johnson will be one of those actors. Some of his biggest roles to date include the title character in Kick-Ass and its sequel, Ben in Oliver Stone's Savages, Pietro Maximoff (aka Quicksilver) in Avengers: Age of Ultron, and his Golden Globe-winning performance as Ray Marcus in Tom Ford's Nocturnal Animals. Most recently, he and Brad Pitt threw down in the action-packed blockbuster Bullet Train.
To glance at Aaron Taylor-Johnson's upcoming movies is to quickly realise that his star power is on the rise. Most notably, he'll play Sergei Kravinoff aka Kraven in the superhero flick Kraven the Hunter, which is based on a Marvel comic. Combine that with the James Bond rumours and you can see the next chapter of his already formidable career starting to unfold. If it were possible to buy stock in Hollywood actors, we'd be investing heavily in Taylor-Johnson right now, to say the least. Let's take a closer look at his journey thus far.
Early Life
Born to a civil engineer and housewife in High Wycombe, Buckinghamshire, England, Aaron Perry Johnson (later Taylor-Johnson) started acting as early as the age of six. He studied drama, dance, and singing at the Jackie Palmer Stage School and appeared in various stage productions throughout the late 1990s and early 2000s. His first credited role is in a British miniseries called Armadillo, which aired in 2001. Just one year later, he appeared in the 2002 family film Tom and Thomas.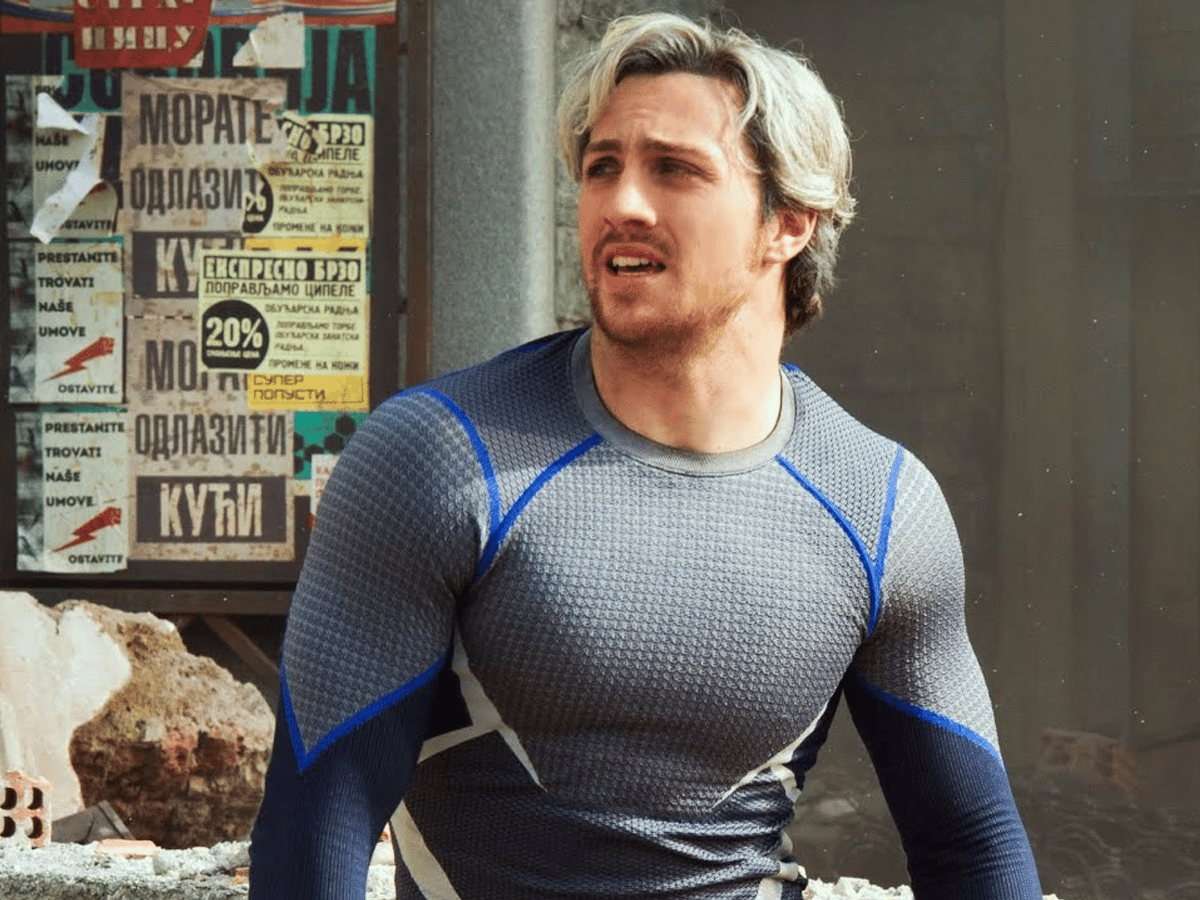 Aaron Taylor-Johnson Film Career
With credited TV and film roles by the age of 11, Aaron Taylor-Johnson's career was off to a promising start. He played a younger version of Edward Norton's character in 2006's The Illusionist before delivering a breakout performance as a young John Lennon in the 2009 biopic Nowhere Boy. A year after that, he starred as the awkward-teen-turned-vigilante-superhero Kick-Ass in the blockbuster movie of the same name.
A string of major projects would follow, including Savages, the Oliver Stone film about two pot dealers who cross paths with the Mexican cartel. It blazed a trail to his brief appearance as Pietro Maximoff aka Quicksilver in Captain America: The Winter Soldier. He reprised the character for Avengers: Age of Ultron, in which he played a far more prominent role.
---
Featured Video from Man of Many
---
In 2017, Taylor-Johnson took home a Golden Globe for his performance as the handsome but merciless criminal Ray Marcus in Nocturnal Animals. Anyone who's seen the film is likely to remember the character, who's tracked down by Jake Gyllenhaal as the story builds to its violent conclusion.
Recent Aaron Taylor-Johnson movies include everything from The King's Man to Tenet to Bullet Train. Then we have upcoming action films such as Kraven the Hunter and The Fall Guy. He's also attached to star in Rothko, which centres around a legal battle involving painter Mark Rothko's estate. That one will be directed by his wife Sam Taylor-Johnson, who also helmed Nowhere Boy.
Most of Aaron Taylor-Johnson's movies of late are about as high-profile as it comes in terms of star power and directorial talent alike. Clearly, the actor is well-liked and professional around the set. It's then no wonder that he's reportedly been tapped to play one of the most famous "professionals" of them all.
Bond Rumours
And now for the reason you're here! As we all know, Daniel Craig has been playing James Bond since 2006's "Casino Royale," which managed to breath new life into the enduring franchise. He holstered his Walther PPK for the last time with the long-delayed No Time to Die from 2021. Rumours of which actor would fill the vacancy swirled before the movie's release, ranging from Lashana Lynch to Idris Elba.
Then in December of 2022, celebrity gossip page Deuxmoi claimed to have exclusive intel from an anonymous Hollywood insider. According to their source, it was Aaron Taylor-Johnson who would be tackling the role of Agent 007 in the next Bond film. In the same report, it was stated that a "mini-trailer of him doing the famous Bond shot is going to be released in March/April 2023 to announce him as the new actor."
Does that mean we can say with 100 per cent certainty that Taylor-Johnson will be taking down supervillains, sipping martinis, and dispensing with all kinds of advanced gadgetry in the near future? It does not. For starters, Deuxmoi has an accuracy rate that teeters around 50/50. However, their claim was supported by the British tabloid The Sun, which has sources of its own. According to their source, Taylor-Johnson knocked the socks off producer Barbara Broccoli during a screen test in September.
Whilst The Sun has reputability issues of its own, there appears to be genuine substance to this ongoing rumour. Furthermore, one look at Aaron Taylor-Johnson's current trajectory would suggest that very big things are on the horizon. But only time will tell if he'll be filling the world-famous shoes of cinema's foremost superspy.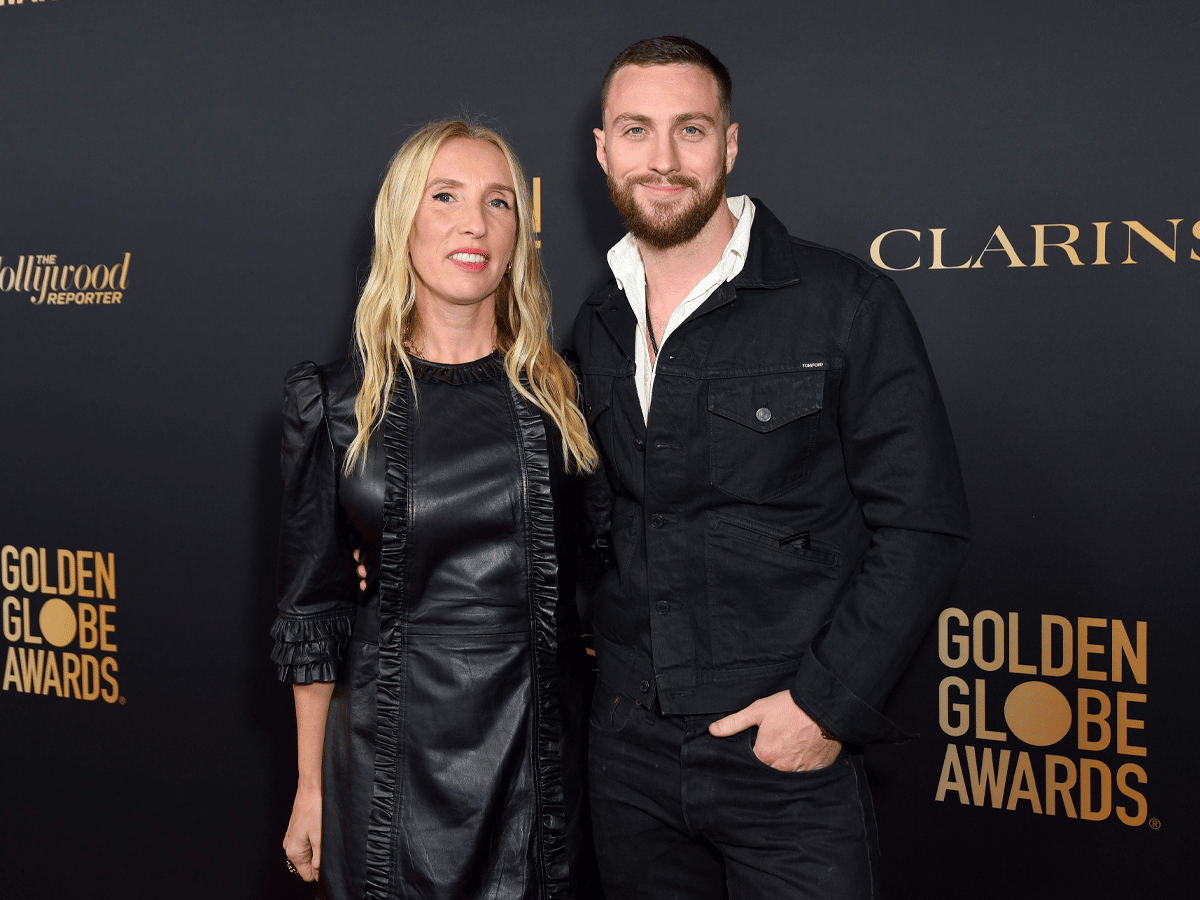 Aaron Taylor-Johnson Wife
Aaron Johnson was 18 years old when he played a young John Lennon in the 2009 biopic Nowhere Boy. It was the feature directorial debut of British filmmaker Sam Taylor-Wood, who was 42 at the time. Sparks flew between the pair and they married four years later at a chapel in Somerset, England. They now go by the last name Taylor-Johnson and remain bonded in marriage.
When it comes to Aaron Taylor-Johnson's kids, he definitely has his hands full. He and his wife Sam share two daughters of their own and also two stepdaughters from Sam's previous marriage. Between his family life and work life, one can safely assume that the actor knows how to keep busy.
Aaron Taylor-Johnson's Net Worth
When you play the lead in movies such as Kick-Ass and Savages or make notable appearances in the MCU, your bank account definitely benefits. More to the point, Aaron Taylor-Johnson's net worth is estimated to be somewhere around $16 million. We're not sure whether that number includes his respective salaries for upcoming releases such as Kraven the Hunter and The Fall Guy, two roles that presumably come with sizable paydays. As for the role of James Bond…cha-ching!
In 2021, Aaron and wife Sam put their swanky home in the Hollywood Hills up for sale at an asking price of $7.5 million. It's quite apparent that they're both living the millionaire lifestyle as they continue to build upon their respective careers. And should the Rothko project get off the ground, it will bring them back together in a professional capacity for the first time since 2018's A Million Little Pieces (in which Aaron played James Frey). Rothko is currently in pre-production with both Aaron and actor Russell Crowe attached.
General FAQs
Who is Aaron Taylor-Johnson's wife?
Aaron Taylor-Johnson is married to filmmaker Sam Taylor-Johnson, who's helmed movies such as 'Nowhere Boy' and 'A Million Little Pieces.'
What is Aaron Taylor-Johnson's height and weight?
Actor Aaron Taylor-Johnson is reportedly 5 feet 11 inches and 181 pounds.
---
Featured Video from Man of Many