Brad Pitt's 'Fight Club' Diet & Workout Plan
Once upon a time in Hollywood, Brad Pitt adopted a rigorous diet and workout plan while preparing for the role of Tyler Durden in "Fight Club." The following year, he once again flaunted a lean and mean physique as "one-punch" boxer Mickey O'Neil in Guy Ritchie's "Snatch." That's not to mention his somewhat bulked-up appearance in films like "Troy" or, for that matter, "Once Upon a Time in Hollywood."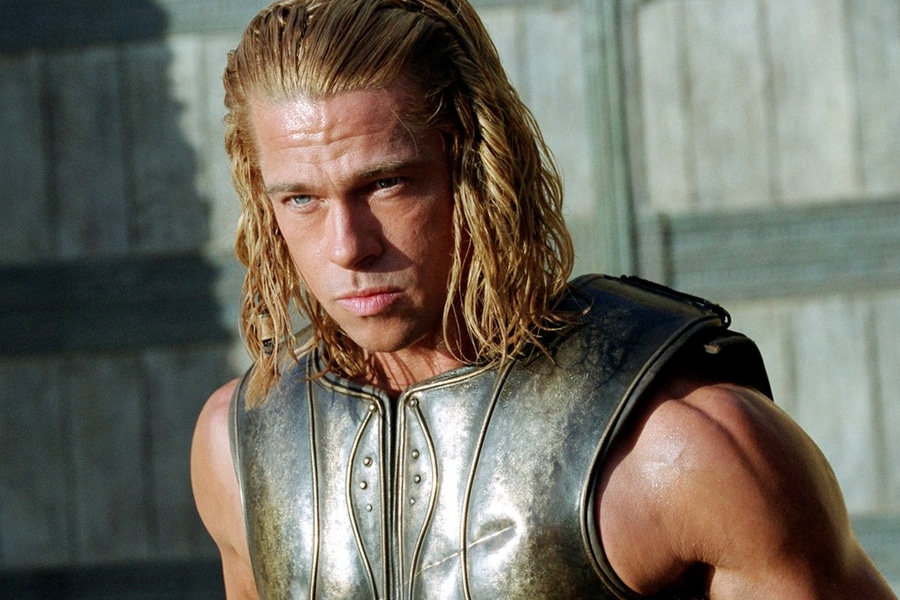 Truth be told, the actor usually retains a healthy figure, though every now and then he seems especially chiseled or fight-ready. One could even say that his ripped "Fight Club" body, in particular, remains as memorable as the movie itself. Indeed, we can only imagine how many AltaVista or Netscape searches there were for "Brad Pitt diet" or "Brad Pitt Fight Club workout" when the movie came out. That's right, gents, we're dropping late-90s search engine references—deal with it.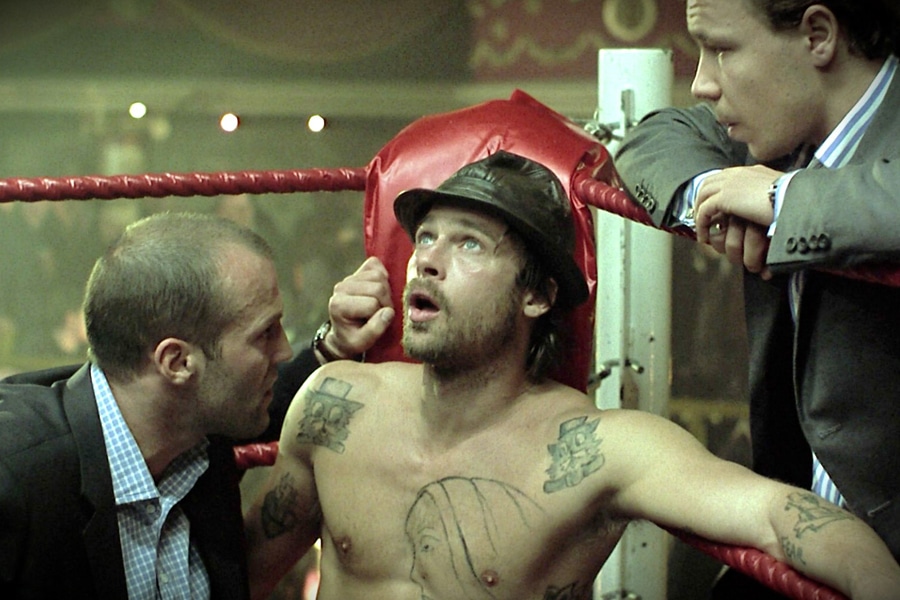 As one might suspect, Brad Pitt's "Fight Club" workout required plenty of targeted muscle building. That said, two hours of extreme cardio might have been the true secret to his physical success. After all, you don't get that shredded without burning away virtually every spare shred of excess fat.
Throw in a proper diet and you're on your way to some legendary abs, among other things. And when we say "legendary," we mean it in the strictest sense of the term, as Brad Pitt's "Fight Club" abs are quite literally the stuff of legend. Let's find out how he did it. But first: how did he get fight-ready for this year's "Once Upon a Time in Hollywood?"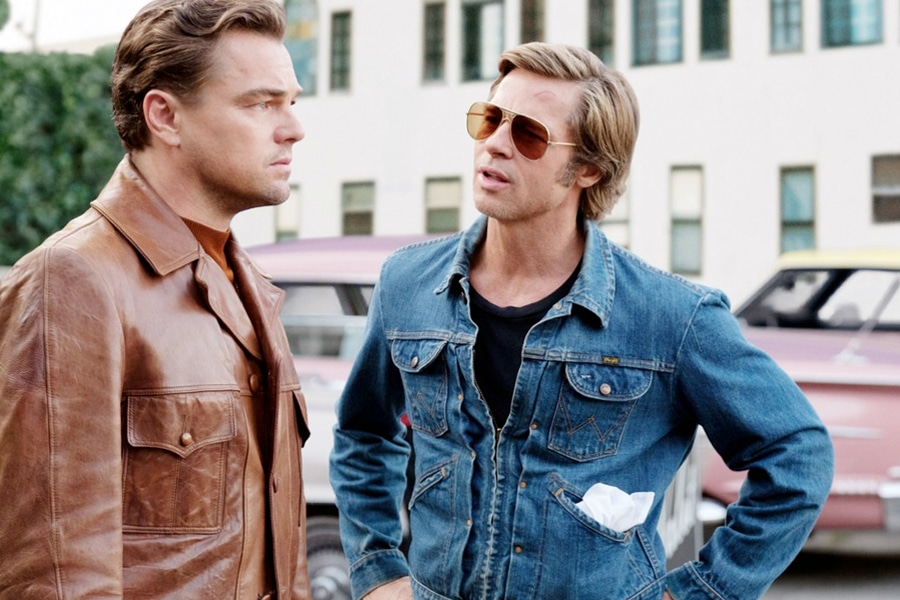 Brad Pitt's 'Fight-Ready' Workout for "Once Upon a Time in Hollywood"
We don't want to give too much away, but "Once Upon a Time in Hollywood" finds stuntman Cliff Booth (played by Pitt) throwing down in some truly epic fight scenes. What's more, it was decided that Pitt would tackle these fights himself, thereby eschewing the need for his own stunt double.
To accomplish this feat, stunt supervisor Zoë Bell and seasoned fight coordinator Rob Alonzo put Pitt through the wringer. Inside a makeshift training space, Pitt and Alonzo practised various forms of martial arts, including "yoga for combat," boxing exercises, and Filipino stick work. That was in addition to actual fight scene choreography as well as Brad Pitt's diet and intense fitness regimen.
As for Brad Pitt's "Once Upon a Time in Hollywood" workout routine, it forms a rather clear Venn diagram with the one he employed for "Fight Club" (see below). For instance, both workouts involve four days of targeted weightlifting and two days of intense cardio.
However, Pitt wasn't necessarily striving for pure tone in his latest role. As such, the weightlifting workout involved higher weights at lower reps. Compare that to his "Fight Club" routine, which saw him lifting lower weights at higher reps.
Taking in both of Pitt's approaches should prove helpful for all the aspiring fitness freaks and bodybuilders out there. If you want Tyler Durden's chiselled abs and lean figure, you can adopt the "Fight Club" workout plan. On the other hand, if you want a little more mass and bulk, the "Once Upon a Time in Hollywood" plan will serve you well.
In any case, one might be wondering: did all those martial arts training sessions effort pay off? Keeping with the tradition of spoiler-free summaries, we can only say that you'll have to watch the movie to find out. Sorry!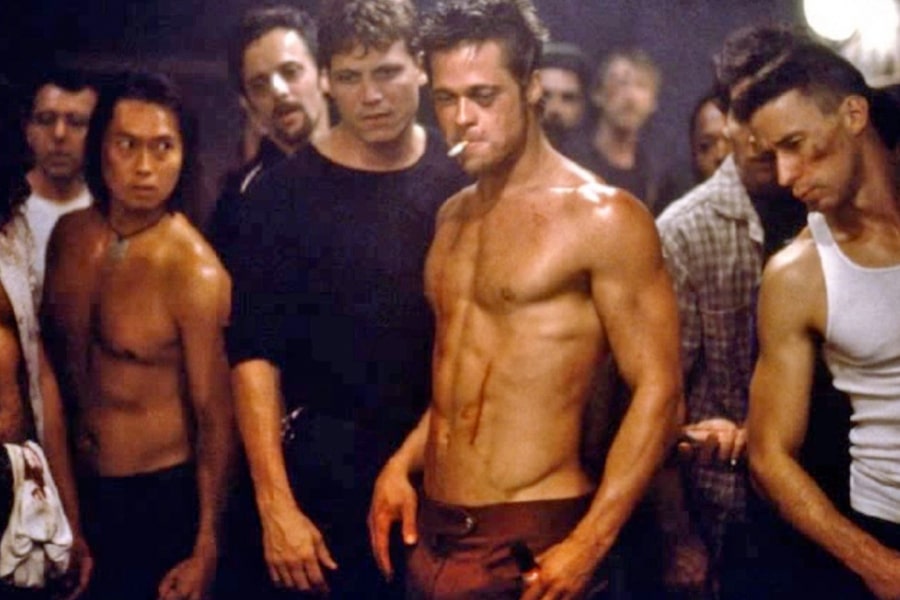 Brad Pitt's "Fight Club" Diet
Two decades before he squared off against certain martial arts legends in "Once Upon a Time in Hollywood," Pitt was swinging fists and taking blows in movies like "Fight Club" and "Snatch." And while both Tyler Durden and Mickey O'Neil seem like the kind of guys who would and could eat whatever they wanted, their care-free attitudes didn't interrupt the actor's dedicated diet plan.
One look at Brad Pitt's abs in "Fight Club" and you can probably guess the Brad Pitt diet was all about clean and conscious eating. We're talking fish, chicken, oatmeal, brown rice, protein shakes, and veggies. Because he was simultaneously building muscle and maintaining a brutal workout regimen, Pitt ate several times throughout the day and didn't necessarily skim on the calories. That said, he was probably eating less than 2,000 calories a day.
As with a number of celebrity diets, Pitt's went light on the carbs and heavy on the proteins. However, don't take that to mean he left carbs out of the picture altogether. Instead, he focused on consuming "clean" carbs like brown rice, veggies, and fruit. That was joined by the occasional side of pasta. It's also safe to assume he allowed himself a cheat day. Then again, have you seen Tyler Durden's abs?
Here's a sample of Brad Pitt's "Fight Club" meal plan:
Breakfast
Eggs – Pitt reportedly consumed six egg whites and seven yolks for breakfast. That's a lot of protein.
Protein Shakes – When there wasn't enough time to eat a week's worth of eggs, Pitt chugged a protein shake instead.
Oatmeal – Keeping some of that cholesterol at bay, Pitt ate 75g of oatmeal with raisins.
Snack #1
Canned Tuna Fish – It might come in a can, but tuna fish is rich in heart-healthy omega-3 fatty acids.
Whole Wheat Pita Bread – Why eat tuna straight out of the can when you can throw it atop some whole wheat pita bread?
Lunch
Chicken Breast – Pitt doubled down on this protein source by eating two at a time.
Brown Rice – If you're going to eat rice, make it brown rice.
Pasta – Pitt alternated between brown rice and pasta as a lunch side.
Green Veggies – Here's one food that no health expert argues with.
Snack #2 (Pre-Workout)
Protein Bar – What better way to pump yourself up before a workout than with a protein bar?
Whey Protein Shake – When he felt like consuming his protein in liquid form, Pitt downed a shake instead.
Banana – This healthy fruit comes loaded with benefits.
Snack #3 (Post-Workout)
Whey Protein Shake – Beefcake!!!
Banana – Easy on the banana intake, Mr. Pitt! Just kidding—he can eat all the bananas he wants.
Dinner
Grilled Fish – Like chicken breast or green veggies, this diet essential speaks for itself.
Chicken – When not in the mood for grilled fish, Pitt ate chicken instead.
Brown Rice or Pasta – You get the point.
Vegetables – Again, no need to explicate here.
Salad – This is basically another word for "diet." Eat it.
Snack #4
Casein Protein Shake – This dairy-derived protein is slow-digesting and high in quality.
Low-Fat Cottage Cheese – Pitt would eat this slow-releasing protein source as an alternative to his protein shake. Given how many protein shakes he was drinking, we don't blame him.
Brad Pitt's "Fight Club" Workout
If you want to know what 5-6% body fat looks like, start streaming "Fight Club" at your earliest convenience. In the film, you'll see Tyler Durden rocking the kind of abs that most men aspire to, but precious few achieve.
Naturally, there was a dedicated workout routine behind Pitt's washboard physique. It involved four days of targeted weightlifting exercises, two days of extreme cardio, and a day of rest. Oh, and let's not forget that Brad Pitt diet we outlined above. It's all part of the package.
Ultimately, Brad Pitt's "Fight Club" workout aims for tone over mass. In addition to targeting specific muscle groups, that also meant lifting lower weights at higher reps. If it sounds easier than the alternative, then you're probably underestimating just how many sets and reps are involved.
Needless to say, the actor was up to the task. Are you? If the answer is yes, then scope the following Brad Pitt workout routine and proceed accordingly.
Monday – Chest
Push-ups — Three sets of 25 reps
Bench press — 25, 15 and eight reps at 165, 195, 225 lbs
Nautilus press — 15 reps at 80, 100, 130 lbs
Incline press — 15 reps at 80, 100, 130 lbs
Pec deck — 15 reps at 60, 70, 80 lbs
Tuesday – Back
25 pull-ups — Three sets to fatigue
Seated rows — Three sets at 75, 80, 85 lbs
Lat pulldowns — Three sets at 135, 150, 165 lbs
T-bar rows — Three sets at 80, 95, 110 lbs
Wednesday – Shoulders
Arnold press — Three sets at 55 lbs
Laterals — Three sets at 30 lbs
Front raises — Three sets at 25 lbs
Thursday – Biceps & Triceps
Preacher curls — Three sets at 60, 80, 95 lbs
EZ curls cable — Three sets at 50, 65, 80 lbs
Hammer curls — Three sets at 30, 45, 55 lbs
Push-downs — Three sets at 70, 85, 100 lbs
Friday & Saturday – Cardio
Treadmill — one hour at 80-90% of maximum heart rate
Sunday – Rest
Binge-watch Brad Pitt movies
In all honesty, Brad Pitt's "Fight Club" workout plan isn't as brutal as some of the others we've seen. However, you can't underestimate the importance and extremity of his cardio routine. To that end, you should definitely be prepared to push yourself on the treadmill, as it will provide the extra burn on your body fat, and put the finishing touch on your sculptured figure.
Whether or not Brad Pitt is a versatile actor probably depends on who's being asked, but he's certainly tackled a full spectrum of roles. Accordingly, his body has swung from lean and mean to somewhat bulky, depending on the demands of any given job. To survey his career is in some ways to choose the body type that works best for you. And if only 5-6% body fat will suffice, now you know how to achieve it.
You'll also like:
Jason Statham's Diet and Workout Plan
Jake Gyllenhaal Diet & Workout Routine
Chris Hemsworth's Thor Diet & Workout Plan