15 Best Puzzles for Adults to Test Your Skills
More than a veritable brain booster, the best puzzles for adults make for a terrific way to pass the time. And based on our current stay-at-home climate, you have a lot of time to pass. Plus, it's downright incredible what they're doing with adult puzzles these days. So how about you put down the video game controller, kill the Netflix, and partake in a classic tradition by grabbing that jigsaw puzzle off the shelf? When you do, make sure it's one of the best jigsaw puzzles. Your brain will thank you.
The Best Puzzles for Adults
There are millions of puzzles out there and the last thing you want to do is pick up a clunker. Hedge your bets by snagging one of the following jigsaw puzzles for adults.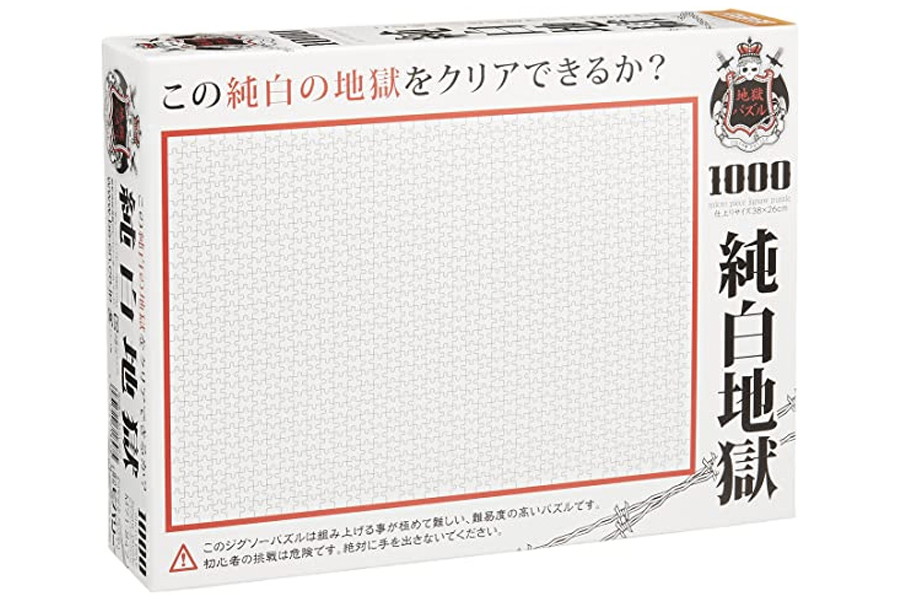 1. Micro Pure White Hell Puzzle
The closest you can get to a meta-puzzle is this one from Beverly, which delivers some serious minimalism by way of its all-white expanse. Touted as the world's smallest 2,000 piece puzzle, the Pure White is an absolute mind-trip, featuring no image to aid you in completing it. Even stranger still are the warnings on the box, which sports phrases like "please do not buy this if you are a beginner," "18 years and up," and "the great king of hell has arrived!" We're not really sure what that last one means, maybe it's all part of the puzzle.
Contains: 2000 pieces
Finished puzzle size: 38 x 26 cm

2. Cozy Retreat
Ravensburger is one of the best jigsaw puzzle brands in the world and it's not hard to see why. No two pieces are the same and the end result is worthy of being framed. This one is a perfect reflection of our couped-up isolation environments. While you're stuck indoors drinking coffee you can spend your hours constructing a puzzle that bears an image of someone stuck indoors drinking coffee. Life imitates art.
Contains: 500 pieces
Finished puzzle size: 19.5 x 14.25 inches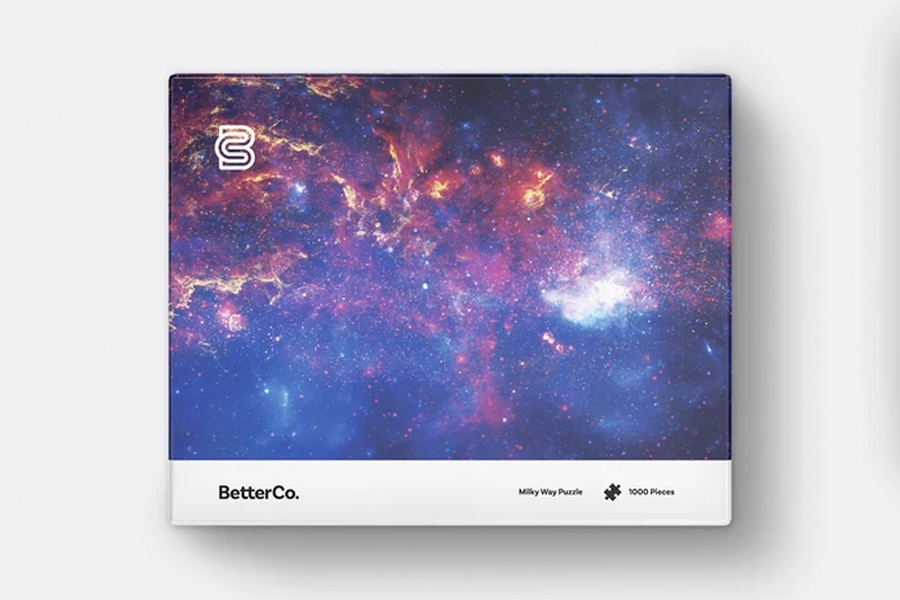 3. Milky Way
One look at the box and you'll know two things right away: that this is one of the best jigsaw puzzles for adults and that you simply must complete it. If you're a space nerd or just in it for the bright, pretty colours, BetterCo's Milky Way puzzle is out of this world (sorry).
Contains: 1000 pieces
Finished puzzle size: 70 x 50 cm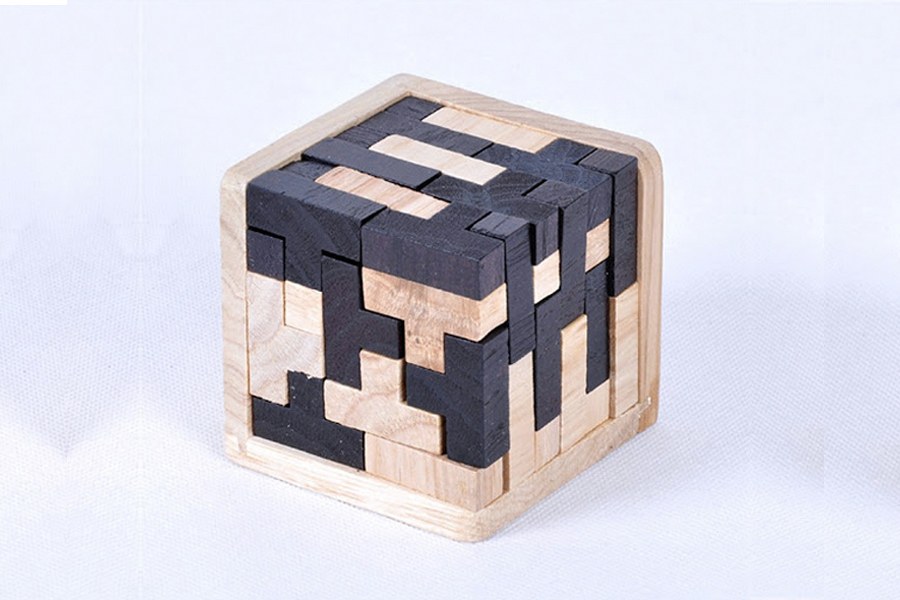 4. Sharp Brain Zone
Meet the original 3D wooden puzzle, which will challenge your mental skills and hopefully build upon them, too. You can spend a lot of time on this, and while it may feel like children's building blocks, it's definitely more challenging than you would expect.
Contains: 54 pieces
Finished puzzle size: 6.9 x 6.9 x 6.9 cm

5. I Had One of Those
Awash with cultural references, this is an adult puzzle and a trip down memory lane rolled into one. Featuring games, toys, movies and pop-culture references dating back as far as the 1930s, this puzzle is a time machine of trends and throwbacks you have either forgotten or are way too young to know.
Contains: 1000 pieces
Finished puzzle size: 24 x 30 inches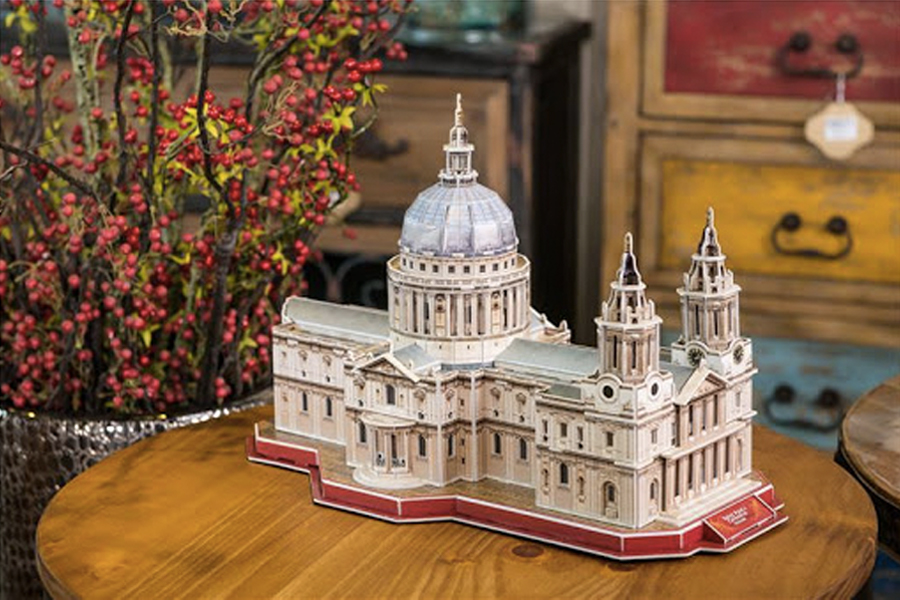 6. 3D St. Paul's Cathedral
One of the best puzzles for adults and teens alike, this 3D cathedral emanates with detail and dimension. Use your wit and intellect to piece together this 3D variation of one of the most iconic landmarks in the world. Whether you are a history buff or not, this puzzle is a great way to learn a bit of history while helping to keep your creative juices flowing.
Contains: 107 pieces
Finished puzzle size: 22.5 x 40.5 x 27 cm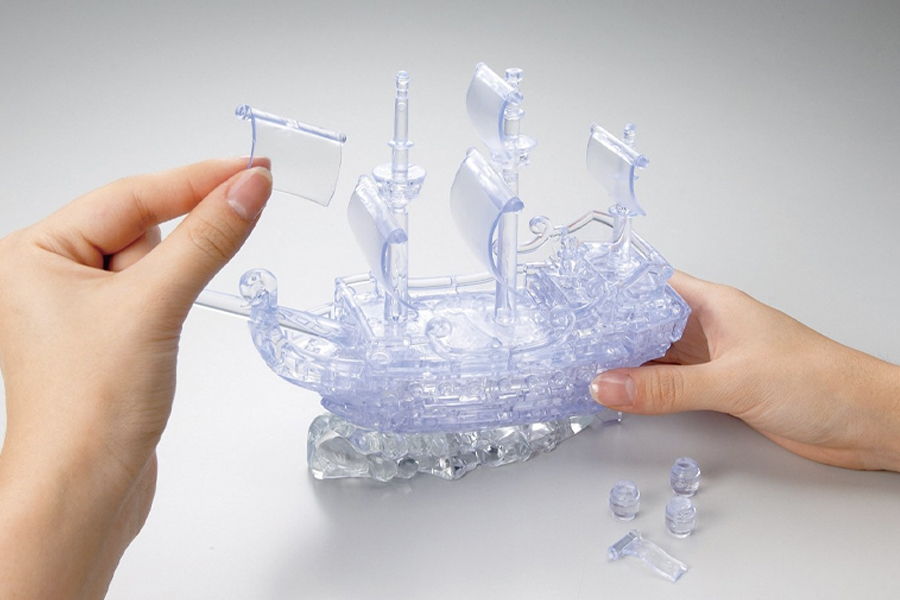 7. 3D Crystal Pirate Ship
We would go into detail, but let's be honest: you were hooked as soon as you saw the words "3D Crystal Pirate Ship!"
Contains: 101 pieces
Finished puzzle size: 8 x 2.5 x 7 inches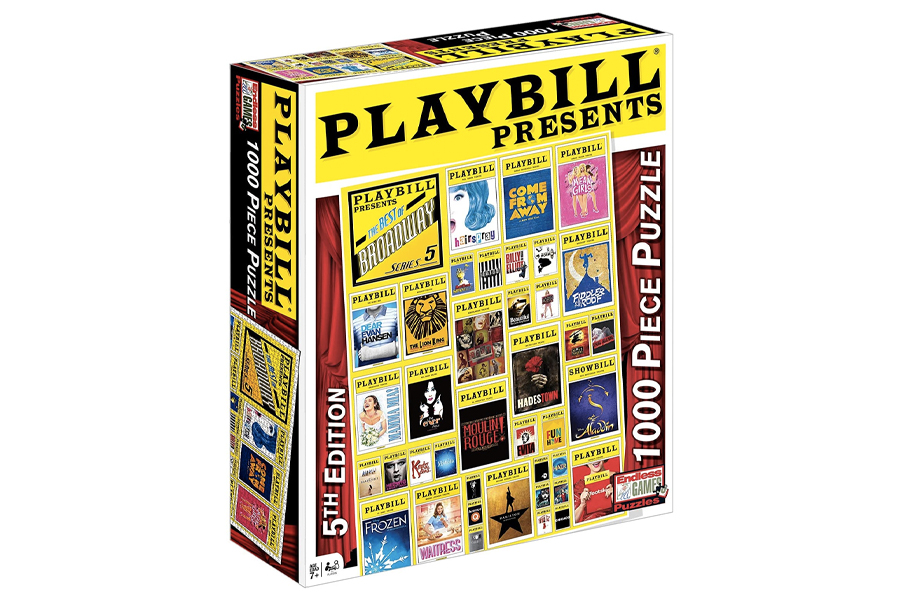 8. Playbill Cover
Broadway is currently closed, so we present the next best thing (okay, maybe not the next best thing). More to the point, this 1000-piece puzzle features a number of iconic hit productions. Put on your favourite soundtrack while you play. Are you a Moulin Rouge fan? Maybe you're into The 39 Steps? Whatever your poison, the Playbook Cover variation is one of the best puzzles for adults on the market.
Contains: 1000 pieces
Finished puzzle size: 19 x 26 inches

9. Gradient
It won't be easy putting this gradient jigsaw puzzle together, but it'll definitely be worth it. Choose amongst a range of duotone gradient patterns and get to work. It also comes in a few different sizes. For an added challenge, we recommend going with the black and white version. Sure, it's not a colourful endeavour, but it's one that will fill in your time.
Contains: 500 pieces
Finished puzzle size: 45.7 x 61 cm

10. Mona Lisa
One of the world's greatest artworks is now one of the best puzzles for adults. Will you finally solve the mystery behind that elusive smile? Pull together this 500 piece puzzle and you'll feel as good as the great Da Vinci himself.
Contains: 500 pieces
Finished puzzle size: 70 x 50 cm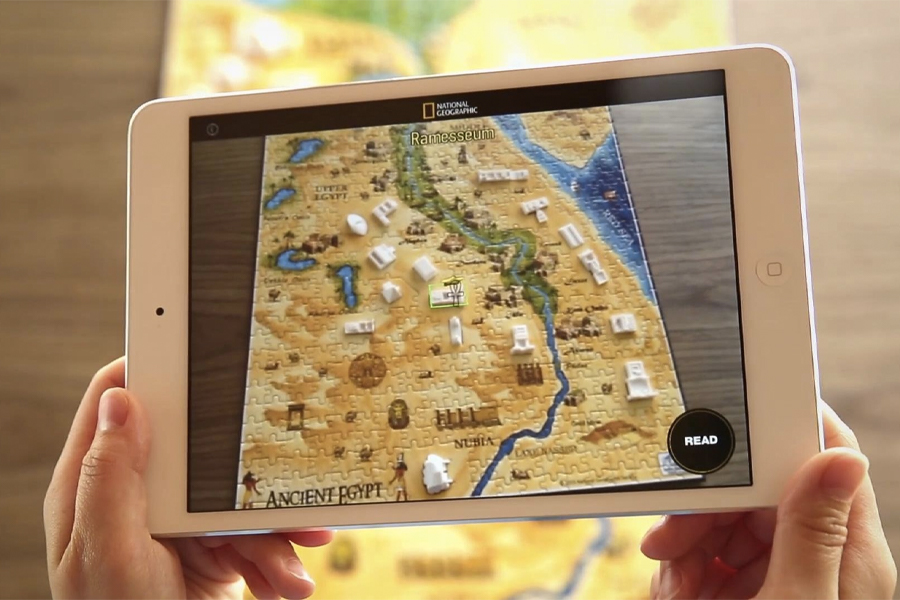 11. 4D Ancient Egypt
Leave it to National Geographic to bring you this 4D cityscape of ancient Egypt. While not an adult puzzle per se (it is aimed at ages 7 and up, after all), we still think you'll have fun with it. Once you make the puzzle and place the pieces on the board, you can scan the game on your device to learn more about the Pharaohs and pyramids. Don't worry, it's not all education, there is a healthy dose of fun involved in this one too.
Contains: 650+ pieces
Finished puzzle size: 22 x 14.67 x .5 inches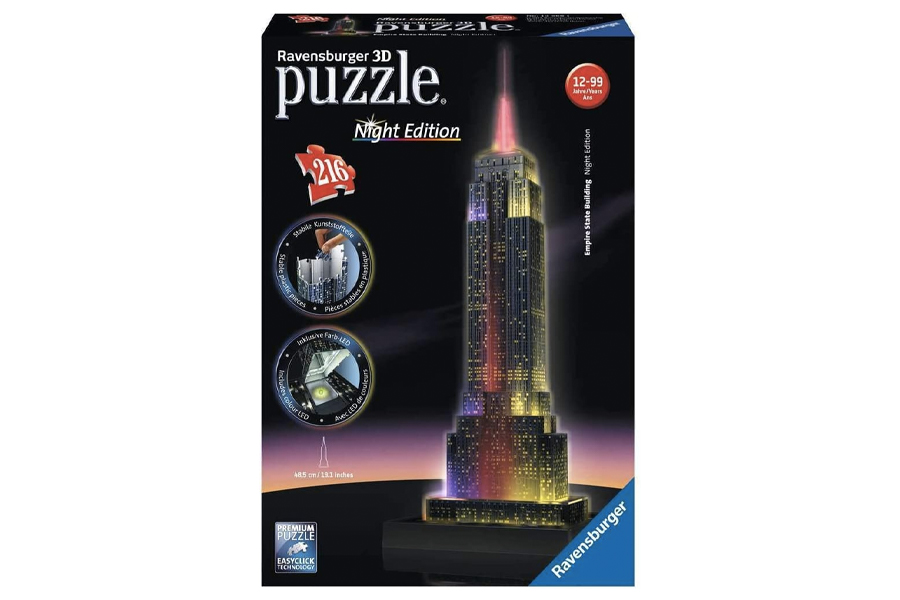 12. 3D Empire State Building (Night Edition)
One of the world's most famous buildings gets the 3D treatment it deserves from Ravensburger. Thanks to easy-click technology, you'll know exactly when each plastic piece clicks into place. The Night Edition comes with built-in LED lights, which illuminate upon completion. It's everything you want out of a 3D puzzle for adults.
Contains: 216 pieces
Finished puzzle size: 6.5 x 14 x 48.5 cm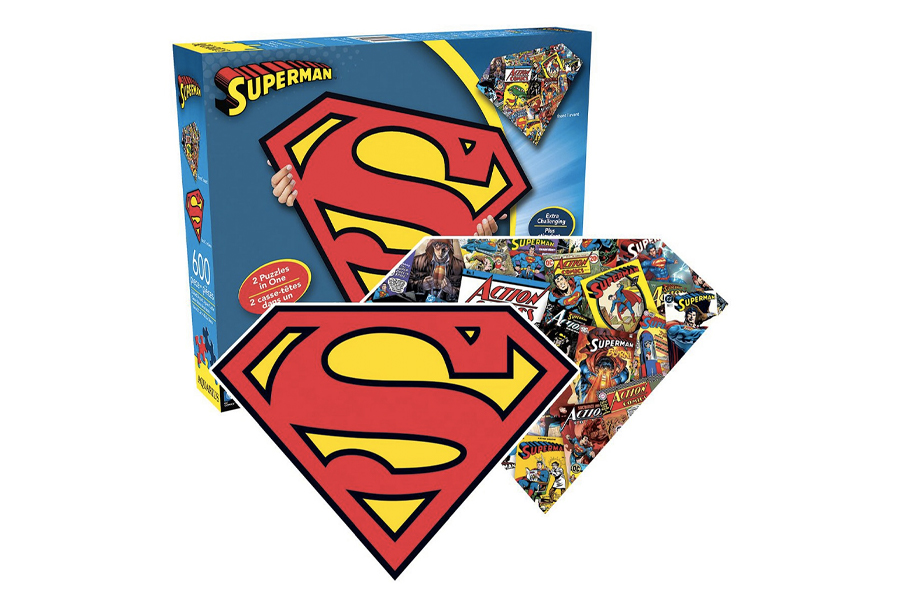 13. DC Comic Superman
This brilliant jigsaw puzzle brings twice the action by way of its double-sided design. One side features a smattering of classic comic book covers while the other features Superman's signature emblem.
Contains: 600 pieces
Finished puzzle size: 21.3 x 16 inches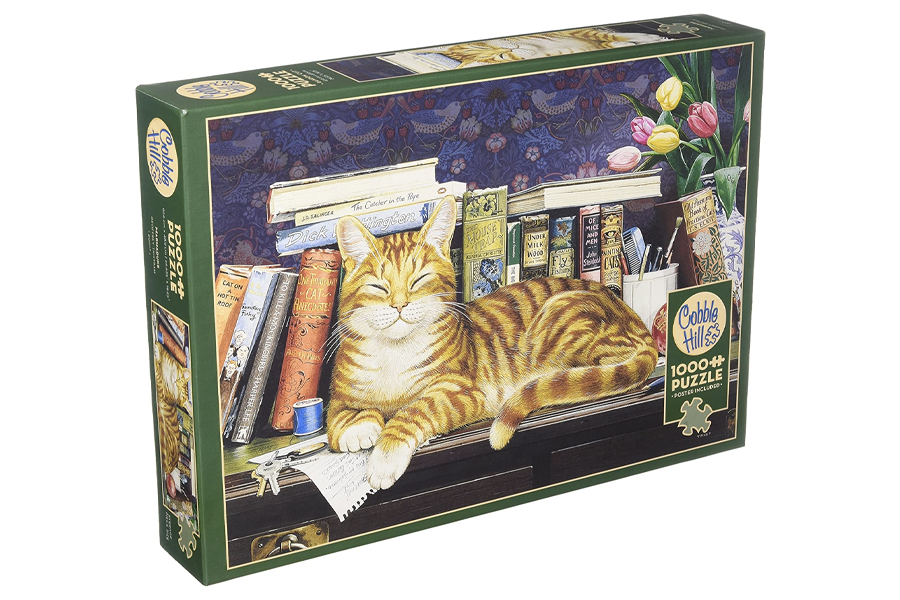 14. Marmaduke
Adult puzzle enthusiasts will adore putting these pieces together, relishing the final work of art. Holding centre court is a cat named Marmaduke, who couldn't look any happier.
Contains: 1000 pieces
Finished puzzle size: 26.6 x 19.2 x 0.8 inches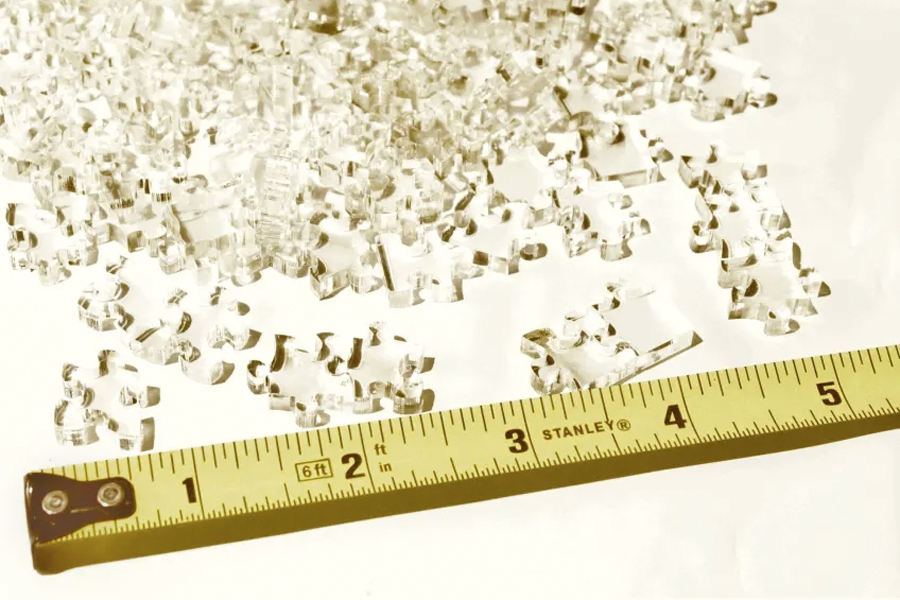 15. Puzzle Impossible: Clear Acrylic
The impossibly difficult, clear acrylic jigsaw puzzle for adults comes in multiple sizes based on the level of intensity you're willing to endure. Despite being small, this custom jigsaw puzzle is incredibly challenging, mainly because it offers no visual cues. If you are looking for a brain teaser that may drive you insane, this is probably the one.
Contains: 9-144 pieces
Finished puzzle size: 12 x 12 x 0.8 inches
Why are Puzzles Good for Adults?
In what might come as no surprise, jigsaw puzzles for adults deliver a host of modern-day benefits. According to some studies, this historic pastime challenges your brain, improves memory, enables real-time cooperation, and even reduces anxiety. Let's see your smartphone do that!
Types of Puzzles
As with everything else in this world, you have your options. Consider the following types of puzzles:
2D Puzzles – These are your traditional jigsaw puzzles for adults, which incorporate hundreds and sometimes thousands of pieces.
3D Puzzles – These puzzles incorporate block or click-style pieces to create miniature objects such as buildings or bridges.
4D Puzzles – These puzzles build upward from the board to create skylines and cityscapes, amongst other things.
General FAQ
Do puzzles help with anxiety?
Some research has shown that puzzles can help with anxiety by holding your attention for extended periods of time. It's also been reported that the activity can boost cognitive function and improve memory.
What skills do puzzles develop?
Completing puzzles potentially helps develop a host of skills, including cooperation, concentration, shape recognition, goal setting, patience, memory, hand-eye coordination, and more.
What is the best puzzle for adults?
Ravensburger makes some of the best puzzles for adults, though we're also partial to Milky Way from BetterCo.
You'll also like:
30 Best Adult Cartoons for Serious Humour
50+ Best Online Games to Play With Friends
35 Best Board Games for Adults (and the Young at Heart)