30 Best Adult Cartoons for Serious Humour
Coming to you from a variety of channels and streaming platforms are the best adult cartoons, which collectively deliver hour upon hour of gut-busting entertainment. Thanks to the wonders of animation, each show traverses a limitless expanse of creative terrain, exploring both mature and immature themes through a wildly inventive lens. And when a handful of these very same shows leap onto the big screen, it results in some of the best comedies ever made. Along similar lines, top adult cartoons occasionally make for a legendary video game, and in at least one instance, a popular dipping sauce.
Today, we're sticking to television, and highlighting the 30 best adult cartoons ever made (in no particular order). Some are old, others are new, and all are thoroughly amusing. Watch each one for the first time or watch it again, relishing the unforgettable characters and unique animation style. Laughter and enjoyment are guaranteed.
You'll also like:
How to Make Rick and Morty's Szechuan Sauce
Universal's Simpsons Themed "Krustyland"
The Best Video Games of 2018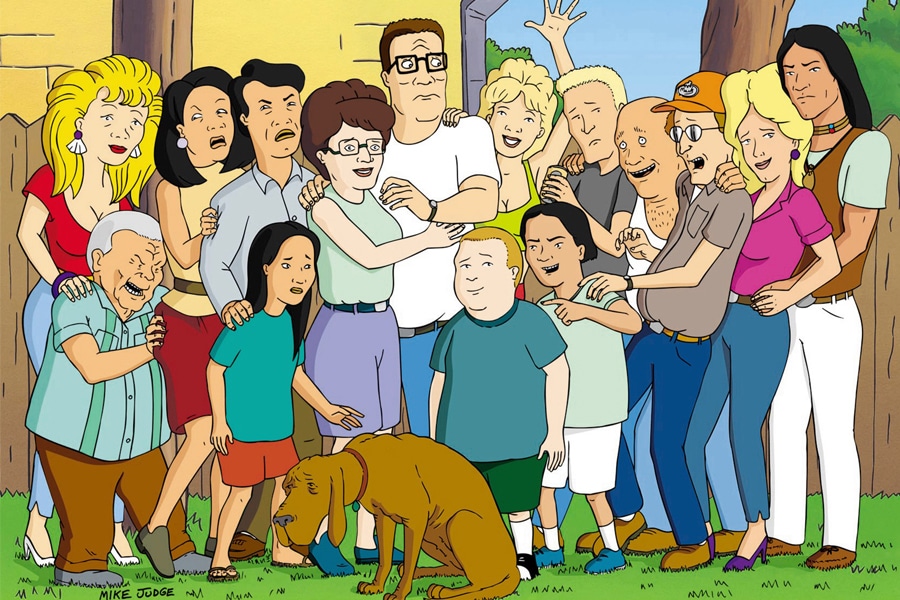 1. King of the Hill
On the heels of "Beavis and Butthead," comedy legend Mike Judge co-created this understated animated series. Set in the fictional city of Arlen, Texas, it chronicles the exploits of propane salesman Hank Hill, his loveable family, and his wacky neighbors. The show ran on Fox for an impressive 13 seasons before calling it quits in 2009. King of the Hill is one of the best, funny cartoons for Adults. Is it the best? It is not, which is why we'll remind you once again that this list is in no particular order.
Creator: Mike Judge, Greg Daniels
Release Date: January 12, 1997
Number of Seasons: 13
Country: USA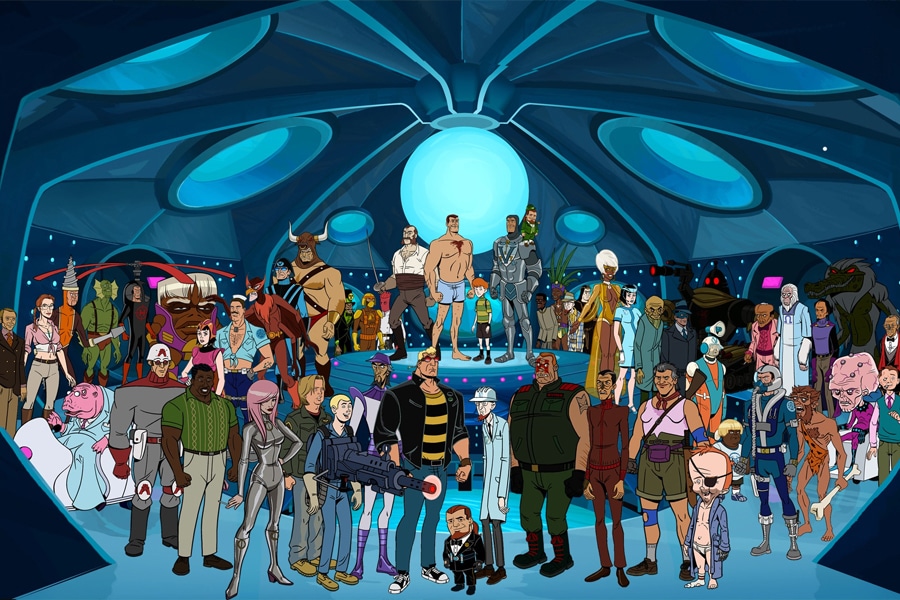 2. The Venture Bros
This adult cartoon kicked off in 2004 and is still going strong, making it the longest-running original series on Adult Swim. Blending comedy and action, it reimagines comic book and pop culture figures through the lens of an ongoing family saga. At the head of the Venture clan is a former boy genius turned washed-up scientist named Dr. Rusty Venture. When not squaring off against his incompetent arch-nemesis, Venture grapples on the homefront with a crazed bodyguard and his two half-baked sons.
Creator: Jackson Publick, Doc Hammer
Release Date: August 7, 2004
Number of Seasons: 7 – present
Country: USA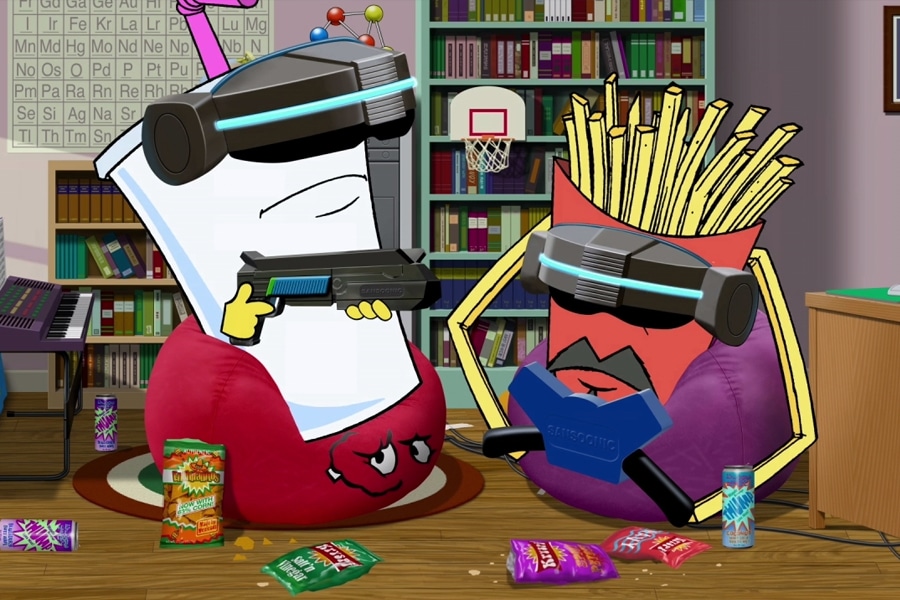 3. Aqua Teen Hunger Force
"'Cause we are the Aqua Teens, make the homies say "ho" and the girlies want to scream!" So goes the opening theme song for this edgy and iconic adult cartoon, which follows a meatball, milkshake, and box of french fries on various misadventures. Each season features a rotating door of oddball creatures along with frequent appearances from a loudmouthed, hirsute neighbor named Carl Brutananadilewski. Before hanging up the towel, the Adult Swim series yielded 139 episodes and a feature film.
Creator: Dave Willis, Matt Maiellaro
Release Date: December 30, 2000
Number of Seasons: 11
Country: USA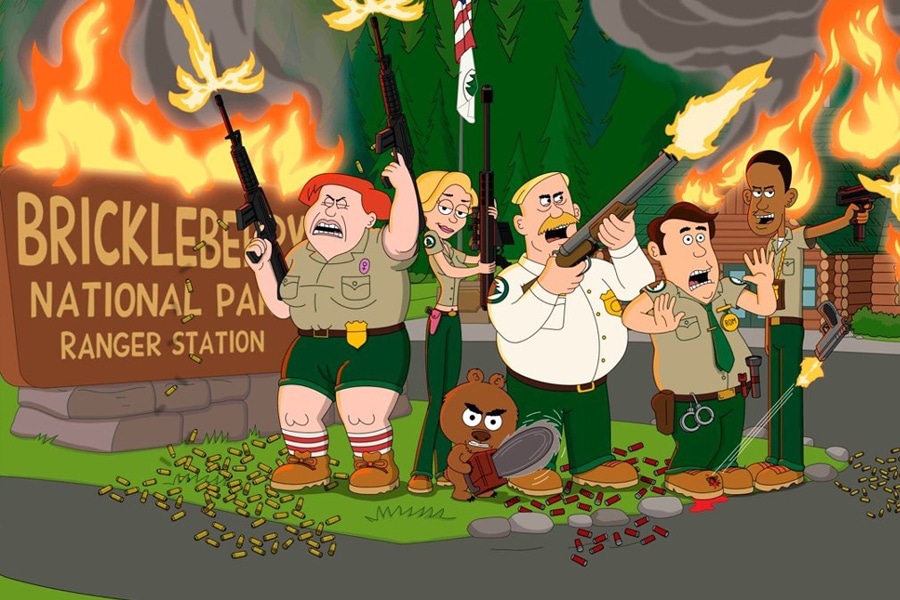 4. Brickleberry
Comedy Central star Daniel Tosh was at the height of his fame when he lent his voice to this predictably crude adult cartoon, which he also executive produced. The action takes place at Brickleberry National Park, where idiosyncratic park rangers engage in all sorts of subversive antics. It ran for a mere three seasons before getting the ax.
Creator: Roger Black, Waco O'Guin
Release Date: September 25, 2012
Number of Seasons: 3
Country: USA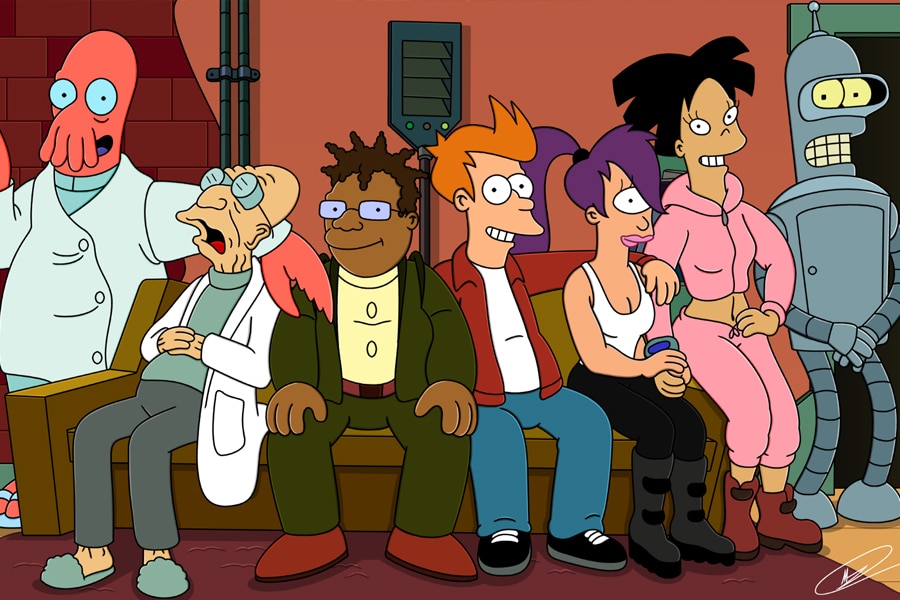 5. Futurama
Ever wonder what the future holds in store? Lots of ridiculousness, if this show from "The Simpsons" creator Matt Groening is anything to go by. It finds a pizza delivery boy named Philip J. Fry waking up in the year 2999. Soon enough, he's falling for a one-eyed ship captain and befriending an alcoholic robot. While this funny cartoon never quite broke through to the mainstream, it retains a very loyal niche following.
Creator: Matt Groening
Release Date: March 28, 1999
Number of Seasons: 7
Country: USA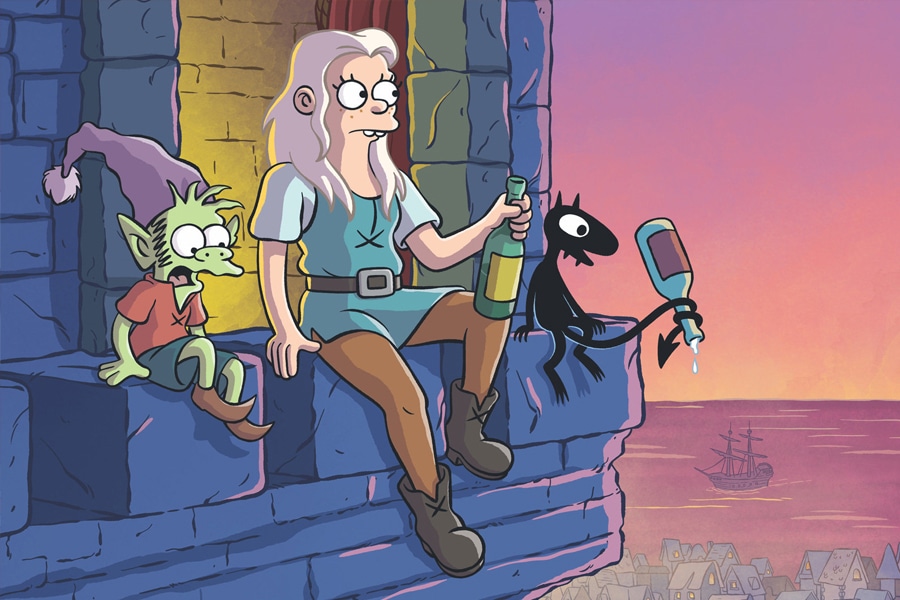 6. Disenchantment
Speaking of Matt Groening, he also co-created this adult cartoon fantasy sitcom for Netflix. Upending a range of classic fairy tale tropes, it sends an alcoholic princess on various misadventures. Along for the ride is a demon named Luci and an elf named Elfo. Each episode comes to life by way of Groening's signature animation style.
Creator: Matt Groening
Release Date: August 17, 2018 – present
Number of Seasons: 1
Country: USA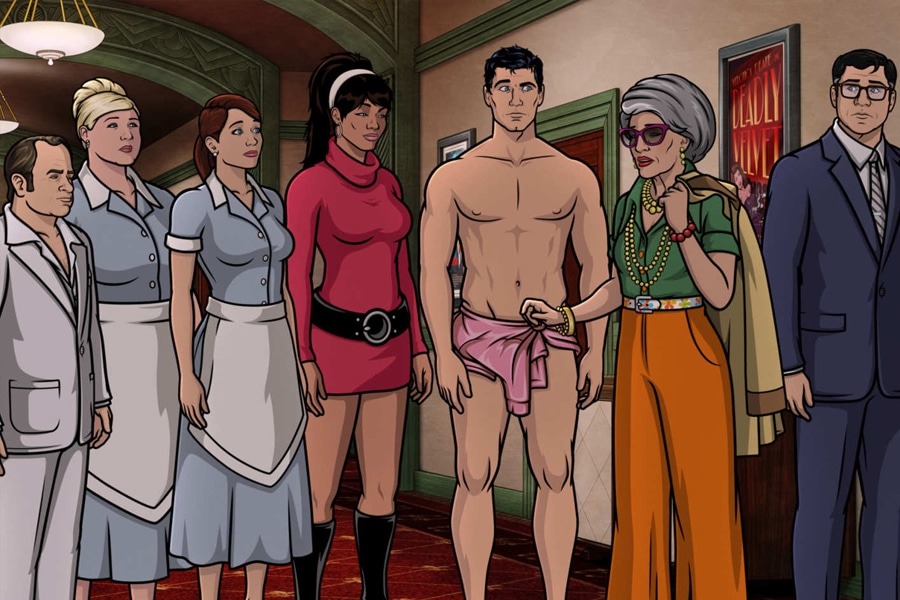 7. Archer
On the surface of things, "Archer" appears to be an animated spy saga with comedic elements. Then you actually watch it and realise any semblance of danger takes a constant back seat to all the hilarious personalities. At the heart of the series is Archer himself, a perennial bachelor and experienced spy, who occasionally kills bad guys when not getting drunk or trying to score. The 10th season is slated to drop later this year.
Creator: Adam Reed
Release Date: September 17, 2009 – present
Number of Seasons: 10
Country: USA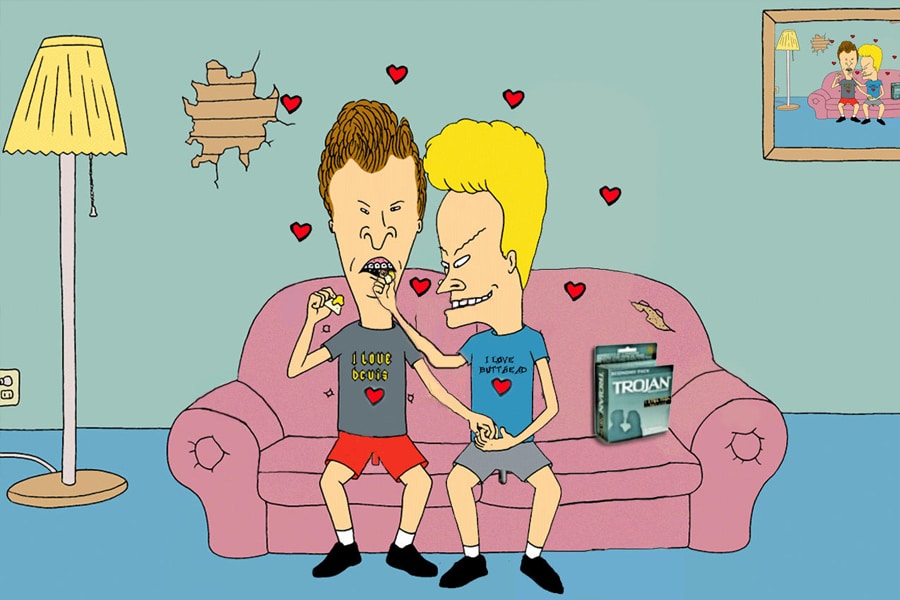 8. Beavis and Butt-head
Created by Mike Judge, this epoch-making comedy series premiered on MTV in 1993, when the network was actually as cool as it pretended to be. Contrary to preconceived notions, the exploits of two mind-numbingly stupid burnouts made for one of the most iconic and groundbreaking adult cartoons of all time. A somewhat lucrative movie version came out in 1996. Less successful was the 2011 series reboot.
Creator: Mike Judge
Release Date: March 8, 1993
Number of Seasons: 8
Country: USA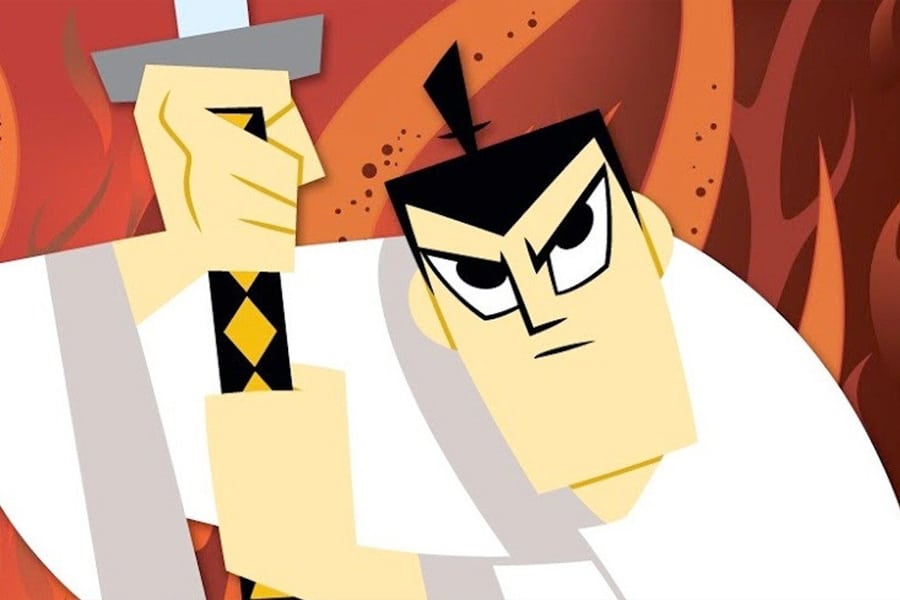 9. Samurai Jack
Culling from a range of cultural influences, this animated series follows Samurai Jack as he travels through time and tries to save the world. In addition to its compelling storyline, the show features downright stunning visuals. After the fourth season, it went on a 13-year hiatus before finally wrapping things up in 2017.
Creator: Genndy Tartakovsky
Release Date: August 10, 2001
Number of Seasons: 5
Country: USA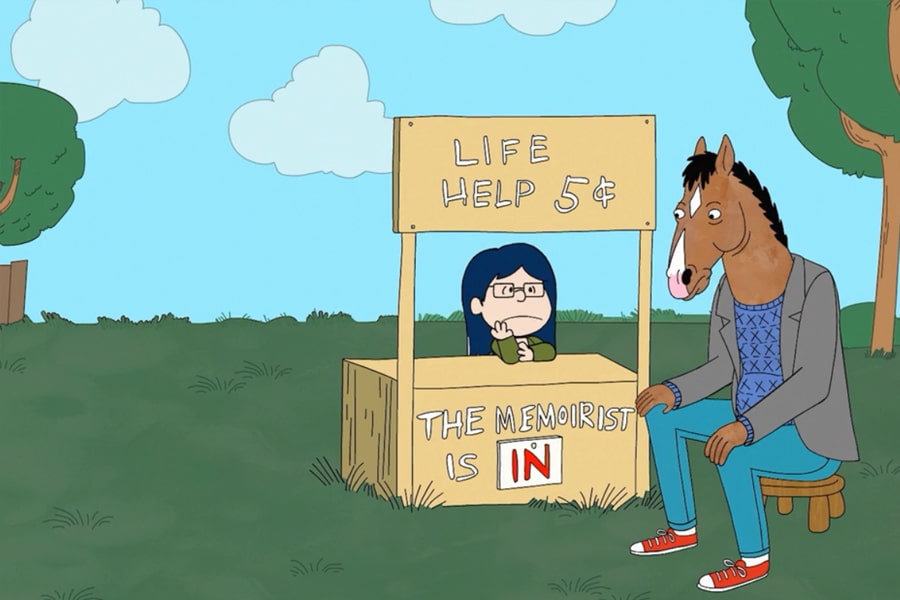 10. Bojack Horseman
Netflix's first adult cartoon is arguably still the streaming platform's best, depending on who you ask. Set in a world where talking animals and humans co-exist, it tells the story of Bojack Horseman, a once-popular TV star who now lives in a state of perpetual malaise. As Bojack navigates his way through Hollywood in search of love, success, and a reason for being, show business gets satirised from every conceivable angle.
Creator: Raphael Bob-Waksberg
Release Date: August 22, 2014
Number of Seasons: 6
Country: USA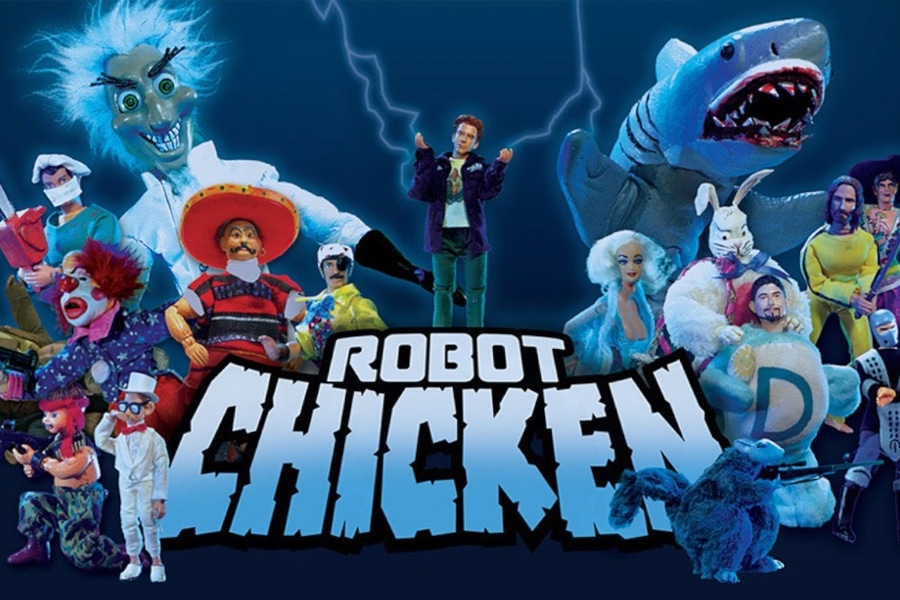 11. Robot Chicken
Throughout its nine seasons, "Robot Chicken" put all of pop culture in a blender and hit the "pulverise" button. Bouncing from one erratic sketch to the next (sometimes in a matter of seconds), the stop-motion comedy makes for ideal late-night viewing. Actor Seth Green co-created the show and helped rally numerous celebrities for any given 11-12 minute episode.
Creator: Seth Green, Matthew Senreich
Release Date: February 20, 2005 – present
Number of Seasons: 10
Country: USA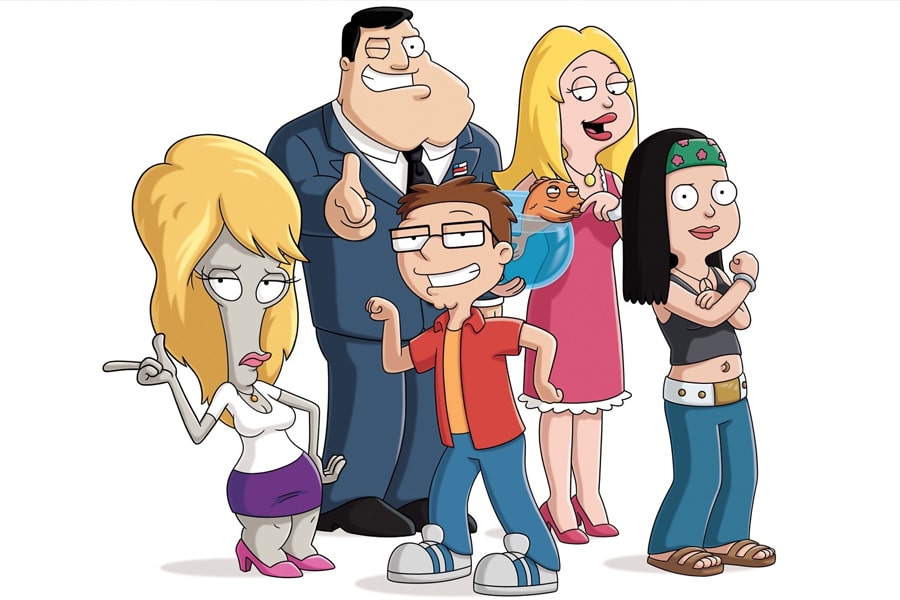 12. American Dad
Proving he was no one-trick pony, Seth MacFarlane unleashed this adult cartoon comedy in 2005. Like "Family Guy" before it, "American Dad" simultaneously employs and skewers the sitcom format, bringing viewers into the home of CIA operative Stan Smith. It's here that we meet Stan's lovely wife, his nerdy son, his unruly daughter, and an outrageously unpredictable alien named Roger. If you can believe it, the show is still in production.
Creator: Seth MacFarlane, Mike Barker, Matt Weitzman
Release Date: February 6, 2005 – present
Number of Seasons: 16
Country: USA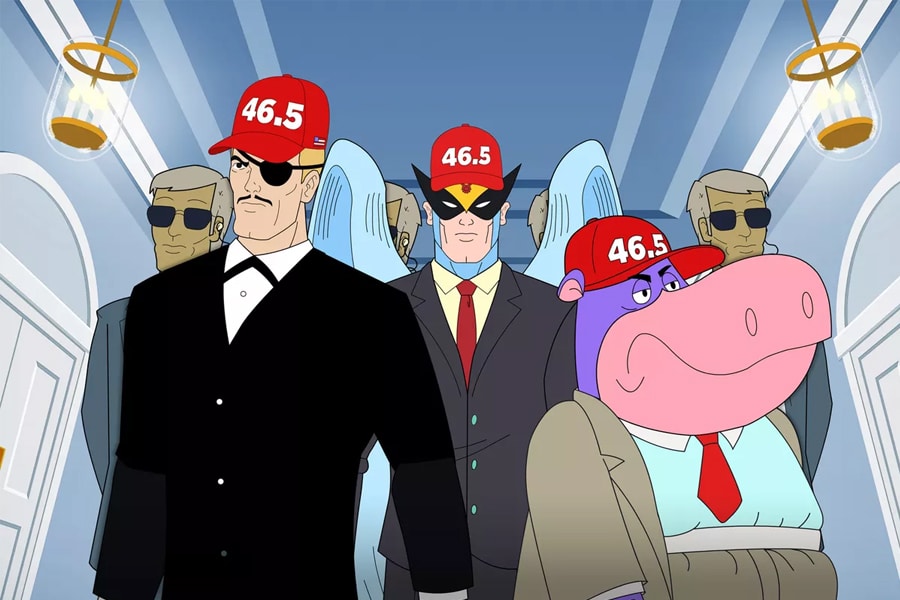 13. Harvey Birdman, Attorney at Law
This "Space Ghost" spin-off centers on former superhero Harvey Birdman, who's reinvented himself as an attorney. When not settling legal matters between once-famous cartoon characters, Birdman answers to his maniacal boss, Phil Ken Sebben (voiced by Stephen Colbert). The series ended in 2007, though it briefly returned in 2018 for a one-off special called "Harvey Birdman, Attorney General."
Creator: Michael Ouweleen, Erik Richter
Release Date: December 30, 2000
Number of Seasons: 4
Country: USA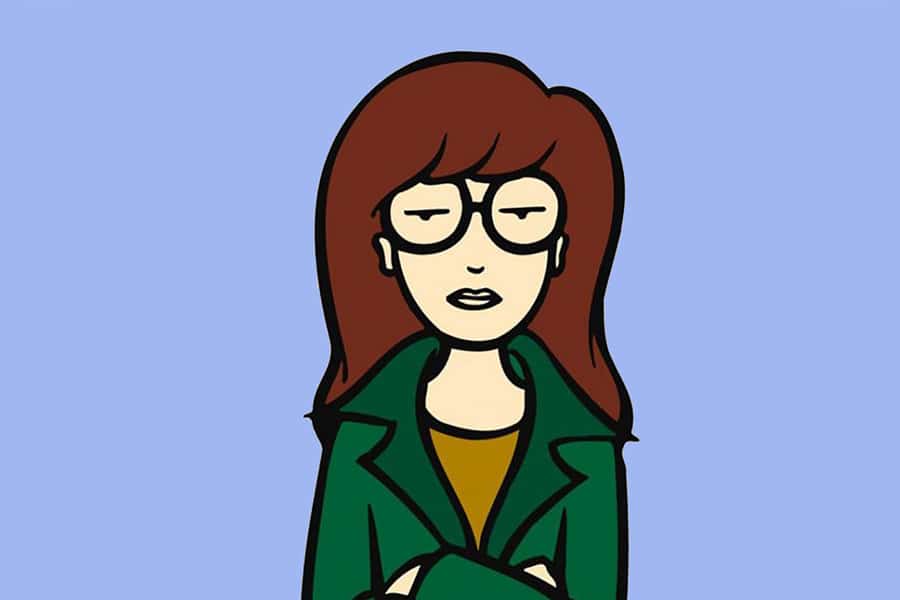 14. Daria
"Beavis and Butt-head" regular Daria Morgendorffer got a funny adult cartoon of her own in 1997. Retaining a somewhat droll, albeit highly intelligent disposition, Daria endures as an outsider in a world brimming with dumb high schoolers and patronising adults. The series culminated in 2002 with the TV movie "Daria in 'Is It College Yet?'"
Creator: Glenn Eichler, Susie Lewis Lynn
Release Date: March 3, 1997
Number of Seasons: 5
Country: USA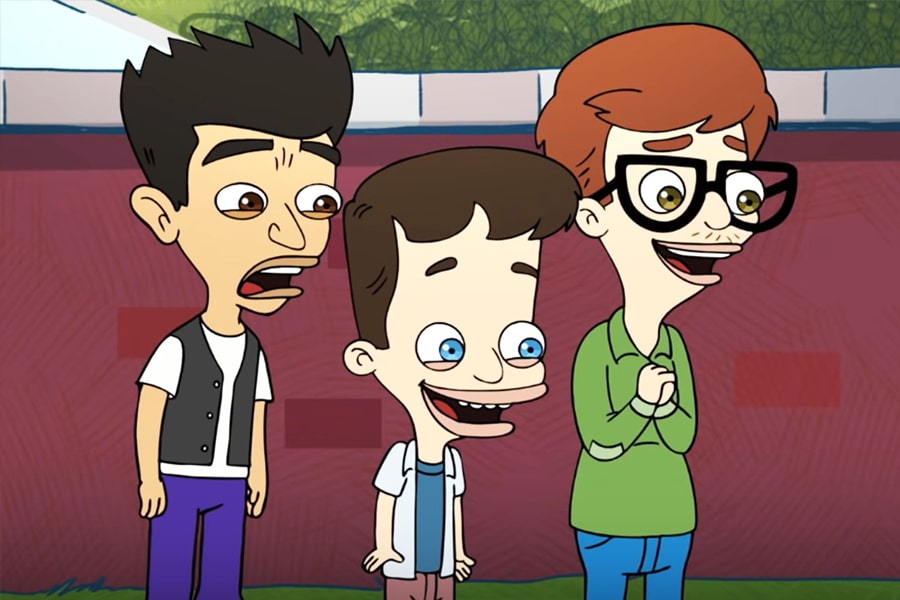 15. Big Mouth
Co-created by Nick Kroll (who also lends his voice), this graphic Netflix cartoon delivers an uncompromising exploration of teenage puberty. It follows a group of boys and girls as they respectively grapple with newfound emotional dilemmas and physical arousals. Appearing along the way are two hormone monsters named Maurice and Connie.
Creator: Nick Kroll, Andrew Goldberg, Mark Levin, Jennifer Flackett
Release Date: September 29, 2017 – present
Number of Seasons: 3
Country: USA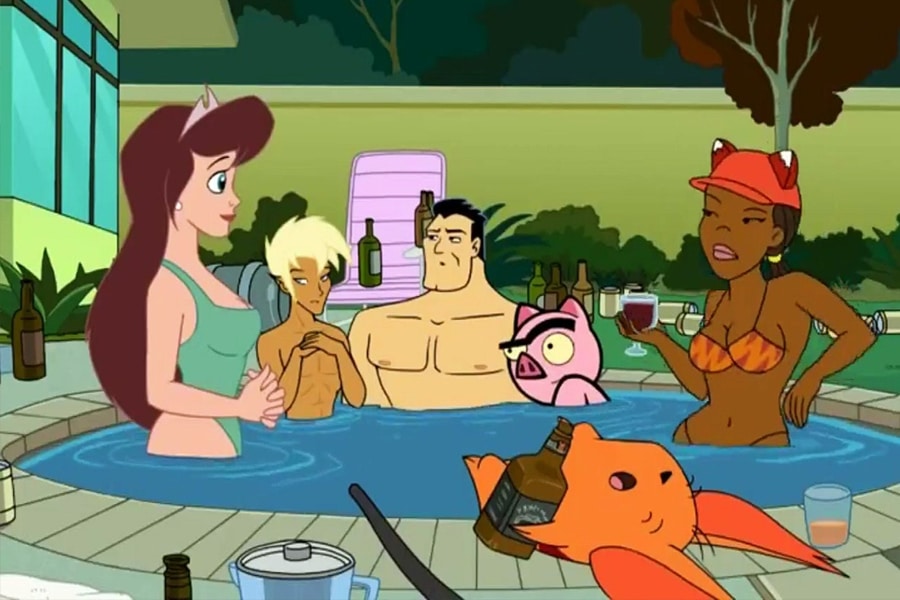 16. Drawn Together
The early naughts saw an explosion of reality TV, so it was only a matter of time before an adult cartoon came along to skewer the genre. That cartoon was "Drawn Together," and it put eight animated archetypes under one roof to raunchy results. Should you dig this one out of the vaults, be forewarned: it's not for the faint of heart. In fact, we're pretty sure it would never get made today.
Creator: Dave Jeser, Matt Silverstein
Release Date: October 27, 2004
Number of Seasons: 3
Country: USA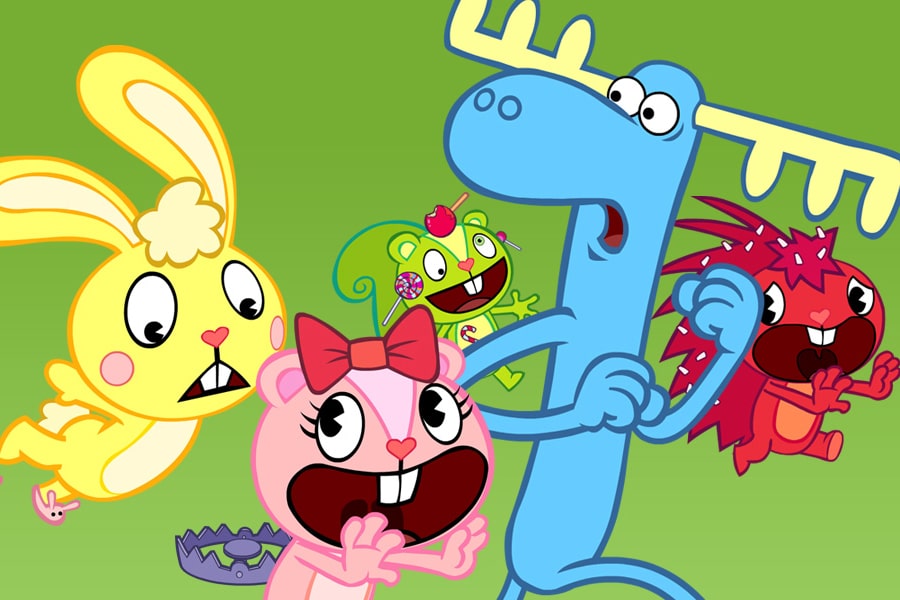 17. Happy Tree Friends
This cartoon comedy might look like a children's web show at first glance, but hovering just beyond the adorable surface is an all-you-can-eat buffet of graphic violence and constant death. That helps explain the unexpected Internet success and loyal cult following. In the series, a number of dim-witted woodland creatures follow their worst instincts to disastrous results.
Creator: Aubrey Ankrum, Rhode Montijo, Kenn Navarro
Release Date: December 24, 1999
Number of Seasons: 5
Country: USA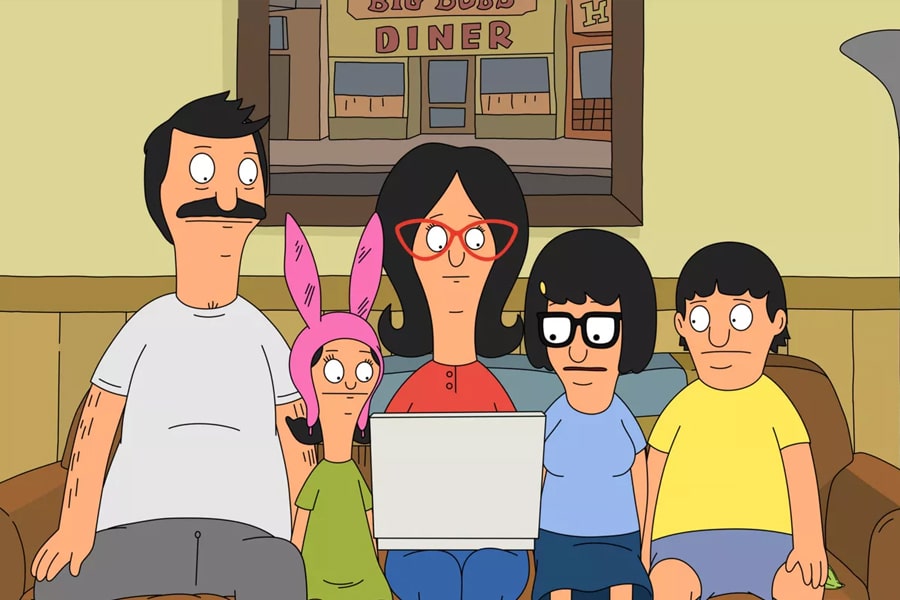 18. Bob's Burgers
A burger joint owner named Bob can't catch a break in this quirky cartoon comedy. When he isn't trying to wrangle in his wife and kids, Bob's butting heads with Jimmy Pesto, the obnoxious owner of a competing restaurant. Awash with memorable characters, a signature visual style, and the occasional song-and-dance number, "Bob's Burgers" always emanates with heart. Fox's "Sunday Funday" simply wouldn't be the same without it.
Creator: Loren Bouchard
Release Date: January 9, 2011 – present
Number of Seasons: 10
Country: USA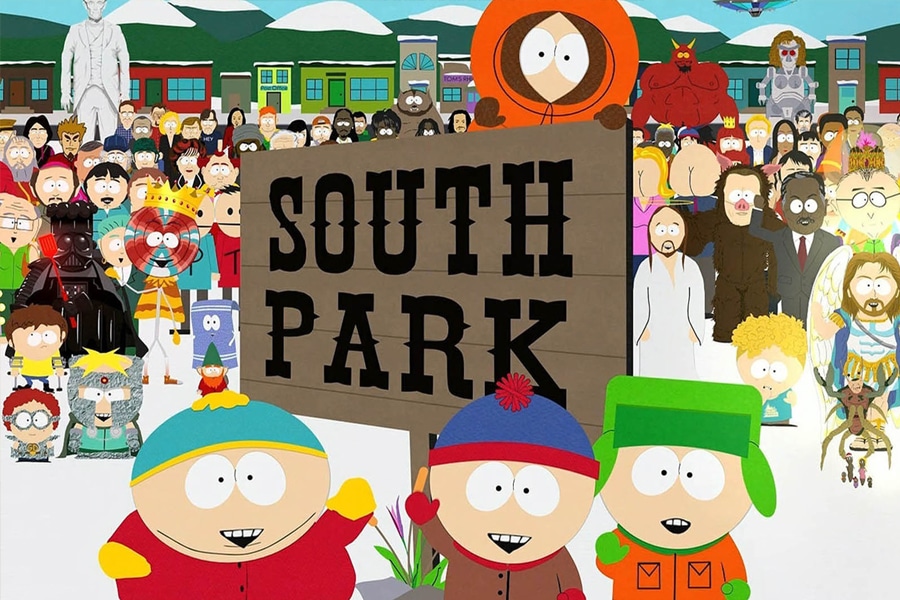 19. South Park
If modern satire went by any other name, that name would be "South Park." Since 1997, the flagrantly funny adult cartoon has put every facet of society in its crosshairs and hit the bullseye more often than not. Even after 22 seasons, creators Trey Parker and Matt Stone still manage to pull off a handful of brilliant episodes. Who knew that four foul-mouthed grade-schoolers could render such lasting cultural impact (for better or worse)?
Creator: Trey Parker, Matt Stone
Release Date: August 13, 1997 – present
Number of Seasons: 23
Country: USA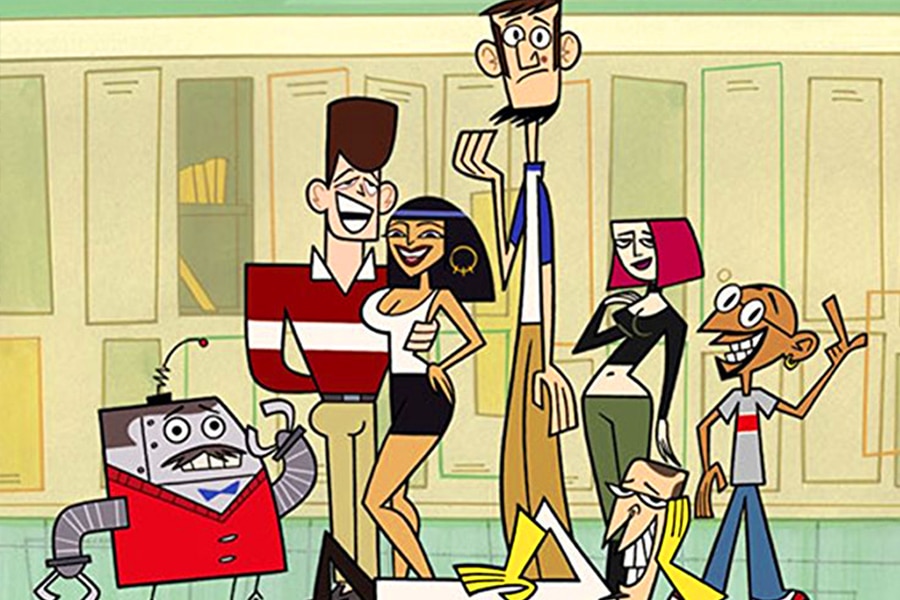 20. Clone High
You might recognise Phil Lord and Christopher Miller as the men behind films like "The Lego Movie" and "21 Jump Street," but before that, they churned out this short-lived (as in one season) animated comedy. Thanks to the powers of cloning, famous historical figures like Abraham Lincoln, JFK, Joan of Arc, and Gandhi come back to life as teenagers and attend the same high school. As it turns out, teenage Abe is a hopeless romantic, JFK a girlfriend stealer, Joan of Arc a goth girl, and Gandhi a total party animal.
Creator: Bill Lawrence, Phil Lord, Christopher Miller
Release Date: January 20, 2003
Number of Seasons: 1
Country: USA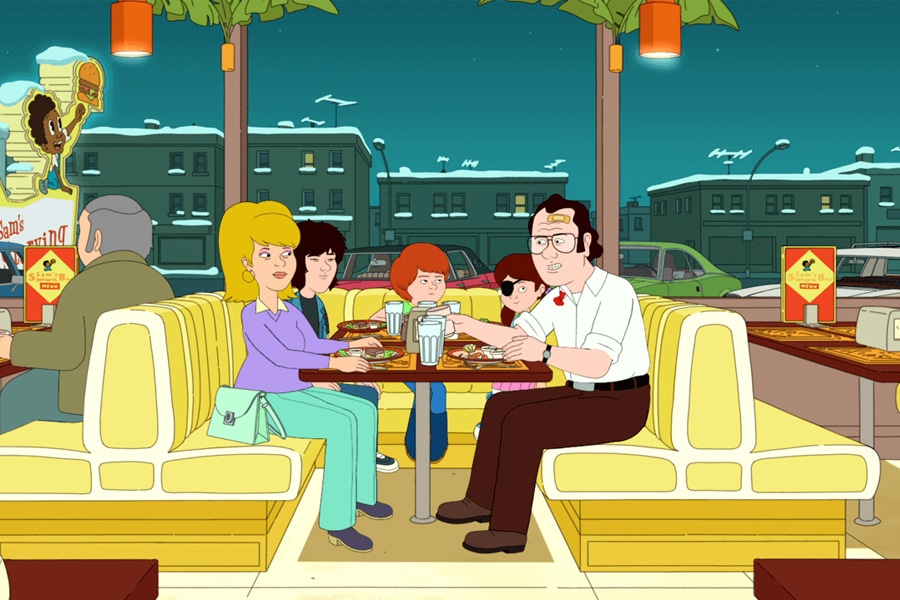 21. F is for Family
Comedian Bill Burr takes us back to the 1970s in this semi-autobiographical Netflix cartoon, which goes predictably big on foul language and crude laughs. It finds him providing the outspoken voice of an Irish-American named Frank Murphy, who lives in the suburbs and loves two things with a passion: family and TV. Which one Frank loves more is anyone's guess.
Creator: Bill Burr, Michael Price
Release Date: December 18, 2015 – present
Number of Seasons: 3
Country: USA, France, Canada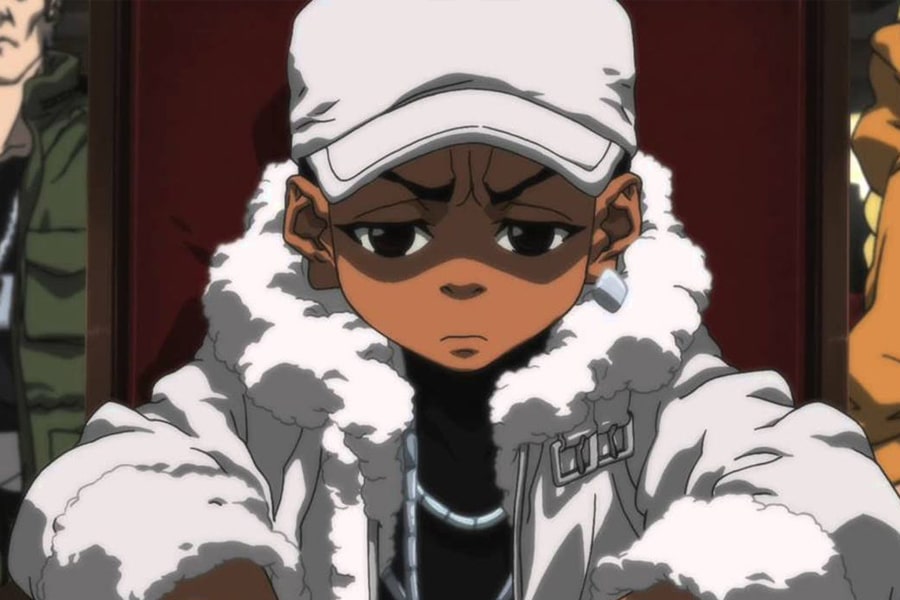 22. The Boondocks
Aaron McGruder's popular comic strip leaped onto the small screen in 2005, following a black family as they move into an all-white neighbourhood. As prescient now as it ever was, the animated comedy took a no-holds-barred approach toward race relations in modern America. Should you check out this acclaimed Adult Swim cartoon, prepare yourself for some explicit language.
Creator: Aaron McGruder
Release Date: November 6, 2005 – present
Number of Seasons: 4
Country: USA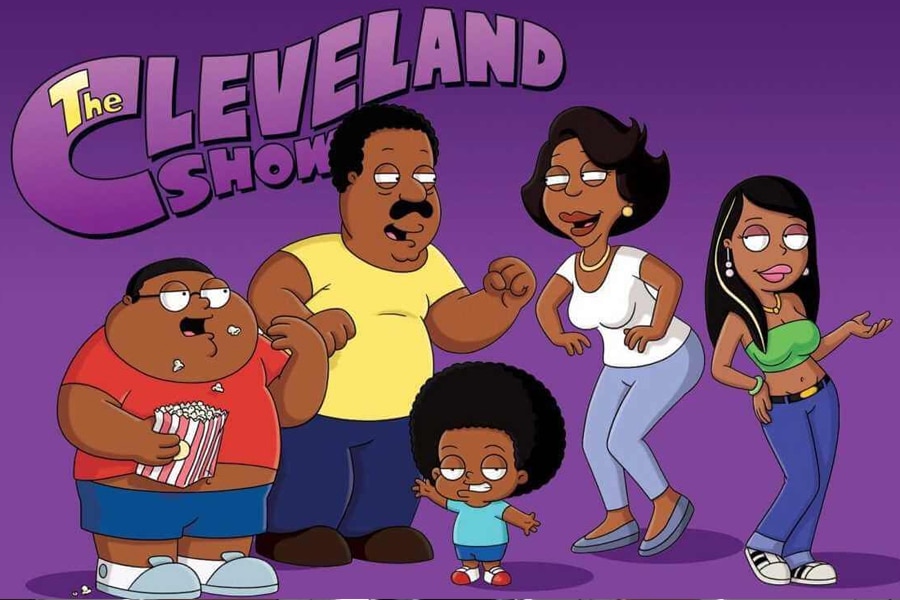 23. The Cleveland Show
Expanding upon the "Family Guy" universe, this offbeat and uneven cartoon sitcom sends Cleveland Brown from Quahog, RI, to Stoolbend, VA, where he pursues a former high school crush. While the series did run for four seasons, it failed to garner the same levels of adoration as its wildly popular predecessor. Nevertheless, any show featuring director David Lynch in a semi-recurring role ranks high in our book.
Creator: Seth MacFarlane, Richard Appel, Mike Henry
Release Date: September 27, 2009
Number of Seasons: 4
Country: USA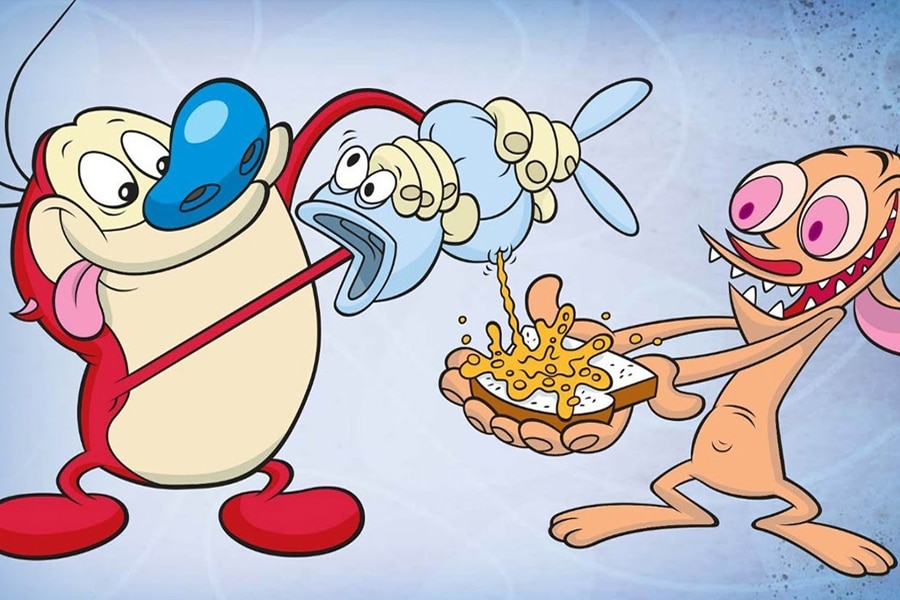 24. The Ren & Stimpy Show
You don't hear much about Ren and Stimpy these days, but the hyperactive Chihuahua and his boneheaded feline friend were quite influential in their time. Crude sight gags and disgusting substances abound as the two get into all kinds of trouble. The show's distinct animation style and ADD-like pacing would arguably lay the groundwork for subsequent cartoons such as "Spongebob Squarepants."
Creator: John Kricfalusi
Release Date: June 26, 2003
Number of Seasons: 1
Country: USA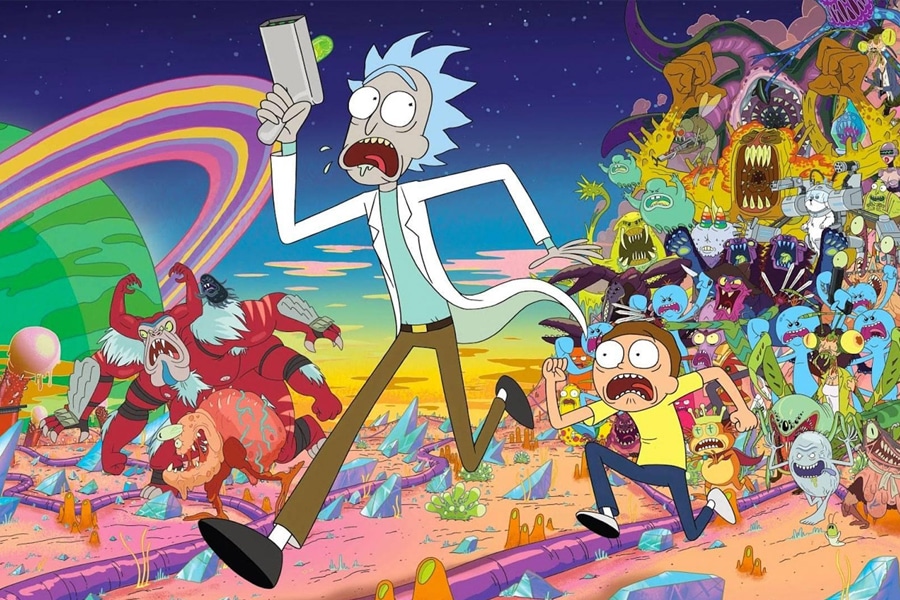 25. Rick & Morty
Few adult cartoons have straddled multiple demographics and captured the modern zeitgeist like this one here. With the universe literally at their disposal, an alcoholic genius named Rick and his grandson Morty traverse time and space to consistently hilarious effect. Just how hilarious, you ask? For your answer, look no further than the impressive 9.3 rating on IMDb. Meanwhile, the show's cultural impact remains palpable, with a best-selling Sezchuan sauce and range of catchphrases to show for it. Wubba Lubba Dub Dub!
Creator: Justin Roiland, Dan Harmon
Release Date: December 2, 2013 – present
Number of Seasons: 4
Country: USA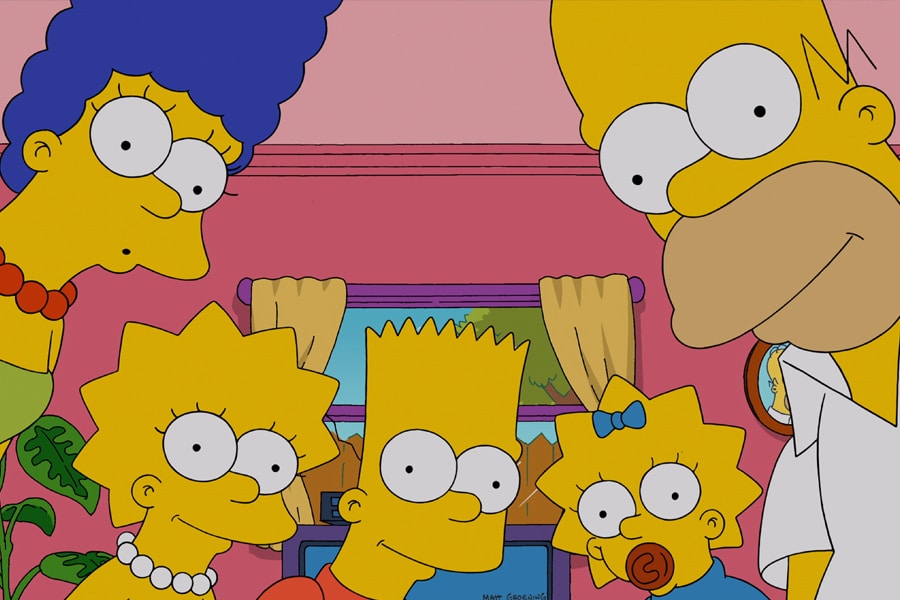 26. The Simpsons
More than one of the best adult cartoons of all time, "The Simpsons" is a contender for the best show ever made, period. Well, the first nine (or ten) seasons, that is. Afterward, it starts to go downhill in a major way. Depicting the escapades of Homer, Marge, Bart, Lisa, and Maggie, the best episodes of this massively influential series deliver "Inception"-level layers of satire, with jokes that are as pointed now as they were over twenty years ago. Timeless is the operative word here. "The Simpsons" did it, indeed.
Creator: Matt Groening
Release Date: December 17, 1989 – present
Number of Seasons: 31
Country: USA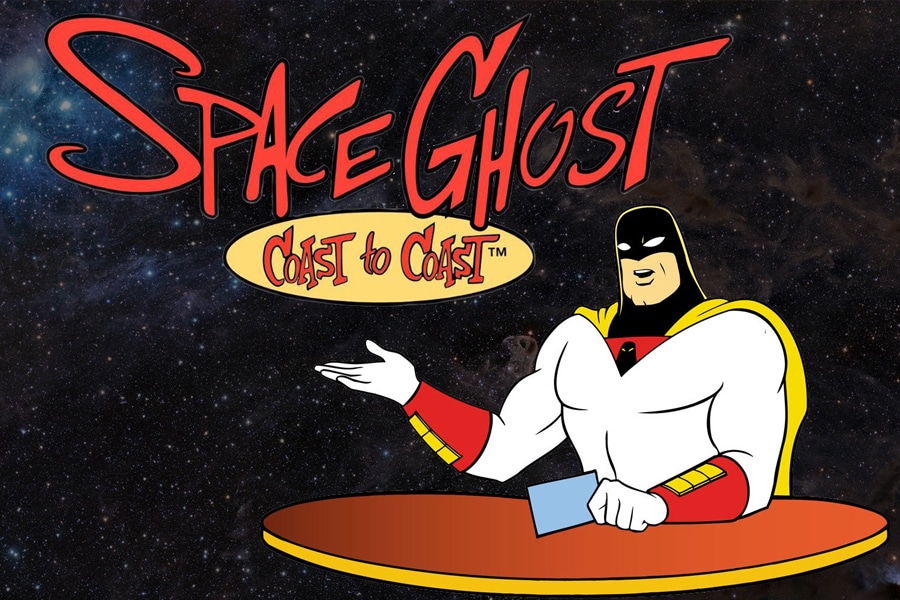 27. Space Ghost Coast to Coast
The titular superhero from a short-lived Hanna-Barbera cartoon has hung up the cape by the time this iconic series kicks off. Now in his 40s, Space Ghost goes back to his real name, Tad Ghostal, and remains in the spotlight by hosting his own late-night talk show. Being interviewed from earth via video feed is everyone from Denzel Washington to Hulk Hogan to Timothy Leary. The show yielded multiple spin-offs and paved the way for a range of similarly unconventional adult cartoons.
Creator: Mike Lazzo
Release Date: April 15, 1994
Number of Seasons: 11
Country: USA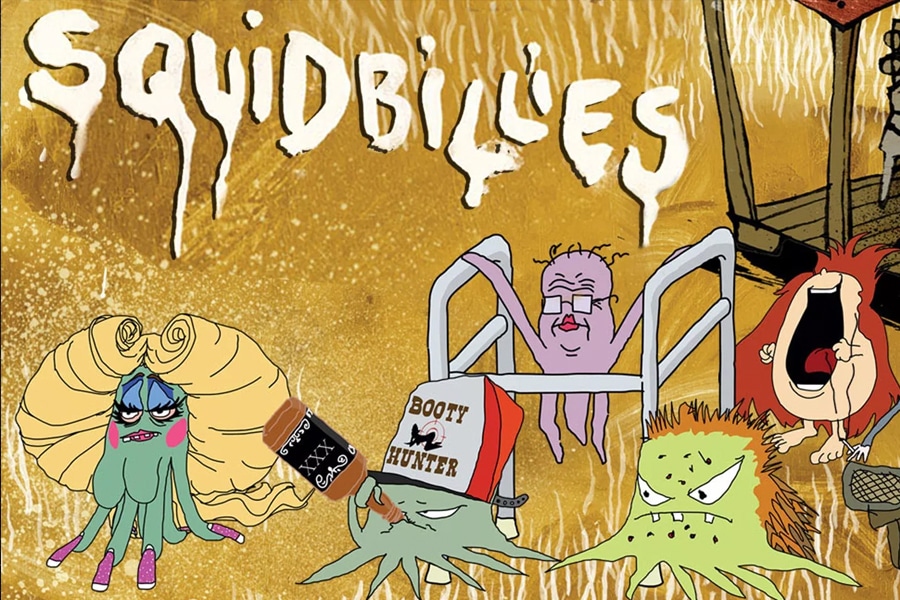 28. Squidbillies
Leave it to Adult Swim to air a cartoon comedy about anthropomorphic hillbilly mud squids in the mountains of Georgia. As one might expect, "Squidbillies" delivers no shortage of redneck humour, as alcoholic patriarch Early Cuyler hurls insults and objects at the various members of his family. If his sister Lil doesn't hear him, it's because she's passed in the corner, lying in a pool of her own vomit. Yeah, it's that kind of show.
Creator: Jim Fortier, Dave Willis
Release Date: October 16, 2005 – present
Number of Seasons: 12
Country: USA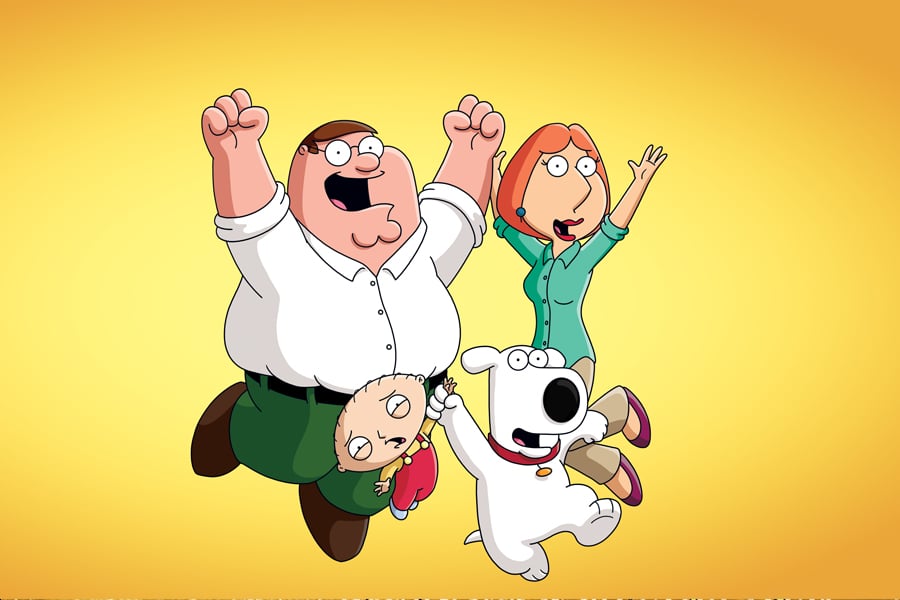 29. Family Guy
During the opening credits sequence, Peter Griffin and his wife Lois ask aloud: "Where are those good old fashioned values on which we used to rely?" The answer might very well be: "Anywhere but here." That's because this popular adult cartoon from Seth MacFarlane pushes as many envelopes as is humanly possible, all while ripping the sitcom format to shreds. The result is a seemingly endless onslaught of purposefully bad taste. As it turns out, however, bad taste can be pretty damn funny.
Creator: Seth MacFarlane
Release Date: January 31, 1999 – present
Number of Seasons: 18
Country: USA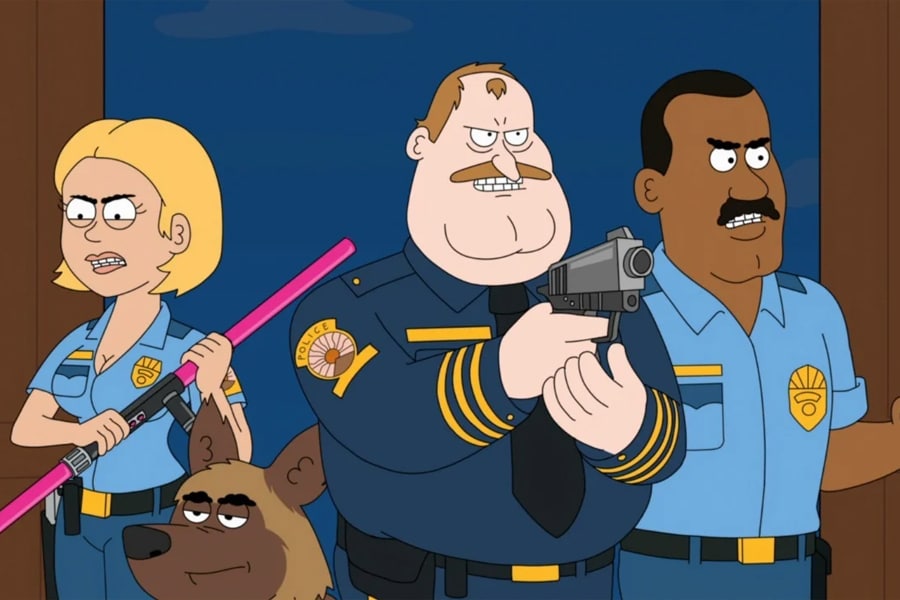 30. Paradise PD
Welcome to the fictional town of Paradise, where the cops are bad on an epic scale. And not bad in the corrupt sense of the word, but in the truly incompetent sense. Naturally, it all makes for essential binge-watching over on Netflix. Season two is currently in the works.
Creator: Waco O'Guin, Roger Black
Release Date: August 31, 2018 – present
Number of Seasons: 1
Country: USA
You'll also like:
How to Make Rick and Morty's Szechuan Sauce
Universal's Simpsons Themed "Krustyland"
The Best Video Games of 2018
General FAQ
What cartoons are popular now?
Currently, some of the most popular cartoons are as follows: Bob's Burgers, Rick & Morty, Spongebob Squarepants, Archer, South Park, Avatar: The Last Airbender, and others.
What is the highest rated cartoon?
On IMDb, the highest-rated cartoon in animated history is Rick & Morty with a 9.2 rating and over 345,000 votes.
What was the first cartoon for adults?
While adults have enjoyed and continue to enjoy cartoons of all varieties, The Flinstones was the first animated series to debut in a primetime slot.