Drive-Thru Strip Club Offering Burgers and Burlesque
The COVID-19 pandemic has hit a lot of industries hard. Retail is down, hospitality is suffering and the entertainment sector is struggling to stay afloat, but spare a thought for our good friends in the adult industry. At the moment, you can't even shake hands with a friend, let alone shake body parts on a stranger, so to keep things in check, strips clubs are being forced to get a little creative. The Lucky Devil Lounge in Portland, Oregon is doing exactly that, and it's paying off big-time.
You'll also like:
Out of Work Strippers Launch Boober Eats, the Topless Meal Delivery Service
37 Hilarious COVID-19 Pick-Up Lines
True Story of Barry Wood: 'Wood Sitting On a Bed' Meme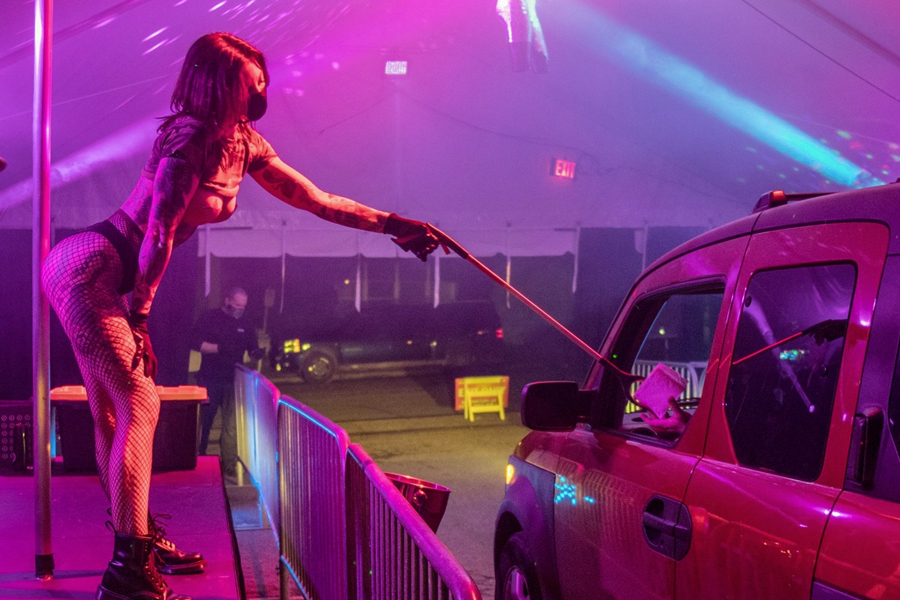 The exotic dancing lounge has just opened a new drive-thru strip club, offering patrons a taste of adult entertainment without ever needing to leave their car. What's more, Lucky Devil Lounge isn't shying away from the pandemic, in fact, this is a pseudo-burlesque ode to the times. The dancers are dressed in gas masks, fishnets and thigh-high boots, and use toilet paper rolls and giant bottles of Corona as props.
But while the premise of a drive-thru strip club is incredibly hilarious and enticing, the venture is being referred to as 'Food to Go-Go', and is actually billed as an entertainment restaurant. The club operates like a regular drive-thru, however, instead of waiting awkwardly in their cars for the food to arrive, guests are treated to a COVID-safe adult performance.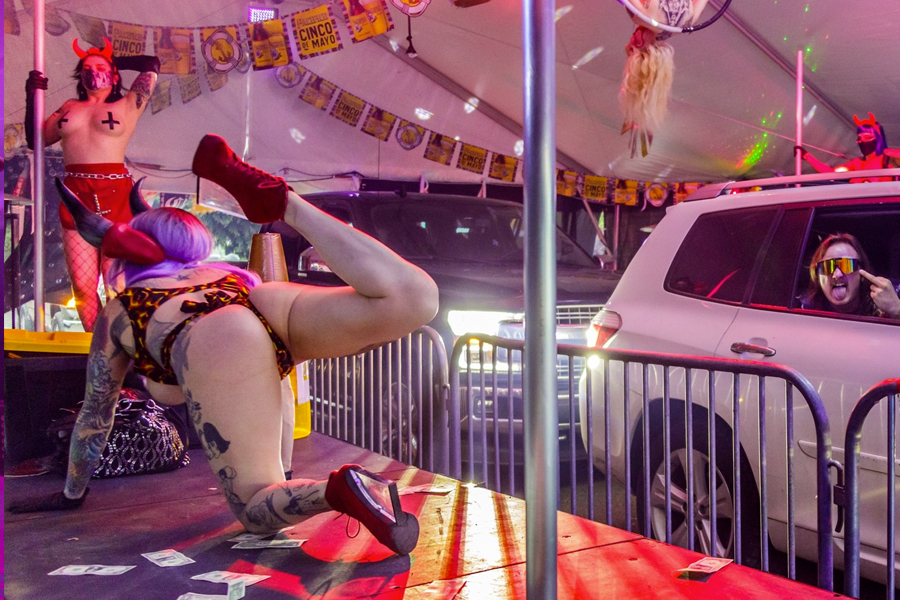 This isn't the first genius idea Boulden has put forward for the Lucky Devil Lounge. Early on in the pandemic, when entertainment venues were forced to close, the entrepreneur kick-started a food delivery service he called 'Boober Eats'. The premise saw out of work dancers delivering food in pairs of two, while the newly-stood down security guards acted as drivers. The response was fantastic, both from the public and the employees. Apparently, UberEats wasn't exactly stoked on the name though, sending Boulden a cease and desist order, but that didn't impact his business.
"We've delivered food to everybody in Portland," Boulden told Dazed. "We've delivered to the elderly, to dudes who are super stoned, sometimes we're just delivering to someone who wants to see another face." Now, with a dancing drive-thru diner under his belt, Boulden is officially crushing it in the COVID-era. "Not only is it healthy and safe," explains Boulden, "but it's providing some (positive) mental health for our workers and customers."
Check out this insane video of the drive-thru in action.
You'll also like:
Out of Work Strippers Launch Boober Eats, the Topless Meal Delivery Service
37 Hilarious COVID-19 Pick-Up Lines
True Story of Barry Wood: 'Wood Sitting On a Bed' Meme