Ex-Girlfriend Pranked with Fake Chewbacca Impersonation Comp
We can safely say we can't remember hearing about the latest edition of the epic saga known as Relationship Wars, but we can tell you, The Revenge of the Wookies looks terrific. It tells the story of a woman from the far off state of Queensland, who after breaking up with her boyfriend, began receiving strange messages from Wookies all over the galaxy.
Either that or the dumped guy just played an intergalactic level prank by plastering posters of her around town asking people to call 29-year-old Jessica, from Cairns, and "leave a voicemail with your best impersonation" of beloved Star Wars character Chewbacca.
You'll also like:
Domino's Free Pizzas for 'Karens' Campaign Doesn't End Well
Two Emus Banned from Queensland Pub Over Bad Behaviour
Watch the Brutal 7-Second KO Dividing Boxing Fans Across the Globe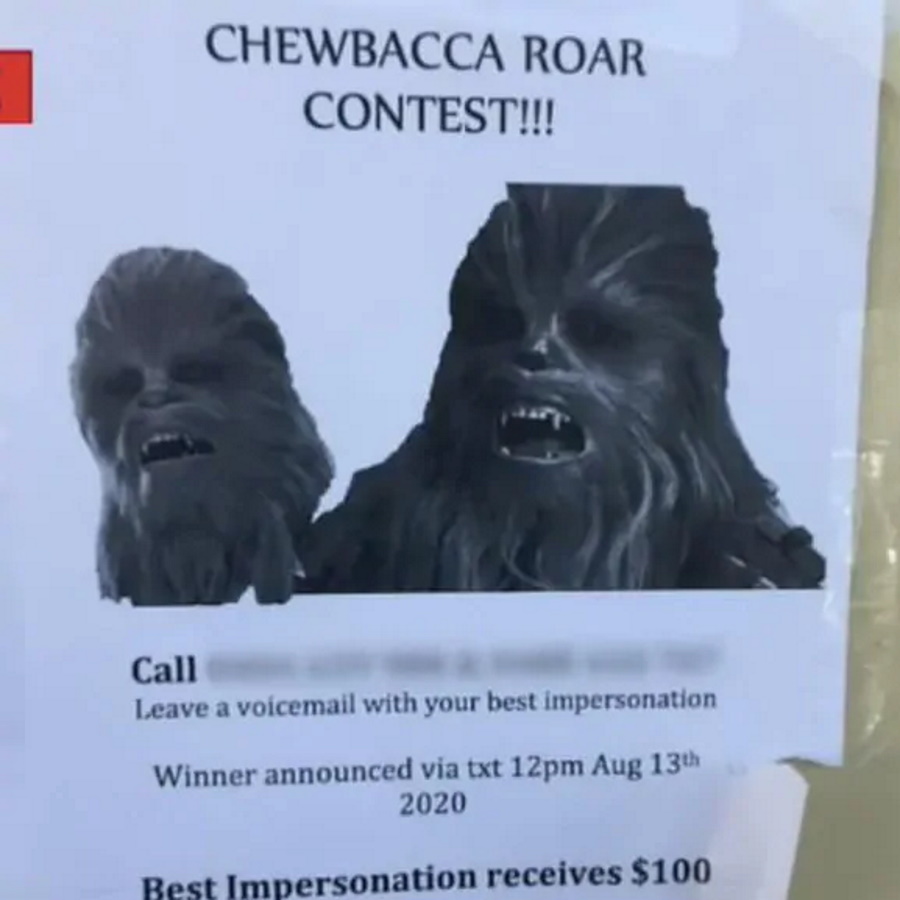 Since the poster went up, plenty of wannabe-wookies have left voicemails for a chance to win. "Winner announced via txt 12 pm Aug 13th 2020. Best Impersonation receives $100," it reads.
While we can't confirm the legitimacy of the Chewbacca Roar Contest!! We can confirm that the pair broke up after she caught him sliding into Facebook DMs, and sending inappropriate messages to other ladies while he was supposed to be with her. Or as Princess Leia would have described him: a "stuck-up, half-witted, scruffy-looking nerf herder!"
Admitting that the calls were a bit distressing for her and her kids in the beginning, she has since come around telling 9News "(the prank) was quite funny actually, I thought it was a good joke." And while he isn't herding cows from another planet, he did dump a spaceship car with no wheels on her driveway in an attempt to block her in. Something she thought was pretty immature.
But considering she is "getting phone calls at really strange hours of the night about one o'clock to about four o'clock, aye." We reckon the locals could really help her out and pull down the posters if they see one, aye.
"Just pull it (the posters) down please and yeah, have a laugh for me and if you want to make a phone call, go for it. I don't mind, bring it on!" She's even revealed a bonus prize for the best impersonation, "if there's anyone out there that can do the real Chewbacca sound I might marry yah."
As for that spaceship, I mean the car with no wheels left outside her house, well Jess told news reporters that the Empire Police are "finally" going to do something about it.
You'll also like:
Domino's Free Pizzas for 'Karens' Campaign Doesn't End Well
Two Emus Banned from Queensland Pub Over Bad Behaviour
Watch the Brutal 7-Second KO Dividing Boxing Fans Across the Globe