"As far back as I can remember, I always wanted to be a gangster." The late, great Ray Liotta's opening phrase to the 1990 hit Goodfellas may very well go down as the greatest introduction in film history. The mantra, set forward by enterprising crook Henry Hill, captured the mindset of a mobster in true, unadulterated detail. But as much as Martin Scorsese's underworld epic was about greed, crime and power, it was underpinned by an overwhelming sense of family and most importantly, food. What Goodfellas did well, aside from bloody murder and crime, was accurately capture New York's bustling tight-knit Italian-American community and their love of flavour, wine, music and family. Sure, everybody dies and it's not exactly a happy ending, but Goodfellas is a stunning homage to the culinary arts, and nobody does it better than Scorsese. Kapeesh?
Welcome to the Binge List, our culinary, cocktail-heavy expedition through the wide world of cinema. Curated by yours truly, this content series puts a sword to the best movies, beverages and meals on your binge-list, providing a full stay-home itinerary. Watching Ron Swanson down a breakfast buffet at a strip club, what could be better? Maybe the Rum Ham from It's Always Sunny in Philadelphia? Or perhaps shovelling Homer's 10-Foot Hoagie Sandwich from The Simpsons in your mouth is more your style? Salmonella-poisoning aside, film and TV are full of great food moments and we're diving into a tasty one. Fire up the grill, slap on a streaming service and settle in – the menu has been set.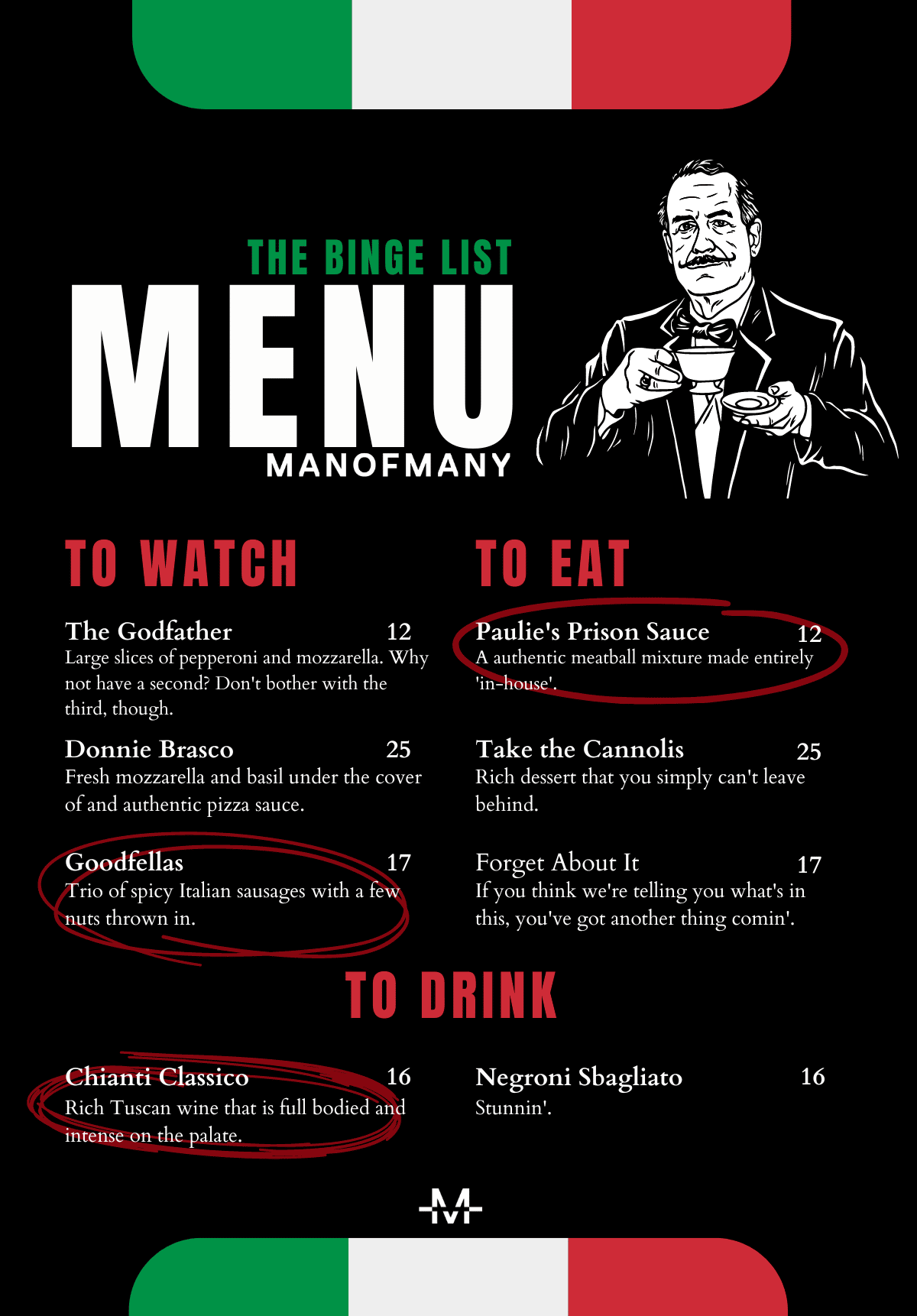 To Watch – Goodfellas (1990)
If you haven't seen Goodfellas, (firstly, how dare you?) but secondly, allow us to fill you in on this iconic piece of modern cinema. The continuation of Academy Award-winning director Martin Scorsese's ongoing relationship with Robert de Niro and Joe Pesci, the film follows a familiar mobster theme. It tells the (supposedly) true story of Henry Hill, a small-time Irish-Italian crook who rises through the ranks to become a stalwart of the New York organised crime scene. Naturally, all the usual suspects are there.
From mob wives and double-crosses to endless bickering between 'Made Men' and their lower-level lackeys, Goodfellas does more than a good job of ticking off every mobster movie trope in rapid succession. In fact, you could argue that the 1990 flick is the prototype for the modern crime thriller, paving the way for hits like Heat, Donnie Brasco and Internal Affairs, the latter of which formed the inspiration for Scorsese's 2006 film The Departed. As film critic extraordinaire Roger Ebert put it, Scorsese was the right director – the only director – that could make Goodfellas work.
"He knows it inside out," Ebert wrote back in 1990 when the film was released. "The great formative experience of his life was growing up in New York's Little Italy as an outsider who observed everything – an asthmatic kid who couldn't play sports, whose health was too bad to allow him to lead a normal childhood, who was often overlooked, but never missed a thing."
Throughout the film, we see Henry slowly traverse the different levels of Mafia life, making friends with don Paul Cicero (Paul Sorvino), Jimmy the Gent (Robert de Niro) and Tommy DeVito (Joe Pesci). The film follows the gang over the course of 30 years, firstly making their way in the world of crime before slip-ups derail their plans, and then again on the inevitable rise to the top. However, all is not hunky dory. When the trio accidentally kill rival gangster Billy Batts, the thread that binds the family together begins to unravel. With the Feds closing in and time not on Henry's side, the jig runs dangerously close to being up.
As far as mobster movies go, Goodfellas is right up there with The Godfather Part II. A tragic story of greed unpinned by traditional values and family honour, the story arc is as rich as the tomato sauce we see splashed across the screen at several points. Which leads us to our menu for this evening.
Where to Watch: Stan, Paramount+, BINGE
Release date: 18 October 1990 (Australia)
Director: Martin Scorsese
Adapted from: Wiseguy
Box office: 47.1 million USD
Distributed by: Warner Bros. Pictures
To Eat – Paulie's Prison Sauce
If there is one takeaway from Goodfellas, it's that nothing is above food. Yes, a number of people are murdered, there are shoot-outs and cop chases galore, but no matter the situation Henry and his cronies found themselves in, there was always time to eat. Even when the FBI is closing in on Henry, his first priority is still the meat sauce. The scene of him erratically stirring the pot while an FBI helicopter circles above is high-cinema at its finest, and it wasn't by accident.
Scorsese, a director renowned for his painstakingly meticulous attention to detail ensured that the meals that appeared on-screen were not only accurate, but helped to paint a visceral picture of the family unit. In fact, in the scene immediately before Batts is killed, the group must head to Tommy's mother's house to pick up a knife to finish the job and a shovel to bury him with. What was meant to be a short scene where the group walks in and are greeted by Tommy's mother (played by Scorsese's real-life mom, Catherine) turned into a long-form situation when the ring-in actress went off-script.
"They enter the house around three in the morning, and they're met by Joe Pesci's mother, Tommy's mother, and that's played by my mother. All we told her to do was just welcome her son home; she hasn't seen him in a while," explained Scorsese at the 2021 virtual TCM Film Festival. "The key there is ultimately the warmth between all of them and particularly my mother playing his mother; he may be a psychopathic killer, but he's still her son. When people talk about improvisation, this really was improvisation."
The improv results in all of them all sitting down to a bowl of pasta whilst they all chat innocently away with Tommy's mother and there is even a reference to the future killing. De Niro makes a conscious decision to rub the bottle of tomato sauce in the same hands that will use to violently stab Billy Batts just moments later. But as much as this scene is a perfect encapsulation of food and film, there is one sequence in Goodfellas that really shines through – Paulie's Prison Sauce
After a number of the gangsters in Henry's crew wind up in jail, all may appear hopeless but it's just a facade. Inside the walls of the prison, Henry and mob boss, Paulie Cicero (played by the late Paul Silvino) live like kings with a steady flow of outside supplies, and it's here that Scorsese captures the importance of food.
"In prison, dinner was always a big thing," Henry explains.
A natural-born leader, Paulie takes charge, giving way to an iconic sequence. The footage of him slicing the garlic as thinly as possible with a razor blade originally designed to keep him safe is among cinema's most revered moments.
"He had a wonderful system for doing the garlic," Henry narrates over the scene. "He used a razor, and he would slice it so thin it would liquify in the pan with just a little oil…it was a very good system."
Paulie's Prison Sauce – Ingredients
In a behind-the-scenes interview after Goodfellas' was released, Scorsese revealed that the Prison Sauce recipe actually came from his mother and co-star Catherine. We were able to track down that very recipe for your own enjoyment and best of all, you don't need a rob a train carriage to make it. Many of the ingredients we needed were already in our pantry, but for everything else, we turned to Uber Eats. The platform to go anywhere and get anything just bumped up its grocery and alcohol offering, dishing out $0 delivery on orders of $20 for Uber One members, and with foodie favourites Woolworths and IGA on-platform, you can make sure your pantry is stocked.Here's what you need:
500g shank of veal, whole
500g pork sausage
Olive oil
Basil
Sugar
1 x medium onion
5 x large garlic cloves
1 x can tomato paste
2 x cans Italian-style tomatoes
For meatballs:
1kg minced veal, beef, and pork mixture
2 x egg
Locatelli and Sardo cheeses, grated
Parsley
Salt and finely ground red pepper
Milk
Paulie's Prison Sauce – Recipe
Slice onions and garlic before singing them in oil.
Throw in a piece of veal, a piece of beef, some pork sausages and a lamb neck bone.
Add a basil leaf.
When the meat is brown, take it out and put it on a plate.
Put in a can of tomato paste and some water.
Pass a can of whole tomatoes through a blender and pour it in.
Let it boil.
Add salt, pepper and a pinch of sugar.
Let it cook for a while.
Throw the meat back in.
Cook for 1 hour.
Meatball Recipe
Put a slice of bread without crust, 2 eggs and a drop of milk into a bowl of ground veal and beef.
Add salt, pepper, some cheese and a few spoons of sauce.
Mix it with your hands.
Roll them up, throw them in the sauce mixture.
Let it cook for another hour.
To Drink – Chianti Classico
While food plays a pivotal role in Goodfellas, serving as an almost extended character, wine is just as important. As Paulie proudly exclaims when Henry pulls a bottle of wine out of the bag of smuggled goods after the Prison Sauce is finished – "We've got the wine. Now we can eat."
While the type of wine Henry manages to sneak in is never explicitly referenced, it's fair to assume the mob family was sticking to tradition and opting for a smooth red varietal from the Old Country. For this reason, we've opted to run with a fine bottle of Barone Ricasoli Castello di Brolio Chianti Classico DOCG, sourced from the local bottle-o with a just few clicks on the Uber Eats app. For wine nerds out there, bottles labelled Chianti Classico come from the largest sub-area of Chianti, which includes the original Chianti heartland. As the Consorzio del vino Chianti Classico (the local association of producers) reveals, only Chianti from this sub-zone may display the black rooster (gallo nero) seal on the neck of the bottle.
There you have it, turns out crafting a juicy Goodfellas itinerary, menu and drinks list is easier than you may have thought. Now all you need is a couple of felony racketeering charges, a pinstriped suit and an oversensitive response to being called funny. Like honestly, how am I funny? Like a clown? Do I amuse you?