Interview with Dan Carter
Every once in a while, there's an athlete who comes along and completely reinvents a sport. Surfing had Kelly Slater, basketball had Michael Jordan, and boxing had Muhammad Ali.
Sixteen years ago, Rugby Union had its turn, with the arrival of Dan Carter.
Said by many to be the definitive fly-half of the modern era, Dan was a triple threat. With meticulous precision in all aspects of his game, he demonstrated to the world just how much impact a single playmaker could have on the game they played in heaven.
Accompanied by his wife and their three children, Dan has just arrived home after a stint with the Parisian Rugby Club Racing 92. His own children's upbringing illustrates exactly how far Dan has come since his own humble beginnings on the South Island of New Zealand.
As the bell begins to toll on his career, we caught up with Dan to discuss his magnificent time in the game, and what's to come after he hangs up the boots.
"Having those experiences for my wife and my children is really special", Dan says. "To live in a different country, be involved in a different culture and speak different languages is something that I wasn't able to do when I was a kid. I grew up in a shady little town, so to be exposed to the rest of the world and being able to spend some real quality time just as a family in those countries was pretty cool.
"It's made us even stronger as a family."
Throughout his staggering professional career there have been some incredible performances. However, if there was a moment that truly epitomised Dan's ability to control and dominate in Test Rugby, it would undoubtedly be the British & Irish Lion's tour in 2005.
---
Featured Video from Man of Many
---
"I was pretty fortunate to play in a Lions series, as it only happens in your country once every twelve years. I had a fantastic series and played probably some of the best rugby I've ever played in my career. People kind of knew a little bit about me here in New Zealand, as I had been playing for a couple of years, but that kind of put me on the world stage."
With a near-flawless professional career, Carter has found success with every team for whom he's played. But that isn't to say he hasn't had his own personal obstacles.
"When you look at my career overall, I was lucky enough to achieve quite a lot. But I've definitely had my setbacks. There were times where I doubted myself and usually these times were where I was having to deal with injury.
"In 2009, when I ruptured my Achilles tendon, I had to learn to walk and run properly again. There was a bit of doubt there. I thought 'okay, I might not return to be the player that I used to be'. And then also in 2011, where I got injured in the middle of the Rugby World Cup here in New Zealand and was ruled out for the rest of the competition.
"I had ruptured my adductor muscle in my groin… Having to bounce back from such a serious injury like that is really tough. But, if you get your mindset right and you set goals, then it can become a really powerful tool … they made me an even stronger person and athlete."
One of only nine players to ever become an All Black Test Centurion, Carter is worshipped as a deity when he's home in New Zealand. He talks to us about what it is exactly that makes the All Blacks such a cohesive squad.
"We're trying to create a culture and environment that you can be really proud of. Here in New Zealand, we are lucky enough to have this amazing history behind us with Rugby Union. It's been played here for over one hundred years.
"Often in the All Blacks, we go back and look at the history and by watch what went before you. So, when it's your turn to be an All Black you know that black jersey is never yours. You're only ever just the custodian of that jersey and your job, for that short time of being an All Black, is to add to this legacy that gone before you.
"That's their goal. To leave that jersey in a better place than it was before they got it."
Despite not having played for the All Blacks since his injury at the Rugby World Cup in 2015, Dan remains optimistic about the future for New Zealand rugby.
"You know, I was involved in the culture only four years ago, and even then, I could feel like the team had room to grow. Rugby's like a religion in New Zealand, it's the number one sport by a long way. Our grass roots are really strong and that breeds a bright future… If you don't have those fundamentals, then it's easy to lose key players and you won't have that depth."
"An example of that is after the last World Cup, seven of the fifteen players had all played one hundred test matches or more. But then there's the likes of Kieran Reid, Beauden Barrett, Sam Cane – young guys – who are ready to come through and to take over.
"This trend of New Zealand rugby will continue for a long time."
The dream of being an All Black became a reality for Dan at the tender age of 21. Playing alongside legends Umaga and Rokocoko, Dan held his own and became only the sixth All Black to ever score over twenty points on debut.
"After that first test match, I got this taste of International rugby and what it was like to play for the All blacks. From that moment I didn't want to be a one test All Black, I wanted to be an All Black great, someone that was remembered for decades to come.
"To do that you have to play at the highest level consistently for a long period of time, and that's the great challenge in the professional era. Now that I've finished, it's not up to me to decide whether I achieved that or not."
With less than a season of Super Rugby under his belt, it really was a surprise to Dan when he was called up to pull on the black jersey.
"Yeah, it was crazy… Back then, to hear the All Black announcement you had to listen to it on the radio. I just didn't think that my name would be read out, so I was just with a group of mates enjoying some lunch and didn't even listen. I was really lucky because I was playing for the Crusaders that super rugby season and a lot of that team were All Blacks. So, when I made that transition, I had a lot of familiar faces.
"There were a lot of experienced players that really helped me, and I was working alongside Carlos Spencer and Andrew Merhtens – true legends of the game – and I was just learning and feeding off everything that they would say and do. It just made my job a lot easier.
"At the same time, I was so nervous. You're representing your country and then there's the pressure of being an All Black and knowing you just can't lose when you put on the black jersey."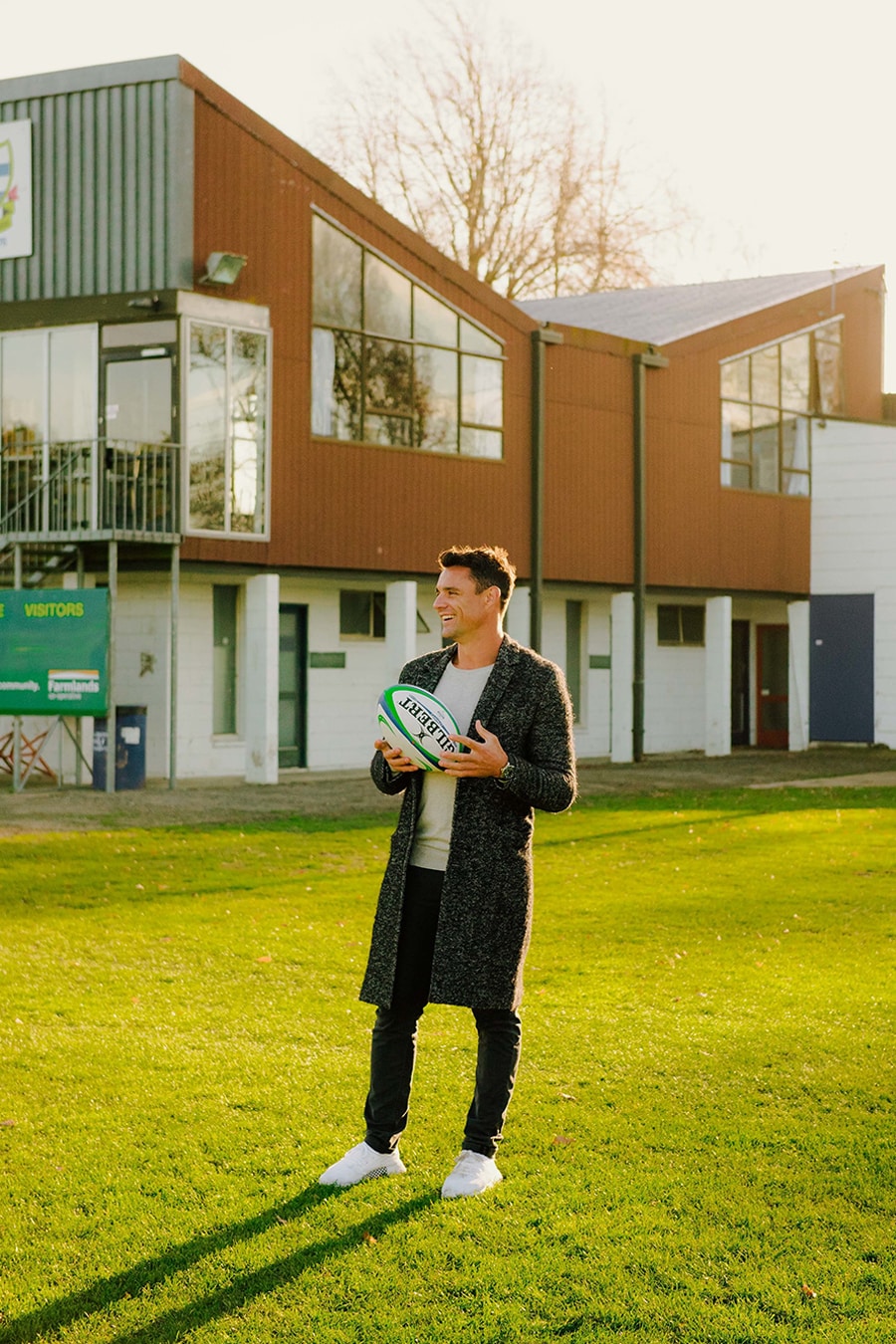 Since his debut, there probably isn't a trophy in the professional Rugby Union world that Dan hasn't had his hands on at some point. His ability to attack, distribute, defend and score points off his boot rocketed him into a tier of player reserved for greats such as Johnny Wilkinson and David Campese. By 2010 he had become the All Time Highest Point Scorer in Test Rugby and in 2012, the same in Super Rugby.
"I never really played for personal records and things like that, but now that I've finished my International rugby, it is nice to look back and see that I've achieved some of those records.
"But, for me it was always all about the team success; being involved in 2015, where the All Blacks created history by being the first International team to win back-to-back world cups. We were also the first All Black team to win a world cup outside of New Zealand, so that was a really proud moment and something that we achieved, and we created history."
This June, it'll have been sixteen years since Dan pulled on that black jersey for the first time. Now 37, he has played his last game in the French league and has returned home with his family to decide his future. Nursing an injury and no firm position with any club, he has a lot to consider.
Many professional athletes struggle when it does come time to hang up the boots, we asked Dan if he had any plans of how he was going to manage this transition.
"Yeah, it's a really good point. A lot of my old teammates who are a similar age have retired, so it's really nice hanging out with them and learning about their experiences of retirement. I'm really lucky to have some great support around me, and I would like to think that I've made some smart decisions throughout my career, so when I do hang up my boots, my family will be supported financially. That was the biggest thing for me.
"I think it's really important that when I do hang up the boots, I close that chapter of my life. I don't want to be trying to chase that adrenaline of being a rugby player, those highs of playing in front of eighty thousand people… When you close that chapter of your book, you've got to be ready to start a new one.
"Exactly what that is I'm not 100 per cent sure, but if I put those plans in place, I feel like the transition will be a lot easier."
Dan and his wife Honor welcomed the arrival of his third son, Rocco, in January of this year. Despite his most recent injury setback, Dan is confident that it's a blessing in disguise.
"I want to spend time with my family post rugby, but I do love that sort of mentor role. I feel like I've learnt so much throughout my career and I'd love to help support some of the younger athletes through that transition into being a professional sportsperson.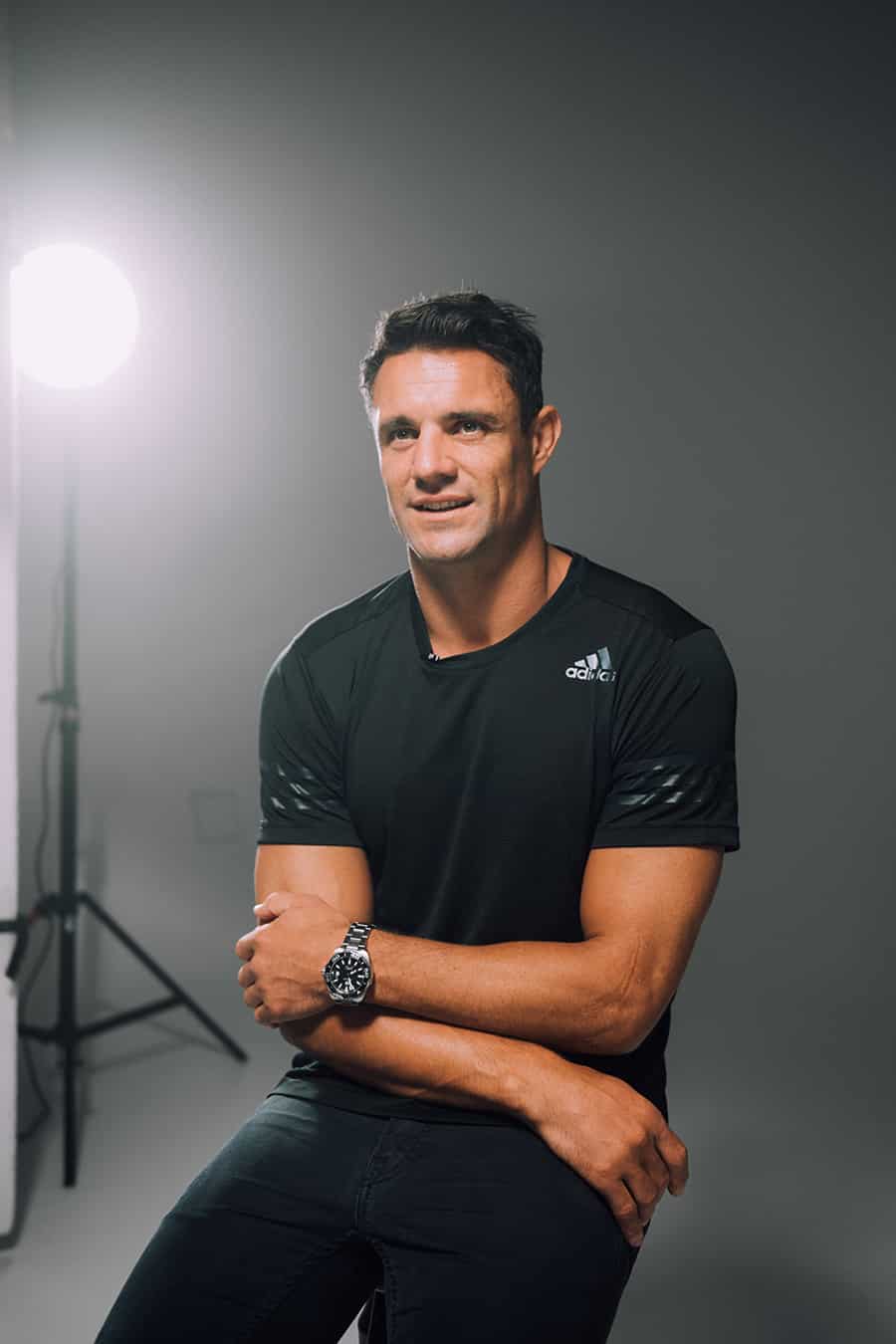 As one of the most knowledgeable and instinctive players to ever pick up a footy, we finally pushed to see if Dan had a future in coaching.
"Coaching? Not immediately. The coach's side of things, that's quite intense. They work probably harder than the players, and they are away from home even more than you are as a player.
"I'll never rule it out, but not immediately."
Our guess is that Dan's still got a couple of games of footy still in him.
Most professional athletes' careers last anywhere from three to ten years. As Dan's closes out his sixteenth year many things have changed for both him and the game. This year's Rugby World Cup in Japan will be the first that Carter hasn't played in since he was 21 years old and that's okay; it's clear his priorities have shifted.
Now, family comes first for Carter.
Dan Carter wears the TAG Heuer Carrera Calibre Heuer 01 Chronograph available in the rubber strap and steel bracelet, and the TAG Heuer Aquaracer 300M.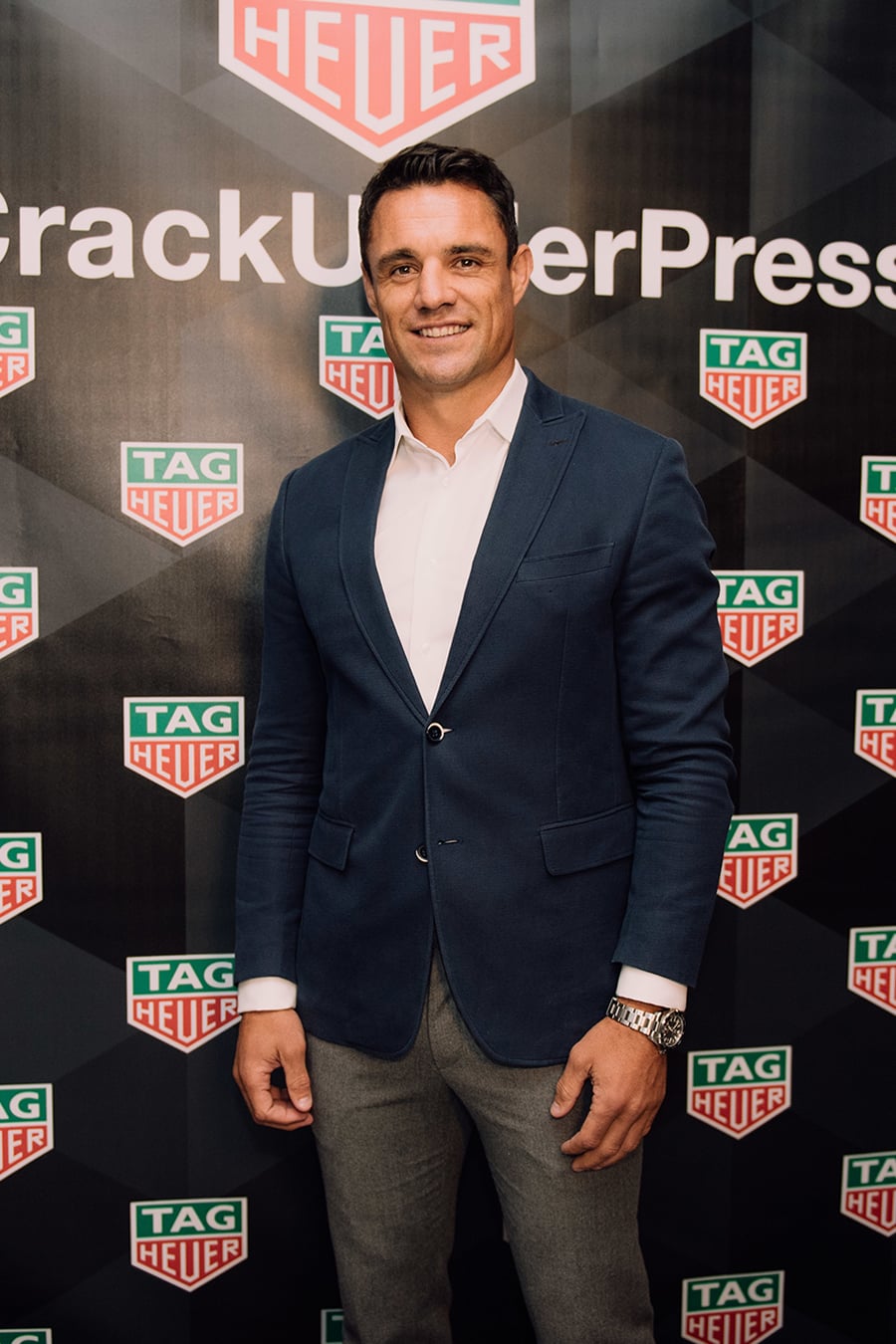 ---
Featured Video from Man of Many