Watch Dustin Poirier Knock Conor McGregor Out Cold at UFC 257
The mighty has fallen. At UFC 257, Dustin Poirier defeated Conor McGregor in a second-round TKO, stunning fight fans across the globe. The much-anticipated bout lived up to the hype, albeit in a slightly different way than most were expecting. In a monumental night for Poirier, the American mixed martial artists reversed the result of UFC 178.
You'll also like:
UFC Champ Khabib Nurmagomedov has Retired Undefeated
Watch Robert Whittaker's Bloody Win Over Darren Till at UFC Fight Island
Home Invader Tries To Rob UFC Star, Puts Up a Good Fight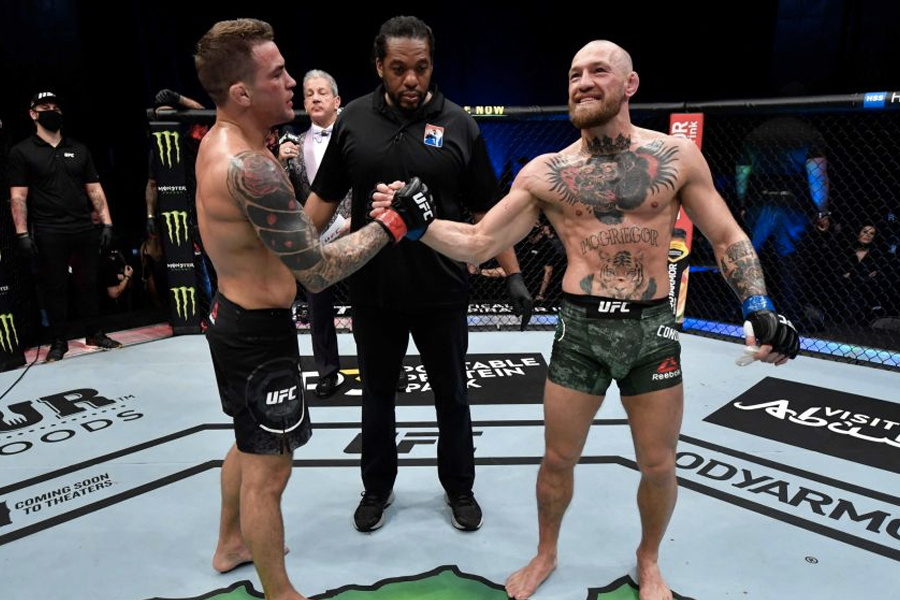 A far more composed and improved Poirier categorically took down McGregor at his own game. Through a series of leg kicks and grappling, the American wore down the Irish ex-champion before unloading a flurry of punches late in the second round. "I'm happy but I'm not surprised. I put in the work," Poirier said in the post-fight interview. "The goal was to be technical and to pick my shots. I know Max Holloway says he has the best boxing here but I have two wins over the kid. I boxed well with Conor."
The victory solidifies an incredible run of form for Poirier. Since their first bout, Poirier has gone on a 10-2 run with victories over four former champions, so the result really shouldn't have been a complete surprise. For McGregor, however, the loss puts him in an awkward position. Coming out of retirement for the bout, McGregor confirmed that inactivity had certainly played its part in the result.
"It's hard to overcome inactivity," he said. "That lower calf kick was very good. I wasn't comfortable as I needed to be. Dustin was some fighter. I have to dust it off and come back. I need activity. You don't get away with being inactive in this business. I'm going to regroup."
Gracious in defeat, the result was a first for the ex-champion. Before the bout, all of McGregor's losses had come by submission, marking this as the first time he'd ever been knocked out in competition. With The Notorious now reeling from three losses in his last six bouts, it could be the beginning of the end for Conor. For real, this time.
You'll also like:
UFC Champ Khabib Nurmagomedov has Retired Undefeated
Watch Robert Whittaker's Bloody Win Over Darren Till at UFC Fight Island
Home Invader Tries To Rob UFC Star, Puts Up a Good Fight