OnlyGains: Why Matador Meggings Are Better For Your Workout
In Partnership with Matador Meggings
Born from the mind of a yoga instructor turned entrepreneur, it didn't take long for Valentine Aseyo to realise a dream for many men. Why should leggings be exclusive to women? The dream was male leggings on steroids and after surveying his studio for hours the idea was officially set in stone.
What are Matador Meggings?
The inspiration for the name comes from Matadors (bullfighters) themselves who often wore similar ensembles. Speed and agility are in their blood and Matador took a page from the history books and raised it to the next level with their take on men's leggings. You see, while compression pants have existed for umpteen years they're either too tight, too revealing, or just not fashionable enough for many men. Comfortable men's leggings that can be worn under any circumstance are the name of the game for Matador Meggings, but that's not to say they're not equally suited to sport, exercise or other thanks to their technology.
Features of Matador Meggings
Designed with the male anatomy in mind, Matador Meggings secrets lie in their trademarked No-VPL technology. VPL (visible penis line) is often considered the male version of a camel toe (no thanks) and a soft moulded crotch cup prevents excessive VPL and hides your junk when undertaking extreme moves giving it the perfectly rounded superhero crotch we all want.
Not one to skimp out on features, Matador Meggings also added an open pocket for your phone, a zipper pocket for your valuables not one but two! This zipper pocket is such a rare feature to find on leggings so it's a huge win for everyone as you don't have to worry about not being able to find anything.
One of the biggest innovations they brought to athletic wear must be the t-shirt/towel loop. If you're guilty (you know who you are!) of losing your gym towel as you rotate from one station to another and waste half a dozen towels each workout, Matadors will come to your rescue and save the planet in the process. Do you like to take your shirt off when you go for a run or at a festival or any other opportunity you can get? No judgments here; Matadors got you covered: you can use this loop to secure your t-shirt so you don't have to hold on to it for your dear life.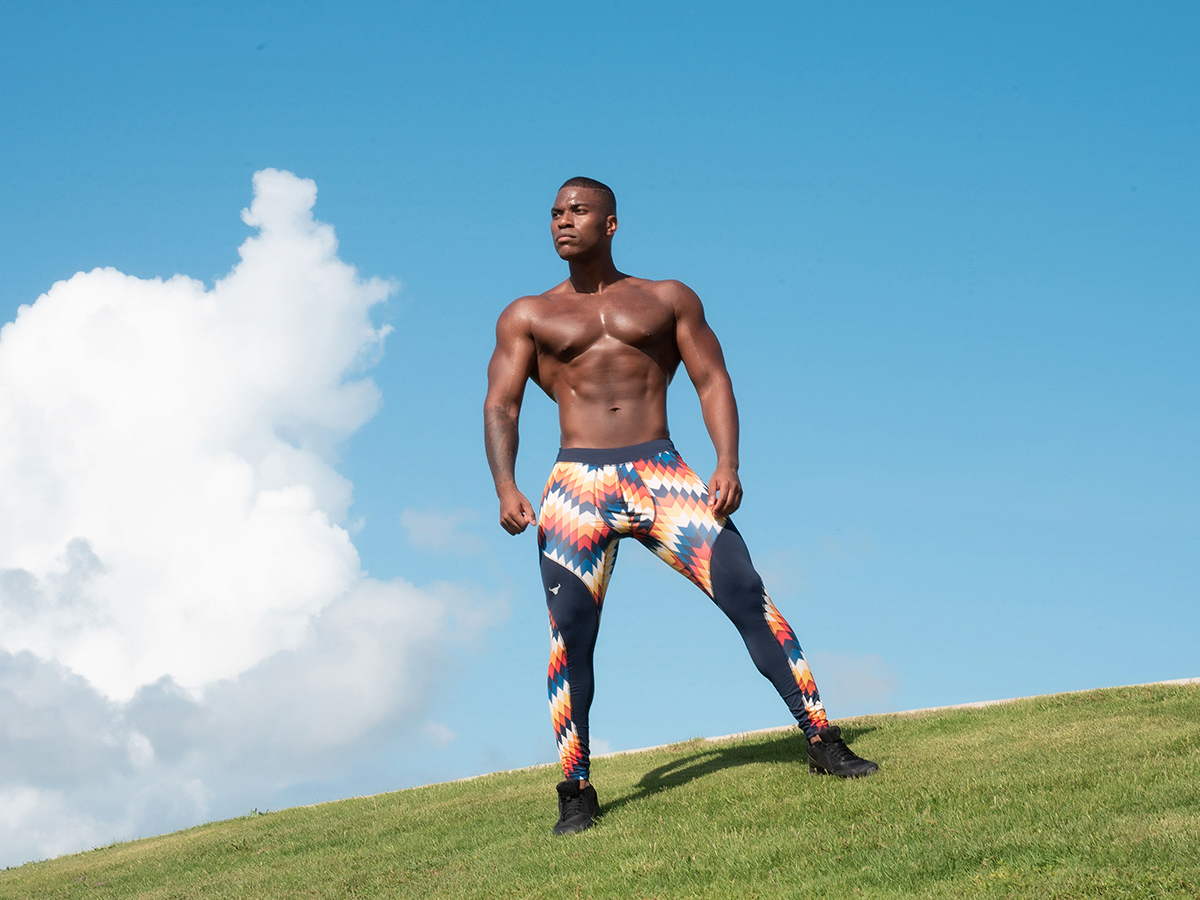 Even though they're not high-waisted, Matadors never ride down thanks to their non-slip waistband. They also offer an inner drawstring for extra security when you do backflips or deadlifts.
Well, show us another brand that offers all these features (we'll wait):
Soft cup concealing VPL
Open pocket for your phone
Zipper pocket for valuables
T-Shirt/ Towel loop
Inner drawstring
Non-slip waistband
Sweat-wicking fabric
Our Top Picks
We've gone through the entire Matador Meggings range and picked a handful of stylish designs ready for your next workout, day out with friends or pretty much anything else you can throw at them!
1. Black Meggings
Keeping it simple when exercising is never a bad idea, after all, not everyone wants to stand out while they work out and the Black/ Black Matador Meggings are designed to keep you focused while working out. Think of them as the 'little black dress' of men's leggings.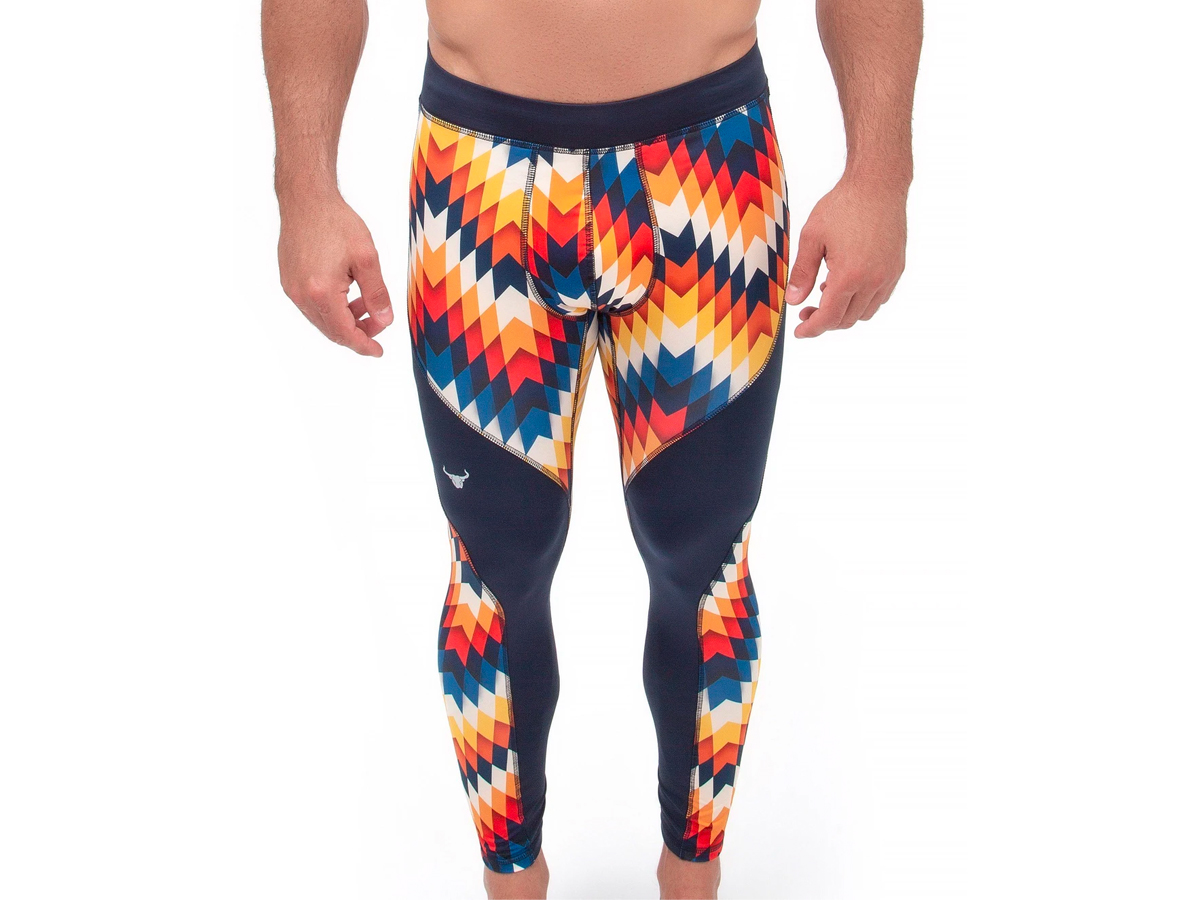 Image: Matador Meggings
2. Arrow Meggings
If black is too tame for you and you want to make a statement at the gym or festivals, then Arrow Meggings will be your favourite.  Why not add a little twist to your look with a standout pattern ready for anything. We love having a pop of colour in our workout attire and this style does so with flying colours, literally.
3. Gray Camo Meggnigs
Aside from the laughs you'll be able to have thanks to a few "where are your legs" jokes, the Gray Camo meggings are perfectly designed for the Urban Bull who loves to look good and workout hard.
4. Galaxy Meggings
Regardless of colours selection, it's clear these compression tights are perfect for the man unafraid to show off. There's absolutely no mistaking the fact when you aim for the galaxy print on these Matador Meggings. Here, you'll be comfortable exploring the outer limits of the fashion galaxy while holding onto the brands comfortable yet durable feel.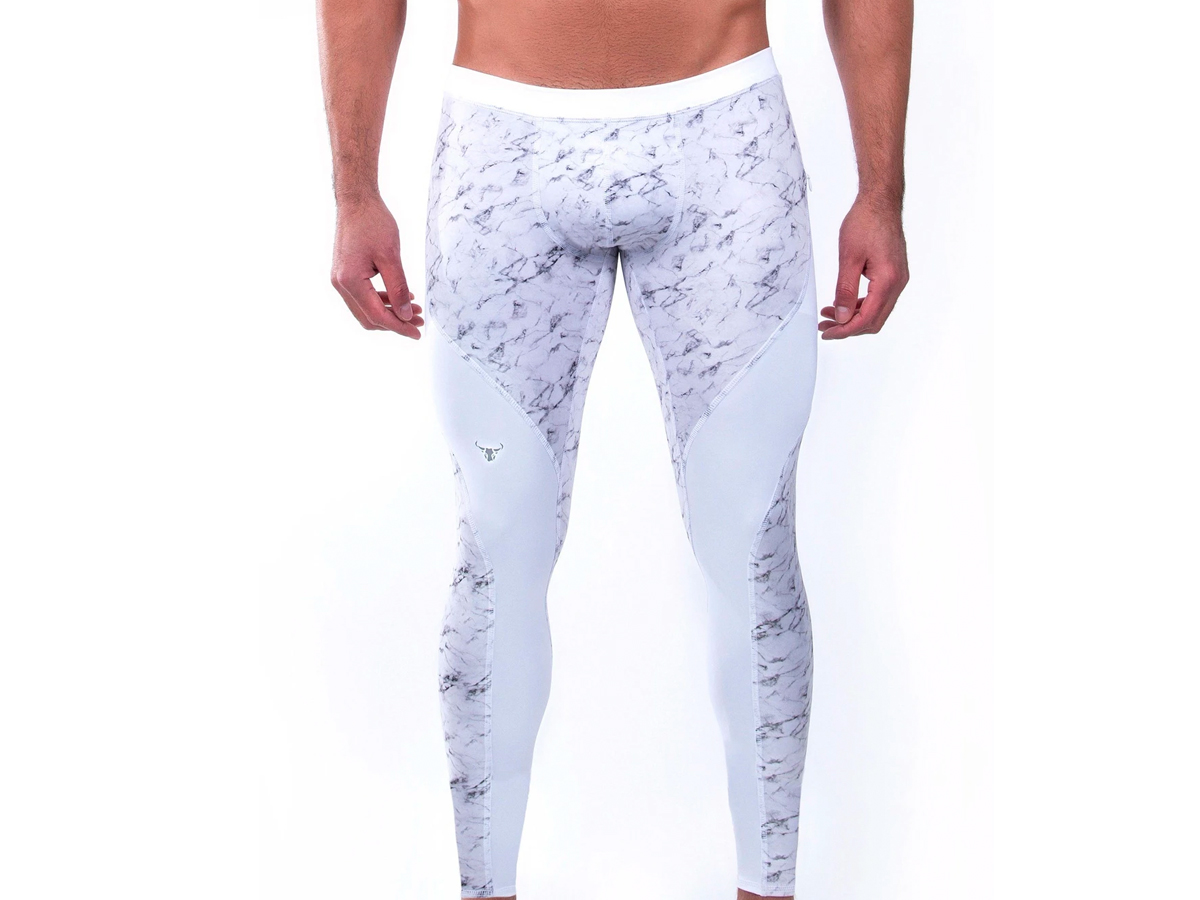 Image: Matador Meggings
5. Marble Meggings
So you're feeling bold, eh? Then Marble is your gem. It's definitely not sheer at all. Don't you worry, it's not see-through so your family jewels won't be exposed. Yet, it's still mildly daring due to its white tones. Interestingly, this style made it to their top 5 bestsellers list so clearly there are many brave souls out there.

Benefits of Men's Compression Leggings
Designed specifically for men, these high-quality leggings are perfect for the gym and are made with breathable fabrics so you can work out for longer. We're talking about no bunching, squeezing, or sliding down, they stay in place so you can do your best in the gym under any circumstances.
Can They Improve Your Performance?
Matador Meggings work inside the gym and out, with a range of activities taken into account during the research and development phase so the customer can take advantage, these include;
Running: Matador Meggings don't ride up or cause runners to chafe thanks to their form-fitting design that reduces wind resistance. Moisture-wicking fabric keeps you dry, inner drawstring keeps the pants in place, and zippered pockets let you safely store valuables while you're on the move.
Yoga: Yeah, guys need Yoga pants too… and Matador Meggings comes through in the clutch with perfectly designed yoga pants for men. It seems like the brand has thought of everything with a higher rise than normal in the back to prevent cracksidents as you move through your vinyasa all the way to a downward dog. The removable soft crotch cup conceals the goods while you're nailing the perfect crow's pose. Opt for the above-ankle design to let your ankles breathe.
Weightlifting: Protecting your lower body and feeling secure while weightlifting is paramount to nailing those deadlifts. Matador Meggings protect your shins, support your knees, and keep blood flowing to prevent lactic acid buildup while lifting those big 50's.
Wrestling/ Boxing: Keep your eyes on the prize and your muscles engaged while you wrestle and box. Every ounce of energy matters in this sport and male leggings are the perfect partner thanks to their amazing range of motion. The fabric moves and stretches with your body like a second skin, and the inner drawstring keeps them firmly in place.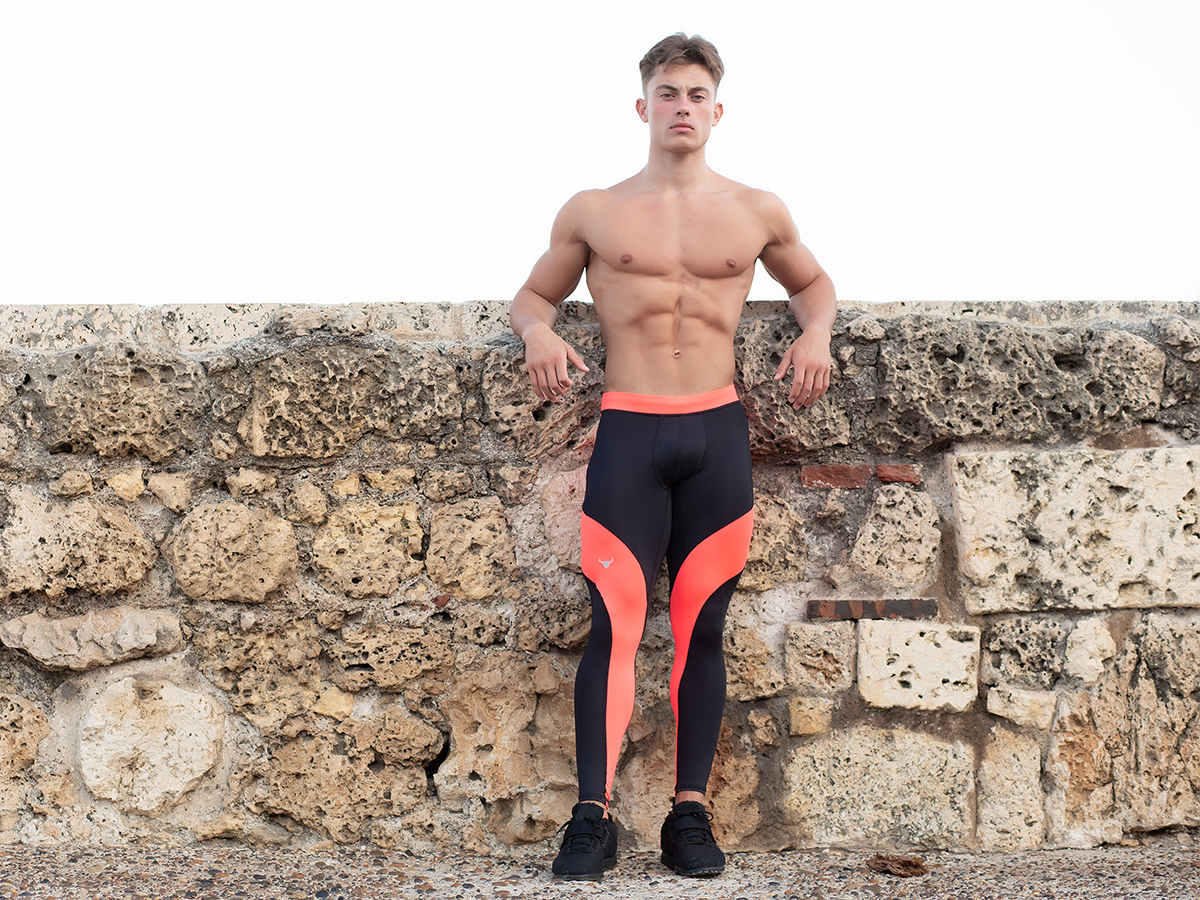 General FAQ
Are Leggings Acceptable at the Gym for Men?
Absolutely. Male leggings (and compression tights) are beneficial to your workout thanks to their blood flow increasing design. As such, they are encouraged to be worn by men at the gym.
Can Meggings Help You Exercise Better?
Yes. Men's leggings will help with blood flow while working out and increase the amount of oxygen in your bloodstream. They also act like a shock absorber, reducing vibrations in skeletal muscles when you run. This can help prevent muscle trauma.