Why You Should Be Using Shoe Trees
Most commonly made of unfinished wood like cedar, shoe trees help extend the shelf-life of your best Top 19 Luxury Shopping Sites. And given how much money a nice pair of fashionable dress shoes can cost these days, keeping yours in great shape does seem like a sound idea. That goes especially true in Australia, where wooden shoe trees should practically be required. After all, our brutally hot temperatures invariably lead to sweaty feet, which can ruin your fancy footwear over time. Rather than dish out your hard-earned cash for a new pair every few months, pick up a quality shoe tree instead. But what is a shoe tree, exactly? Furthermore, what types of shoe trees are there to choose from? We answer those questions and more in this trusty guide.
You might also like:
Ace Marks is Changing the Way We Buy Men's Dress Shoes
Business Casual Dress Code Guide for Men
How to Calm Your Own Anger in 60-Seconds or Less
Men's Shoe Guide: 12 Types of Men's Shoes
What are shoe trees?
Traditional shoe trees are wooden inserts that absorb moisture and maintain the shape of your dress shoes. Allow us to elucidate. When you wear dress shoes, your feet get sweaty and stinky. Meanwhile, a certain portion of that moisture gets absorbed into the leather and lining of the shoe itself. As a result, the leather cracks, lining rot forms, the shape of the shoe morphs, and foul odours emerge. Some folks combat these undesirable outcomes by stuffing their shoes with newspapers or rags. While such methods might seem cost-saving at first, they're not all that effective in the long run.
Enter the mighty shoe tree. It keeps the dress shoe's natural shape intact, absorbs the moisture from your sweat, and prevents lining rot. You should insert shoe trees as soon as you take off your shoes, and leave them in for a full 24 hours (as that's the amount of time it takes to dry the shoe out). In turn, you'll increase the longevity of your expensive dress shoes, saving yourself the trouble of having to buy a new pair sooner than later. We should also mention that there are shoe trees for boots (aka boot trees), the best of which prevent creasing.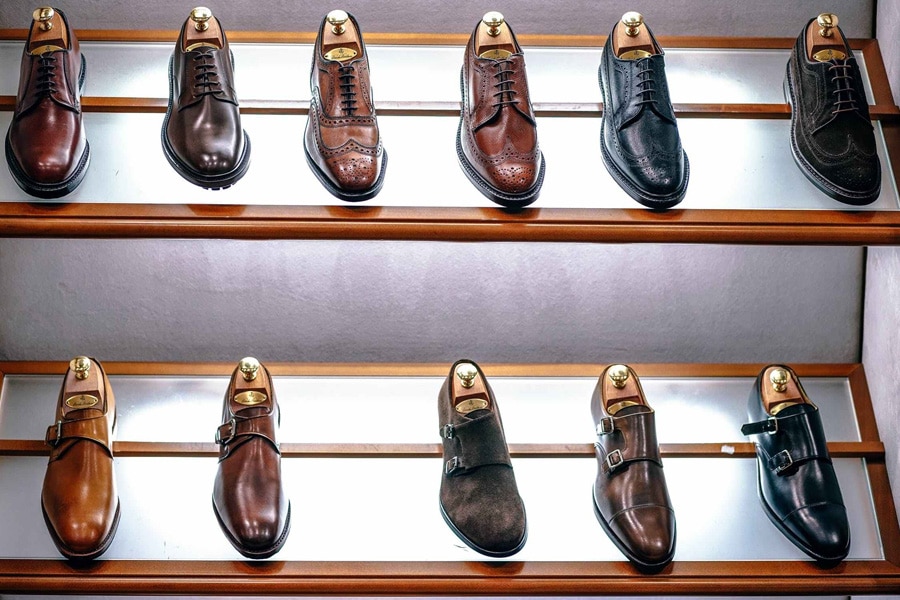 What material is best for Shoe Trees?
Shoe trees come available in a variety of materials, but most experts agree that cedar wood is the best way to go. That's because men's cedar shoe trees are quite effective when it comes to odour control and moisture absorption, among other things. You can also find shoe trees made of woods like beech, lime, or alderwood. Truth be told, as long as the shoe tree contains all the essential parts (i.e. a full heel, a head, a smaller toe piece, and ventilation slots on quality variants), and is made of unfinished wood, it should get the job done.
Types of Shoe Trees
As with everything else in the consumer world, you get what you pay for when it comes to shoe trees. At the bottom end of the spectrum are travel shoe trees, which are usually made of plastic. True to their name, these lightweight and portable variants should only be used when you're trying to preserve the shape of your dress shoes during travel. As one might expect, travel shoe trees won't combat odour or absorb moisture.
In terms of traditional wooden shoe trees, the cheapest ones usually cost between $20 and $35 and possess a knob or thin piece of wood in lieu of a full heel. These cost-saving shoe trees can fight odour and keep the leather from drying out, but they aren't very effective when it comes to preserving the shape of the dress shoe. Should you take this route, avoid varnished shoe trees, and look for an affordable cedar shoe tree instead.
When your dress shoes cost $250 or more, opt for mid-range aka advanced wooden shoe trees. They will run you anywhere from $35 to $70 and host more wood. Each one features a full heel, a head, and a smaller toe piece, while better variants additionally include ventilation slots for improved moisture diffusion. The overall result is improved drying, less odour, and a better structural fit. Stick with cedar wood and look for the shoe trees to include knobs or handles for adjustable stretching or grip retention.
For those of you who drop big bucks (i.e. $800 or more) on dress shoes, accept nothing less than lasted shoe trees. The cost of these premium variants can vary, but the good news is that many are included as an additional perk when you purchase expensive dress shoes. Consisting of materials like cedar wood, these men's shoe trees share the same last as the adjoining dress shoes, meaning each one is basically an entire foot. Because they resemble the shoe's natural shape, lasted shoe trees do the best job at dissipating moisture, wicking odour, and preserving structure.
Being that Australians love themselves a good pair of boots, we should once again mention that there are indeed shoe trees for boots, better known as boot trees. Not to be confused with boot shapers—which help with tension—men's boot trees prevent creasing or folding at the heel and vamp. Generally, they resemble traditional shoe trees, but with higher ankles. If you're going to buy a pair of premium Chelsea boots or something of the like, then definitely consider investing in some quality boot trees as well.
Shoe tree recommendations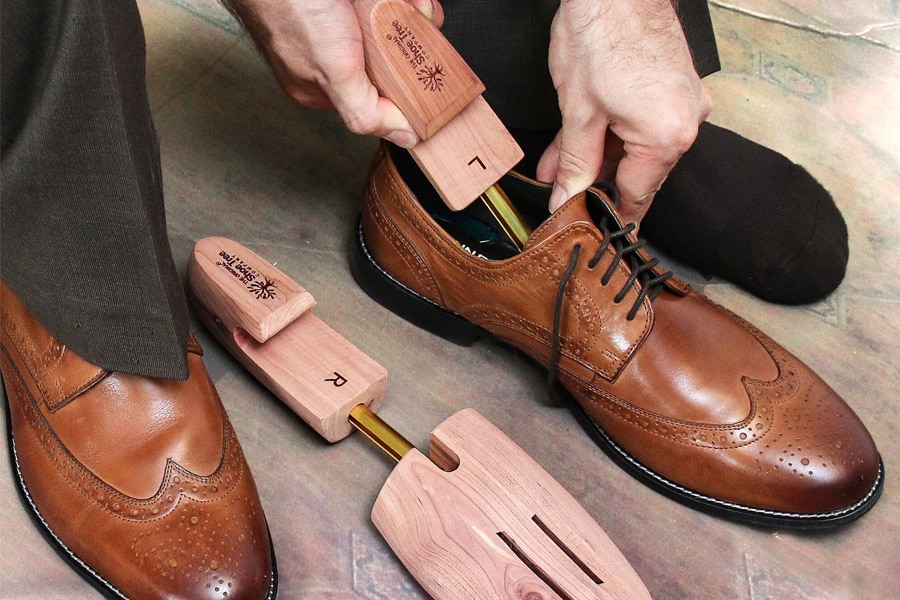 1. Fresh Cedar Shoe Tree & Shoe Bags for Men by The Original Shoe Tree Company
The Original Shoe Tree Company uses superior Western Red Cedar for their acclaimed mid-range shoe trees. Equipped with ventilation slots and a thicker heel, the trusty shoe trees vanquish moisture, odour, and wrinkles alike. They're furthermore adjustable, allowing you to customise the fit in accordance with your shoe size.
Key features: adjustable; with a peppermint-like aroma; has a hell hook
Material: from premium Western Red Cedar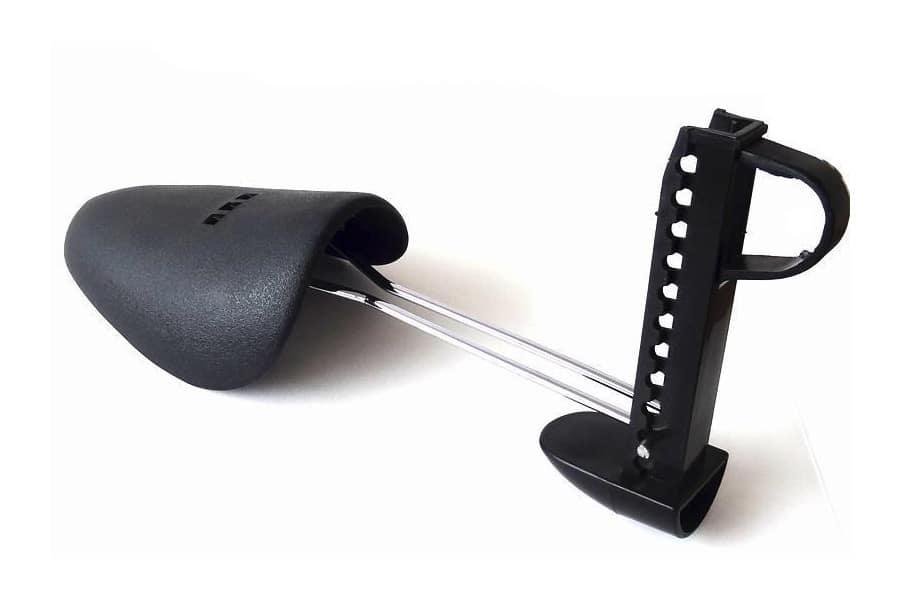 2. B&E Life Practical Plastic Adjustable Length Men Shoe Tree Stretcher Boot Holder Organizers
Ideal for travel, these plastic shoe trees are practical, affordable, adjustable, and supremely lightweight. Not only do they work on dress shoes, but you can use them on tennis shoes, boots, moccasins, and sneakers as well. Just remember: these are a temporary solution and should be approached as such.
Key features: adjustable; feather weight makes it great for travel; may be used for closed-toe heels, boots, tennis shoes, sneakers, etc.
Material: hard plastic and steel
Price: from $16.99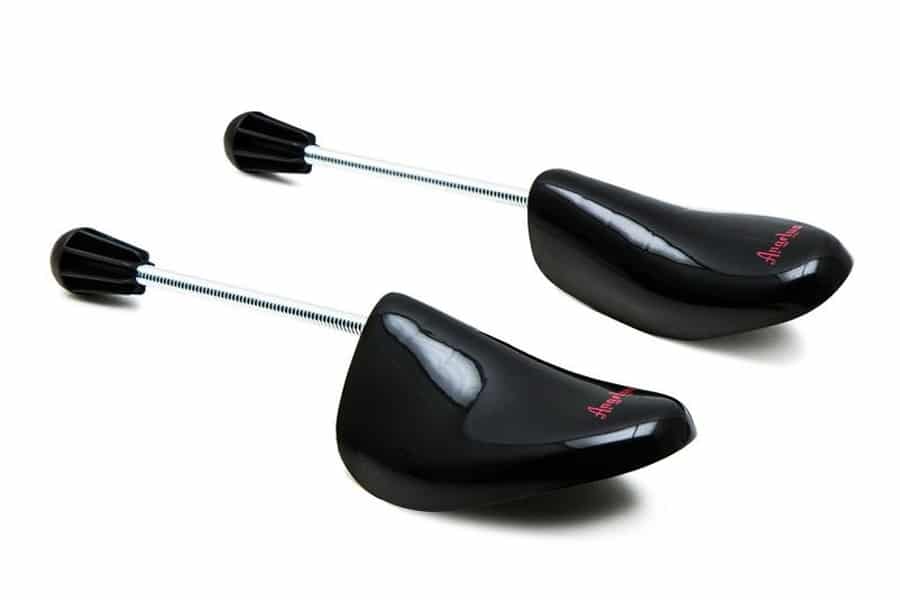 3. Angelus Shoe Trees
Consisting of plastic and steel, Angelus Shoe Trees are yet another affordable alternative to the higher-end fare. As such, they should be used primarily for travel, and on less expensive shoes.
Key features: feather weight makes it great for travel; may be used for closed-toe heels, boots, tennis shoes, sneakers, moccasins, etc.
Material: hard plastic and steel
Price: from $7.25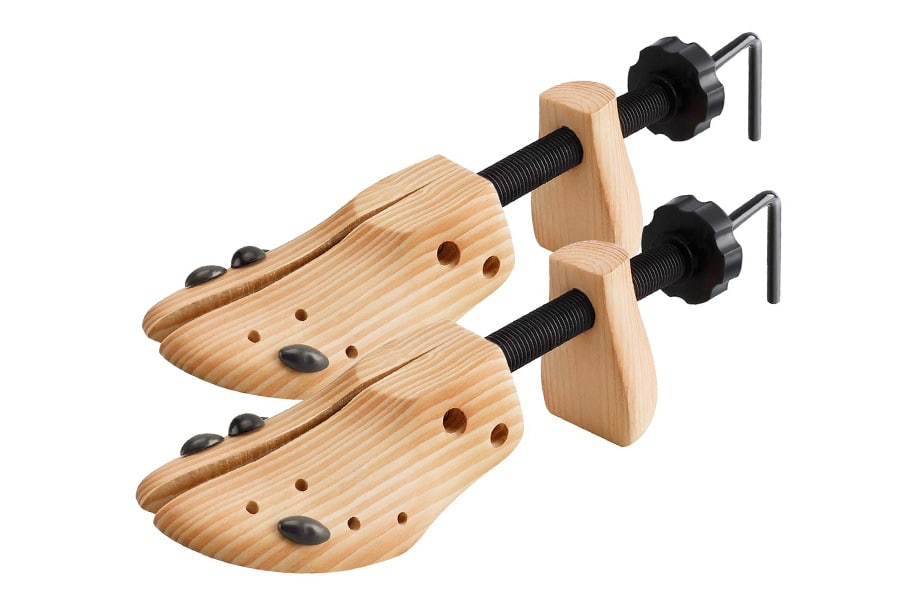 4. West Light 2 Way Cedar Shoe Trees For Men Wooden Shoe Stretcher
In the middle of the pack is this professional shoe stretcher from West Light. Insert it into the shoe, twist the knob to your liking, and then leave it in for 24-48 hours (the longer it stays in, the more your shoe will stretch). The shoe tree will then work its magic, preserving the shape of the shoe and reducing wrinkles.
Key features: unisex (available in 3 sizes); for low cut shoes
Material: Premium Cedar Wood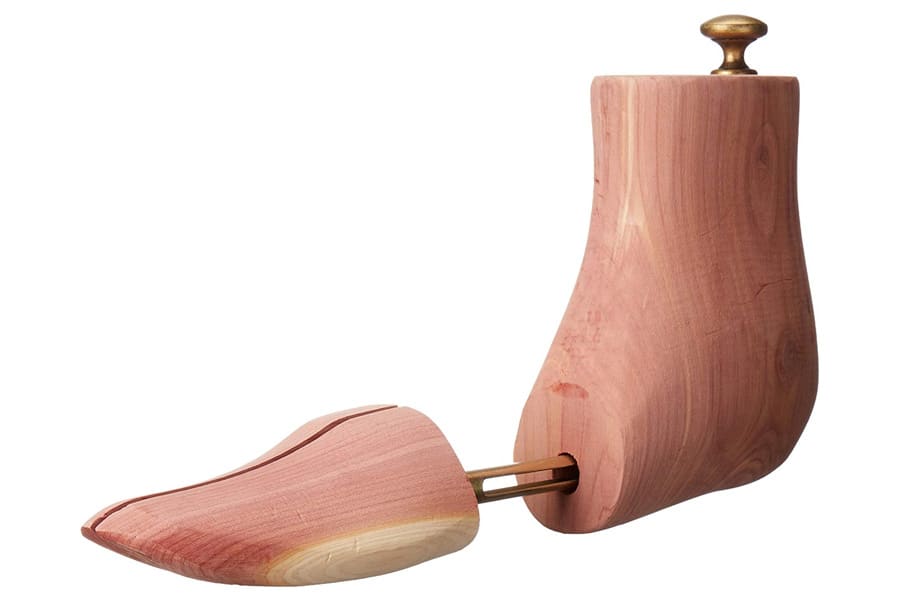 5. Red Wing Heritage Boot Tree Cedar
If you want to keep your stylish boots in great shape, then pick up the Cedar Boot Tree from Red Wing Heritage. Made of 100% cedar wood, the adjustable boot tree naturally absorbs moisture and attacks creases while maintaining the boot's natural shape.
Key features: naturally absorbs moisture; adjustable (length and toe width)
Material: 100% wood
You might also like:
Ace Marks is Changing the Way We Buy Men's Dress Shoes
Business Casual Dress Code Guide for Men
What is a Sociopath? 9 Traits to Look Out For
Men's Shoe Guide: 12 Types of Men's Shoes