Whenever spring rolls around in Australia, there's more in the air than just a balmier-than-usual breeze and an overrepresentation of pesky pollen: Aussies get genuinely excited for our beloved spring racing carnival. Different states and racetracks have different ways of celebrating one of our favourite national pastimes, but there's one general consensus across the board that's hard to deny: the thunderous rumbling of dozens of hooves pounding the turf as they come around the final turn calls for an equally exciting outfit.
Whether you're trackside at Flemington, in the Members' Stand at Randwick, or anywhere in between, knowing what to wear for the Spring Racing Carnival is the key to putting your best foot forward, and (hopefully) having a winning day. From the strict sartorial doctrine of black and white at Derby Day, to the palpable peacocking, pomp and ceremony of the Melbourne Cup, each day calls for a different outfit, has its own traditional flower for the lapel, and is a fresh opportunity to show up your mates, and everybody else who turns out the field for the day.
In partnership with men's outfitters Van Heusen, who provide spring racing suiting with the same aplomb with which they provide outfits for the boardroom, we've coordinated this round up of what to wear (and what not to wear) for each day, to take the confusion out of the equation when you're suiting up for this year's spring racing carnival.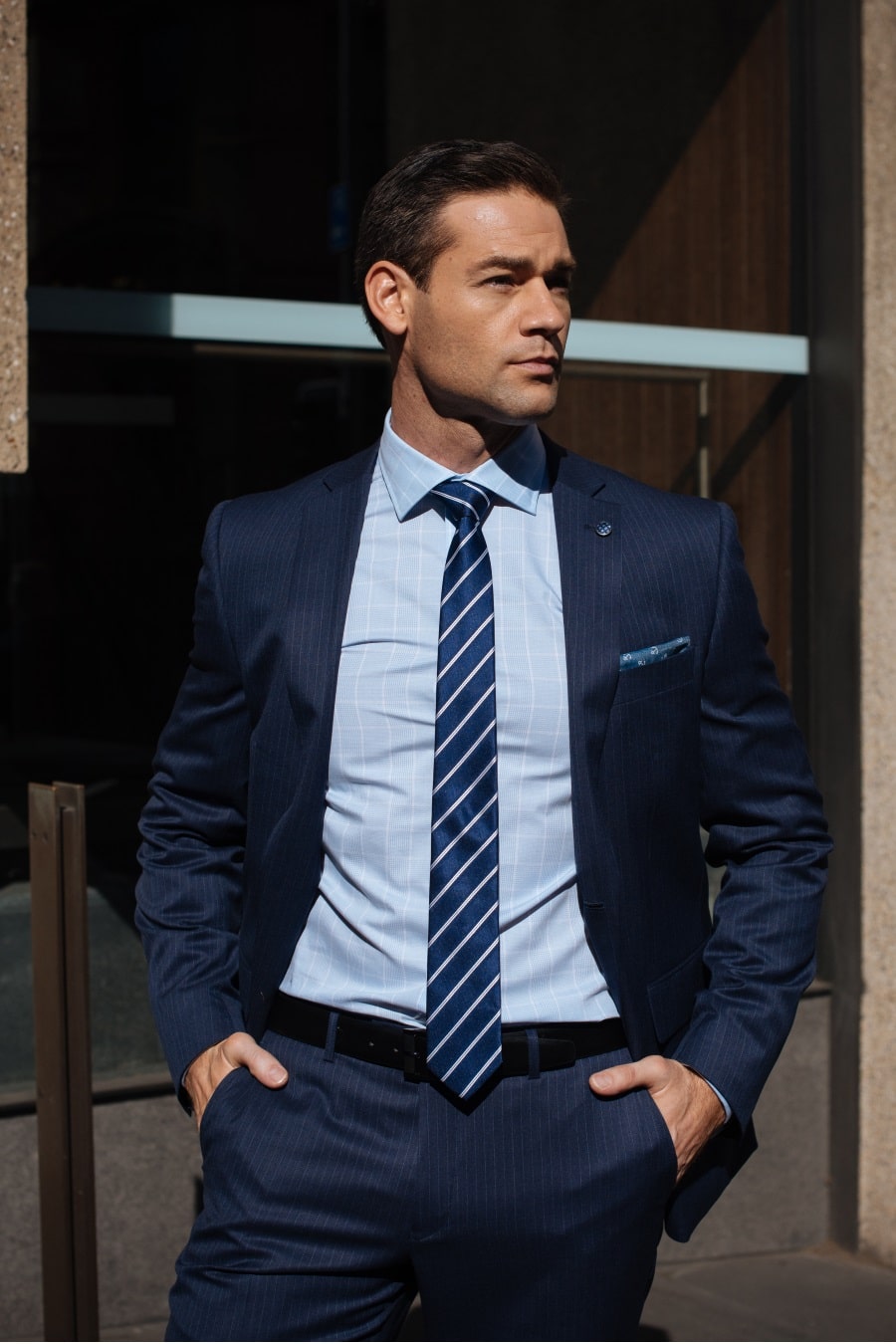 Everest Stakes
The pinnacle of Randwick's annual racing line up, the TAB Everest Stakes is the highest paying race in the Australian calendar, and is in fact the world's richest turf race, and as such, deserves the respect of a great outfit. This is one of the busiest days in the year for Royal Randwick offering a great opportunity to set yourself apart from the similarly dressed masses.
While a sea of navy blue will converge on both members' and GA stands for the Everest, there is no strict rule as to what to wear, other than the usual Australian Turf Club's set dress code (a necktie at all times in members' stands, no shorts etc, etc). Use this opportunity to work with texture and colour, as a reflection of Spring having well and truly kicked off. The traditional flower to wear to the Everest Stakes (even if it is a new race) is a white rose.
Use the opportunity to make a semi-formal suit, either dark or light, come to life with a fresh display of jewellery and accessories, being careful not to over-do it. And keep your lapel free for that crisp white rose upon entry.
Get the look: Black Label Euro Tailored Fit Pintstripe Juacket, Black Label Tailored Fit Pinstripe Pants, Classic Relaxed Fit Shirt, Navy Diagonal Dual Stripe Tie, Blue Anchors Pocket Square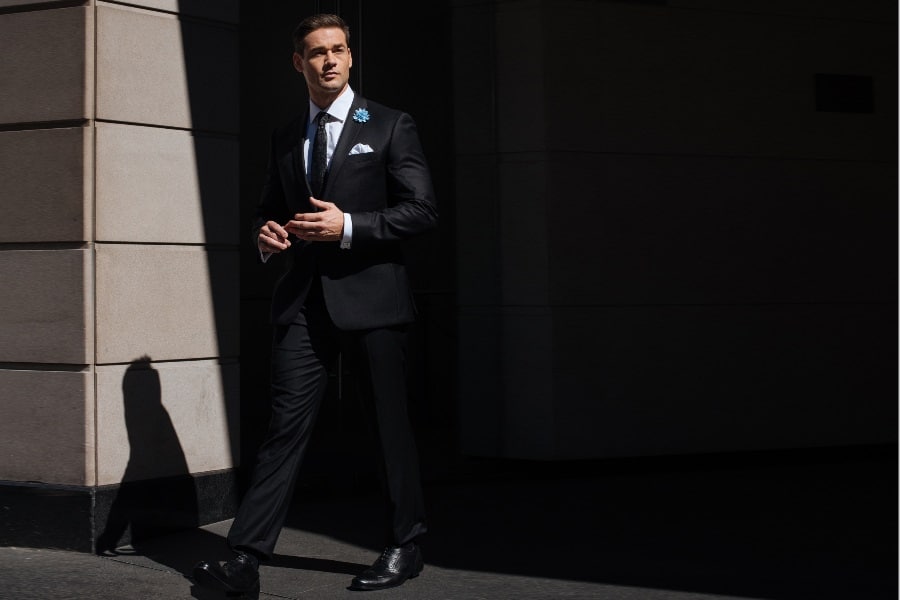 Derby Day
Derby day is arguably the most formal in Australia's racing landscape, as it calls for a strict eschewing of any forms of colour, though don't let this stop you from getting creative in other ways. Ladies attending Derby Day will traditionally stick to only black and white, but gents have been known to mix it up with the inclusion of greys and different textures throughout their accessories.
If you're not feeling too adventurous, stick with a plain, well-fitted black suit and a crisp white shirt. From here, black oxford shoes, a grey or textured black tie and a white pocket square is the perfect way to guarantee a slick and successful look on Derby Day. Keep accessories neutral, too: platinum and silver are far preferable to gold, or anything even slightly blingy.
If you feel like drawing outside the lines a little then opt for a grey or pinstriped suit, keeping with the plain white shirt and a plain tie. Never wear a shirt darker than your suit (the black and white theme harks back to race meets of old, not a school formal) and remember that if there ever was a day in Australia to don a morning suit and top hat a la Ascot, this is it, (if you are so inclined). The flower of choice for Derby Day is the cornflower.
Get the look: Euro Tailored Fit Jacket, Euro Tailored Fit Suit Pant, Classic RelaxedFrench Cuff Fit Shirt, White Pocket Square , Black Oxford Brogue Shoe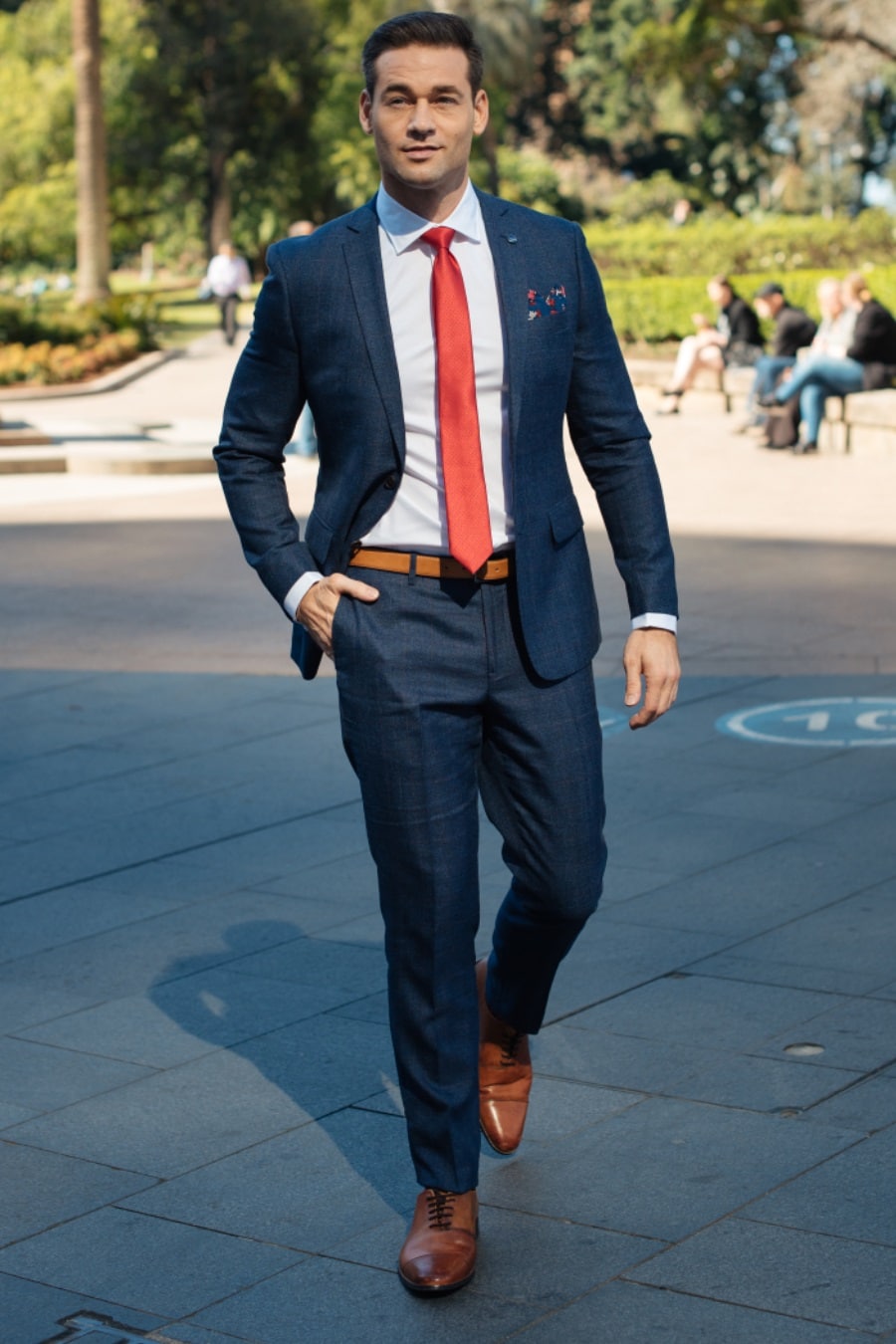 Melbourne Cup
It's not called "the race that stops the nation" for no reason. Held on the first Tuesday in November every year, it's the highlight of the entire nation's racing calendar, a public holiday in Victoria, and an excuse for just about every Aussie to put a cheeky bet on (even if it is just the office sweepstakes).
Arguably the most fashionable day in Australia each year, Melbourne Cup day generally elicits a no-holds-barred level of peacocking from the crowds of young men (and women) who flock to Flemington every year, to strut their best looks. This is where getting your accessories perfect is par for the course, and a splash of complementary colour isn't just advised, it's a requirement if you're planning on standing out.
Start with a suit that you're going to be comfortable in all day long. This can be any colour (though keep fluorescent or novelty prints for your next buck's night: you're still at the races, after all), and don't be afraid to mix and match your separates here for the desired effect. Once you've got your suit (or at least blazer) organised, it's time to look at a shirt and accessories. Keeping to a plain shirt (either in white or a pale blue, preferably) will allow the tie / pocket square combination to do most of the legwork; not to mention the belt, shoes, cufflinks and watch.
Make sure the tie and pocket square are complementary but not identical, and don't be afraid to clash textures if the colours work. Try to stick to bold splashes of colour in your accessories, while keeping the foundations of the outfit slightly restrained. The Melbourne Cup's official flower is a yellow rose: keep this in mind when choosing your outfit's accoutrement.
Get the look: Black Label Euro Tailored Fit Navy Check Jacket, Black Label Euro Tailored Fit Navy Check Pants, Classic RelaxedFrench Cuff Fit Shirt, European Silk Tie, Mixed Floral Pocket Square, Plain Tan Oxford Shoe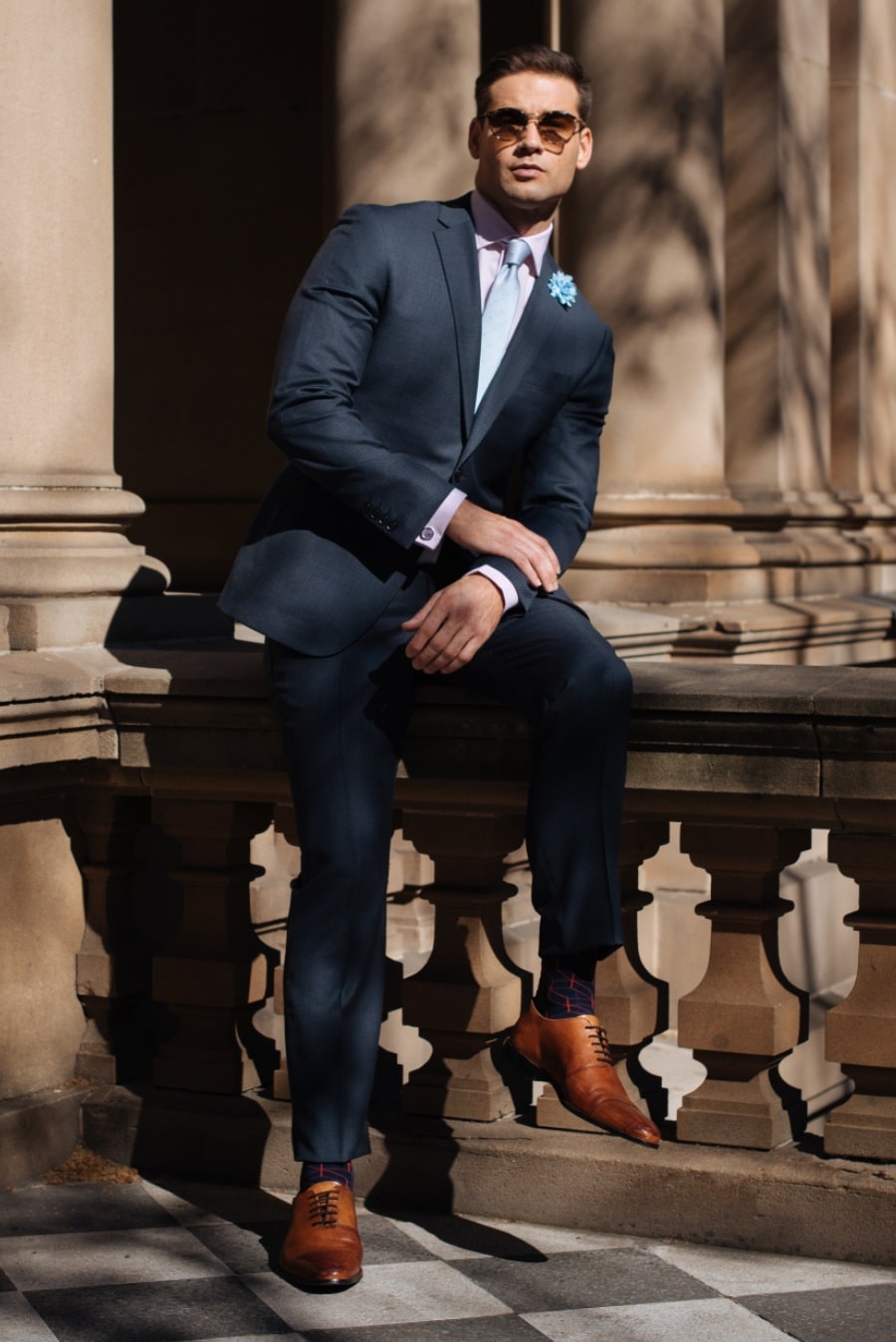 Oaks Day  
Though it's seen a few name changes over the years, Oaks Day is still remembered by most as Ladies' Day, and as such, is more a time to let the outfits of the fairer sex shine. This provides a great opportunity to step out in lighter tones and with more conservative colours, to give the spotlight to the ladies, but also to give your wardrobe a break from the expectations of other race days.
Something light, such as a beige or a grey suit, is a perfect place to start. Keep the laidback-formal look going with brown brogues or double monks, and a gentle splash of colour in your shirt (think Denny Crane in pastels). Working with lighter colours is a great way to stay semi-formal, but not steal the show (which is anathema on Ladies' Day). Use accessories sparingly and remember that the flower for Oaks Day is a pink rose: if pink isn't usually your thing then today is the day to give it a whirl, especially in your shirt, tie or pocket square.
Get the look: Black Label Euro Fit Nailhead Jacket, Black Label Euro Fit Nailhead Pants, Classic Relaxed Fit Herringbone Shirt, Classic Cross Stitch Tie, Plain Tan Oxford Shoe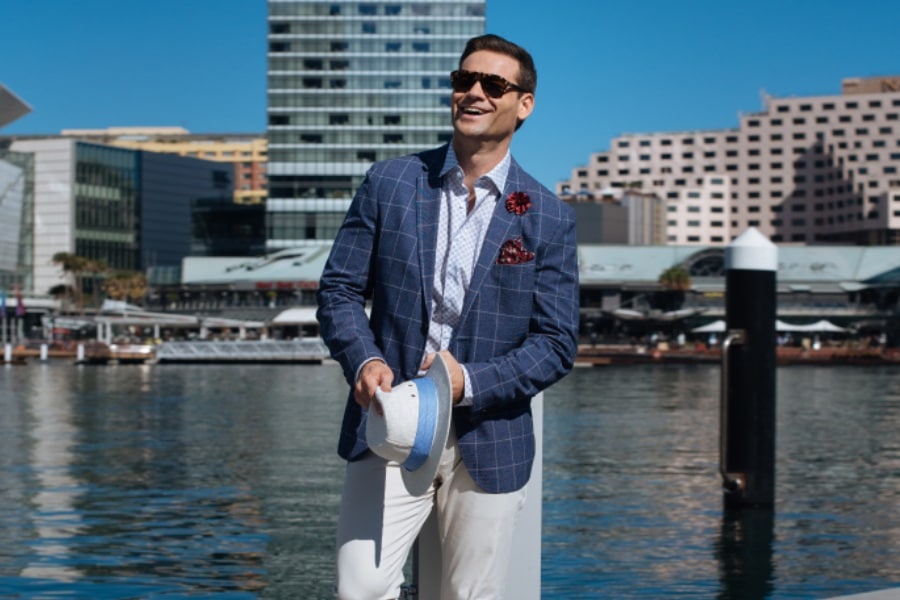 Stakes Day  
The Emirates Stakes is the final day in the Melbourne Cup racing calendar, and is more suited to families than it is packs of louts screaming at a TAB screen. Following this theme, it's a good opportunity to observe comfort over all else, remembering that you can tick all the dress code boxes without necessarily feeling like a penguin in a tuxedo.
Simple leather (or suede) loafers with clean, pressed chinos and a matching belt is the best foundation for a blazer and a shirt. Get creative with windowpane check: it's a playful pattern that doesn't make it out all too often. If you're going with a chequered blazer, stick to a plain shirt and vice-versa. If you're going to wear a lot of colour in your shirt or blazer, keep the tie and pocket square more conservative in nature (though don't be afraid to work with complementary colours from the same palette, instead of the same tone throughout). Stakes Day gets a red rose, making it the most romantic of the race days (despite the kids running around GA), and is the quietest day of the Melbourne carnival.
There you have it folks, a simple guide to the race days we cherish the most in Australia, and how to dress for each one so that you'll feel a million dollars, no matter how much you win (or lose). By sticking to a few key principles, and taking a couple of small risks (or, at least, steps outside the box), you can join in the fun trackside, and partake in one of the country's favourite sports, without feeling like your outfit doesn't stack up.
Get the look: Casual Navy Window Check Blazer, Euro Tailored Fit Chino, Euro Tailored Fit Shirt Blue Fine Stripe, Navy Roses Pocket Square
Even if your current wardrobe puts you at long odds, Van Heusen offers a huge range of everything we've mentioned above, to make this spring racing season the most sartorially simple yet.
Enter Here to Win a $1,000 Online Voucher at Van Heusen!
To celebrate the start of the Spring Racing Carnival, Man of Many has teamed up with Van Heusen to give away a AUD $1,000 voucher to one lucky reader.
Giveaway – $1,000 Van Heusen Online Voucher

Have you subscribed to Man of Many? You can also follow us on Facebook, Twitter, and Instagram.