Supreme Acquired By The North Face Owner For $2.9bn
VF Corp. has acquired leading streetwear brand Supreme in one of the biggest sales in streetwear history. It was announced overnight VF Corp – the owner of Timberland, The North Face and Vans – had acquired Supreme off the back of the brand's record four-year sales increase. The acquisition far exceeds the company's monumental sale to Carlyle Group in 2017 that came to the tune of USD$500 million.
You'll also like:
We'd Sell an Organ for the $2600 ACRONYM J1W-GTPL
Supreme's Mortal Kombat Arcade Cabinet is Ready For a Fight
Supreme x AF1 Nike Low Will Restock Throughout the Year
We welcome Supreme to our family of brands.https://t.co/ZS5caV3EdR pic.twitter.com/pXPKhXvuC4

— VF Corporation (@VFCorp) November 9, 2020
Founded in New York City in 1994, Supreme is known for its products that display the trademark red and white box-logo. The brand has a mere 12 brick and mortar stores globally, yet yields annual revenues in excess of USD$500m. The sale further validates Supreme as the most successful streetwear brand ever and lays the groundwork for continued long-term growth.
The current ownership is spread between James Jebbia (founder), Carlyle Group, and Goode Partners (private equity). In a joint statement overnight the two entities revealed they inked a "definitive merger agreement." Once the deal is signed, VF Corp. will own 100 per cent of Supreme.
It's been a big couple of years for Supreme. The streetwear brand is now valued at USD$1 billion more than it was four years ago, growing its cult status off the back of a trademark scarcity model. Hype sells, and when Supreme 'drops' a coveted item it will typically sell out within 15-60 seconds. The reason? A Supreme item will yield returns in excess of 300 per cent on the 'resale' or 'secondary market' depending on the rarity. Some of the most sought after Supreme box-logo sweaters can fetch upwards of AUD$10,000.
The company has made economic leaps and bounds over the last four years. Transitioning from a skate brand for 'in the know' fashion fiends into a more accessible brand that still carries the exclusive 'allure' it built its name off. "This partnership will maintain our unique culture and independence while allowing us to grow on the same path we've been on since 1994." said founder James Jebbia.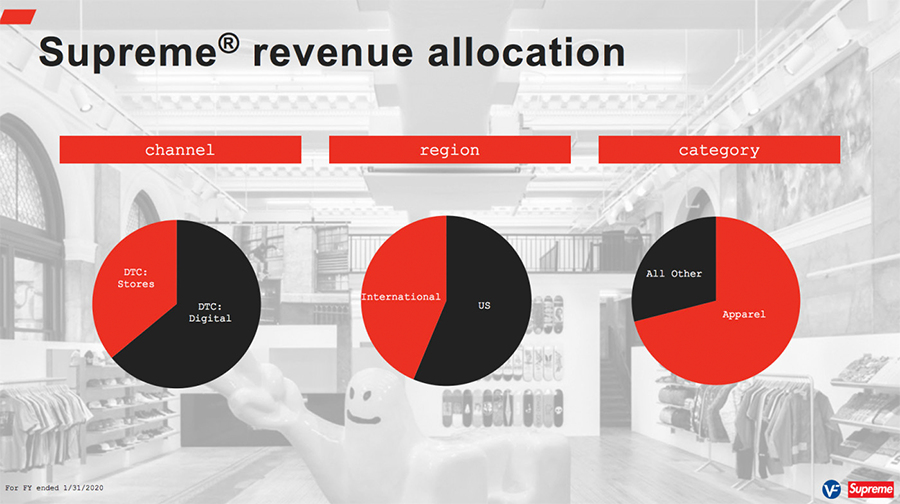 Since the Carlyle Group's 50 per cent acquisition in 2017, many Supreme heads have accused the brand of selling out by offering a range that is more widely available. The truth is, the acquisition by VF Corp. isn't necessarily the nail in the coffin many believe it to be. VF Corp. is claiming it wants to let the company grow organically (8-10 per cent per annum) by opening up brick and mortar stores internationally. Supreme will never be the super exclusive brand it once was but by taking advantage of its existing direct-to-consumer market base the brand isn't going to be found in your local shops anytime soon.
"We are thrilled to welcome Supreme to the VF family and to build on our decades-long relationship as we create value for all of our stakeholders," says Steve Rendle, VF Corporation Chairman, President, and CEO. "We are not coming in to make changes. We're here to support and enable."
"The acquisition of the Supreme brand is further validation of our vision and strategy to further evolve our portfolio of brands to align with the total addressable market opportunities we see driving the apparel and footwear sector."
In an industry where scarcity sells, could big business be the answer or the antidote?
You'll also like:
Elon Musk is Selling Tesla Short Shorts for $69.420
Supreme's Mortal Kombat Arcade Cabinet is Ready For a Fight
Supreme x AF1 Nike Low Will Restock Throughout the Year