The Simpsons x Balenciaga is an Ode to Demna Gvasalia
Fashion head or not, you'll want to watch this 10min advertising campaign (linked here) orchestrated by none other than Balenciaga's own Demna Gvasalia. The video previews a new The Simpsons x Balenciaga campaign that is available everywhere right now, although most pieces are already sold out. And that's precisely the point.
You'll also like:
The $750 Balenciaga Fornite T-Shirt is for Uber Rich Gamers Only
Would You Rock the Balenciaga x Crocs Stiletto Clogs?
The Balenciaga PlayStation T-Shirt Costs More Than an Actual PS5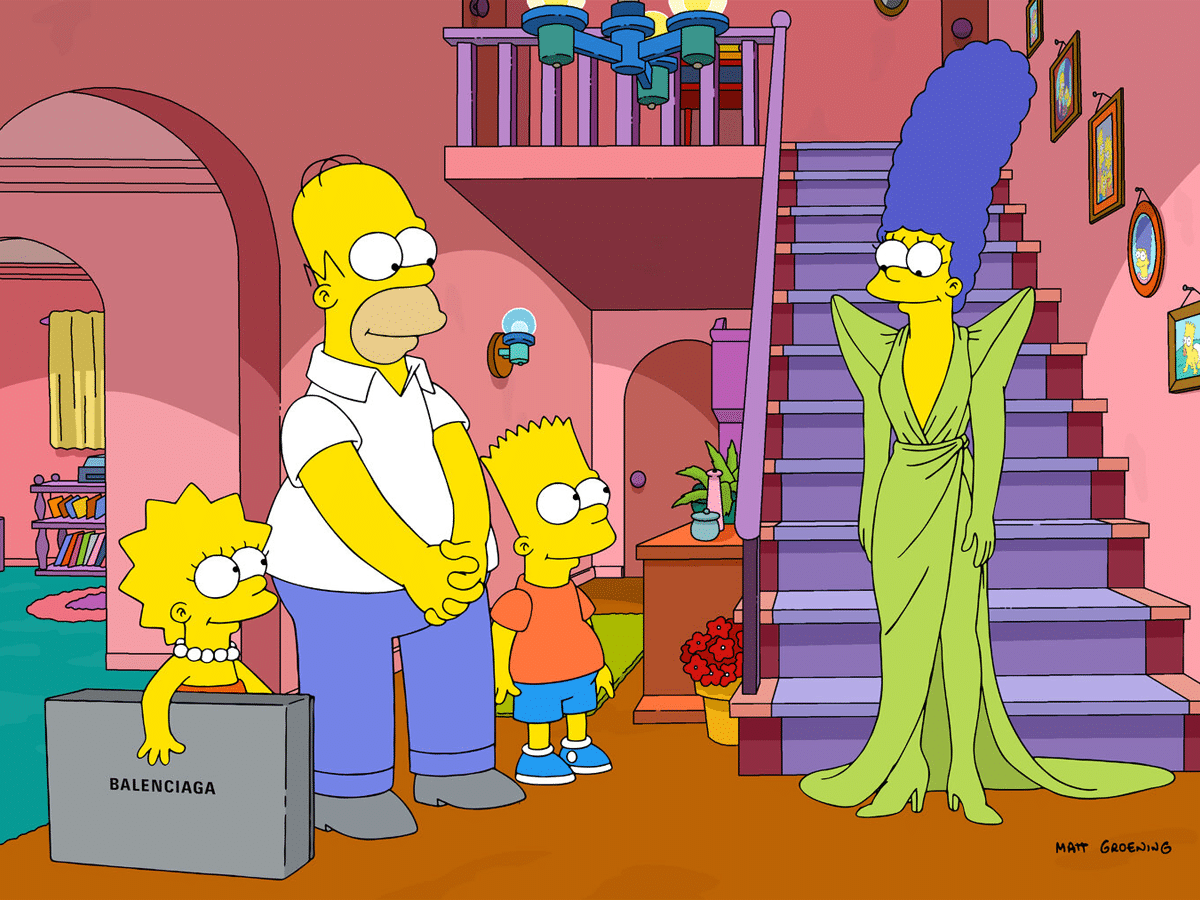 Balenciaga, or more specifically creative director Demna Gvasalia, does whatever he wants when it comes to fashion. In an industry that ceases to negotiate overconsumption, Demna is changing the narrative. Whether you appreciate his design language and eye for piggybacking on emerging trends and creating his own lane from those that already partially exists – Balenciaga has absolutely no problem selling products.
This is the model for which Demna strives to achieve. He creates ready-to-wear pieces that channel everything we've grown to love (and hate) about streetwear and plays with the ideas of maximalism, consumerism and a slew of what Aussie's would define as 'pisstakerism'. He pushes the boundaries so far, it becomes something more than just a statement garment.
While you can look at Balenciaga from a cynical perspective "oh he just slaps a screen-printed logo on heavyweight blank and adds a $1000 price tag" you'd be missing the point. Demna pushes the boundaries of what high fashion once found unacceptable and elevates the core values of 'streetwear' in the process. You could argue he's solely responsible for driving the streetwear and high fashion crossover culture we live in today, and with brands built on high-level collaborations, limited releases that sell out in minutes and a ready-to-wear aesthetic – you'd probably be right. You might find the $750 Balenciaga Fornite T-Shirt perplexing, but it sold out, and that's all part of the plan.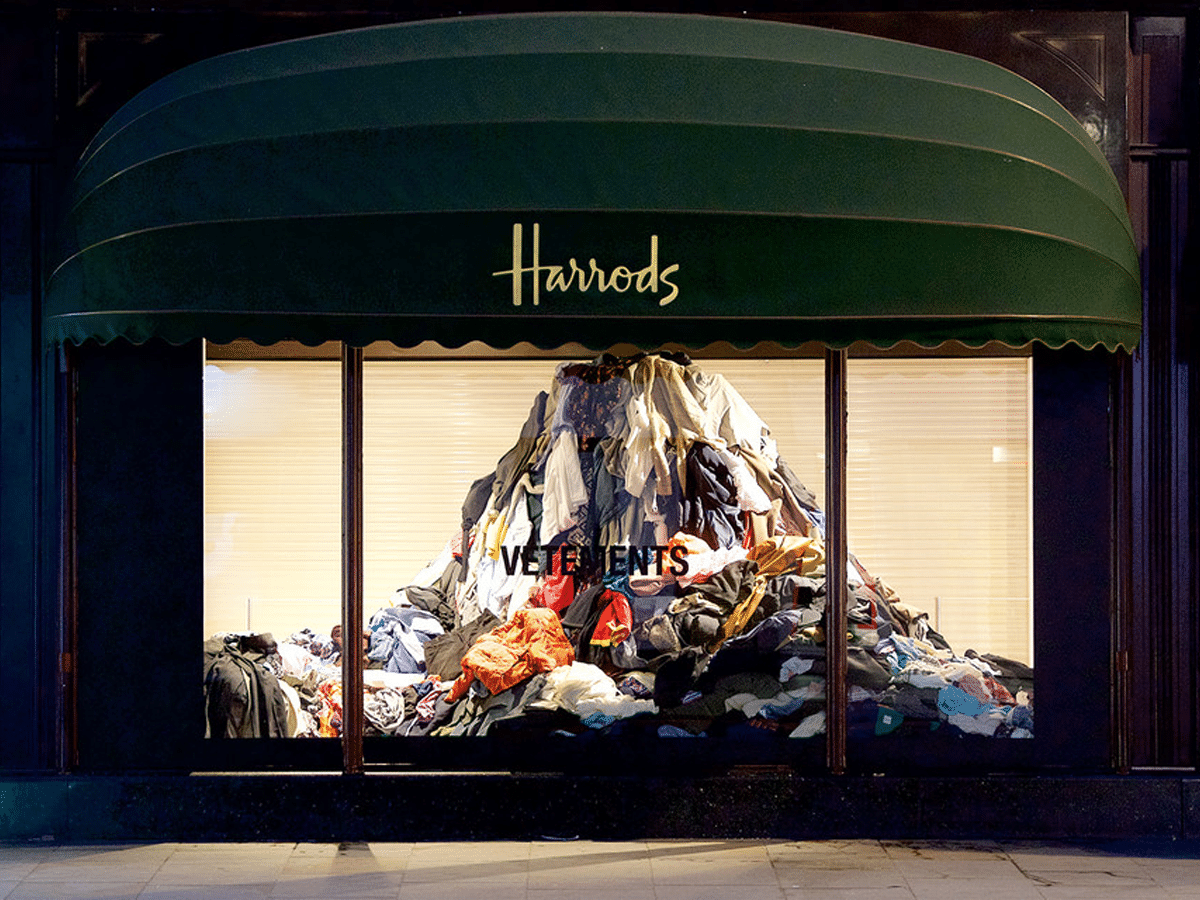 In 2018, Demna's other designer label Vetements – which arguably pushes this idea of consumerism even further – had a famous four window instalment at Harrods. While not one of the most headline-worthy fashion articles in recent times, VOGUE had the chance to speak with Demna on waste and the role designer labels have to play in the industry. It spelt out exactly what Vetements, Balenciaga and Demna stand for in today's industry.
"At the end of the day, you only have a certain amount of people, who are actually willing to buy your clothes. No matter what you do, this number is limited"
"We don't have our own stores. We don't push stores with minimums. We've started to limit quantities,"
Taking responsibility for overproduction, something that remains core to his labels today, with just about every collaboration selling out on the first day. Scarcity drives sales, as does big brand collaboration as seen with the likes of Fortnite, Crocs, and The Simpsons amongst many more. While his design language and style might not suit the high fashion agenda, he's not in the business of simply following the status quo.
"I sold four-thousand pairs of sneakers on Ssense.com in four days, but this is not my goal anymore. It breeds greed. I'm not chasing numbers. I don't need my company to be worth a billion. You can make money like that much more easily outside of fashion," he said to VOGUE.
Clarifying that "our stuff is expensive because it's limited," and speaking to the way the industry is driven by wrongful business strategies and distractions. You might disagree with $1000 hoodies with screen printed logos, but Demna is carving his own lane in a dog eat dog industry with a sustainable mindset. We're here for that.
We highly recommend reading the full interview with VOGUE to learn and hear more from Demna Gvasalia. Maybe your opinion on $1000 hoodies might change, maybe it won't, but that's ok too. Linked below.
You'll also like:
The $750 Balenciaga Fornite T-Shirt is for Uber Rich Gamers Only
Would You Rock the Balenciaga x Crocs Stiletto Clogs?
The Balenciaga PlayStation T-Shirt Costs More Than an Actual PS5