This Season's Best Overcoats, Trench Coats, Pea Coats and Mac's
The weather is starting to get cold here in Sydney, so today our focus is on the almighty coat, specifically overcoats, trench coats, pea coats and macs. Read on to see what's trending this season and to find the best coats that are right for you.
---
You'll also like:
100 Best Watches Under $1,000
Menswear Maketh the Man – Mr. Porter Kingsman Season 4 Collection
Marks & Spencer Suits All Your Needs
---
Overcoat
The "overcoat" derived its name by going over your clothing (a-duh), but also for going the extra mile–or extra inches rather–by being longer and heavier than the average coat. Here are this season's hottest offerings:

ASOS Wool Mix Double Breasted Overcoat
The ASOS Overcoat flaunts enough pockets to store all your accessories, a handsome aura of sophisticated grey marl and a wool-mix fabric that makes you feel warmer by just looking at it. All that and more makes it easily one of the best coats this season.

MKI Single Overcoat
The new offering from fashion gurus MKI puts some small twists on the classic Single Breasted Overcoat, such as exaggerated peak lapels, welt pockets and wooden buttons. They use 100% Melton Wool to pair ample comfort with signature style. After all, the best coats are often the warmest.

Tomorrowland Wool Chester Overcoat
Japan-based retailer Tomorrowland uses a blend of 90% wool and 10% nylon to create reliable warmth on the outside, and 100% Cupro lining for silky smoothness on the inside. The overcoat also features notched lapels, two-button fastening, buttoned cuffs and plenty of pocket room.
---
Trench Coat
The trench coat was invented in the 1800s and rose to prominence during World War One, when it became the raincoat of choice among military officers commonly engaged in "trench" warfare. Though a trench coat can often employ a variety of materials, what initially separated it from the herd was the use of gabardine, a tightly woven, ultra-strong fabric that can withstand rain and harsh weather. Trench coats are normally double-breasted with wide lapels and plenty of buttons. Here are some recently launched trench coats worth scoping: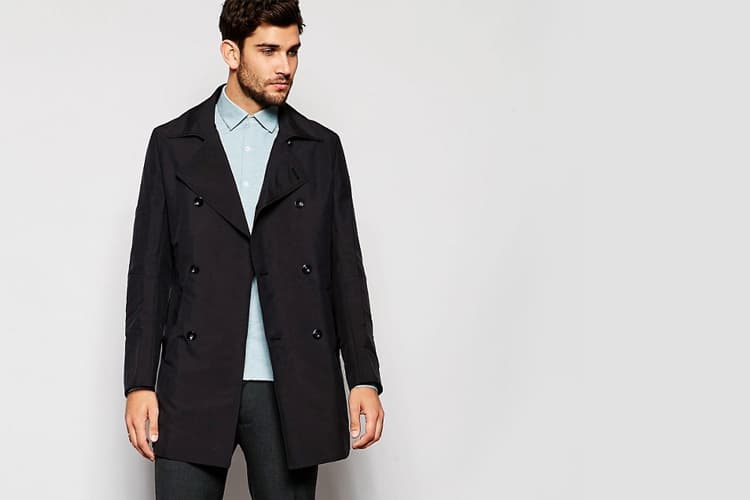 Reiss Double Breasted Trench Coat
The Reiss Trench Coat captures the essence of sharpness through a spread notch lapel, a fabric profile of Polyester and Viscose, and a straight cut. This is a product that explains without words how the trench coat has made a progressive and stylish journey since its initial use among military officers.

Minimum Trench Coat
Keep it fashionably basic with the Minimum, a 100% cotton trench coat that can be machine washed and almost looks like the world's longest and most dependable dress shirt. It features notch lapels, button placket and striking colour among other things.

ASOS Shower Resistant Trench Coat
Like many of the best coats, the highly affordable ASOS is all about comfort and durability. That's thanks to a woven Polyester outer composite and cool spread collar. It also comes with a classic belt and buckles in case you want to tighten it up.
---
Pea Coat
The Pea Coat is part of the overcoat family but like the trench coat it was originally used in the military, namely among European sailors and American Naval officers. In addition to normally being made of dark blue, heavy wool material, the pea coat is commonly identified by stocky lapels, big buttons, vertical pockets and double-breasted fronts. The pea coat is now common in the global marketplace but it retains many of the features from when it was used exclusively to keep maritime officers warm at sea. Here are this season's stunners:

New Look Peacoat
The New Look's heavyweight wool blend is guaranteed to keep you warm in the coldest of conditions. The coat also includes oversized notch lapels, double breasted fastening and an internal pocket lining to guarantee optimal performance in addition to its effortless style and comfort.

River Island Peacoat
The mid-weight River Island balances fashion and function with an added touch of cosy allure thanks to a detachable, eye-grabbing faux-fur collar. One look and you can see why it's on our list of best coats.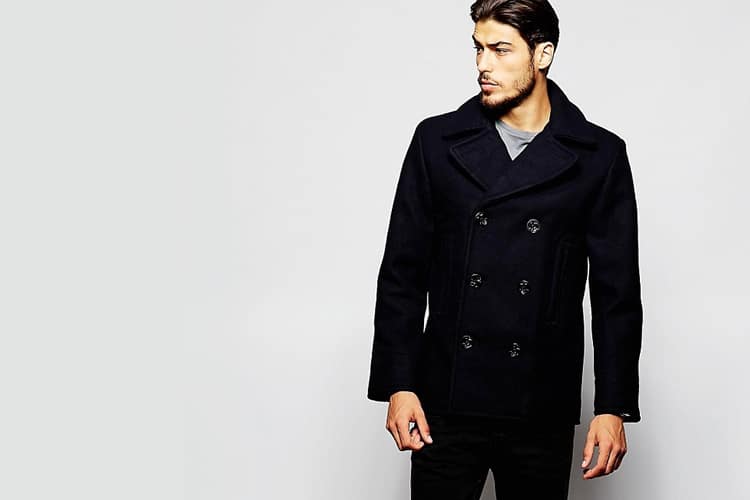 Denim & Supply by Ralph Lauren Peacoat
Ralph Lauren takes a no-frills approach to the peacoat with the Denim & Supply. The coat personifies straightforward, handsome sophistication and will subtly inject a high dose of cosy class into any man who wears it.
---
Mac Coat
"Mac" is short for Macintosh (or Mackintosh depending on who you ask), a waterproof raincoat named for its Scottish inventor, Charles Macintosh. The Mac was originally made of a rubberized or rubber laminate material and has since broadened its fabric profile to keep pace in the world of retail. Here are some of the latest and greatest Macs to hit the market:

ADPT Mac
The ADPT is all about signature smoothness and incredible lightness. Utilising 100% cotton and hanging just below the waistline, the ADPT practically begs others to reach out and start caressing it, which could be a good thing. In fact, some people might argue the best coats are the ones that invoke touching…from the right people of course.

Rains Mac
Stay dry and stay classy in the new Rains Mac, which features modified water-resistant seams and a lightweight fabric. This is a true modern day classic.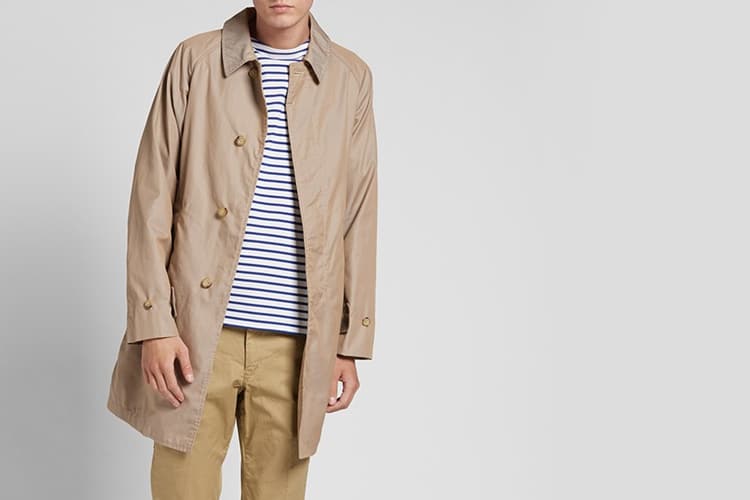 Beams Plus Cloth Mac
The Beams Plus Cloth puts a contemporary spin on the traditional Mac style. That means employing superior craftsmanship, the finest Japanese Cotton Twill fabric, and the best in modern design to achieve honoured reliability.
Have you subscribed to Man of Many? You can also follow us on Facebook, Twitter, and Instagram.
---
You'll also like:
100 Best Watches Under $1,000
Coat Check – Your Guide To Winter Coats
Marks & Spencer Suits All Your Needs
---