10 Best Men's Shirt Jackets & Tips on How to Wear Them
A portmanteau of the words 'shirt' and 'jacket', the 'shacket', or men's shirt jacket, has made up the framework of quotidian dressing for decades of military men, labourers, and lovers of the great outdoors for decades. Providing a layer warmer than a shirt but cooler than a jacket, the shacket makes an ideal staple for trans-seasonal dressing, i.e. when the weather has no idea what the hell it's doing.
10 Best Shirt Jackets
Read on for our Man of Many approved shirt jacket picks.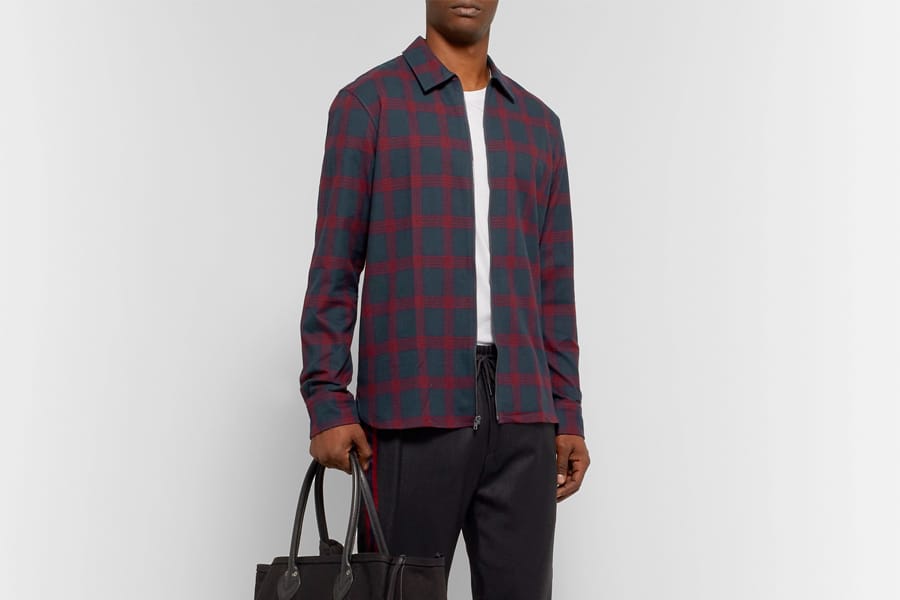 1. Club Monaco Checked Cotton-Flannel Zip-Up Shirt Jacket
Club Monaco gives the classic checked shirt a fresh take by ditching the buttons for a zipper, to provide a sleek silhouette. Cut from soft burgundy and navy cotton-flannel, the Club Monaco iteration works congruously with navy chinos, a pale blue or navy button-up shirt (leave the top couple of buttons undone), and dark brown leather brogues or white leather sneakers.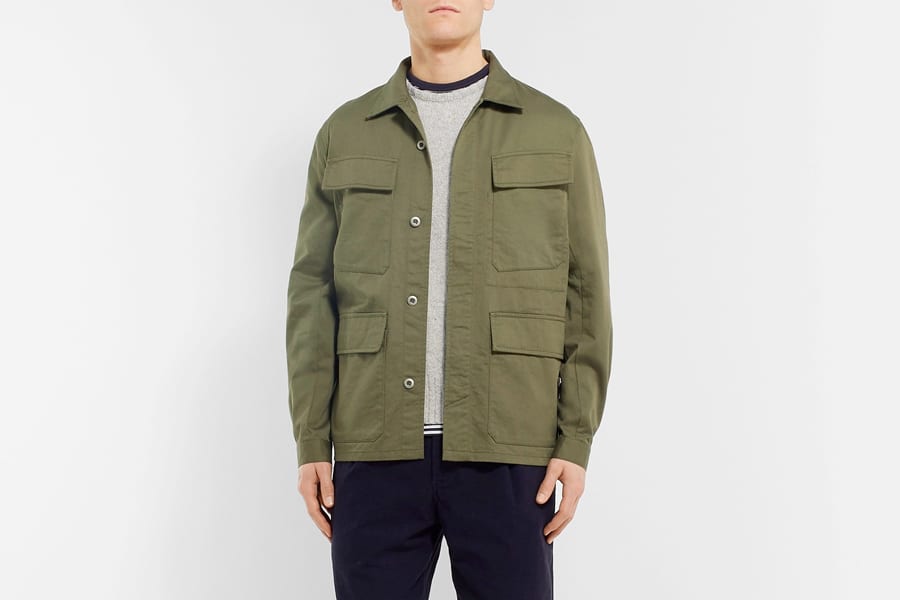 2. Universal Works Cotton-Twill
A traditional take on a military styling, Universal Works' creation is composed from cotton-twill with a boxy cut, making it easy to layer over sweaters. Deriving inspiration from classic workwear staples, it features four large flap pockets, making the need for a carry-all almost redundant. Pair with camel chinos or slim fit indigo selvedge denim jeans, a white t-shirt, and dark brown leather alpine boots.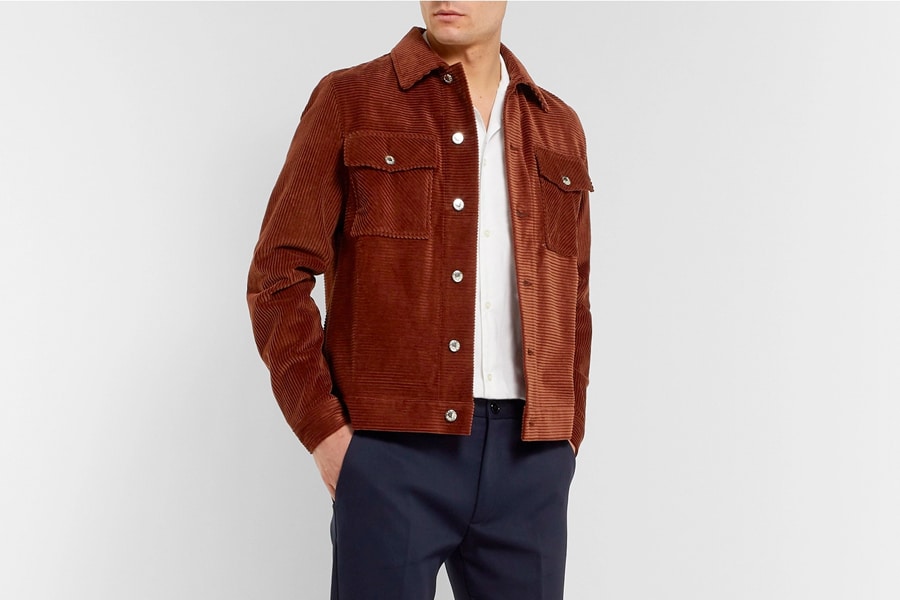 3. Séfr Eric Cotton-Corduroy Shirt Jacket
A dapper take on the shirt jacket, Séfr's cotton-corduroy iteration elevates the shacket from workwear staple to smart casual essential. Team with a light wool button-up shirt, navy chinos, and slip on tan suede loafers for the perfect afternoon drinks/yachting with the boys outfit.
---
Featured Video from Man of Many
---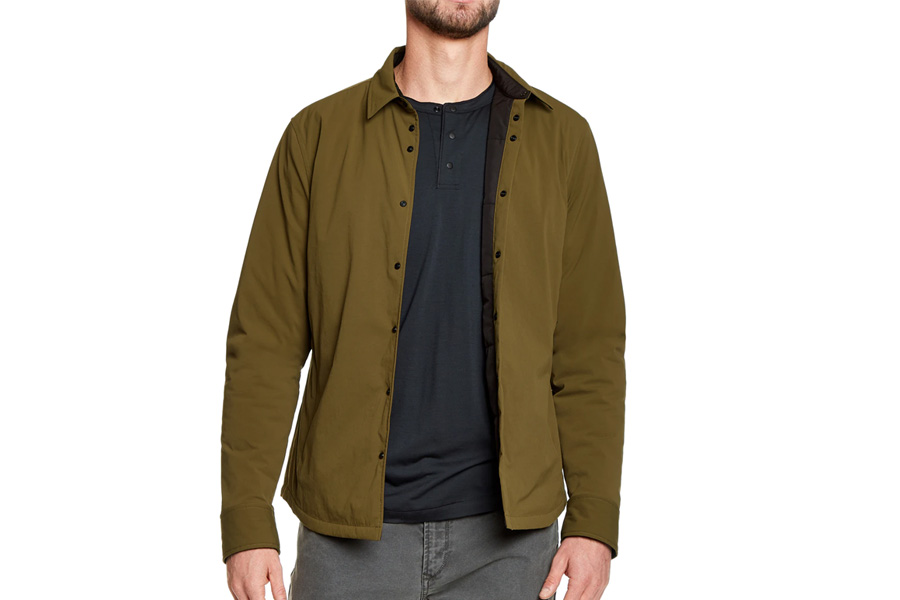 4. Proof Reversible Shirt Jacket from Huckberry
One of the most versitle shirt jackets on the market, Proof apparel is designed to have you ready for anything. The new Reversible Shirt Jacket keeps that mission alive with a laundry list of performance features and the ability to transform from outdoor puffy to happy hour layer at the drop of a hat. Style it with a chinos and a tee for that perfect weekend rugby vibe.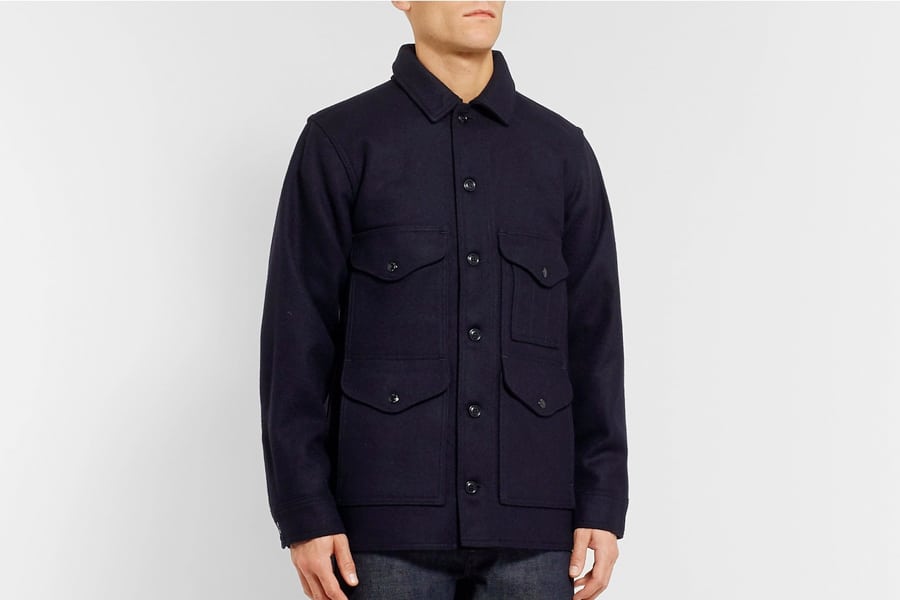 5. Filson Virgin Wool Shirt Jacket
Made from thick virgin wool, Filson's midnight blue shirt jacket cuts a slim silhouette, whilst being able to withstand the elements and provide plenty of wear. Pair the cosy piece with slim fit charcoal denim, a rust orange sweater, and dark brown oxfords or white leather sneakers.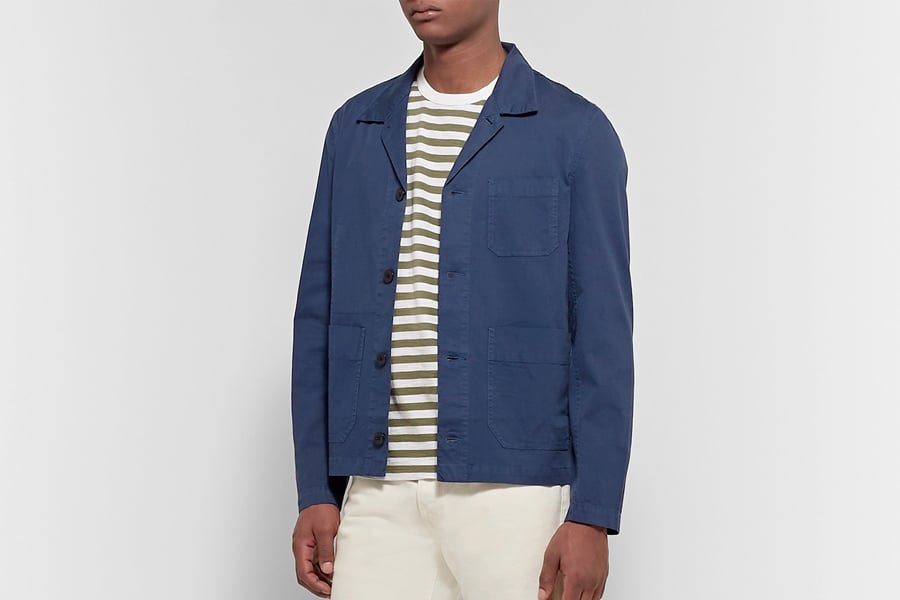 6. Alex Mill Slim-Fit Camp-Collar Cotton Blend Twill Shacket
A pared back take on the iconic French workwear jacket, this Alex Mill iteration is composed of lightweight cotton-twill for a durable, trans-seasonal piece. Wear with dark rinse jeans, a cashmere pale blue sweater, and dark brown leather brogues or combat boots.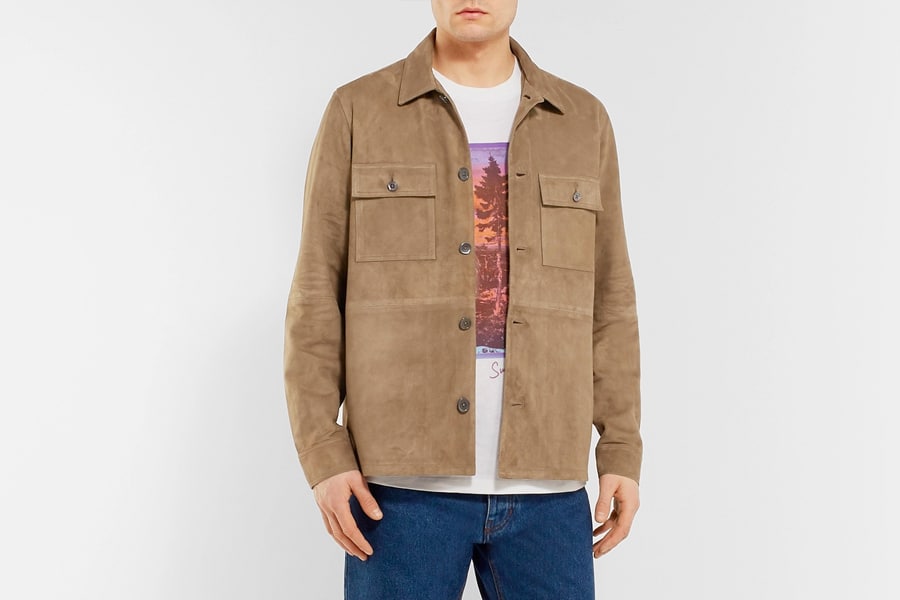 7. NN07 Suede Shirt Jacket
Made from supple suede, NN07's sandy-beige garment is straight cut and ideal for layering. Team with olive green chinos or charcoal jeans, a white t-shirt, and brown oxfords or white leather sneakers.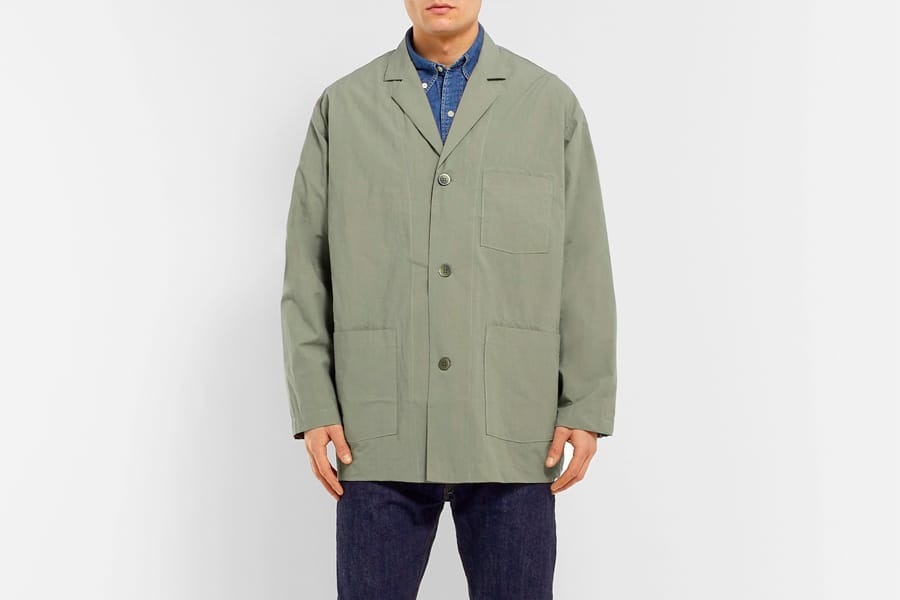 8. OrSlow Oversized Cotton-Canvas Shirt Jacket
Drawing inspiration from military attire, OrSlow's Japanese made shirt jacket is replete with large patch pockets and cut from sturdy cotton-canvas in light sage green for a relaxed, oversized fit; ideal for layering underneath. Wear with tan chinos, a cream oxford shirt, a navy sweater, and dark brown combat boots for a casual look.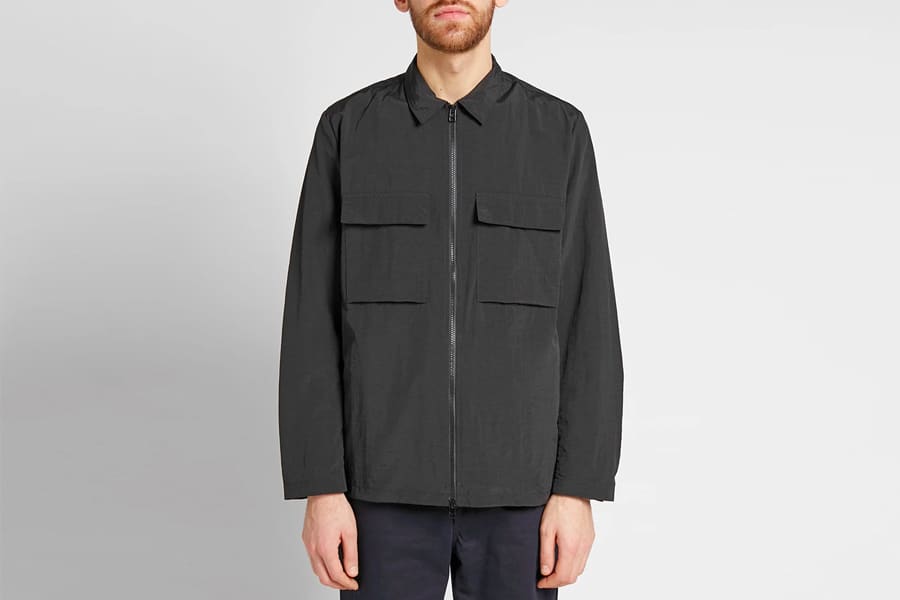 9. Norse Projects Jens Zip Overshirt
A streamlined approach to the workwear staple, Norse Projects' black zip-up is decidedly utilitarian. For a classy casual look, go monochrome by pairing the Jens Zip Overshirt with black chinos, a black button-up shirt, and black leather brogues.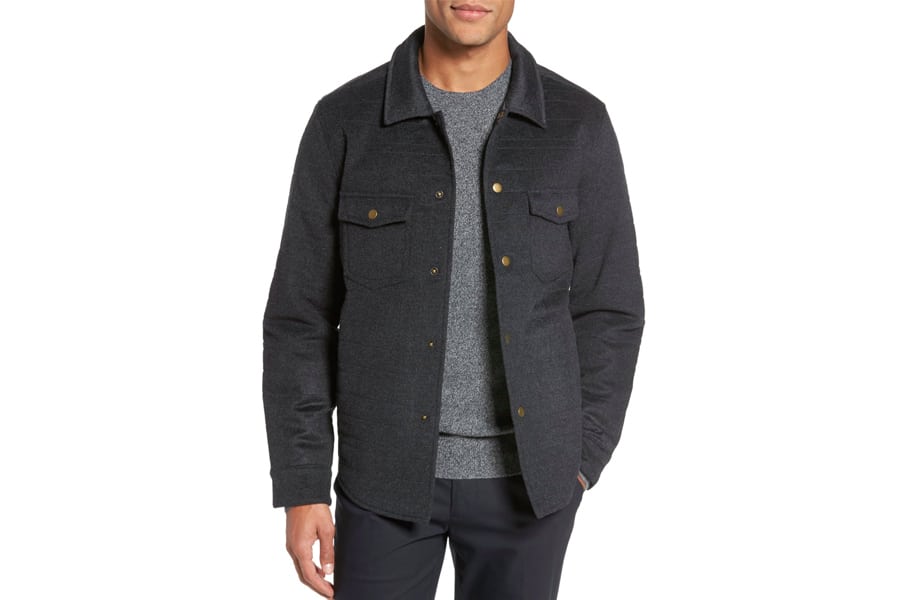 10. Billy Reid Michael Slim Fit Quilted Shirt
Billy Reid's steps it up a notch with his take on the shacket, incorporating a leather trim which provides strength and structure to the cotton-blend piece. A key trans-seasonal item, pair with dark charcoal selvedge jeans, a marle grey t-shirt, and black Chelsea boots.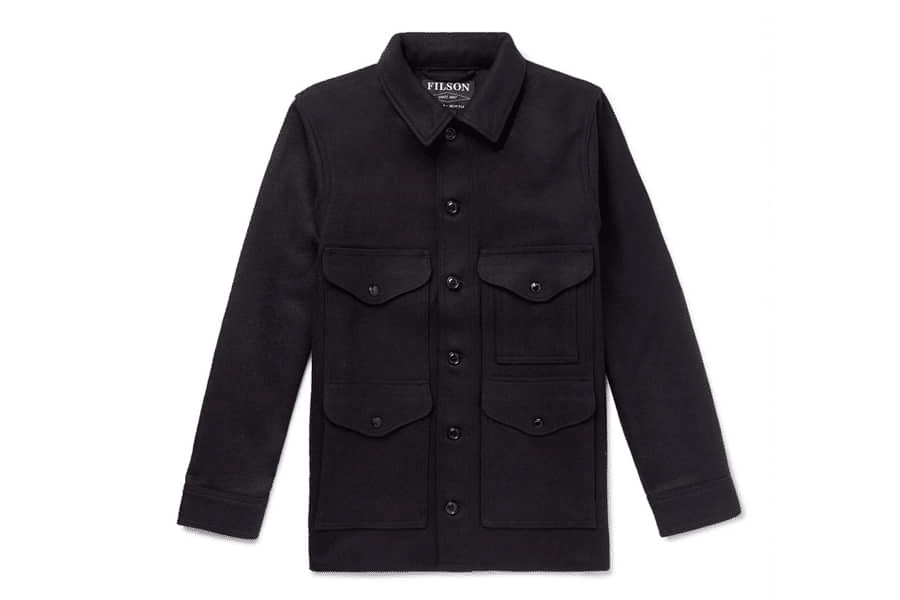 How to Wear a Shirt Jacket
The best shackets are typically made with material which is heavier and warmer than a traditional shirt. Think twill, denim, flannel, and brushed cotton. The adaptable nature of these allows it to be styled over lighter fare for autumn weather, or layered under a heavier coat during winter.
Though its military and workwear origins means that they look incongruous when paired with business wear or formal attire, as it is more than adept at taking you from relaxed to smart casual occasions.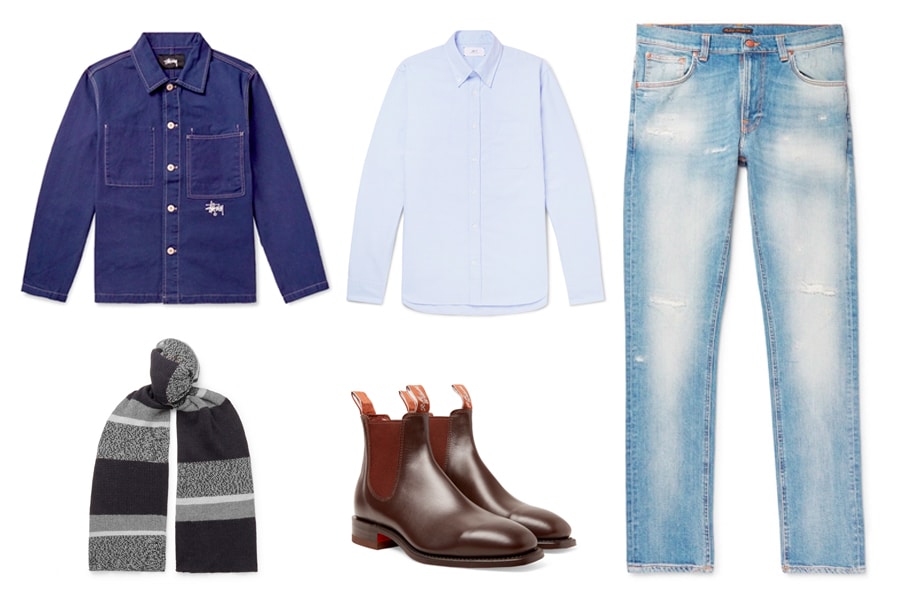 Wear a Denim shacket with jeans
Nail the always controversial double denim look by abiding by the cardinal rule of dark on top, lighter on the bottom. Pair a button-up indigo shirt jacket with medium rinse jeans, a baby blue oxford, and dark brown brogues or black Chelsea boots. During colder weather, throw a grey button-down sweater over the top to finish off the ensemble.
Alternatively, avoid the monochrome look by going for different coloured denim; opt for black with grey jeans, a white t-shirt, and black leather horsebit loafers or white sneakers.
Stussy Denim
Mr P. Button-Down Collar Cotton Oxford
Nudie Jeans Lean Dean Slim-Fit Tapered Distressed Organic Stretch-Denim Jeans
R. M. Williams Craftsman Leather Chelsea Boots
Inis Meáin Striped Baby Alpaca and Silk-Blend Scarf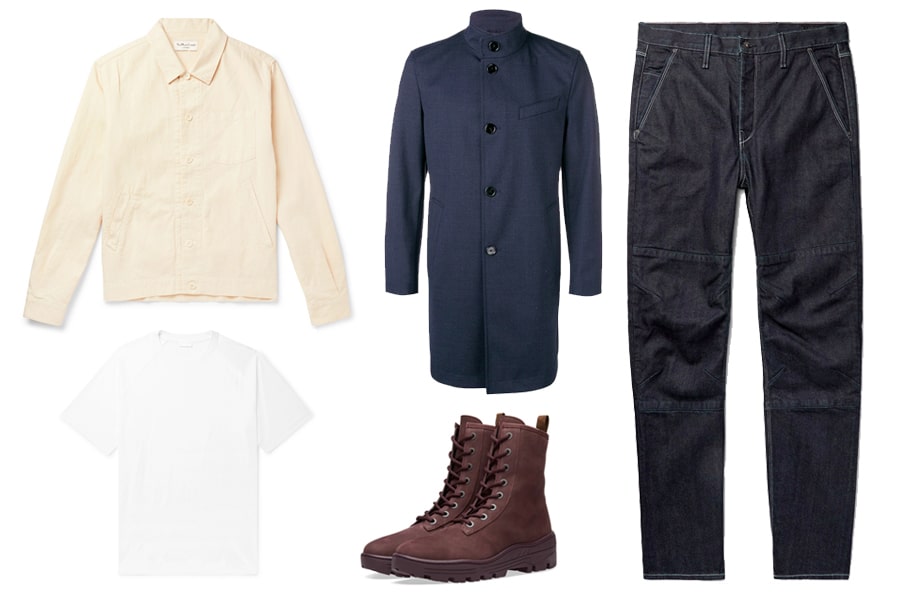 Layer up for Winter with a canvas shacket
Whilst the canvas shacket is a perfect Spring/Autumn staple, it also makes a great layering piece for the colder months. Keep things simple by pairing tan over a white t-shirt, dark jeans or chinos, and dark brown leather combat boots. Top the look off with a navy single-breasted woollen coat.
YMC Linen and Cotton-Blend Canvas Shirt Jacket
Handvaerk Pima Cotton-Jersey T-shirt
Hugo Boss Single Breasted Coat
Rag & Bone Engineer Workwear Slim-Fit Selvedge Denim Jeans
Yeezy Season 6 Combat Boot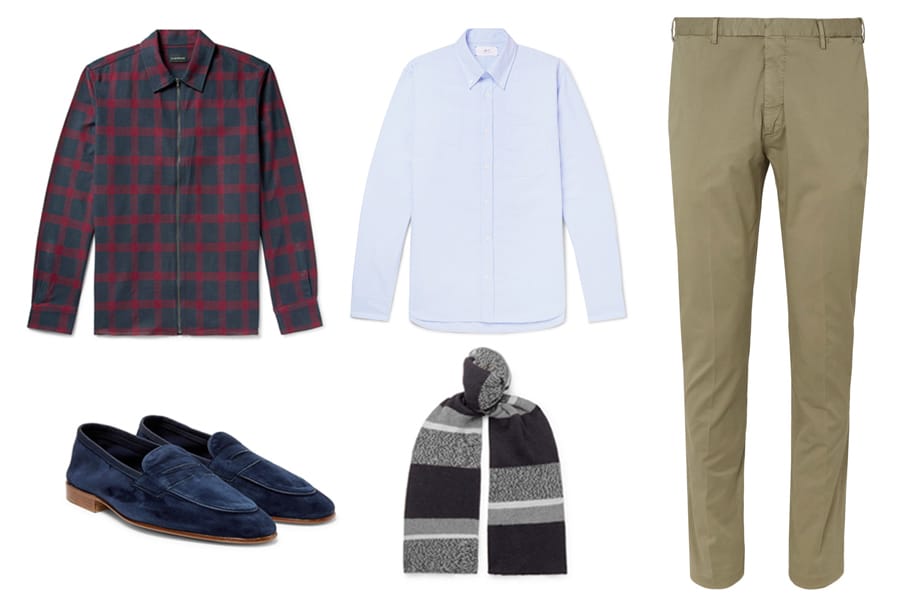 Flannel shirt jacket over chinos
For a classic Autumn look, pair a flannel shirt jacket with a pale blue or white oxford shirt, camel chinos, and suede loafers. If you're wary of coming across a little too Farmer Wants A Wife, opt for a zip-up version which provides a slimmer silhouette, and look for a variety with black or grey undertones rather than brown. Pair with slim-fitting black trousers or jeans, a white t-shirt, and black leather oxfords.
Club Monaco Checked Cotton-Flannel Zip-Up
Mr P. Button-Down Collar Cotton Oxford Shirt
Boglioli Green Slim-Fit Stretch-Cotton Twill Suit Trousers
Edward Green Polperro Leather-Trimmed Suede Penny Loafers
Inis Meáin Striped Baby Alpaca and Silk-Blend Scarf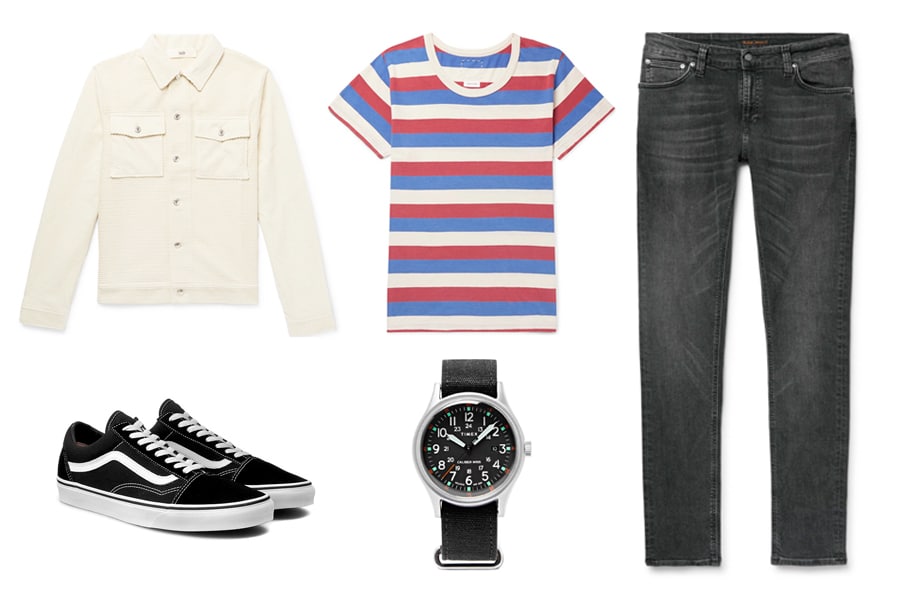 Corduroy shirt jacket with jeans
For a decidedly casual look, opt for a corduroy shacket worn with jeans, a statement t-shirt (logomania optional), and vans.
Séfr Eric Cotton-Corduroy Shirt Jacket
Visvim Striped Cotton-Jersey T-Shirt
Nudie Jeans Skinny Lin Organic Stretch-Denim Jeans
Vans Old Skool OS
Timex MK1 Camper Aluminium and Oiled-Canvas Watch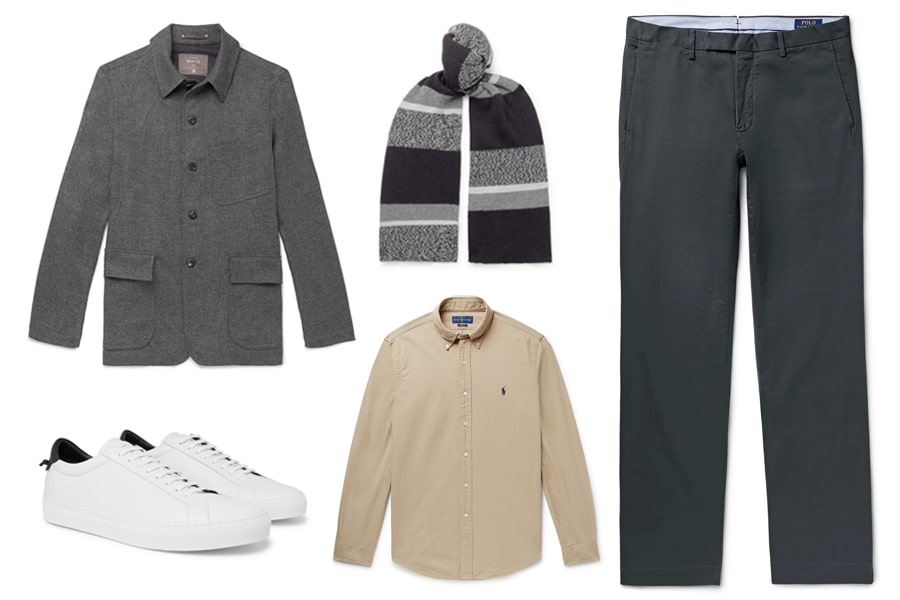 Switch out your blazer for a wool shirt jacket
The beauty of a luxurious wool shirt jacket is the way it sits on your shoulders; almost resembling a blazer more than an overshirt. Select wool in a neutral tone like charcoal, navy or grey, and pair with a button-up shirt, chinos (stone grey for charcoal, beige for navy, and navy for grey), and crisp white sneakers.
Private White V.C. + Woolmark Slim-Fit Herringbone Merino Wool Shirt Jacket
Polo Ralph Lauren Slim-Fit Button-Down Collar Garment-Dyed Cotton Oxford
Polo Ralph Lauren Slim-Fit Stretch-Cotton Twill Chinos
Givenchy Urban Street Leather Sneakers
Inis Meáin Striped Baby Alpaca and Silk-Blend Scarf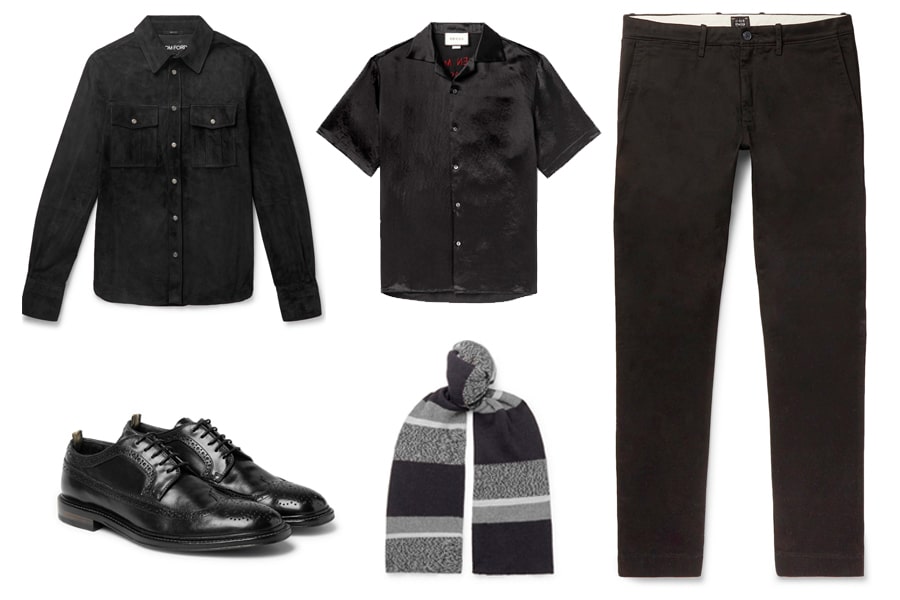 Black shirt jacket with chinos
For a smart-casual streamlined look perfect for Friday night drinks, go for a monochrome look by pairing an all black button-up shirt jacket with a black t-shirt, black chinos, and black leather brogues. Alternatively, for a relaxed concert style fit, opt for a black over a black jumper, relaxed fit pinstripe trousers, and sneakers.
Tom Ford Slim-Fit Suede Jacket
Gucci Camp-Collar Embellished Satin Shirt
J. Crew Black 484 Slim-Fit Stretch-Cotton Twill Chinos
Officine Creative Cornell Polished-Leather Wingtip Brogues
Inis Meáin Striped Baby Alpaca and Silk-Blend Scarf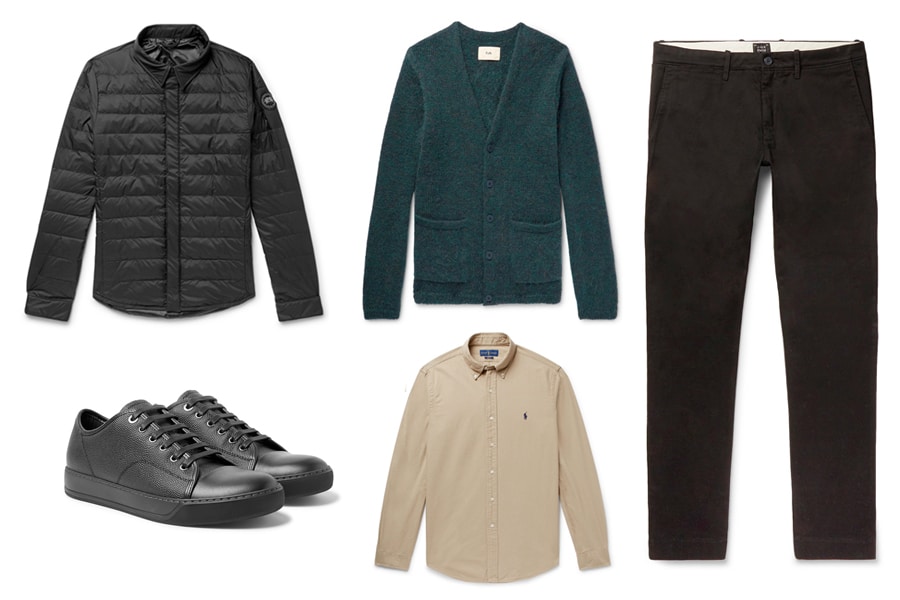 Quilted shirt jacket with sweater
Once relegated to gear for British hunters, the quilted shirt jacket no longer requires a rifle and a thirst for fresh deer to pull off. Worn over a sweater or button-up cardigan, and slim fit chinos, the quilted shirt jacket can be elevated to smart casual status. Play with textures and neutral tonal palettes by teaming the black quilted layer with a forest green button-up cardigan and a cream oxford shirt, or pair a navy quilted shirt jacket with an argyle sweater and camel slim-fit chinos.
If you're feeling adventurous, throw a bright colour into the mix; a mustard sweater works well with quilted navy or brown, beige chinos, and brown leather alpine boots.
Canada Goose Jackson Slim-Fit Quilted Nylon down Shirt Jacket
Polo Ralph Lauren Slim-Fit Button-Down Collar Garment-Dyed Cotton Oxford
Folk Mélange Mohair-Blend Cardigan
J. Crew Black 484 Slim-Fit Stretch-Cotton Twill Chinos
Lanvin Cap-Toe Pebble-Grain Leather Sneakers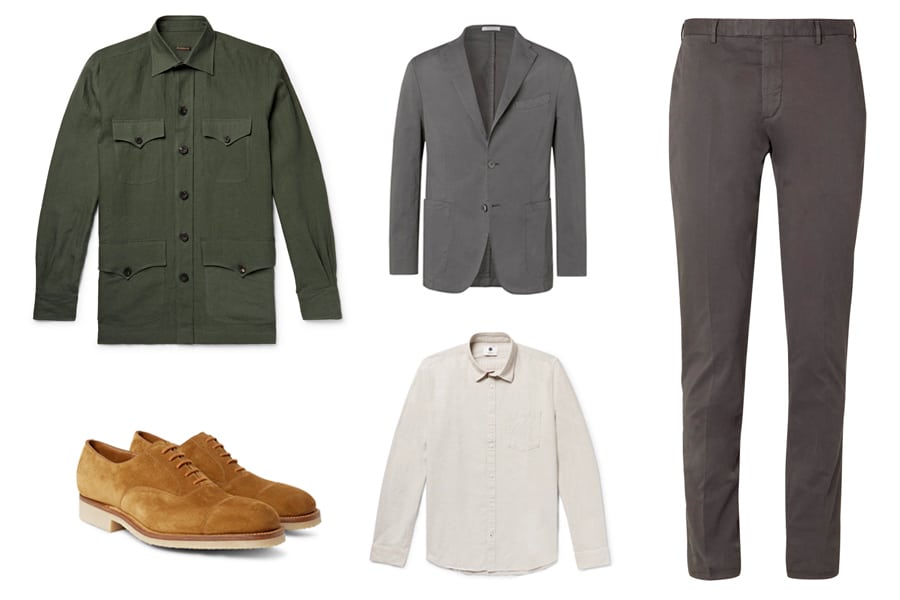 Military shirt jacket over suiting staples
Skirt the boundary between casual and smart casual by donning a khaki green military canvas over a slim fitting charcoal suit, with a button-up shirt, and tan Oxfords.
Rubinacci Linen Shirt Jacket
Boglioli Grey K-Jacket Slim-fit Unstructured Cotton-Blend Twill Suit Jacket
NN07 Leon Slim-Fit Cotton and Linen-Blend Shirt
Boglioli Grey Slim-Fit Cotton-Blend Twill Suit Trousers
J.M. Weston 300 Suede Oxford Shoes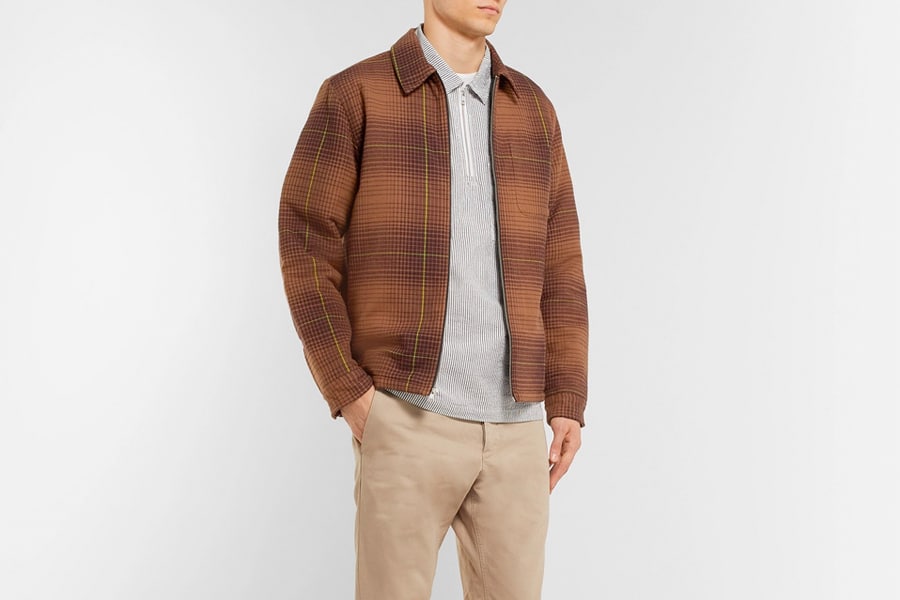 What is a Shirt Jacket?
Not a shirt, not quite a jacket – simultaneously a shirt and a jacket, this outerwear staple combines the visual appeal of a shirt with the warmth of a lightweight jacket. The estranged cousin of the chore coat , the shirt jacket is typically crafted from tough materials like canvas, cotton, tweed, flannel, and wool, with denim being a popular option in modern iterations. The best shirt jackets generally combine button-up Oxford shirt characteristics like breast pockets and a pointed collar, with the functionality of a casual, lightweight jacket.
Also known as an overshirt, this style is thought to have originated in the military, with soldiers donning utilitarian shirts with jacket-like characteristics such as an increased number of pockets, and composition from a heavier, more durable fabric. Popular iterations of today most closely resemble the 1970s style military overshirts, minus the army badges.
In the wake of the war era, utilitarian style clothing continued to dominate men's wardrobes, it became a staple piece for labourers, and being composed of durable cotton drill or flannel for cooler months, and lighter cotton for warmer weather wear.
The shacket retains its staple status in modern menswear, due to its versatility and ability to wear over layers like a traditional jacket. This clothing item has transcended its workwear and military appeal, and is now an essential piece for men far beyond the army and blue collar trades.
You'll also like:
10 Best Men's Chore Coats & Tips on How to Wear Them
Style Guide: How to Dress Like John Mayer
Style Guide: How to Dress Like Michael B Jordan
How to Dress For Your Body Shape for Men
---
Featured Video from Man of Many