Style Guide: How to Dress Like Justin Bieber
Justin Bieber's style was once the subject of ridicule. When the Canadian singer-songwriter emerged on the scene a decade ago, his floppy 70s style bowl cut and affinity for drop-crotch pants and purple hoodies copped a lot of flak from wannabe teenage street style icons.
Fast forward ten years and JB's style is the envy of hypebeasts everywhere, with his penchant for designer streetwear combined with his high cash flow forming a winning team in the street style stakes. Over the years, Bieber traded his baggy low rise denim and side fringe for Hawaiian shirts, statement sneakers, hotel slippers, and cult streetwear labels. A campaign with Calvin Klien served to further cement his status as a style icon of this generation.
You'll Also Like
Style Guide: How to Dress Like Chris Hemsworth
Style Guide: How to Dress Like Bradley Cooper
Style Guide: How to Dress Like Kit Harington
Style Guide: How to Dress Like Idris Elba
Here's how to dress like the Biebs.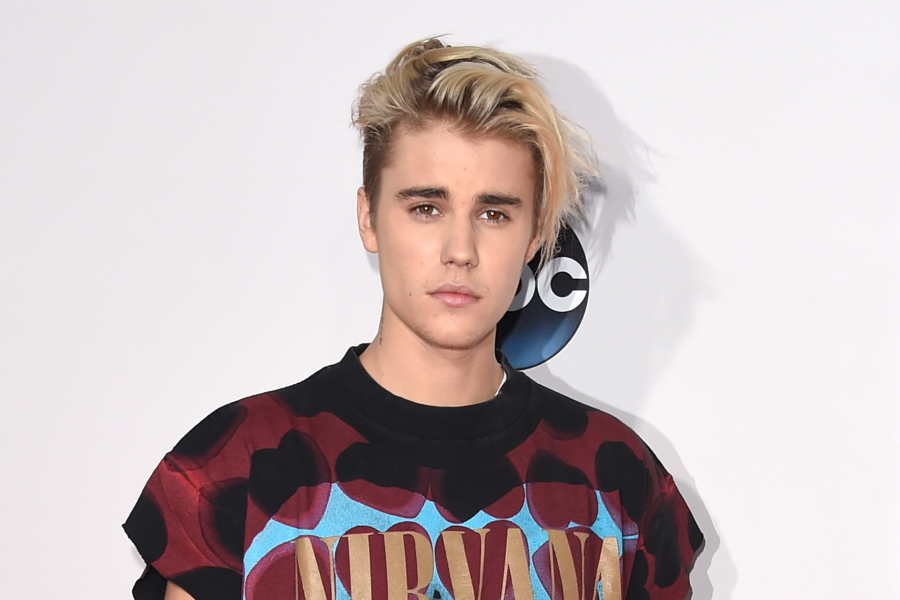 Get the Justin Bieber Hair Style
Much of Bieber's career can be mapped out through his hair; the floppy-haired Baby era and the James Dean inspired (the late actor, not to be confused with James Deen the pornstar) hair of the Boyfriend era, through to the platinum bleached blonde, shaved head, and long surfer-hair of recent years. One of Justin Bieber's best hairstyles is the lightly bleached undercut he sported in 2017. The dye job provides interest, whilst being less jarring than the completely platinum locks he's also tried.
To get Bieber's haircut, ask your barber for a grade two or three cut on the sides and leave the top long. Beiber wears his locks swept back; add a small amount of pomade or sea salt spray to the roots and blowdry it forwards before sweeping it back for added volume and texture.
---
Featured Video from Man of Many
---
Cruise Couture
Thought Hawaiian shirts were relegated to the attire of choice for day drinking pensioners on their annual seniors' cruise? Think again. Harry Styles has been sporting Hawaiian shirts since he ditched the polo shirt and chinos phase of One Direction, whilst a young Leo DiCaprio in Baz Luhrmann's Romeo + Juliet can (arguably) be credited for bringing them into the street style world in the 90s. The Biebs is a relative newcomer to the Hawaiian shirt trend, having co-opted it sometime last year. He puts his own spin on the shirt, typically opting for a grungy, dad vibe. Try the Justin Bieber Hawaiian shirt look by teaming a button-down number with a pair of denim cutoffs and slides or slip-on canvas shoes. For bonus points, sport just a hint of facial hair.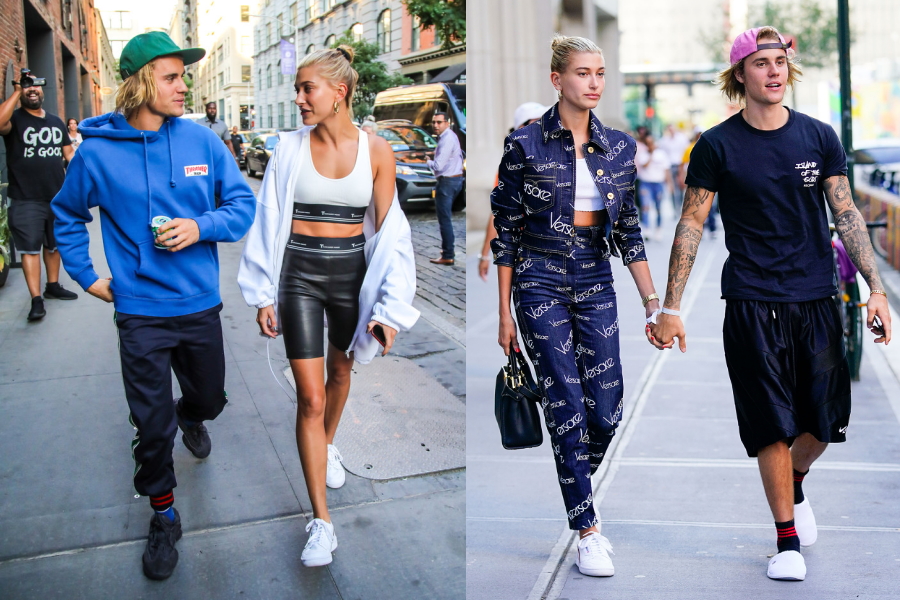 Streetside Room Service
Multimillionaire Justin Bieber's footwear of choice? Hotel slippers. Designed for wear from your bed to the bathroom, the thin terry cloth slip-ons have made their way around the streets of New York and even to the beach courtesy of JB's feet. Biebs usually styles his hotel slippers with activewear or streetwear, like these Nike shorts teamed with a Fear of God – one of Bieber's go-to brands – t-shirt.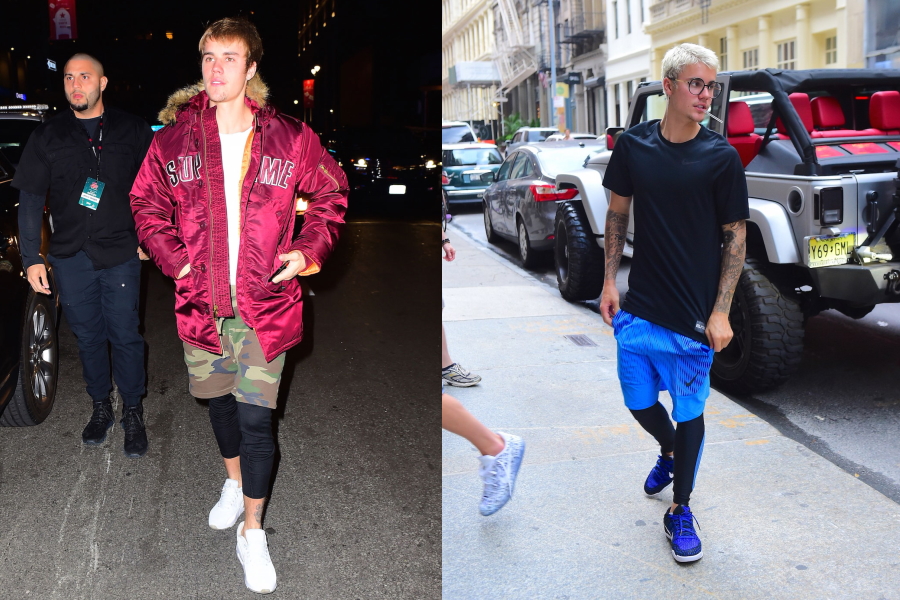 Active Aspirations
Whilst athleisure may be here to stay, Bieber typically opts for a more eclectic take on activewear. Shorts over jeans, Adidas and Nike gear, compression tights, and Yeezys are paired with low rise denim (to show off his Calvins, of course), camo clothing, and Supreme gear. Case in point; this archetypal Justin Bieber outfit consisting of camouflage shorts worn over compression tights, a white t-shirt worn under a Supreme fur-lined hoodie, rounded off with Nike sneakers.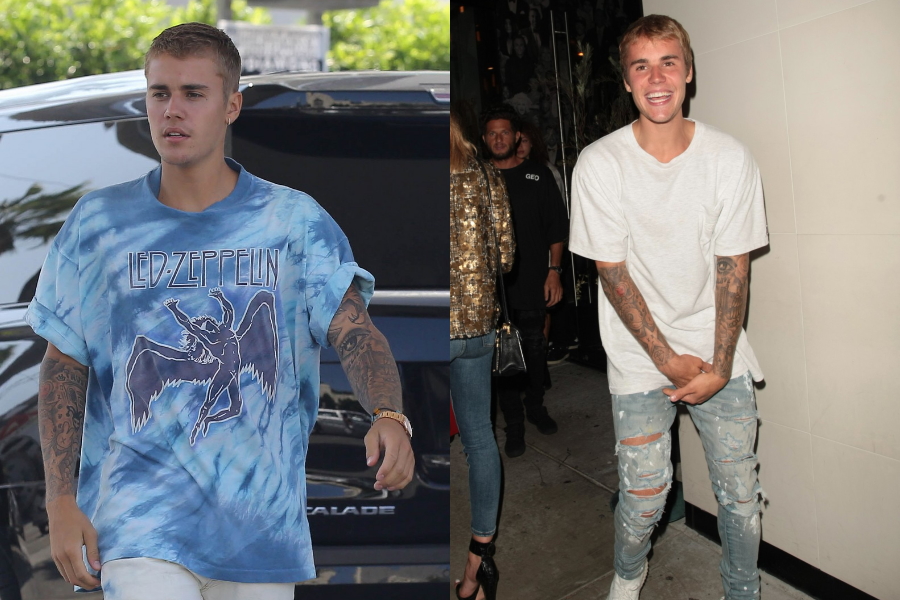 Play with Proportions
A key element of the Justin Bieber clothing style is experimentation with proportions. Rather than opting for traditionally flattering silhouettes, Justin subscribes to the more Kanye style of dressing, donning longline t-shirts over ripped jeans by Amiri – another of Bieber's go-to labels – worn with Yeezy Boost 350s.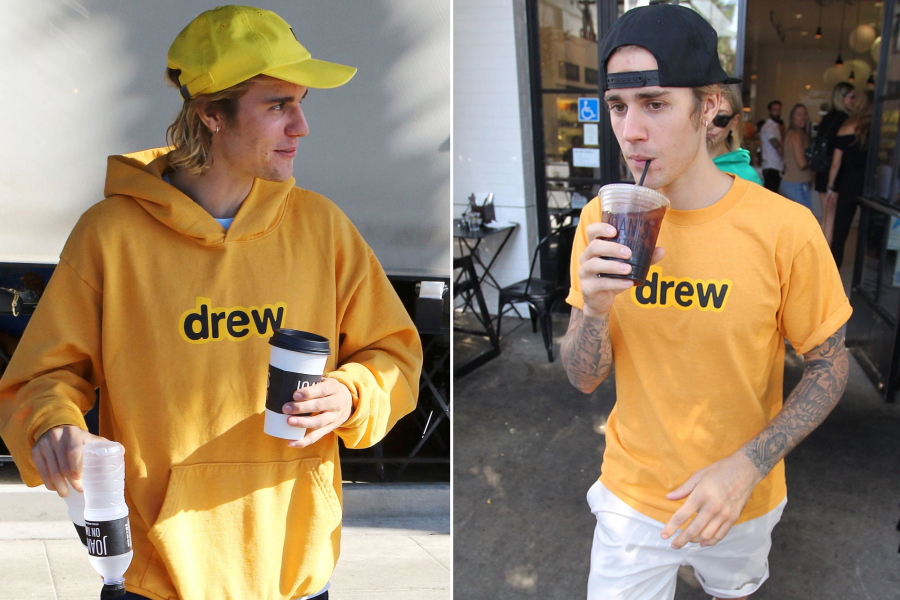 The House of Drew
Not content with merely wearing other people's designs, Bieber started his own clothing brand. Titled Drew House after Bieber's middle name, the Justin Bieber clothing brand sells unisex hoodies, t-shirts, socks, and even skateboard decks. Many of the items feature the label's logo; a yellow smiley face with the word 'DREW' in place of the mouth.
You'll Also Like
Style Guide: How to Dress Like Chris Hemsworth
Style Guide: How to Dress Like Bradley Cooper
Style Guide: How to Dress Like Kit HaringtonStyle Guide: How to Dress Like Idris Elba
---
Featured Video from Man of Many