8 Best Underwater Hotels for a Luxury Aquatic Getaway
The jury's still out as to whether or not the city of Atlantis is real (spoiler alert: it's not), but who really cares when you can visit the best underwater hotels instead? To stay in one is to literally submerse yourself in an aquatic paradise, with a variety of marine life drifting by just beyond the glass. Meanwhile, nearly all the best underwater hotels are located in some pretty exotic and exclusive areas, giving you all the more reason to visit one.
Will the privilege of staying in one of the best underwater hotels cost you? Naturally. On the other hand, would you even trust the hotel if there wasn't a premium involved? We know we wouldn't. So save up those hard-earned dollars and book a room at one of the 8 best underwater hotels. Aquaman's got nothing on you!
This article is part of our Great Escape series.
You'll also like:
You Can Actually Spend a Night in Hell This Halloween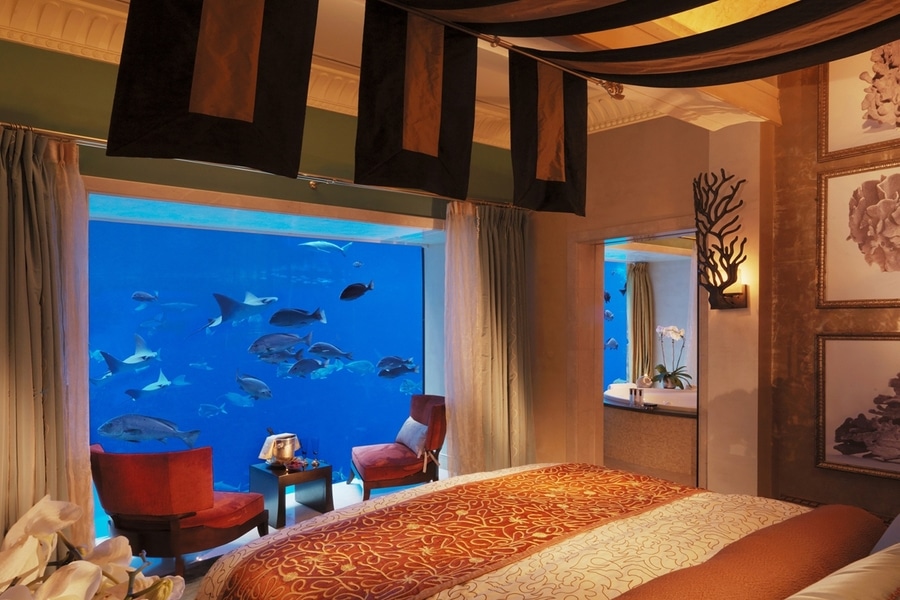 1. Atlantis, The Palm, Dubai
Dubai's Atlantis, The Palm is already the epitome of modern luxury, but their two underwater suites (respectively named Neptune and Poseidon) take that luxury to new heights…or depths, rather. In both suites, you'll find floor-to-ceiling windows, which offer direct views of Ambassador Lagoon, and the 65,000 marine animals therein. As if that wasn't prestigious enough, each suite also includes a 24-hour personal butler, along with all the elegant decorations and details you could possibly ask for.
Address: Crescent Road, The Palm, Dubai, United Arab Emirates
Contact: +971 4 426 2000; [email protected]
Price: from $330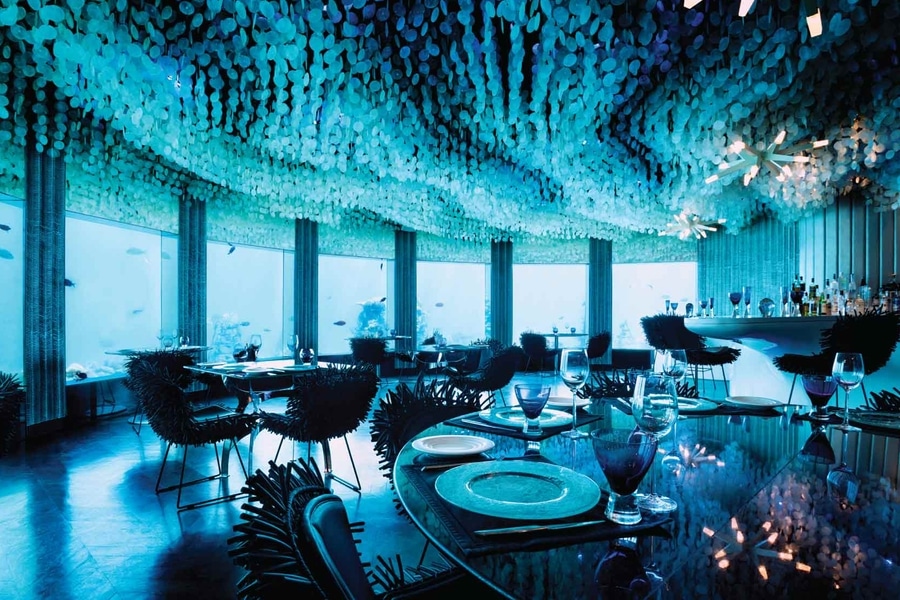 2. Subsix Per Aquum Niyama, Maldives
If you'd rather eat, drink and dance with the fishes than sleep with them, the exclusive Niyama resort in Maldives has just the place for you. Dubbed Subsix, this underwater restaurant/club is simply dripping with allure. Open to the public for breakfast, lunch, and dinner, the club is accessible by speedboat, and situated three stories below the sea. Gorge on delicious food and sip top-shelf bubbly while Moray eels swim past your head. This is the stuff that dream vacations are made of.
Address: Olhuveli, Kudahuvadhoo Dhaalu Atoll, 13080, Maldives
Contact: +960 664 4111; [email protected]
Price: from $602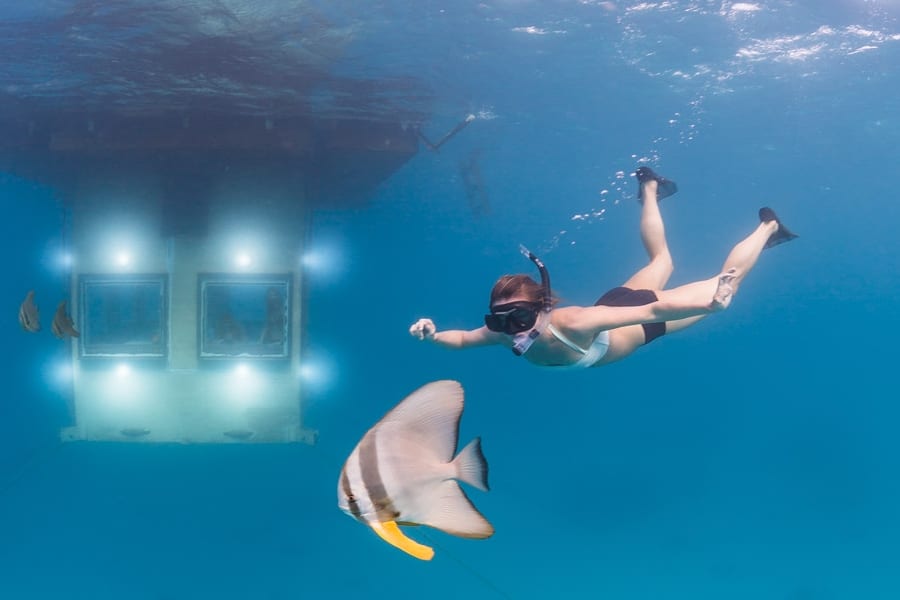 3. Manta Resort, Pemba Island, Tanzania
It doesn't get more exclusive than the Underwater Room at the Manta Resort in Tanzania. Think of it as your own private houseboat (minus the boat), which happens to be in one of the most beautiful areas in the world. Not only does this remarkable accommodation include an underwater room, but there's also a landing deck at sea-level, and rooftop lounging area. At night, the full spectrum of stars come out above your head, while down below, the occasional octopus might show up in the underwater spotlights. In other words, there's simply no wrong place to look when you're staying in these legendary digs.
Address: Wete, Pemba Island, Tanzania Konde, Tanzania
Contact: +255 776 718 852
Price: from $288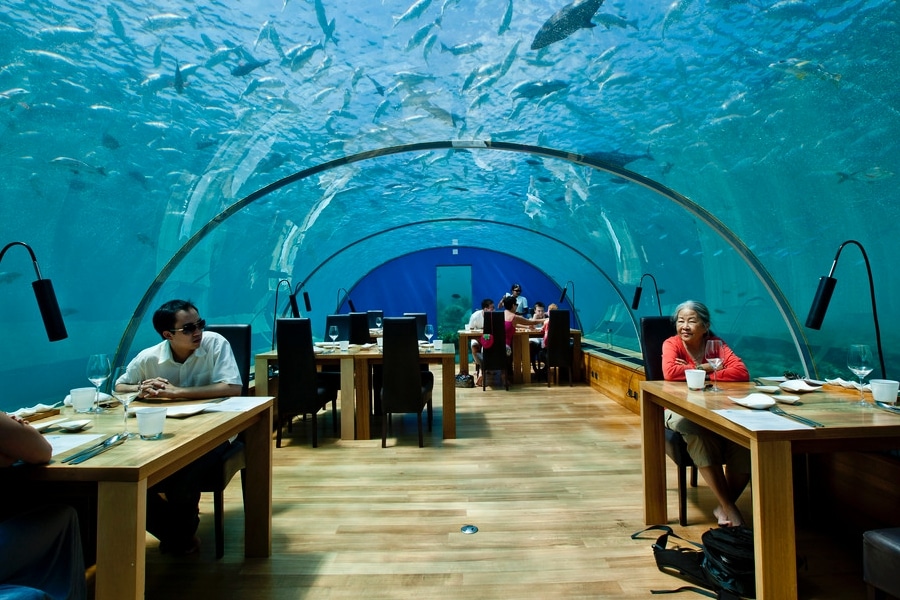 4. Conrad Rangali Island Resort, Maldives
Bringing whole new meaning to the term "locally sourced", Ithaa Undersea Restaurant offers its exquisite, seafood-heavy menu about 16 feet below the ocean's surface. It all goes down at the uber-relaxing Conrad Rangali Island Resort in Maldives. Look for the resort to open its first official underwater suite later this year, thereby cementing its status as one of the best underwater hotels in the world.
Address: Rangali Island Alifu Dhaalu Atoll, 20077, Maldives
Contact: +960 668-0629
Price: from $975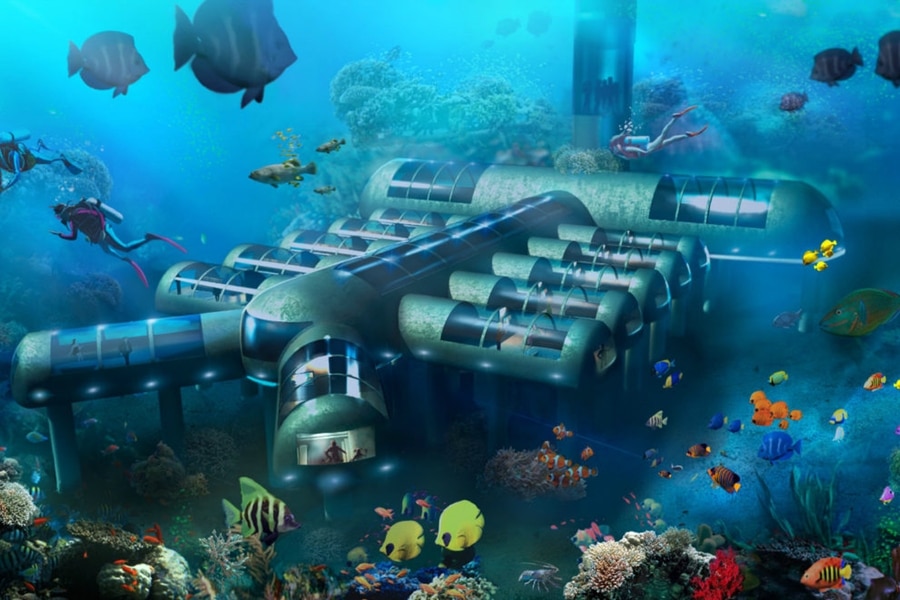 5. Key West, Florida: Planet Ocean Underwater Hotel
Assuredly one of the future's best underwater hotels, Planet Ocean is like something out of an architect's wildest dreams. Still a concept at this stage, the luxury resort plans to host twelve rooms, a lounge, and a dining area, all of it underwater. Not only that, but the structure will reportedly be moveable, meaning it can change locations at will. Meanwhile, coral reef restoration plays a big role in the project. Should this ever become a reality, we won't need to go find Atlantis, because we'll have built it instead. Make a refundable deposit today, so that this can become a reality tomorrow.
Contact: [email protected]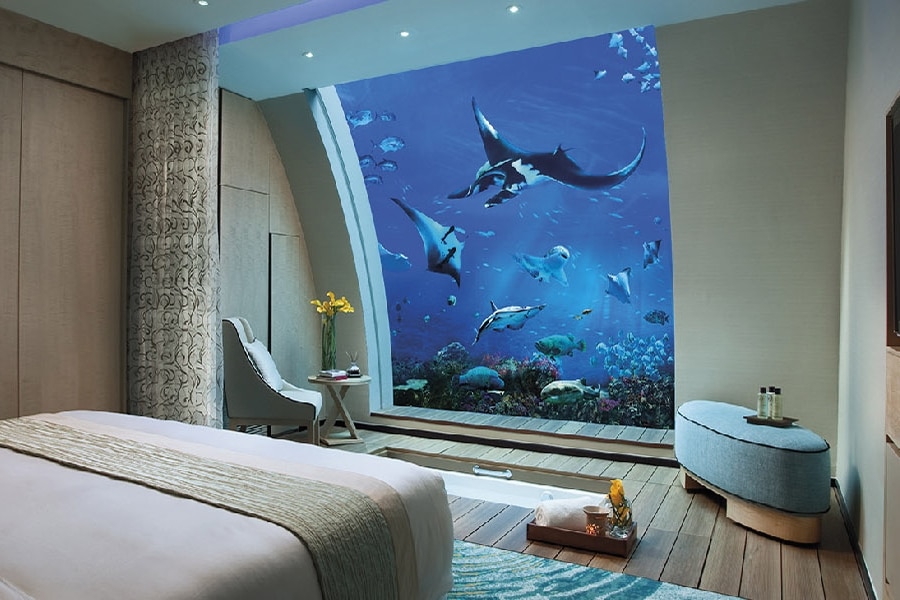 6. Resort World Sentosa, Sentosa Island, Singapore
Picture a vacation townhouse that stands two-stories tall, with one level above sea level and the other below it. Upstairs is an elegant living area, joined by an outdoor patio with its own Jacuzzi. Down below is a cosy bed, and a full-window view of an aquarium with over 40,000 fishes inside it. This might all sound like a dream, but at one of eleven Ocean Suites at Resort World Sentosa, that dream becomes reality.
Address: 8 Sentosa Gateway Singapore, Singapore 098269
Contact: [email protected]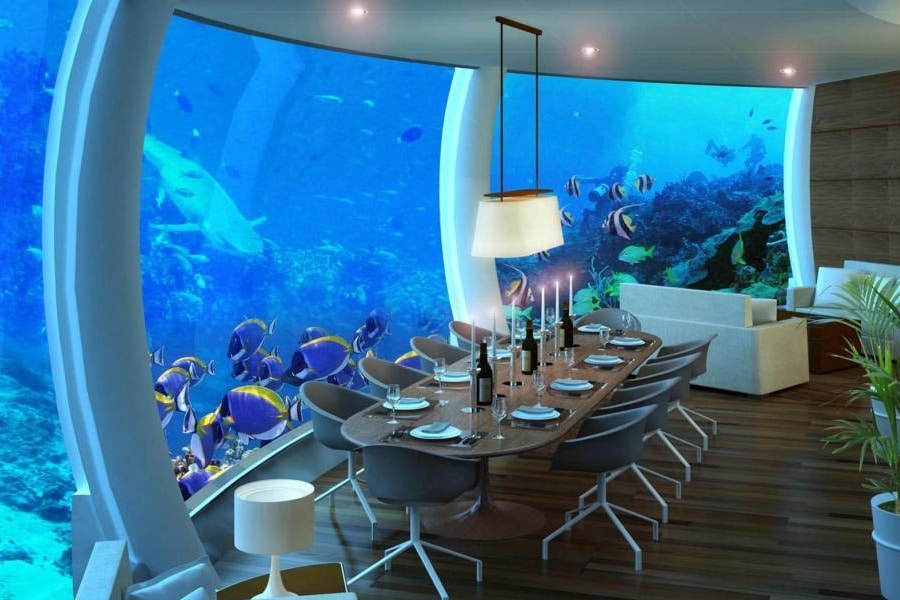 7. Poseidon Underwater Resort, Fiji
While absolutely jaw-dropping in potential, the Poseidon Underwater Resort is still in its developmental stages. True to its name, this majestic destination plans to be a true king of the sea, and the world's first permanent one-atmosphere seafloor structure. Located on and around Mysterious Island, the resort will host an endless buffet of (land and sea) experiences, all while carefully conserving the marine life that surrounds it. Features include twenty-two guest rooms, an underwater restaurant, a spa, a wedding chapel, a massive luxury suite, boutique stores, a nine-hole golf course, Triton submarine rentals, splash pools, and more. All we have to say is: hurry up already!
8. Huvafen Fushi Resort, Maldives
Representing the pinnacle of relaxation, Lime Spa at the Huvafen Fushi Resort in Maldives delivers hours of sensual bliss in a truly unique setting. Most spas try to make you feel like you're drifting in an underwater bubble–this one literally puts you underwater. Suffice to say, a trip to Maldives just made our bucket list.
Address: North Malé Atoll 08390, Maldives
Contact: +960 664-4222; [email protected]
Price: from $899
This article is part of our Great Escape series.
You'll also like:
14 Best Boutique Hotels in Melbourne
10 Best AirBnB's in Melbourne for Luxury
17 Best Gin Bars in Melbourne