Top 25 Luxury Luggage Brands
When you're travelling abroad, inferior luggage should be the last thing you have to worry about. For that reason, you shouldn't hesitate to throw down a little extra cash for a quality suitcase or carry-on from the best luxury luggage brands. Each brand has made a name for itself by way of sturdy materials and optimal designs, meaning you won't have to worry about the luggage falling apart or failing to accommodate at the worst possible moment. Plus, you never know who's scoping you out on the plane or at the airport, and judging you by your travel gear. Best play it safe by sticking with one of the top 25 luxury luggage brands from the list below. You'll be happy you did.
This article is part of our Great Escape Series.
---
You'll also like:
Dwayne Wade x Away Aluminum Luggage
Cathay Pacific A330 Business Class Review
The Sky is no Longer the Limit with Airbus Private Jet Cabins
---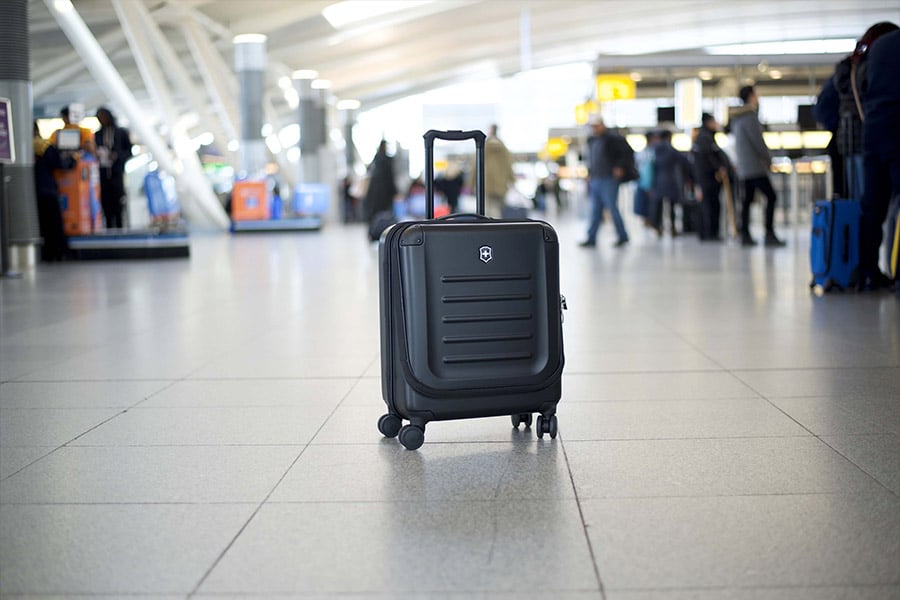 Victorinox
Victorinox has been in the game since before flying was even a thing, meaning they've had more than enough time to hone their craft in virtually every department. Primarily synonymous with ubiquitous Swiss Army Knives, the brand delivers the same tier of dependability, quality, and design with its acclaimed travel gear. If form and function is your thing, this is your brand.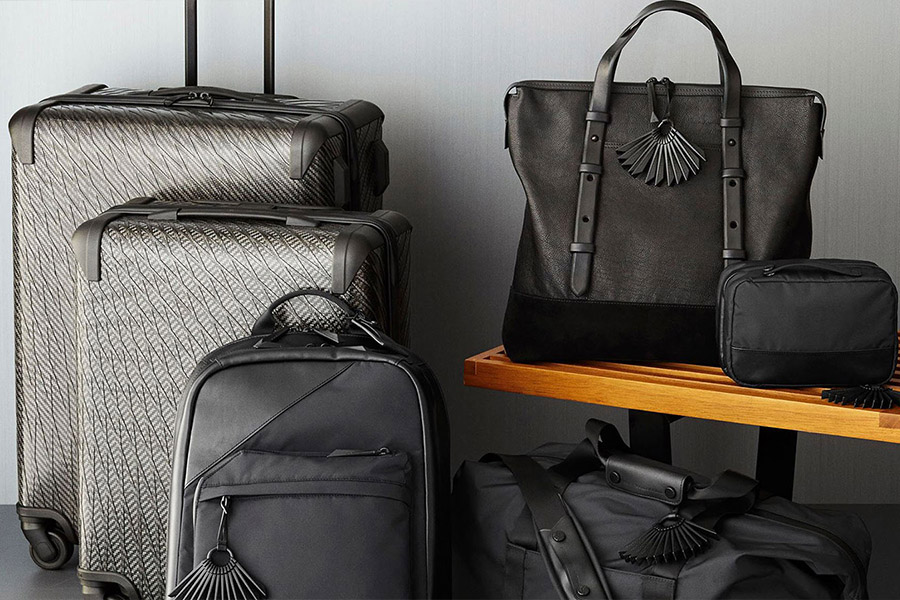 Tumi
Oh Tumi, you had us at "ballistic nylon". For decades, the award-winning brand has been employing the trusty material on its iconic travel bags, which undergo rigorous testing before hitting the proverbial shelves. The brand also goes to great lengths to raise the bar when it comes to current innovations and trends, giving Tumi a solid edge on the competition.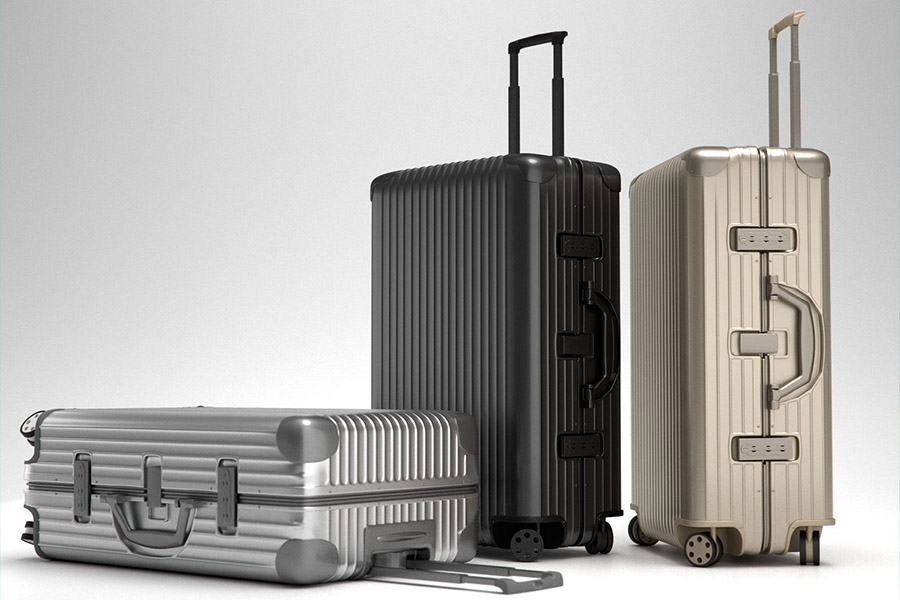 Rimowa
Distinguishing Rimowa luggage from the standard fare are the brand's grooved cases of exceptional durability. To think, it all came about by chance in 1937. That's when company co-founder Richard Morszeck began using aluminium after every other production material was destroyed in a fire. Nowadays, you can choose between aluminium and polycarbonate for the material. Also featured are modern upgrades like integrated electronic tags.
Globe-Trotter
Few brands capture the heritage spirit like Globe-Trotter. Indeed, this is luggage literally fit for royalty, in that figures like Queen Elizabeth II have been counted among the brand's numerous prestigious customers. Not only has Globe-Trotter been in business since 1897, but it still makes all its luggage by hand (if you can believe it). To call this one of the best luxury luggage brands is practically redundant–the label's reputation speaks for itself.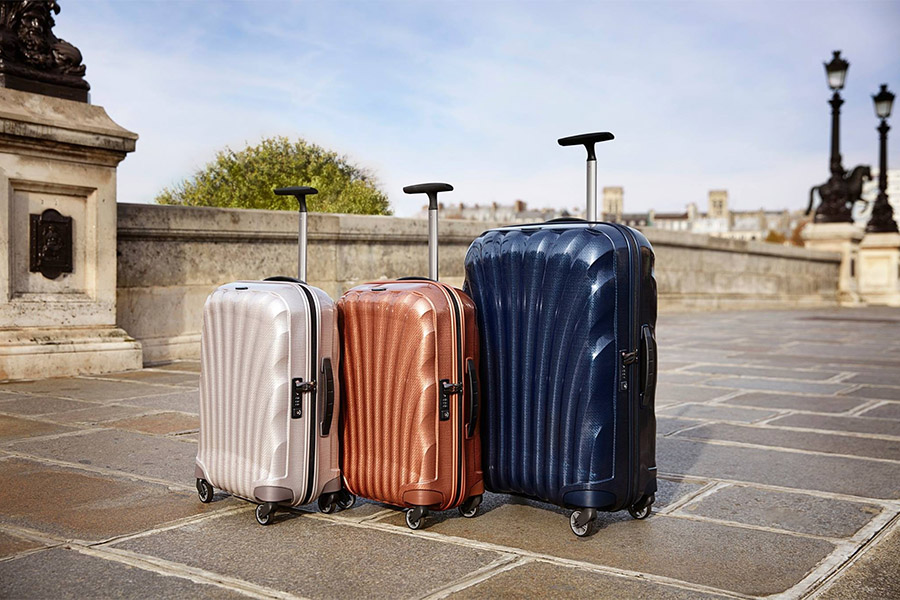 Samsonite
You don't have to be a huge fan of Dumb and Dumber to recognise the name Samsonite. That is to say, the brand has earned a substantial following all on its own, regardless of any big Hollywood shoutouts. In fact, Samsonite has been a global leader for over a century, to the point that the name itself is basically synonymous with lightweight, seemingly indestructible hard-shell luggage. If you don't want to overthink the whole luggage-buying process, get yourself a Samsonite. There's a reason the brand has been around for over 100 years, and will probably be around for 100 more.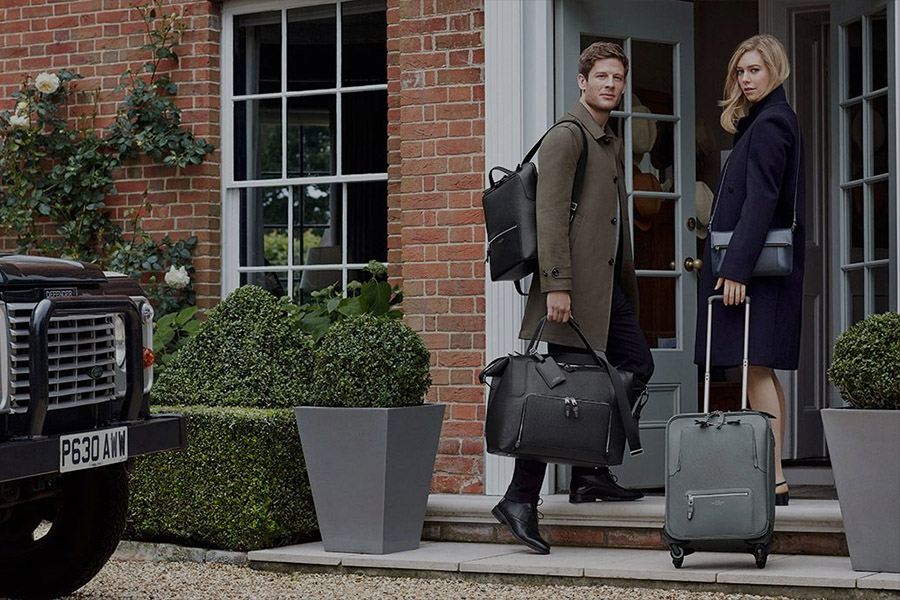 Smythson
Putting the "luxury" in luxury luggage is Smythson, a British brand that employs quality leather on its handcrafted travel gear. In addition to bags and luggage, the brand also offers a variety of travel accessories like passport holders and wallets. It all comes draped in premium leather and dressed in elegant colour.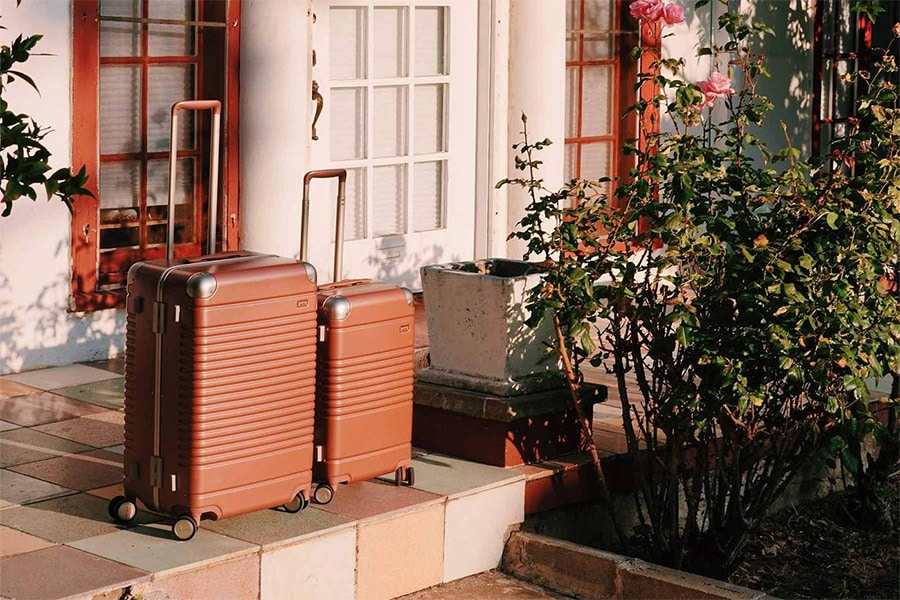 Arlo Skye
Many of the best luggage brands have been in business for decades, but that doesn't mean there isn't room for newcomers. Speaking of which, meet Arlo Skye, a relatively nascent brand that's wasted no time in making a name for itself. Between the scratch-proof aluminium bodies and full grain leather handles, each piece of Arlo Skye luggage emanates with luxury and utility alike. Meanwhile, Japanese-made wheels roll in zen-like silence. As if all that wasn't enough, the cases come with built-in, TSA-approved portable chargers.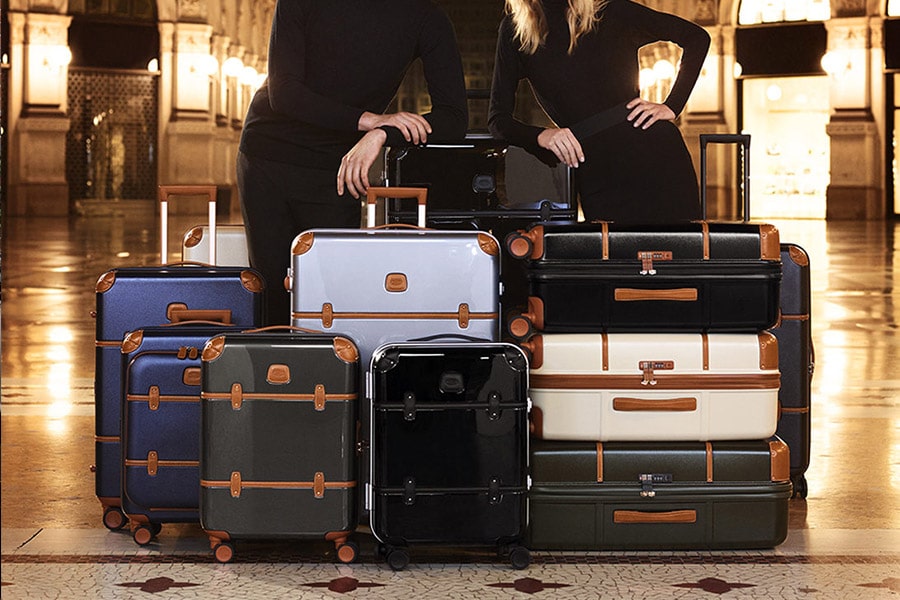 Bric's
If you know anything about style, then you're already aware that no one delivers it quite like the Italians. Making good on that reputation is Bric's from Milan, which utilises a range of premium materials, colours, and designs when crafting its extraordinary luggage. If you like travel gear of the eye-catching variety, this brand has your name written all over it.
Valextra
Another premium brand hailing from Milan, Valextra represents the epitome of streamlined sophistication. The brand's calfskin suitcases are the stuff of legend. Providing the functional touch is an extendable handle built in to the side on cabin-sized models. It's all crafted by Italy's most talented artisans, and executed to perfection. Will this travel gear cost you? You bet it will. But in return, you'll get some of the best luxury luggage that money can buy.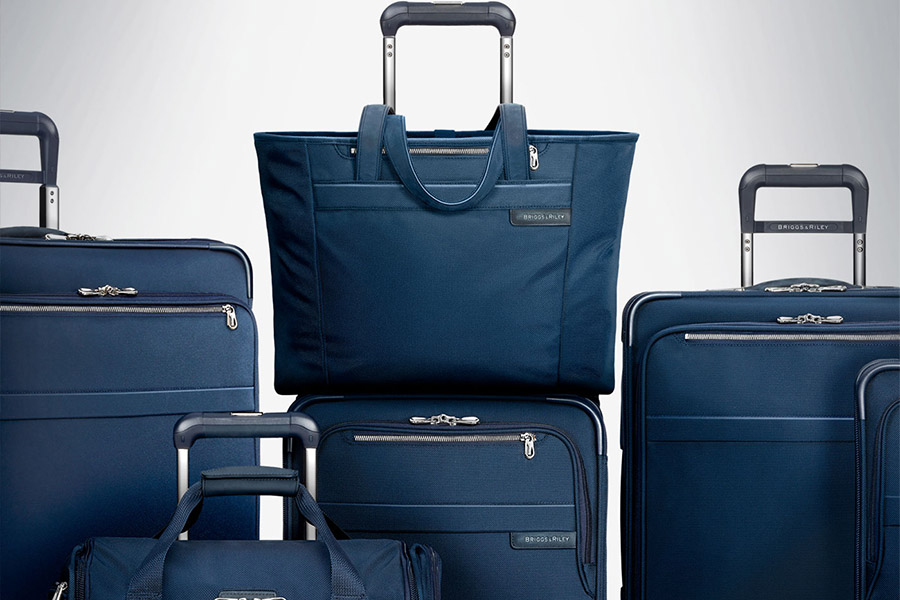 Briggs & Riley
Bolstered by a forward-thinking agenda, Briggs & Riley has become an industry leader in almost no time at all. The brand burst onto the scene in 1993, and has been innovating ever since. Take their Medium Expandable Spinner for example. It hosts patented Compression-Expansion Technology, allowing the luggage to expand up to 25%, and then compress back down to its original size, meaning your clothes won't shift around during transport. The brand also created an "Outsider" handle, which results in a flat luggage base. As it turns out, originality is in the bloodstream over at Briggs & Riley. Specifically, the brand's parent company, U.S. Luggage LLC, debuted the first wheeled luggage back in 1970.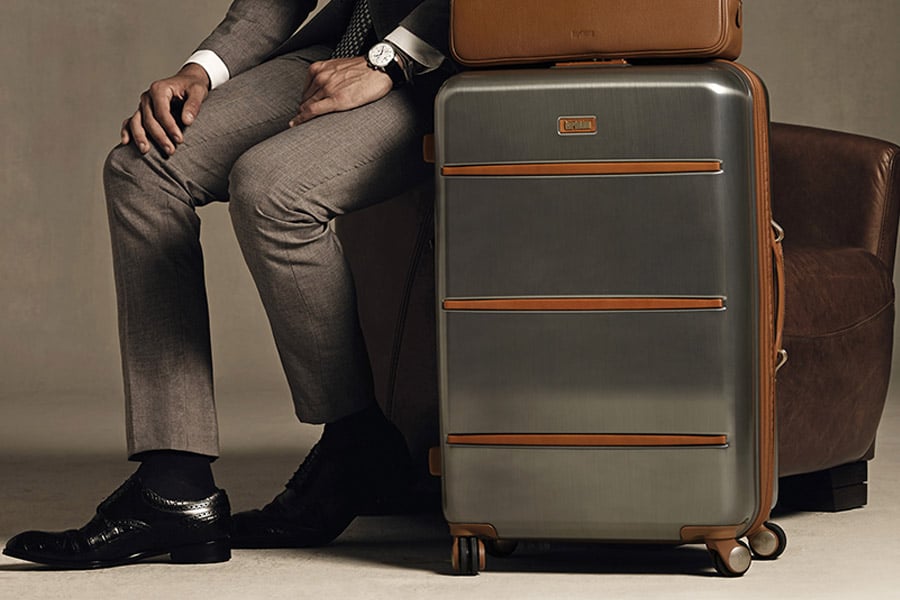 Hartmann
One look at Hartmann's prestigious luggage and you already feel like you're on vacation. That's because the brand's premium travel gear carries with it an air of distinguished leisure. Is it the elegant colourways? The prime leather? The answer is all of the above and more. More than one of the best and most seasoned luggage brands, Hartmann is a perennial signifier of great taste.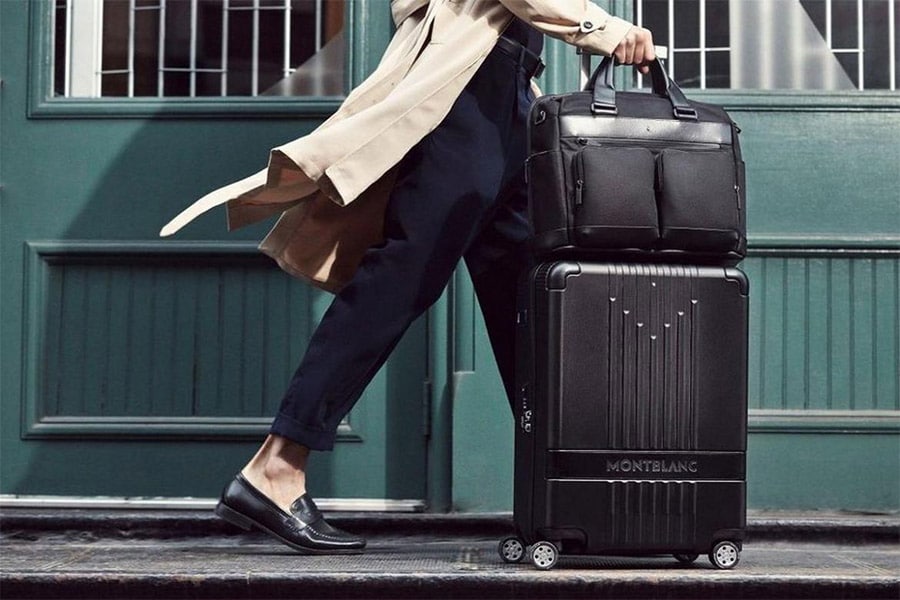 MontBlanc
MontBlanc might make the best pens in the world, but that's not all they do. More to the point, the brand's accessories and travel essentials are no less brilliant or renowned. The iconic Trolley line–with its polycarbonate cases and leather trims–delivers top-shelf resilience and a sleek aesthetic in equal measure.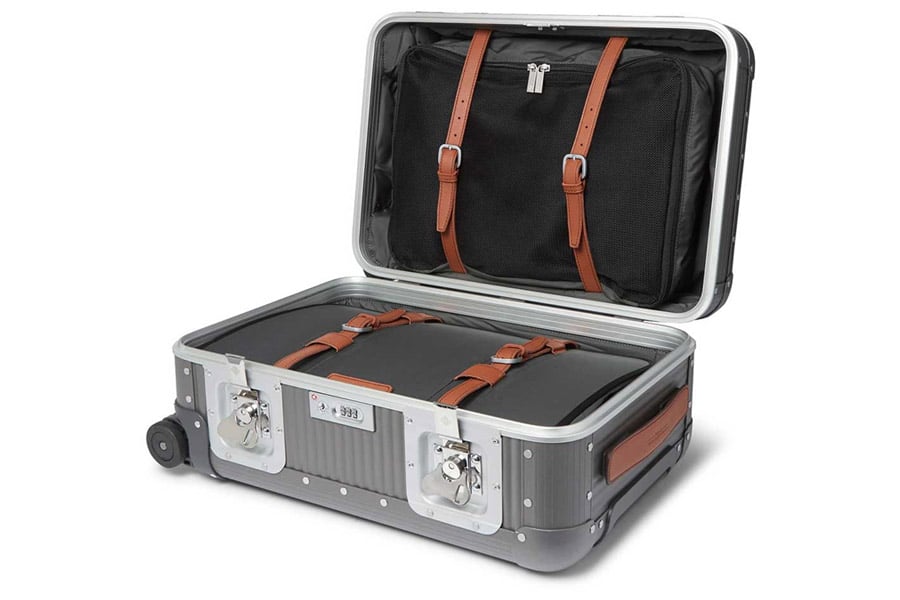 Fabbrica Pelletterie Milano
True to its Italian surroundings, Fabbrica Pelletterie Milano has been excelling at craftsmanship, design, and innovation since 1946. And while the magic might go down in Milan, the brand simply conquers on the world stage. Expect beautiful trollies of durable aluminium from this palpably European label, which is favoured by successful businessmen for obvious reasons.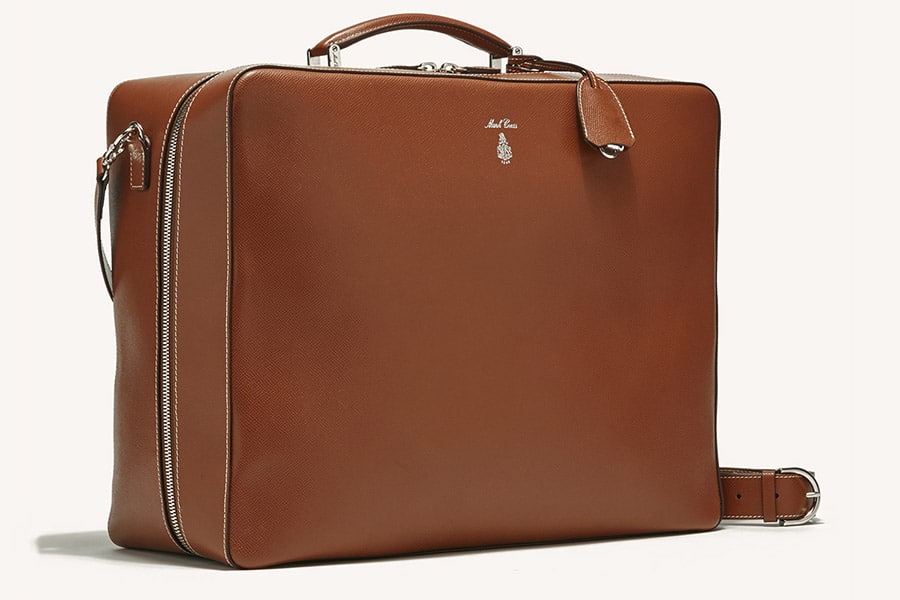 Mark Cross
Touting itself as America's "first luxury leather goods brand" (with origins going back as far as 1845), Mark Cross accordingly puts premium leather to work on its celebrated luggage and travel accessories. By focusing on quality over quantity, the brand is able to deliver the utmost tier of absolute craftsmanship. If you like luggage with backstory, check out the Grace Trunk, which resurrects the overnight case used by Grace Kelly in Hitchcock's Rear Window.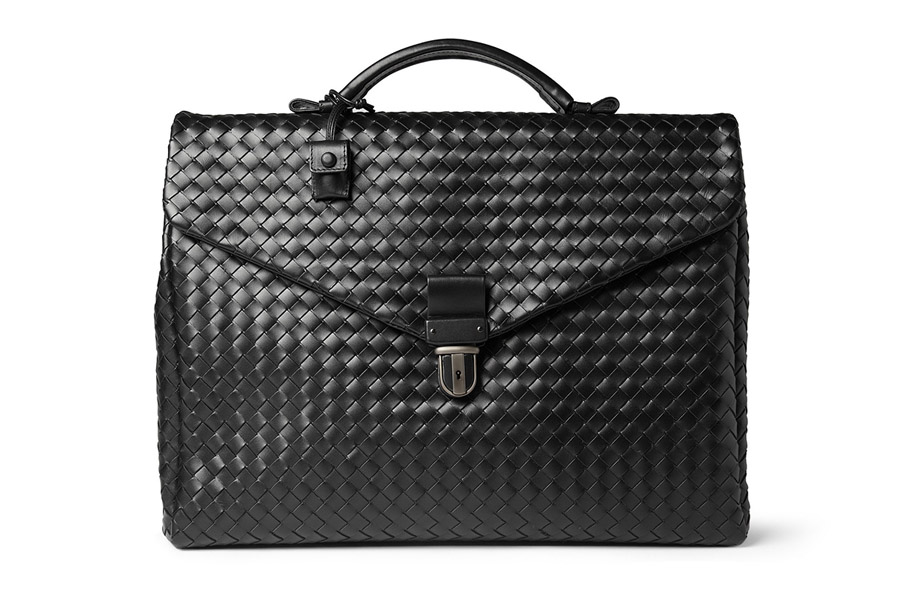 Bottega Veneta
There's no mistaking a Bottega Veneta product for any other, and that's a good thing. If you like classic leather bags with an extra visual touch, then you'll love this brand. Sometimes, the distinguishing flourishes are modest, such as the splash of intrecciato checker woven onto the side of the brand's Dark Barolo Briefcase. However, those little details render truly formidable impressions. Functional elegance lives here.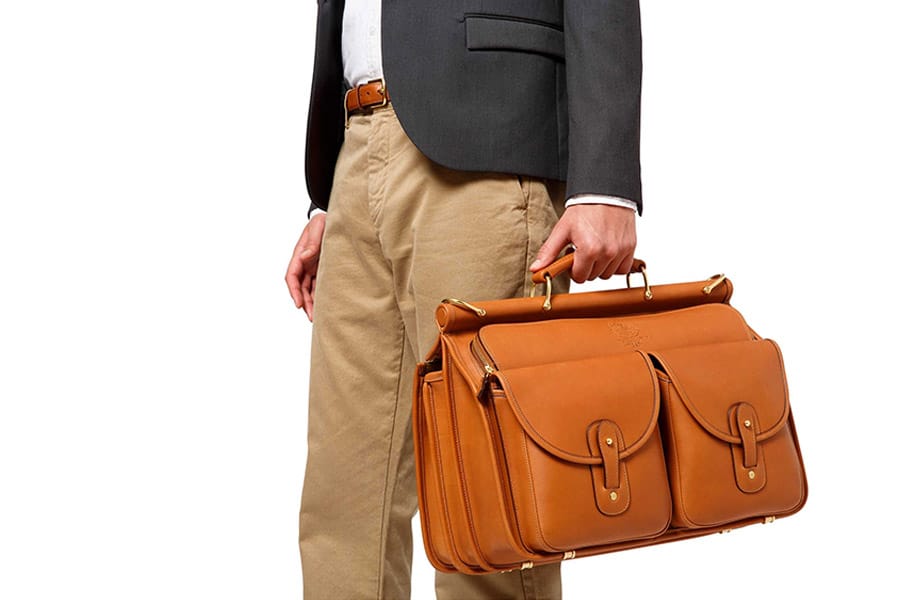 Ghurka
If only the highest quality leather will suffice, accept nothing less than Ghurka. For decades, the artisanal brand has been an absolute force in the luxury sphere, with bags and accessories that are designed to perfection and built to last. Nothing combines the spirit of travel with the essence of style quite like this label. That it's one of the best luxury luggage brands basically goes without saying.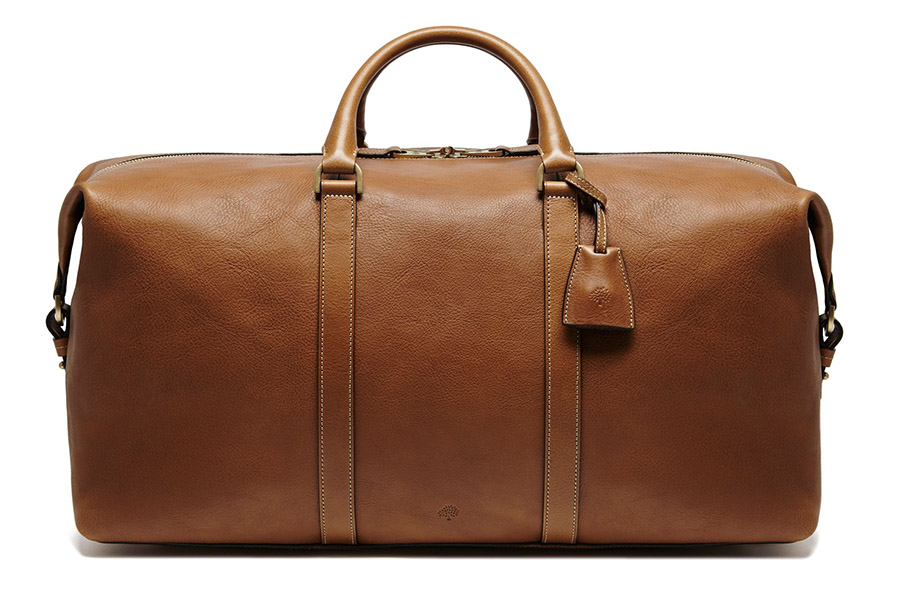 Mulberry
Here's another luxury brand that needs no introduction. Indeed, Mulberry is British luxury, defined. Whether you're buying a carry-on, trolley, or backpack, expect nothing but the finest materials along with a resoundingly handsome aesthetic. It's been this way since 1971, and it's not stopping any time soon.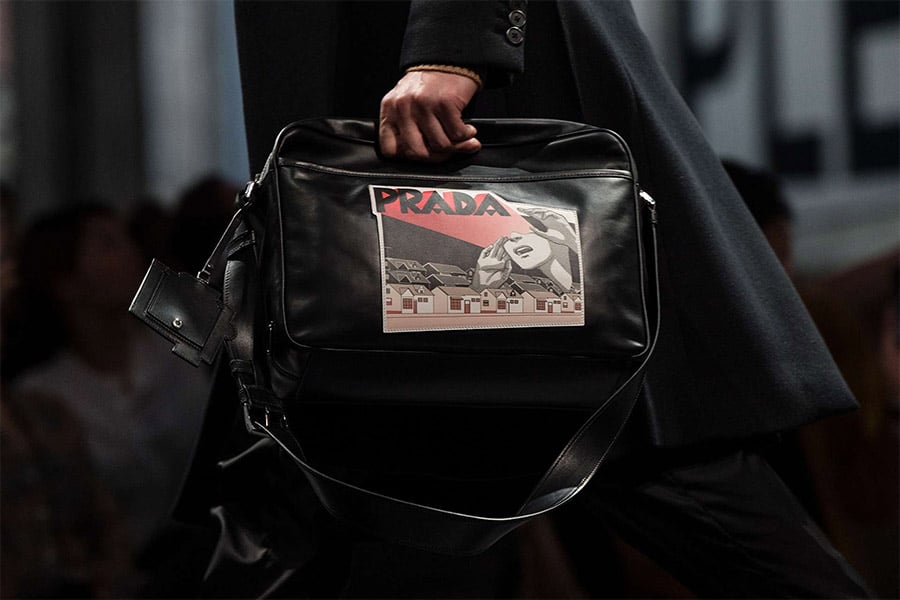 Prada
You already know the name Prada, just like you know that it's an Italian fashion house of the highest regard. Naturally, the brand's travel gear and accessories provide no exception to the label's top-shelf standards. Expect luxury luggage that will last a lifetime, and look impeccable in the process.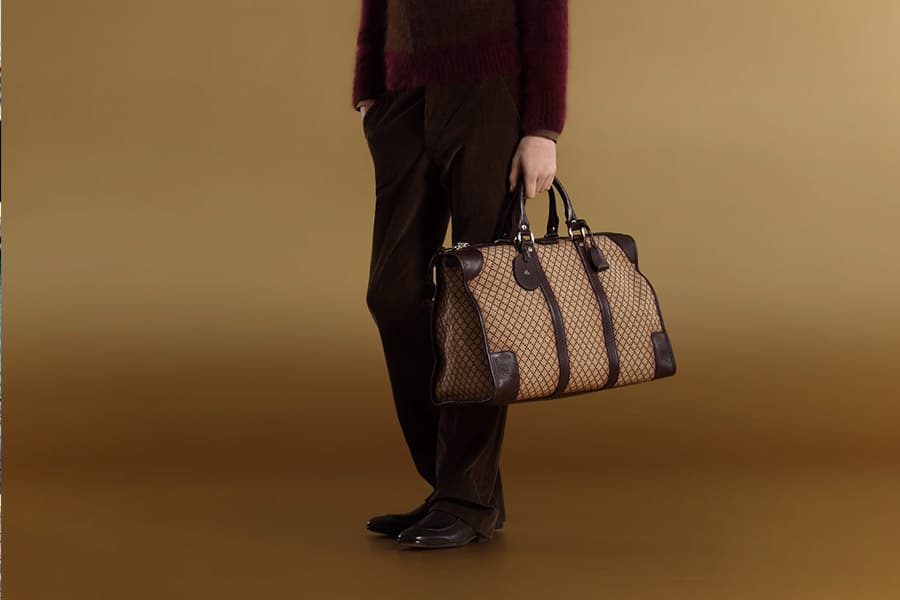 Gucci
For proof of Gucci's excellence in the travel sphere, look no further than its Signature Carry-On. Made in Italy, the compact leather luggage hosts quality leather, gorgeous texture, palladium-toned hardware, and 360° wheels. Naturally, the luxury theme continues inside, where plush nylon lining gives your clothes a dreamy home on the go. Suffice to say, the carry-on is but one among a range of legendary travel products from the brand.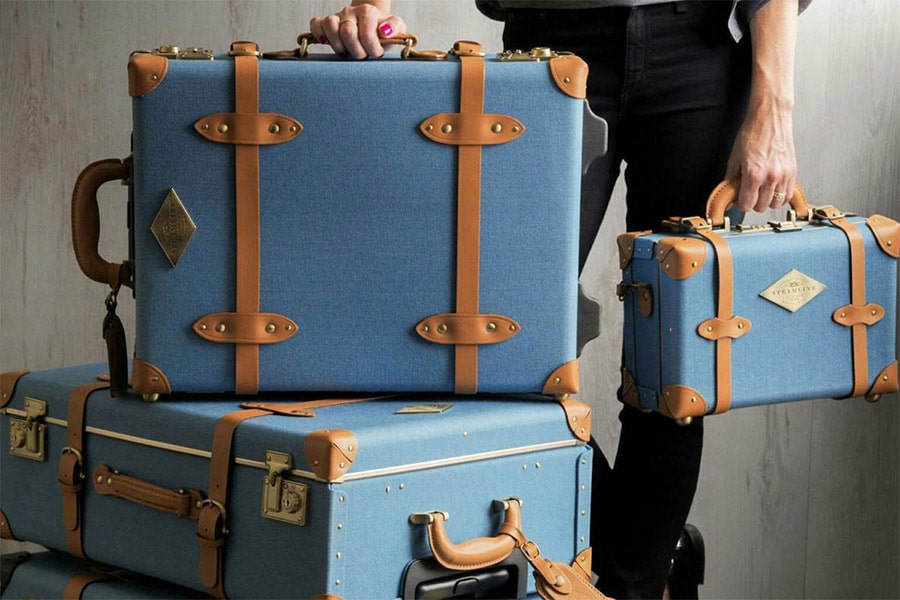 Steamline
Infusing retro style with modern flair, Steamline hosts a range of brilliant luggage lines, which go by names like The Alchemist, The Artiste, and The Botanist, among numerous others. Along with those classic names you get steadfast construction, unmistakable design, and a variety of elegant colours. It's then no surprise that this brand is such a hit among young travellers.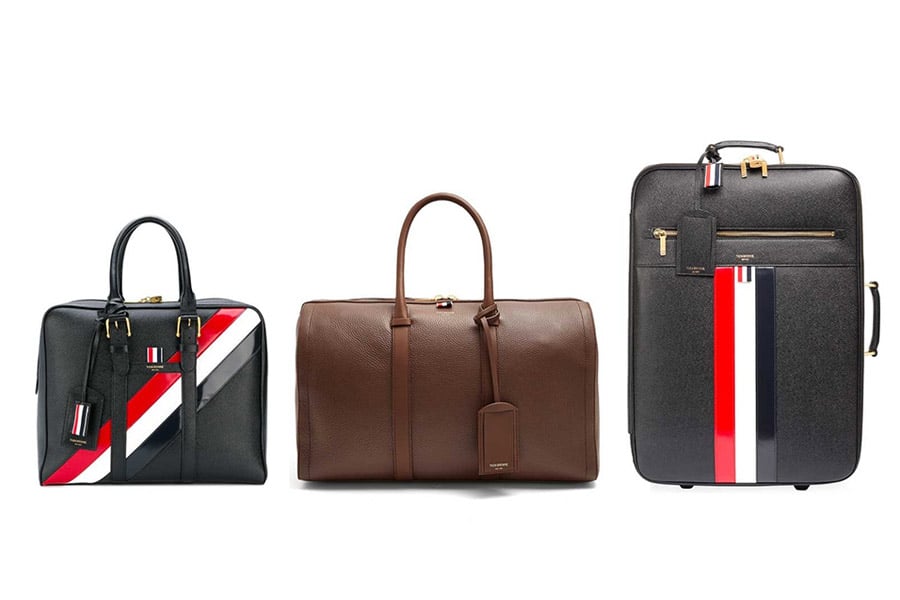 Thom Browne
American fashion designer Thom Browne has been turning heads since 2003, and his travel gear is one good reason why. If you want to keep things sophisticated, check out the brand's calf leather tote or holdall and their elegant, signature patterns. If you like class and kitsch in equal measure, scope the Hector Toth, which is moulded in the shape of a dog.
Saint Laurent
Superb design? Check. Quality materials? Check. Built-in reputation? Check. What more do you need from Saint Laurent and its remarkable travel bags? Each one fuses personality with prestige to brilliant effect.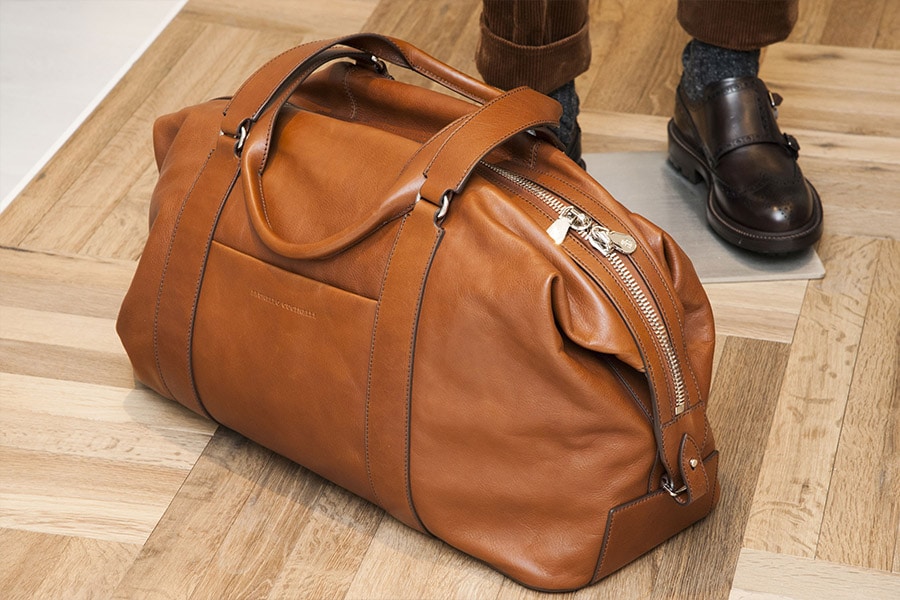 Brunello Cucinelli
Italian fashion brand Brunello Cucinelli gets downright philosophical when it comes to clothing, accessories, and travel gear alike. Specifically, the brand believes in the pursuit of profit without causing human suffering. Pair those principles with exemplary luggage and you'll be feeling and looking all kinds of good when you travel with this gear by your side.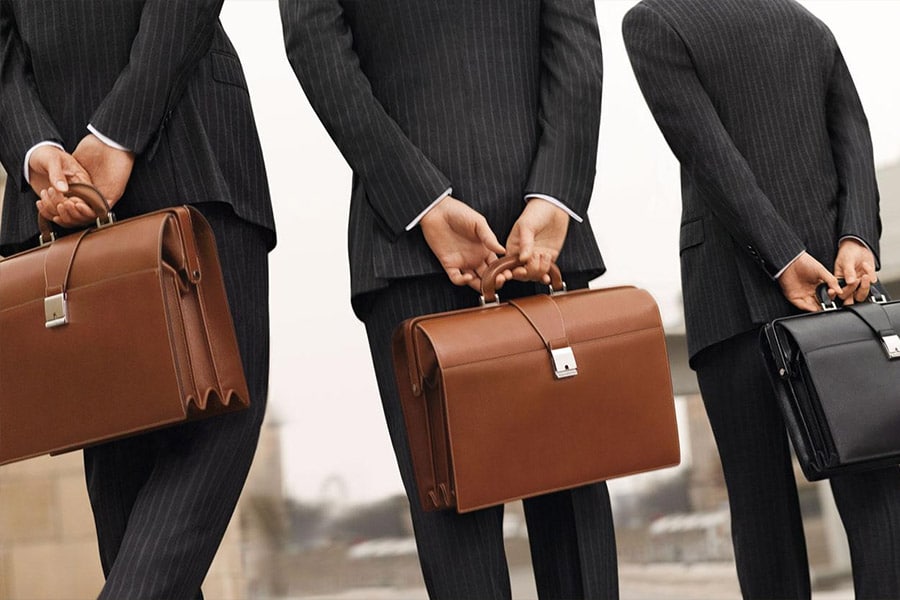 Ermenegildo Zegna
Italian fashion house Ermenegildo Zegna doesn't slouch when it comes to luggage, and furthermore keeps expert pace with the times. The brand's Leggerissimo Grey Cabin Smart Trolley is a prime example. It combines a polycarbonate shell with hand-cut Nappa leather accents, silent wheels, an ergonomic handle, and 2 external USB ports, thereby representing the ideal trifecta of smart, sturdy and stylish. What more could you possibly ask for?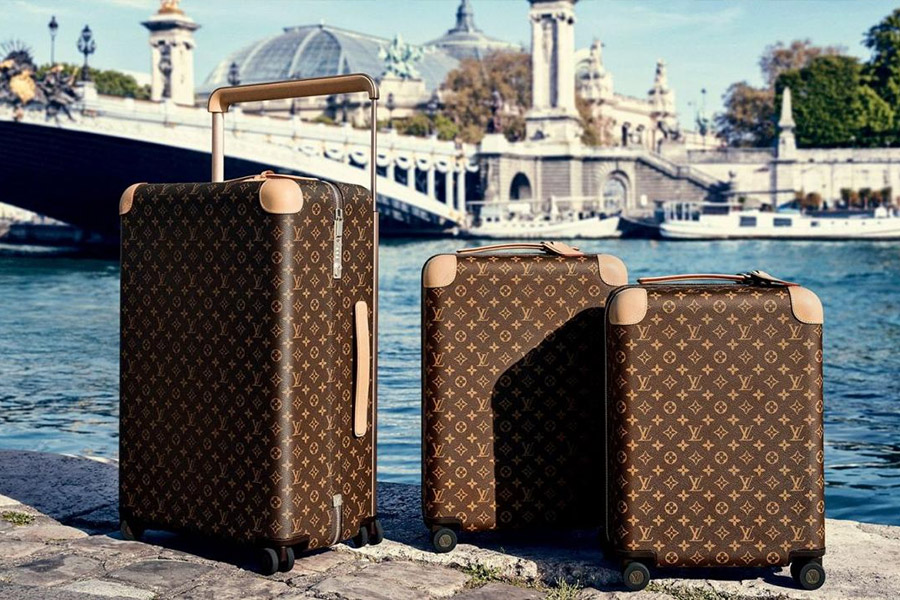 Louis Vuitton
Another brand that needs no introduction, Louis Vuitton has been setting trends since 1854. The label's iconic luggage simply oozes with distinction and dependability. If you like the best of the best, check out the Horizon range, which was conceived in partnership with industrial designer Marc Newson. No matter which product you land on, you'll find signature checkered patterns, steadfast materials, and a profoundly comfortable vibe. This is what luxury travel is all about.
This article is part of our Great Escape Series.
---
You'll also like:
Dwayne Wade x Away Aluminum Luggage
Cathay Pacific A330 Business Class Review
The Sky is no Longer the Limit with Airbus Private Jet Cabins
---
Have you subscribed to Man of Many? You can also follow us on Facebook, Twitter, Instagram, and YouTube.