On the Wrist: Our Favourite Pieces from Tissot's 2023 Collection
It's been a blockbuster few years for Tissot following the relaunch of the Tissot PRX line-up in 2021. The brand's continued the momentum with successive introductions of an automatic 'Powermatic 80' model and 35mm variants for those who prefer smaller diameter watches. And most recently, it threw its hat into the evergrowing dress watch arena with the relaunch of the Chemin des Tourelles, a watch that I had the chance to get up close and personal with at a recent Tissot showing in Sydney.
Going beyond the timeless Chemin des Tourelles, I explored some of the most popular models of the collection, including that fabulous Ice Blue dial Tissot PRX Powermatic 80 above. In this article, I'll be highlighting my favourite pieces from the collection. So if you're like me and you're constantly looking to scratch that watching-buying itch, here's a great excuse.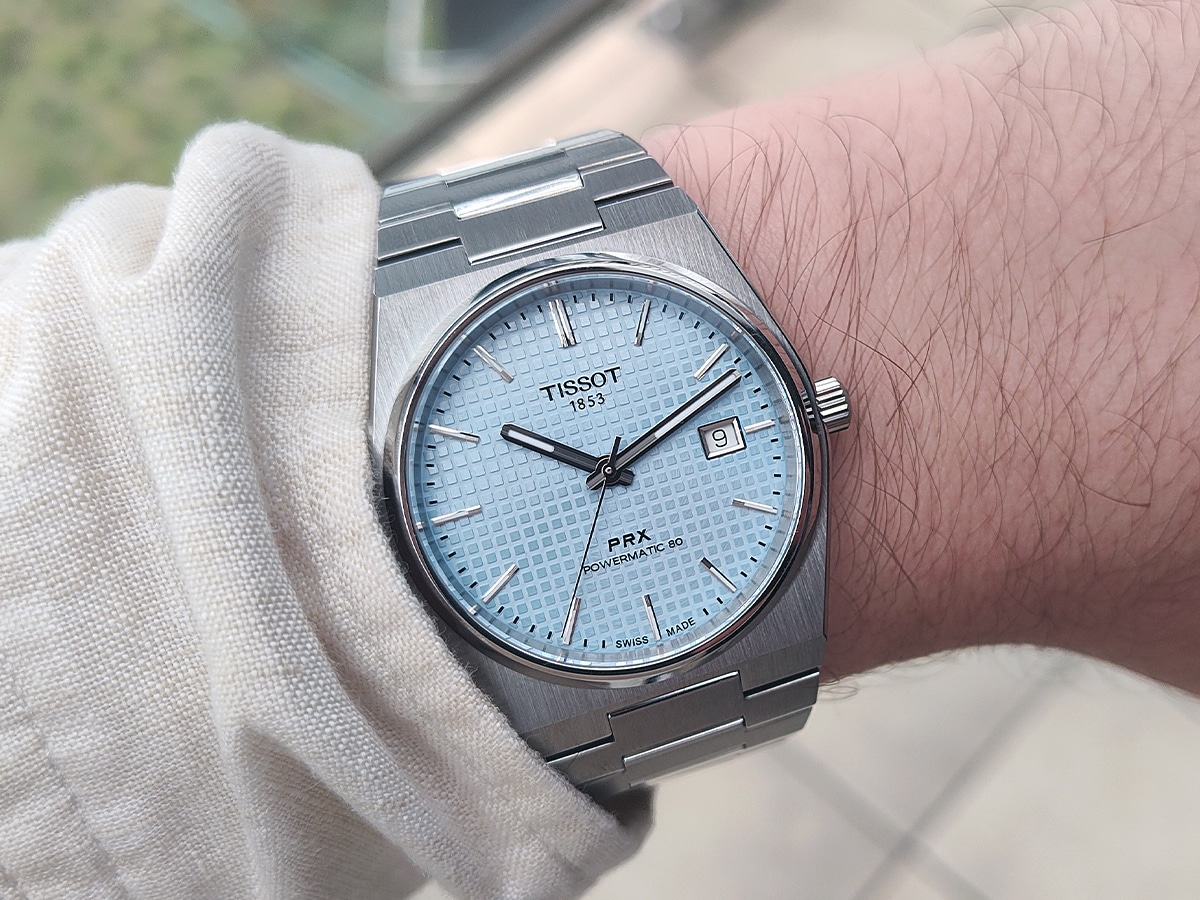 Tissot PRX Powermatic 80 – Ice Blue Dial
An absolutely stunning addition to the Powermatic 80 range, this Ice Blue dial stood out to me from the moment I entered the room at the recent Tissot collection showing in Sydney. If you're shopping for watches around the AUD$1000 mark there's a chance to skew away from the classic navy, black, and green dial options and onto something with a little pop.
It's everything we've come to love about the Tissot PRX, but it doesn't take itself quite so seriously, knowing full well that it has the respect of watch lovers everywhere by now.
This is a theme that I believe Tissot should embrace moving forward, as customers look to double or even triple up on some watches, the availability of rubber straps, leather, and bolder dial colours will only elevate the popularity of the PRX range. Speaking with the folks at Tissot, they assure me that coloured rubber strap options will join the range towards the end of the year. However (I'm giving away free ideas here), that the PRX is ready for its 'Stella Dial' era. Pink dial PRX? Yes please.
Price: AUD$1,100
Reference no.: T137.407.11.351.00
Movement: Swiss automatic caliber 11 1/2"' POWERMATIC 80.111
Case diameter: 40mm
Case thickness: 10.9mm
Case material: 316L stainless steel
Water resistance: Up to a pressure of 10 bar (100 m / 330 ft)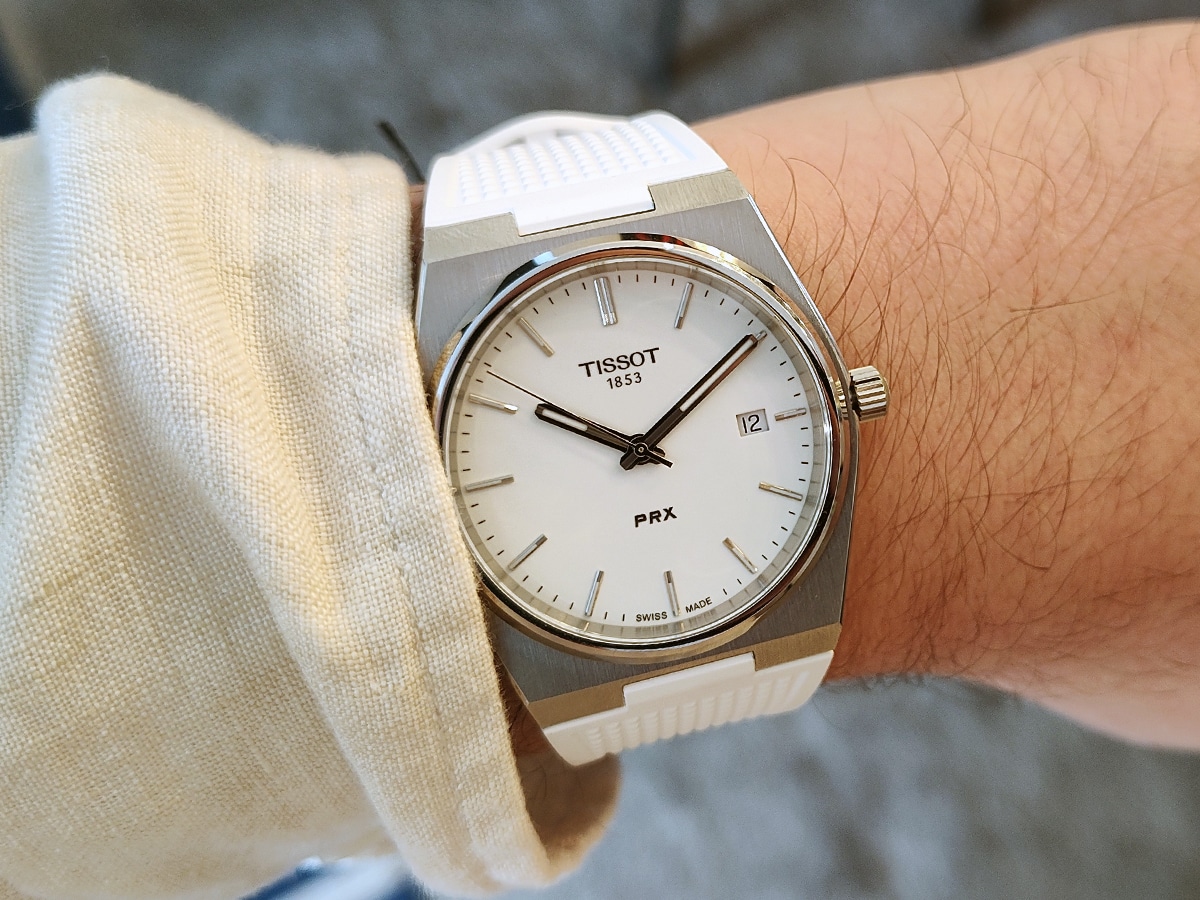 Tissot PRX – White Dial
I never thought I'd come across such a 'baller' quartz watch below the AUD$600 mark. Photos don't do this watch justice because the white dial and white rubber strap combination are so bright in person that you'd be forgiven for thinking it costs three or four times the price.
The white dial PRX wouldn't be my first choice to pair with a suit, however, if you're looking for a fun sporty watch to wear on the weekend, on a boat, or on the tennis court, then this would be my top recommendation from the collection. Somehow the rubber strap is even comfier than the interlocking links of the steel bracelet PRX, while the crown and 40mm diameter of the case is small enough that it doesn't stab into your wrist.
Price: AUD$550
Reference no.: T137.410.17.011.00
Movement: Swiss quartz ETA F06.115
Case diameter: 40mm
Case thickness: 10.4mm
Case material: 316L stainless steel
Water resistance: Up to a pressure of 10 bar (100 m / 330 ft)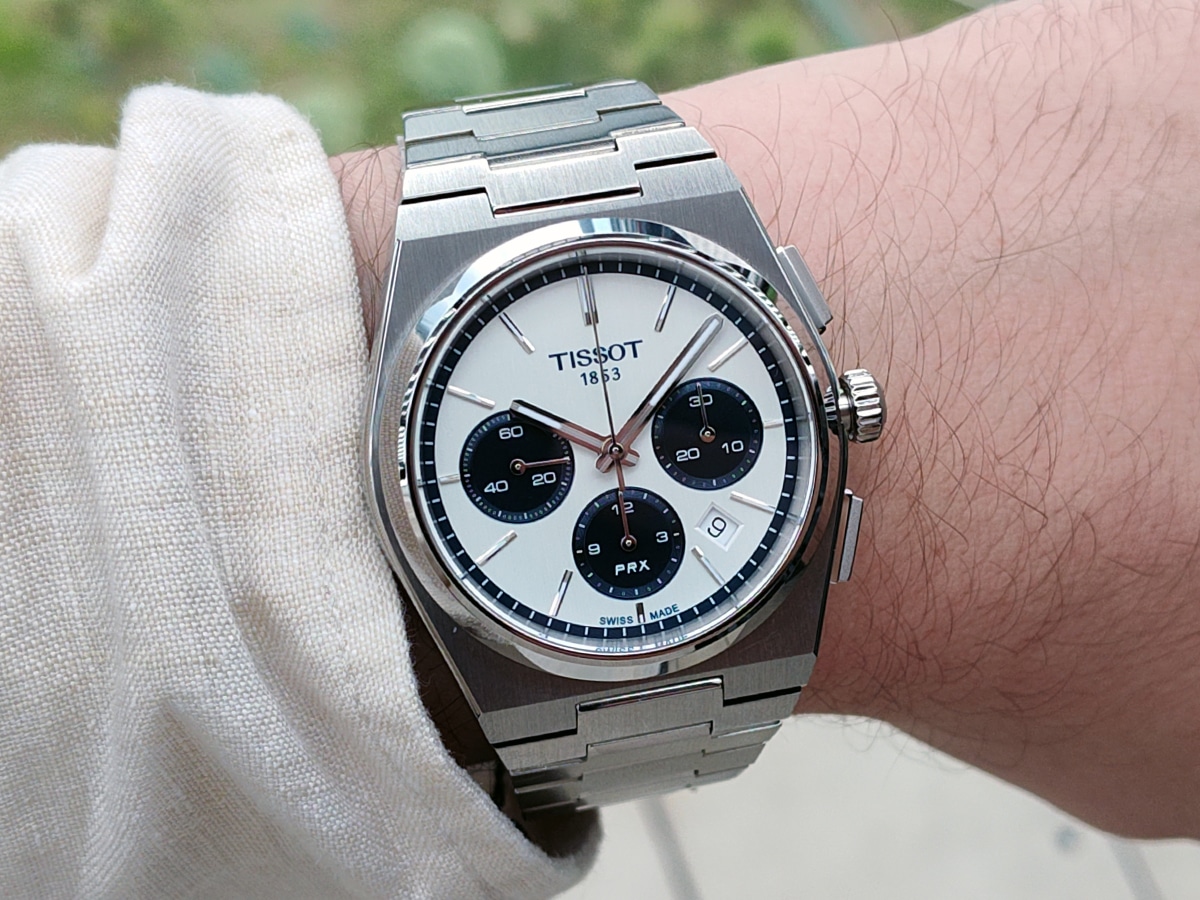 Tissot PRX Automatic Chronograph – Panda Dial
If you're looking to dive into the world of Chronographs, you'll know one thing for sure, they don't come cheap. However, when Tissot launched its PRX Automatic Chronograph towards the middle of last year it nailed a few important features that brought the watch into the zeitgeist of watch-lovers everywhere.
For one, the brand is quick to jump on a trend, offering a 'panda dial' at this price point certainly attracts a few eyeballs (you can blame Paul Newman for that). And second, it's smart enough to know its audience. Releasing the PRX Chrono as anything but an automatic wouldn't have garnered the industry support that it has today. The Swiss Tissot automatic VALJOUX A05.H31 movement is a workhorse for the brand, with up to 60 hours of power reserve it's more than you'd expect for the price you pay.
And that's a theme that continues with the case. It's far from a small and lightweight Chronograph, but you know that it's made well from 316L stainless steel. It might be on the heavier and thicker end of the spectrum, but it gives you all the confidence that it's going to last a lifetime.
Price: AUD$2,900
Reference no.: T137.427.11.011.00
Movement: Swiss Tissot automatic caliber 13 1/4"' VALJOUX A05.H31
Case diameter: 42mm
Case thickness: 14.5mm
Case material: 316L stainless steel
Water resistance: Up to a pressure of 10 bar (100 m / 330 ft)
RELATED: Tissot PRX is Leading a Vintage Quartz Comeback, here's a close look on wrist.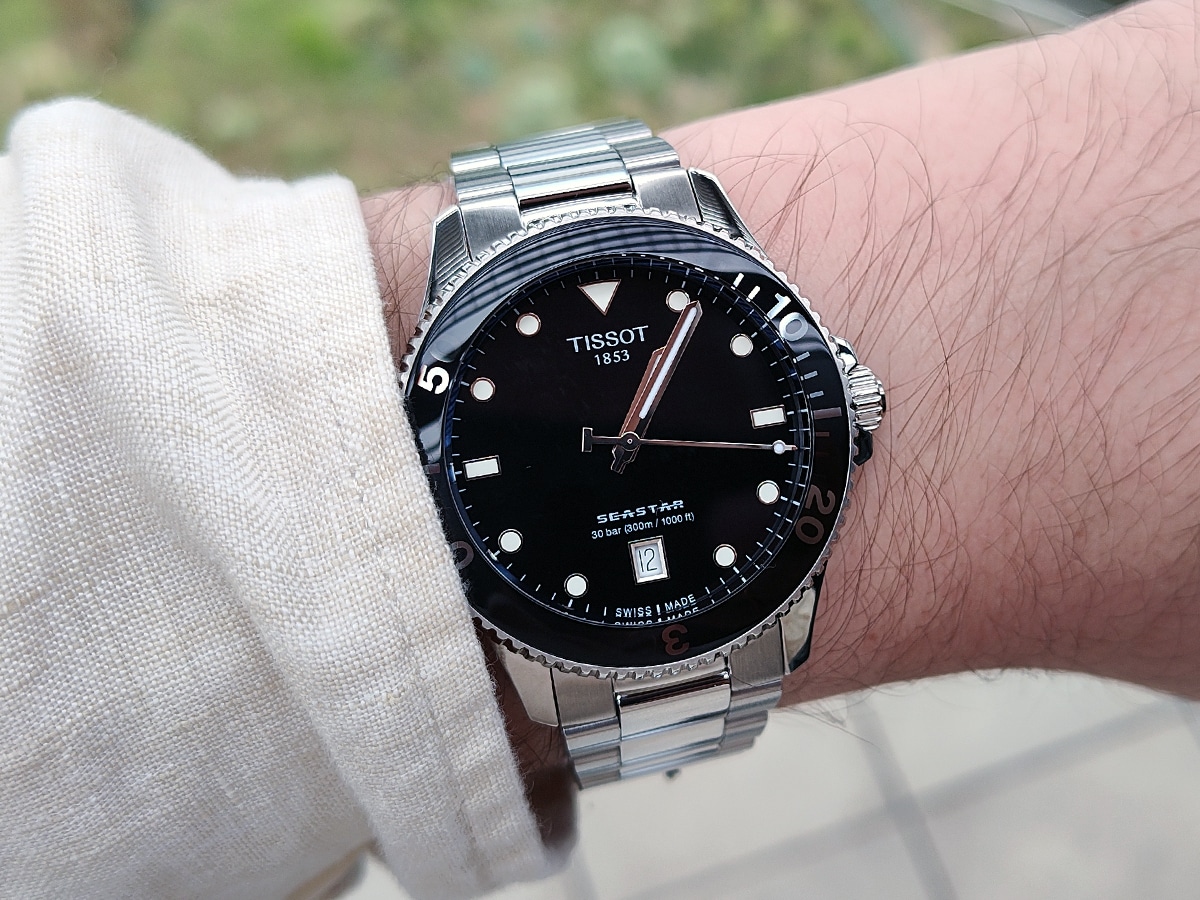 Tissot Seastar 1000
Finally, it's the Seastar 1000 that gave me the biggest surprise. Now available in 40mm diameter, not only does it better suit the average wrist, but the uni-directional rotating bezel is now ghosted for a 'ceramic style' aesthetic that looks very premium.
The 'Seastar' logo itself still looks great, sitting just above the date window on the lower section of the dial, and the crown guard is still one of the best designs at this price point.
Overall, I left very impressed by the Seastar and I can only imagine that a Powermatic 80 automatic version will be making its way into the line-up at some point this year. Keep you eyes peeled!
Price: AUD$675
Reference no.: T120.410.11.051.00
Movement: Swiss quartz caliber 11 1/2"' F06.412
Case diameter: 40mm
Case thickness: 10mm
Case material: 316L stainless steel
Water resistance: Up to a pressure of 30 bar (300 m / 1000 ft)
You'll also like:
Best Pilot Watches for Every Budget
Live Life At Full Speed With Breitling's Top Time Classic Car Collection
The Chase Is On: Ryan Gosling's New Blockbuster Celebrates 60 Years of TAG Heuer's Carrera