The worlds of horology and motoring are two of our great passions here at the Man of Many offices. Both represent the relentless pursuit of excellence, sharing a deep connection that can result in some astounding collaborations. Nothing better represents this phenomenon than Girard-Perregaux's stunning new Laureato Green Ceramic Aston Martin Edition—available in both 38mm and 42mm versions—which combines the elegance and style of the British marque's motoring marvels with the Swiss maison's own horological brilliance.
Building on the legacy of the Laureato collection—which those watch obsessives over at OT: The Podcast, Felix and Andy, describe as having "epitomised sporty elegance" since its inception in 1975—these new timepieces represent the first time an addition to the range has featured a green ceramic case and bracelet, making it both something to behold and an enticing nod to what Felix predicts will be "a bold and exciting future." 
We're inclined to agree. In fact, we can't think of a better example of a brand building on its own proud traditions while simultaneously and seamlessly nodding to another's; in this case, Aston Martin's history of racing performance and the application of the British Racing Green hue to so many of its iconic vehicles.
A History of Innovation
With over 200 years of experience in crafting the finest timepieces, Girard-Perregaux has been the force behind numerous innovations in that time, including the first watch in the world to be equipped with a quartz movement. The Laureato has long been a flagship for the storied watchmaker, and despite numerous evolutions since the collection's first watch appeared 48 years ago, the range has always been known for its octagonal bezel sitting atop a circular plinth with an angular tonneau-shaped case. This tradition is continued with the Green Ceramic Aston Martin Edition, but where these new timepieces set themselves apart is with the ultra-modern ceramic used to craft the bracelet and case.
Comprised of zirconium oxide and metallic oxides (the latter of which is what imbues these gorgeous watches with their striking green hue), the material is remarkably lightweight and composed of an extremely fine powder of micro-beads, each of which measures mere fractions of a micron in diameter. This has enabled Girard-Perregaux's incomparable craftspeople to finish the ceramic components with a combination of polished and satin finished surfaces, a signature characteristic found throughout the Laureato range over the decades.
The green ceramic construction offers a variety of benefits in addition to its striking looks. First, the components are up to seven times harder than steel, giving them a standard for scratch resistance that we wish all luxury watches could match. Second, the green ceramic components will never age or fade as time passes, ensuring that meticulous, just-out-of-the-box appearance will remain for years after purchase. And third, it offers supreme levels of comfort thanks to its light weight, hypoallergenic properties, and resistance to the effects of changes in ambient temperature.
A Pattern of Inspiration
Turning to the dial, both the 38mm and 42mm models boast a stunning cross-hatch design, which not only further enhances these timepieces' unique aesthetic, but also acts as a nod to the quilted seats found in some of Aston Martin's high-performance vehicles, along with the 'AM' logo the marque used from 1921 until 1926. Plus, much like the reduced weight of the case, the skeletonised 'baton' type hour and minute hands draw inspiration from the sleek contours and lightweight construction that have long been signatures of the Aston Martin brand.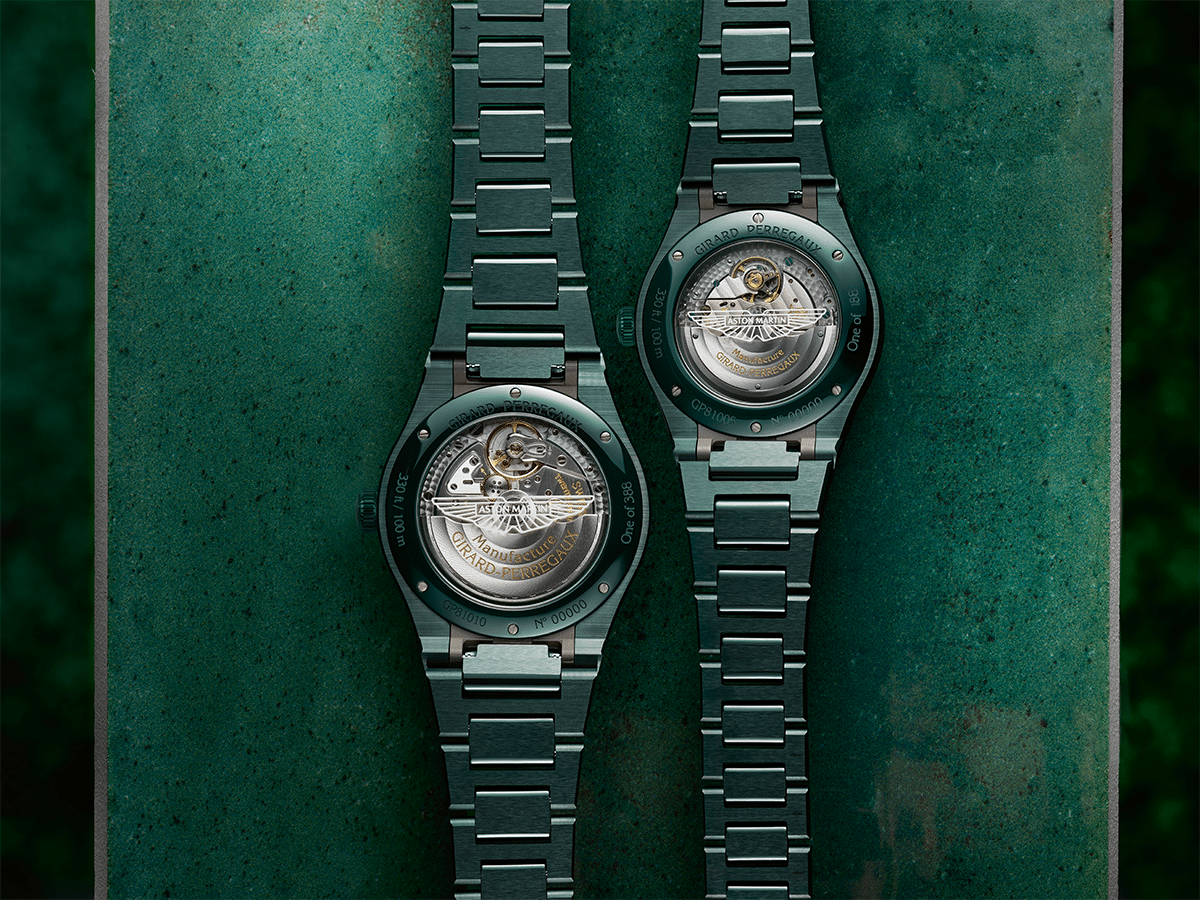 While the two watches look the same from the outside—except for their size, of course—inside each boasts its own in-house mechanical movement (following in the footsteps of the first mechanical Laureato, which was introduced in 1995). The 38mm model features the Calibre GP3300, which offers a plate and bridges that are meticulously stretched, bevelled, engraved, circular-grained and adorned with Côtes de Genève. The 42mm model, meanwhile, is equipped with the Calibre GP01800, which has a main plate adorned with circular graining alongside other components that feature bevelling, mirror-polishing, satin finishing, snailing, sunray finishing and various engravings. Plus, the bridges are decorated with straight Côtes de Genève and the rhodium-plated oscillating weight is embellished with circular Côtes de Genève. Naturally, all of these details are viewable through each watch's sapphire crystal back, cementing the point that both sizes are an absolute masterclass in watchcraft.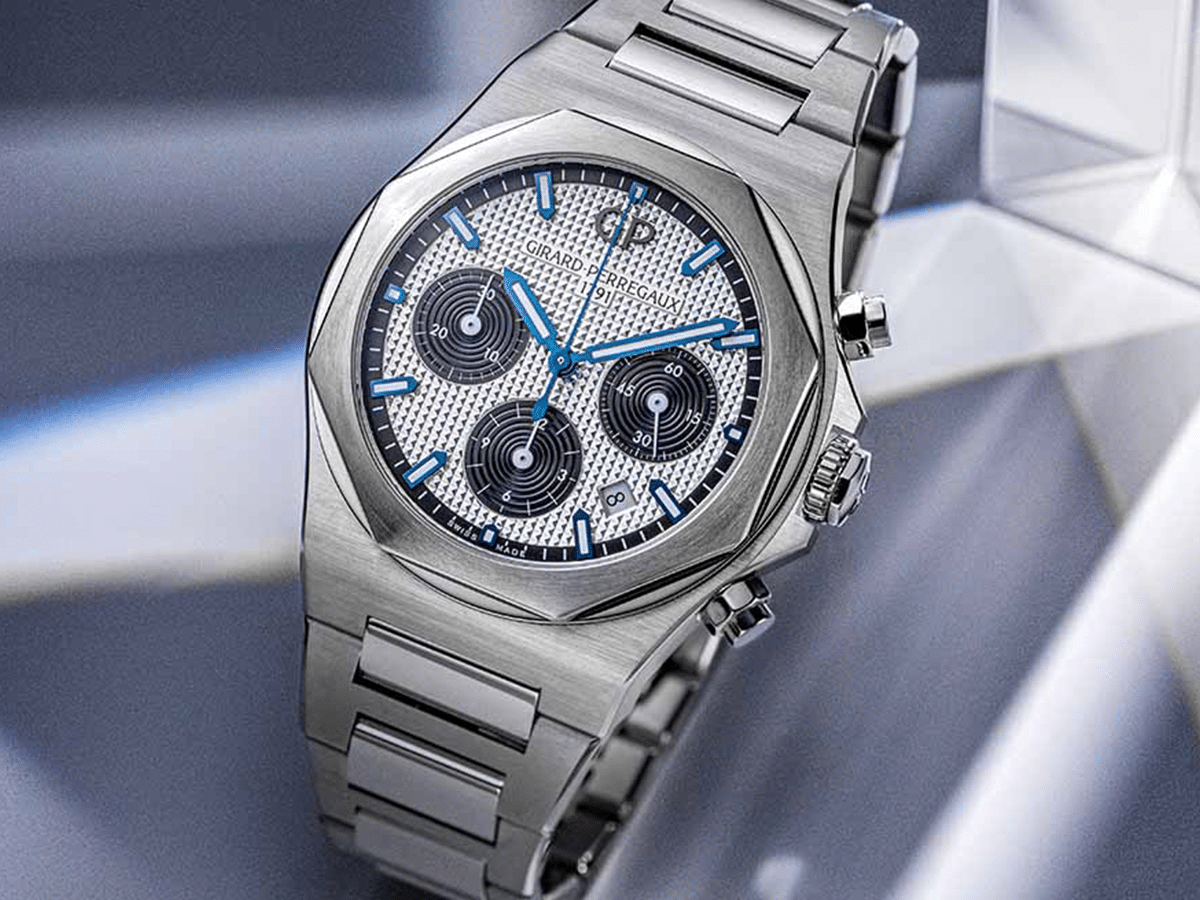 An Exercise in Elegance
While the Laureato Green Ceramic Aston Martin Edition timepieces are spectacular indeed, it would be a shame not to touch on Girard-Perregaux's broader Laureato offering, specifically the Laureato 42mm and the Laureato Chronograph 42mm. These pieces are a perfect representation of what Felix praises as the "clean, strong lines of the Laureato" in its modern form, which Andy affirms as being in a "robust and well-designed place".
The Chronograph brings a sporty feel to proceedings, offering up a handsome aesthetic founded upon the contrast of the black and white across the dial and then elevated by the striking shade of blue across the markers and hands, which Andy believes provide an "edge of modernness".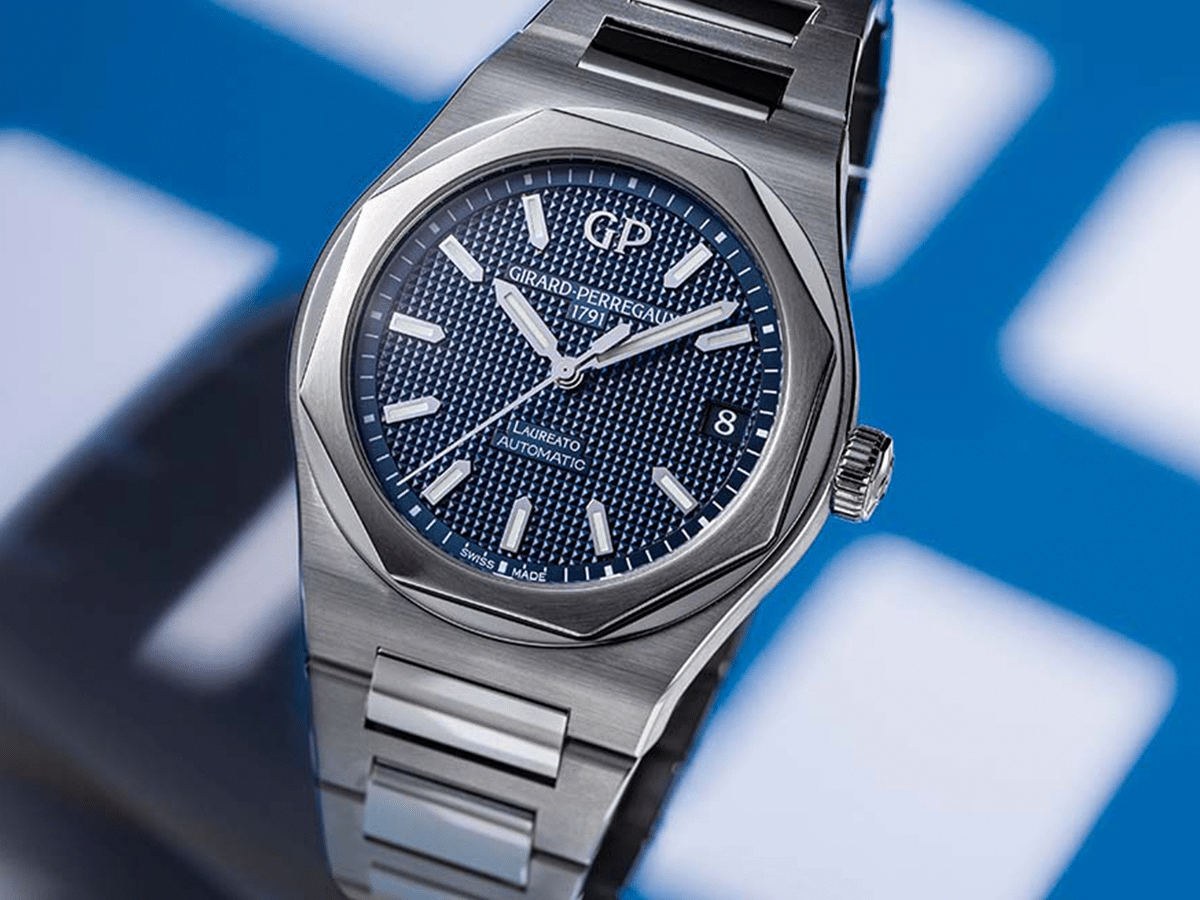 Quite differently, the Laureato 42mm keeps things classic, serving up a timeless blue dial that Felix feels can be worn "anywhere and with anything" and allows the octagonal bezel and integrated bracelet to really shine.
To sum up Girard-Perregaux's Laureato proposition in 2023, Andy explains that the range is "for someone who appreciates good design and pedigree with everything that they purchase, but kind of wants something that's modern and robust." And in a final piece of elegant synergy, we believe that description is just as applicable to the vehicles of Aston Martin and the Green Ceramic Aston Martin Edition timepieces they've inspired as it is to the broader Laureato collection. How perfectly fitting.
The Hour Glass is the exclusive retailer of Girard-Perregaux in Australia and New Zealand. Visit one of its boutiques or click the link below to discover more.