One of Australia's best chefs, Josh Niland is responsible for some of the greatest seafood Sydney has ever seen. His restaurants are stapled additions to anyone's best of the best, but Saint Peter, Fish Butchery and Charcoal Fish dually serve as reminders of what the radical chef's influence on the harbour city's restaurant scene really means.
Peter Doyle, Luke Mangan, Steve Hodges, Heston Blumenthal, and Pierre Gagnaire are just a few of the names that Josh Niland has shared a kitchen with since pursuing his dream of becoming a chef at just 17-years of age.
His 2019 book 'The Whole Fish Cookbook' was once described by Jamie Oliver (a close friend) as a "mind-blowing masterpiece". An innovator in an industry filled with replicators, Josh excels under pressure.
Throwing a Spanner in the Works
The global pandemic was an immediate shock for Australia's hospitality industry. Enough to force even the best chefs to rethink their business strategy. No longer a game of getting bums on seats, the restaurant business sought an immediate shift and Niland led the charge with 'At Home' meal kits, and an entirely new restaurant concept with fewer seats and menu items. The outcome? A far better product.
"The week leading up to locking the restaurant up, we established Mr Niland At Home. It was a fantastic way to maintain our relationship with the customer, but also provide work for those who we could keep employed. Through the demand for this increasing, we were able to reinstate the team back in and also provide work for other chefs by tapping into their skills"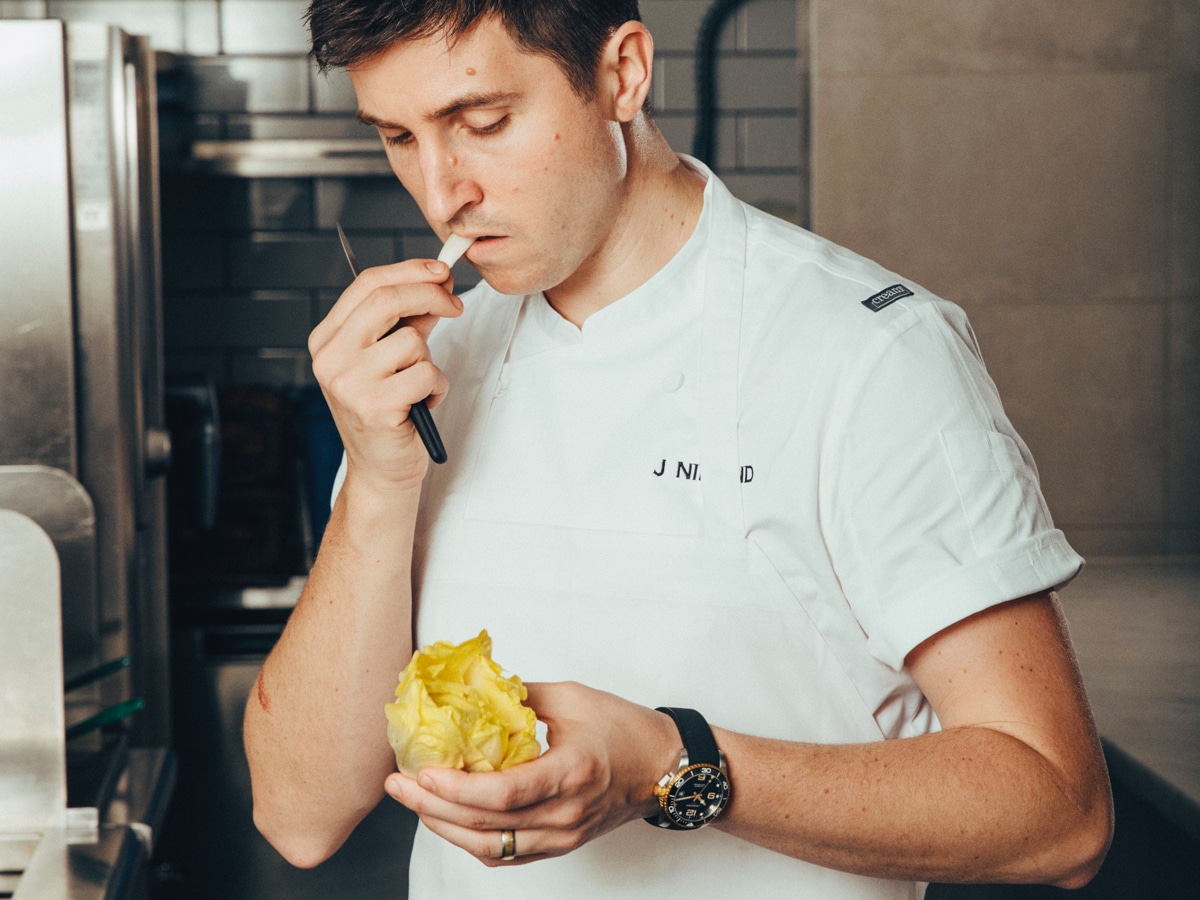 Charcoal Fish
Never one to be pigeon-holed, a new restaurant had been in the back of Niland's mind for months, however, the pandemic and changing industry expectations meant the best time was now to launch a new product. Charcoal Fish was born.
"When you're going to a chicken shop, you're not selecting from multiple species of chicken. So we picked the magical fish, Murray Cod, to be the basis for the entire menu. I did the first menu with what I could actually use from just one whole fish (cutting it into all the parts) that now makes the main menu down at Rose Bay."
"There's nothing in the fish shop game that doesn't mean filling yourself up with batter and deep-fried food. So to create a business that is very vegetable and salad geared on the front line, and then in behind that a fantastic barbeque setup that you can put a fish on and take care of the grilled aspect, you end up with a far better product"
While the absolute star of the show remains Saint Peter, Josh turned his vision for Charcoal Fish into a reality. Going from simple notes jotted down in a notepad, the luxe takeaway joint is slowly but surely becoming a household name, more than on its way to competing with some of Sydney's best.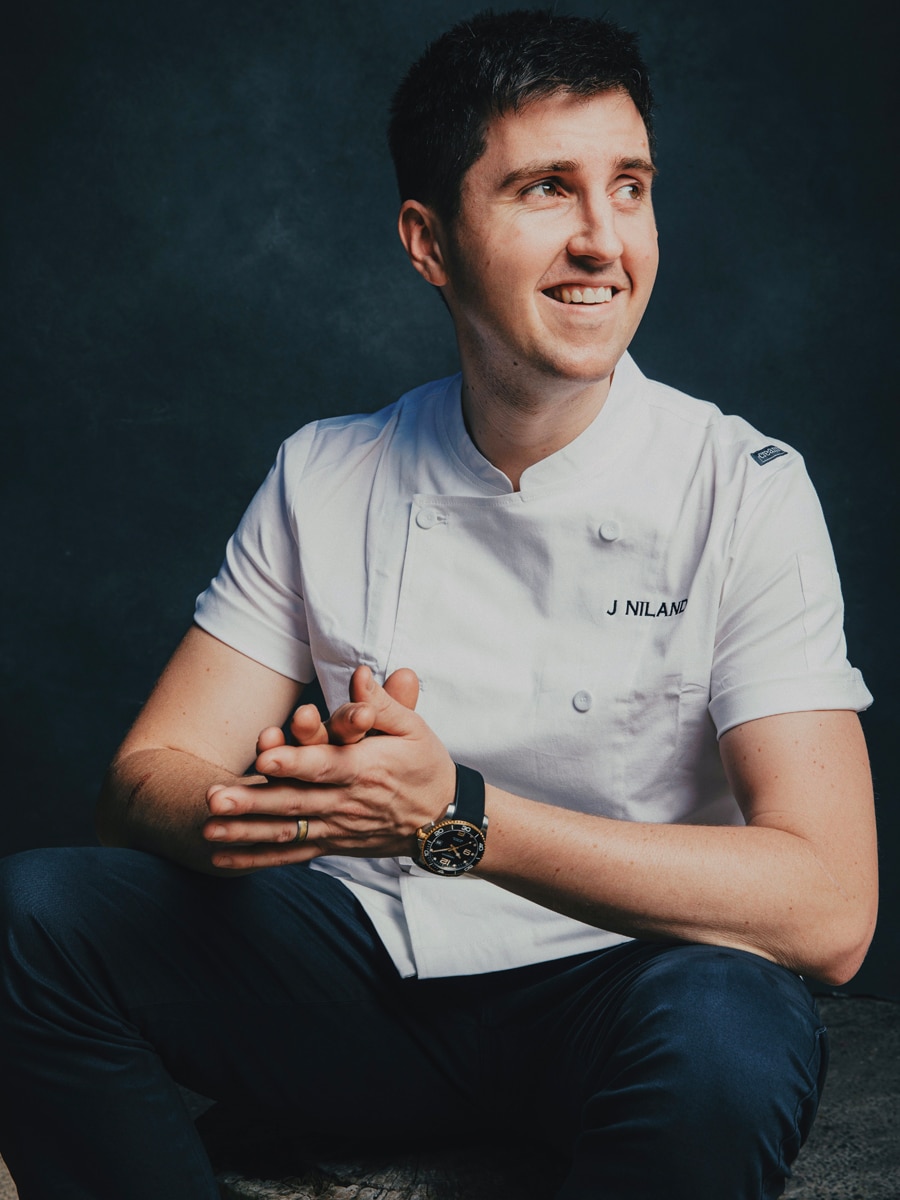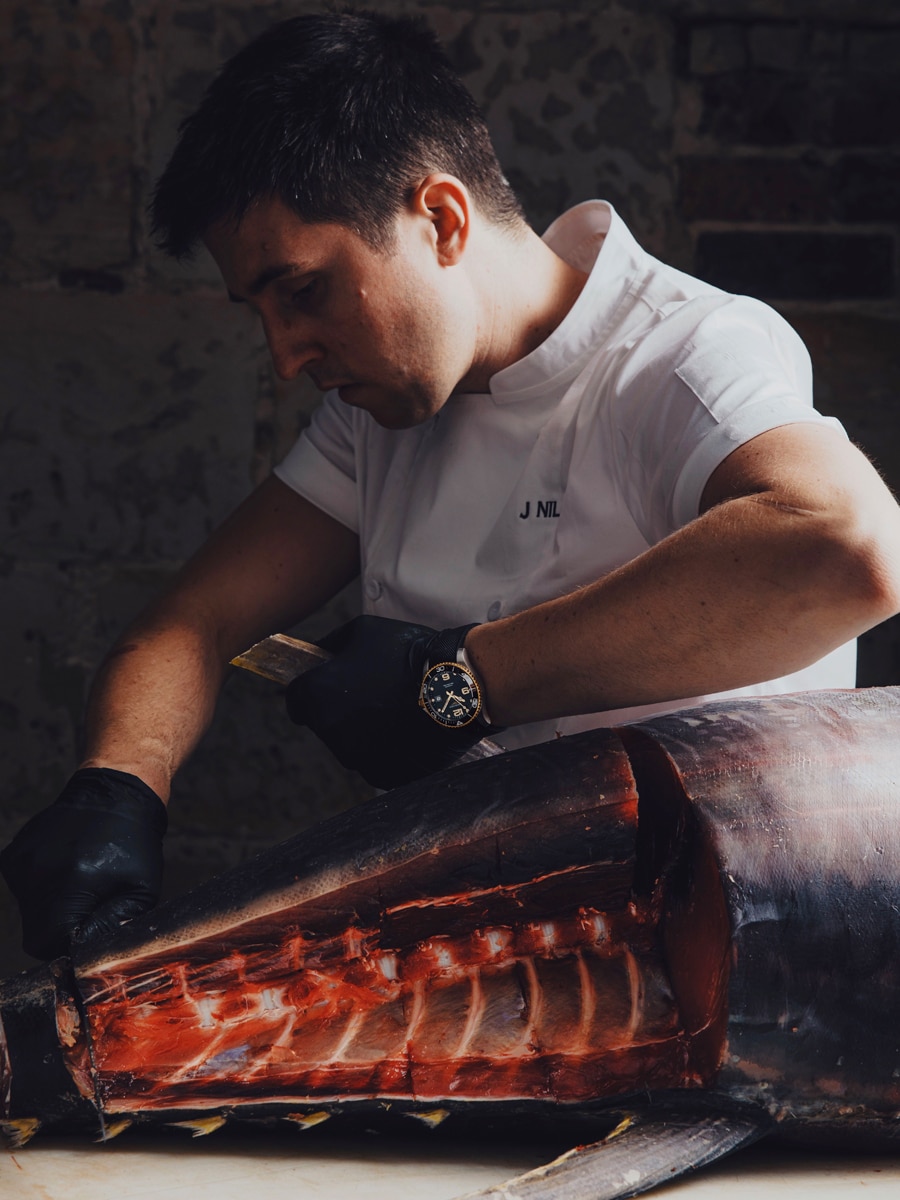 Accurate in His Intricacy
Sustainable in his approach, Josh utilises all aspects of the fish in his cooking. Gone are the days of using only fillets (50% of the fish) here, Josh maximises the yields of his fish by using up to 90% of the animal. The results are dynamic, innovative, and sometimes a little confronting. Menu items change daily at flagship fine dining restaurant Saint Peter, but some of his most famous creations include deep-fried squid and fish eyes, terrines made from fish heads, and black pudding with fish blood. We meant it when we said "all aspects of the fish".
You see, while on the surface Josh Niland's use of eye-catching imagery and exotic menu items do most of the talking, you'd be forgiven for missing the intricacies of what goes on behind kitchen doors. It's here that the true method behind his madness is revealed.
Innovative In Practice
One of many examples reveals itself in his method for descaling. Amongst a number of convoluted approaches to his fish butchery, Josh throws away the traditional tool – that resembles something of a bear trap – for accuracy by way of an extremely sharp knife and a technique that cuts through the fine layers (membrane) between scale and skin – a bit of a "mind bend".
"When I worked under Steve Hodges at Fish Face, the sashimi chefs would never let me do it! It was a matter of cocking up fish that I'd buy myself, and after many hours of practice, I nailed it… a process that I've now introduced to fish butchery and Saint Peter"
To explain further "when you get to a fish market, take a descaler to a fish, rip all the scales off, what happens is the little disk that is stuck in the membrane acts as an empty pocket. Then you use a hose and spray off the fish, those pockets fill with water, you wipe the fish down and close the pockets. After the pockets are closed and left with water inside, it harbours bacteria and breaks down the fish in three to four days. By utilising these practices we can keep a fish for up to four weeks!"
Taking the easy route is just not part of his vocabulary and it's a theme that follows through in the rest of his fish cookery.
"You can buy three fish and chips for the price of one fish and chips at Charcoal fish, but you have no idea where that fish has come from, who caught it, or what the process was behind it… all for the sake of quantity over quality. Something that really needs attention the other way"
"There needs to be a handbrake on the whole system, where a fisherman gets a greater return for the effort invested for doing things the correct way. The onus then falls on the production to utilises all aspects of the fish, and use the full yield available".
While others opt for speeding up the process, Josh slows things down. That's not to say he doesn't work under one of the highest pressure, expectation-heavy environments known to man, but he does so with a calm elegance and strong-minded attitude.
Longines Hydroconquest
Applying quality, elegance, and passion in everything he does, Josh's choice of timepiece is equally as exciting. Humble and understated in his approach, the Longines Hydroconquest was an eye-opening piece for him that draws inspiration from the ocean, a place that Josh understands well. It also matches his wedding ring.
"Honestly, I've never invested in a watch or found the type of enthusiasm that some carry to a watch, but now I get it".
"I wear it to work every day. The band is comfortable, lightweight, and durable, perfect for the pressure environments of the kitchen" he said.
When the expectations call for only the most appropriate high-performance watches, Longines delivers with precise timings.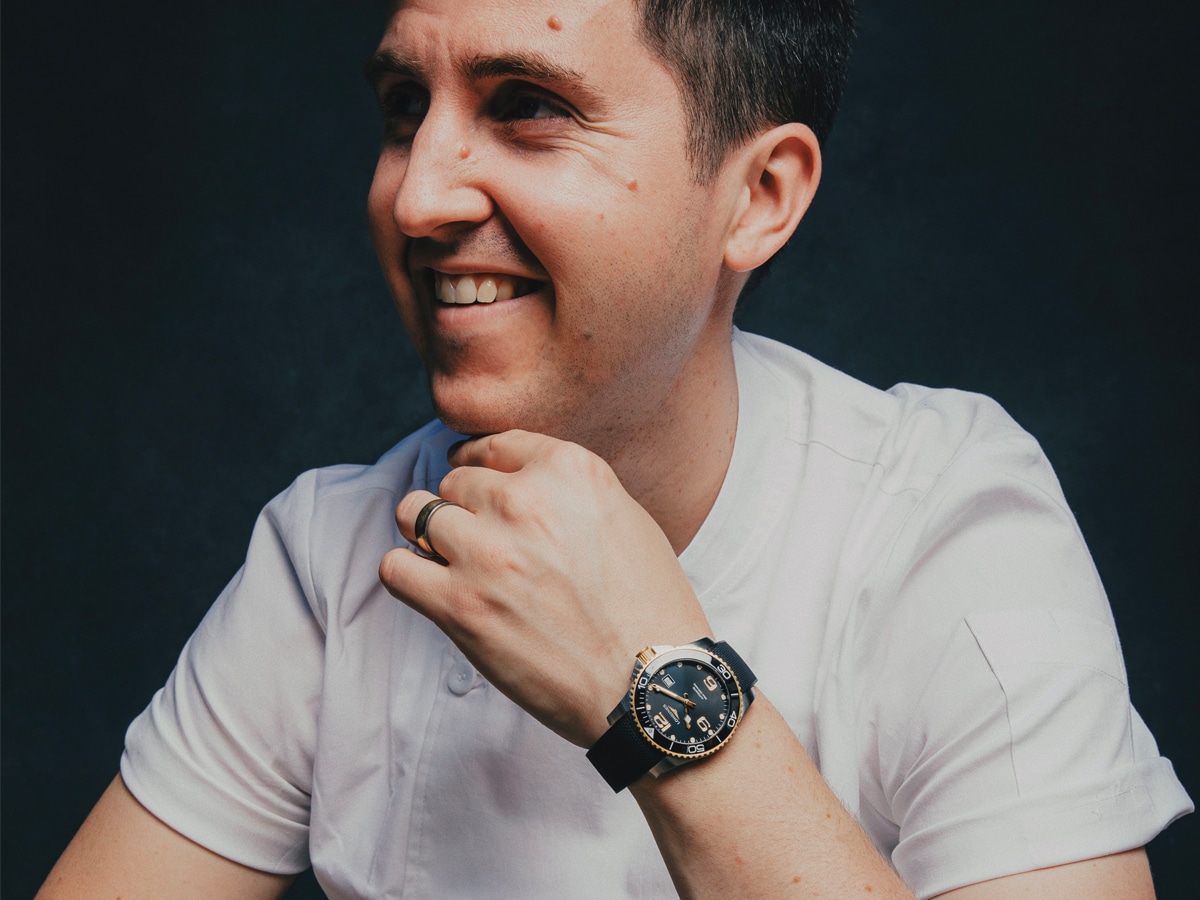 Based at Saint-Imier in Switzerland since 1832, the brand's watchmaking expertise reflects a devotion to tradition, elegance and performance. Hydroconquest is one of many great dive watches in the range, and the latest collection plays with a variety of hues and finishes suitable for the wrist of explorers both in the city and abroad. Taking inspiration from the greatest athletes in watersports, the collection channels aspects of Longines long-serving partnership with the international sports federation.
Available with a grey, blue, black sunray or a matte green dial, each two-tone variation of the piece features a self-winding automatic (L888.5) movement exclusively for the HydroConquest. Water resistance to 300-metres, a unidirectional rotating bezel, screw-down crown and case back, and a double security folding clasp with integrated diving extension piece exemplifies the matter and showcase the sophisticated elegance of the collection. Designed for pressure situations where accurate timekeeping is paramount, the Hydroconquest delivers.
Longines Hydroconquest L3.781.3.56.9
Dedicated to men and women who require a high-performance timepiece to match anything the day can throw at them, the Longines Hydroconquest range has been extended to feature new models in bright colours.
Available in 12 different variations of colour, each model presents at 41mm in dimension, and 12mm in thickness. The Longines Hydroconquest line is designed for disruptors of industry, those who push the boundaries of innovation. Explore the range below to find one that matches your own personal style.
Dimension: 41 mm
Movement Type: Automatic
Material: Stainless steel and ceramic bezel
Colour: Sunray Black
Glass: Scratch-resistant sapphire crystal
Water-Resistance: 30 Bar