The Wind Up – Watch News #80
Eighty instalments of The Wind Up, our weekly watch-focused series, may call for a bit of a celebration. Perhaps even some time off. But, regardless of the occasion, we here at Man of Many know we have a job to do. And that's to bring you all the latest news from some of the world's greatest watchmakers. So, as always guys. Sit back, relax, grab a cold one, and enjoy!
You'll also like:
The Wind Up – Watch News #79

Girard-Perregaux Laureato Perpetual Calendar
I half expected Girard-Perregaux to expand their Laureato collection at this up and coming SIHH, but I wasn't expecting a full perpetual calendar. Be that as it may, I must commend Girard-Perregaux on their relentless approach to improving and expanding the Laureato. The Laureato Perpetual Calendar embodies an asymmetrical dial layout that may prove to be a tad busy, especially when contrasted against the Cloud de Paris motif dial. Nevertheless, the indicators are clear and distinctive, and there is a separation between all of the calendar markers. The huge plus of this watch, aside from a full in-house movement, is the full hours, minutes and seconds display, indicated from the centre stack of hands. Many perpetual calendars of a similar calibre lack a sweeping seconds hand, so it's refreshing to see GP pull out all the stops with Laureato Perpetual Calendar's movement. Very cool stuff!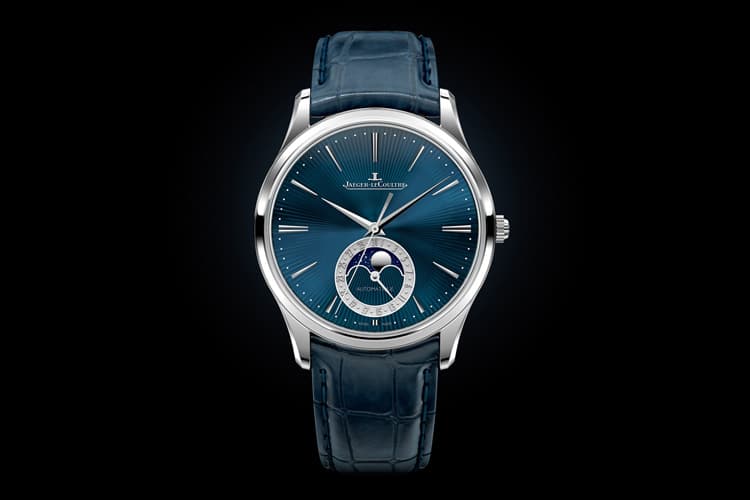 Jaeger-LeCoultre Master Ultra-Thin Moon Enamel
They say that beauty is in the eye of the beholder, and if that saying has any truth behind it, I dare anyone to say that Jaeger-LeCoultre's Master Ultra-Thin Moon Enamel is anything but that. Another pre-SIHH release, the Master Ultra-Thin Moon Enamel is a limited-edition timepiece from the watchmakers' watchmaker, with only 100-pieces being released. It features a dial that has been completely crafted by hand by artisans trained in Le Sentier, the same locale where the Jaeger-LeCoultre manufacture is located. The 39mm wide and 10.04mm high white gold case serves as the perfect encasing body, surrounding that beautiful dial and providing a wonderful shiny contrast. This is a superb timepiece that really embodies the notion that Jaeger-LeCoultre are at the forefront of the Swiss watchmaking industry.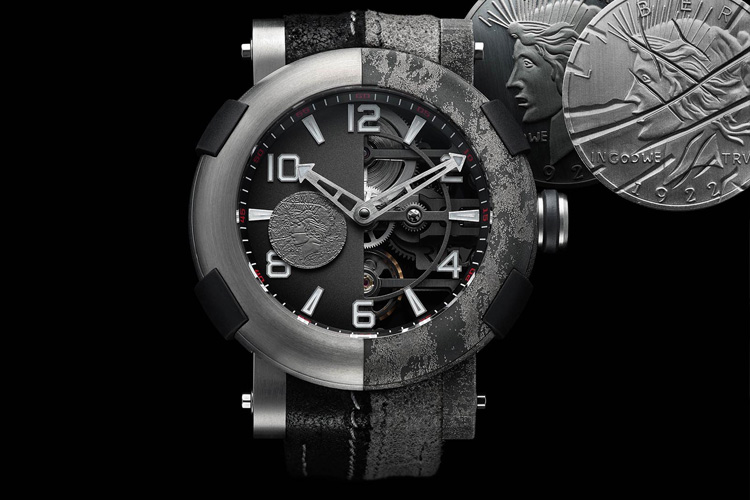 Romain Jerome Arraw Two-Face
Fans of DC Universe villains rejoice, for Romain Jerome have release a slew of villain-inspired watches that are sure to satisfy even the most apocalyptic-curious watch enthusiast. The Romain Jerome Arraw Two-Face, inspired by Batman's arch nemesis of the same name basically features a watch entirely split in the middle. On one side you have a simplistic, clean and very straightforward dial, while on the right side you have a fully skeletonised dial with a bezel that looks like it's gone through some pretty tough times. Even the strap has been treated to this "Two Face" detailing, and while some may claim to this piece as being nothing more than a novelty, I like to think of it as an expression. But the question to ponder is this: an expression of what? Hmm…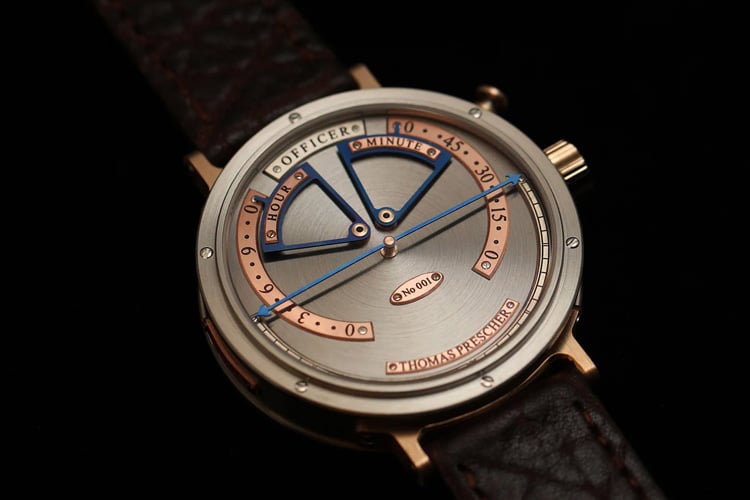 Thomas Prescher Nemo Officer
Not something you're going to see every day, and unless you're well and truly embedded in the watch industry, you'd be forgiven in not really knowing who or what Thomas Prescher is. The Nemo Officer is the third piece from his line of Nemo watches and features a beautiful retrograde time indicator. From an aesthetic perspective, the Nemo Officer is a watch purists dream. There's an abundance of hand-crafted finishing techniques on display, all of which are super complex and very difficult to achieve properly. The dial, while somewhat plain, is full of detail and is virtually flawless. The movement is completely tended to by hand and features hand-engraving and gold-plating. The rotor has also been treated to the same finishing. Priced at 19,500CHF, the Nemo Officer is anything but approachable from a monetary perspective, but if you've got the dosh and you're already built yourself a decent collection, Thomas Prescher might have some kind of pull for you.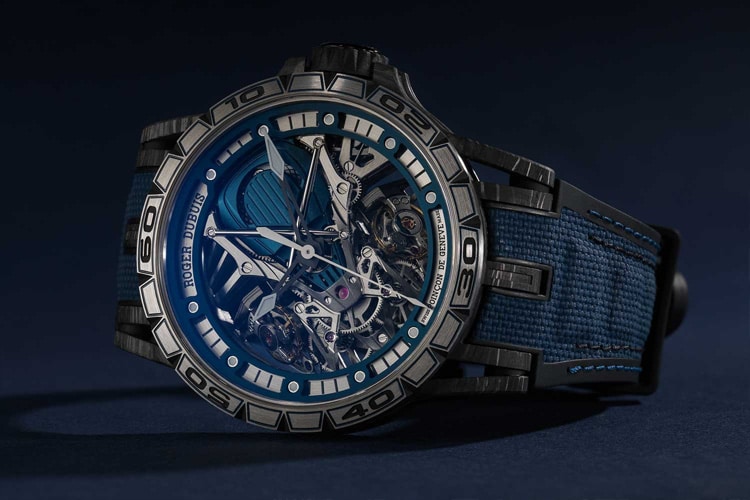 Roger Dubuis Excalibur Aventador S Blue Edition
Created to celebrate the partnership between Roger Dubuis x Lamborghini and Bucherer, the Excalibur Aventador S Blue Edition is the same watch as the rest of the Excalibur Aventador S pieces, except this time it features a dramatic and very appealing blue colour palette throughout. The iconic "Bucherer Blue treatment" is apparent throughout the piece, particularly through the "engine" of the Excalibur Aventador S Blue Edition, its outer chapter ring and the fabric strap. Generally speaking, the Excalibur Aventador S looks good in any colour variation, but blue just so happens to be my favourite colour, and as such the Excalibur Aventador S Blue Edition just leapt to the top of my want list. Love it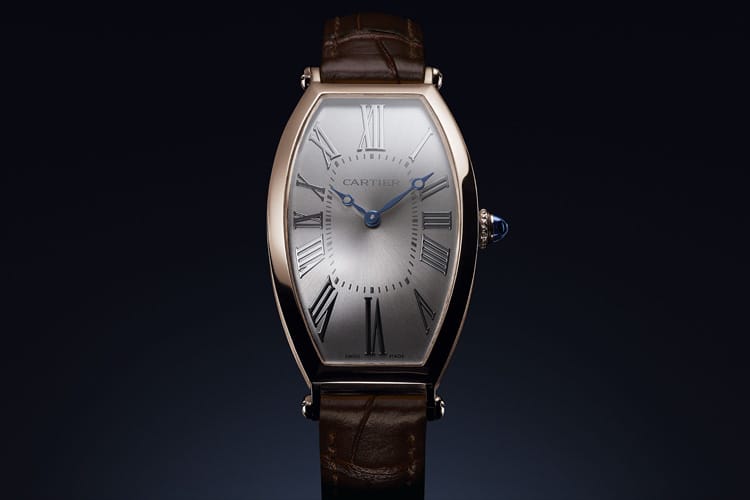 Cartier Tonneau
An icon born in 1906, the Cartier Tonneau is back, and just in time for next year's SIHH. A few weeks ago, we featured the Cartier Tonneau Dual-Time. This week we have the far more subtle Tonneau. Available in either platinum or pink gold, the Tonneau is just about as Cartier as it can get. Featuring the iconic sapphire or rub cabochon crown, and with curves your better half would kill for, the Tonneau is more watch than your wrist will ever be able to hand. It's a gorgeous timepiece whose proportions and balance edge on the brink of sheer perfection. Not even the lacking seconds hand can deter my ever-increasing feelings of want for the Tonneau. Whilst some may lay claim to the Tonneau as being slightly feminine, I wholeheartedly believe that Cartier have done its original 1906 Tonneau justice. Refined, delicate and oh so desirable. The Tonneau is my favourite watch of the week.
If you enjoyed The Wind Up and would like to continue reading about watches, you can head on over to my blog, Haulogerie, where I delve a bit deeper into the wonderful world of watches.
You'll also like:
The Wind Up – Watch News #79
The Wind Up – Watch News #78
The Wind Up – Watch News #77