William Wood's Bronze Valiant Watch Honours Our Hardworking Firefighters
British watchmaker William Wood expands its Valiant collection with a stylish, new dive watch, this time made from bronze. Beyond looking great on the wrist, this special edition also utilises upcycled firefighting materials. The crown features an inset made from an actual 1920's brass British firefighter's helmet, plus the deep ocean blue strap is made from Angus Duraline firehose donated by the fire service. The William Wood Valiant Bronze edition is limited to 200 examples.
You'll also like:
This William Wood Watch is an Affordable Rolex Alternative
This Rugged Titanium Field Watch is Ultra Lightweight and Insanely Durable
Father's Day Gift Guide 2020 – The Watch Lover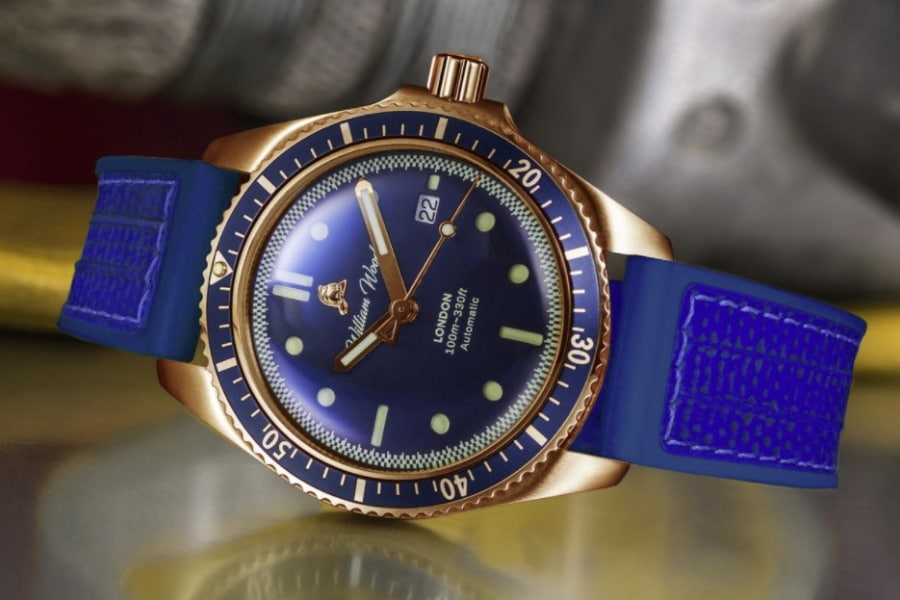 Following on from the bronze and tributes to firefighters of the past, the Valiant watch is defined by a classic design and checked markings around the outside of the dial which is the same checks found on the side of the British fire engines.
The two stripe indices located at the 12 o'clock represent the markings of a Fire Service Crew Manager who would have this same marking on their uniform collar. The hands are plated in antique rose gold and topped with Super-LumiNova. The seconds hand is styled identically to that of the chime found on classic fire bells. The watch face is then protected by double domed sapphire crystal glass with an anti-reflective coating.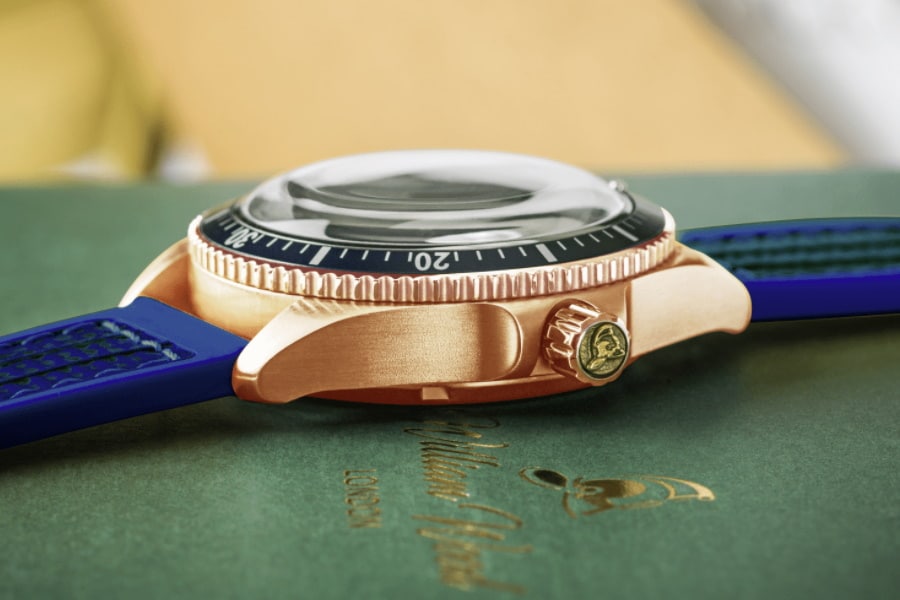 The Valiant watch is powered by the Seiko NH35 automatic movement which is one of the most popular options available and William Wood, along with many watch critics, argue is just as accurate as its Swiss-made contemporaries. The lower half of the caseback details the watch and its movement while the upper half remains clear to show-off its complexities. The Valiant watch remains water-resistant to a depth of 100 metres (330ft).
The Bronze edition is the first William Wood watch to be available with customised engravings. A personalised message can be engraved on the caseback, making this watch the ideal gift for a loved one. All William Wood watches are presented in a box with a travel roll that can hold up to three watches.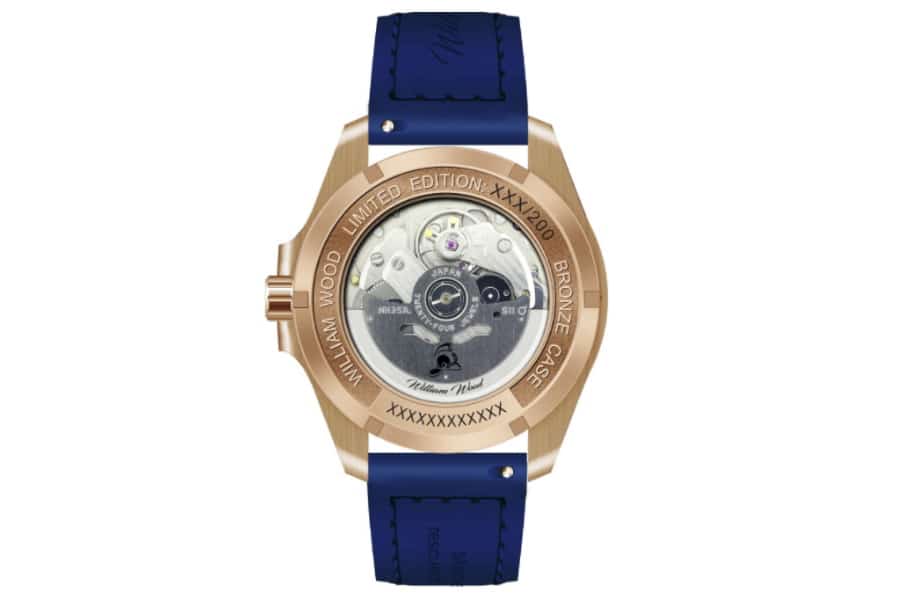 William Wood Valiant watch Bronze edition is priced at AUD $1,453 and ships out in January 2021. Should blue not be your colour of choice, William Wood also has firehose straps available in red, yellow and green.
You'll also like:
This William Wood Watch is an Affordable Rolex Alternative
This Rugged Titanium Field Watch is Ultra Lightweight and Insanely Durable
Father's Day Gift Guide 2020 – The Watch Lover