The Wind Up – Watch News #22
Welcome to another instalment of The Wind Up. In this issue, I take a look at a very cool perpetual calendar, a fantastic piece from one of my favourite accessible brands Frederique Constant, as well as some other watches from around the world. So as always, sit back, relax and unwind with The Wind Up!
You'll also like:
The Wind Up – Watch News #20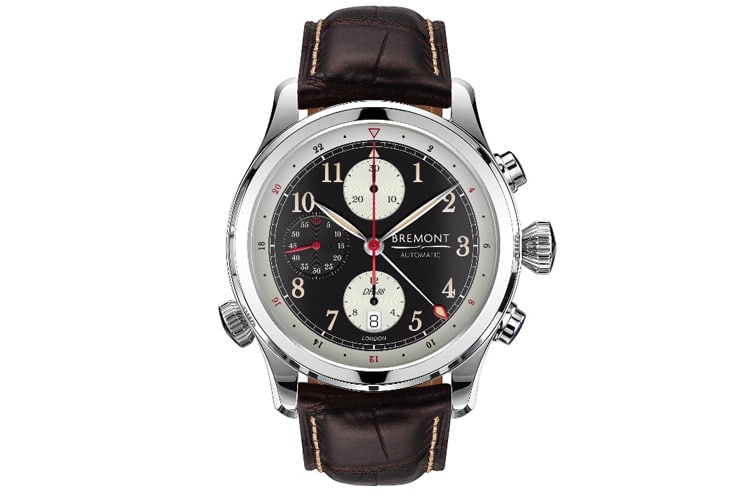 Bremont DH-88 Chronometer
Brand new from Bremont is their celebratory piece that pays homage to the famed Havilland DH-88 Comet, an aircraft that won the race from England to Australia in 1934. A feat that, at the time, was record-breaking and downright phenomenal. With styling that really pays tribute to the dirty '30s, the watch is a play on colourful aesthetics and functional dial design. It has similarities with that of a cockpit cluster, and when you look at it from afar the contrast between the panda-design sub-dials, the matte black dial, and the stainless steel or 18k rose gold case looks wonderful. The 43mm case though won't be for everyone, but in the sense of functional execution, I think it's spot on. Powered by the BE-54AE automatic caliber containing 25 jewels, the watch is sure to entertain for about 42-hours. As I mentioned, the DH-88 is available in either stainless steel or 18k rose gold case, of which I would likely choose the steel version. It's a brilliant little piece of machinery that combines the best of both worlds: vintage styling with modern mechanics.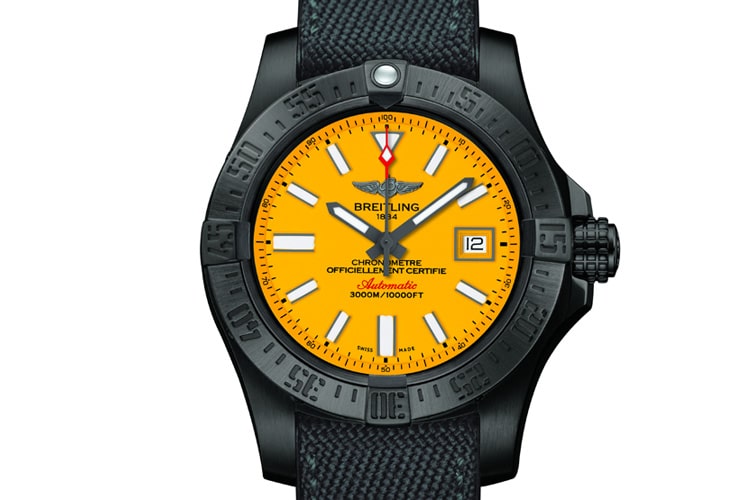 Breitling Avenger II Seawolf Blacksteel
Now if you're an avid reader of the Wind Up articles, then you'll realise that I have been writing a lot about Breitling. But, if you follow me on Instagram (@haulogerie), you'll also notice that I rarely, if ever, post anything related to Breitling. My personal thoughts on them are in the domain of: yes, they're interesting; but no, I wouldn't purchase one. That's not to say they're crappy watches, they're not. But they're not something that I would consider an option for me personally. But these articles are for you, and that's why I enjoy covering Breitling and giving you my honest opinion about them. Just because I see them in a certain light, doesn't mean that you should. So anyway, here is the Avenger II Seawolf Blacksteel, one hard-looking motherf$%&er that is begging you to take it on an adventure. From the bright Cobra yellow dial, to the darkness of the Blacksteel case, expect this beast to follow you to the depths of hell and back. And by hell, I mean the deepest oceans. And by deep, I mean 3000m deep. Yep, deep as hell. From an aesthetic standpoint, the Avenger II is polarizing yet I can see its appeal. Its massive without being overtly "in-your-face", and while it lacks any really "zing", it will certainly catch the attention of anyone stupid enough to stand in its way. Add to that a COSC certified Breitling Caliber 17 that will function no matter what torment you put it through, this tank will be reliable and indeed inspiring.
---
Featured Video from Man of Many
---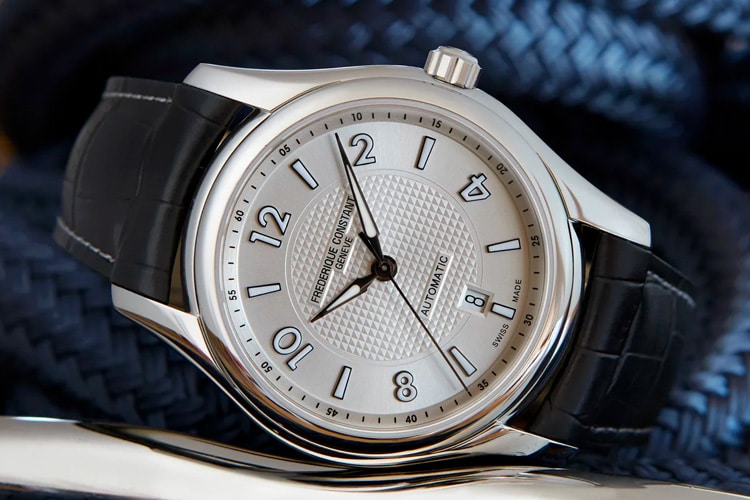 Frédérique Constant Runabout Limited Edition
New from one of my favourite "affordable" brands, Frédérique Constant has released the very beautiful Runabout Limited Edition, available in either stainless steel or rose-gold plated stainless steel. Invariably, I'd opt towards the stainless steel option. I feel that the SS carries with it more opportunity to be worn, while the rose-gold variant lacks that wearability (it's a word now, dammit!) factor that unfortunately is all too common with many rose gold watches. Both, however, feature similar dial textures and the same dial layout, bar the differences in dial colours. The stainless steel has an off-white dial, while the rose-gold uses a chocolatey-brown. As I said, it's a solid all-rounder, and if you add a NATO strap to the stainless steel Runabout, then you really have a completely different watch in your collection. I love pieces like these where a simple strap change can alter the entire purpose of the piece, more often than not for the better too. Adding the date window at 6 o'clock further emphasizes its functionality, and for that I applaud FC. Each piece is powered by the solidly reliable ETA 2824 which has been slightly modified by FC (to now be called the FC-303). Priced well under $5,000AUD, it's a solid and inexpensive way to buy into the "limited edition" phenomena that seems to be gripping the horological community.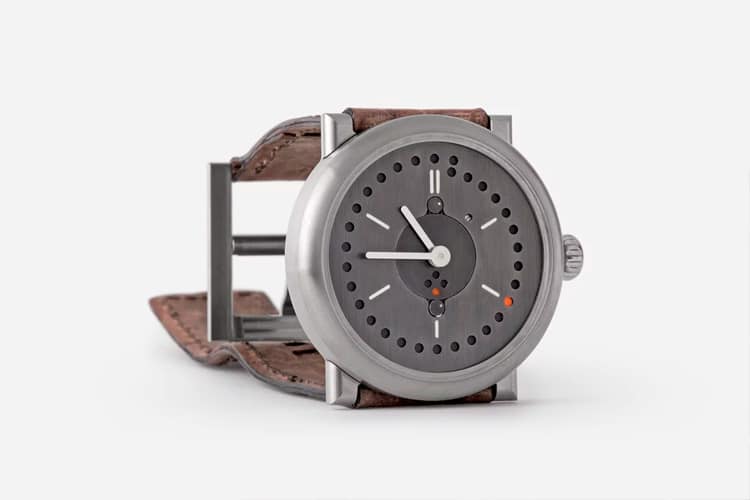 Ochs Und Junior Perpetual Calendar
From a brand that very few people really know about comes a perpetual calendar that is truly unique and well worth your attention. Ochs Und Junior creates simple-looking timepieces that are well defined, that have clear intentions, and are just about as distinctive looking as can be. Unapologetically different, their watches point to the future of what watchmaking could look like over the next decade or so, and their vision is something to be really excited about. Now the mechanics of the watch are intriguing and are far beyond my expertise, so if you're really interested in how it works then head on over to Hodinkee where you'll be able to read a very well-written article about its inner workings. As far as aesthetics goes, it's quite difficult for me to dissect Ochs Und Junior's QP, simply for the fact that it is completely customizable. The would-be-purchaser has the option of an enormous amount of colours to choose from, with a seemingly infinite amount of combinations. Luckily though, the experts at Ochs Und Junior are more than willing to add their two cents and help you choose a suitable colour scheme. Beyond the obscurity of the dial, the watch seems to sit fairly large, and with a high profile, you'd struggle to hide it under a shirt cuff. But this is a watch that wants to be seen, and be it as it may when you're spending well over $20,000AUD to be different, then you'd want the world to know it.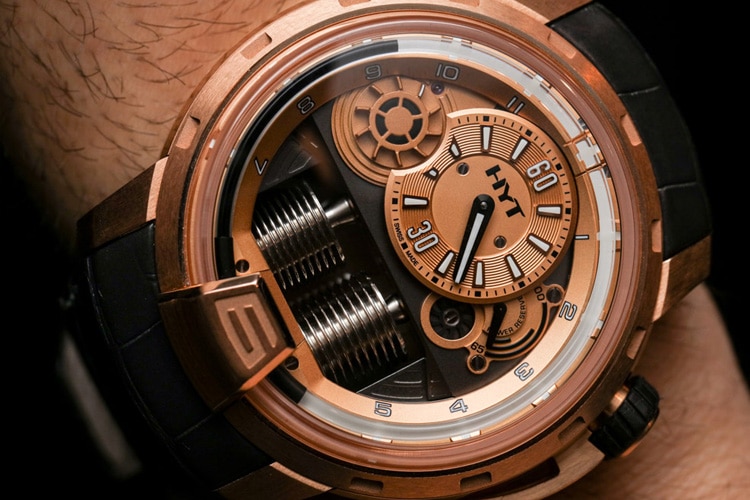 HYT H1 Full Gold
What do you get when you add gold to a watch that really doesn't need any more pizzazz? Well you get the HYT H1 in solid gold, that's what. Okay, so that was a bit lame and sounded better in my head than when I said it out loud, but I'll just leave that where it is and move on to the watch. Hydromechanics is the game here, and HYT is without question the kings of this domain. Not the most legible of dials, and certainly something to consider before parting with over 6-figures of your hard-earned cash, but without doubt a very intriguing proposition. Beyond the dial's complexities, the nature of the piece, in general, is really a very unnecessarily complicated take on a relatively simple task: telling the time. But that's not a dig at HYT, it's an ode to the entire watchmaking world. We love complicated watches. Watches that push the boundaries of telling the time. Whether it be to more accurately present the time, present the time in various ways or find new and exciting ways to tell the time, we love the nature of complicating the simple. This is less of an analysis than it is an applause. I truly enjoy what HYT represents and how they present themselves to the world in their watches. Neither traditional nor conservative, HYT purely as a product creating institution is highly adventurous and not confined to the traditions of such an old market, but as an outlet of passion is, without doubt, incomparable.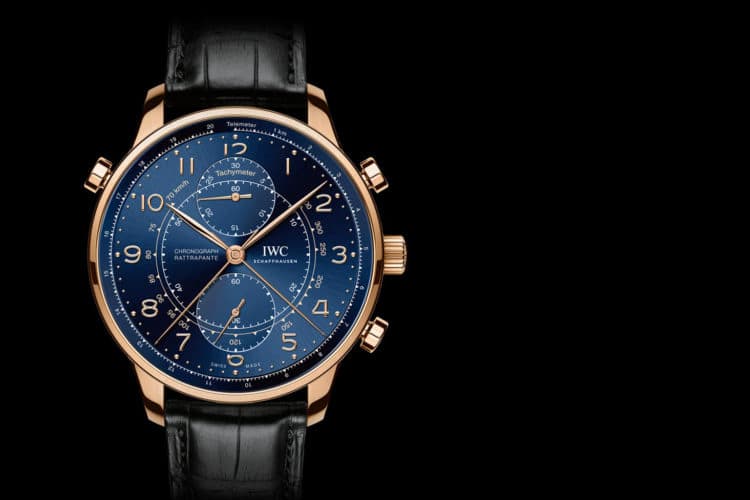 IWC Portugieser Chronograph Rattrapante Limited Edition "Boutique Milano"
I have a sort of love-hate relationship with IWC. Some of their watches I despise, while others I highly enjoy. Some ruffle my feathers, while others warm my heart. The Portugieser is one of those iconic and infamous collections that you can't not love. From the simple Chronograph to the incredible Perpetual Calendar, the Portugieser's identity is well defined and highly visible to all. The Chronograph Rattrapante "Boutique Milano" Limited Edition is a play between incredible mechanics and beautiful aesthetics. The combination between the blue dial (of which a variety of different shades can be seen, depending on the light it's exposed to), the 18k red gold case, and the matching hands, hour numerals, and minute markers, is stupidly gorgeous. It's the kind of watch you'd buy even if it were Quartz. But thank God it isn't. The beating heart at the centre of this masterpiece is the IWC Calibre 76240 with an in-house rattrapante module. The 76420 is hand-wound but is unfortunately hidden away behind a bulk-door equivalent case back. Why, oh why would you do this, IWC? Everything was going so damn well. The dial, the case, the movement: perfect. And then you decide to hide the movement. But, be it as it may, you can't have your cake and eat it too, and in the world of watches, there's always going to be something that gets under your skin. Priced at over $20,000AUD, it's a wonderful piece and something that I'm sure you'll love just as much as I do. If you can get over the case back.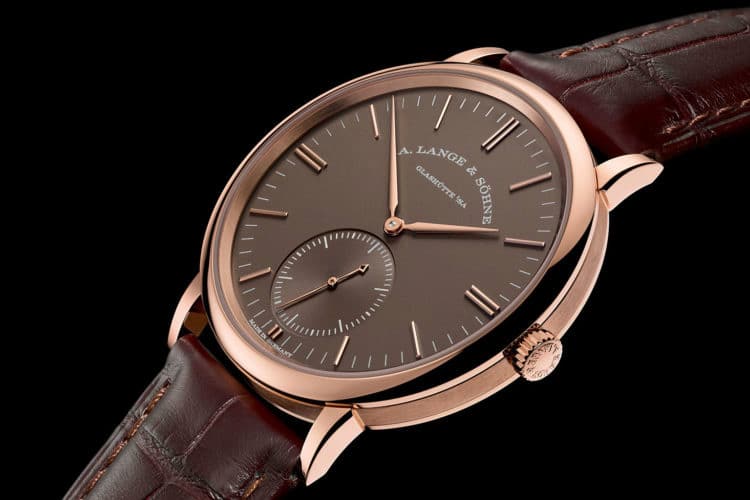 A. Lange & Söhne Saxonia Automatic
Introduced in 2015, the Saxonia Automatic is soon to be offered with a beautiful Terra-Brown dial, in either pink gold or white gold cases. Proportionally perfect, the Saxonia Automatic is one of the finest dress watches the world has ever seen. And to think that it comes from a German manufacturer, rather than from a Swiss powerhouse. The Terra-Brown dial looks superb on the pink gold case but looks slightly odd as the backdrop for the white gold. It's because of that that I think Lange will have a bit of a hit-and-miss with this line. The hit: pink gold. The miss: obviously the white gold. But hey, that's just my opinion and I've been wrong before. Let's focus then, on the pink gold variant. Lange has gone to great lengths to make sure that this piece fits their mission statement perfectly. Everything from the textured Terra-Brown dial, to the dauphine hands, to the applied pink gold indices and the proportions of the seconds sub-dial. Everything is flawless. The distinction between the lugs, the bezel, the case, and the crown are faultless. The contrast between the brown and the pink gold, again sublime. Nothing is out of place, and moreover, nothing can deter from a perfect aesthetic. Turn the piece over and, while yes it is an automatic, it is still beautifully presented and in keeping with the overall theme of the watch. Lange has opted to continue using the L086.1 automatic caliber, and it surely is one of the most beautiful automatic calibers in the game. Typical perfection from Lange, as per usual.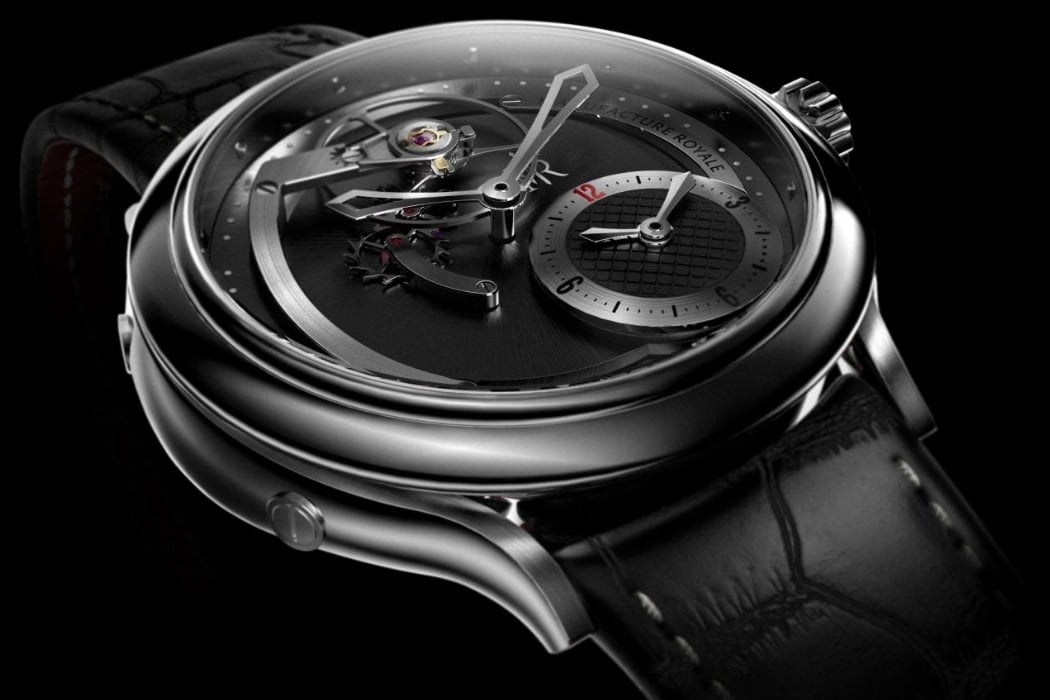 Manufacture Royale 1770 Haute Voltige Dual Time-Zone
It's loud. It's in your face. And it's just another reason why I think the watchmaking independents deserve more from the market. The Manufacture Royale 1770 Haute Voltige Dual Time-Zone is one of those pieces that really wakes up your inner beast. The beast that wants to revolt and cause anarchy. The beast that knows it really isn't content despite your best efforts to subdue it. It's the kind of watch that really portrays just how much can be done with watchmaking. Even someone whose interest in watches draws similarities with watching grass grow would take a second look at this piece. Everything is exposed, and in this case, that's perfect. From the massive balance wheel to the pallet form and gears, it's all on show. The dual-time sub-dial is placed perfectly and plays the balancing act between the balance-wheel and the rest of the dial harmoniously. The main hour and minute hands are sculptured flawlessly, and the deep blue of the dial against the mirror polish of the case is beautiful. Turn the piece over and you'll be able to see the in-house automatic caliber MR07 with its Geneva stripes, polished beveled edges, and skeletonized rotor doing its thing. Inscribed on the rotor are the words "Enlightened Horology", and I truly feel as though that's just what this piece represents. Available with either a blue or black dial, if given the opportunity I highly advise dispensing with your absurd amount of money and investing in one of these marvels.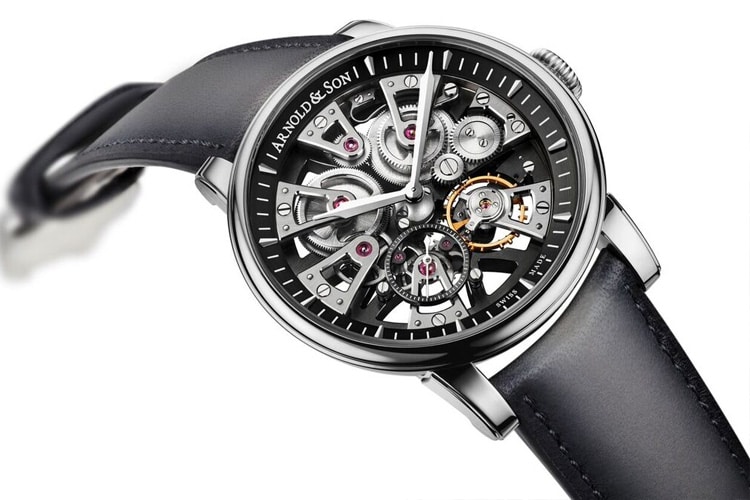 Arnold & Son Nebula
I feel almost always inclined to look at Arnold & Son. Their brand is different, against the grain, and truly unique. Their contemporary styling in a very conservative world speaks to my youth, and as such, I'd be remiss to not speak about their pieces. Immature as it may sound, their watches represent the kind of "in-your-face" qualities that I regularly look for in a timepiece. Be that as it may, and similar to that of the Haute Voltige I just spoke about, their watches don't neglect the fundamental qualities that a solid timepiece requires to be classified as haute. The Nebula, available in either stainless steel or red gold, looks and carries with it qualities not dissimilar to that of an actual cosmic nebula. Amongst the chaos, you'll be able to see some extremely high levels of movement finishing and refinement. And while the in-house Arnold & Son caliber A&S5101 is on full display on the dial, turning the piece over won't disappoint. The same levels of attention and care have been paid in full to the case-back, where the stainless steel version has a skeletonized black ADLC base plate and NAC bridges. This quality of finishing is wonderful to see, and as I mentioned before is highly modern and as such really warrants the attention of a younger section of the market. Whether that was what Arnold & Son intended with this piece, I'm not entirely certain, but regardless of your age, I'm sure the Nebula does wonders for your fascination with horology. A visceral spectacle that is by far one of the most impressive from Arnold & Son.
You'll also like:
The Wind Up – Watch News #20
The Wind Up – Watch News #19
The Wind Up – Watch News #18
---
Featured Video from Man of Many