The Wind Up – Watch News #41
Welcome to the next instalment of our regular watch-focused series, The Wind Up. In this instalment we'll be looking at a watch that uses a liquid to display the time, a couple of pieces from a brand that seems to have been reinvigorated in recent times as well as some pieces from a couple of lesser known brands. And as always, sit back, relax and enjoy!
You'll also like:
The Wind Up – Watch News #40

Ulysse Nardin Diver Le Locle
With looks to kill and a fly-under-the-radar person, the Diver Le Locle looks like something James Bond could wear. Inspired by Ulysse Nardin's divers of the 1960s, the Diver Le Locle is a celebration of new-age technology with its high tech (we'll get to that in a second) with old-school styling. It's funny really, turn back the clock a couple of years and all these vintage-inspired reissues didn't exist. But with the advent and meteorite rise of the used and vintage watch market, manufacturers have been quick to jump on that bandwagon. But so many of them just aren't meshing properly. The watches look odd and a bit of out of sync. But the Diver Le Locle is neither: it's a refreshing design that's both extremely wearable and super enjoyable to look at. And while it's aesthetic is old-school, its movement is anything but. The in-house automatic calibre UN-320 which incorporates silicium technology ensures accuracy and reliability in today's fast-paced and demanding environment. In keeping with Ulysse Nardin's rich history without compromising on dependability, the Diver Le Locle is a winner in my books.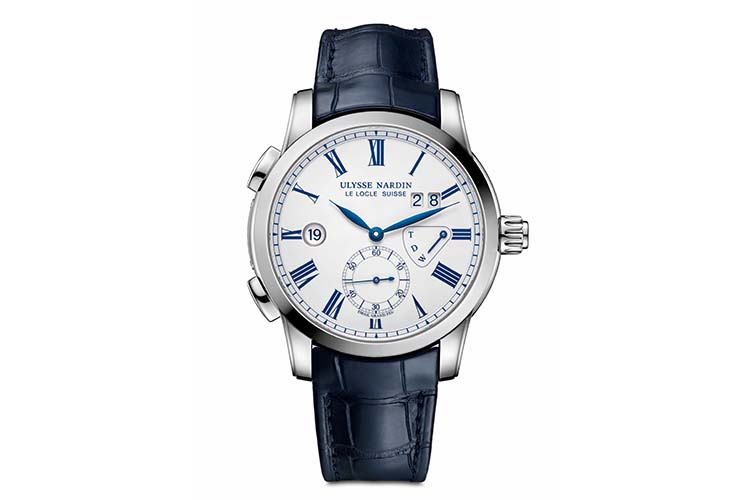 Ulysse Nardin Classic Dual Time Enamel
Now I just want to apologise for sort of inundating you guys with products from Ulysse Nardin. This might seem like some kind of ploy to. Kind of like consumer saturation. But it isn't, trust me. I'm all about transparency, so let me just speak frank for a second. Ulysse Nardin are producing some amazing timepieces at the moment. They are beautiful, intriguing and more importantly well thought out timepieces. Too often do I see brands release watch after watch without paying attention to the details. Things get overlooked, mistakes are made and reputations are tarnished in the rush for the quick buck. But Ulysse Nardin are absolutely killing it these days, and I feel privileged to be able to comment on their timepieces. The Classic Dual Time Enamel is a gorgeous timepiece. The asymmetrical nature of that stunning white enamel dial is a play for the visceral senses. Add the crown and opposing pushers being on either side of the dial, and what you have is a very interesting aesthetic timepiece. The dual time feature is super functional, and I absolutely adore the colour combination of the blue hands and hour markers against the white enamel dial. My only qualm would be the use of the Roman numerals as hour markers, but hey, you can't always have it your way.
---
Featured Video from Man of Many
---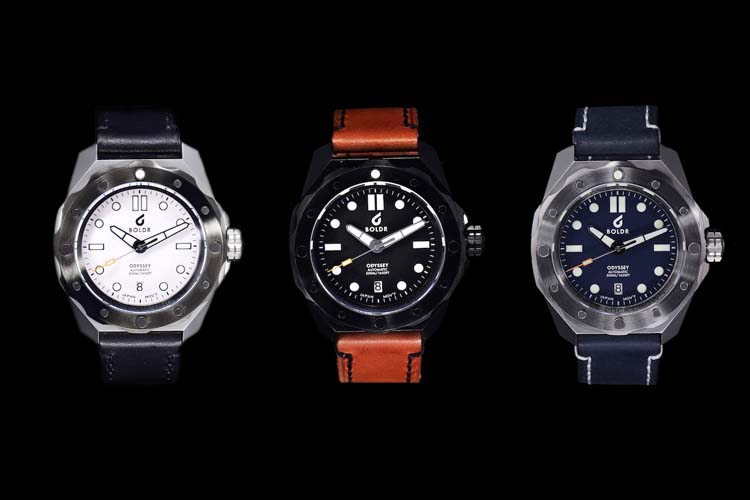 BOLDR Odyssey
BOLDR isn't a brand you'd recognise unless you feverishly hunt for decent watch releases on Kickstarter day after day. We've featured them once before, and this time they're back and they're punching with a bit more horological tenacity. The Odyseey is the latest and greatest from BOLDR that incorporates some pretty aggressive styling in a package that's both interesting and unique. The 45.5mm stainless steel case is brushed and polished, and at about 14mm in height it's proportions are right where they need to be. Like I said, this thing has some horological backing to edge it in front of some other pretty cool pieces on Kickstarter. These advantages include a whopping 500m depth rating (it is a diver's piece though..), a triple-lock screw down crown as well as a Seiko NH35A automatic movement, which gives the user just under two full day's worth of time keeping. The BOLDR Odyssey is a pretty cool combination of a functional tool watch and a solid daily beater, and it's definitely something you'd want to consider if standing out from the crowd and not breaking the bank is of interest to you.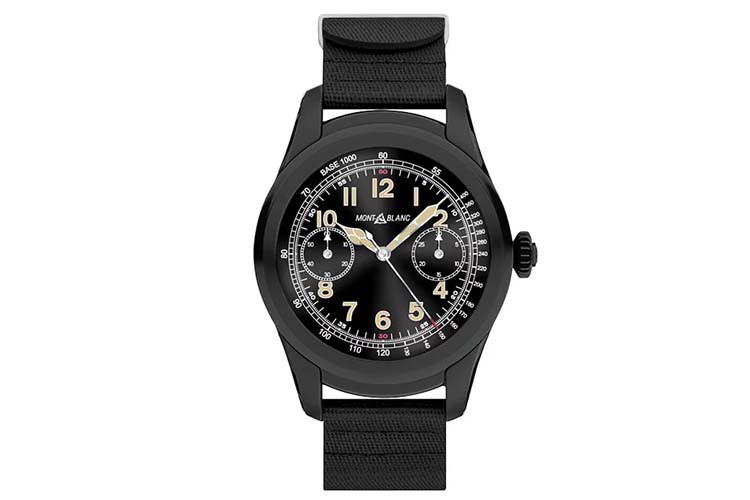 Montblanc Summit Smartwatch
New from Montblanc is the Summit Smartwatch. Like TAG Heuer, Montblanc have decided to stop resisting change and jump on board the wearables train. Now it is expected that a decision for a mechanical watch manufacturer to join the smartwatch game is going to come up against some pretty gnarly criticism, but let's be honest, there's always going to be a group of naysayers (or do we call them haters these days?..) that will oppose any kind of change. The Summit Smartwatch still has Montblanc's characteristics, apparent in its case and crown design. But with the added benefit of having a smartwatch in the case instead of a mechanical movement, you're going to get a lot more "use" out of it. There's some pretty cool functional applications already pre-installed in the Summit, including Runtastic, Google Play and Uber, so you can pretty much hit the ground running once you get your hands on it. The Montblanc Summit comes in seven different variations which should please even the pickiest of watch wearers, and I'm all for the full black version with matching black strap. Stop resisting watchfam, and appreciate what these manufacturers are bringing to the table: relevant technology for contemporary demand. MR PORTER has a two week exclusive on the watch starting from May 11th.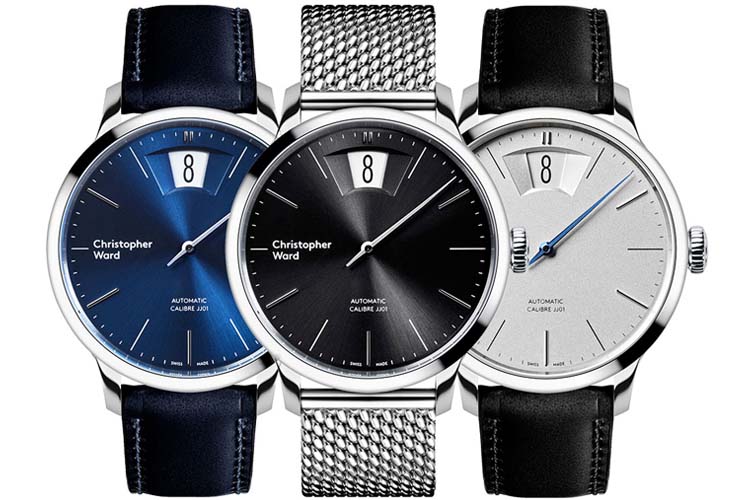 Christopher Ward C1 Grand Malvern Jumping Hour
Unless you're in the horological know, you probably will have zero idea who Christopher Ward is. Truth be told, I didn't either. But when I found out who they were and what kinds of watches they produced, I started paying them a little bit more attention. Their pieces are unique, beautiful and highly inventive. It's easy enough for a manufacturer to throw in a stock-standard ébauche movement and call it a day, but when you go as far as to modify it's foundational purpose, then you really start capturing the hearts and minds of horology's diehard fans. The C1 Grand Malvern Jumping Hour is just that. It combines a Sellita SW200-1 with an in-house JJ01 movement module, keeping costs down and impressiveness up. The jumping hour complication is quite polarising, but once you start understanding the mechanics of it all you learn to appreciate what you're looking at. The missing seconds hand might put you off (especially if you like seeing movement on the dial), but to be honest with you when a dial looks this good, there's little room for complaint. My pick would have to be the textured off-white dial (look at that grain!) with the blue steeled: simply superb.
If you enjoyed The Wind Up and would like to continue reading about watches, you can head on over to my blog, Haulogerie, where I delve a bit deeper into the wonderful world of watches.
Have you subscribed to POLITIX Hits the Refresh Button with New Spring/Summer Collection? You can also follow us on Facebook, Twitter, Instagram, and YouTube.
---
You'll also like:
The Wind Up – Watch News #40
The Wind Up – Watch News #39
The Wind Up – Watch News #38
---
---
Featured Video from Man of Many