City Guide: 48 Hours in Honolulu
Ask someone to draw his or her version of paradise and you might very well end up with a virtual map of Oahu, aka Hawaii's third largest island and home to the state capital of Honolulu. With just under a million inhabitants, Oahu is the kind of magical place where you feel immediately welcomed and at ease, a place that refers to every citizen as a "native" regardless of where he or she came from.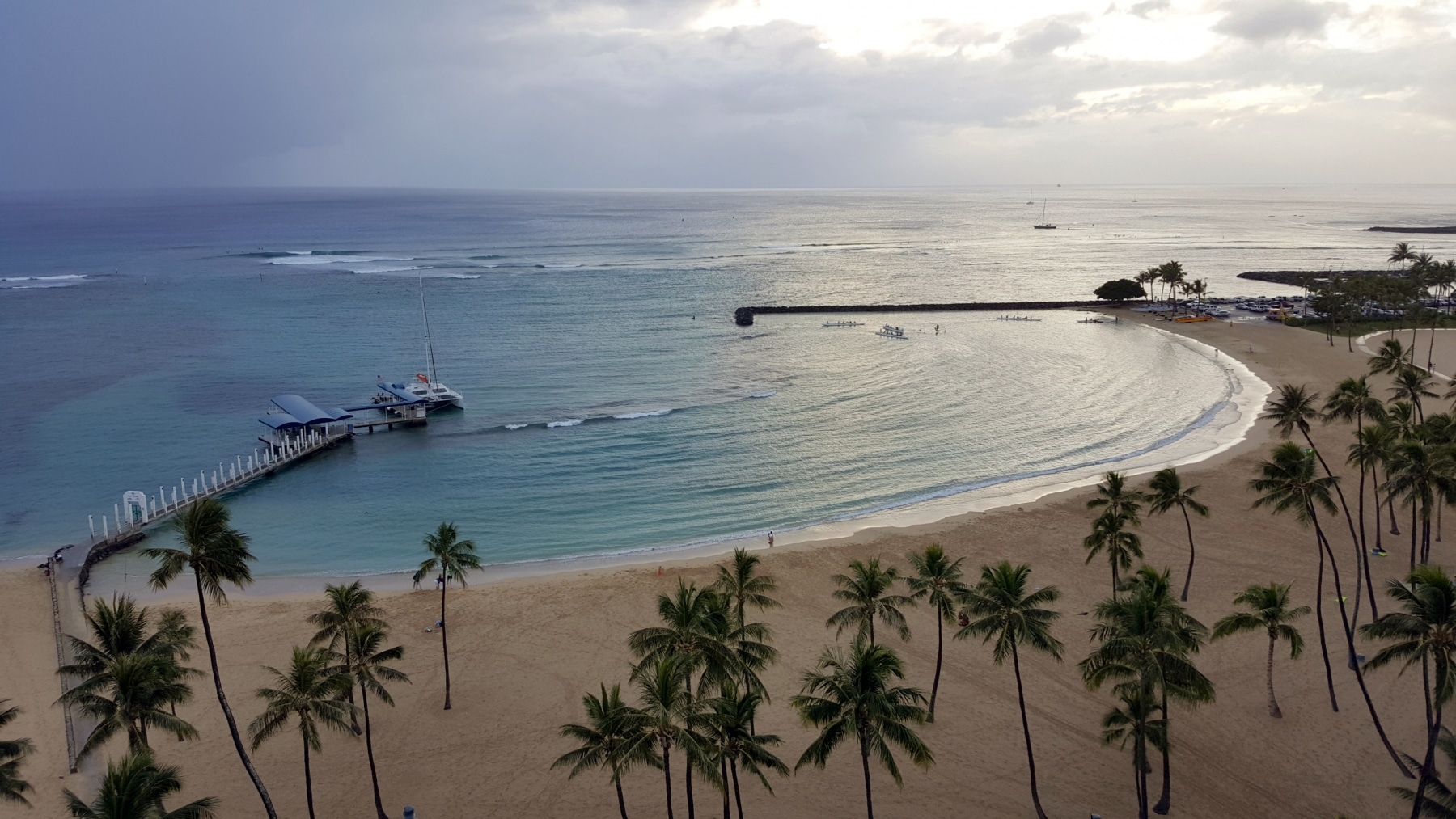 Given the island's proclivity to embrace people from all walks of life, the term "O'ahu" has been generally accepted to mean "gathering place". That approachability extends from the people to the terrain itself whereas the island is small enough that you can drive the entire insanely gorgeous coastline in one day. However, don't let a somewhat modest perimeter trick you into thinking there isn't a lifetime's worth of adventure tucked within Oahu's borders.
EAT
Hawaiian cuisine incorporates local seafood, meat, sugar, fruit and produce with recipes and influences from places like Europe, Asia and America to create something regional and quite delicious. To put it another way: Hawaiian food is really fresh and frequently inventive due to the fusion of various local and global influences. Here are a few dining destinations that will give those taste buds something to remember.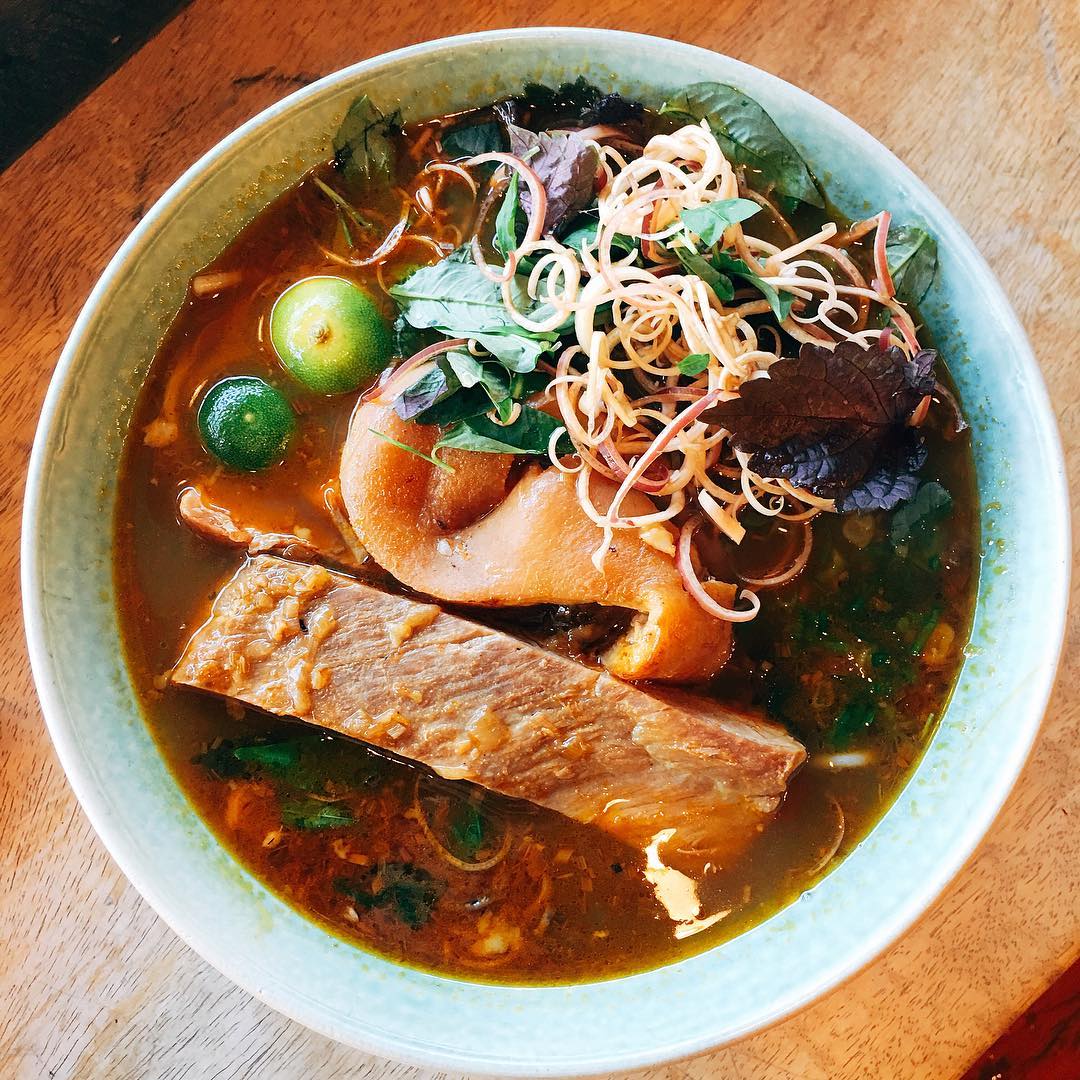 The Eating House 1849
This wildly popular locale is a living tribute to Hawaii's culinary heritage and more specifically to one of the state's earliest and foremost restaurateurs: Peter Fernandez. The first restaurant opened by Fernandez was called Eating House and we'll let you take a stab at what year it was operational.
Here at The Eating House 1849, award-winning chef Roy Yamaguchi mans elevates local plantation ingredients and recipes with consummate modern flair. As such, each dish combines global innovation with a long history of regional flavour and technique.
The Eating House 1849 – 2330 Kalakaua Ave 96815
www.eatinghouse1849.com
The Pig & The Lady
Pull up a chair at one of The Pig & The Lady's communal tables and enjoy superb Vietnamese fusion cuisine next to a stranger who by the end of the night might very well become a friend. Picture a vivacious atmosphere where alcohol flows generously and tender Laotian Fried Chicken flies out of the kitchen pretty much every other minute and you're getting there.
The Pig & The Lady – 83 N King St 96817
www.thepigandthelady.com
Bali Steak & Seafood
Infusing new meaning into the words "surf and turf" is Hilton's phenomenal Bali Steak & Seafood, which delivers locally sourced steak and lobster just yards away from the stunning ocean surf of Waikiki Beach. Between the heightened regional flavours, the unparalleled views and the open-space ambience, you won't know which one of your senses to indulge first.
Bali Steak & Seafood – 2005 Kalia Rd 96815 – www.hiltonhawaiianvillage.com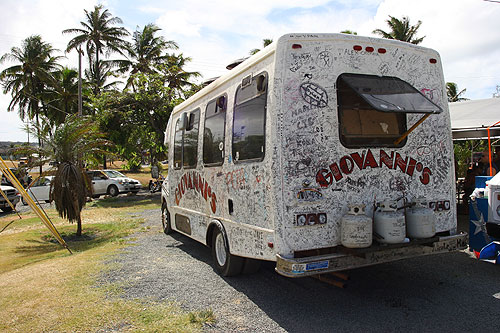 Giovanni's Shrimp Truck
Do you like shrimp? Of course you do! And if you don't we're very sorry…for you. At a tagged-up truck on the north shore is a man we'll presume to be named Giovanni, whose straightforward cuisine is relished by locals and visitors alike. Each delectable crustacean is skilfully paired with heaps of fresh garlic and savoury or spicy sauces. If you happen to be in Oahu while reading this: go now.
Giovanni's Shrimp Truck – 56-505 Kamehameha Hwy 96731 – www.giovannisshrimptruck.com
Matsumoto's Shave Ice
Chase that spicy shrimp with some mouth-cooling shaved ice at Matsumoto's, where lushly textured ice is paired with accompaniments like condensed milk, Mochi balls and ice cream. Matsumoto's is a one-stop shop for everything that makes sugar worthwhile. The photos alone will activate your salivary glands. The taste will downright own you.
Matsumoto's Shave Ice – 66-087 Kamehameha Hwy 96712 – www.matsumotoshaveice.com

STAY
Hilton Hawaiian Village
Our stay at the Hilton Hawaiian Village Waikiki Beach Resort was nothing short of legendary. The resort is the biggest and best game in town as the premier destination in Waikiki if not all of Oahu. There's simply no desire left unattended here. The food, the shopping, the beach, the views, and the hospitality were all as good as it gets.
Perched on the widest stretch of beach in Waikiki, the Hilton was indeed a "Village" unto itself and the island's one true resort. That meant not just immediate access to one of most beautiful beaches we've ever seen, but also 90 shops and 20 restaurants, lounges and bars as well.
Cruising the massive property we walked paths once traversed by celebrities like Elvis Presley and JFK, swam in various bodies of pristine water, sucked down tropical cocktails and gorged on surf and turf at Bali Steak & Seafood.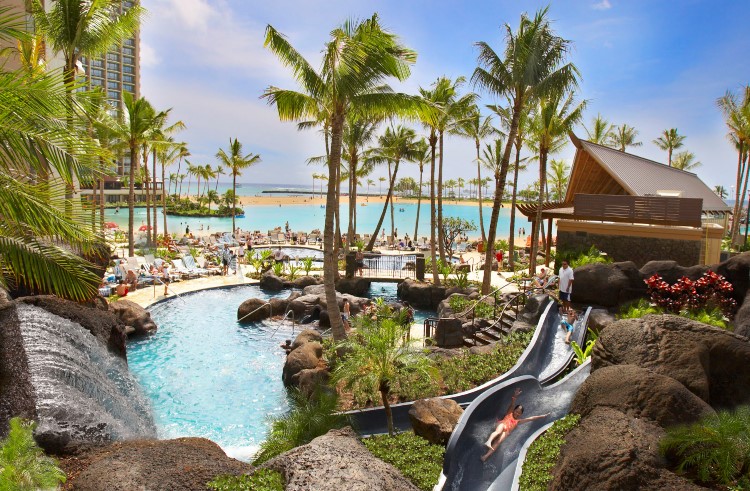 In addition to the shops, beaches, restaurants the Hilton Hawaiian Village offers a small arsenal of incredible features. Among them is the Rainbow Wall, a colourful mosaic that adorns an entire panel on Rainbow Tower. At 286 feet high and 26 feet wide, the Rainbow Wall is the largest ceramic-tile mosaic in the world. And on the ground level next to the wall is a man-made lagoon that draws visitors from all over the island and was originally built so the owner's wife could go water-skiing.
The resort includes the choice of 5 towers, but the two that consistently draw the most attention are the Ali'I and Rainbow Towers. The Rainbow Tower is a fan favourite thanks to its location, affordability, luxury and convenience, as well as a colourful 'rainbow' ceramic mosaic that adorns the entire side of the building.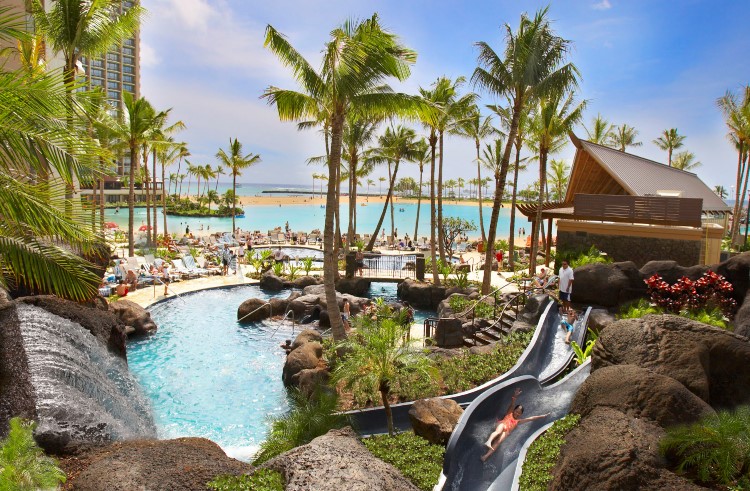 However, those with exclusive taste might want to check in to the Ali'I Tower instead. As the resort's premium offering, the Ali'I Tower delivers supreme luxury, privacy and accommodation. It includes its own private pool, a fitness centre, gorgeous rooms and top shelf amenities.
No matter which tower you settle on, should you choose to visit the Hilton Hawaiian Village you will not be disappointed in the slightest.
Hilton Hawaiian Village – 2005 Kalia Road 96815 – www.hiltonhawaiianvillage.com

DRINK
Any young traveller knows that no vacation is complete without copious amounts of booze. Not only is the island overflowing with amazing cocktails, but in recent years the craft beer movement has exploded, resulting in a slew of exceptional, locally crafted brews to sip down while watching the sun set. Here are so favourite watering holes on Oahu.         
The Tchin-Tchin! Bar
Keeping it tasty and classy is The Tchin-Tchin! Bar in the heart of Honolulu's Chinatown. Get your drink on by choosing among exceptional wines, artisanal craft cocktails and a choice brews. Pair those drinks with elevated small plates to indulge your inner-epicurean for hours.
The Tchin-Tchin! Bar – 39 N Hotel St. 96817
www.thetchintchinbar.com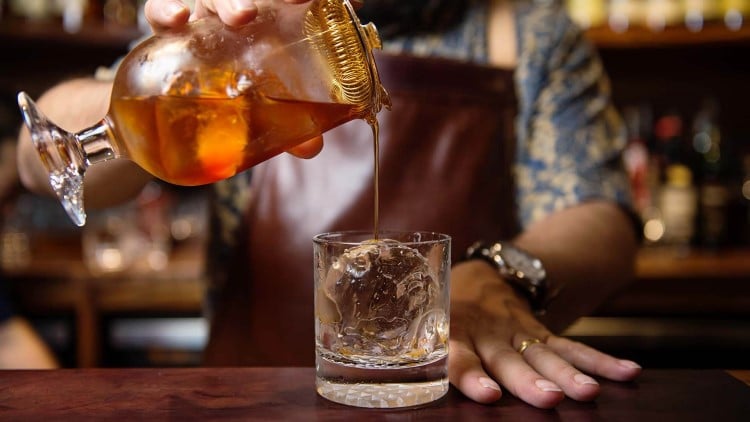 Bar Leather Apron
The renowned, intimate Bar Leather Apron rivals the best bars in the world by way of a legendary spirit portfolio and a modest-but-stunning selection of craft cocktails. Make reservations well in advance because this place fills up fast and people tend to stick around. 
Bar Leather Apron – 745 Fort St Ste 127A 96813 www.barleatherapron.com
Beer Lab HI
Remember how we said Honolulu's craft beer movement is in full swing? That's in no small part thanks to Beer Lab HI, which offers lip-smacking brew in a quaint space and often describes their product in cheeky detail. Be advised it's BYOF (bring your own food).
Beer Lab HI – 1010 University Ave 96826
www.beerlabhi.com

A Brief Interlude
In honour of both our Aussie roots and our recent trip to Hawaii , we'd like to take this moment to honour the one and only Eddie Aikau. Eddie was the first lifeguard at Waimea Bay on Oahu's North Shore and it's said that along with his brother he saved over 500 lives with just a board and swim fins at his disposal.
Eddie also had a deep kinship with the ocean and was a legendary surf dog. He won the Duke Kahanamoku Invitational in 1977 and left no North Shore swell unconquered. In 1978, Eddie's life took a tragic turn when he volunteered to join a small crew and journey along the same route that early Polynesian settlers once took between the Hawaiian and Tahitian island chains. Soon after embarking, one of the canoes sprung a leak and capsized. Eddie's life-saving instincts kicked in and he paddled on his surfboard toward Lanai to get help. That was the last anyone ever saw of Eddie Aikau, even after Hawaii launched the largest air-sea search in its history to try and find him. He was only 31.
Losing such a cherished local rocked Oahu to its core and to this day Eddie's legend lives on in the form of annual surfing events and even common phrases. His name is now synonymous with the Hawaiian way and the "Spirit of Aloha", and Oahu has built a small mythology around Eddie that extends into surf culture across the world and is most often represented by the phrase "Eddie Would Go". The phrase refers to the fact that Eddie would frequently go to parts of the ocean where to one else would dare venture in order to save lives or master waves. The phrase has taken on a life of its own and now variations exist that sway between genuine surfer talk and sloganeering. However, even sloganeering is a good thing because it ensures that that the legend of Eddie Aikua will live on.

Coffee
A great cup of java (espresso) is often hard to come by in America. We did manage to find one Aussie style café called Arvo that is quickly becoming a local fave and not just because they knew how to make a Flat White or a vegemite sandwich. The café atmosphere is solid.
Arvo – 675 Auhi St 96825
www.arvocafe.com
Play
Even those who've never been to Oahu know it's simply overflowing with things to do. Hiking, surfing and driving along the coast are all at your fingertips, and the resort where we stayed was bustling with activities like yoga and torch lighting ceremonies and even Tai Chi lessons.
Atlantis Submarine Tour
When you hear the words "submarine tour" you often picture some dormant sub sitting next to a museum and going nowhere. Not the case with the Atlantis. This 48-passenger sub brings you a mile off shore and 125 feet below the ocean's surface, allowing you to get all up close and personal with the exotic underwater sea life while staying perfectly dry.
Surf Lessons
Sure, we might be partial to Australia's beaches, but let's be honest there's no better place in the world to take surf lessons than on the Oahu coast. Take our advice and hit up Hilton's Hawaiian Hot Spots Surf School on Waikiki Beach. There you'll receive instructions from owner Errol Kane Jr., who joins you on the waves and moulds you into the kind of surf dog that would make Australia proud.
Paddleboard Yoga
Paddleboard Yoga is another activity offered by the resort and combines the body enhancing magic of yoga with the natural beauty of Hawaiian water. That's some serious Zen right there.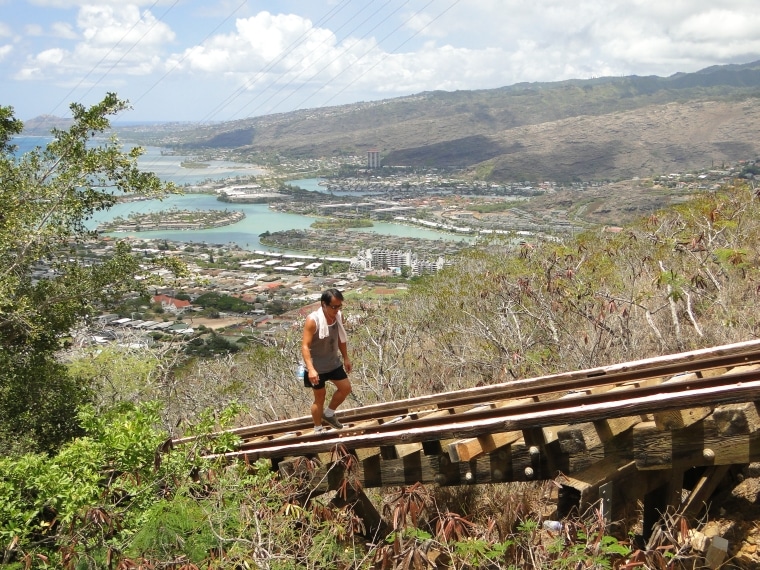 Diamond Head Hike
Sitting 560 feet high, home to both a 225-foot unlit tunnel and flanked by two sets of stairs is Le'ahi, more commonly known as Diamond Head. This truly impressive volcanic tuff cone is one of Hawaii's most recognizable landmarks and if you don't visit it while in Oahu you'll definitely be smacking yourself later. Expect a moderate hike and absolutely stellar views of the island's west side. The entry fee is $5 per vehicle or $1 to walk in, both meagre sums compared to the unforgettable experience.

SEE
Hawaii and Oahu have some of the best beaches and sights in the world. To which you say: "well, duh." With so much beauty around, here are our best picks.
Hanauma Bay
When you fantasize about exotic tropical landscapes you often picture something like Hanauma Bay. Epic is hardly the word. It's also just a short drive from here to the famous Halona Blow Hole, known for the famous love scene between Burt Lancaster and Deborah Kerr in the movie From Here to Eternity.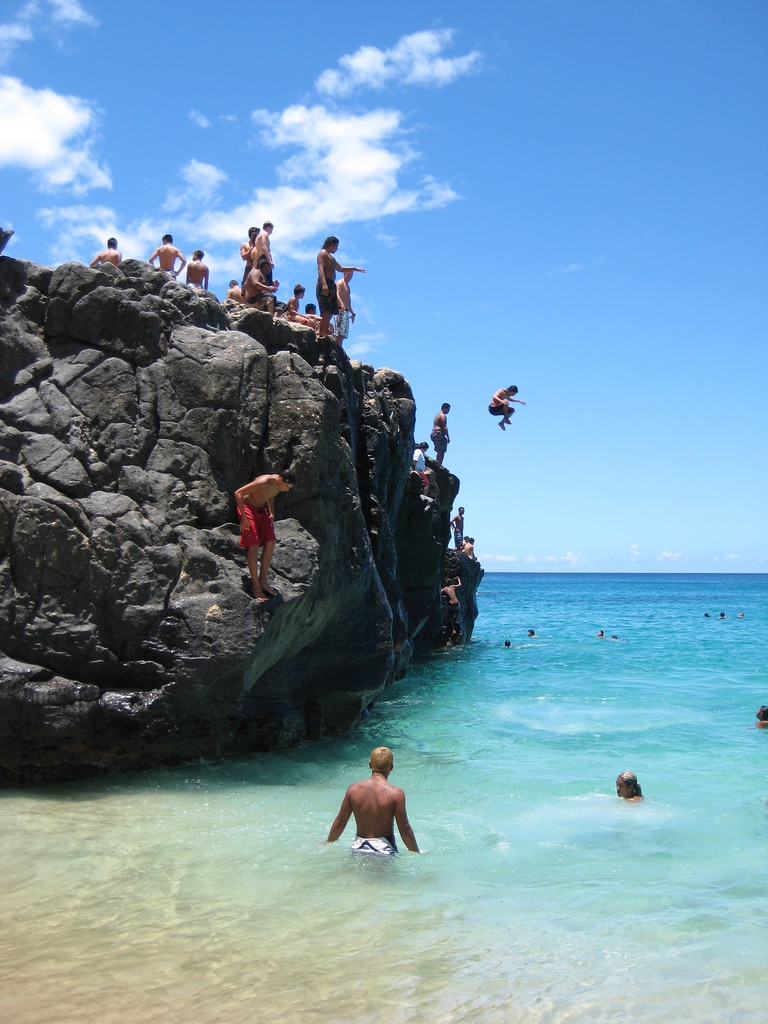 Waimea Bay
Home to the EDDIE inviational and thereby a surfer Mecca, Waimea Bay  is another landscape directly uploaded from your most cherished dreams.
Haleiwa Town
If you're the kind of person who likes to find that awesome nearby town filled with locals and beautiful views, look no further than Haleiwa Town. Situated on Oahu's North Shore, this is a great place to grab a bite of Kalua pork before visiting the legendary surfing spots close by.
Blue Hawaii Photography Tours
If like us you find yourself with a mere 48 hours to capture Oahu in all its glory, then we cannot recommend Blue Hawaii Photography Tours enough. There you'll meet the lovely Marie, who will show you around the island in true insider style and ensure that every minute is time well spent.
Blue Hawaii Photography Tours
www.bluehawaiiphototours.com

Shop
Shopping doesn't get much more memorable and satisfying than the new International Marketplace, which features approximately 75 retailers and Hawaii's first Saks Fifth Avenue. Take a much needed break in the Grand Lana'i, an outdoor seating venue that hosts seven killer restaurants and offers the largest concentration of dining options in all of Waikiki.
Infused into every detail of the International Marketplace–from the architecture to the landscaping to the inclusion of a banyan tree over a century old–is the history and culture of Waikiki. While you're there, be sure to check out the following shops: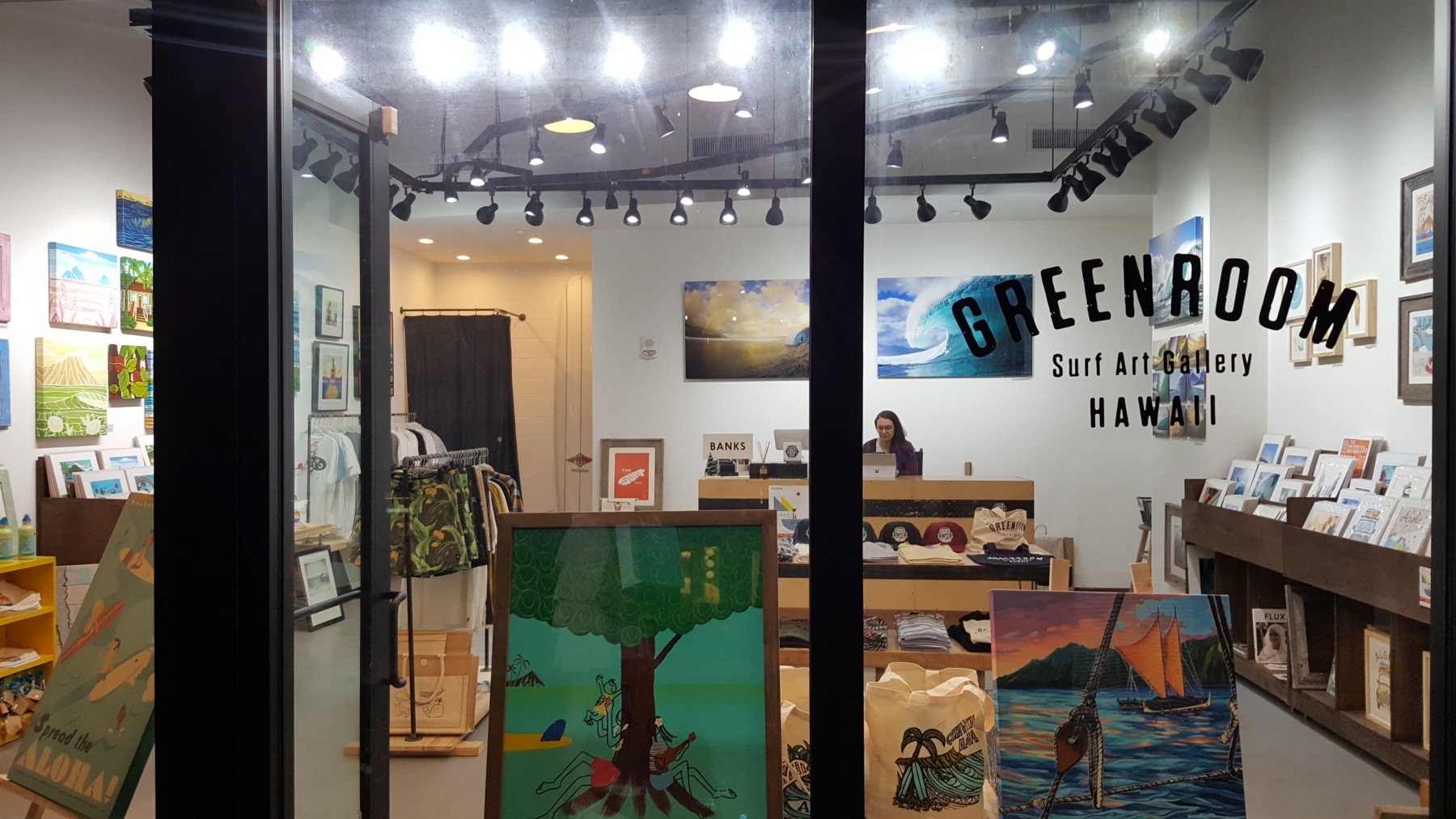 Greenroom
Greenroom Hawaii is a boutique gallery dedicated to art that conjures up the local spirit, meaning intense visuals inspired by Hawaiian beach culture. Naturally, that equates to stunning artwork made by local, national and international artists alike. There's also an in-house line of apparel, exclusive art books and tons of cool accessories available for purchase.
Shinola
Get your artisanal groove on here at Shinola. From bikes to watches to leather goods, every item flaunts a superb level of craft, aesthetics and sustainability.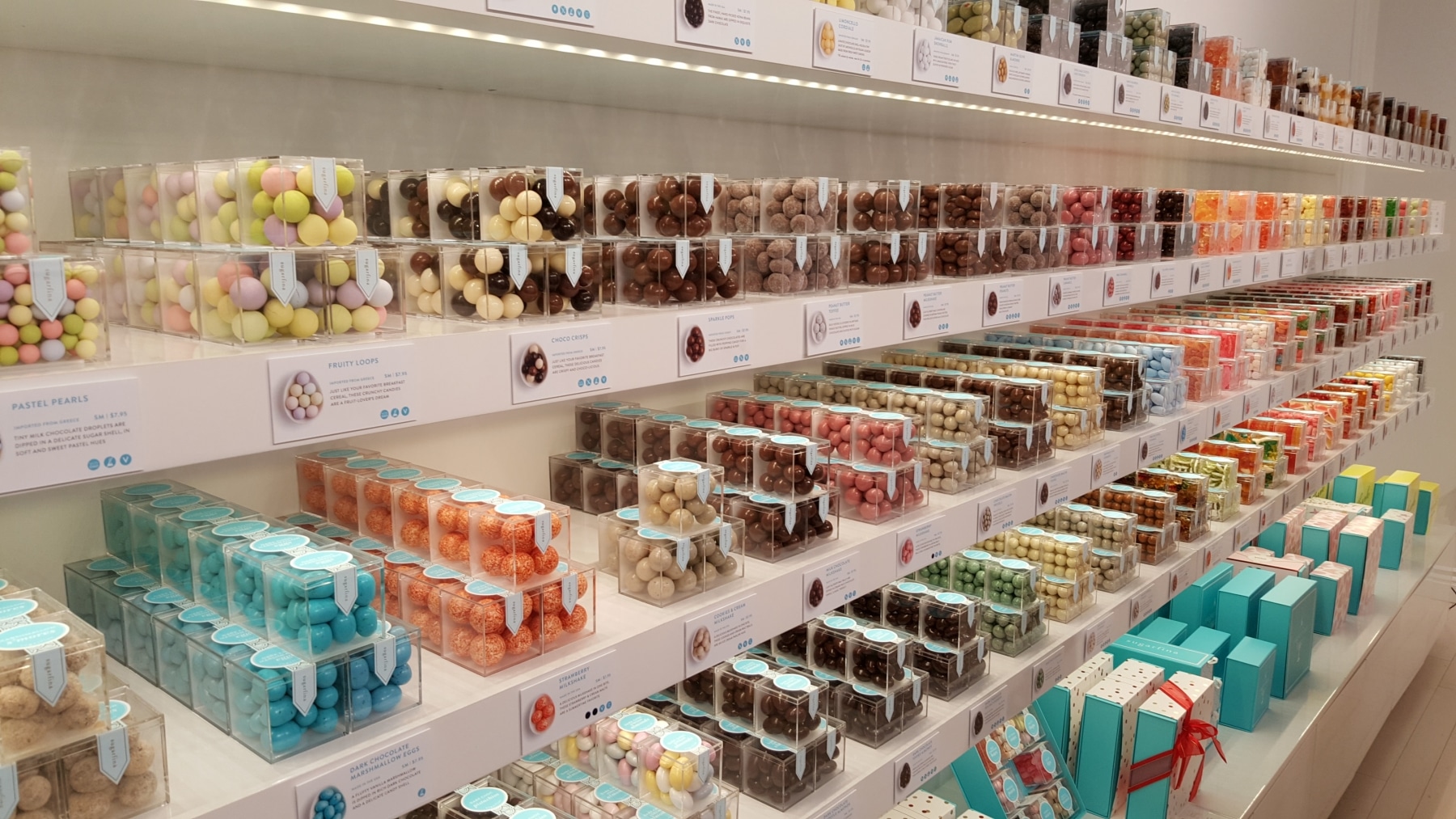 Sugarfina
You had us at "luxury candy boutique", Sugarfina, and your candy is indeed luxurious. Your awesome packaging is icing on the cake (no pun intended).
Oliver Peoples
Handcrafted eyewear doesn't get much more fashionable than Oliver Peoples. The luxury brand that epitomises the Southern California lifestyle doesn't lose a single step in its new Hawaiian digs.
Ala Moana Center
Travel a short distance outside the city and you arrive at the Ala Moana Center. Like the International Marketplace, this is the mall experience elevated to cloud nine. Even if you don't consider yourself the "shopping" type you should consider checking it out.
Man of Many was a guest of Hilton Hotels & Resorts.