10 Tools For a Home Workout
Working out is synonymous with gyms, but you don't really need a fancy gym membership and a long list of equipment you have to wait in line to get the desired body. Toss away the gym cult and turn to your home – the perfect environment to achieve the body you want at your own pace. All you need is a bit of spending budget and some suggestions on where to look. We've compiled the top 10 tools for a better you without stepping out the front door (unless you want to step outside; we're not telling you what to do).
You'll also like:
10 Tips to Get the Most Out of Every Workout
7 Ways to Boost Your Testosterone Naturally
How to Lose Your Beer Gut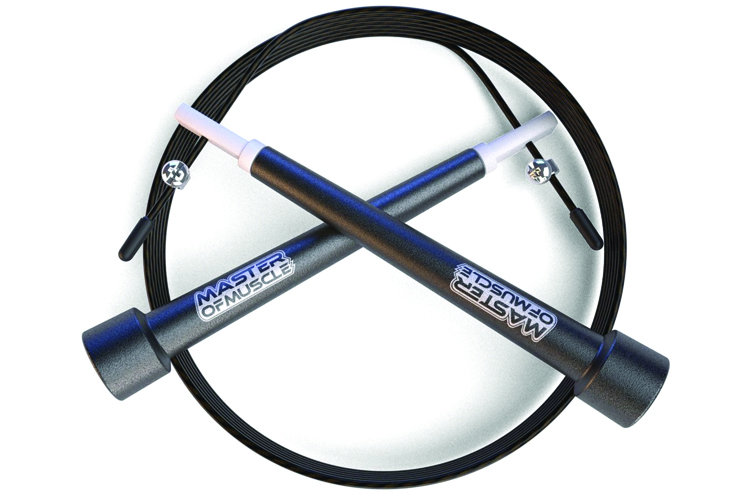 1. Jump Rope
Say hello to the boxer's best friend – the jump rope. Nothing is quite as good for your legs quite like the jump rope. You build stamina, muscle and develop sleep at an accelerated pace, but not any old rope will do. It's time to upgrade! WOD WHIPPER is designed to give you the work out from hell so you can master the double unders in a flash. This rope is made from wire and coming at 9ft, it's easily adjustable to the correct length. You get all the speed and none of the kinks thanks to the inspired 90-degree handle turn.
Features: Thermoplastic Polyurethane (TPU) Black Coated Wire; 6.4 ounces
Price: from $14.97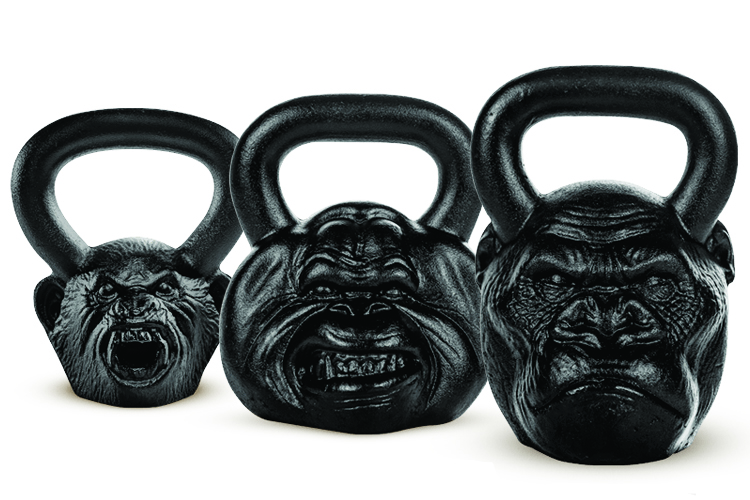 2. Kettle Bells
The kettlebell has its place in the strength training hall of fame, but sometimes they can be very uninspiring to use. If you get bored easily, then your work out needs a make-over in the most primal way possible. These bad boys take you back to the jungle with each kettlebell sprouting a vicious animal face, each animal corresponding to an increase in weight. From lightest to heaviest you have the howler, chimp, orangutan and gorilla. The precise sculpting and non-chip, non-rust coating ensure that the kettlebells serve a secondary purpose as home decoration.
Features: non-chip, non-rust coating; 18 lbs Howler / 36 lbs Chimp / 54 lbs Orangutan / 72 lbs Gorilla / 90 lbs Bigfoot
Price: from $42.95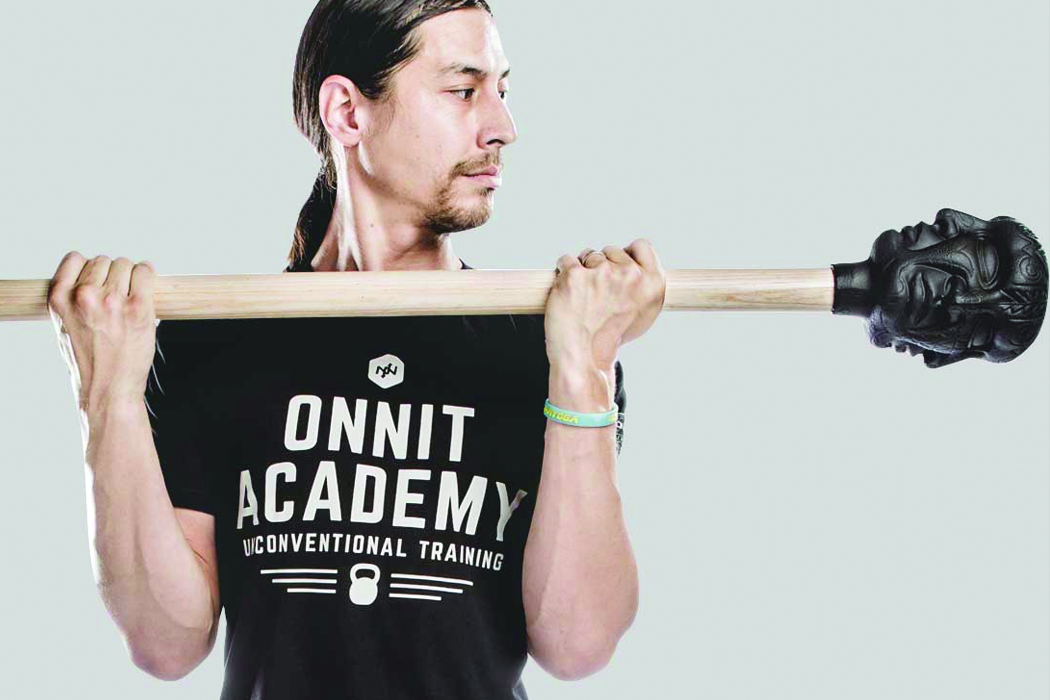 3. Mace
A blast from the ancient past – the Quad Mace brings back heavy duty weaponry from the centuries past as a great way to work on your body AND train for the impending zombie apocalypse. Workouts will be transformed into inspired training sessions where you can fully pretend to be in an action movie and look good doing it because this beauty combines an ash wood handle with a hand-sculpted cast iron head and a resplendent bronze locking cap. You have a wide range of motions available and the head is so perfectly balanced, you'll be a pro in no time.
Features: 25 lbs; slip resistant – ash wood handle; iron and bronze head
Price: from $147.95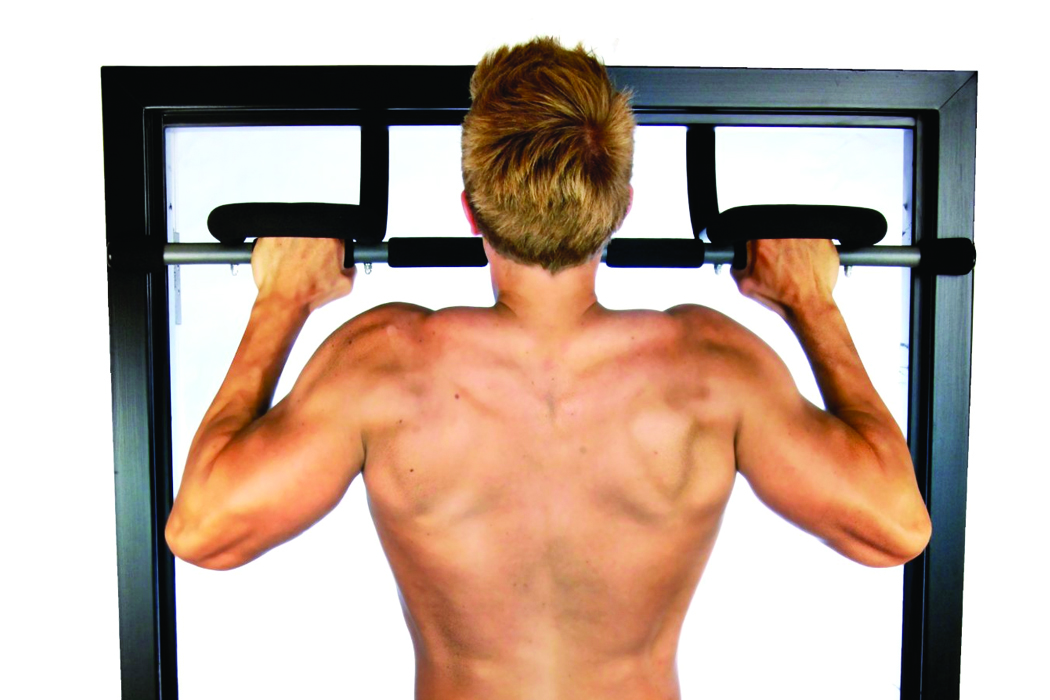 4. Chin-Up Bar
Consider this baby the magic kitchen robot equivalent for your upper body. Strengthen your arms, back and shoulders in one swift work out with a tool that's highly mobile and easy to pack. The chin-up bar offers you easy installation, the durability of stainless steel and comfort in the non-slip grips. The five grip positions target a variety of muscles, so you're getting the full money of your investment. Plus, you look super manly using it. How can you resist doing your pull ups, triceps dips, push ups, and sit ups in a cut-out shirt?
Features: 250 lbs weight capacity; 37″ x 16″ x 11″ dimensions
Price: from $59.99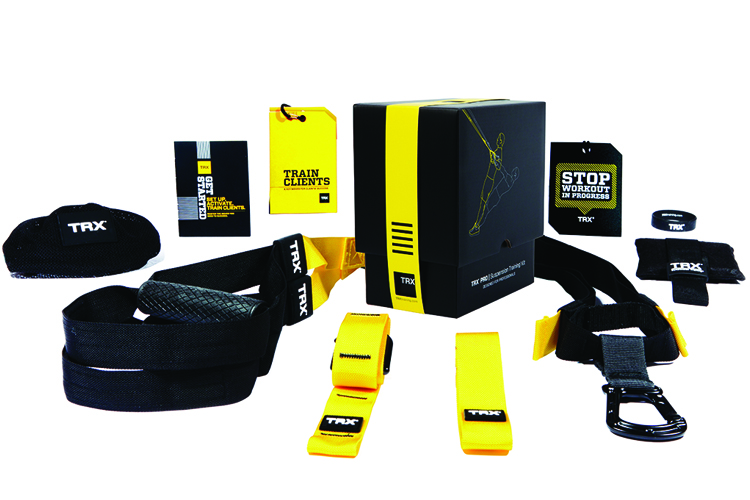 5. Suspension Trainer
Upper body strength is perhaps the most sought-after effect from training in general. All men want to pack broad shoulders that carry big guns. TRX HOME Suspension Trainer & Anchor is a simple kit that allows you to transform any sturdy door frame into the ultimate training space. Your safety is guaranteed thanks to sophisticated anchors and door placard. You can also take the kit on the road and use it outdoors. The six work out programs guides you on your way to get totally jacked – 15 to 30 minutes per work out.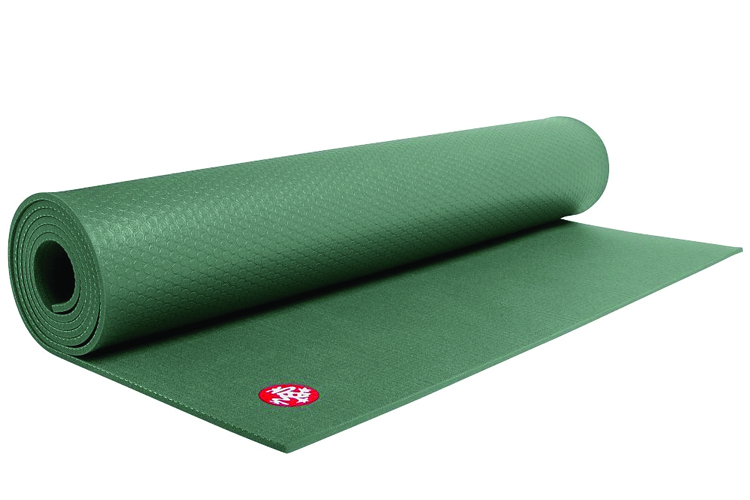 6. Exercise Mat
Posture, balance and stability of your form during work out is essential. Carpets bunch up and wood and ceramic surfaces made you slide as if you're training for a skating championship. Avoid becoming Funniest Home Videos contender and just get yourself a Manduka Black Mat Pro. Available in 3 colours, this is a supreme yoga mat, which is thick enough to cushion your knees and hands from the surface and designed so you never slip. With this mat, you're on your way to achieve perfect form.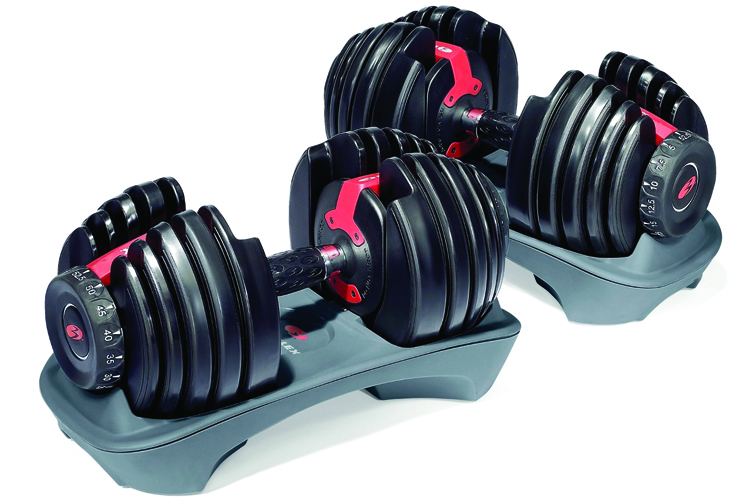 7. Adjustable Dumbells
The magic of Lego meets weight training in these adjustable dumbbells, which not only look badass but also perform incredibly well. Nobody has the space to accommodate a whole set of dumbbells – the reason this transformer model is a must-have. You buy one set, which can take you from novice to Conan without the need to buy more. At the same time, they're easy to transport and allow for quick alterations to the weight mid-work-out. The weight varies from 5 to 52.5 pounds based entirely on your strength level.
Features: from 5 to 52.5 pounds
Price: from $400/pair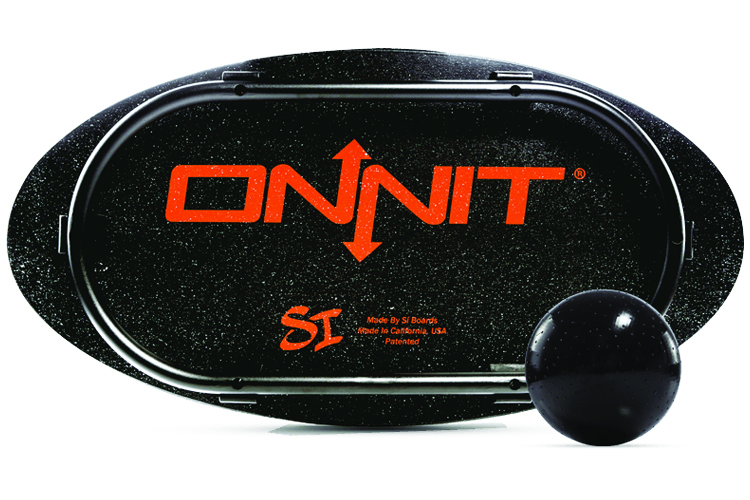 8. SI Board
Perhaps strength training and weightlifting might not be your thing. Why not give a balance training tool. The Onnit Si Board provides comprehensive balance training based in a multi-direction principal that allows you to shift weight from foot to foot. Free rotation is key here and as you're trying to keep your balance, you're engaging your core. The urethane ball can be best described as indestructible, while the board itself is so well-designed, you can use it as home decoration. PS: The board comes with its own app that guides you through mastering this type of training.
Price: from $580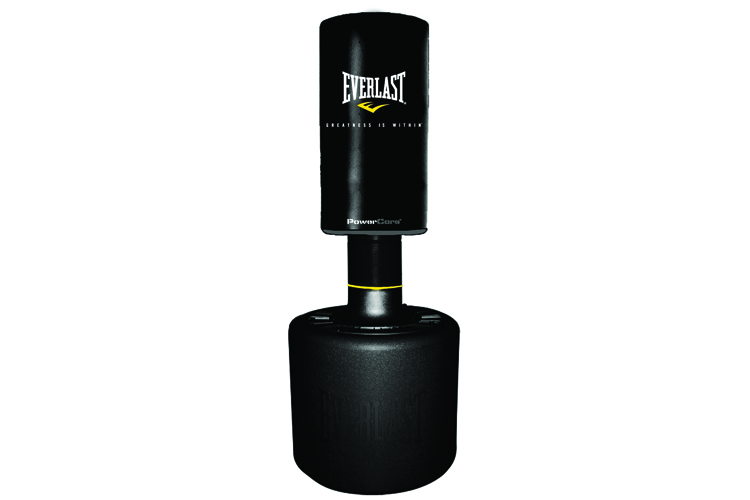 9. Freestanding Punching bag
Sometimes you just need to punch someone in the face. For those times, you have the everlast cardio strike bag, which is a pretty neat way to build endurance and improve your body. Boxers know what's what when it comes to training and you won't be making a mistake with this striking bag. The synthetic polycanvas surface takes the brunt of your punches without damaging your hands in the long run, made all the more comfortable thanks to the sophisticated EverFlex collar system for impact absorption and spring neck that ensures quick rebound.
Features: Tri-disc foam structure; PowerCore steel plate; adjustable height from 54 to 65 inches
Price: from AU$299.99
Everlast PowerCore Freestanding Heavy Bag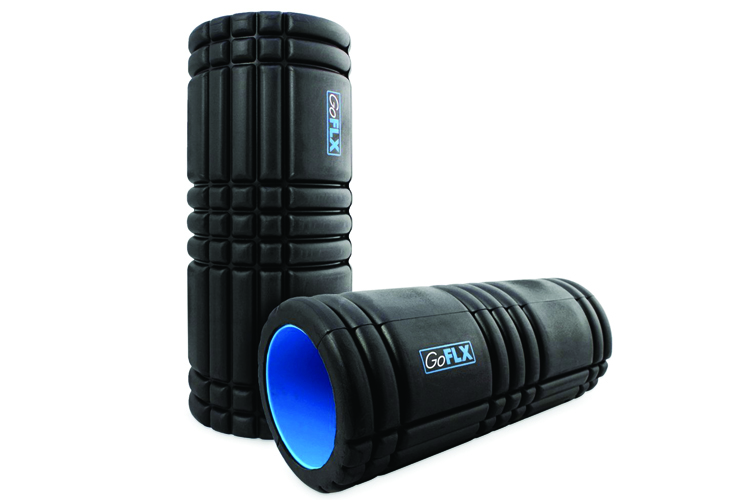 10. Foam Roller
The GoFLX 13 Inch Therapy Foam Roller isn't a work-out tool per se, but nevertheless is a must-have for those determined to get their body in shape. No matter how careful you are with your training, injuries happen and this 13-inch roller can compete with the best physical therapist. It's sturdy and designed for continuous use. You can relieve pain in your muscles, improve circulation and treat nasty things such as runners knee, shin splints, ITBS and the dreaded Achilles Heel.
Features: portable; 13-inches; ABS tube
Price: from £19.99
GoFLX 33 cm (13 Inch) Therapy Foam Roller
You'll also like:
10 Tips to Get the Most Out of Every Workout
7 Ways to Boost Your Testosterone Naturally
How to Lose Your Beer Gut