30+ Best Advent Calendars for Men
Getting the perfect Christmas gift for the men in your life can be hard work. If you can't seem to decide, an advent calendar may be the answer- with multiple small gifts in one! No matter what you are after likes, there is bound to be one for every need and interest, whether it's chocolate, beer or LEGO.
You'll also like:
30 Best Christmas Movies of All Time
Best Advent Calendars List
With the holiday season in full swing, it's time to get the countdown underway. Here are the 30 best advent calendars for men in 2021.
Entertainment
If you are a movie buff who loves to build, the world is your oyster. From LEGO to Star Wars and everything in between, here's what is in store for entertainment advent calendars.
LEGO Harry Potter Advent Calendar
If you're a fan of Harry Potter and LEGO, then this is the perfect Advent calendar for you. The set comes with 24 secret pieces that will conjure plenty of Harry Potter fun when opened. Don't be fooled, this game isn't just for kids- real men play lego!
LEGO Star Wars Advent Calendar 2021
Another Advent calendar for all the big kids out there and one of the best Advent calendars for Star Wars lovers is this LEGO Star Wars Advent calendar. With a surprise each day in the form of a Minifigure in the lead-up to Christmas, you will be gifted hours of entertainment during December with the various buildable figures hidden in the calendar.
LEGO Marvel The Avengers Advent Calendar
Don't think that Marvel fans will be left out, this advent calendar includes all your favourite superheroes in one big, surprise package. Add a little bit of action every day, with a new hero to meet throughout the entire month of December. At the end of the month, celebrate Christmas by basking in all the Minifigures you have gathered along the way!
Star Wars: The Galactic Advent Calendar
Star Wars fans have plenty of options when it comes to Advent calendars, and this is one of them. Star Wars: The Galactic Advent Calendar is the perfect gift for any Star Wars fan, packed with a galaxy's worth of exclusive trinkets. There are more than 30 surprises to gather during the month to help build your impressive Star Wars collection.
Friends: The Official Advent Calendar (2021 Edition)
Very few people in this world aren't fans of Friends, so a friends-themed Advent calendar makes for the perfect gift for men, even if you don't know them too well. With this calendar, you'll feel like you're celebrating Christmas with Ross, Rachel, Monica, Chandler, Joey, and Phoebe! Expect twenty-five days of surprises and trinkets ranging from fun paper ornaments to classic Friends-inspired recipe cards.
Pokémon 24 Battle Figure Pack 2021 Holiday Advent Calendar
This Pokemon Advent calendar is one of the best Advent calendars for men in 2021. No matter what age you are, all men can enjoy the surprises concealed within this calendar. Once all of the surprises have been revealed, you'll have an impressive Pokémon Holiday Scene with all of your favourite Pokémon Battle Figures.
The Office 12 Days Of Socks Advent Calendar Set
Are you looking for a calendar packed with practical surprises? The Office 12 Days of Socks Advent Calendar Set is just that. Socks are an age-old Christmas classic, and for a good reason- no man can ever have enough pairs of socks! The socks are not only comfy but are also some of the most desirable The Office merchandise you can get your hands on.
Style & Beauty
For the fashion hounds with a penchant for looking and feeling good, only the best style and beauty advent calendars will do. Kick off the festive season feeling fine.
CHRONEXT Advent Calendar
Looking for an Advent calendar that exudes luxury? The CHRONEXT Advent calendar is the pinnacle of all Advent calendars. The calendar is huge and is made of high-quality wood, refined with a glossy black piano lacquer for a luxurious finish. What's even more impressive is what you will find inside- watch highlights worth 1.25 million euros. As you can imagine, this calendar is expensive and is available on request.
Tiffany & Co.
Paying homage to the rebellious creativity and spirit of, New York, Tiffany & Co. went all out for this year's advent calendar. Teaming the iconic American jeweller with influential American artist, Jean-Michel Basquiat, the traditional holiday countdown is transformed into a canvas spotlighting the same masterpiece featured in About Love, Basquiat's 1982 painting, Equals Pi. The advent calendar features 24 blue boxes, each filled with Tiffany jewellery and objects. Simply stunning
Amazon Beauty 2021 Advent Calendar – Limited Edition
The Amazon Beauty Advent Calendar is every skincare lover's dream come true. The calendar includes brands such as Weleda, Olay and Rimmel. Each day, reward your skin with something special in the lead up to Christmas. By the time Christmas rolls around, this man will be glowing!
Mankind Advent Calendar 2021
For a more male-oriented skincare Advent calendar, how about this one by Mankind. With an array of grooming and male beauty products at a total worth of over $770, this is the perfect gift for the special man in your life! All the products have been chosen with love and will be guaranteed to make any man smile.
ASOS Grooming 12 Day Advent Calendar
Sometimes men aren't too keen on buying themselves grooming products, so this 12 day Advent calendar by ASOS is the gift that keeps giving. With 12 goodies inside, running from skincare to shaving treatments, the man who receives this will have a fully-stocked bathroom cabinet by the time Christmas rolls around.
L'Occitane Signature Advent Calendar
One of the best calendars when it comes to visual appeal, L'Occitane knows how to please men looking for quality beauty products, without the fuss. The calendar is designed by award-winning French illustrator Édith Carron and includes 24 pampering treats like hand cream and shower oil.
Adult
Lovehoney Best Sex Of Your Life Couple's Sex Toy Advent Calendar
The Advent calendar by Lovehoney is ideal if you're looking for something a little bit naughty. The calendar is packed to the brim with fun toys that are guaranteed to ensure a fun time, worth a total of $660. If you want to give your man a gift you can also use, this is a smart choice, ladies!
NastyGal Twelve Days Of Sexmas Sex Toy Advent Calendar
Christmas time is the best time of year to reignite your sex life, with all the time off and festive spirit in the atmosphere. NastyGirl knows this and has crafted the perfect selection to get you started on your sexmas. With plenty of toys that he and she will love- you can thank NastyGirl.
Loveboxxx Naughty & Nice 24 Pce Advent Calendar
Loveboxxx takes naughty or nice to a whole new level with their Advent calendar. The set of 24 premium sex toys will provide entertainment for years to come, and what makes a better gift than that? Keep in mind, this option is one the more expensive end, so make sure the man is worthy!
Lovehoney 7 Nights of Temptation Lingerie Calendar
Another Advent calendar with a little bit of something naughty to gift your lover- the Lovehoney 7 nights of temptation lingerie calendar. Every man loves lingerie, and with these seven surprises, his partner will be feeling sexy, which means it's something they will both get to enjoy. Worth $170, this gorgeous collection features six luxurious lingerie pieces and one vanilla-scented candle to help set the mood.
Lovehoney 12 Days of Play Sex Toy Advent Calendar for Men
This advent calendar is for all the men out there looking to spice up their sex life. Whether you fancy a festive fap in the run-up to the big day, or you want to treat your lover, this 12-piece calendar has it all. Worth over $370, it includes cock rings, strokers and a vibrating male masturbator.
Food
Christmas is a time for eating and celebrating the flavours that remind us of home. These food-based advent calendars give you a delicious way to count down to the big man's arrival. Remember calories don't count over Christmas.
KOKO Black Christmas Advent Calendar
Chocolate Advent calendars are the OG Advent calendars, and this one by KOKO is one of the best. The calendar includes delectable pralines, from a curated selection of KOKO's most-loved milk, dark and white chocolate treasures to festive flavours like cinnamon and spiced eggnog.
Lindt Bear Advent Calendar
One of the best Advent calendars for lovers of Lindt chocolate, the Lindt Bear Advent calendar does not disappoint. Each window will reveal a hidden, delicious milk chocolate Lindt bear. Lindt are known for being master chocolatiers, so this is a top choice for chocolate lovers who don't like anything sub-par.
2021 Coffee Advent Calendar by Yawn. 24
Coffee lovers, look out! One thing everyone needs during the Christmas season is caffeine-ation, to keep up with all the buzzing festivities. This coffee Advent calendar includes 24 freshly roasted craft coffees with origins from all over the world, which will definitely help keep you caffeinated.
Godiva Holiday Luxury Chocolate Advent Calendar
Another delicious chocolate calendar to keep hungry men satisfied in the lead up to Christmas is this one by Godiva. The 24-day Godiva chocolate advent calendar features a tasty assortment of gourmet milk, white, and dark chocolates crafted with classic Belgian fillings. You can't beat classic Belgian chocolate at Christmastime!
The Snaffling Pig Pork Crackling
Perhaps not the most common of Advent calendars is the Snaffling Pig Pork Crackling calendar. Crackling is renowned for coming out at Christmas lunch, so why not get excited in the lead-up for the big moment. The calendar houses an assortment of 24 delicious porky delights, with a treat-sized bag of scratchings hidden behind every window.
12 Days Of Hot Sauce Advent Calendar
This 12 Days of Hot Sauce Advent calendar is every man who loves a good hot sauces' dream come true. The calendar is full of the very best hot sauce flavours like Habanero, Carolina Reaper, Cajun and Chipotle. Each hot sauce comes in a little bottle that also makes a great keepsake.
Drinks
Like food, the silly season is a chance to indulge in the finer things in life. Whether it's whisky, rum, wine or even non-alcoholic, these boozy (or not so boozy) advent calendars have you covered this year.
24 Days of Cognac
Christmas is the perfect time to enjoy Cognac, so this Cognac Advent calendar is the perfect choice. The calendar includes 25 different products with 20mL bottles of Cognac to enjoy. It comes in a stylish black and gold design that would look good in any room.
2021 Whisky Loot Advent Calendar
The Whiskey Loot Advent calendar is by far one of the best Advent calendars for whiskey lovers. The calendar includes a beautiful selection of 24 30mL bottles of premium whiskies that have been craftily selected for the holiday period. Expect whiskeys from 6 different countries and 19 regions- perfect for any whiskey lover, including yourself!
24 Reasons to Smile Teabag Edition Advent Calendar
If tea is more your drink of choice, teabag Advent calendars are the next best thing to Christmas day itself! Get your mugs ready; there are 24 tisanes in teabags that await your discovery with everything from chai, to earl grey to sleepy teas.
Drinks by the Dram 12 Days of Whisky
Another magnificent Advent calendar for whiskey lovers is this one from Drinks by the Dram. This specially-curated calendar features 12 wax-sealed 30ml drams of whisky, from single malts to single grains, blended malts, and more. Discover a new preferred whiskey or delight in old favourites.
24 Days of Rum
Rum enthusiasts will be delighted with this 24 Days of Rum Advent calendar. Open up each window and be met with a new 20mL bottle of a rum variety each day in the lead-up to Christmas. Save them all for the festivities, or enjoy them slowly to get excited for the holidays!
Brunswick Aces Non-Alcoholic Advent Calendar
Non-drinkers don't have to miss out on all the Christmas fun, thanks to the crew at Brunswick Aces. They specialise in non-alcoholic beers and have created Australia's first RIMOWA Quietly Launches Lifetime Warranty for Travellers The calendar includes a carefully selected range of Australian and International beers in 330mL and 275mL cans that will make any non-alcoholic beer fans happy throughout December.
A Guide to Single Malt Scotch Whisky
White Possum Australian Whisky
White Possum is putting Australian whiskey into the forefront this Christmas with its Advent calendar. Designed to take whisky lovers on a month-long ride of handmade Australian drams, each window will reveal 25 Australian whiskies handmade by distilleries all over the nation- delicious tasting and supporting local!
Gintonica Gin Advent Calendar
One of the best ways to celebrate the Christmas season is gin, and lots of it! Luckily, Gintonica has an iconic Monday Munchies: August 29 – Burger Pizza to help you do just that. It includes 24 30mL Australian Craft Gins, each with mini-me distillery labels. This is truly a gin lover's ultimate gift.
How to Curb Your Phone Addiction
Beer Cartel Advent Calendar
Beer Cartel has one of the best Advent calendars for beer-lovers across Australia. They have partnered with craft breweries to create 25 exclusive beers from some of the best breweries in Australia and one from New Zealand. Some of the featured breweries include Mountain Culture and Hawkers- the rest you'll have to find out!
Vinebox 12 Nights of Wine 2021 Edition
Don't think we have forgotten about all the wine fanatics out there- Vinebox has you covered. The Burberry Partners with DAB Motors for Concept-E RS Bike was the world's first curated wine advent calendar, complete with twelve crafted glass tubes, each carrying a delicious drop of exquisite wine. We recommend saving the bottles so you have plenty to go around on Christmas day!
Burberry Partners with DAB Motors for Concept-E RS Bike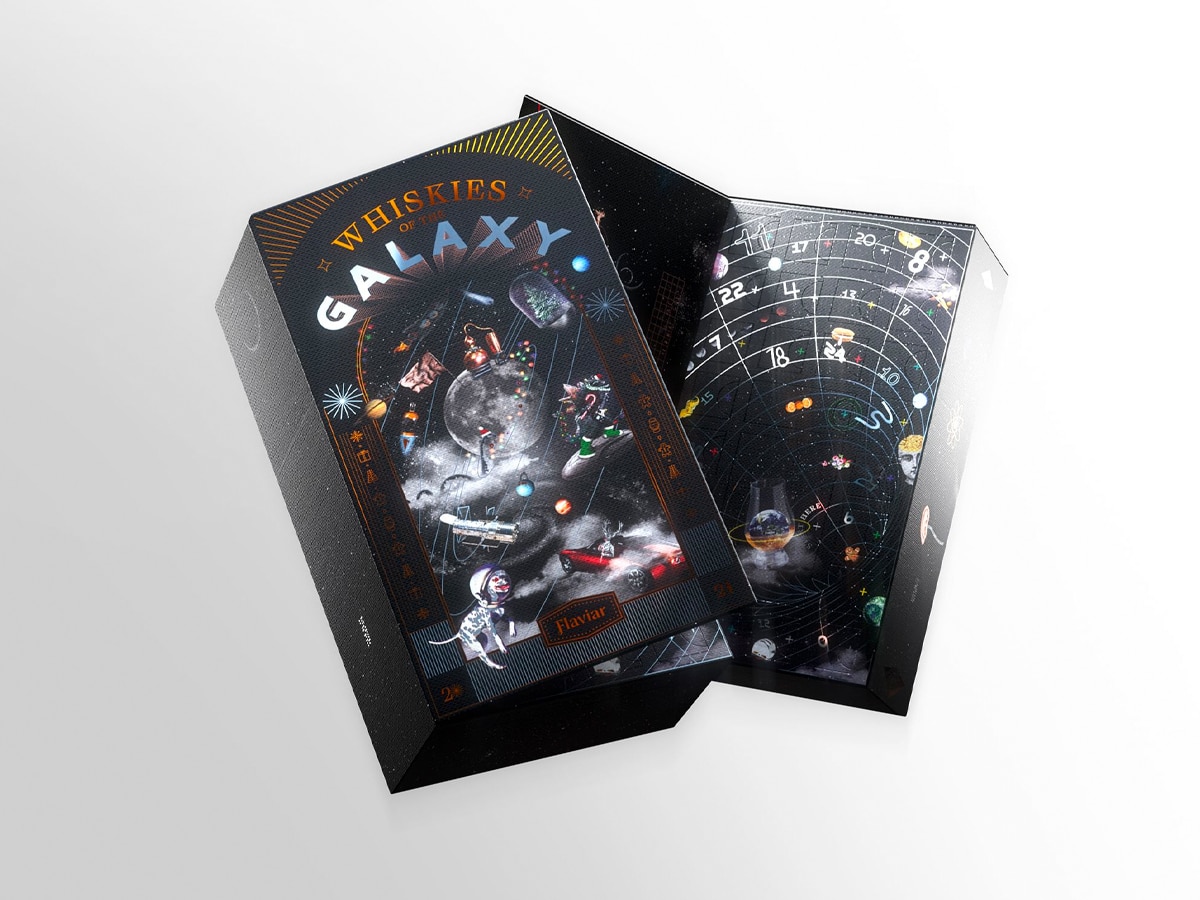 Flaviar Whiskies of the Galaxy Advent Calendar
More whiskey for your Christmas, Flaviar's Advent Calendar is one of the best Christmas presents for men who love whiskey. Each day of December becomes that little bit more exciting as you try a new whiskey every day, setting the mood for the holiday season to begin!
What are Advent Calendars?
Advent calendars have roots in religious traditions but have evolved over the years. They traditionally marked a counting down during the 4-week period of advent starting on November 30th, a Christain tradition that anticipates Christ's birth on December 25th. Today, Advent calendars start from December 1st and are typically made from fabric or cardboard, with little pockets or paper doors that conceal a treat or bible verse. The intention is you reveal the treat or verse on each day for December, until Christmas, as a way of building anticipation and excitement during the festive period.
Where do Advent Calendars Come From?
Advent calendars stemmed from Christain traditions and originated in Germany. They began in the mid-19th century when Geman protestant Christians made chalk marks on doors or lit candles to count the days leading up to Christmas. German protestants then adapted chalk marks on doors into calenders so that by the 20th century, calendars were being manufactured and published in Germany, aimed at encouraging kids to count down the days to Christmas during the holidays.
General FAQs
Where do Advent Calendars Come From?
Advent calendars come from Germany in the mid-19th-century.
Why do people do Advent calendars?
People use Advent calendars to build anticipation and excitement during the Christmas season.
You'll also like:
30 Best Christmas Movies of All Time
26 Best Gifts for Men: Ultimate List of Gifts for Him
9 Luxury Watches that Make for a Timeless Investment (Or Gift)
---
Featured Video from Man of Many