2018 Christmas Gift Guide – The Booze Hound
The sound of a splash of good liquor and the dancing of ice at the base of your glass is music we all welcome at the end of a hard day. Whether it's whiskey, beer or something in-between, there are countless ways to enhance your drinking experience. Luckily, Man Of Many are the experts in all things liquor and to help you find the perfect boozy gift, we've scoured the globe for the very best knick-knacks, tech and bartending gear for that special someone—fair warning, you might end up keeping them all for yourself.
You'll also like:
2018 Christmas Gift Guide – Netflix Chill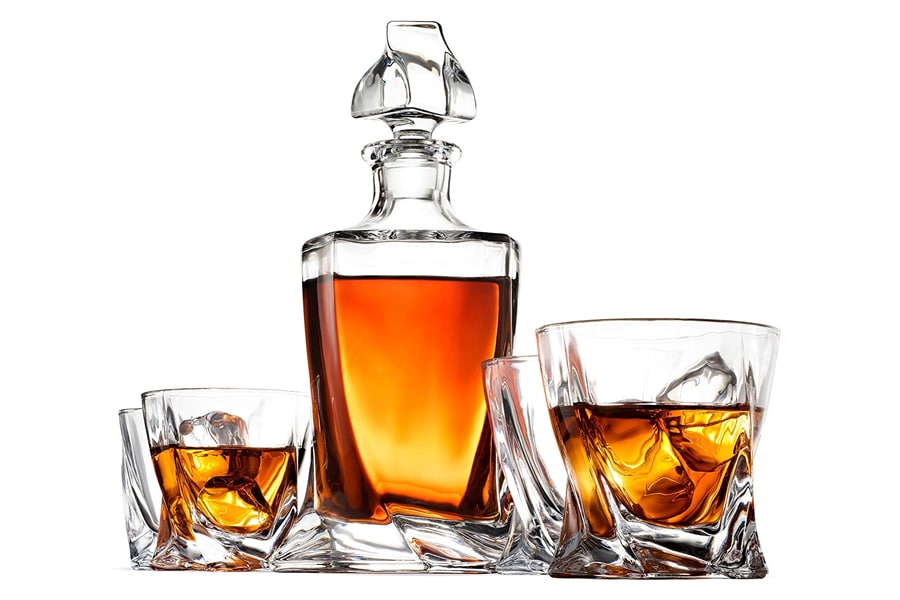 Whisky Decanter Set
Can you really call yourself an adult without owning a matching decanter set? The answer is no. Gaze upon the elegant twisted patterned Whisky Decanter Set, featuring blade-runneresque glassware. The decanter itself is lead-free and can hold up to 750ml, whilst the glasses boast weighted bases and 8-ounce capacity. This set is perfect for Scotch, Irish and Bourbon whiskies alike and will look bloody great on the bar cart or sideboard.

Portable Roll-Up Cocktail Kit
The Portable Roll-Up Cocktail Kit is for the amateur, semi-pro and pro-bartender who likes to be prepared. With a 19oz Shaker, Bar Blade, Jigger, Wood Muddler, Strainer, Spoon and Wax Canvas Bag by Root7, this creation of this kit has been guided by some of the leading bartenders around the world to ensure durability and functionality when faced with a cocktail crisis.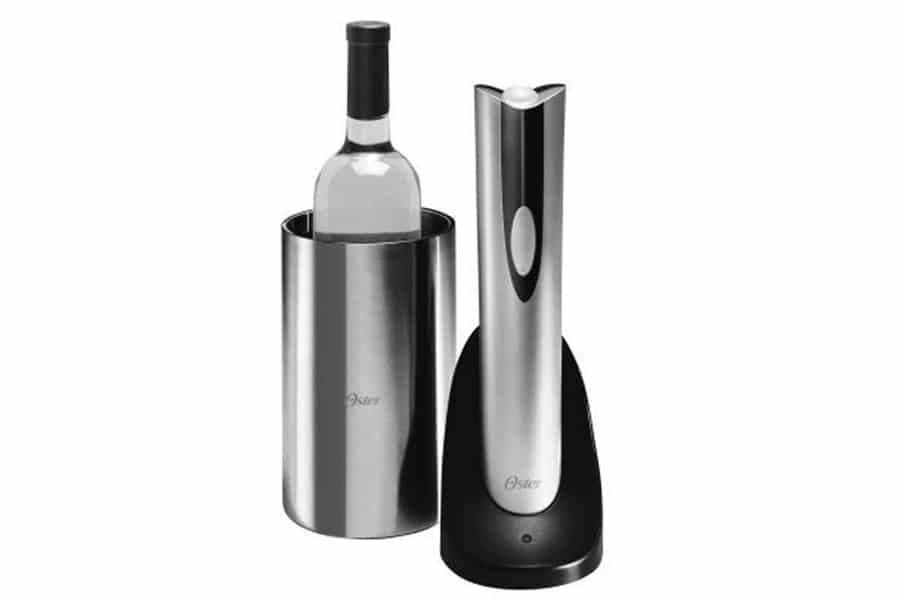 Oster Rechargeable and Cordless Wine Opener with Chiller
You may not have known that you needed an electronic wine opener, but think back to those times you or a friend has proved themselves a proper doofus whilst struggling to uncork a bottle of nice Shiraz. The Oster Rechargeable and Cordless Wine Opener with Chiller removes this problem and ensures James Bond level savvy when entertaining. Boasting button-touch cork removal, foil cutter, ergonomically designed soft grip handle and accompanying wine chiller, this is a formidable entertaining ensemble for any situation.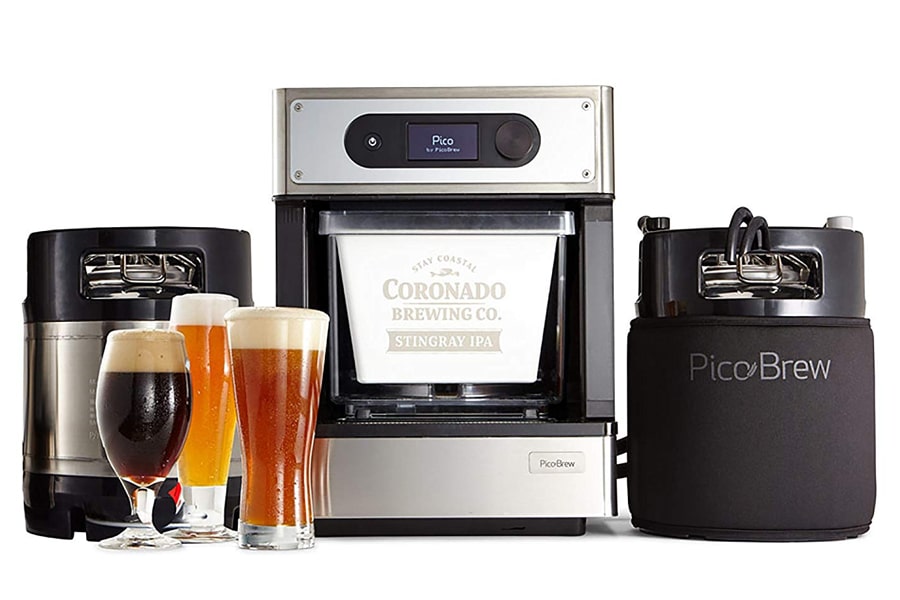 Pico Pro Craft Beer Brewing Appliance for Homebrewing
Like some home-cooked meals, there are times when a brew is nowhere near as good as the one you've made yourself. Introducing the Pico Pro Craft Beer Brewing Appliance for Homebrewing to bring out the master-brewer in you or someone close to you. Producing 5-liters at a time this device comes with 6.6 liter (1.75 gallon) ball-lock kegs which are easy to connect to your kegerator or the included CO2-powered party tap (yes, party tap, this device is something you'll want to bust out when you have company). To top it all off, components are dishwasher friendly, so you'll have more time to focus on getting those ABV levels just right.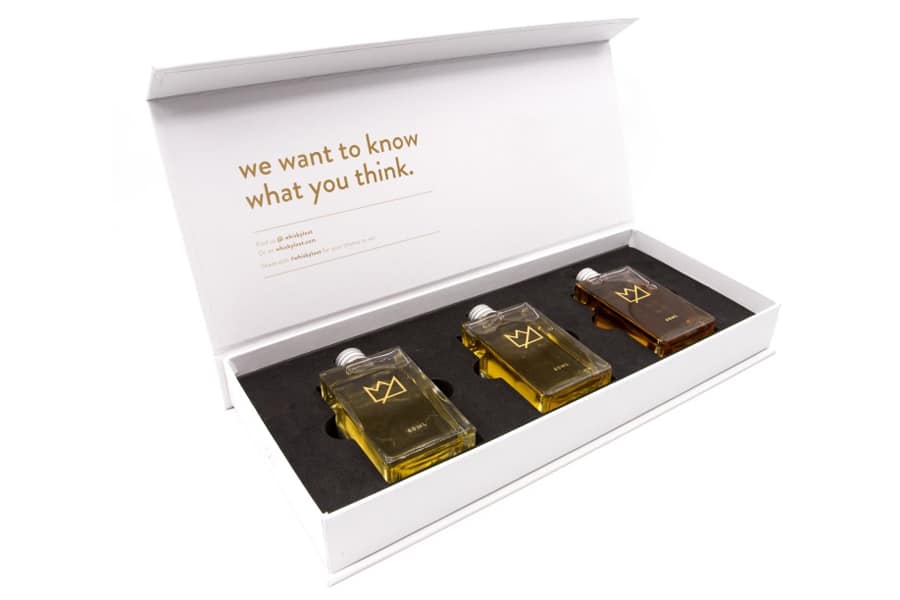 Whisky Loot Subscription
Sample boxes and subscription services are all the rage and yet, they may struggle to compete with a Whisky Loot Subscription. For the booze-hounds and deviant decanter lovers of the world, a subscription will get you $380+ worth of whisky every month for just $59—allowing you to sample whiskies you may not have access to or couldn't justify on the weekly trip to the bottle-shop. Oh, and there's no repeats so every month is something new and exciting for your palette if the above didn't quite get you there.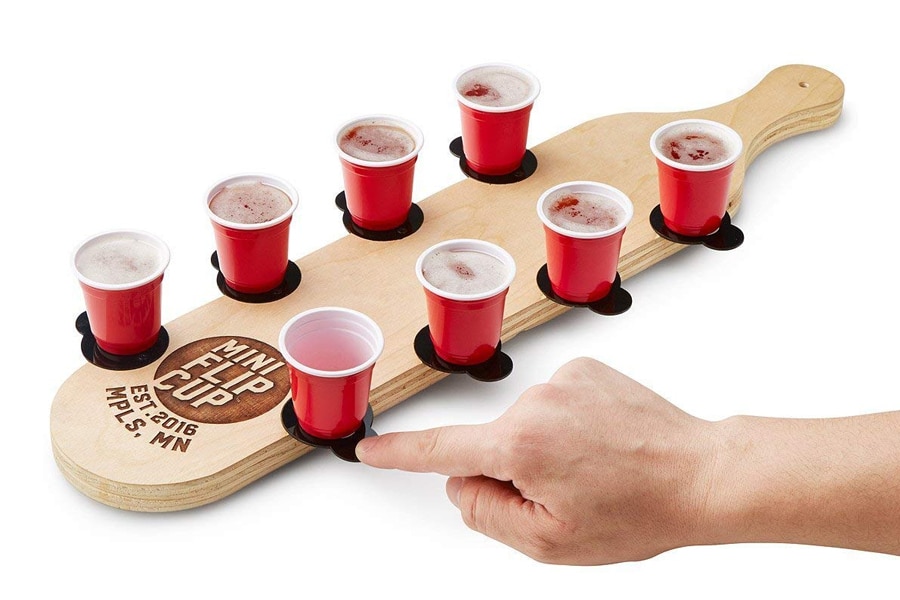 Mini Flip Cup Game
The Mini Flip Cup Game is for when you need to produce an ice-breaker in a pinch. Be it at a party, on a date or just hanging out with someone who loves to tie one on, the set includes a birch plywood paddle, cups and ball+strings and promises fun-sized portability and big laughs the longer you play.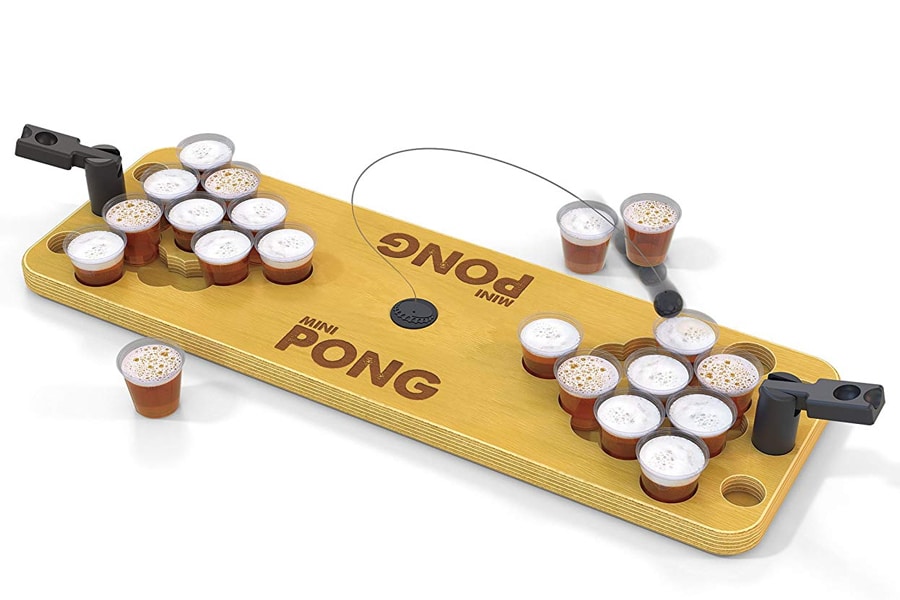 Mini Pong
Mini-Pong is an action-packed, convenient tabletop version of that game you love to lose. Less clean-up, portable and a pre-drink must, the set comes with 1 wooden game board with skid-resistant footing, 2 launchers, 1 tethered ball, 25 cups and a mesh storage bag for all components.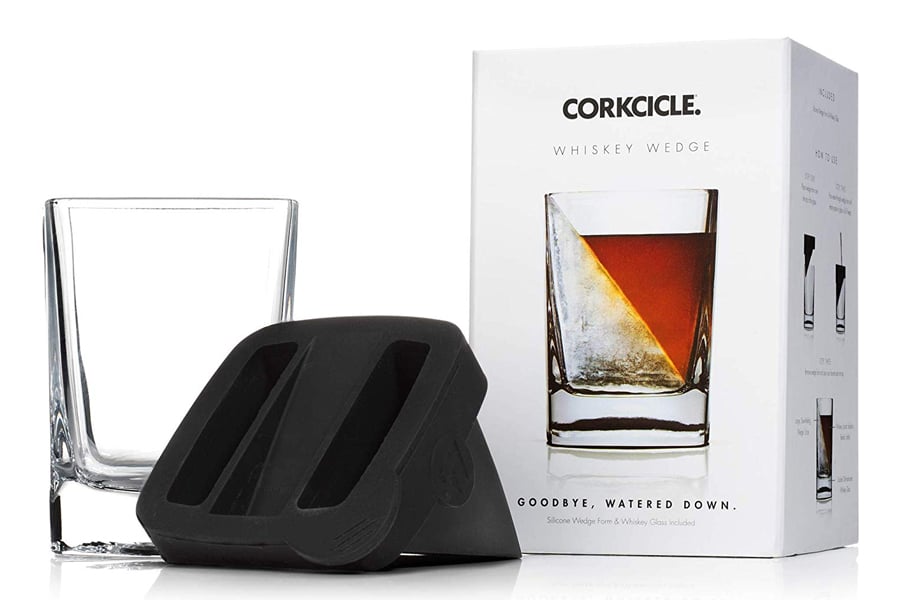 Corkcicle Whiskey Wedge
What's a Corckcicle Whiskey Wedge you may ask? It's a glass that keeps your whisky chilled without quickly watering it down. This makes it perfect for true buffs who aren't a fan of whiskey stones. The biggest plus of this nifty product is that it looks stunning, whilst being extremely practical—there's no tacky factor at all, which is all too common with problem-solving gifts. Including an old-fashioned glass and silicone ice form, the Corkcicle Whiskey Wedge is ideal for summer whiskey drinkers.
More Gift Guides:
2018 Christmas Gift Guide – Stocking Stuffers
2018 Christmas Gift Guide – Netflix & Chill
View All Our Gift Guides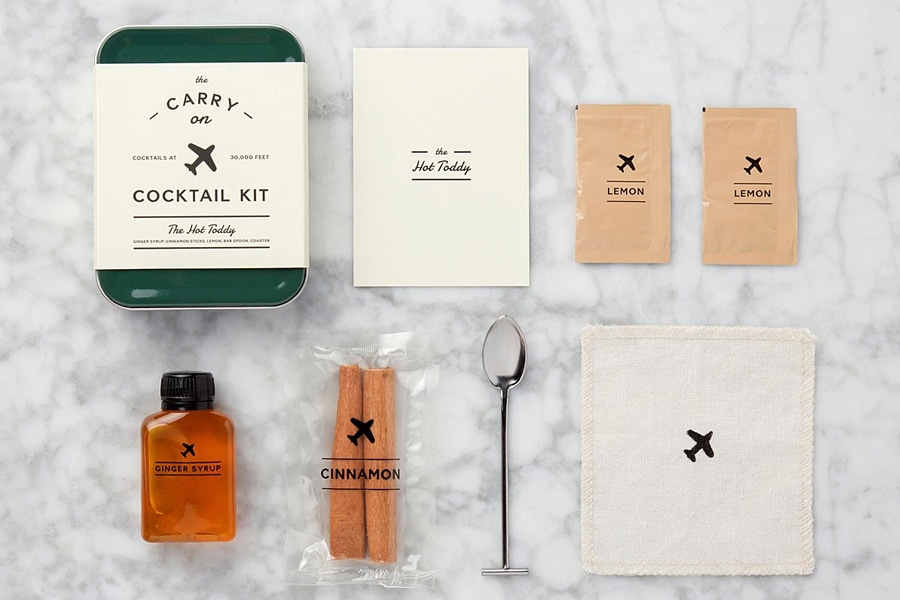 The Carry on Cocktail Kit
The Carry On Cocktail Kit is an ingenious idea and more than just a stocking stuffer. Each kit makes two cocktails, ensuring that you never have to drink in style alone. Be it an Old Fashioned mid-flight, a Moscow Mule shortly after takeoff or a quick Gin & Tonic to calm the nerves before landing, this kit was designed for air-travellers who never want to be stuck in a cocktail-less situation.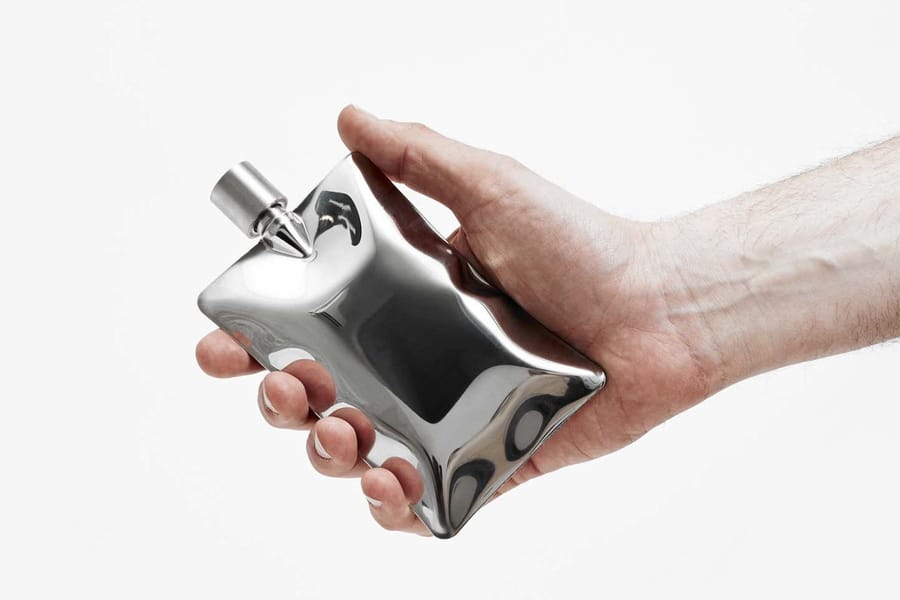 Areaware Liquid Body Flask
The Areaware Liquid Body Flask is like many other flasks in that it discreetly transports liquid courage to ensure you're never short of a sip when the situation demands it. However, your average flask doesn't look like this. Just look at it. A work of art in its own right, the Areaware Liquid Body Flask is of fluid design, made from sturdy stainless steel and carries more than a few nips to boot.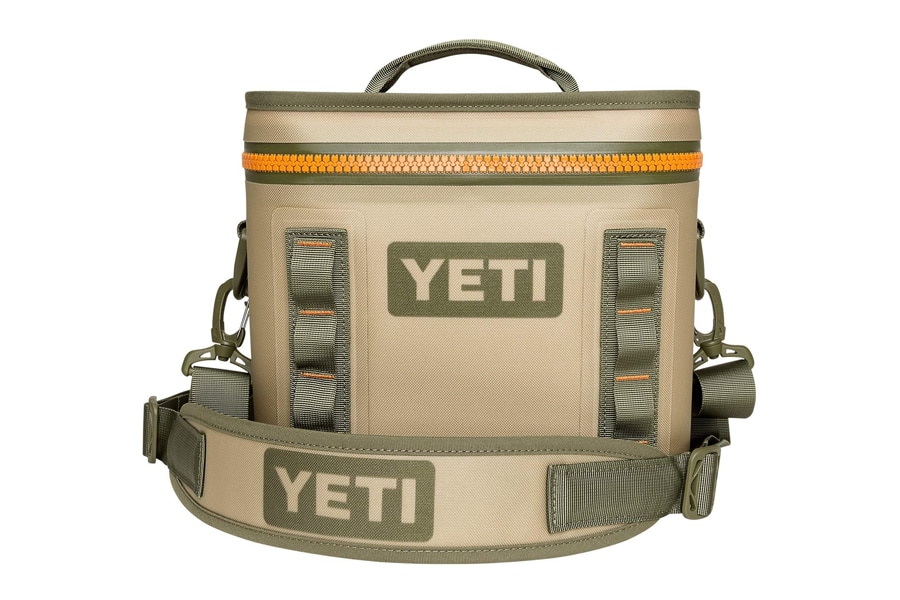 YETI Hopper Flip Portable Cooler
The Yeti Hopper Flip Portable Cooler is the action man of coolers—it's ready for anything. Promising ultra-cool drinks thanks to the innovative ColdCell Insulation design – a closed-cell foam that offers superior cold-holding to ordinary soft coolers – the Yeti Hopper Flip Portable Cooler can carry up to 6 cans, plus ice. With a DryHide shell which is completely waterproof to prevent mould, puncture and abrasion, this cooler is ready for action (and gifting).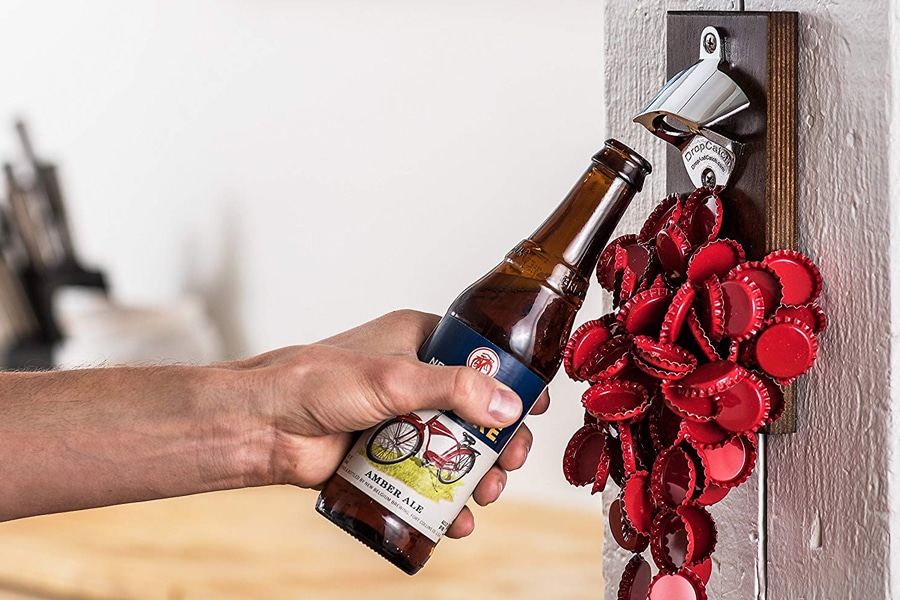 DropCatch Magnetic Bottle Opener
It's important to let people know just how much beer you drink. Cue the DropCatch Magnetic Bottle Opener: the perfect way to keep count of your booze intake and prevent surprise bottle caps from appearing around the house. Made from genuine American walnut hardwood and finished with a protective lacquer to ensure stickiness isn't an issue, this nifty little gadget is perfect for man-caves and garages.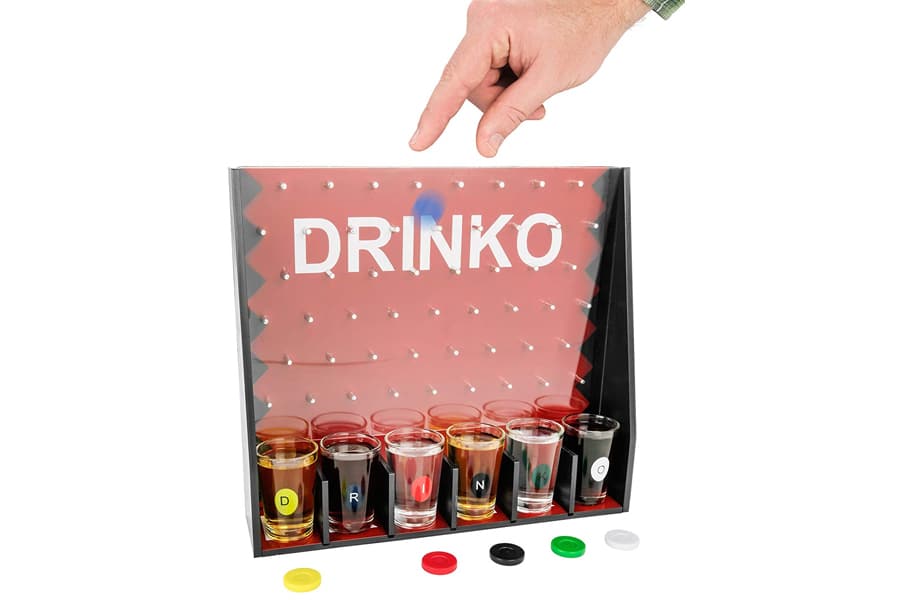 DRINKO
With a name that would have brought a tear to Shakespeare's eye, Drinko is an innovative way to get a little bit cooked and thus, you need it in your life ASAP. A game of (mostly) chance, simply drop your 'ship' down the device and hope it lands in (or doesn't land) in the shot glass of the corresponding colour. Maybe at first you or the recipient will be hesitant about the value of Drinko – "why did I receive this oddity!?" might go through their mind but don't worry, assure them that Drinko gets better the more they play.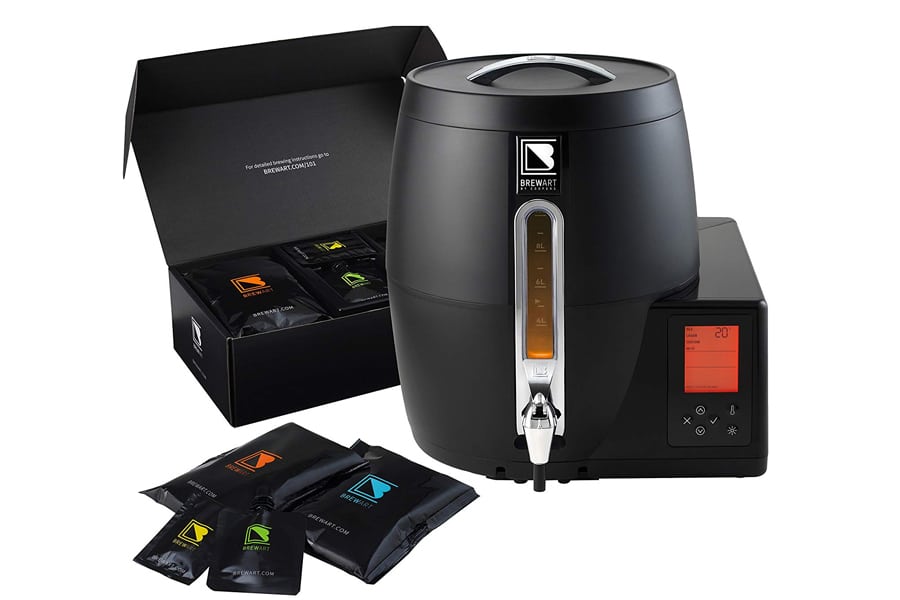 Brewart BeerDroid
"I'm afraid I can't brew that Dave" is something you'll never hear the Brewart BeerDroid say and that's because it's the world's first fully automated personal brewer. Maybe you know someone who loves the idea of home-brewing but doesn't have the will or time to make it happen, if so, this is the perfect gift for them. You can brew 2.6 gallons of premium quality beer at the push of a button and this little revelation is even features Wi-Fi connectivity. Simply download the BrewArt app to monitor and control your brew and receive push notifications of brewing milestones. It's Wall-E for borderline alcoholics and will earn every cent of it's higher price-point.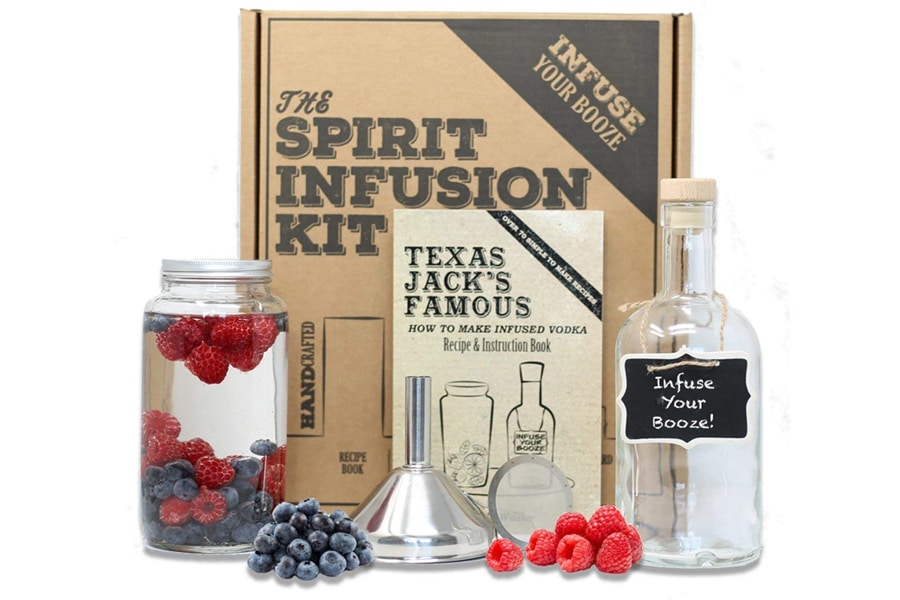 The Spirit Infusion Kit
For the experimenters and chemists out there who yearn for more from their spirits. The Spirit Infusion Kit has everything you'll need to make your own all-natural handcrafted infused spirits. Includes a whopping 110 Page Recipe & Instruction Book, 1000mL Infusion Jar, 750mL Liquor Bottle w/ Wood Cork Top, Funnel & Strainer with Fine Mesh Filter, and a Chalkboard Tag to label your marvellous handmade creation.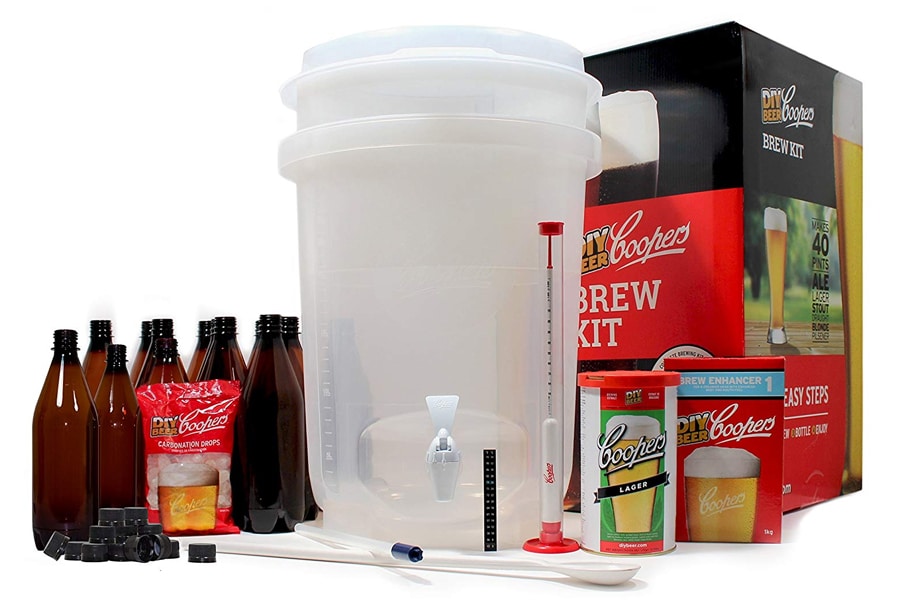 Coopers DIY Beer Home Brewing Kit
The only beer making kit designed by a brewery, the Coopers DIY Beer Home Brewing Kit is the real deal. With over 150 years of heritage, the master-brewers at Coopers have launched a kit to end most kits and delight your giftee. What makes this kit unique is the one-of-a-kind patented one-step brewing fermenter, modelled after conical fermenters seen in breweries, but modified for the homebrewer with a wide mouth and base for easy cleaning. A mouthful to be certain but we can confirm a cold Coopers goes down a treat and we trust them to bring you a commanding, authentic brewing experience.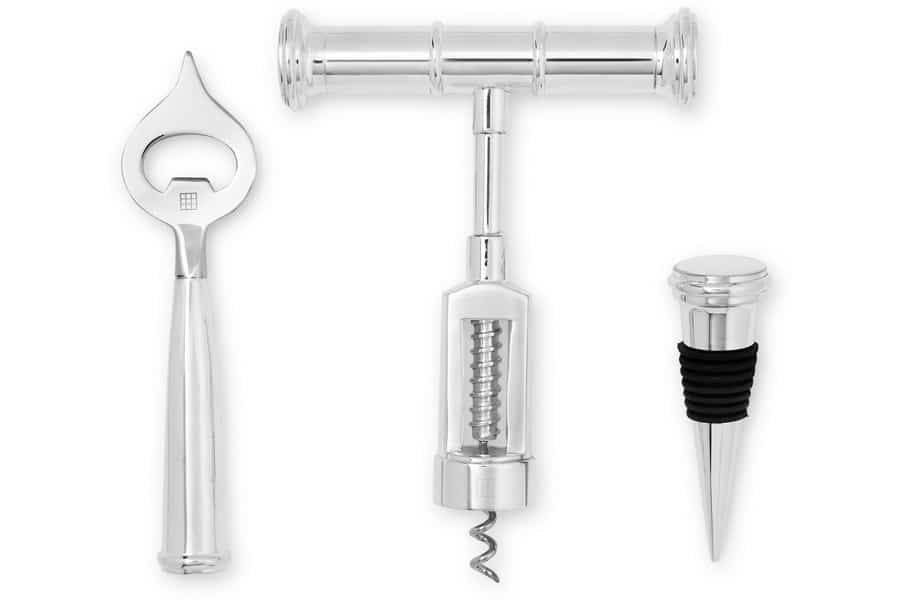 Soho Home Collins Silver-Plated Bar Tool Set
No home is complete without a bar tool set and the Soho Home Collins Silver-Plated Bar Tool Set will help solidify your household without question. With a handsome design principle and quality craftsmanship integrated into the weighty corkscrew, stopper & bottle opener, this set is an ideal way to kick-off one's journey towards being the ultimate home-entertainer.
More Gift Guides:
2018 Christmas Gift Guide – Stocking Stuffers
2018 Christmas Gift Guide – The Homemaker
2018 Christmas Gift Guide – For Her
View All Our 2018 Christmas Gift Guides