17 Best Australian Whiskey Brands to Drink Right Now
This article features advice and insights from Australian whisky expert and Starward Whisky production director Sam Slaney.
The world is going crazy for the best Australian whisky brands. And while the experts we interviewed below found it hard to pinpoint an exact moment our best drams hit the mainstream, it's clear Tasmanian producers have put the country on the map with some of the best whiskey in the world. Names such as Lark, Bakery Hill, and Sullivans Cove have become household brands over the years, but there are a number of other distilleries popping up all over the country. Examples from most Australian states are all found in our list below, alongside a quick history lesson from the experts on what makes Australian whisky great.
RELATED: Can't get enough whisky? Check out our comprehensive guide to whisky here.
Best Australian Whisky at a Glance
Our list of the best Australian whiskey brands goes like this.
Now we've had a look at our favourites, let's check out the complete list.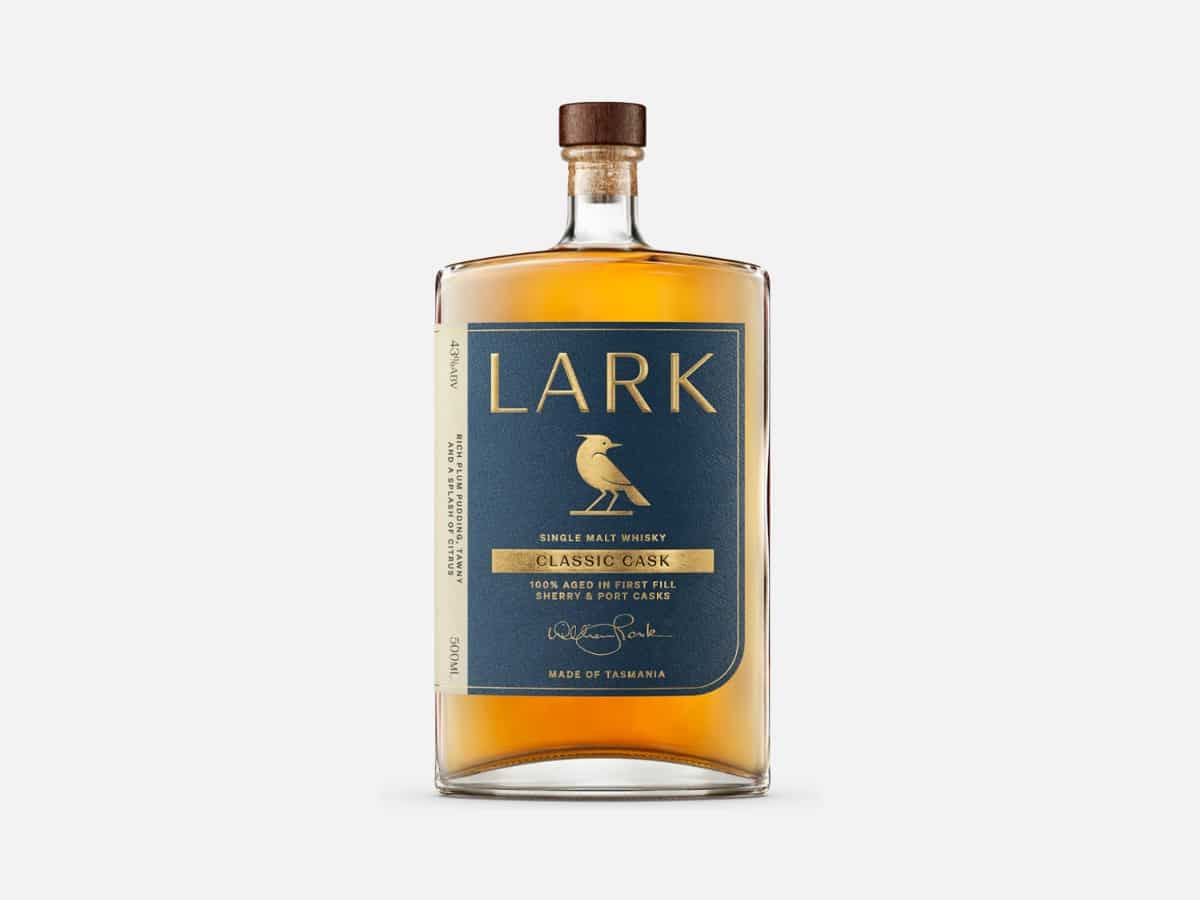 1. Lark
Lark can unofficially be credited as the place where it all began for modern Tasmanian whisky. It was, after all, when founder Bill Lark was trout fishing with his father-in-law Max in the Tassie highlands that the two scratched their heads and said: "I wonder why there isn't anyone making malt whisky in Tasmania." The climate, access to barley, natural peat bogs and pure, soft water were all in abundance, but nobody had connected the dots for over a hundred years due to archaic licensing laws.
Since then, Bill has worked tirelessly to promote the Southern island as one of the world's best whisky-producing regions, all the while expanding his eponymous distillery from a small apparatus in his kitchen to a huge copper still which gets put through its paces to keep up with demand. The operation is still a family affair and the distillery itself has undergone a recent world-class makeover.
In terms of our favourites, we can't go past the Classic Cask, with its sweet, spicy and savoury elements, this is the dram we're always sharing with our Scottish and American friends who are in desperate need of some Tasmanian goodness. Toffee apple with crisp citrus and custard on the nose before fruity malt and rich plum pudding, with developing apple crumble and red berries develop on the palate, it's what great Australian whisky stands for.
Tokay 100 Rare Cask Release
Similar to the classic PARA100 cask that redefined its segment, the Tokay 100 single malt is finished in barrels that once held Seppeltsfield wine. And while very few will get to enjoy this exceedingly rare drop, those lucky enough to get their hands on a bottle will find notes of manuka honey, flavours of mocha and honeycomb, with synonymous Tokay iced tea finish – Shop at Lark ($1000).
Chinotto Cask II Cask Strength
Crowned the Single Malt Category Winner at the 2023 World Whiskies Awards and the Master Winner at the 2022 World Whisky Masters, it's safe to assume that Chinotto Cask II Cask Strength is one of the brand's best bottles. If you're a fan of intense smoky, zesty citrus flavours, this is the dram for you. Lark creates their own Chinotto at their Tasmanian distillery, inducing the distinct bitter orange flavours from the citrus oils of the myrtle-leaved oranges in every cask by seasoning their barrels with the creation before ageing – Shop at Lark ($350).
Founder: Bill Lark
Founded: 1992
Price range: from $199 AUD
Our favourite bottles: Lark Rare Cask PARA100, Lark 9yo Bourbon Cask Whisky.
Shop at Lark Shop at Dan Murphy's
2. Sullivan's Cove
All the greats start from humble beginnings, but for Australian whiskey brand Sullivan's Cove, it was a change in ownership that saw its popularity change in the early 2000s. Originally founded in Sullivan's Cove, the distillery moved to Cambridge in 2004 where its fortunes changed, and by 2007 the brand started to gain international recognition that included 'Liquid Gold' status (95/100 points) in Jim Murray's Whisky Bible. Today, they produce some of the most sought-after and best whisky in the world and we've outlined two of our favourite bottles below.
Sullivan's Cove French Oak
Arguably the drop that triggered the recent influx of international interest in Australian whisky, this beautiful single malt was named the best in the world in 2020 and has been almost impossible to get a hold of ever since. While bottles from the original winning cask disappeared by the time the award was bestowed to the distillery (though a few are probably still floating out there, valued in the thousands), you can get a single bottle of the current release for around $600 AUD, if you're lucky.
While the label bears no age statement, the liquid inside is 12 to 14 years old and boats a big, fat, chewy single malt full of rich toffee and molasses, not dissimilar to a Demerara rum – Buy it here ($450 AUD).
Sullivans Cove 25th Anniversary Special Edition 21yo
When a world-champion brand releases its oldest whiskey to date, it commands a LOT of attention. This whisky was distilled in the very early days of Sullivans Cove (in the late 90s) and is a marriage of four x 200L (ex-bourbon casks) of only 162 casks ever produced in that era, most of which were bottled and sold years ago. Not only could this be the most highly regarded Australian whiskey on this list, but it might be the oldest official distillery release of Australian single malt whisky in modern history. It certainly commands a price worthy of its status – Buy it here ($6000 AUD).
Stay up to date with all our Sullivans Cove news, reviews, and more right here.
Owner: Adam Sable
Founder: Rob (Robert) Hosken
Founded: 1994
Price range: from $400 AUD
Our favourite bottle: Sullivan's Cove French Oak, 25th Anniversary Special Edition 21-year-old.
Shop at Sullivans Cove Shop at Dan Murphy's Shop at Whisky Exchange
3. Bakery Hill
Located a half-hour from Melbourne's CBD in Balwyn North sits Bakery Hill. The Australian whiskey brand has been in production since 2000 and was first made available to the public in 2003, by no means is this a newcomer to the world of Aussie drams. Bakery Hill's selection includes a single cask malt offering in peated and non-peated varieties, which are both available at cask strength if preferred. We prefer the non-peated cask strength, a little hot on the palate initially, but that's only complemented by the sweet notes that develop throughout.
Founder: David Baker
Founded: 1999
Price range: from $160 AUD
Our favourite bottle: Single Malt
Shop at Bakery Hill Shop at Nicks
4. Starward
Hailing from Victoria's New World Whisky Distillery, Starward has been favoured by many for its innovative approach to modern whisky production, eschewing the traditions that bind so many other distillers and producing consistently interesting whisky. Their products are all made from Australian barley, aged in Australian barrels and reflect the terroir with subtlety. Finished in Australian wine casks, their Solera drop is one of our favourites and lends itself to a unique, tannic quality. It was awarded Gold at the World Whiskies Awards in 2020, more than earning its place on our list of best Australian whiskies. If you're new to the world of whisky, their entry-level two-fold double grain is about as good as whisky gets for under $80 AUD.
Founder: David Vitale
Founded: 2009
Price range: from $80 AUD
Our favourite bottle: Fortis Single Malt
Shop at Starward Shop at Dan Murphy's
5. Overeem
Overeem only offers four products in its core range, but that hasn't stopped this Australian whiskey brand from experimenting as the whisky landscape becomes more innovative. At its core, you have four drams to choose from; a Port Cask or Sherry Cask in distillers strength (43%) or cask strength (60%). Our favourite drop is the 43% Port Matured, as it's one of the best examples of Aussie whisky's ability to take traditional methods and still pioneer new flavours. This is a big whiskey, with a rich palate of butterscotch, creme brulee, rum-soaked raisins, and plum pudding. The mouthfeel is equally strong and we love the spicy finish.
Stay up to date with Overeem news updates.
Founder: Casey Overeem
Founded: 2007
Price range: from $195 AUD
Our favourite bottle: Port Cask Matured 43%
Shop at Overeem Shop at Dan Murphy's
6. Archie Rose
A familiar face in the Australian spirits industry Archie Rose has created an award-winning Single Malt whiskey. Before it was even publicly released, the bottle won Australia's Best Single Malt Whisky at the San Francisco World Spirits Competition, the World Whisky Masters in London and the SIP Awards in California – so let's just say, it's more than qualified to be on this list. Unfortunately for punters, the major recognition this bottle has commandeered has meant that it's extremely difficult to source. So keep an eye out for this one as it gets released, or you'll probably miss out. Other limited releases in the brand's history include a Red Gum Smoked Single Malt, as well as a Molasses Rum Cask Single Malt that has to be sipped to be believed.
Stay up to date with all our Archie Rose news, reviews, and more right here.
Founder: Will Edwards
Founded: 2014
Price range: from $119 AUD
Our favourite bottle: Single Malt Whisky
Shop at Archie Rose Shop at Dan Murphy's Shop at First Choice
7. Morris Rutherglen
Another young up-and-coming Australian Whiskey brand that's caught our eye is Morris Whisky thanks to its wide range and equally delicious offering. We've had the chance to try plenty of the bottles over the years but a standout for us lies in the Single Malt Muscat Barrel for its creamy mouthfeel and palate of rich dark fruits, sweet malt notes, vanilla, cocoa, and cinnamon spice. This particular drop was awarded GOLD at the San Francisco World Spirits Competition in 2022.
Owner: Copper & Grain Distilling Co
Founded: 2016
Price range: from $95 AUD
Our favourite bottle: Signature Single Malt, Muscat Barrel
Shop at Morris Shop at Dan Murphy's Shop at Nicks
8. Hellyer's Road
Started by a group of dairy farmers, Hellyer's Road Distillery is an Australian Whisky brand that sits at the top of Tasmania in the town of Burnie. Northern Tassie is famously home to the cleanest air in the world and thus, some of the best whisky money can buy. Hellyer's Road is a well-oiled operation with an output higher than some of the other minor distilleries in the region, and as such, it won't break the bank with prices from $98 AUD. Hellyer's Road is one of Australia's best booze-based exports and can be found in over 20 countries.
Slightly Peated 10yo Whisky
The brand's slightly peated 10-year-old whisky is a highly celebrated drop in both the Japanese and European markets. We love its tangy, fruity flavour palate that lingers delightfully on the finish. Aged in American Oak (ex-bourbon) this is one of our favourite peated Australian whiskies. The brand's four main expressions include a Pinot Cask Finish, Original Single Malt, and a hard-to-get 12yo Original Single Malt – Buy it here ($166 AUD)
Owner: Hellyers Road Distillery
Founded: 1997
Price range: from $90 AUD
Our favourite bottle: Slightly Peated 10-year-old
Shop at Hellyers Road Shop at Dan Murphy's Shop at Nicks
9. Limeburners
Limeburners ruffled a few whisky feathers when its $700 AUD, 122-proof, Heavy Peated Whisky took out the top accolade at Australia's Champion Whisky Trophy in 2016, but today we're focused on something more obtainable. The Director's Cut Peated Sherry is our favourite drop from this Australian whiskey brand, a cask-strength single-barrel whisky that'll set you back around $370 AUD. We love the current offering's palate of sweet sherry and malt, rich chocolate, prunes and stewed fruits. Peat flavours arrive after the sherry notes which is simply delightful.
Founder: Cameron Syme
Founded: 2004
Price range: from $85 AUD
Our favourite bottle: Director's Cut Peated Sherry
Shop at Limeburners Shop at Dan Murphy's
10. Timboon Distillery
Timboon Distillery is located in the tiny town of Timboon, Western Victoria, and the distillery is set up in an old railway shed and produces an array of spirits and liqueurs, including this single malt whisky.
Timboon Distillery Christie's Cut Cask Strength
Our favourite whisky from Timboon is their 'Christie's Cut'. This whisky is hilariously named after Detective Inspector Christie, the ex-boxer/ bodyguard to Prince Alfred/ master of disguise who was hired by the government to stamp out the illegal distilling practices of bootlegger Tom Delaney, who was renowned for his high-quality whisky, which was made in Timboon. The whiskey itself is a beautiful example of an unrestrained single malt Australian scotch whiskey, displaying a balance of flavours with a pleasant viscosity and a very smooth, clean finish – Buy it here ($225 AUD).
Owner: Josh Walker
Founded: 2007
Price range: from $150 AUD
Our favourite bottle: Christie's Cut Cask Strength
Shop at Timboon Distillery Shop at Nick's
11. McHenry Distillery
As Australia's Southernmost distillery, McHenry has the cleanest air and water in the world at its fingertips and the influence shows in its products. The distillery sits on the side of Mount Arthur, overlooking Port Arthur, and directly facing the South Pole, which lies some 5000 km away. The Single Malt Whisky they produce isn't like any other, with a pleasant, rich sweetness dominating the flavours and opening the door to delicate flavours, which play off each other very nicely. As one of the less common products on this list, it should be a priority for any adventurous whisky lover. A superb single malt whisky Australia can be proud of.
Founder: Bill and Alison McHenry
Founded: 2011
Price range: from $200 AUD
Our favourite bottle: Classic Single Malt
Shop at McHenry Shop at Dan Murphy's Shop at Nick's
12. Nant
It'd be criminal not to include the infamous Nant distillery on our list of best Australian whiskey brands. While the distillery might have shut down as we know it after the brand was exposed as one of the biggest Ponzi schemes in Australian spirits history – as told by the ABC – their legal issues may actually be more reason to snap up some of their delicious single malts while their future remains somewhat uncertain.
Nant Bourbon Cask 63% Bourbon Wood Single Cask
In the case of Nant's Bourbon Wood Single Cask – which scored a huge 95.5 in Jim Murray's 2015 whisky bible – the secondary market price of around $ AUD should be enough of an indicator that this is a special drop. If you bear in mind that this is a serious spirit at 63% ALC, the bite is large on the front palate but followed by a sweet woody note and a seriously long finish. One of the best modern Australian whiskies money can buy – Buy it here ($200 AUD).
Founder: Keith Batt
Founded: 2008
Price range: from $170 AUD
Our favourite bottle: Homestead Reserve Single Malt
13. Cradle Mountain Distillery
Cradle Mountain has been around since the early 90s but has flown under the radar as one of Australia's better stills. Also one of the most highly sought-after Australian whisky brands, the vast majority of their range sits out of stock (due to the ageing processes involved) so we recommend getting in contact via the link below if looking to purchase a bottle for yourself. Keen consumers are pretty quick to snap up each release as it becomes available and the 17yo expression would be our pick of the bunch. We love the clarity in the mid-palate of this fine whisky, which in no doubt is thanks to the crystal clear Tasmanian water used in production.
Founder: Andrew Morrison
Founded: 1989
Price range: from $200 AUD
Our favourite bottle: Cradle Mountain 'A Walk in the Woods' Single Malt Whisky
Shop at Cradle Mountain Shop at The Old Barrelhouse
14. Trapper's Hut
We don't have any tasting notes for Trapper's Hut as nobody we know is able to get their hands on a bottle and their website hasn't been updated in years, which only adds to the elusiveness of this extremely rare Australian whisky. Trapper's Hut is not a distillery per se, but the label given to the single cask releases from Tasmania Distillery, made between 1999 – 2000, which were bought and aged privately. Each barrel is bottled and released separately, one at a time, and they're getting very sparse. The short version here is: if you ever see a bottle, buy it, no matter what the cost. It's only going to increase in value, and given its pedigree, can only assume it's as delicious as Australian whiskey gets.
We've heard the best chance of buying a bottle is via the contact page linked below.
Shop at Tasmanian House of Whisky
15. Iniquity
Making a name for themselves over the years with top-quality Australian whisky, Inquity recently established an umbrella distilling business called 'Tin Shed Distillery' where it's diversified into vodka and rum. In our minds, whisky still remains number one, especially their Platinum Batch No. 001 and new Gold Batch No. 007 releases. Typically bottling at a higher ABV than most Aussie distilleries, the majority of these bottles are found at cask strength, around 56% ABV so they're a great option if you're looking for a stronger dram.
We highly recommend picking up their latest release if you like the sound of burnt caramel, burnt apricot or fig jam, Jaffas, more rich caramel and toffee on the palate. While they might be some of the pricier bottles on this list, they're some of the best.
Founder: Ian Schmidt and Vic Orlow
Founded: 2015
Price range: from $99 AUD
Our favourite bottle: Iniquity Platinum Batch No. 001, Iniquity Whisky Gold Batch No. 007
Shop at Tin Shed Distilling Shop at Spirit of the Maker Shop at The Whisky List
16. Amber Lane
Amber Lane is an award-winning distillery located in Yarramalong Valley, just north of Sydney. One of our favourite craft Australian whisky brands, they recently made it onto our list of the best after their 'Liquid Amber' sherry cask expression became a Silver Medallist (Single Malt Whisky) at the Tasting Australia Spirit Awards. We picked up a bottle to try ourselves and were immediately blown away by the strong notes of honey, exotic blossoms, and rich earth just as described. While the combination of multiple premium apera and PX casks, with a hint of bourbon cask adds flavours of toffee, chocolate-coated honeycomb, maple syrup, orange zest, dried apricots, and figs on the palate.
Founder: Rod Berry
Founded: 2017
Price range: from $169.99 AUD
Our favourite bottle: 'Liquid Amber' Sherry Cask
Shop at Amber Lane Shop at The Whisky List Shop at Nick's
17. Coastal Stone Whisky
A classic Aussie single malt whisky that's made right here in our backyard city of Sydney, Coastal Stone Whisky is run by Manly Spirits Co. in (you guessed it) Manly. Small touches such as a real Sydney sandstone stopper combine with a sculptured glass bottle with eroded textures for a premium experience before you even open the bottle. And when you do, your nose will be filled with rich dark fruits and five spice that develops further on the palate. If this is your first time trying, play it simple and go for the single malt but keep an eye out for special cask releases in the future. They might be one of the newest Australian whisky distilleries, but they're making a name for themselves quickly.
Founder: Vanessa and David Whittaker
Founded: 2015
Price range: from $99 AUD
Our favourite bottle: Single Malt 'Nor'easter'
Shop at Coastal Stone Whisky Shop at Dan Murphy's Shop at Vintage Cellars
How Man of Many Chose The Best Australian Whiskey
When it comes to their list of the best Australian whiskey money can buy, it goes without saying, that expertise is key. With more than 10 years of experience covering whisky, Man of Many's team of editors, including author Ben McKimm have had the unique opportunity to taste every whisky on this list (often thanks to their friends in the industry). They've also turned to the wider public for their overall ratings. The list takes into account three major perspectives to determine the overall rating. In addition to their own opinions, they take into account reviews via the alcohol forum The Whisky List and the Australian drinks retailer Dan Murphy's, before collating the information together and measuring the whisky via overall flavour profile, reader ratings and commercial availability.
Australia's Love for Whisky Explained
When Sullivan's Cove took out top honours at the World Whisky Awards in 2014 with their French Oak was crowned the best single malt whisky in the world, the world's gaze turned to Tasmania. The unassuming island had, for the last two decades, slowly been crawling back as an Australian whisky-producing region of repute and renown. Though the Apple Isle's spirits industry was outlawed in the 19th century, a one-man mission to bring back the art of craft spirits in 1992 saw the inception of Lark Distillery, a poky shed stuck in next to a winery, not far from Hobart airport.
Owner & founder Bill Lark re-invigorated a whiskey industry lost to over-regulation and zeal over a century before and, before too long, others followed. The tight-knit community of distillers that populate the island state includes some big names and seriously expensive drops, as demand has sky-rocketed in the past few years.
"It is a great time for Australian whisky, the groundwork paved by some of Australia's modern craft distillers (Lark, Sullivan's Cove and Bakery Hill in Melbourne) has set up the industry for growth and we are seeing more whisky distilleries releasing more consistent quality affordable whisky," Sam Slaney, Australian whisky expert and production director at Starward Whisky tells Man of Many. "It's a defining moment for Australian whisky, and we are seeing more distilleries not just making a single malt but using other grains and stills to produce an array of innovative whiskies including rye, wheat and mixed grain whiskies, as well as incorporating different malts into the process to lead flavour change.
Changing Times in the Australian Whisky Industry
According to Slaney, the youth of the Australian whisky industry is part of its charm. With small players getting in on the act, it gives the local industry a chance to experiment with flavours and profiles that more established regions wouldn't dare to.
"Corio distillery closed in the mid-1980s, and this really represented a completely different whisky to what we have seen since the 1990s with the modern push for more full-flavoured single malt whisky," Slaney says. "The attitude to Australian whisky was poor quality and cheap, and this has been completely reversed by the closure of the big old distilleries and the emergence of new craft producers who are focused on the liquid quality over cost and scale.  Now Australian whisky is being sought out around the world, with independent bottlers releasing Australian whiskies alongside other world and traditional whisky nations."
General FAQs
What is the best Whisky in Australia?
The most awarded Whisky in Australia is from the Sullivans Cove Distillery.
What is the best scotch in Australia?
Technically to be called a 'scotch' whisky it must be produced and come from Scotland, but there are still many great Australian whisky brands such as Sullivan's Cove, Starward, Archie Rose or Limeburners.
Alternatives to Australian Whisky
Australian whisky has certainly cemented itself as some of the best in the world. However, if you're looking for a more traditional dram, check out our favourites from Scotland. Alternatively, our team has curated the best lists from around the world, including the finest Irish, Japanese, and Bourbons. So whether you're a seasoned collector or just starting out, we have everything you need to know about whisky, including informative explainers on Scotland's whisky regions, the difference between peated and non-peated whisky, and tips for developing your whisky palate.
Interested in more whisky stories? Here are a few stories to get you started:
Whisky Types
Whisky by Region
Price