10 Best Non Alcoholic Beers Taste Tested and Ranked
If you're looking for the best non alcoholic beers you're in luck because we've taste tested the best on the market and ranked our favourites below. Thanks to a surge in 'health conscience' drinkers there are more beers, brands, and types on the market than ever before, meaning more competition and better zero beers. Each beer on our list delivers an authentic taste, minus the potential hangover and beer gut.
Best Non Acoholic Beers at a Glance
Our list of the best non alcoholic beers goes like this.
Now we've had a look at our favourites, let's check out the complete list.
RELATED: Our guide to the best non-alcoholic drinks has more than beer.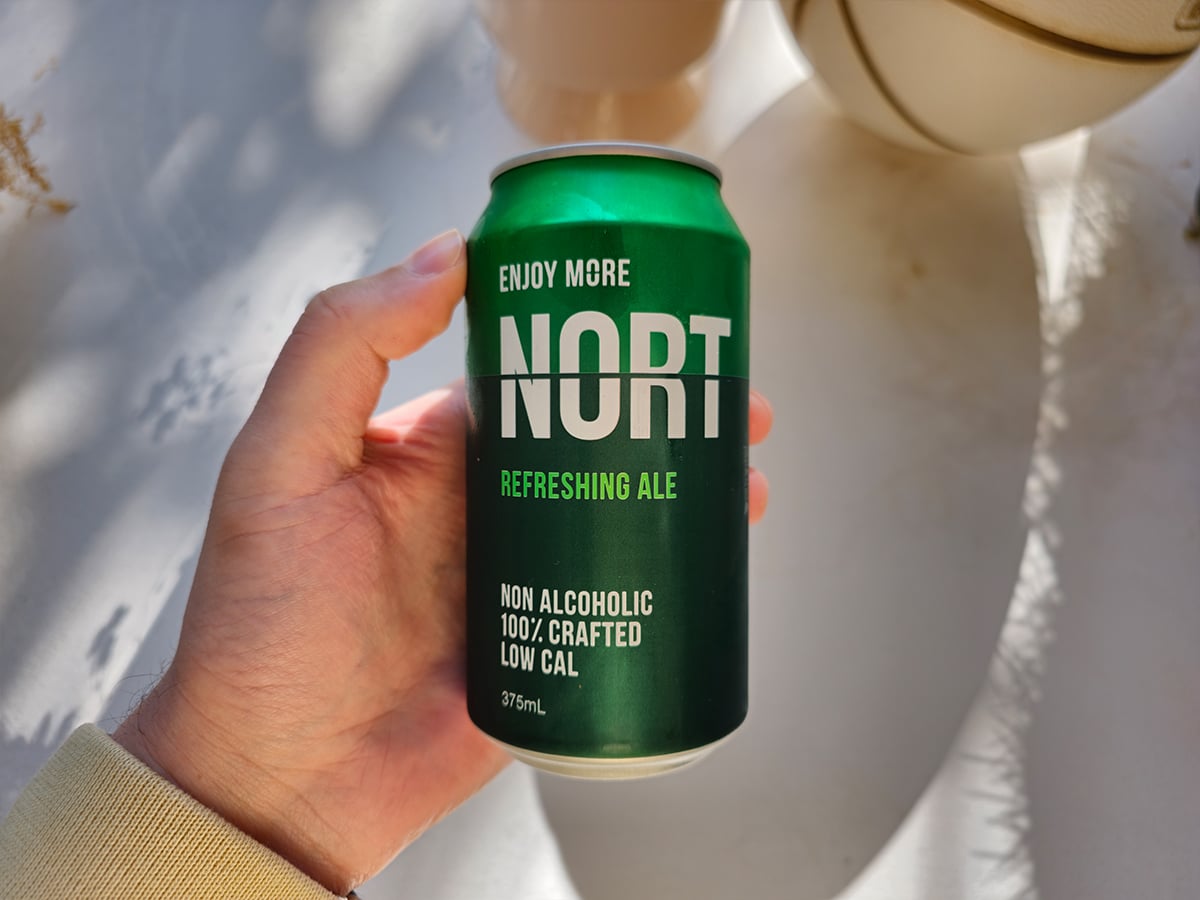 1. Nort Beer
After trying every non-alcoholic beer on this list we had to settle the score by passing a few Nort's around the Man of Many office. Nort Beer came out on top as our overall favourite amongst the team and it's not hard to see why. The brand is 100% Australian-owned and operated with a focus on creating the most refreshing zero-per cent beers money can buy. And while we found every beer in the range flavourful, our favourites would rank in this order; XPA, IPA, and Pacific Ale. A great choice for those looking to shed a few calories in the process, the beer is both plant-based and reasonably priced, so you can enjoy it more often.
Country of origin: Australia
Price: $43.99 AUD / case of 24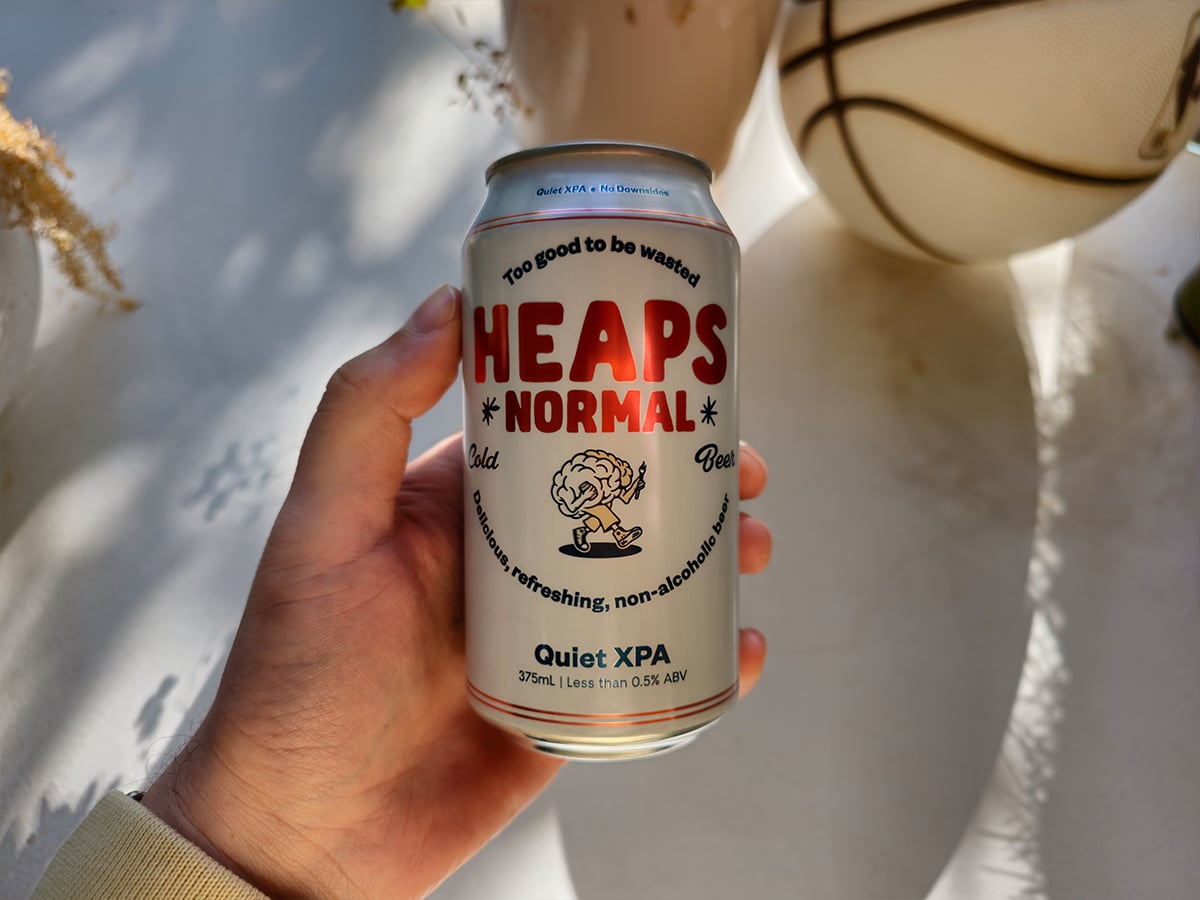 2. Heaps Normal Quiet XPA
Formed as a collaboration between four mates, Heaps Normal started with the aim of encouraging conversation around mindful drinking. Fast forward a few years and the brand has become the most popular non-alcoholic beer in restaurants around the country. If there's a low-alcohol beer option on your local's beer list, there's a good chance it's a Heaps Normal. We love the Quiet XPA for its full-flavoured citrus and tropical ale flavour profile, but the recently released Heaps Normal Lager is a great alternative if you prefer a crisper beverage.
Country of origin: Australia
Alcohol Volume: Less than 0.5%
Volume: 375ml can
Price: from $61.99/ case of 24
---
Featured Video from Man of Many
---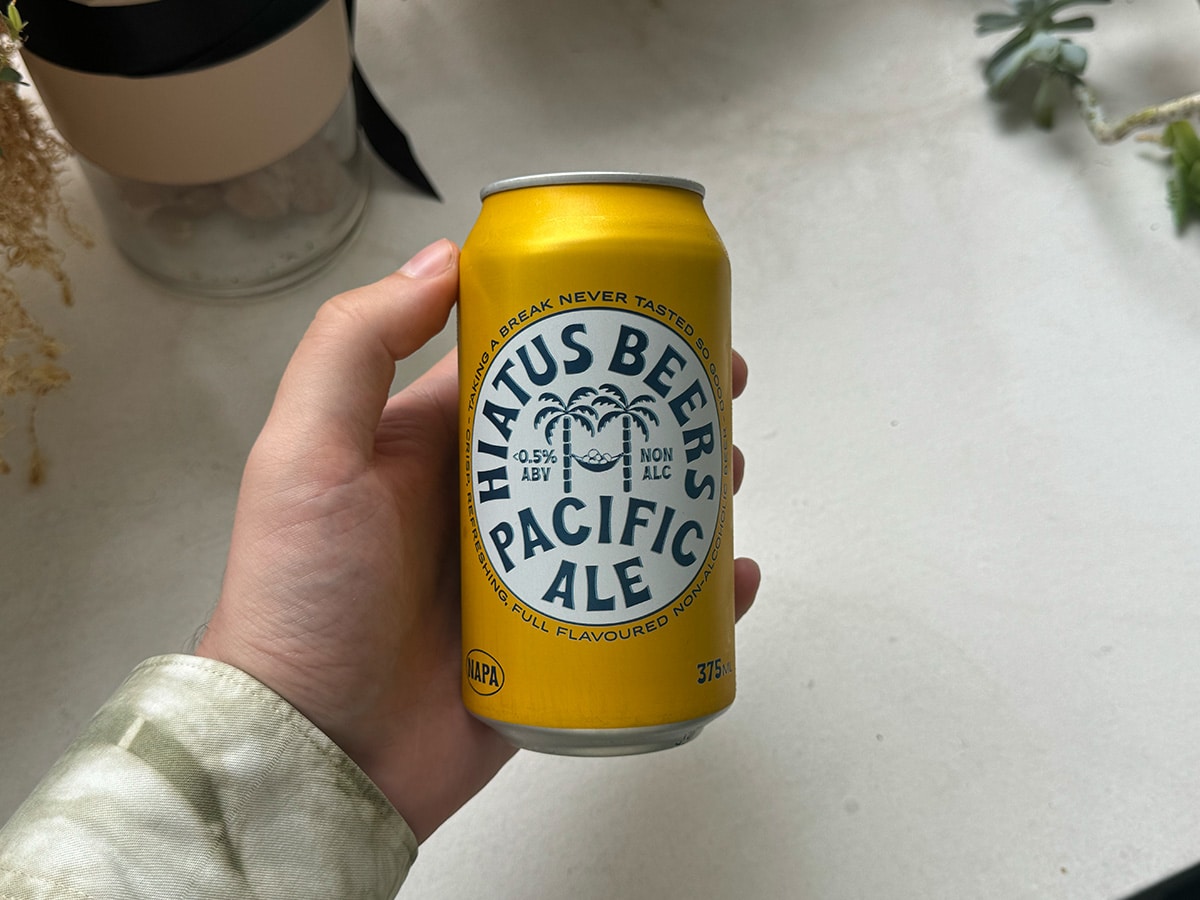 3. Haitus Beers Pacific Ale
Haitus Beer has created a tangy, fruity, craft-style non-alcoholic beer that you'll love for its passionfruit, guava, and mango flavours. This is the closest thing we've tried to a zero alc Stone and Wood, this is best enjoyed ice-cold by the ocean with a few Smiths Original potato chips. If you're an expert you'll notice the use of galaxy hops and a fun blend of Veloria, Vienna, and Munich malts.
Country of origin: Australia
Alcohol Volume: Less than 0.5%
Volume: 375ml can
Price: from $71.99/ case of 24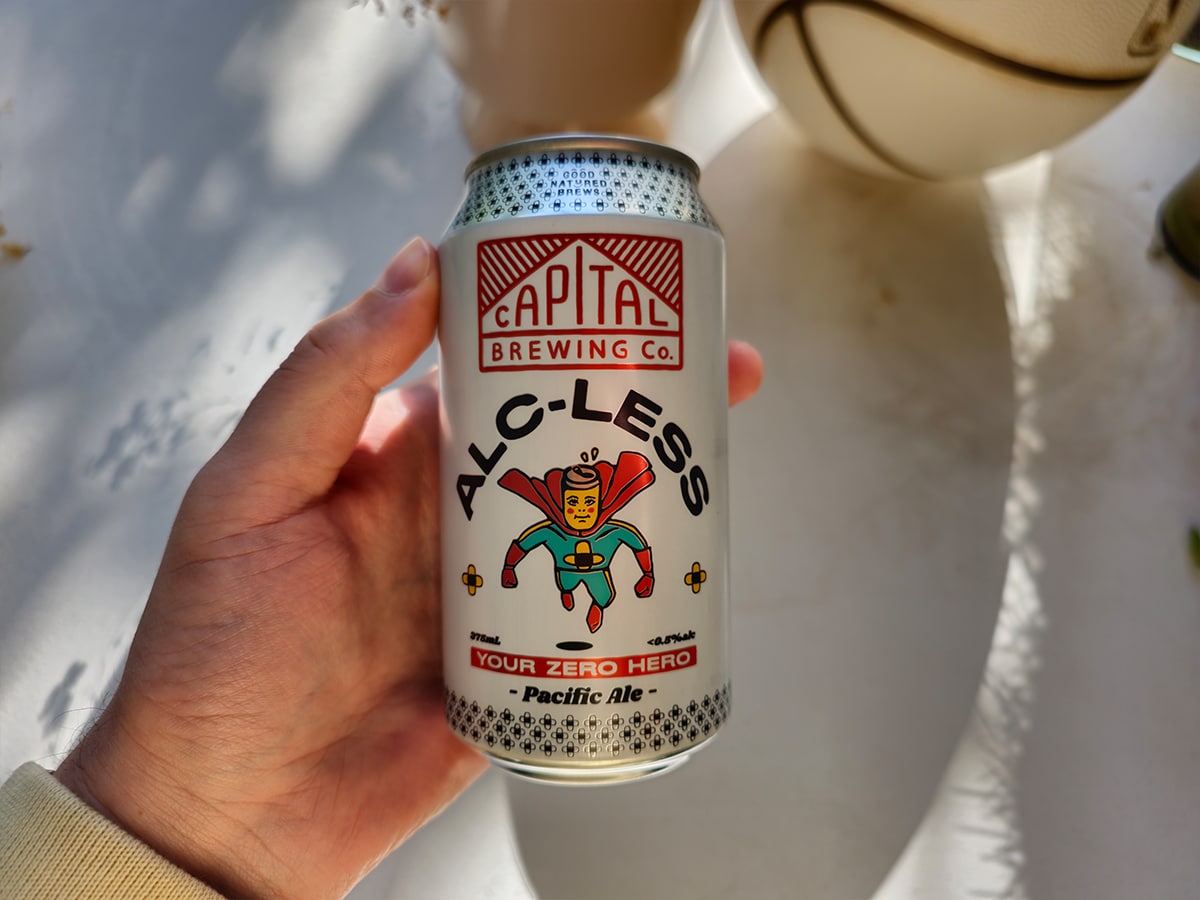 4. Capital Brewing ALC-LESS Pacific Ale
Our friends at Capital Brewing have been making some of the best beers in the craft beer scene for years and we'd struggle to find someone who hasn't tucked into their XPA. But when the market asked for a great non-alcoholic beer, they didn't rush to the stage to deliver a subpar drink. Instead, they spent months trying, testing, and creating their version of the best on the market. We aren't going to argue with the flavours here with their ALC-LESS. The overall taste is a little salty to stand head and shoulders above the top few, but you'll love the full-flavoured tropical Pacific Ale burst that's here in full effect.
Country of origin: Australia
Volume: 330ml bottle
Price: from $44.99/ case of 16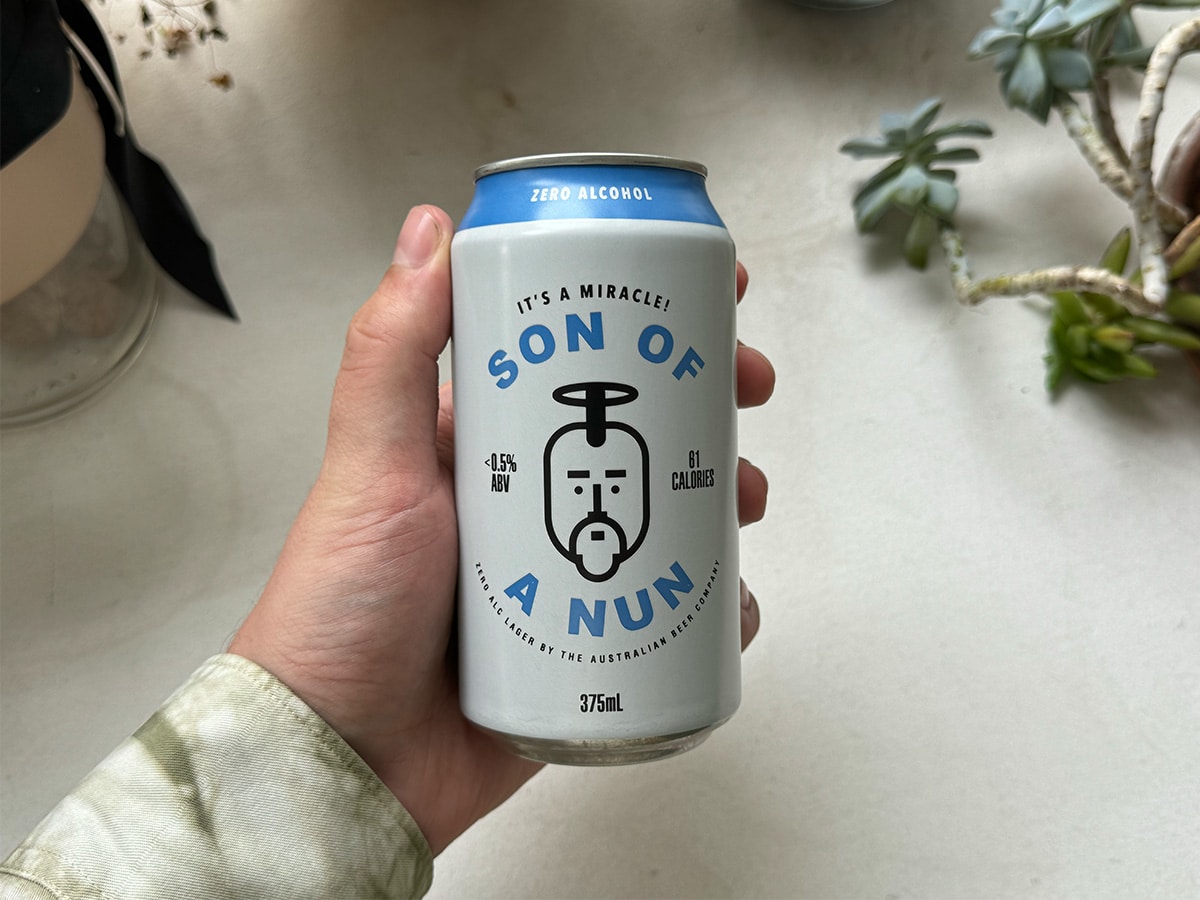 5. Sons of a Nun Zero Alcohol
One of the new kids on the block, we love 'Sons of a Nun' for the name alone. Flavours are smooth and crispy in classic lager style with a touch of caramel and carbonation as the beer sits on the palate. If you're a straight shooter who wants to try something new this is the non-alc beer for you.
Country of origin: Australia
Volume: 375ml can
Price: from $49.95/ case of 24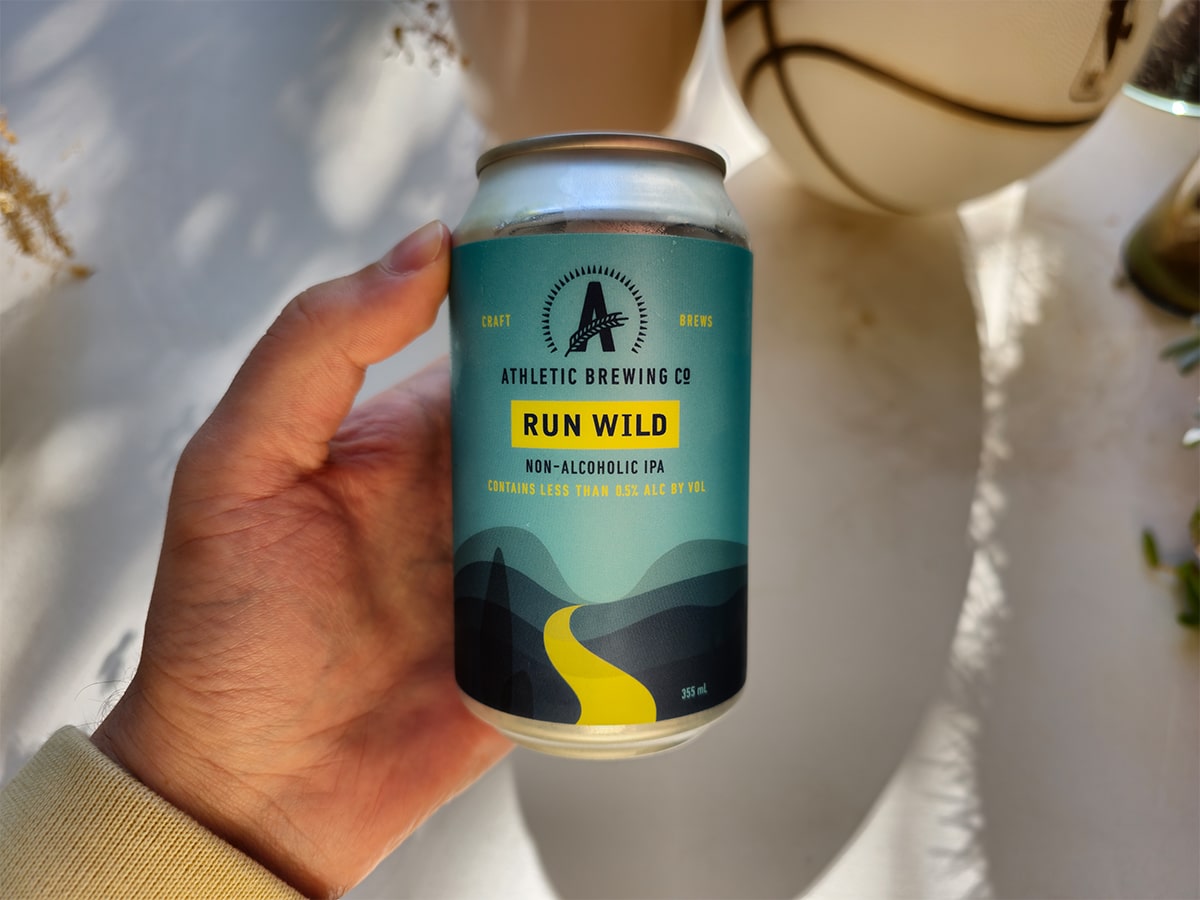 6. Athletic Brewing Co.
Athletic Brewing Co. hit the Australian market runnings with their Run Wild IPA. It combines the best of the NA and craft beer worlds with full-bodied flavours across the range. Our favourite is the staple 'Run Wild' IPA but all experiment with the rules in the name of the taste. To figure out how on earth they achieve this, we asked founders Bill Shufelt and John Walker what they love about these fully-fermented drops.
"What I really enjoy about 'fully fermented' non-alcoholic beers is the body, the mouthfeel and the vibrant expression of the incredible ingredients in their original state – there is a harmony that these ingredients embody when they are left to their own devices."
"When creating hazy brews there is a myriad of 'tricks' we can deploy from less flocculant yeast strains to different filtration or centrifugation techniques to hops and malts that can impart more haze – we like to design backwards, thinking about the mouthfeel, the aroma and the flavours and use that to guide us in selecting the best ingredients and processes for the job."
These beers don't just taste "good for a zero beer" they taste good full stop, so start filling those beer glasses for a taste sensation you won't forget.
Country of origin: America
Volume: 375ml can
Price: from $62.99/ case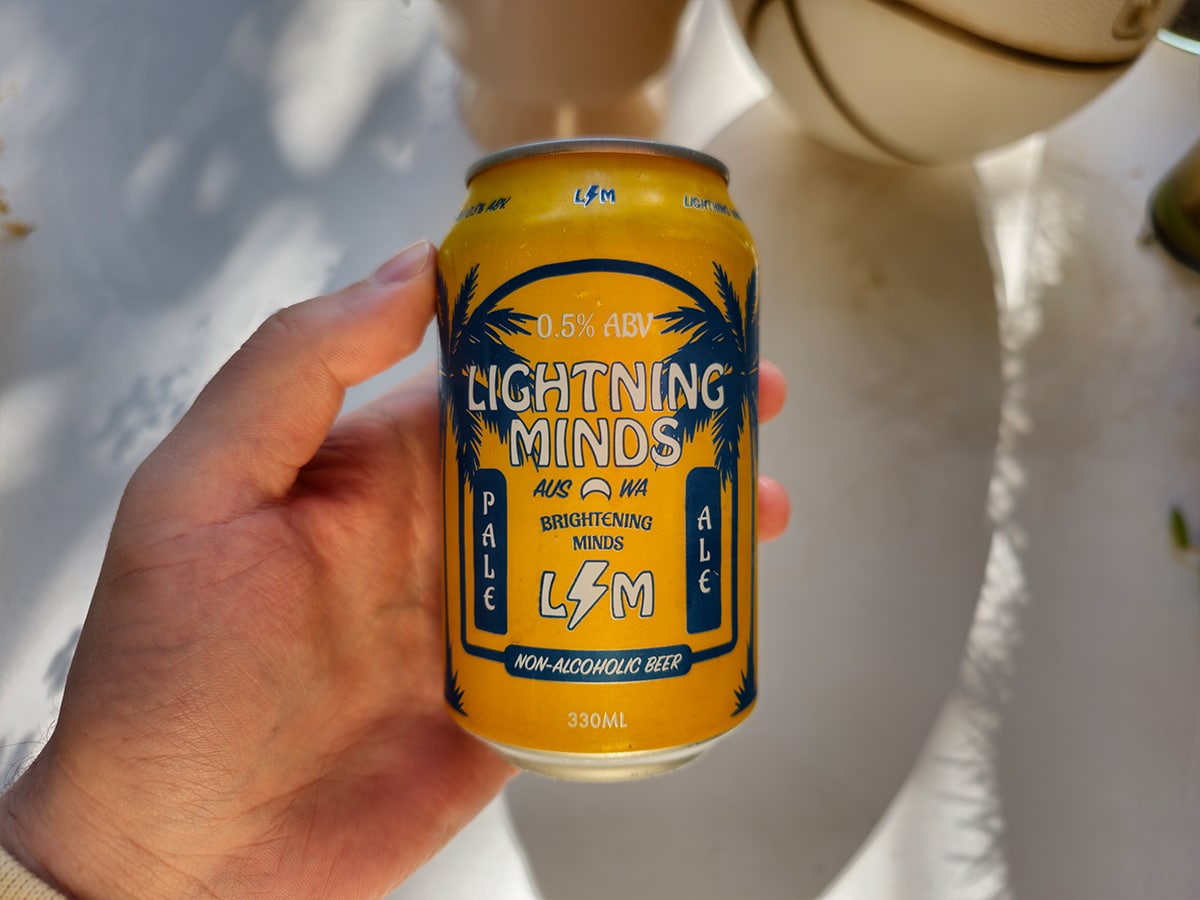 7. Lightning Minds Non Alcoholic Pale Ale
This is the non-alcoholic beer we go for in between sessions. It might be Aussie as all get out, however, we reckon Lightning Minds Pale Ale has a little American influence with its flavour. Most importantly, it's not too sweet, whereas some NA drinks can taste cordial. If we had to point the finger at something, the price is a little on the higher side. It targets those who have permanently given up the booze as opposed to those who want a break with a cheaper alternative.
Country of origin: Australia, New South Wales
Founded: 2021 by Michael Payne
Price: from $69.99/ case of 24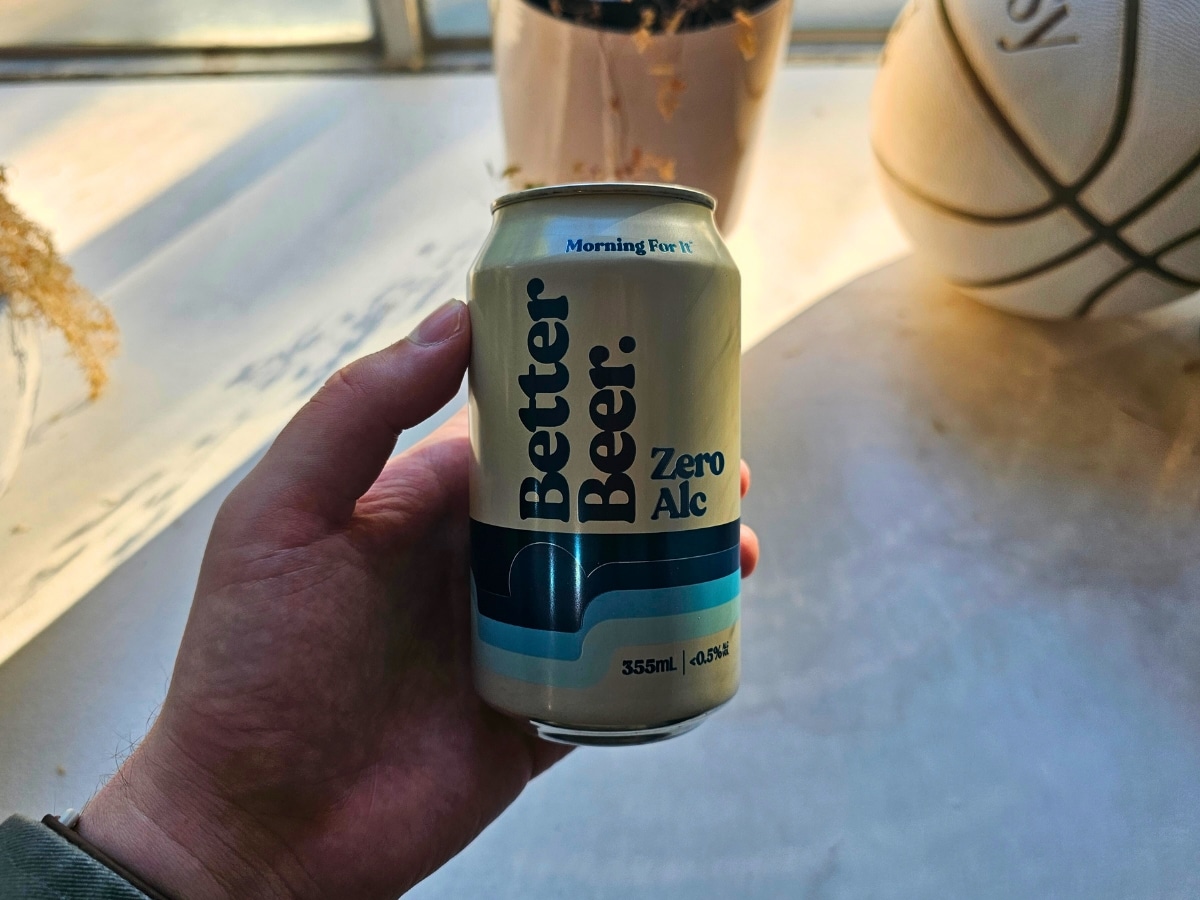 8. Better Beer Zero Alcohol
When one of our favourite low-carb beers goes zero alcohol only good things can come of it. Fast becoming one of the biggest beer brands in Australia, Better Beer Zero Alcohol is as refreshing as it gets, with vastly lower salt content in comparison to the majority of 'craft style' beers on this list (7mg per can). The result is a beer that's better for you but doesn't taste as strong as the saltier options on the market (Athletic Brewing, Capital, Nort).
Country of origin: Australia, New South Wales
Founders: Matt Ford and Jack Steele from The Inspired Unemployed
Founded: 2021
Price: from $49.99/ case of 24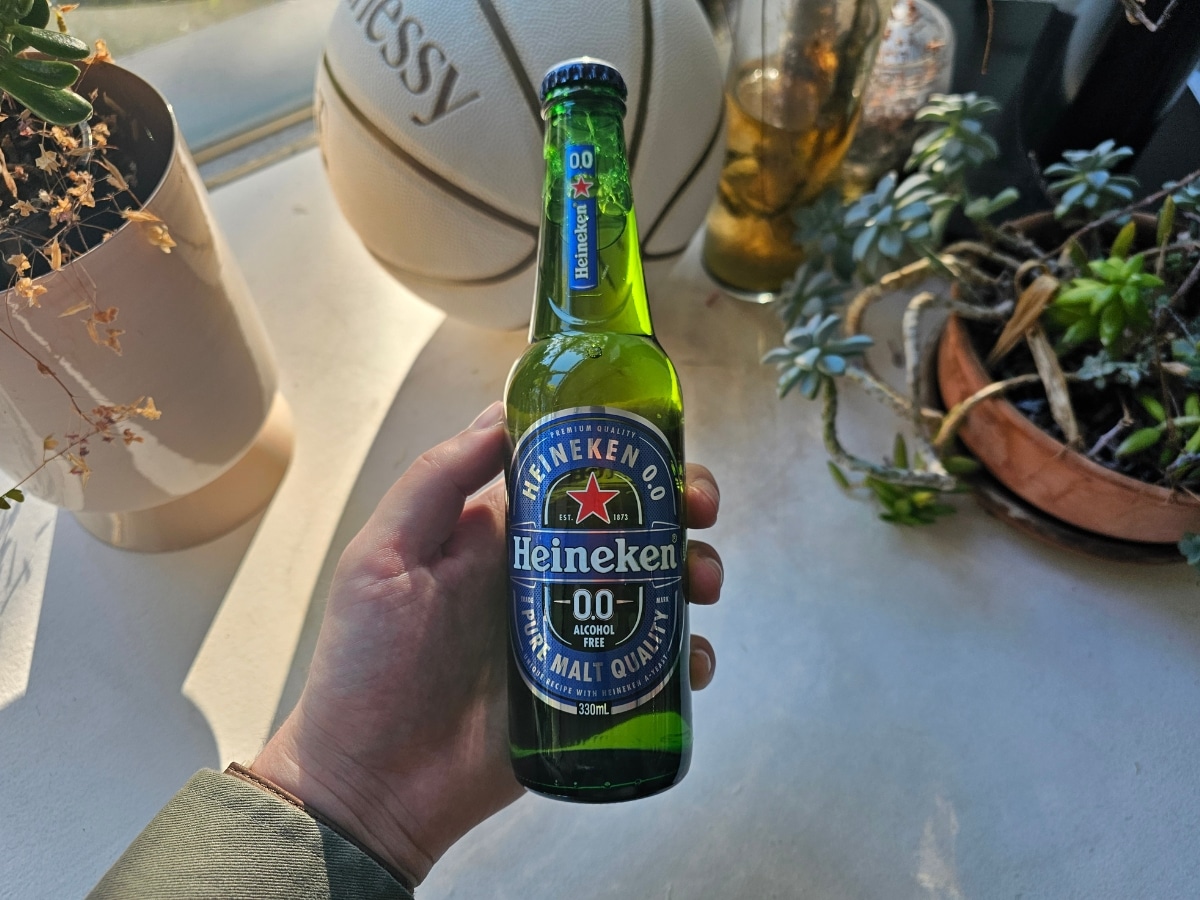 9. Heineken 0.0 Non Alcoholic Lager
When perusing the non-alcoholic beer selection at any of your favourite retailers, you can do no wrong in picking up a case of Heineken 0.0. The brand crafts this drop like a normal lager before evaporating the alcohol, resulting in a taste that's crisp, clean, and thoroughly reliable. We remember trying this one for the first time at the Australian Grand Prix on a stinking hot day and it was deliciously refreshing, remaining one of our favourites to this day for summer.
Country of origin: Netherlands
Volume: 330ml bottle
Price: from $45.90/ case of 24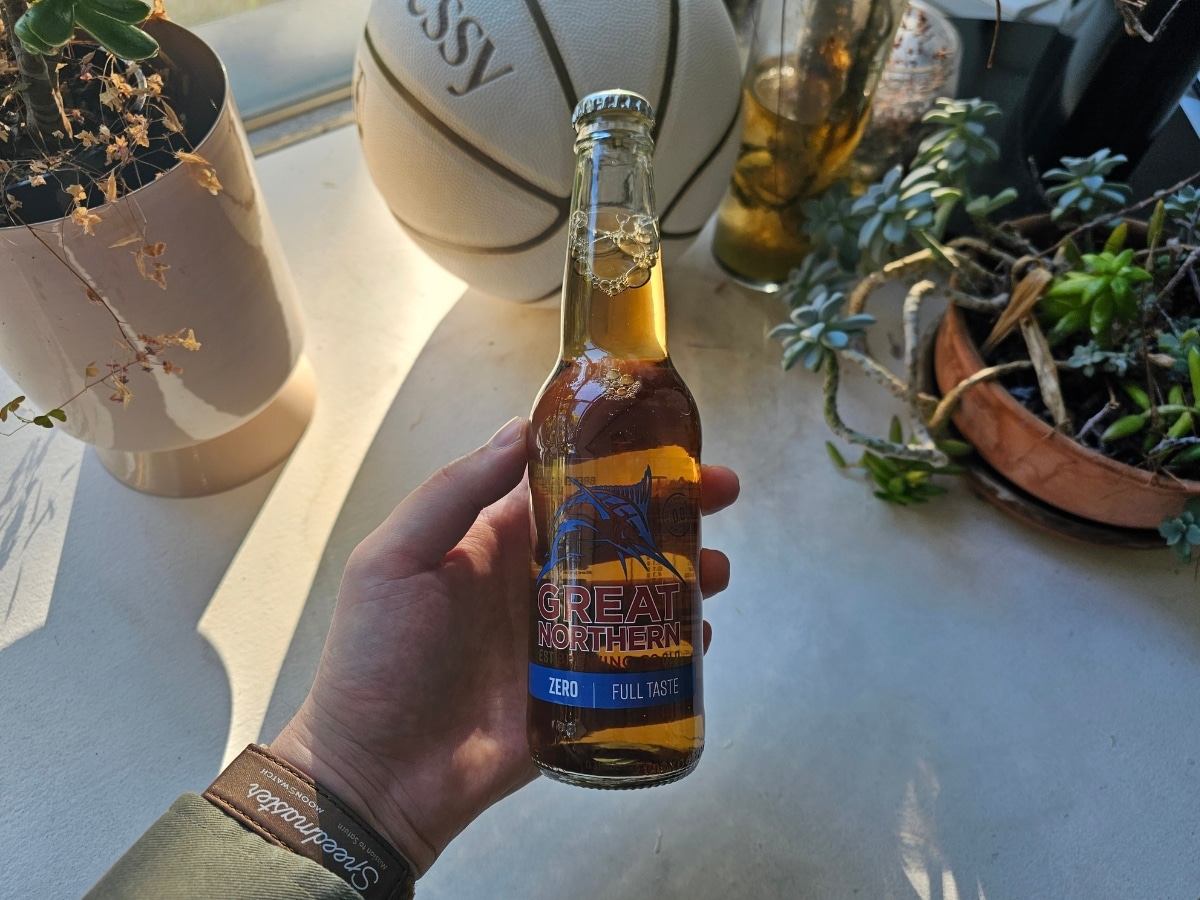 10. Great Northern Brewing Co. Zero
The old 'Black Fish' has gone blue for a non-alcoholic option that's great for hot summer days in Northern Australia. About as crisp as any option on our list, we appreciate the lack of chemical aftertaste or any funky aromas. If you're looking for a great beer to session minus the headaches, grab a blue fish or two.
Country of origin: Australia
Price: $44.99/ case of 24
Alternatives to These Non-alcoholic Beers
These are the zero beers that didn't quite make the top of our list.
Why You Should Trust Our List
When it comes to Man of Many's list of the best non-alcoholic beers money can buy, it goes without saying, that expertise is key. With more than 10 years of experience in the drinks industry, we've tasted every beer on this list. Our favourite beers take into account three major perspectives to determine the overall rating. In addition to our own opinions, we take into account reviews via alcohol retailer Dan Murphys and the Australian non-alcoholic drinks retailers Sans Drinks and Craft Zero. We then collate the information together and measure the beers via overall flavour profile, reader ratings and commercial availability, meaning one-off craft beers and special editions aren't likely to top the list.
Interested in more Beer Related Stories? Here are a few to get you started:
More Non-Alcoholic Drinks Articles
Non-alcoholic beverages
Low-carb and low-calorie beers
Best beer resources
Your FAQs Answered
Are non-alcoholic beers bad for you?
Non-alcoholic beer is typically made by removing the alcohol from regular beer. Although they have much less alcohol, zero beers may harbour small amounts, which can be unsafe for pregnant women and anyone recovering from alcoholism.
Is non-alcoholic beer healthy?
In terms of calorie consumption, non-alcoholic beer has far fewer calories than regular beer, however, it is still a significant source of carbohydrates and should be consumed in moderation.
---
Featured Video from Man of Many