9 Best Whisky Tasting Sets to Try Right Now
The best whisky tasting sets will help you decide what to buy without committing to the full price of a bottle. It's well-known that whiskey is a highly complex form of alcohol, and with so many different types on the market, including single malt Scotch, blended Scotch, bourbon, rye, Japanese whisky, Canadian whisky, Irish whiskey, and many other styles, it's hard to know where to start.
Even if you narrow down the style of whisky you want to try, for a novice, finding the right expressions for you can seem like a daunting task. Sure, you can go online, read our reviews and pick bottles that seem to fit your specific flavour palate, check out our complete guide for beginners right here. But you might still end up with a dram you're not too keen on. That's where whisky tasting sets come in.
Best Whisky Tasting Sets at a Glance
Our list of the best whisky tasting sets goes like this.
Now we've had a look at our favourites, let's check out the complete list.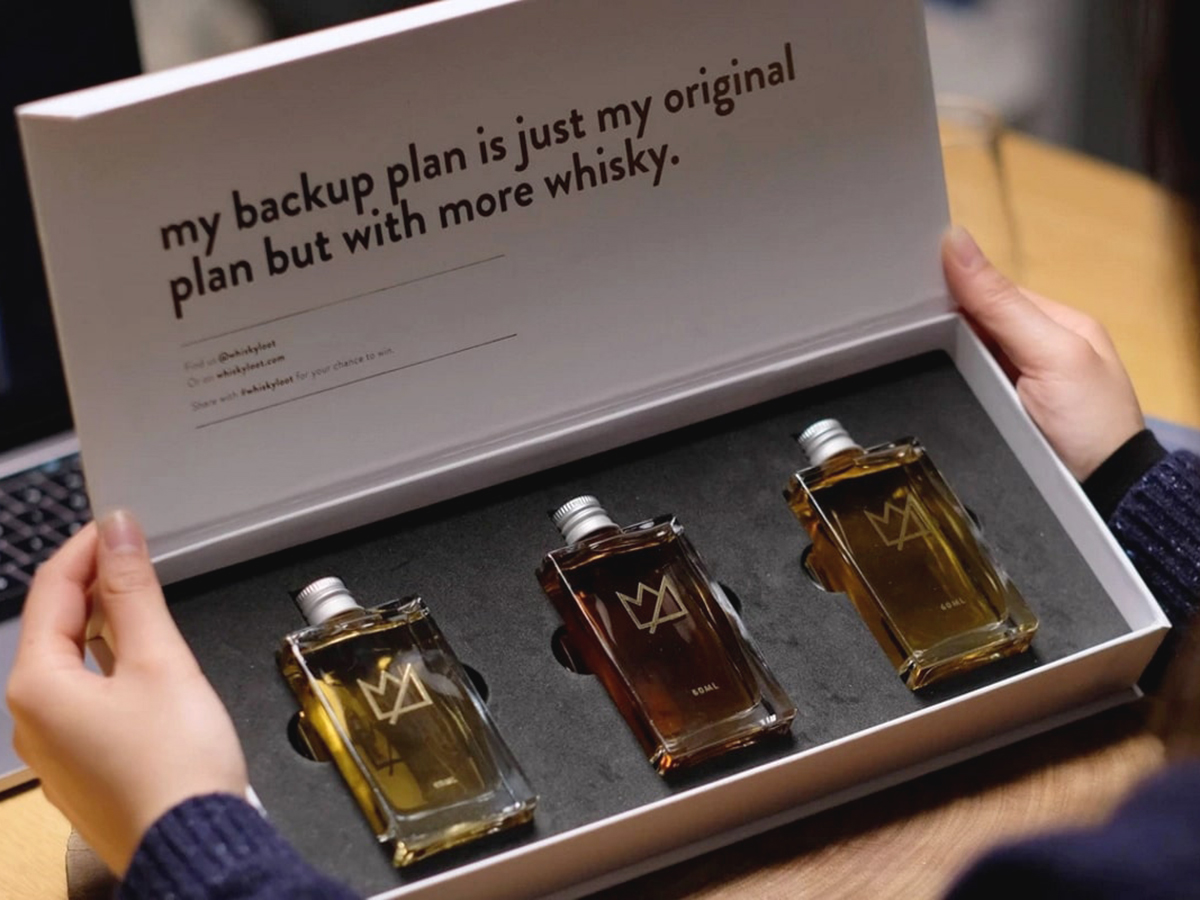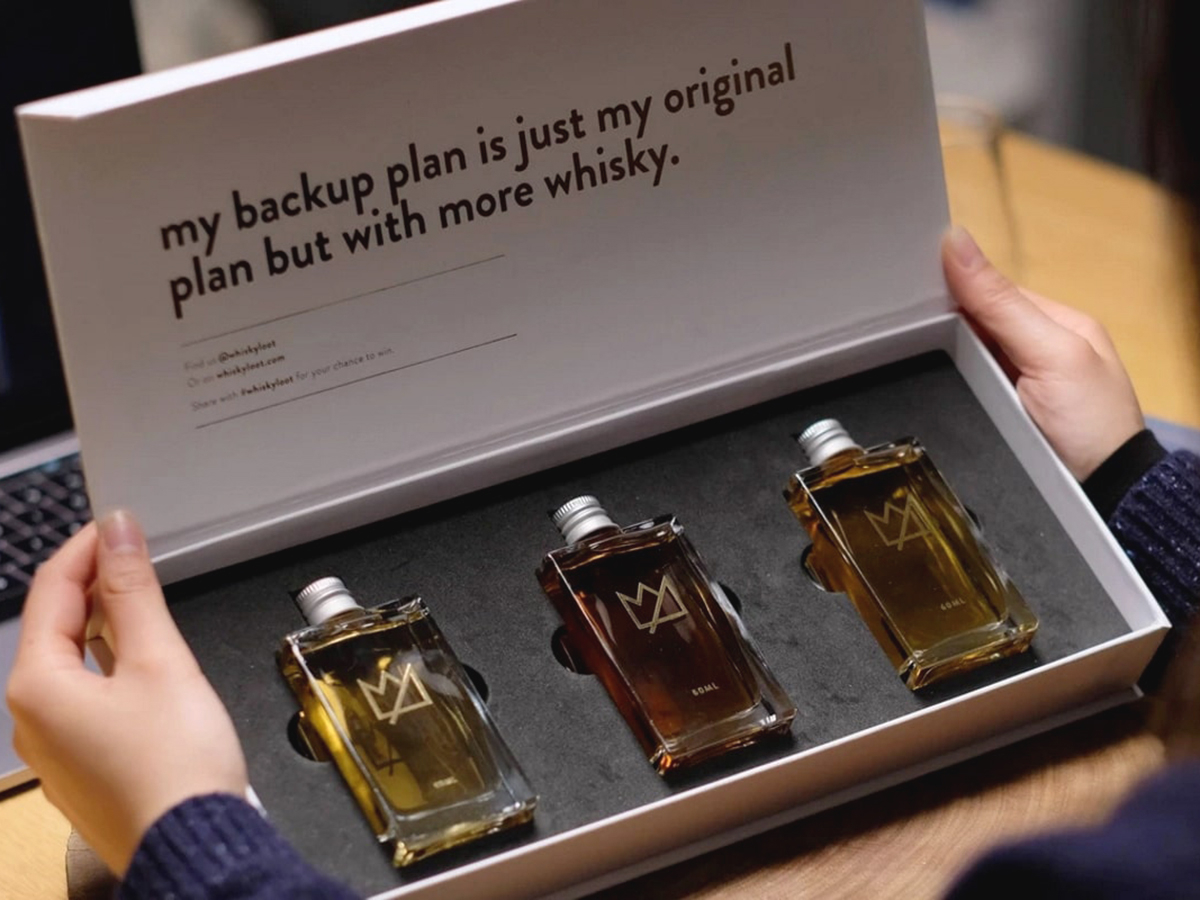 1. Liquor Loot
When it comes to whisky-tasting packs, Liquor Loot is the top-of-the-line option. The Aussie business sources rare malts and packages them into discreet and stylish 60mL bottles, before delivering them right to your door. With the monthly subscription service, you receive three new drams, alongside tasting notes and a swathe of information on each. With access to some whisky brands that you and (me) have never heard of, the Liquor Loot whisky-tasting set is the ultimate way to broaden your drinking horizons, one dram at a time.
Price: From AUD$64 per month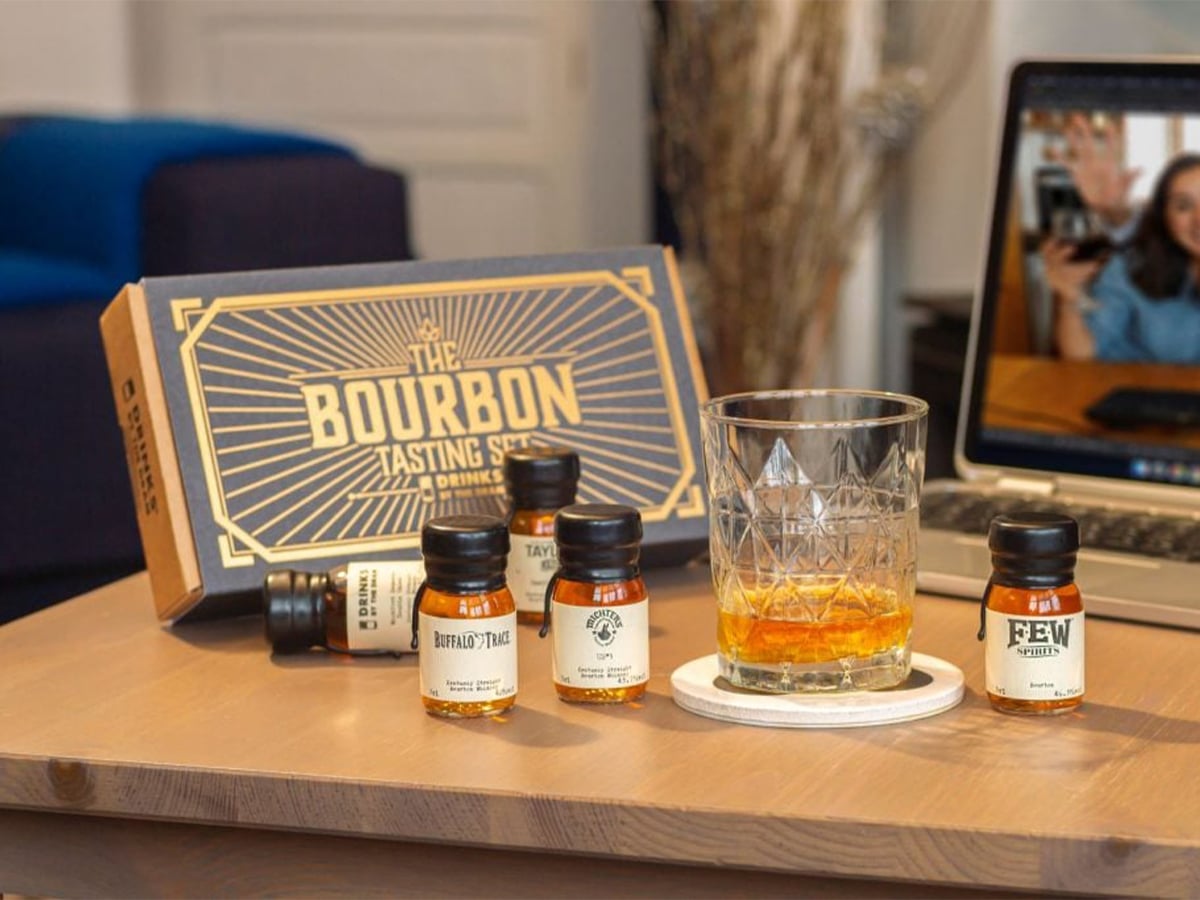 2. Master of Malt
Another popular online retailer, Master of Malt is also located in the United Kingdom. Founded in 1985, it too has a wide selection of whisky tasting sets. Each includes five 15cl curated bottles. They have myriad choices, including "Regions of Scotland Sampling Set", "Japanese Tasting Set", "Unusual Cask Tasting Kit", and "Master of Malt Staff Favourites Tasting Set".
Price: from AU$50
---
Featured Video from Man of Many
---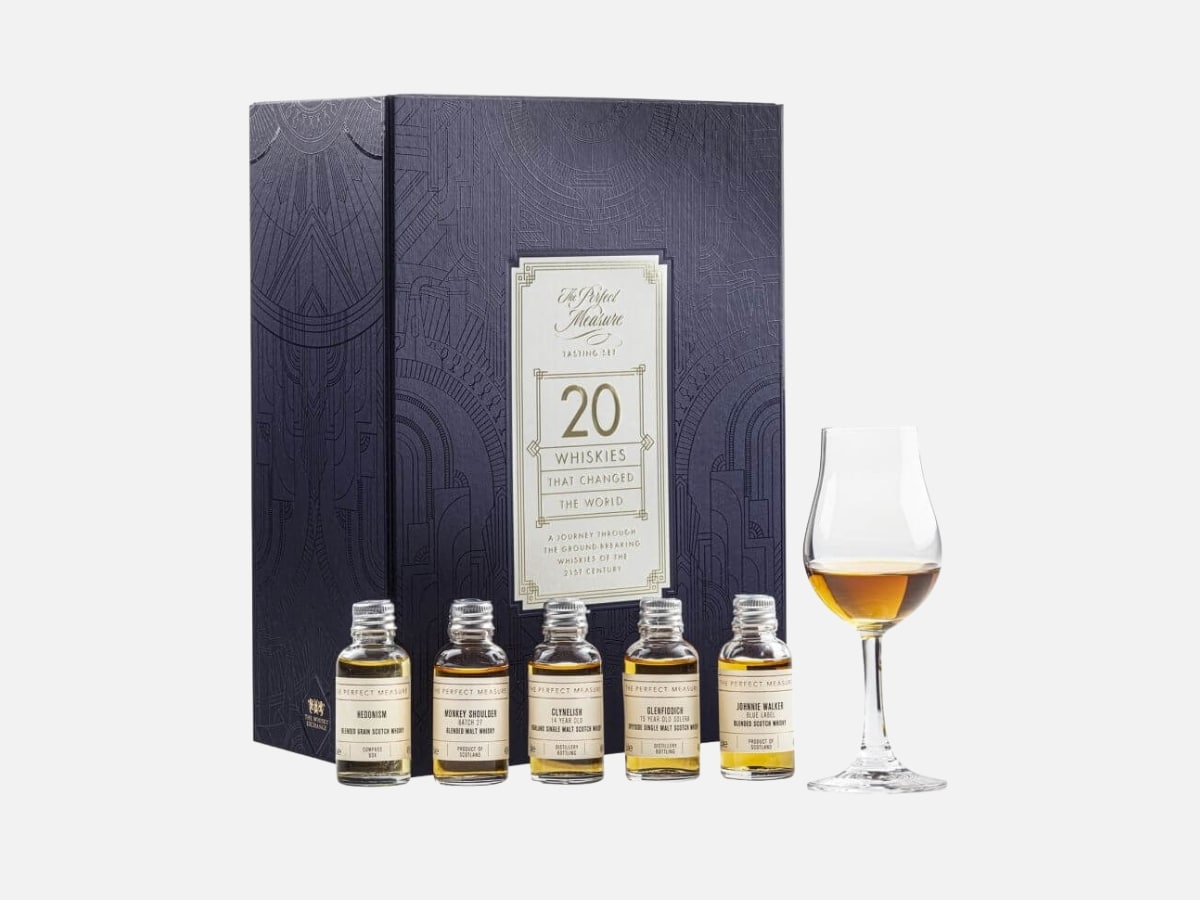 3. The Whisky Exchange
Established in 1999, The Whisky Exchange is the United Kingdom's most popular spirits retailer. With a list of more than 9,000 whiskies and spirits, there is truly something for every palate. The difficult part is deciding which whiskies to try. They have such a massive selection, your best bet is to try one of its Perfect Measure Tasting Kits. These perfectly curated kits include small sample bottles and some even include tasting glasses. Kits include the "Whisky of the Year 2023 Tasting Set", "Speyside Tasting Set", and many more.
Price: from $40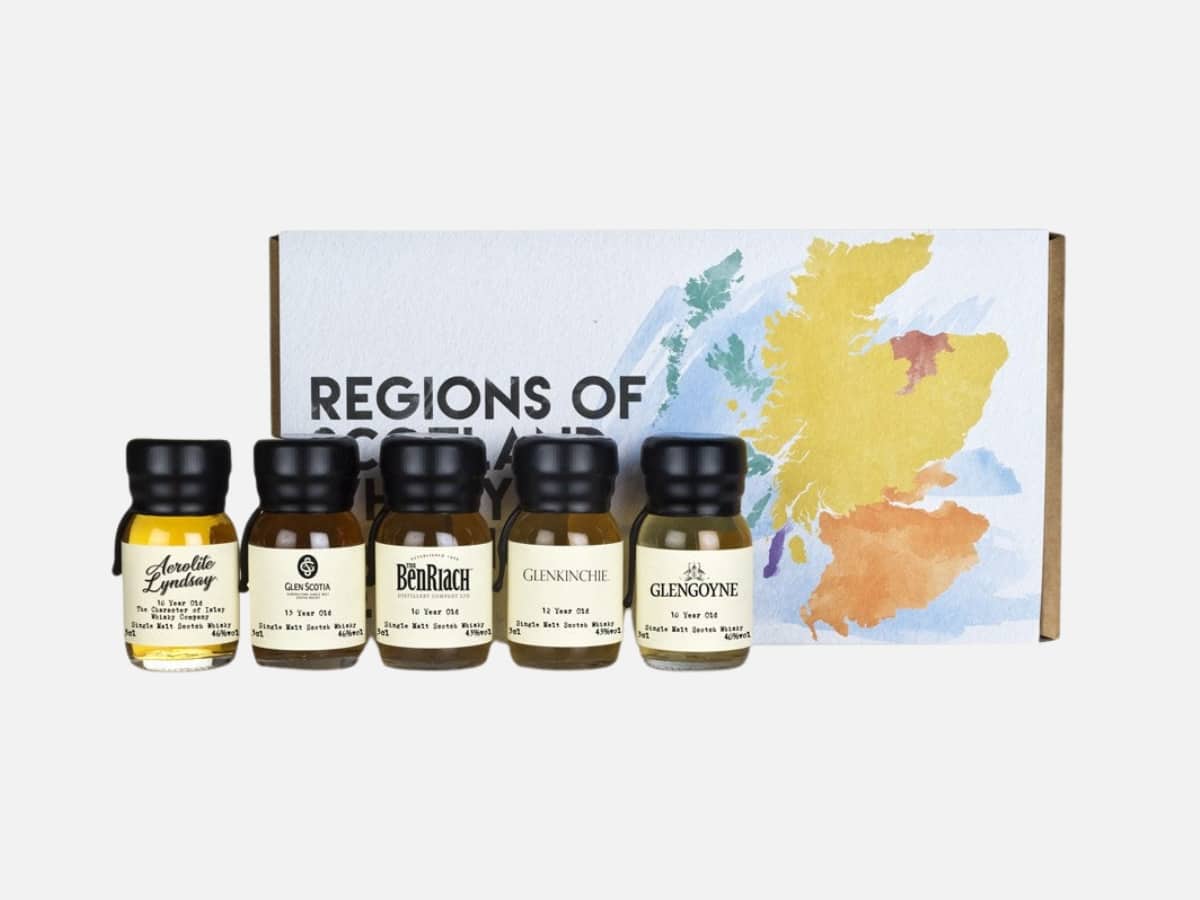 4. Drinks by the Dram
Drink by the Dram is another site based in the United Kingdom. But this one isn't your basic retailer. It exclusively deals with collection series, seasonal advent calendars, and whisky (gin and rum) tasting sets. So, instead of having to peruse a long list of possible expressions, they curate them all for you. Each comes with five 30ml bottles, perfect for sampling. Kits include "Regions of Scotland Tasting Set", "Islay Tasting Set", and "Japanese Tasting Set".
Price: AU$79.99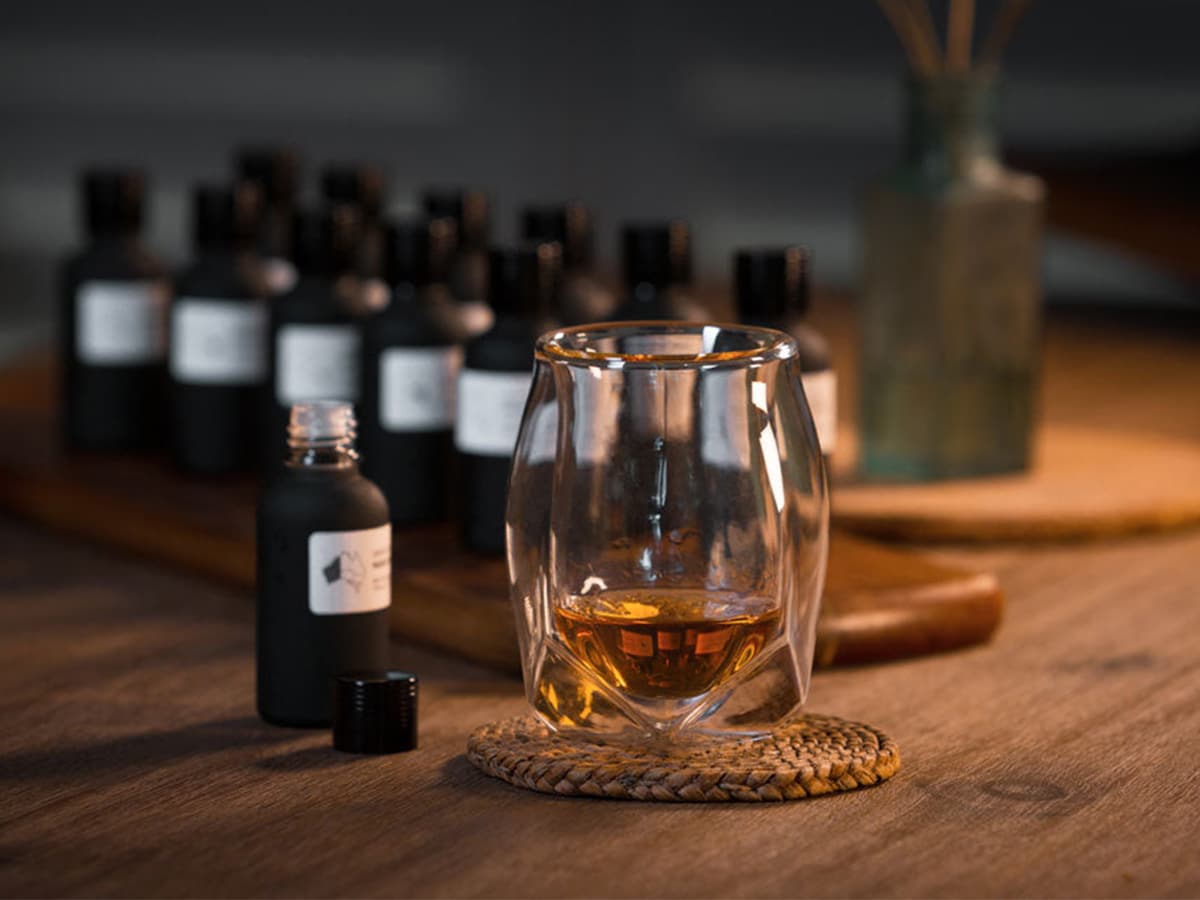 5. White Possum
White Possum is an Australian-based whisky tasting set brand (they also sell their own line of "Naked Liqueurs", glassware, and spirit subscriptions). If you're looking for exclusively Australian whiskies, these are the tasting sets for you. The kits feature as many as twelve spirits each and while we're most concerned with whisky, they also make gin and rum kits. Their White Possum Tasting Kit consists of twelve 30ml bottles from some of the best small-batch distilleries in Australia. You can also purchase flights from specific distilleries.
Price: AU$149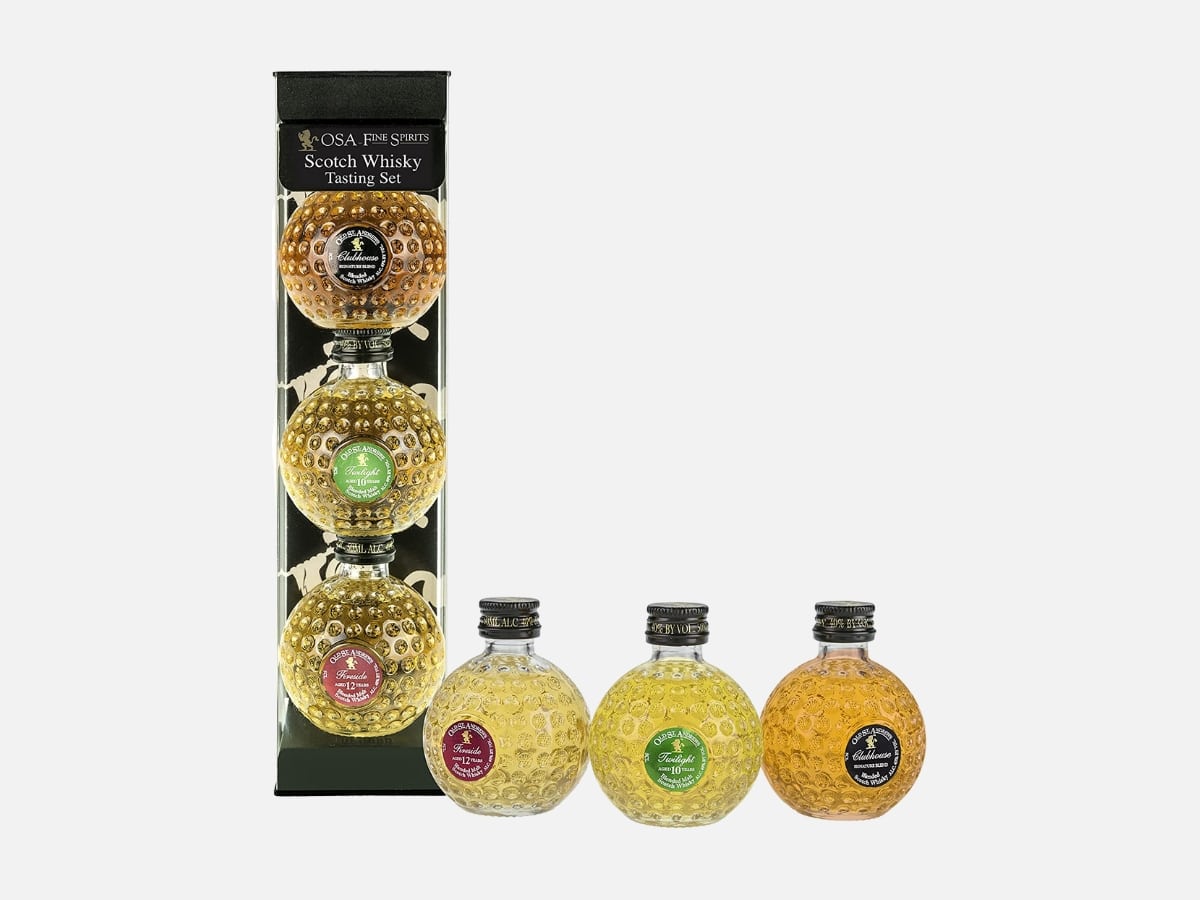 6. OSA Whisky Tasting Set
OSA gets its name from Scotland's most famous golf course Old St Andrews. This is why its various Scotch whiskies are packaged in bottles that are shaped like golf balls. It makes its own spirits including whiskies and vodka as well. But we're most concerned with its Whisky Tasting Sets. Sets include "Clubhouse Blended Scotch Whisky Set" featuring award-winning three-year-old blended Scotches as well as a few other sets.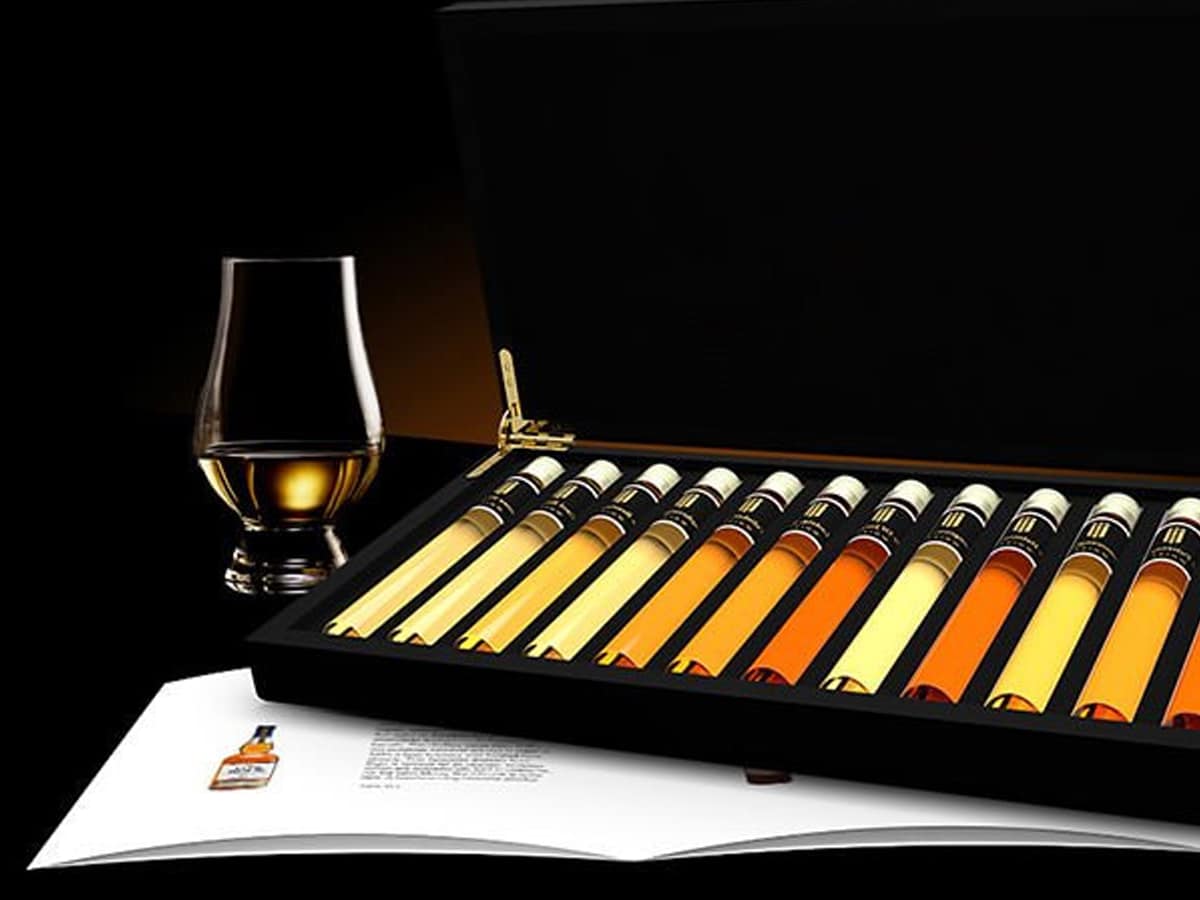 7. Tasting Collection
While not catering exclusively to traditional whisky audiences, Tasting Collection is a company that has the goal of making you an expert with various tasting collections and booklets of information on each dram. Each whisky comes in a clear 25ml tube so you can check out the colour before you take a sip. The best part? After you've tried one of their various tasting kits and figured out which you prefer, you can order a full-size bottle right from the Tasting Collection.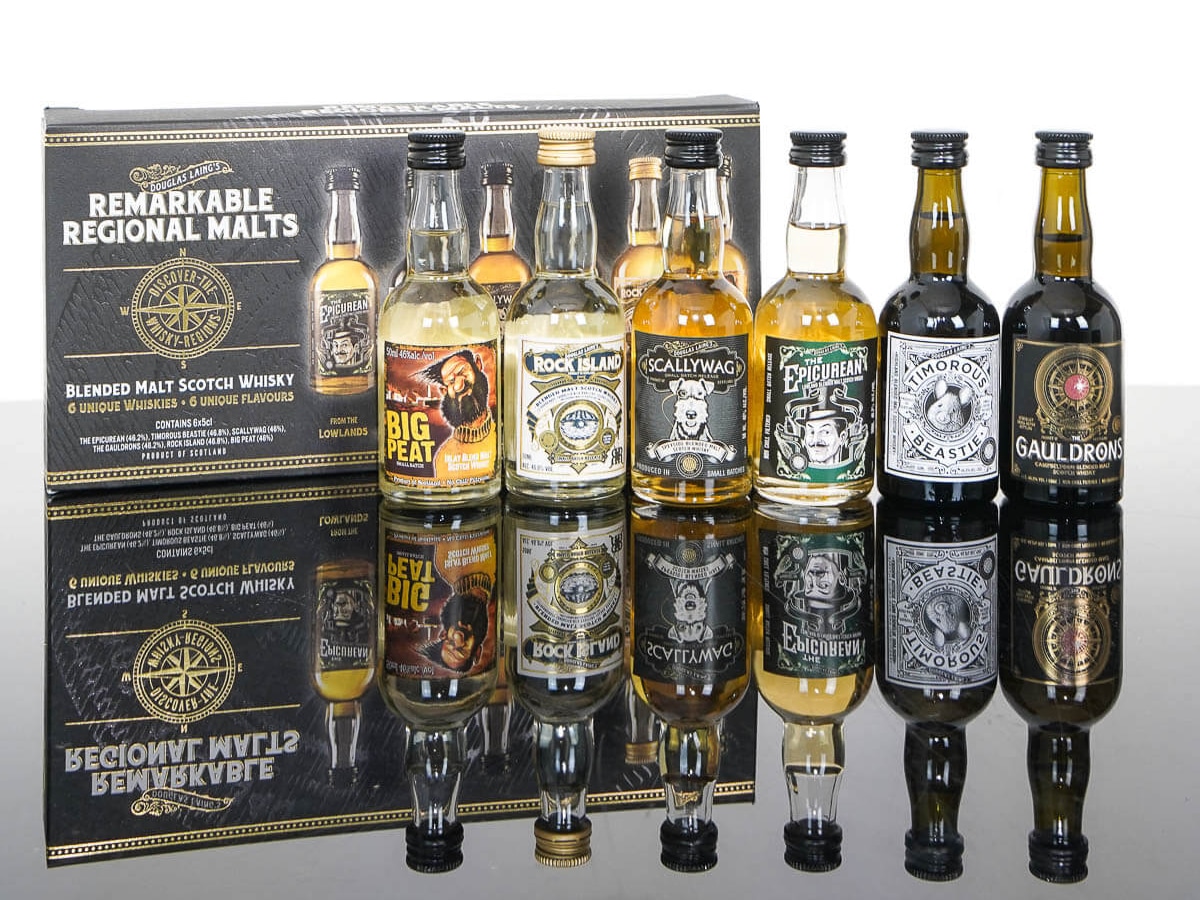 8. Douglas Laing Remarkable Regional Malts
Douglas Laing & Co is an independently owned Scotch whisky bottler. They've been in business since 1948 and are most known for their "Remarkable Regional Malts". Visit their site and you'll see many exciting expressions to choose from. If you can't make up your mind, try Douglas Laing's Remarkable Regional Malts Gift Pack with its six blended Scotch whiskies (including the wildly popular Big Peat) in 50ml bottles.
Price: AU$80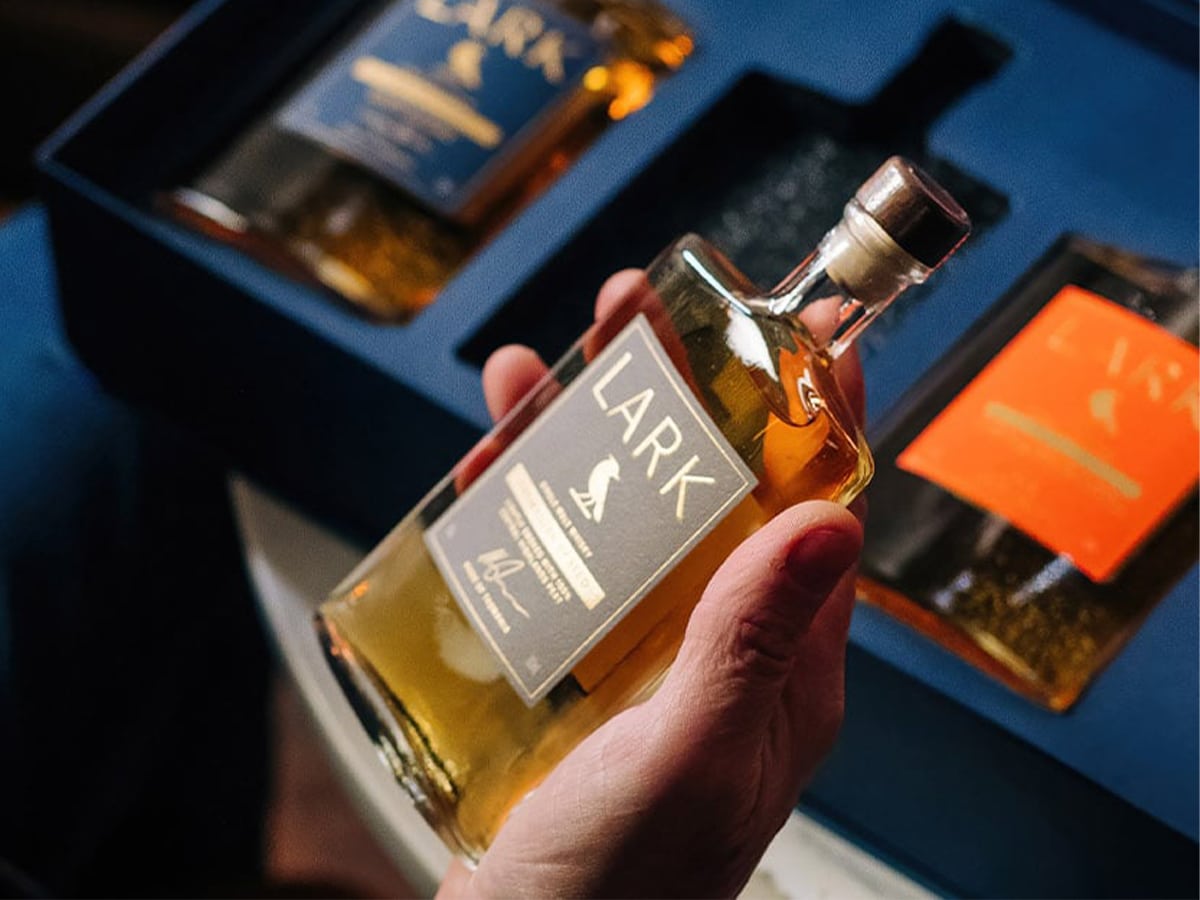 9. Lark Whisky Tasting Set
Located in Hobart in Tasmania, Lark is a popular name in the Australian whisky world. If you're new to the brand or you simply can't pick out just one bottle, opt for their tasting flight. It comes with three 100ml bottles of whisky including SYMPHONY Nº1, Classic Cask, and Cask Strength. It also comes with a laser-etched Lark Glencairn glass to sip out of.
Price: AU$160
How to Choose the Right Whisky Tasting Set
For the uninitiated, think of a whisky-tasting set like a flight of beers at your favourite brewery. If you go into a brewery and you aren't sure what beers you'll enjoy, your best bet is to order a flight.
This will consist of four to six (depending on the brewery) smaller size beers in various styles (depending on which ones you select). It's a way to sample the various beers without having to buy a whole pint only to be disappointed when you opted for the piney West Coast IPA instead of your usual lager.
Whisky tasting sets are just like that. But instead of having to go to a distillery to sample the whiskies, you can order a kit or buy one at a store and enjoy the spirits in the comfort of your own home. They usually come with a few small bottles of various whiskies (sometimes curated and other times picked out by you) and likely a tasting glass.
They're a great way to try multiple whiskies to find your favourites and make great gifts. Even if you're already a fan of a particular distillery and its whiskies, whiskey tasting sets are a great way to try new releases without having to fork over your hard-earned money for a whole bottle. Keep scrolling to see nine of our favourites.
Whisky Tasting Set FAQs
What is the best Scotch gift set?
This is a very tricky question. It depends on what you're looking for. If it's Scotch whisky you're after, we suggest Master of Malt's "Regions of Scotland Sampling Set". If you're looking for purely Australian whiskies, try the "Australian Craft Tasting Pack" from Gintonica.
Where is the best place to buy whisky tasting sets?
If you live near a bottle shop that sells them, there's no better place than that. You don't have to wait for it to be delivered. But if you don't and you want a specific set, order from the selected brand's website.
Are whisky tasting sets a good gift?
Whisky tasting sets are a great gift for the whisky fan in your life. Whether they are just beginning their journey or they are ready to try something new, there's no better gift than a flight of curated whiskies.
You'll also like:
---
Featured Video from Man of Many