Dirty Bucha is Alcoholic Kombucha Bursting with Flavour
Kombucha fans have a reason to celebrate with The Dirty Butcha range that mixes classic Kombucha with premium Australian spirits. This new range comes from the Bucha of Byron and features three new flavours including Botanical Gin with Lemon Myrtle kombucha, Premium Vodka with Tropical Kombucha and Spiced Rum with Ginger kombucha.
The three Dirty Bucha flavours mix existing Bucha of Byron flavours with premium spirits, all bottled up or served on tap straight from the keg.
The Dirty Bucha Fast Facts
An alcoholic beverage based on Kombucha fermented tea.
There are three flavours: Botanical Gin & Lemon Myrtle, Premium Vodka & Tropical Kombucha, Spiced Rum & Ginger Kombucha.
Each bottle equates to one standard drink, 4.2% alcohol.
There is only 2.4g of sugar per 100ml.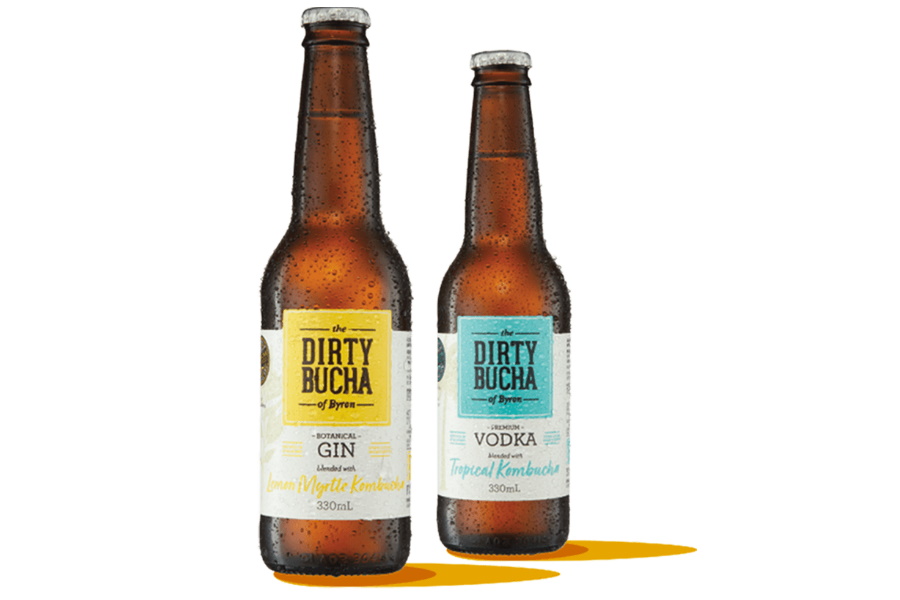 "The Dirty Bucha opens up a new class of drinking experience," says Cam Macfarlane, Brand Co-Founder. "It's brewed like beer but without the carbs, tastes like cider minus all the sugar and has the benefits of an RTD without being sickly sweet."
You can find The Dirty Bucha in venues such as The Beach Hotel and Three Blue Ducks in Byron Bay, Three Blue Ducks and The Oakes Hotel in Sydney and Ponyfish Island in Melbourne.
Both the Dirty Bucha and Bucha of Byron are made in collaboration with craft brewer, Stone & Wood, with its old facility in Byron Bay, rebranded as the new home of the Bucha Shed. This space contains the first alcoholic kombucha bar in Byron bay and will soon be open to the public for tours and tastings and is now available for event hire.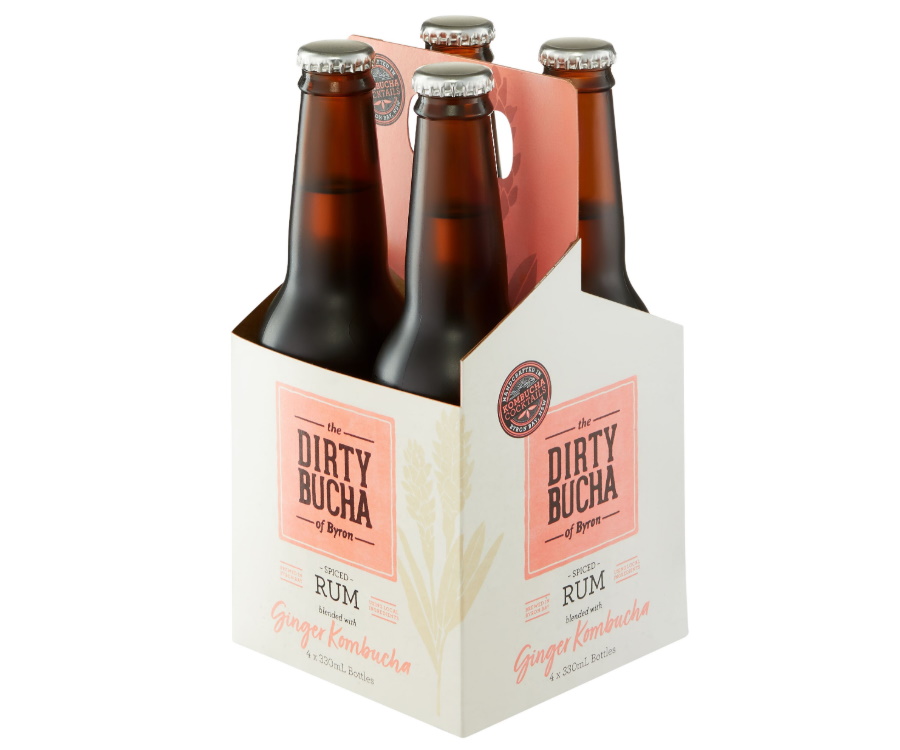 What is Kombucha?
Kombucha is a health drink made by fermenting tea and sugar with SCOBY – or less flattering, a Symbiotic Colony of Bacteria and Yeast. The sugar is used up during the fermentation process, so there's hardly any left when the drink makes it to the glass.
Kombucha is known to contain B vitamins, probiotics, and enzymes and is said to support immune function, digestion, metabolism, liver detoxification, skin and hair and even lift mood.
For thousands of years, people have been drinking Kombucha to promote gut health, aid digestion and liver function – or to alleviate a guilty conscience.