How to Open and Serve Champagne Properly This Bastille Day
When it comes to Champagne, we all like to think we know a thing or two about opening and serving a good bottle. Unfortunately, this confidence all too often leads to cork projectiles exploding at dinner parties and the results aren't pretty. We're talking about broken plates, concerned guests and embarrassment that could've all been avoided by reading our simple guide to opening and serving Champagne properly.
It's time to settle down Lewis Hamilton because you're not on the podium surrounded by fans and crew. Now's not the time to show off and cover your guests in Brut, because safely opening and pouring a bottle of Champagne is the secret skill that everyone should really have a grip on.
You'll also like:
'Breathtaking' Champagne Collection Could Fetch $10 Million
Young Henrys is Delivering 100 Free Schooners to Sydneysiders in Lockdown Every Friday
Shoot with the Bubbly Blaster Champagne Gun
What is Champagne?
We've all heard of the decadent drop, and we know it's usually consumed on special occasions, but what is Champagne? At its core, Champagne is a form of sparkling wine, but that's about all it has in common because while all Champagne is sparkling wine, not all sparkling wine is Champagne. So what makes Champagne, Champagne?
Champagne can only be called Champagne if it comes from the Champagne region in northern France. Usually, this special form of sparkling wine is made from a blend of three grapes: chardonnay, pinot noir, and Pinot Meunier. In some instances, you'll find different varieties e.g. Blanc de Blanc which is strictly Chardonnay and Blanc de Noir a variety of strictly pinot noirs grapes. There are also a variety of classifications by region, vineyard, vintage and sweetness.
What is 'Brut' Style Champagne?
Brut Champagne is made using the special grapes grown in northern France, however, differs on the sweetness scale. This type of Champagne is classified as 'Brut' which roughly translates to "dry, raw, or unrefined," in French. In general, Brut is classified as the 'driest' of all Champagnes, it must be made with a dosage of fewer than 12 grams of added sugar per litre. And it's worth mentioning that this is also the most common style of sparkling wine.
"Brut" is the standard aperitif style and "Extra Brut" or "Brut Nature" is the driest, as zero or very little dosage is added. We have recently seen a trend for sweeter Champagnes being poured over ice… it breaks down the sugar," said Courtney Tanser, Trade State Manager NSW Vranken-Pommery.

"These Champagnes have been specifically created to blend with the ice and find a perfect balance of freshness and fruitful sweetness," she said.
Dosage is the technical word for the level of sugar in a Champagne, and it's more a question of style and what the Cuvée the Cellar Master or the Champagne house wishes to produce. It's all about the finishing of the wine on the palate.
"If you prefer a sweeter style of Champagne then lookout for a label marked extra-dry, sec, demi-sec or doux with the latter being the sweetest.
Pommery is one of the largest Champagne houses in Reims and produces some of the most elegant and complex 'Brut' style Champagne. Historically, Champagne contained more sugar than a can of coke until Madame Pommery created the first BRUT (dry / no additional sugar) Champagne in 1874. Their most popular variety 'Brut Royal' blends together nearly forty different Champagne vintages and is a great introduction to this variety. Millésimé is made from seven 100% Grands crus and Cuvée Louise, the most refined vintage, is a blend of three of the most delicate Grands crus.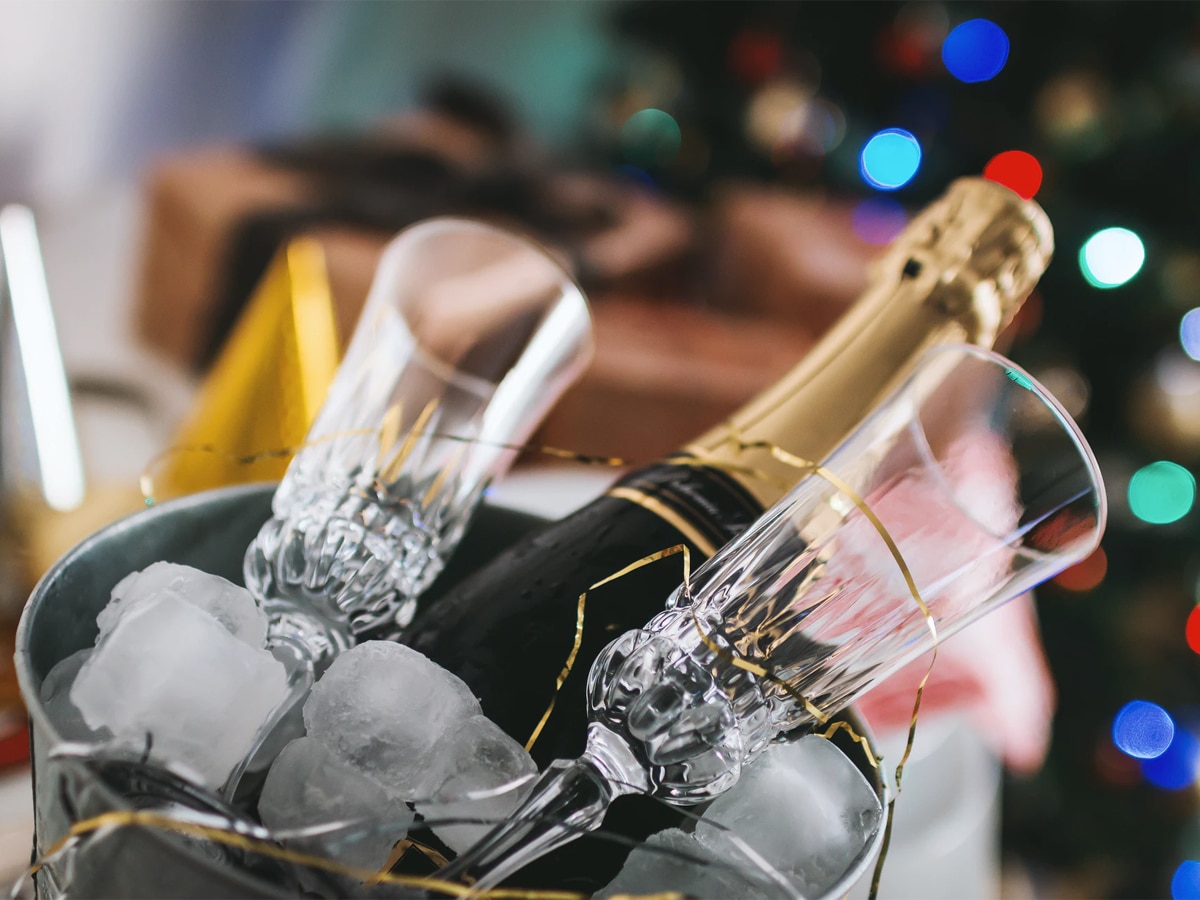 How to Open Champagne
Let's not get it confused, the Champagne bottle popping that we witness on podiums at the Formula 1 season and Moto GP is purely for show. In fact, if you even attempted such a feat at a family gathering your grandmother would almost certainly fall off her chair. There's absolutely nothing worse than sending a cork rocket into your kitchen ceiling either, so let's explore the correct way to open a bottle of Champagne.
Instructions
Loosen the cage – 6/7 turns of the tab, enough to loosen it over the lip, keep your hand over.
Hold the bottle at an angle – a 45° angle will help the cork from exploding in the following step.
Rotate the base of the Champagne – while holding the bottle, rotate the base (not the cork).
Apply pressure to the cork/ cage – apply just enough pressure to stop the cork popping out.
Wait for the cork to push out with bottle pressure – the cork will pop with a slight 'fizz'.
Hold to rest – keep the bottle at an angle for a few seconds to prevent foaming.
Note: Make sure the Champagne is well chilled. This also works for sparkling wine.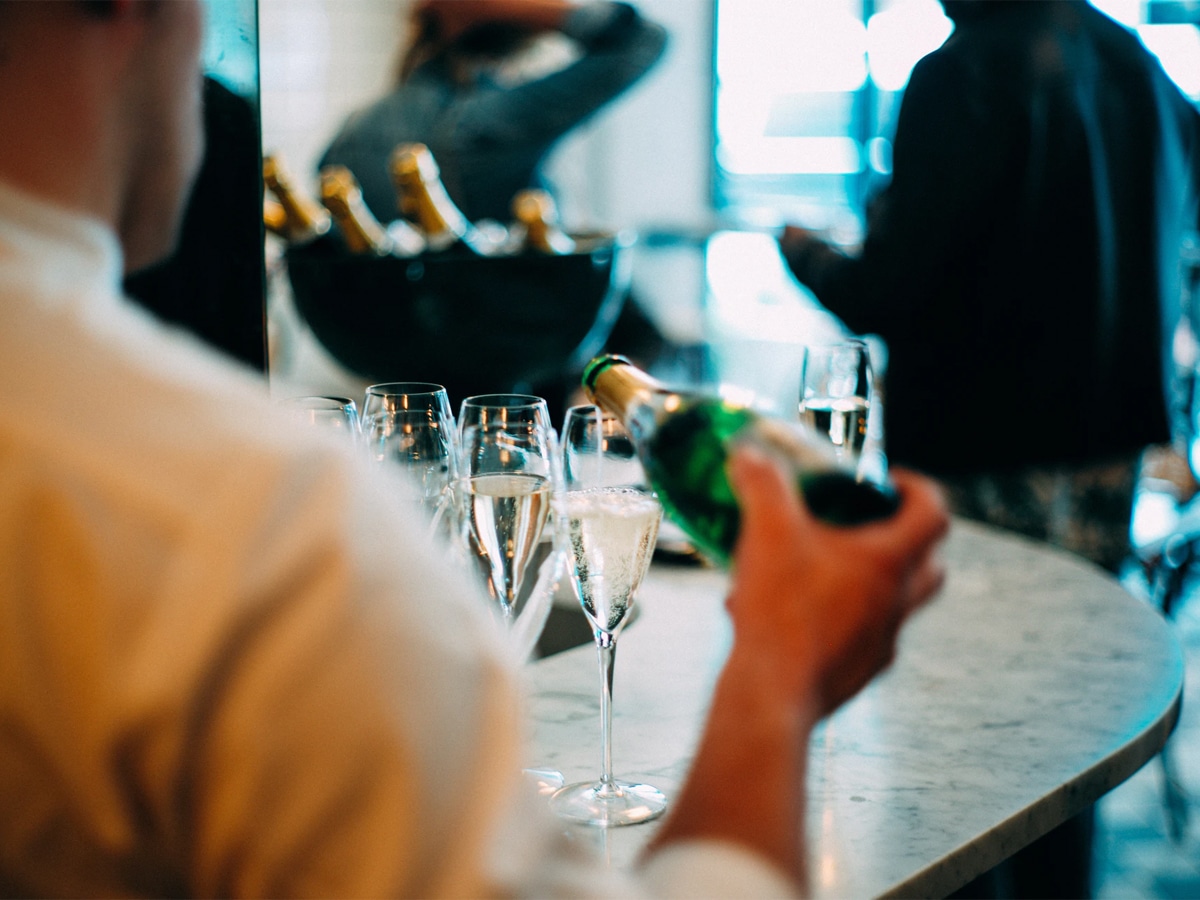 How to Serve Champagne
There are some pretty serious do' and dont's when it comes to serving Champagne the right way. These can even differ from country to country and situation to situation. Under traditional settings, particularly in France itself, this is the correct way to serve Champagne according to the experts at Vranken-Pommery.
When it comes to serving Champagne, "the ideal temperature is between 8 – 10 degrees. Any cooler will impact the aromas and therefore your tasting experience. Any warmer than 10 degrees and the Champagne will appear "heavier" – meaning the alcohol will dominate the fresher aromas," said Tanser.
Instructions
Prepare – make sure the room is prepared for Champagne, glasses ready, room temperature set.
Serve at a temperature between 8-10°C – anything colder and you won't detect the aromas.
Open the bottle properly – follow the steps outlined above.
Hold the bottle by the base – then spread your fingers across the body.
Never hold the glass at an angle – then fill just over halfway for the full experience.
Never touch the glass with the bottle – vintage Champagne is usually dusty from storage.
Maintain – make sure you have a bucket of ice or sleeve at your disposal.
Note: Pommery recommends taking your bottle out of the fridge 15 minutes before opening it.
General FAQ
How should you store Champagne?
According to the experts at Pommery there are four golden rules when it comes to storing Champagne – especially if it is a special Cuvée or vintage Champagne you wish to age. 1. Store the bottle horizontally. 2. Somewhere dark, most definitely no direct sunlight. 3. A constant temperature – anywhere between 13 to 18 degrees, as long as there are no highs and lows. 4. Humidity helps keep the cork from drying out.
What is the best food pairing for Champagne?
According to the experts at Pommery, Brut Royal NV and oysters or caviar are a classic but unmistakeably the best pairing! If you're not keen on oysters, then you could go for an unusual but excellent pairing – Fried chicken. For those who are looking to pair with something sweet, they recommend French macarons or a lemon tart.
You'll also like:
'Breathtaking' Champagne Collection Could Fetch $10 Million
For Dads who aren't Boring F***ers: Trade Your Shit Socks for Free Shots
Shoot with the Bubbly Blaster Champagne Gun