Tanqueray Gets a Little Fancy with Blackcurrant Royale
If the taste of juniper doesn't exactly whet your appetite, don't throw out gin altogether. Tanquerey has just unveiled a new release that might be a little more palatable. Inspired by the French approach of living life to the fullest, the latest addition to the flavour range, Tanqueray Blackcurrant Royale is best described as a juicy, decadent gin and a gorgeous new choice for gin lovers.
You'll also like:
How to Make the Perfect Gin Martini
Get Caught in the Sips with the New Archie Rose 'Sydney Cricket Gin'
Never Never Brings Back its 'Most-Popular' Gin Ever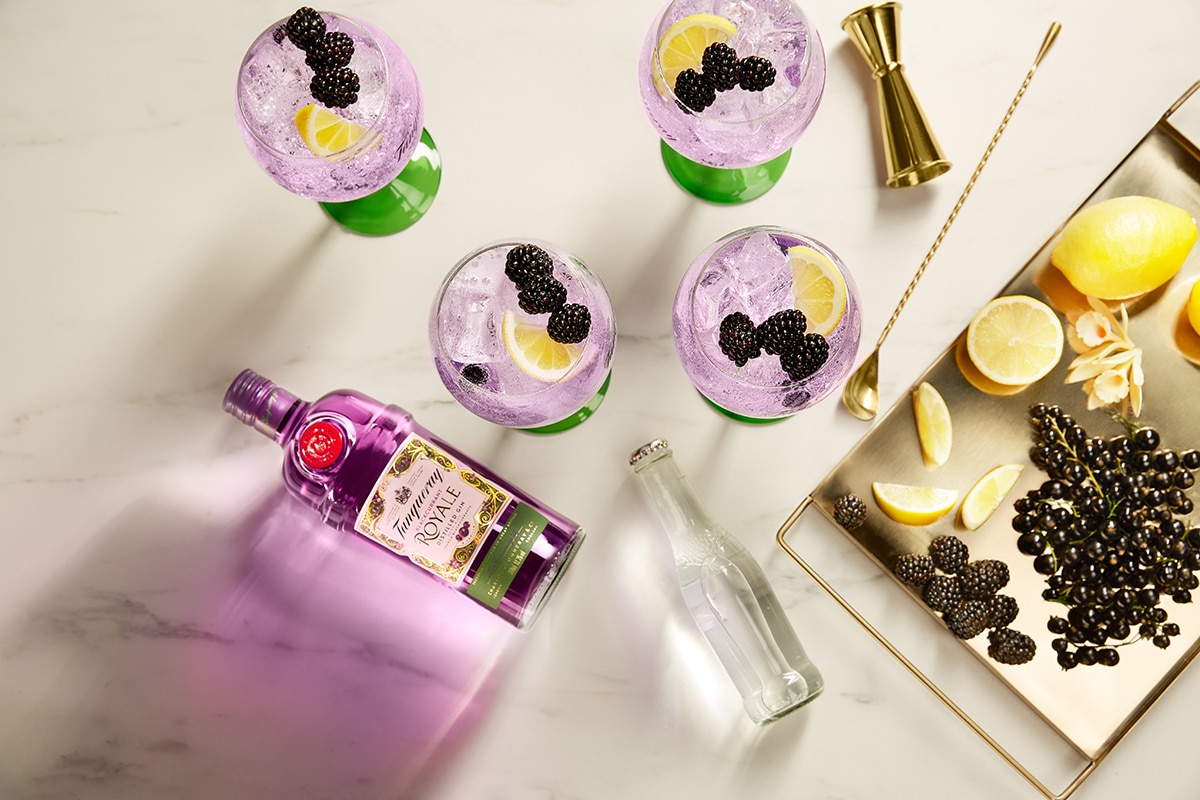 Bottled at 42.3 per cent ABV, Tanqueray Blackcurrant Royale was inspired by the travels of Charles Tanqueray, who also founded the distillery. The basic formula for the spirit is nearly the same as that used to create Tanqueray London Dry Gin, featuring the same four botanicals just with the addition of black currants from France as well as vanilla, and the floral notes of the black orchid. In addition to the new flavor, the distillation now comes in single 250ml cans.
"The idea behind Tanqueray Blackcurrant Royale was born from combining the elegant world of Tanqueray with a unique and differentiated offering," says Janine Blakeway-Ely, the Head of Europe Gin Innovation for Tanqueray. "We know gin lovers are looking for more than just flavor, so we delved into Charles Tanqueray's history. Inspired by Tanqueray's heritage and travels we layered sumptuous and mysterious flavors to create this delicious gin, best served with tonic or in a coupette with prosecco. It's a gin like no other."
Diageo, the company that owns the Tanqueray brand, describes the gin as "luxurious, with a rich and sophisticated flavor profile that will elevate a crisp summer gin and tonic." Adrienne Gammie, Diageo's marketing director for gins, adds, "The gin category continues to thrive and this is primarily motivated by consumer demand for new and exciting variants. Tanqueray has always been commended for its taste and quality—and the introduction of Tanqueray Blackcurrant Royale is an extension of the brand's commitment to introducing rich and exciting new choices to the market. We continue to see a huge trend in customers seeking new formats—especially in the pre-mix category. The new can formats provide convenience to the consumer, while being able to enjoy a high-quality serve at home."