These 3 Low-Calorie Recipes Will Get You Shredded
We've all been a little guilty of neglecting our fitness protocols over the last few weeks. With gyms closed and groceries hard to come by, more and more Aussies are jumping on the Uber Eats train and jumping off the healthy eating plan. But it turns out it's more than just laziness that has us dropping the ball.
You'll also like:
15 Best Healthy Snacks for Weight Loss
Are Protein Shakes Healthy? Key Facts on Whey Protein
Top 7 Health Benefits of Green Tea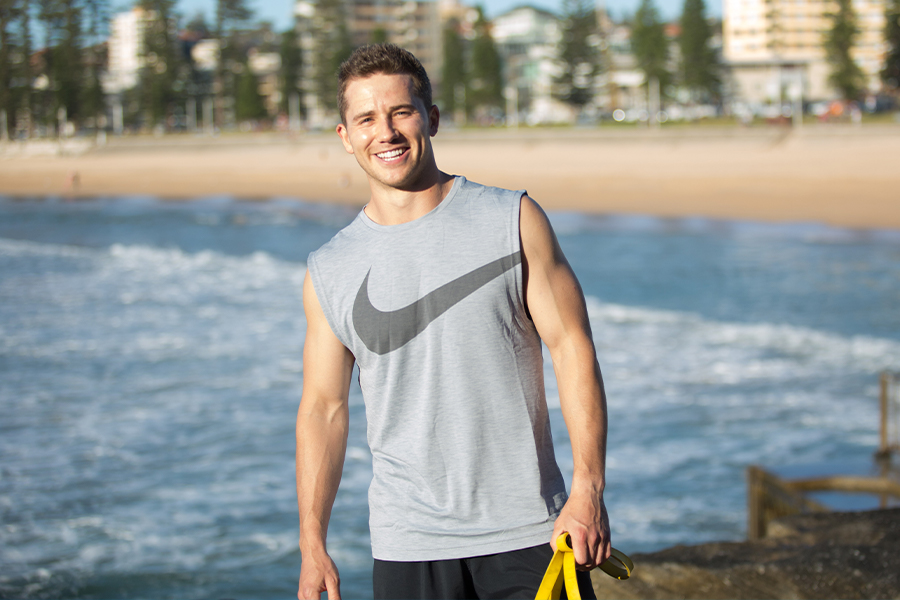 Emotional Eating v True Hunger
"Emotional hunger and true hunger are two different things," fitness expert Rich Kerrigan says. "Emotional hunger is instant hunger linked with several emotions: being sad, stressed or anxious. True hunger, however, is a slower more gradual form of hunger. You'll tend to not be able to control the emotional hunger, eating more than you should then feel guilty once you've finished eating."
But there are ways around emotional eating. Kerrigan suggests staying busy and active, removing indulgent or unhealthy foods from the pantry, engaging in regular exercise and getting a good night sleep. It's no coincidence that these are the hallmarks of general health, but it bears reminding, particularly in these unusual times. The biggest thing to watch out for is your calorie consumption. Focusing on those low-calorie foods can be a great way to launch back into the fitness world once isolation clears up.
Low-Calorie Foods
The good news is, Rich is a bit of a triple threat. The health coach is also a chef, personal trainer and nutrition coach, so there aren't many people more qualified to give you the lowdown on low-calorie foods. "Right now, just isn't the time to try to set yourself some new goals, adding pressure to an already difficult and uncertain time. I recommend just maintaining what you have worked on and ensuring you don't let those habits slip," he says.
We spoke with the Aussie legend and he dropped some serious knowledge on us. All those home workouts and door-gyms mean nothing without the hard work in the kitchen. Rich says getting into the swing of things yourself is easily the best way to stop on top of your nutrition, particularly when going the gym is out of the question.
"I know it's never been easier to 'order in' but you have no idea how many calories you are consuming with each meal and you can quickly go over your daily calories here," he says. "Controlling what goes into your food is the best way to stay on track. By cooking as much as you can, you can control not only the amount of protein, carbohydrate and fat but also the amount of salt and processed foods used in each meal and you can also portion control effectively."
But not all of us are chefs like Rich. It can be hard to get things right in the kitchen and when you feel hungry, spag bol doesn't always hit the spot. That's why Rich has given us three low-calorie recipes to try out.
Here are three low-calorie recipes to get your post-isolation fitness back on track.
1. Rich Kerrigan's Naked Crumbed Barramundi Tacos
Ingredients:
2 large barramundi fillets, skinless
6 large gem lettuce leaves
1/2 bag slaw mix (carrot, red cabbage, beetroot, kale)
1 green chilli, finely sliced
2 tbs mayonnaise
6-8 baby pickles, roughly chopped
1/2 bunch chives, finely chopped
1 bunch radishes, finely sliced
1/2 bowl panko breadcrumbs
1 lemon
red and green chilli sauce, habanero
salt & pepper
extra virgin olive oil
Naked Crumbed Barramundi Tacos Low-Calorie Recipe 
Preheat the oven to 180 degrees. Open up the paper your fish was wrapped in and place the fish right in the middle. Drizzle olive oil over the top of both fillets and rub well into the fish on both sides.
Add a good pinch of salt and pepper to the panko crumbs then generously scatter over the fish pressing it into the flesh. Repeat both sides then place the fish onto an oven tray lined with greaseproof paper. Scatter the rest of the crumbs over the top creating a nice crust and ensuring all of the flesh is well covered.
Finally, drizzle a little more oil over the top and bake in the oven for 15-20 minutes depending on the size and thickness of the fillets.
Mix the mayonnaise, chives and baby pickles together in a small bowl then add the juice from half a lemon along with 2 tsp green chilli sauce and give it one final stir.
Wash the lettuce cups and arrange on a large serving plate, add a small handful of raw slaw to each cup.
Once the fish is cooked leave to rest for 2 minutes and squeeze the other half of the lemon over the top.
Slice the crumbed fillets on the angle aiming for 4-5 thick pieces from each fillet. Carefully lay the fish on top of the lettuce cup then spoon over a few teaspoons of spicy mayonnaise. Top with fresh radish, chilli flakes, red chilli sauce and any leftover crumbs from the tray.
Calories per serve: 570
Serves: 2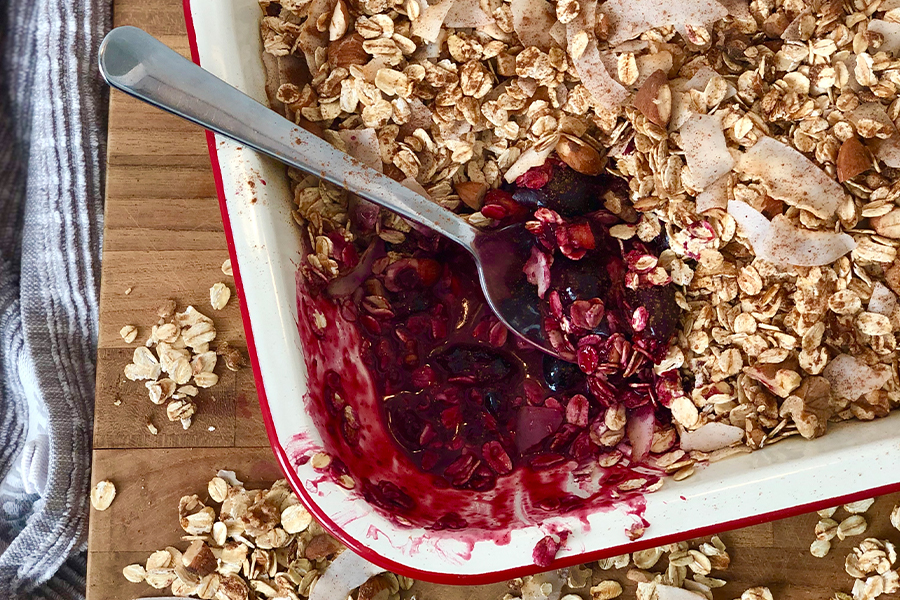 2. Rich Kerrigan's Sour Cherry & Blueberry Granola Crumble
Ingredients
3 cups oats
1 cup coconut flakes
3 tsp allspice
4 cups frozen pitted cherries
1 cup frozen blueberries
2 tsp cornflour
1 lemon
4 tbs rice bran syrup or honey
1/2 cup almonds
1/2 cup walnuts
Sour Cherry & Blueberry Granola Crumble Low-Calorie Recipe
Preheat your oven to 180 degrees. Line an oven tray with some greaseproof paper and scatter the oats onto the tray.
Roughly chop the almonds and walnuts and add to the oats along with the allspice. Mix well with your hands. Drizzle 2 tablespoons of rice bran syrup over the top then place on the bottom shelf of the oven and roast for 10 minutes.
Add the cherries and blueberries to a pan and turn the stove on to medium heat. Add 2 tablespoons of rice bran syrup and 1/4 cup of water and allow the fruit to soften.
In a small bowl mix together the cornflour and 1/2 the juice from a lemon with a teaspoon until all of the cornflour has disappeared and you are left with a white liquid. Pour this into the berries and stir.
Reduce the heat to a simmer for 5 minutes. Add a little extra water to the fruit if the syrup starts to look a little thick. It should just start to coat the back of a spoon.
Take the oats out of the oven and give them a good toss to ensure even cooking, add the coconut flakes at this point and return back to the oven for another 4 minutes.
Spoon the fruit into an oven tray or if you prefer into separate ramekins and top with the toasted granola crumble. This is ready to eat straight away and will be super tasty with a few spoons of Greek yogurt.
Calories per serve: 415
Serves: 6
Top tip:
If you have any leftover granola, leave this to cool and store in an airtight jar then enjoy for breakfast.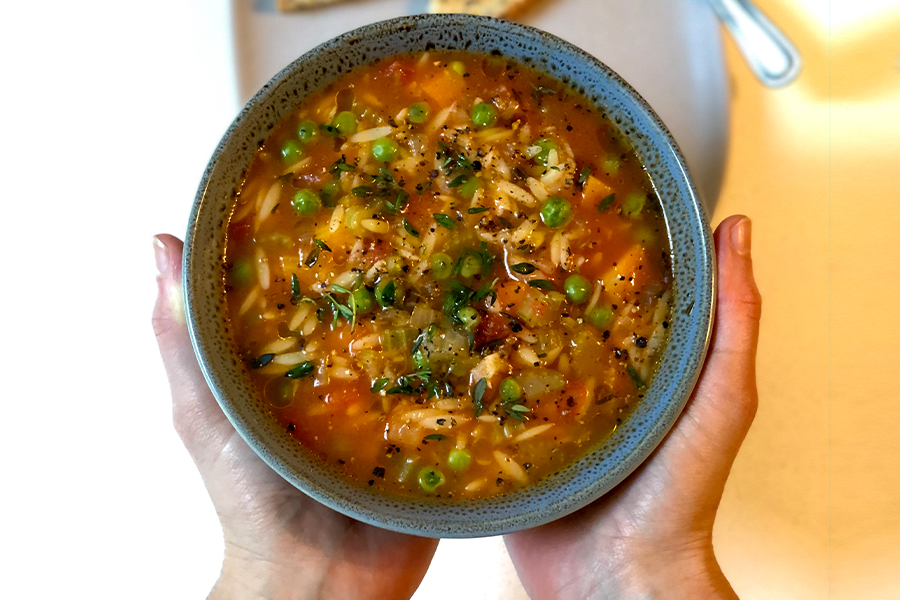 Rich Kerrigan's Spicy Risoni
Ingredients
1 cup risoni pasta or (200g)
1 tin chopped tomatoes (400g)
1 litre vegetable stock
1/2 tsp chilli powder
2 birds eye chillies, finely chopped
4 sticks celery, finely chopped
2 carrots, roughly chopped
1 brown onion, finely chopped
3 cups frozen peas
1 bunch fresh thyme, picked
3 garlic cloves, finely chopped
salt & pepper
extra virgin olive oil
Spicy Risoni Low-Calorie Recipe
Heat a large saucepan over high heat and drizzle a generous amount of extra virgin olive oil into the pan.
Add the onion, celery and carrot and fry for 2-3 minutes. Add the garlic, birds eye chilli and 1/2 bunch of fresh thyme and fry for another 2 minutes, seasoning well with salt and pepper.
Add the chopped tomatoes and stir well. Fill the empty tin of tomatoes with cold water and add this to the pan and stir.
Meanwhile in a separate pan bring the vegetable stock up to the boil. Once boiled, add to the rest of the vegetables then place a lid on the pan and bring back to the boil.
Once boiling, add the risoni and gently stir ensuring there are no pieces sticking to the bottom of the pan. Reduce the heat to a simmer and cook for 10 minutes, stirring occasionally.
About 3 minutes before the risoni is ready, add the peas and cook for the remaining time.
Serve in a bowl with some fresh thyme leaves, cracked back pepper and a drizzle of olive oil and if your feeling like it a couple of slices of toast or crusty bread.
Calories per serve: 290
Serves: 5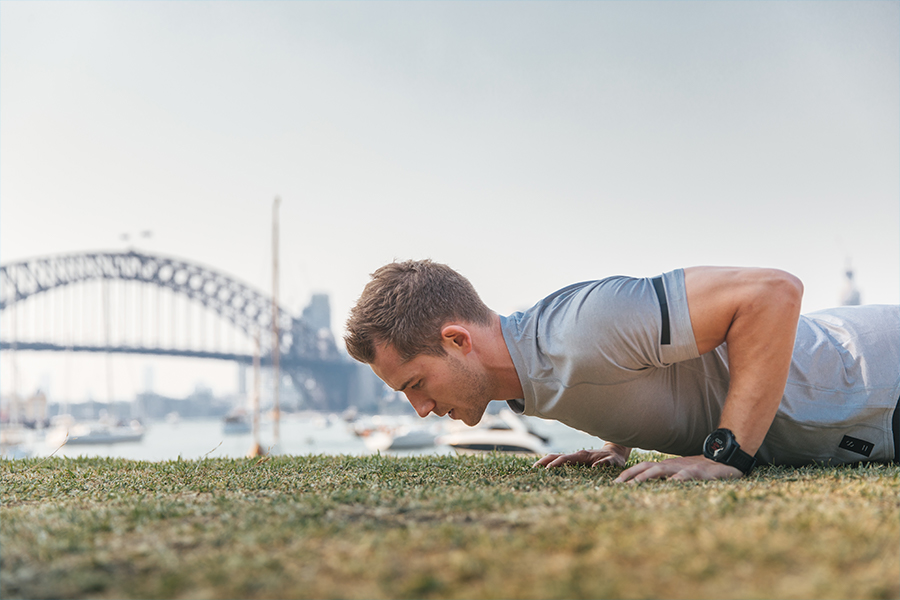 Low-Calorie Recipe Tips
Now that covers breakfast, lunch and dinner, but what about those pesky jaunts in between? Well, Rich has a few suggestions on how to tackle low-calorie snacks as well. "When we are craving something, sweet there are options we can choose so you don't blow your daily calorie target out of the water," he says. "Super sweet fruits like blueberries, watermelon and strawberries are a great low-calorie option. Also, mixing a teaspoon of honey into 2-3 tablespoons of natural yoghurt provides a satisfying snack."
Regardless of what your post-iso body looks like, Rich's general advice is pretty universal. "We are all different with different training goals requiring different amounts of energy, so this is worth looking into in more detail but as a general rule, making sure your diet includes a healthy balance of protein, carbohydrate and fat is a good place to start."
What can I eat that has zero calories?
Not many foods have zero calories in total, but celery, zucchini, asparagus and lettuce come very close.
What fruit is best for weight loss?
The best fruits for weight loss are grapefruits, berries and kiwifruit. This is because they each have added vitamins and antioxidants to aid your health.
What five foods burn belly fat?
Five foods you should consider eating to lose fat are almonds, salmon, lettuce, eggs and chicken breast.
You'll also like:
15 Best Healthy Snacks for Weight Loss
Are Protein Shakes Healthy? Key Facts on Whey Protein
Top 7 Health Benefits of Green Tea